2022 Topps Garbage Pail Kids Series 1: Book Worms takes aim at the world of literature with a series of gross puns from the most beloved comics, books, poems, and more.
The checklist, shown here at 100 base stickers, is actually 200 stickers since each card has an a/b pun name. There are also several parallels and retail exclusives for collectors to track down including base cards autographed by the card artist.
This checklist is organized by subset. Scroll through the entire list or jump to a specific subset by selecting it from the key below. Clicking a link within the checklist will direct you to an affiliate retailer or to relevant eBay listings.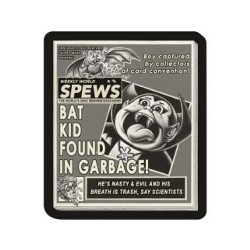 2022 Topps GPK Book Worms Checklist
Gross Adaptations – 15 Cards
#16-25 – Walmart Exclusive
GPK Patch Cards – 10 Cards
Base – #/199
Blue – #/99
Red – #/75
Gold – #/50
FoilFractor – 1/1
Sketch Cards
Shaped Sketch Cards
Triptych Sketch Cards
| | |
| --- | --- |
| 1 | AMBUSHED ART |
| 2 | PAIGE HOLDER |
| 3 | MYOPIC MYA |
| 4 | RESEARCHING RALPH |
| 5 | RONNIE NOSE |
| 6 | LIBRARY ANN |
| 7 | CAT HATTIE |
| 8 | CRAPPY CAMILLA |
| 9 | MARCUS OF ZORRO |
| 10 | DIVE DON |
| 11 | FROSTBITE BUCK |
| 12 | DUELING D'ARTAGNAN |
| 13 | GANDALF THE GRAVE |
| 14 | GOBBLED GROVER |
| 15 | HOMELESS HAZEL |
| 16 | JET STREAM JONATHAN |
| 17 | MUCUS MARTIN |
| 18 | WINNIE THE POOPER |
| 19 | WORMY WALKER |
| 20 | RED-EYED ROBIN |
| 21 | RETCHING ROMEO |
| 22 | SAM SPRAYED |
| 23 | SHADY CHARLOTTE |
| 24 | WHITTLED WOODY |
| 25 | WINGY WINTHORPE |
| 26 | WATCHING HUGH |
| 27 | AUDIO BROOKLYN |
| 28 | BOOK EDNA |
| 29 | IDES OF MARC |
| 30 | CRISPY CALVIN |
| 31 | CRAFTY CORALINE |
| 32 | FABULOUS FABIO |
| 33 | SPAMMED SAM |
| 34 | HOOLIGAN HAROLD |
| 35 | HEXING HERMIONE |
| 36 | HITCHHIKING HARVEY |
| 37 | MOCKING JANIE |
| 38 | LOREN OF THE RINGS |
| 39 | MODEST MADELINE |
| 40 | NO CLUE NANCY |
| 41 | LIONEL, THE WITCH & THE WARDROBE |
| 42 | PIERCED PERCY |
| 43 | UNRAVELED ANNIE |
| 44 | STUCK SCOTTY |
| 45 | SAUL SHANK |
| 46 | HOLDEN A GRUDGE |
| 47 | SHADOWY SHAWN |
| 48 | THING JUAN |
| 49 | MAD MAX |
| 50 | CHARMED CHARLEE |
| 51 | TREASURE TRAVIS |
| 52 | DECAYING DORIAN |
| 53 | SHATTERED SHERLOCK |
| 54 | WORMY WILDER |
| 55 | PEPPY PIPPI |
| 56 | BOOK OF THE TED |
| 57 | WELL-READ RITA |
| 58 | STACKED JACK |
| 59 | CHESHIRE PAT |
| 60 | ADAM APPLE |
| 61 | PANICKING PIPER |
| 62 | BARBARIAN BRANDON |
| 63 | COMIC CARL |
| 64 | METAMORPHOSIS MATT |
| 65 | ABNER UNDERPANTS |
| 66 | ANGRY AHAB |
| 67 | BOOK MARK |
| 68 | AARDVARK AARON |
| 69 | HAIRY HAILEY |
| 70 | CARNIVOROUS CARRIE |
| 71 | FLATTENED FRANK |
| 72 | ADAM BOOK |
| 73 | CRAMMED CHRIS |
| 74 | MAGIC MERLIN |
| 75 | ELLA PHANT |
| 76 | AUDIO PHIL |
| 77 | BEARSTAINED STAN |
| 78 | BIG BUCKS BIFF |
| 79 | BOOKSELLER SHELLY |
| 80 | CURIOUS CARTER |
| 81 | FAHRENHEIT FERRIS |
| 82 | GOODNIGHT JUNE |
| 83 | GRIM JIM |
| 84 | HUNGRY HENRY |
| 85 | i ROBBY |
| 86 | MAGIC SCHOOL BESS |
| 87 | NED HEAD |
| 88 | OFF-THE-WALL PAUL |
| 89 | POP UPTON |
| 90 | SAVAGE SIMON |
| 91 | READING RAIN BO |
| 92 | RIPPIN' RILEY |
| 93 | SLAPPY SLY |
| 94 | SNOT JAM ANNE |
| 95 | SPLATTY PATTY |
| 96 | SPLIT KIT |
| 97 | STORY BOOK BASTIAN |
| 98 | GIVING TRE |
| 99 | TOO HOT TOM |
| 100 | WIMPY KITT |
| | |
| --- | --- |
| 1a | CRUSHED CARROLL |
| 1b | WONDER LEWIS |
| 2a | JOE TROLLKIEN |
| 2b | SAU RON |
| 3a | JAKE SPEARE |
| 3b | WILL VOMIT |
| 4a | GEORGE NOTWELL |
| 4b | JUSTIN TIME |
| 5a | AL DANTE |
| 5b | DAN T. |
| | |
| --- | --- |
| BM-1 | BEASTIE BOYD |
| BM-2 | MAD MIKE |
| BM-3 | ALIEN IAN |
| BM-4 | NASTY NICK |
| BM-5 | MARK BARK |
| | |
| --- | --- |
| WP-1 | THANGORIA |
| WP-2 | HEAVING METAL |
| WP-3 | SNOTLEAKING STORIES |
| WP-4 | ROLLING STAN |
| WP-5 | FAD |
| WP-6 | LIFELESS |
| WP-7 | WEEKLY WORLD SPEWS |
| WP-8 | THE EW YORKER |
| | |
| --- | --- |
| 1 | DROPPING-OFF DOROTHY |
| 2 | MALODOROUS MARY |
| 3 | CHOKED-UP CHUY |
| 4 | HEARING-LOSS HORTON |
| 5 | LOST LYRA |
| 6 | KAT WOMAN |
| 7 | UNTRAINED TYLER |
| 8 | JAMES GONE |
| 9 | LOU MANJI |
| 10 | MEAN DEAN |
| 11 | INVINCIBLE VINCE |
| 12 | BF GENO |
| 13 | JAWBREAKER JOHNNY |
| 14 | JUICED JAMES |
| 15 | TOM TRACKS |
| | |
| --- | --- |
| 16 | JED BARON |
| 17 | BLAIR TRAP |
| 18 | COLOSSAL CLIFFORD |
| 19 | PETER POTTER |
| 20 | LORI AXED |
| 21 | HORRIFIED HARRY |
| 22 | SHIA -ZAM! |
| 23 | AQUA DAN |
| 24 | ACADEMIC ALAN |
| 25 | MISGUIDED GUY |
Walmart Exclusives
| | |
| --- | --- |
| 1a | RUSS PUS |
| 1b | LOUISE SQUEEZE |
| 2a | NASTY NICK |
| 2b | EVIL EDDIE |
| 3a | PHONY LISA |
| 3b | MONA LOSER |
| 4a | SY CLOPS |
| 4b | HARRY HAUSEN |
| 5a | BUGGY BETTY |
| 5b | JEAN GREEN |