2022 Topps Definitive Baseball is a premium product which includes six autograph or autograph relic cards per pack as well as two standard relic cards.
Every autograph is signed on the card as opposed to a sticker and no card has a print run larger than 50. Also, color parallels are pretty modest by today's standards.
This checklist is organized by team. Scroll through the entire list or jump to a preferred team by selecting them from the list below. Clicking a link within the checklist will direct you to an affiliate retailer or to relevant eBay listings.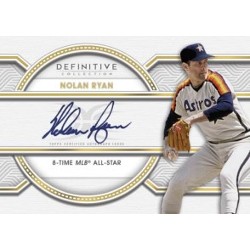 2022 Topps Definitive Baseball Checklist
Definitive Autograph Collection (DCA) – 50 Cards
Base – #/50 or fewer
Red – 1/1
Legendary Autograph Collection (LAC) – 48 Cards
Base – #/25 or fewer
Purple – #/5 or fewer
Red – 1/1
Definitive Rookie Autographs (DRA) – 37 Cards
Base – #/50 or fewer
Green – #/25
Purple – #/10
Red – 1/1
Framed Autograph Collection (DCFA) – 44 Cards
Base – #/30 or fewer
Purple – #/10
Red – 1/1
Dual Autograph Collection (DAC) – 36 Cards
Base – #/35 or fewer
Green – #/10
Purple – #/5
Red – 1/1
Definitive Trios Autographs (DTA) – 13 Cards
Base – #/25 or fewer
Green – #/10
Purple – #/5
Red – 1/1
Defining Images Autograph Collection (DIA) – 40 Cards
Base – #/25
Green – #/10
Purple – #/5
Red – 1/1
Base Auto Relic Collection (ARC) – 50 Cards
Base – #/50 or fewer
Green – #/25
Purple – #/10
Team Logo Red – 1/1
MLB Silhouette Logo Red – 1/1
Manufacturer Logo Red – 1/1
Jersey Button Red – 1/1
Laundry Tag Red – 1/1
Definitive Autograph Relic (DARC) – 67 Cards
Base – #/40 or fewer
Green – #/10
Purple – #/5
Red – 1/1
Dual Autograph Relic (DAR) – 31 Cards
Base – #/35 or fewer
Purple – #/10 or fewer
Red – 1/1
Autograph Patch Book (DAPB) – 23 Cards
Base – #/5 or fewer
Red – 1/1
Framed Auto Patch (FAC) – 46 Cards
Base – #/30 or fewer
Purple – #/10
Red – 1/1
Definitive Auto Ultra Patch (DAUPC) – 12 Cards
Protectors at the Plate Auto Relic (PPAR) – 3 Cards
Base – #/5 or fewer
Red – 1/1
Jumbo Relic Collection (DJR) – 63 Cards
Base – #/50 or fewer
Blue – #/30
Green – #/15
Purple – #/5
Red – 1/1
Protectors at the Pate Relic (PPR) – 9 Cards
Base – #/25
Green – #/10
Purple – #/5
Red – 1/1
Definitive Helmet Collection (DHC) – 8 Cards
Base – #/50 or fewer
Purple – #/5
MLB Silhouette Logo Red – 1/1
Rawlings Tag Red – 1/1
Rawlings Logo Red – 1/1
MPH Red – 1/1
Definitive Nameplate Collection (DNC) – 69 Cards
Base – 1/1
Definitive Patch Collection (DPC) – 100 Cards
Base – 1/1
Definitive Cut Signatures (DCS) – 50 Cards
Base – 1/1
| | | | |
| --- | --- | --- | --- |
| DCA-MT | Mike Trout | | Auto |
| DCA-SO | Shohei Ohtani | | Auto |
| LAC-RC | Rod Carew | | Auto |
| DCFA-MT | Mike Trout | | Auto |
| DCFA-SO | Shohei Ohtani | | Auto |
| DRA-RD | Reid Detmers | RC | Auto |
| DRA-RDE | Reid Detmers | RC | Auto |
| DIA-MT | Mike Trout | | Auto |
| DIA-RC | Rod Carew | | Auto |
| DIA-SO | Shohei Ohtani | | Auto |
| DAC-GT | Mike Trout | | Auto |
| DAC-IO | Shohei Ohtani | | Auto |
| DAC-TO | Mike Trout | | Auto |
| DAC-TO | Shohei Ohtani | | Auto |
| DAC-TTJ | Mike Trout | | Auto |
| DTA-IMO | Shohei Ohtani | | Auto |
| DTA-JGT | Mike Trout | | Auto |
| DTA-RTO | Mike Trout | | Auto |
| DTA-RTO | Nolan Ryan | | Auto |
| DTA-RTO | Shohei Ohtani | | Auto |
| ARC-MT | Mike Trout | | Auto Relic |
| ARC-SO | Shohei Ohtani | | Auto Relic |
| DAPB-MT | Mike Trout | | Auto Relic |
| DARC-RCA | Rod Carew | | Auto Relic |
| DAR-CJ | Rod Carew | | Auto Relic |
| DAR-CJ | Reggie Jackson | | Auto Relic |
| DAR-GT | Mike Trout | | Auto Relic |
| DAR-TAJ | Mike Trout | | Auto Relic |
| FAC-MT | Mike Trout | | Auto Relic |
| DPC-AP | Albert Pujols | | Relic |
| DPC-MT | Mike Trout | | Relic |
| DPC-SO | Shohei Ohtani | | Relic |
| DJR-APU | Albert Pujols | | Relic |
| DJR-MT | Mike Trout | | Relic |
| DHC-ARE | Anthony Rendon | | Relic |
| DHC-BMA | Brandon Marsh | RC | Relic |
| DNC-MT | Mike Trout | | Relic |
| DNC-RC | Rod Carew | | Relic |
| DNC-SO | Shohei Ohtani | | Relic |
| | | | |
| --- | --- | --- | --- |
| LAC-NR | Nolan Ryan | | Auto |
| DCFA-NR | Nolan Ryan | | Auto |
| DRA-CM | Chas McCormick | RC | Auto |
| DRA-CMC | Chas McCormick | RC | Auto |
| DRA-JM | Jake Meyers | RC | Auto |
| DRA-JME | Jake Meyers | RC | Auto |
| ARC-ABR | Alex Bregman | | Auto Relic |
| ARC-JA | Jose Altuve | | Auto Relic |
| ARC-YA | Yordan Alvarez | | Auto Relic |
| DAPB-BRE | Alex Bregman | | Auto Relic |
| DAPB-JA | Jose Altuve | | Auto Relic |
| DAPB-YA | Yordan Alvarez | | Auto Relic |
| DARC-AN | Andy Pettitte | | Auto Relic |
| DARC-JBA | Jeff Bagwell | | Auto Relic |
| DARC-NR | Nolan Ryan | | Auto Relic |
| DAR-AA | Yordan Alvarez | | Auto Relic |
| DAR-AA | Jose Altuve | | Auto Relic |
| DAR-BA | Alex Bregman | | Auto Relic |
| DAR-BA | Jose Altuve | | Auto Relic |
| FAC-ABR | Alex Bregman | | Auto Relic |
| FAC-JAL | Jose Altuve | | Auto Relic |
| FAC-YA | Yordan Alvarez | | Auto Relic |
| DAUPC-JA | Jose Altuve | | Auto Relic |
| DPC-AB | Alex Bregman | | Relic |
| DPC-ALT | Jose Altuve | | Relic |
| DPC-CC | Carlos Correa | | Relic |
| DPC-COR | Carlos Correa | | Relic |
| DPC-JA | Jose Altuve | | Relic |
| DPC-JVE | Justin Verlander | | Relic |
| DPC-YA | Yordan Alvarez | | Relic |
| DPC-YAL | Yordan Alvarez | | Relic |
| DJR-ABR | Alex Bregman | | Relic |
| DJR-ALT | Jose Altuve | | Relic |
| DJR-CCO | Carlos Correa | | Relic |
| DJR-JAL | Jose Altuve | | Relic |
| DJR-JVE | Justin Verlander | | Relic |
| DJR-LMC | Lance McCullers Jr. | | Relic |
| DJR-MBR | Michael Brantley | | Relic |
| DJR-YAL | Yordan Alvarez | | Relic |
| DHC-YAL | Yordan Alvarez | | Relic |
| DNC-CC | Carlos Correa | | Relic |
| DNC-JA | Jose Altuve | | Relic |
| DNC-JAL | Jose Altuve | | Relic |
| DNC-JVE | Justin Verlander | | Relic |
| DNC-LMC | Lance McCullers Jr. | | Relic |
| DNC-YAL | Yordan Alvarez | | Relic |
| | | | |
| --- | --- | --- | --- |
| DCA-DE | Dennis Eckersley | | Auto |
| DCA-MMC | Mark McGwire | | Auto |
| DCA-RHE | Rickey Henderson | | Auto |
| LAC-DE | Dennis Eckersley | | Auto |
| LAC-MMC | Mark McGwire | | Auto |
| LAC-RH | Rickey Henderson | | Auto |
| LAC-RJA | Reggie Jackson | | Auto |
| DCFA-MM | Mark McGwire | | Auto |
| DCFA-RH | Rickey Henderson | | Auto |
| DIA-RH | Rickey Henderson | | Auto |
| DTA-JHM | Mark McGwire | | Auto |
| DTA-JHM | Reggie Jackson | | Auto |
| DTA-JHM | Rickey Henderson | | Auto |
| ARC-MC | Matt Chapman | | Auto Relic |
| ARC-MO | Matt Olson | | Auto Relic |
| DAPB-MOL | Matt Olson | | Auto Relic |
| DARC-DE | Dennis Eckersley | | Auto Relic |
| DARC-ECK | Dennis Eckersley | | Auto Relic |
| DARC-MM | Mark McGwire | | Auto Relic |
| DARC-RH | Rickey Henderson | | Auto Relic |
| DARC-RHE | Rickey Henderson | | Auto Relic |
| DARC-RJAC | Reggie Jackson | | Auto Relic |
| DAR-HMC | Mark McGwire | | Auto Relic |
| DAR-HMC | Rickey Henderson | | Auto Relic |
| DAR-OC | Matt Chapman | | Auto Relic |
| DAR-OC | Matt Olson | | Auto Relic |
| FAC-MCH | Matt Chapman | | Auto Relic |
| FAC-MO | Matt Olson | | Auto Relic |
| FAC-RHE | Rickey Henderson | | Auto Relic |
| DAUPC-MOL | Matt Olson | | Auto Relic |
| DPC-MCH | Matt Chapman | | Relic |
| DJR-MCH | Matt Chapman | | Relic |
| DJR-MO | Matt Olson | | Relic |
| PPR-SMU | Sean Murphy | | Relic |
| DHC-MCH | Matt Chapman | | Relic |
| DHC-MOL | Matt Olson | | Relic |
| DNC-MCH | Matt Chapman | | Relic |
| DNC-MO | Matt Olson | | Relic |
| DCS-EC | Eddie Collins | | Relic |
| DCS-JF | Jimmie Foxx | | Relic |
| DCS-JH | Jim "Catfish" Hunter | | Relic |
| DCS-LG | Lefty Grove | | Relic |
| | | | |
| --- | --- | --- | --- |
| DCA-VGJ | Vladimir Guerrero Jr. | | Auto |
| LAC-RCL | Roger Clemens | | Auto |
| DCFA-GSP | George Springer | | Auto |
| DCFA-VGJ | Vladimir Guerrero Jr. | | Auto |
| DIA-GS | George Springer | | Auto |
| DIA-VGJ | Vladimir Guerrero Jr. | | Auto |
| DAC-GSP | Vladimir Guerrero Jr. | | Auto |
| DAC-GSP | George Springer | | Auto |
| DTA-SAG | Vladimir Guerrero Jr. | | Auto |
| ARC-GS | George Springer | | Auto Relic |
| ARC-VGJ | Vladimir Guerrero Jr. | | Auto Relic |
| DAPB-VGJ | Vladimir Guerrero Jr. | | Auto Relic |
| DAR-CMO | Joe Carter | | Auto Relic |
| DAR-CMO | Paul Molitor | | Auto Relic |
| DAR-GAJ | Vladimir Guerrero Jr. | | Auto Relic |
| DAR-GSO | Vladimir Guerrero Jr. | | Auto Relic |
| DAR-GSP | George Springer | | Auto Relic |
| DAR-GSP | Vladimir Guerrero Jr. | | Auto Relic |
| FAC-VGJ | Vladimir Guerrero Jr. | | Auto Relic |
| DAUPC-VGJ | Vladimir Guerrero Jr. | | Auto Relic |
| DPC-BBI | Bo Bichette | | Relic |
| DPC-CAV | Cavan Biggio | | Relic |
| DPC-CBI | Cavan Biggio | | Relic |
| DPC-VGJ | Vladimir Guerrero Jr. | | Relic |
| DJR-CBO | Cavan Biggio | | Relic |
| DJR-THE | Teoscar Hernandez | | Relic |
| DNC-CBI | Cavan Biggio | | Relic |
| DNC-GS | George Springer | | Relic |
| DNC-THE | Teoscar Hernandez | | Relic |
| DNC-VG | Vladimir Guerrero Jr. | | Relic |
| | | | |
| --- | --- | --- | --- |
| DCA-CJ | Chipper Jones | | Auto |
| DCA-DM | Dale Murphy | | Auto |
| DCA-GMA | Greg Maddux | | Auto |
| DCA-JSM | John Smoltz | | Auto |
| DCA-RAJ | Ronald Acuña Jr. | | Auto |
| DCA-TG | Tom Glavine | | Auto |
| LAC-CJ | Chipper Jones | | Auto |
| LAC-DM | Dale Murphy | | Auto |
| LAC-GM | Greg Maddux | | Auto |
| LAC-JS | John Smoltz | | Auto |
| LAC-TG | Tom Glavine | | Auto |
| DCFA-CJ | Chipper Jones | | Auto |
| DCFA-FFR | Freddie Freeman | | Auto |
| DCFA-GMA | Greg Maddux | | Auto |
| DIA-DMU | Dale Murphy | | Auto |
| DIA-FF | Freddie Freeman | | Auto |
| DIA-GM | Greg Maddux | | Auto |
| DIA-RAJ | Ronald Acuña Jr. | | Auto |
| DAC-FAJ | Freddie Freeman | | Auto |
| DAC-FAJ | Ronald Acuña Jr. | | Auto |
| DAC-JSA | Deion Sanders | | Auto |
| DAC-MGL | Greg Maddux | | Auto |
| DAC-MGL | Tom Glavine | | Auto |
| DAC-MJ | Dale Murphy | | Auto |
| DAC-MJ | Chipper Jones | | Auto |
| DAC-SA | Ronald Acuña Jr. | | Auto |
| DTA-MJF | Freddie Freeman | | Auto |
| DTA-MJF | Dale Murphy | | Auto |
| DTA-MJF | Chipper Jones | | Auto |
| DTA-SAG | Ronald Acuña Jr. | | Auto |
| ARC-DS | Dansby Swanson | | Auto Relic |
| ARC-FF | Freddie Freeman | | Auto Relic |
| ARC-RAJ | Ronald Acuña Jr. | | Auto Relic |
| DAPB-CJO | Chipper Jones | | Auto Relic |
| DAPB-FF | Freddie Freeman | | Auto Relic |
| DAPB-RA | Ronald Acuña Jr. | | Auto Relic |
| DARC-CJ | Chipper Jones | | Auto Relic |
| DARC-DMU | Dale Murphy | | Auto Relic |
| DARC-DSA | Greg Maddux | | Auto Relic |
| DARC-JS | John Smoltz | | Auto Relic |
| DAR-ASO | Ronald Acuña Jr. | | Auto Relic |
| DAR-GAJ | Ronald Acuña Jr. | | Auto Relic |
| DAR-JF | Freddie Freeman | | Auto Relic |
| DAR-JF | Chipper Jones | | Auto Relic |
| DAR-JSM | Chipper Jones | | Auto Relic |
| DAR-JSM | John Smoltz | | Auto Relic |
| DAR-TAJ | Ronald Acuña Jr. | | Auto Relic |
| FAC-FFR | Freddie Freeman | | Auto Relic |
| FAC-JSM | John Smoltz | | Auto Relic |
| FAC-RAJ | Ronald Acuña Jr. | | Auto Relic |
| DAUPC-CJ | Chipper Jones | | Auto Relic |
| DAUPC-JS | John Smoltz | | Auto Relic |
| PPAR-RAJ | Ronald Acuña Jr. | | Auto Relic |
| DPC-FF | Freddie Freeman | | Relic |
| DPC-OA | Ozzie Albies | | Relic |
| DPC-RAJ | Ronald Acuña Jr. | | Relic |
| DJR-ARI | Austin Riley | | Relic |
| DJR-DS | Dansby Swanson | | Relic |
| DJR-FF | Freddie Freeman | | Relic |
| DJR-RA | Ronald Acuña Jr. | | Relic |
| PPR-RAJ | Ronald Acuña Jr. | | Relic |
| DNC-DS | Dansby Swanson | | Relic |
| DNC-FF | Freddie Freeman | | Relic |
| DNC-JS | John Smoltz | | Relic |
| DNC-OA | Ozzie Albies | | Relic |
| DNC-RA | Ronald Acuña Jr. | | Relic |
| DNC-RON | Ronald Acuña Jr. | | Relic |
| DCS-EM | Eddie Mathews | | Relic |
| DCS-HA | Hank Aaron | | Relic |
| DCS-WS | Warren Spahn | | Relic |
| | | | |
| --- | --- | --- | --- |
| DCA-CKL | Christian Yelich | | Auto |
| LAC-RY | Robin Yount | | Auto |
| DCFA-CY | Christian Yelich | | Auto |
| DIA-RY | Robin Yount | | Auto |
| DAC-YYE | Robin Yount | | Auto |
| DAC-YYE | Christian Yelich | | Auto |
| ARC-CY | Christian Yelich | | Auto Relic |
| DAPB-CY | Christian Yelich | | Auto Relic |
| DARC-PMO | Paul Molitor | | Auto Relic |
| DARC-RY | Robin Yount | | Auto Relic |
| DAR-BP | Freddy Peralta | | Auto Relic |
| DAR-BP | Corbin Burnes | | Auto Relic |
| DAR-YY | Robin Yount | | Auto Relic |
| DAR-YY | Christian Yelich | | Auto Relic |
| FAC-KHI | Christian Yelich | | Auto Relic |
| DAUPC-CY | Christian Yelich | | Auto Relic |
| DPC-CBU | Corbin Burnes | | Relic |
| DPC-COB | Corbin Burnes | | Relic |
| DPC-CY | Christian Yelich | | Relic |
| DPC-YEL | Christian Yelich | | Relic |
| DJR-CBU | Corbin Burnes | | Relic |
| DJR-CY | Christian Yelich | | Relic |
| DJR-YEL | Christian Yelich | | Relic |
| DNC-CBU | Corbin Burnes | | Relic |
| DNC-CY | Christian Yelich | | Relic |
| DNC-YEL | Christian Yelich | | Relic |
| | | | |
| --- | --- | --- | --- |
| DCA-JR | Nolan Arenado | | Auto |
| DCA-OS | Ozzie Smith | | Auto |
| DCA-PG | Paul Goldschmidt | | Auto |
| LAC-OS | Ozzie Smith | | Auto |
| DCFA-NA | Nolan Arenado | | Auto |
| DCFA-OS | Ozzie Smith | | Auto |
| DIA-MM | Mark McGwire | | Auto |
| DIA-OS | Ozzie Smith | | Auto |
| DAC-CF | Steve Carlton | | Auto |
| DAC-CF | Jack Flaherty | | Auto |
| DAC-GAR | Paul Goldschmidt | | Auto |
| DAC-GAR | Nolan Arenado | | Auto |
| DTA-SMG | Paul Goldschmidt | | Auto |
| DTA-SMG | Ozzie Smith | | Auto |
| DTA-SMG | Mark McGwire | | Auto |
| ARC-DCA | Dylan Carlson | | Auto Relic |
| ARC-PG | Paul Goldschmidt | | Auto Relic |
| DARC-MMC | Mark McGwire | | Auto Relic |
| DARC-OS | Ozzie Smith | | Auto Relic |
| DAR-GC | Dylan Carlson | | Auto Relic |
| DAR-GC | Paul Goldschmidt | | Auto Relic |
| DPC-NA | Nolan Arenado | | Relic |
| DPC-PG | Paul Goldschmidt | | Relic |
| DPC-YMO | Yadier Molina | | Relic |
| DJR-NA | Nolan Arenado | | Relic |
| DJR-YM | Yadier Molina | | Relic |
| DNC-NA | Nolan Arenado | | Relic |
| DNC-YM | Yadier Molina | | Relic |
| DCS-BG | Bob Gibson | | Relic |
| DCS-DDE | Dizzy Dean | | Relic |
| DCS-JM | Johnny Mize | | Relic |
| DCS-LBR | Lou Brock | | Relic |
| DCS-RH | Rogers Hornsby | | Relic |
| DCS-RS | Red Schoendienst | | Relic |
| DCS-SM | Stan Musial | | Relic |
| | | | |
| --- | --- | --- | --- |
| DCA-RS | Ryne Sandberg | | Auto |
| LAC-AD | Andre Dawson | | Auto |
| LAC-RS | Ryne Sandberg | | Auto |
| DCFA-RS | Ryne Sandberg | | Auto |
| DAC-SD | Ryne Sandberg | | Auto |
| DAC-SD | Andre Dawson | | Auto |
| DAC-SMA | Greg Maddux | | Auto |
| DAC-SMA | Ryne Sandberg | | Auto |
| DTA-MSD | Ryne Sandberg | | Auto |
| DTA-MSD | Andre Dawson | | Auto |
| DTA-MSD | Greg Maddux | | Auto |
| DARC-AD | Andre Dawson | | Auto Relic |
| DARC-RS | Ryne Sandberg | | Auto Relic |
| DARC-SSO | Sammy Sosa | | Auto Relic |
| DPC-JAV | Javier Baez | | Relic |
| DPC-JBA | Javier Baez | | Relic |
| DPC-KB | Kris Bryant | | Relic |
| DPC-WC | Willson Contreras | | Relic |
| DJR-JBA | Javier Baez | | Relic |
| PPR-NHO | Nico Hoerner | | Relic |
| PPR-PWI | Patrick Wisdom | | Relic |
| DNC-AR | Anthony Rizzo | | Relic |
| DNC-WC | Willson Contreras | | Relic |
| DCS-EB | Ernie Banks | | Relic |
| DCS-RSA | Ron Santo | | Relic |
| | | | |
| --- | --- | --- | --- |
| LAC-RJ | Randy Johnson | | Auto |
| DRA-SB | Seth Beer | RC | Auto |
| DRA-SBE | Seth Beer | RC | Auto |
| | | | |
| --- | --- | --- | --- |
| DCA-WBU | Walker Buehler | | Auto |
| DIA-WB | Walker Buehler | | Auto |
| DAC-BMU | Max Muncy | | Auto |
| DAC-BMU | Walker Buehler | | Auto |
| ARC-CSE | Corey Seager | | Auto Relic |
| ARC-MM | Max Muncy | | Auto Relic |
| ARC-WB | Walker Buehler | | Auto Relic |
| DAPB-WB | Walker Buehler | | Auto Relic |
| DAR-BSM | Will Smith | | Auto Relic |
| DAR-BSM | Walker Buehler | | Auto Relic |
| DAR-MB | Walker Buehler | | Auto Relic |
| DAR-MB | Max Muncy | | Auto Relic |
| FAC-MMU | Max Muncy | | Auto Relic |
| FAC-WB | Walker Buehler | | Auto Relic |
| PPAR-MP | Mike Piazza | | Auto Relic |
| DPC-BEL | Cody Bellinger | | Relic |
| DPC-CBE | Cody Bellinger | | Relic |
| DPC-CK | Clayton Kershaw | | Relic |
| DPC-CSE | Corey Seager | | Relic |
| DPC-MBE | Mookie Betts | | Relic |
| DPC-WB | Walker Buehler | | Relic |
| DPC-WSM | Will Smith | | Relic |
| DJR-CBE | Cody Bellinger | | Relic |
| DJR-CBR | Cody Bellinger | | Relic |
| DJR-CKE | Clayton Kershaw | | Relic |
| DJR-MBE | Mookie Betts | | Relic |
| DJR-MM | Max Muncy | | Relic |
| DJR-WSM | Will Smith | | Relic |
| PPR-MP | Mike Piazza | | Relic |
| PPR-WSM | Will Smith | | Relic |
| DNC-CBE | Cody Bellinger | | Relic |
| DNC-CBR | Cody Bellinger | | Relic |
| DNC-CS | Corey Seager | | Relic |
| DNC-JP | Walker Buehler | | Relic |
| DNC-MBE | Mookie Betts | | Relic |
| DNC-MM | Max Muncy | | Relic |
| DNC-WS | Will Smith | | Relic |
| DCS-DD | Don Drysdale | | Relic |
| DCS-DS | Duke Snider | | Relic |
| DCS-GH | Gil Hodges | | Relic |
| DCS-JR | Jackie Robinson | | Relic |
| DCS-PRE | Pee Wee Reese | | Relic |
| | | | |
| --- | --- | --- | --- |
| DCA-VG | Vladimir Guerrero | | Auto |
| DIA-VG | Vladimir Guerrero | | Auto |
| DAC-DRA | Tim Raines | | Auto |
| DAC-DRA | Andre Dawson | | Auto |
| DAC-GW | Larry Walker | | Auto |
| DAC-GW | Vladimir Guerrero | | Auto |
| DARC-TR | Tim Raines | | Auto Relic |
| DARC-VG | Vladimir Guerrero | | Auto Relic |
| DARC-VG2 | Vladimir Guerrero | | Auto Relic |
| | | | |
| --- | --- | --- | --- |
| DCA-WC | Will Clark | | Auto |
| LAC-WC | Will Clark | | Auto |
| DCFA-BP | Buster Posey | | Auto |
| DCFA-WC | Will Clark | | Auto |
| DAC-CPO | Will Clark | | Auto |
| DAC-CPO | Buster Posey | | Auto |
| DAC-CY | Mike Yastrzemski | | Auto |
| DAC-CY | Brandon Crawford | | Auto |
| ARC-BCR | Brandon Crawford | | Auto Relic |
| ARC-BP | Buster Posey | | Auto Relic |
| ARC-MY | Mike Yastrzemski | | Auto Relic |
| DAPB-BPO | Buster Posey | | Auto Relic |
| DARC-WC | Will Clark | | Auto Relic |
| DARC-WC2 | Will Clark | | Auto Relic |
| FAC-BCR | Brandon Crawford | | Auto Relic |
| FAC-BP | Buster Posey | | Auto Relic |
| DAUPC-BP | Buster Posey | | Auto Relic |
| DPC-BP | Buster Posey | | Relic |
| DPC-YZ | Mike Yastrzemski | | Relic |
| DJR-BCR | Brandon Crawford | | Relic |
| DJR-BP | Buster Posey | | Relic |
| DJR-MYA | Mike Yastrzemski | | Relic |
| PPR-ELO | Evan Longoria | | Relic |
| DNC-ELO | Evan Longoria | | Relic |
| DCS-GK | George "High Pockets" Kelly | | Relic |
| DCS-MI | Monte Irvin | | Relic |
| DCS-TJ | Travis Jackson | | Relic |
| DCS-WMC | Willie McCovey | | Relic |
| | |
| --- | --- |
| DCS-BF | Bob Feller |
| DCS-BLE | Bob Lemon |
| DCS-LD | Larry Doby |
| | | | |
| --- | --- | --- | --- |
| DCA-ICH | Ichiro | | Auto |
| DCA-RJO | Randy Johnson | | Auto |
| LAC-EMA | Edgar Martinez | | Auto |
| LAC-ICH | Ichiro | | Auto |
| LAC-KGJ | Ken Griffey Jr. | | Auto |
| DCFA-ICH | Ichiro | | Auto |
| DCFA-KGJ | Ken Griffey Jr. | | Auto |
| DCFA-RJ | Randy Johnson | | Auto |
| DRA-JR | Julio Rodriguez | RC | Auto |
| DRA-JRO | Julio Rodriguez | RC | Auto |
| DIA-I | Ichiro | | Auto |
| DAC-GT | Ken Griffey Jr. | | Auto |
| DAC-IO | Ichiro | | Auto |
| DAC-LKE | Kyle Lewis | | Auto |
| DAC-LKE | Jarred Kelenic | | Auto |
| DTA-IMO | Ichiro | | Auto |
| DTA-JGT | Ken Griffey Jr. | | Auto |
| DARC-EM | Edgar Martinez | | Auto Relic |
| DARC-ICHI | Ichiro | | Auto Relic |
| DARC-RJ | Randy Johnson | | Auto Relic |
| DAR-GT | Ken Griffey Jr. | | Auto Relic |
| FAC-KGJ | Ken Griffey Jr. | | Auto Relic |
| DPC-KGJ | Ken Griffey Jr. | | Relic |
| | | | |
| --- | --- | --- | --- |
| DRA-EC | Edward Cabrera | RC | Auto |
| DRA-ECA | Edward Cabrera | RC | Auto |
| DNC-I | Ichiro | | Relic |
| | | | |
| --- | --- | --- | --- |
| DCA-EJ | Pete Alonso | | Auto |
| LAC-DST | Darryl Strawberry | | Auto |
| LAC-MPI | Mike Piazza | | Auto |
| DCFA-DWR | David Wright | | Auto |
| DCFA-MPI | Mike Piazza | | Auto |
| DCFA-PA | Pete Alonso | | Auto |
| DIA-MP | Mike Piazza | | Auto |
| DIA-PA | Pete Alonso | | Auto |
| DAC-SAL | Pete Alonso | | Auto |
| DAC-SAL | Darryl Strawberry | | Auto |
| DAC-WAL | David Wright | | Auto |
| DAC-WAL | Pete Alonso | | Auto |
| DTA-SWA | David Wright | | Auto |
| DTA-SWA | Darryl Strawberry | | Auto |
| DTA-SWA | Pete Alonso | | Auto |
| ARC-PA | Pete Alonso | | Auto Relic |
| DAPB-PA | Pete Alonso | | Auto Relic |
| DARC-DS | Darryl Strawberry | | Auto Relic |
| DARC-DW | David Wright | | Auto Relic |
| DARC-DW2 | David Wright | | Auto Relic |
| FAC-MPI | Mike Piazza | | Auto Relic |
| FAC-PA | Pete Alonso | | Auto Relic |
| FAC-PMA | Pedro Martinez | | Auto Relic |
| FAC-TG | Tom Glavine | | Auto Relic |
| DAUPC-MPI | Mike Piazza | | Auto Relic |
| DPC-FL | Francisco Lindor | | Relic |
| DPC-JDE | Jacob deGrom | | Relic |
| DPC-NS | Noah Syndergaard | | Relic |
| DPC-PA | Pete Alonso | | Relic |
| DPC-PAL | Pete Alonso | | Relic |
| DPC-PM | Pedro Martinez | | Relic |
| DJR-PA | Pete Alonso | | Relic |
| DHC-PAL | Pete Alonso | | Relic |
| DNC-PA | Pete Alonso | | Relic |
| DNC-PM | Pedro Martinez | | Relic |
| DNC-STR | Marcus Stroman | | Relic |
| | | | |
| --- | --- | --- | --- |
| DCA-JS | Juan Soto | | Auto |
| DCFA-JS | Juan Soto | | Auto |
| DRA-JG | Josiah Gray | RC | Auto |
| DIA-JS | Juan Soto | | Auto |
| DAC-SA | Juan Soto | | Auto |
| DTA-SAG | Juan Soto | | Auto |
| ARC-JSO | Juan Soto | | Auto Relic |
| DAR-ASO | Juan Soto | | Auto Relic |
| DAR-GSO | Juan Soto | | Auto Relic |
| FAC-JS | Juan Soto | | Auto Relic |
| FAC-SST | Stephen Strasburg | | Auto Relic |
| DPC-JS | Juan Soto | | Relic |
| DPC-MSC | Max Scherzer | | Relic |
| DPC-SS | Stephen Strasburg | | Relic |
| DPC-TT | Trea Turner | | Relic |
| DNC-JSO | Juan Soto | | Relic |
| DNC-MSC | Max Scherzer | | Relic |
| DNC-SS | Stephen Strasburg | | Relic |
| | | | |
| --- | --- | --- | --- |
| DCA-CR | Cal Ripken Jr. | | Auto |
| LAC-BRO | Brooks Robinson | | Auto |
| LAC-CR | Cal Ripken Jr. | | Auto |
| LAC-EM | Eddie Murray | | Auto |
| DCFA-CRJ | Cal Ripken Jr. | | Auto |
| DIA-BR | Brooks Robinson | | Auto |
| DIA-CPJ | Cal Ripken Jr. | | Auto |
| DIA-EM | Eddie Murray | | Auto |
| DAC-BRR | Cal Ripken Jr. | | Auto |
| DAC-BRR | Brooks Robinson | | Auto |
| DAC-RM | Eddie Murray | | Auto |
| DAC-RM | Cal Ripken Jr. | | Auto |
| DTA-RRM | Cal Ripken Jr. | | Auto |
| DTA-RRM | Brooks Robinson | | Auto |
| DTA-RRM | Eddie Murray | | Auto |
| ARC-RM | Ryan Mountcastle | | Auto Relic |
| DARC-CR | Cal Ripken Jr. | | Auto Relic |
| DARC-EMU | Eddie Murray | | Auto Relic |
| DAR-MM | Trey Mancini | | Auto Relic |
| DAR-MM | Ryan Mountcastle | | Auto Relic |
| FAC-RMO | Ryan Mountcastle | | Auto Relic |
| DPC-RMO | Ryan Mountcastle | | Relic |
| DPC-TRE | Trey Mancini | | Relic |
| DJR-MAN | Trey Mancini | | Relic |
| DNC-RM | Ryan Mountcastle | | Relic |
| | | | |
| --- | --- | --- | --- |
| DCA-GS | Fernando Tatis Jr. | | Auto |
| DCFA-FTJ | Fernando Tatis Jr. | | Auto |
| DCFA-MMA | Manny Machado | | Auto |
| DIA-FTJ | Fernando Tatis Jr. | | Auto |
| DIA-MMO | Manny Machado | | Auto |
| DAC-TTJ | Fernando Tatis Jr. | | Auto |
| ARC-FTJ | Fernando Tatis Jr. | | Auto Relic |
| ARC-MMA | Manny Machado | | Auto Relic |
| FAC-FTJ | Fernando Tatis Jr. | | Auto Relic |
| FAC-MMA | Manny Machado | | Auto Relic |
| DAUPC-MMA | Manny Machado | | Auto Relic |
| PPAR-FTJ | Fernando Tatis Jr. | | Auto Relic |
| DPC-BSN | Blake Snell | | Relic |
| DPC-EHO | Eric Hosmer | | Relic |
| DPC-FTJ | Fernando Tatis Jr. | | Relic |
| DPC-MM | Manny Machado | | Relic |
| DPC-MMA | Manny Machado | | Relic |
| DPC-TG | Tony Gwynn | | Relic |
| DPC-YD | Yu Darvish | | Relic |
| DJR-EHO | Eric Hosmer | | Relic |
| DJR-FT | Fernando Tatis Jr. | | Relic |
| DJR-MAC | Manny Machado | | Relic |
| DJR-MMA | Manny Machado | | Relic |
| PPR-FTJ | Fernando Tatis Jr. | | Relic |
| DNC-MMA | Manny Machado | | Relic |
| DNC-TG | Tony Gwynn | | Relic |
| DCS-TG | Tony Gwynn | | Relic |
| | | | |
| --- | --- | --- | --- |
| DCA-BH | Bryce Harper | | Auto |
| DCA-MS | Mike Schmidt | | Auto |
| DCA-SC | Steve Carlton | | Auto |
| LAC-MSC | Mike Schmidt | | Auto |
| LAC-SC | Steve Carlton | | Auto |
| DCFA-BH | Bryce Harper | | Auto |
| DCFA-MSC | Mike Schmidt | | Auto |
| DIA-BH | Bryce Harper | | Auto |
| DAC-HNO | J.T. Realmuto | | Auto |
| DAC-HNO | Rhys Hoskins | | Auto |
| DAC-SHA | Mike Schmidt | | Auto |
| DAC-SHA | Bryce Harper | | Auto |
| DTA-CSH | Steve Carlton | | Auto |
| DTA-CSH | Mike Schmidt | | Auto |
| DTA-CSH | Bryce Harper | | Auto |
| ARC-AN | Aaron Nola | | Auto Relic |
| ARC-BH | Bryce Harper | | Auto Relic |
| ARC-JR | J.T. Realmuto | | Auto Relic |
| DAPB-ANO | Aaron Nola | | Auto Relic |
| DARC-JT | Jim Thome | | Auto Relic |
| DARC-MSC | Mike Schmidt | | Auto Relic |
| DARC-SC | Steve Carlton | | Auto Relic |
| DAR-HR | J.T. Realmuto | | Auto Relic |
| DAR-HR | Rhys Hoskins | | Auto Relic |
| FAC-AN | Aaron Nola | | Auto Relic |
| FAC-JTR | J.T. Realmuto | | Auto Relic |
| FAC-RHO | Rhys Hoskins | | Auto Relic |
| DAUPC-AN | Aaron Nola | | Auto Relic |
| DPC-AM | Andrew McCutchen | | Relic |
| DPC-AN | Aaron Nola | | Relic |
| DPC-BH | Bryce Harper | | Relic |
| DPC-JSE | Jean Segura | | Relic |
| DPC-JTR | J.T. Realmuto | | Relic |
| DPC-NOL | Aaron Nola | | Relic |
| DPC-RH | Rhys Hoskins | | Relic |
| DJR-AMC | Andrew McCutchen | | Relic |
| DJR-AN | Aaron Nola | | Relic |
| DJR-JSE | Jean Segura | | Relic |
| DJR-ZWH | Zack Wheeler | | Relic |
| DNC-AAN | Aaron Nola | | Relic |
| DNC-AN | Aaron Nola | | Relic |
| DNC-ZWH | Zack Wheeler | | Relic |
| | | | |
| --- | --- | --- | --- |
| DRA-OCR | Oneil Cruz | RC | Auto |
| DRA-OCR2 | Oneil Cruz | RC | Auto |
| DRA-RCO | Roansy Contreras | RC | Auto |
| DRA-RCO2 | Roansy Contreras | RC | Auto |
| DAR-RH | Ke'Bryan Hayes | | Auto Relic |
| DAR-RH | Bryan Reynolds | | Auto Relic |
| DPC-KBH | Ke'Bryan Hayes | | Relic |
| DJR-KH | Ke'Bryan Hayes | | Relic |
| DNC-KH | Ke'Bryan Hayes | | Relic |
| DCS-HW | Honus Wagner | | Relic |
| DCS-RCL | Roberto Clemente | | Relic |
| DCS-RK | Ralph Kiner | | Relic |
| DCS-WST | Willie Stargell | | Relic |
| | | | |
| --- | --- | --- | --- |
| DCA-NR | Nolan Ryan | | Auto |
| LAC-ABE | Adrian Beltre | | Auto |
| DIA-NR | Nolan Ryan | | Auto |
| DARC-NRY | Nolan Ryan | | Auto Relic |
| | | | |
| --- | --- | --- | --- |
| DCA-WF | Wander Franco | RC | Auto |
| DCFA-WFR | Wander Franco | RC | Auto |
| DRA-WF | Wander Franco | RC | Auto |
| DRA-WFR | Wander Franco | RC | Auto |
| DRA-BAZ | Shane Baz | RC | Auto |
| DRA-BAZ2 | Shane Baz | RC | Auto |
| DRA-JLO | Josh Lowe | RC | Auto |
| DRA-JLO2 | Josh Lowe | RC | Auto |
| DRA-VB | Vidal Brujan | RC | Auto |
| DRA-VBR | Vidal Brujan | RC | Auto |
| ARC-AM | Austin Meadows | | Auto Relic |
| ARC-RAR | Randy Arozarena | | Auto Relic |
| DAPB-MEA | Austin Meadows | | Auto Relic |
| DARC-WBO | Wade Boggs | | Auto Relic |
| DAR-MAR | Austin Meadows | | Auto Relic |
| DAR-MAR | Randy Arozarena | | Auto Relic |
| FAC-AM | Austin Meadows | | Auto Relic |
| FAC-RAR | Randy Arozarena | | Auto Relic |
| DPC-KK | Kevin Kiermaier | | Relic |
| DJR-BLO | Brandon Lowe | | Relic |
| DNC-BL | Brandon Lowe | | Relic |
| | | | |
| --- | --- | --- | --- |
| DCA-DP | Dustin Pedroia | | Auto |
| DCA-JDM | J.D. Martinez | | Auto |
| DCA-JDU | Jarren Duran | RC | Auto |
| DCA-RD | Rafael Devers | | Auto |
| DCA-XB | Xander Bogaerts | | Auto |
| LAC-CF | Carlton Fisk | | Auto |
| LAC-CY | Carl Yastrzemski | | Auto |
| LAC-DO | David Ortiz | | Auto |
| LAC-NG | Nomar Garciaparra | | Auto |
| LAC-PM | Pedro Martinez | | Auto |
| DCFA-CYA | Carl Yastrzemski | | Auto |
| DCFA-RD | Rafael Devers | | Auto |
| DRA-JDU | Jarren Duran | RC | Auto |
| DIA-CF | Carlton Fisk | | Auto |
| DIA-CY | Carl Yastrzemski | | Auto |
| DIA-JVA | Jason Varitek | | Auto |
| DAC-FV | Carlton Fisk | | Auto |
| DAC-FV | Jason Varitek | | Auto |
| DAC-OD | Jim Rice | | Auto |
| DAC-OD | Carlton Fisk | | Auto |
| ARC-DO | David Ortiz | | Auto Relic |
| ARC-JDM | J.D. Martinez | | Auto Relic |
| ARC-RD | Rafael Devers | | Auto Relic |
| ARC-XB | Xander Bogaerts | | Auto Relic |
| DAPB-DO | David Ortiz | | Auto Relic |
| DAPB-DPE | Dustin Pedroia | | Auto Relic |
| DAPB-RD | Rafael Devers | | Auto Relic |
| DAPB-XB | Xander Bogaerts | | Auto Relic |
| DARC-CFI | Carlton Fisk | | Auto Relic |
| DARC-CY | Carl Yastrzemski | | Auto Relic |
| DARC-DO | David Ortiz | | Auto Relic |
| DARC-NG | Nomar Garciaparra | | Auto Relic |
| DARC-PM | Pedro Martinez | | Auto Relic |
| DARC-RC | Roger Clemens | | Auto Relic |
| DAR-BD | Xander Bogaerts | | Auto Relic |
| DAR-BD | Rafael Devers | | Auto Relic |
| DAR-GV | Jason Varitek | | Auto Relic |
| DAR-GV | Nomar Garciaparra | | Auto Relic |
| FAC-DO | David Ortiz | | Auto Relic |
| FAC-DP | Dustin Pedroia | | Auto Relic |
| FAC-RD | Rafael Devers | | Auto Relic |
| FAC-XB | Xander Bogaerts | | Auto Relic |
| DAUPC-DO | David Ortiz | | Auto Relic |
| DPC-DO | David Ortiz | | Relic |
| DPC-DP | Dustin Pedroia | | Relic |
| DPC-JDM | J.D. Martinez | | Relic |
| DPC-JMA | J.D. Martinez | | Relic |
| DPC-MB | Mookie Betts | | Relic |
| DPC-RD | Rafael Devers | | Relic |
| DPC-XAN | Xander Bogaerts | | Relic |
| DPC-XB | Xander Bogaerts | | Relic |
| DJR-DP | Dustin Pedroia | | Relic |
| DJR-JDM | J.D. Martinez | | Relic |
| DJR-RD | Rafael Devers | | Relic |
| DJR-XB | Xander Bogaerts | | Relic |
| DHC-BDA | Bobby Dalbec | | Relic |
| DNC-DO | David Ortiz | | Relic |
| DNC-JDM | J.D. Martinez | | Relic |
| DNC-XAN | Xander Bogaerts | | Relic |
| DNC-XB | Xander Bogaerts | | Relic |
| DCS-TW | Ted Williams | | Relic |
| | | | |
| --- | --- | --- | --- |
| DCA-BL | Barry Larkin | | Auto |
| DCA-JBE | Johnny Bench | | Auto |
| DCA-JV | Joey Votto | | Auto |
| LAC-BL | Barry Larkin | | Auto |
| LAC-JB | Johnny Bench | | Auto |
| DCFA-BL | Barry Larkin | | Auto |
| DCFA-JVO | Joey Votto | | Auto |
| DIA-JB | Johnny Bench | | Auto |
| DIA-JV | Joey Votto | | Auto |
| DAC-LV | Barry Larkin | | Auto |
| DAC-LV | Joey Votto | | Auto |
| DTA-BLV | Johnny Bench | | Auto |
| DTA-BLV | Joey Votto | | Auto |
| DTA-BLV | Barry Larkin | | Auto |
| ARC-IND | Jonathan India | | Auto Relic |
| ARC-JV | Joey Votto | | Auto Relic |
| ARC-JW | Jesse Winker | | Auto Relic |
| DAPB-JV | Joey Votto | | Auto Relic |
| DARC-BL | Barry Larkin | | Auto Relic |
| DARC-BL2 | Barry Larkin | | Auto Relic |
| DARC-JB | Johnny Bench | | Auto Relic |
| DAR-VW | Joey Votto | | Auto Relic |
| DAR-VW | Jesse Winker | | Auto Relic |
| FAC-JV | Joey Votto | | Auto Relic |
| FAC-JW | Jesse Winker | | Auto Relic |
| DAUPC-JV | Joey Votto | | Auto Relic |
| DPC-JVO | Joey Votto | | Relic |
| DPC-KGJR | Ken Griffey Jr. | | Relic |
| DPC-LCA | Luis Castillo | | Relic |
| DPC-SG | Sonny Gray | | Relic |
| DPC-VOT | Joey Votto | | Relic |
| DJR-JVO | Joey Votto | | Relic |
| DJR-LCA | Luis Castillo | | Relic |
| DJR-VOT | Joey Votto | | Relic |
| DNC-JVO | Joey Votto | | Relic |
| DNC-LCA | Luis Castillo | | Relic |
| DNC-VOT | Joey Votto | | Relic |
| | | | |
| --- | --- | --- | --- |
| LAC-LW | Larry Walker | | Auto |
| DARC-LW | Larry Walker | | Auto Relic |
| DARC-LW2 | Larry Walker | | Auto Relic |
| FAC-LW | Larry Walker | | Auto Relic |
| DPC-CB | Charlie Blackmon | | Relic |
| DPC-TS | Trevor Story | | Relic |
| DJR-CBL | Charlie Blackmon | | Relic |
| DNC-CB | Charlie Blackmon | | Relic |
| DNC-CBL | Charlie Blackmon | | Relic |
| DNC-LW | Larry Walker | | Relic |
| DNC-TS | Trevor Story | | Relic |
| | | | |
| --- | --- | --- | --- |
| DCA-BJA | Bo Jackson | | Auto |
| DCFA-BJA | Bo Jackson | | Auto |
| DRA-BW | Bobby Witt Jr. | RC | Auto |
| DRA-BWJ | Bobby Witt Jr. | RC | Auto |
| DRA-JK | Jackson Kowar | RC | Auto |
| DRA-JKO | Jackson Kowar | RC | Auto |
| DIA-BJ | Bo Jackson | | Auto |
| DAC-JSA | Bo Jackson | | Auto |
| ARC-SPE | Salvador Perez | | Auto Relic |
| ARC-WM | Whit Merrifield | | Auto Relic |
| DARC-BJ | Bo Jackson | | Auto Relic |
| FAC-SPE | Salvador Perez | | Auto Relic |
| DPC-GB | George Brett | | Relic |
| DPC-WM | Whit Merrifield | | Relic |
| DJR-SPE | Salvador Perez | | Relic |
| | | | |
| --- | --- | --- | --- |
| DCA-MCA | Miguel Cabrera | | Auto |
| DCFA-MC | Miguel Cabrera | | Auto |
| DRA-MM | Matt Manning | RC | Auto |
| DRA-MMA | Matt Manning | RC | Auto |
| ARC-CMI | Casey Mize | | Auto Relic |
| ARC-MCA | Miguel Cabrera | | Auto Relic |
| DAPB-MCA | Miguel Cabrera | | Auto Relic |
| FAC-MC | Miguel Cabrera | | Auto Relic |
| DPC-JV | Justin Verlander | | Relic |
| DPC-MCA | Miguel Cabrera | | Relic |
| DJR-MIG | Miguel Cabrera | | Relic |
| PPR-JB | Javier Baez | | Relic |
| DNC-CM | Casey Mize | | Relic |
| DNC-MIG | Miguel Cabrera | | Relic |
| DCS-AKA | Al Kaline | | Relic |
| DCS-HG | Hank Greenberg | | Relic |
| DCS-TC | Ty Cobb | | Relic |
| | | | |
| --- | --- | --- | --- |
| LAC-JMA | Joe Mauer | | Auto |
| DRA-JRY | Joe Ryan | RC | Auto |
| DRA-JRY2 | Joe Ryan | RC | Auto |
| DIA-BBU | Byron Buxton | | Auto |
| DAC-CMA | Rod Carew | | Auto |
| DAC-CMA | Joe Mauer | | Auto |
| DAC-MMA | Joe Mauer | | Auto |
| DAC-MMA | Justin Morneau | | Auto |
| ARC-BBU | Byron Buxton | | Auto Relic |
| DAPB-BUX | Byron Buxton | | Auto Relic |
| DARC-PMO2 | Paul Molitor | | Auto Relic |
| DARC-RCAR | Rod Carew | | Auto Relic |
| DAR-HB | Byron Buxton | | Auto Relic |
| DAR-HB | Torii Hunter | | Auto Relic |
| DAR-MBU | Byron Buxton | | Auto Relic |
| DAR-MBU | Joe Mauer | | Auto Relic |
| FAC-BUX | Byron Buxton | | Auto Relic |
| DPC-BB | Byron Buxton | | Relic |
| DPC-JDO | Josh Donaldson | | Relic |
| DPC-MK | Max Kepler | | Relic |
| DJR-BB | Byron Buxton | | Relic |
| DJR-JPO | Jorge Polanco | | Relic |
| DHC-JDO | Josh Donaldson | | Relic |
| DNC-BB | Byron Buxton | | Relic |
| DNC-JD | Josh Donaldson | | Relic |
| DNC-MK | Max Kepler | | Relic |
| DCS-HK | Harmon Killebrew | | Relic |
| DCS-KP | Kirby Puckett | | Relic |
| | | | |
| --- | --- | --- | --- |
| DCA-FT | Frank Thomas | | Auto |
| DCA-LRO | Luis Robert | | Auto |
| LAC-FT | Frank Thomas | | Auto |
| DCFA-FT | Frank Thomas | | Auto |
| DCFA-LR | Luis Robert | | Auto |
| DRA-GS | Gavin Sheets | RC | Auto |
| DRA-GSH | Gavin Sheets | RC | Auto |
| DIA-EJI | Eloy Jimenez | | Auto |
| DIA-FT | Frank Thomas | | Auto |
| DIA-LRO | Luis Robert | | Auto |
| DAC-TA | Frank Thomas | | Auto |
| DAC-TA | Tim Anderson | | Auto |
| DAC-TBU | Frank Thomas | | Auto |
| DAC-TBU | Mark Buehrle | | Auto |
| ARC-EJ | Eloy Jimenez | | Auto Relic |
| ARC-JAB | Jose Abreu | | Auto Relic |
| ARC-LG | Lucas Giolito | | Auto Relic |
| ARC-TA | Tim Anderson | | Auto Relic |
| DARC-CFI2 | Carlton Fisk | | Auto Relic |
| DARC-FT | Frank Thomas | | Auto Relic |
| DARC-FT2 | Frank Thomas | | Auto Relic |
| DARC-JTH | Jim Thome | | Auto Relic |
| DAR-AJ | Tim Anderson | | Auto Relic |
| DAR-AJ | Eloy Jimenez | | Auto Relic |
| DAR-TAB | Frank Thomas | | Auto Relic |
| DAR-TAB | Jose Abreu | | Auto Relic |
| FAC-JAB | Jose Abreu | | Auto Relic |
| DPC-LG | Lucas Giolito | | Relic |
| DPC-LR | Luis Robert | | Relic |
| DJR-YCA | Yoan Moncada | | Relic |
| DNC-JAB | Jose Abreu | | Relic |
| DNC-YMO | Yoan Moncada | | Relic |
| DCS-HWI | Hoyt Wilhelm | | Relic |
| DCS-LA | Luke Appling | | Relic |
| | | | |
| --- | --- | --- | --- |
| DCA-AJ | Aaron Judge | | Auto |
| DCA-AP | Andy Pettitte | | Auto |
| DCA-CC | CC Sabathia | | Auto |
| DCA-DJ | Derek Jeter | | Auto |
| DCA-DMA | Don Mattingly | | Auto |
| DCA-HM | Hideki Matsui | | Auto |
| DCA-RJ | Reggie Jackson | | Auto |
| LAC-AP | Andy Pettitte | | Auto |
| LAC-AR | Alex Rodriguez | | Auto |
| LAC-DJ | Derek Jeter | | Auto |
| LAC-DMA | Don Mattingly | | Auto |
| LAC-DW | Dave Winfield | | Auto |
| LAC-HM | Hideki Matsui | | Auto |
| LAC-MR | Mariano Rivera | | Auto |
| LAC-TR | Tim Raines | | Auto |
| LAC-WB | Wade Boggs | | Auto |
| DCFA-AJ | Aaron Judge | | Auto |
| DCFA-AR | Alex Rodriguez | | Auto |
| DCFA-DJ | Derek Jeter | | Auto |
| DCFA-DM | Don Mattingly | | Auto |
| DCFA-HM | Hideki Matsui | | Auto |
| DCFA-MR | Mariano Rivera | | Auto |
| DCFA-RJA | Reggie Jackson | | Auto |
| DRA-LGI | Luis Gil | RC | Auto |
| DIA-AJ | Aaron Judge | | Auto |
| DIA-DJ | Derek Jeter | | Auto |
| DIA-DW | Dave Winfield | | Auto |
| DIA-RJA | Reggie Jackson | | Auto |
| DAC-JR | Derek Jeter | | Auto |
| DAC-JR | Mariano Rivera | | Auto |
| DAC-MW | Don Mattingly | | Auto |
| DAC-MW | Dave Winfield | | Auto |
| DTA-IMO | Hideki Matsui | | Auto |
| DTA-JGT | Derek Jeter | | Auto |
| DTA-JMJ | Don Mattingly | | Auto |
| DTA-JMJ | Reggie Jackson | | Auto |
| DTA-JMJ | Aaron Judge | | Auto |
| ARC-AJ | Aaron Judge | | Auto Relic |
| ARC-AR | Anthony Rizzo | | Auto Relic |
| ARC-CCS | CC Sabathia | | Auto Relic |
| DAPB-CC | CC Sabathia | | Auto Relic |
| DARC-AP | Andy Pettitte | | Auto Relic |
| DARC-AR | Alex Rodriguez | | Auto Relic |
| DARC-BW | Bernie Williams | | Auto Relic |
| DARC-DJ | Derek Jeter | | Auto Relic |
| DARC-DM | Don Mattingly | | Auto Relic |
| DARC-DM2 | Don Mattingly | | Auto Relic |
| DARC-HM | Hideki Matsui | | Auto Relic |
| DARC-MR | Mariano Rivera | | Auto Relic |
| DARC-RJA | Reggie Jackson | | Auto Relic |
| DARC-WB | Wade Boggs | | Auto Relic |
| DAR-PSA | CC Sabathia | | Auto Relic |
| DAR-PSA | Andy Pettitte | | Auto Relic |
| FAC-ACH | Aroldis Chapman | | Auto Relic |
| FAC-AJU | Aaron Judge | | Auto Relic |
| FAC-CS | CC Sabathia | | Auto Relic |
| FAC-DJL | DJ LeMahieu | | Auto Relic |
| DPC-AJ | Aaron Judge | | Relic |
| DPC-ARI | Anthony Rizzo | | Relic |
| DPC-CCS | CC Sabathia | | Relic |
| DPC-GC | Gerrit Cole | | Relic |
| DPC-GST | Giancarlo Stanton | | Relic |
| DPC-GT | Gleyber Torres | | Relic |
| DPC-JG | Joey Gallo | | Relic |
| DPC-MTE | Mark Teixeira | | Relic |
| DJR-AJU | Aaron Judge | | Relic |
| DJR-AR | Anthony Rizzo | | Relic |
| DJR-CCS | CC Sabathia | | Relic |
| DJR-GST | Giancarlo Stanton | | Relic |
| DJR-STA | Giancarlo Stanton | | Relic |
| DCS-CS | Casey Stengel | | Relic |
| DCS-JD | Joe DiMaggio | | Relic |
| DCS-PR | Phil Rizzuto | | Relic |
| DCS-RM | Roger Maris | | Relic |
| DCS-RR | Red Ruffing | | Relic |
| DCS-WF | Whitey Ford | | Relic |
| DCS-WH | Waite Hoyt | | Relic |