2022 Bowman Chrome University Football trading cards are the first of their kind for the Bowman family of brands.
The set combines a 100 card checklist in both paper and chrome with several insert sets and autographs of football's most promising prospects.
Each hobby box includes two Chrome Bowman U autographs.
Topps did not provide a school specific checklist so our checklist is organized by subset. You can scroll through the entire checklist or jump to a specific subset by selecting it from the key below. Clicking a link within the checklist will direct you to an affiliate retailer or to relevant eBay listings.
Release date – 4/22/22
Cards per pack – 4
Packs per hobby box – 24
Hobby boxes per case – 12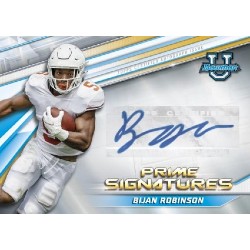 2022 Bowman Chrome University Football Checklist
Base – 100 Cards
Refractor – 1:6 packs
Shimmer Refractor – 1 per Hobby Box
Purple
Aqua Refractor – #/299
Blue Refractor – #/199
Fuchsia Mini-Diamond Refractor – #/150
Lava Refractor – #/100
Green Refractor – #/99
Green Shimmer Refractor – #/99
Yellow Refractor – #/75
Gold Refractor – #/50
Gold Shimmer Refractor – #/50
Orange Refractor – #/25
Orange Shimmer Refractor – #/25
Red Shimmer Refractor – #/10
Red Refractor – #/5
Black Shimmer Refractor – 1/1
SuperFractor – 1/1
2003 Bowman (2KB) – 30 Cards
Aqua Foil – #/150
Orange Foil – #/25
FoilFractor – 1/1
Golden Boy (GB) – 15 Cards
Aqua Foil – #/150
Orange Foil – #/25
FoilFractor – 1/1
The Big Kahuna (TBK) – 25 Cards
Orange Refractor – #/25
SuperFractor – 1/1
Autograph Base – #/Varied
Autograph Orange Refractor – #/25
Autograph SuperFractor – 1/1
Bowman Invicta (BI) – 20 Cards
Lava Refractor – #/150
Orange Refractor – #/25
SuperFractor – 1/1
Prospects
| | |
| --- | --- |
| 1 | Khalil Shakir |
| 2 | D.J. Uiagalelei |
| 3 | CJ Stroud |
| 4 | Bryce Young |
| 5 | Matt Corral |
| 6 | Emory Jones |
| 7 | Harrison Bailey |
| 8 | Bo Nix |
| 9 | Dillon Gabriel |
| 10 | Graham Mertz |
| 11 | Malik Cunningham |
| 12 | Justyn Ross |
| 13 | McKenzie Milton |
| 14 | Chris Olave |
| 15 | Casey Thompson |
| 16 | Myjai Sanders |
| 17 | Marvin Mims |
| 18 | Kennedy Brooks |
| 19 | James Cook |
| 20 | Chris Rodriguez |
| 21 | Tyler Allgeier |
| 22 | Tyler Fryfogle |
| 23 | Jadon Haselwood |
| 24 | Romeo Doubs |
| 25 | Toa Taua |
| 26 | Zay Flowers |
| 27 | Kearis Jackson |
| 28 | Spencer Rattler |
| 29 | Malik Willis |
| 30 | Tyler Shough |
| 31 | Bijan Robinson |
| 32 | Taulia Tagovailoa |
| 33 | Brandon Peters |
| 34 | Kyle Hamilton |
| 35 | Kayshon Boutte |
| 36 | Mohamed Ibrahim |
| 37 | Mike Harley |
| 38 | Ahmad Gardner |
| 39 | JJ McCarthy |
| 40 | Tyler Goodson |
| 41 | Michael Penix Jr. |
| 42 | Nick Starkel |
| 43 | Deuce Vaughn |
| 44 | Jeff Sims |
| 45 | Hank Bachmeier |
| 46 | Hudson Card |
| 47 | John Metchie III |
| 48 | Brian Robinson |
| 49 | Desmond Ridder |
| 50 | Josh Downs |
| 51 | Chase Garbers |
| 52 | Will Levis |
| 53 | Tyler Van Dyke |
| 54 | Blake Corum |
| 55 | Grayson McCall |
| 56 | Payton Thorne |
| 57 | Jayden Reed |
| 58 | D'Eriq King |
| 59 | Rakim Jarrett |
| 60 | Tanner McKee |
| 61 | Xavier Worthy |
| 62 | Devin Lloyd |
| 63 | Jalen Wydermyer |
| 64 | Zach Evans |
| 65 | Kenny Pickett |
| 66 | Jordan Battle |
| 67 | Derek Stingley Jr |
| 68 | DeMarvin Leal |
| 69 | Sean Clifford |
| 70 | Sean Clifford |
| 71 | Jerome Ford |
| 72 | RJ Sneed |
| 73 | Sam Williams |
| 74 | Skylar Thompson |
| 75 | Cade Otton |
| 76 | Jaylen Watson |
| 77 | Dalton Kincaid |
| 78 | Jake Haener |
| 79 | JJ McCarthy |
| 80 | Tyler Badie |
| 81 | Sam Howell |
| 82 | Kenneth Walker III |
| 83 | Brock Bowers |
| 84 | Connor Bazelak |
| 85 | Braelon Allen |
| 86 | Chimere Dike |
| 87 | Jalen Tolbert |
| 88 | Colby Wooden |
| 89 | D.J. Uiagalelei |
| 90 | CJ Stroud |
| 91 | Kenny Pickett |
| 92 | Malik Cunningham |
| 93 | Chris Olave |
| 94 | Malik Willis |
| 95 | Bijan Robinson |
| 96 | Sam Howell |
| 97 | Kenneth Walker III |
| 98 | Desmond Ridder |
| 99 | John Metchie III |
| 100 | Brian Robinson |
2003 Bowman
| | |
| --- | --- |
| 2KB-1 | Myjai Sanders |
| 2KB-2 | D.J. Uiagalelei |
| 2KB-3 | CJ Stroud |
| 2KB-4 | Bryce Young |
| 2KB-5 | Matt Corral |
| 2KB-6 | Emory Jones |
| 2KB-7 | Bo Nix |
| 2KB-8 | Graham Mertz |
| 2KB-9 | Malik Cunningham |
| 2KB-10 | Casey Thompson |
| 2KB-11 | Spencer Rattler |
| 2KB-12 | Kenny Pickett |
| 2KB-13 | Sean Clifford |
| 2KB-14 | Malik Willis |
| 2KB-15 | Tyler Shough |
| 2KB-16 | Taulia Tagovailoa |
| 2KB-17 | Kennedy Brooks |
| 2KB-18 | James Cook |
| 2KB-19 | Chris Rodriguez |
| 2KB-20 | Nick Starkel |
| 2KB-21 | Kenneth Walker III |
| 2KB-22 | Bijan Robinson |
| 2KB-23 | Sam Howell |
| 2KB-24 | Kyle Hamilton |
| 2KB-25 | Justyn Ross |
| 2KB-26 | Chris Olave |
| 2KB-27 | Marvin Mims |
| 2KB-28 | Jadon Haselwood |
| 2KB-29 | Romeo Doubs |
| 2KB-30 | Zay Flowers |
Golden Boy
| | |
| --- | --- |
| GB-1 | D.J. Uiagalelei |
| GB-2 | CJ Stroud |
| GB-3 | Bryce Young |
| GB-4 | Matt Corral |
| GB-5 | Emory Jones |
| GB-6 | Harrison Bailey |
| GB-7 | Bo Nix |
| GB-8 | Dillon Gabriel |
| GB-9 | Graham Mertz |
| GB-10 | Malik Cunningham |
| GB-11 | McKenzie Milton |
| GB-12 | Casey Thompson |
| GB-13 | Spencer Rattler |
| GB-14 | Malik Willis |
| GB-15 | Sam Howell |
The Big Kahuna
| | | |
| --- | --- | --- |
| TBK-1 | D.J. Uiagalelei | |
| TBK-1 | D.J. Uiagalelei | Autograph |
| TBK-2 | CJ Stroud | |
| TBK-3 | Bryce Young | |
| TBK-4 | Matt Corral | |
| TBK-5 | Kenny Pickett | |
| TBK-5 | Kenny Pickett | Autograph |
| TBK-6 | Spencer Rattler | |
| TBK-6 | Spencer Rattler | Autograph |
| TBK-7 | Justyn Ross | |
| TBK-7 | Justyn Ross | Autograph |
| TBK-8 | Chris Olave | |
| TBK-8 | Chris Olave | Autograph |
| TBK-9 | Kyle Hamilton | |
| TBK-9 | Kyle Hamilton | Autograph |
| TBK-10 | Myjai Sanders | |
| TBK-10 | Myjai Sanders | Autograph |
| TBK-11 | Marvin Mims | |
| TBK-11 | Marvin Mims | Autograph |
| TBK-12 | Malik Cunningham | |
| TBK-12 | Malik Cunningham | Autograph |
| TBK-13 | Tyler Shough | |
| TBK-13 | Tyler Shough | Autograph |
| TBK-14 | Malik Willis | |
| TBK-14 | Malik Willis | Autograph |
| TBK-15 | Bijan Robinson | |
| TBK-16 | Desmond Ridder | |
| TBK-16 | Desmond Ridder | Autograph |
| TBK-17 | Blake Corum | |
| TBK-18 | Jadon Haselwood | |
| TBK-18 | Jadon Haselwood | Autograph |
| TBK-19 | JJ McCarthy | |
| TBK-20 | Tyler Van Dyke | |
| TBK-21 | Kenneth Walker III | |
| TBK-21 | Kenneth Walker III | Autograph |
| TBK-22 | Kayshon Boutte | |
| TBK-23 | John Metchie III | |
| TBK-24 | Jerome Ford | |
| TBK-25 | Sam Howell | |
Bowman Invicta
| | |
| --- | --- |
| BI-1 | D.J. Uiagalelei |
| BI-2 | CJ Stroud |
| BI-3 | Bryce Young |
| BI-4 | Matt Corral |
| BI-5 | Kenny Pickett |
| BI-6 | Spencer Rattler |
| BI-7 | Justyn Ross |
| BI-8 | Chris Olave |
| BI-9 | Kyle Hamilton |
| BI-10 | Myjai Sanders |
| BI-11 | Marvin Mims |
| BI-12 | Malik Cunningham |
| BI-13 | Tyler Shough |
| BI-14 | Malik Willis |
| BI-15 | Bijan Robinson |
| BI-16 | Desmond Ridder |
| BI-17 | JJ McCarthy |
| BI-18 | Nick Starkel |
| BI-19 | Graham Mertz |
| BI-20 | Taulia Tagovailoa |
Chrome Prospect Autographs
| | |
| --- | --- |
| BCPA-AG | Ahmad Gardner |
| BCPA-BA | Braelon Allen |
| BCPA-BB | Brock Bowers |
| BCPA-BC | Blake Corum |
| BCPA-BN | Bo Nix |
| BCPA-BP | Brandon Peters |
| BCPA-BR | Bijan Robinson |
| BCPA-BRO | Brian Robinson |
| BCPA-BY | Bryce Young |
| BCPA-CB | Connor Bazelak |
| BCPA-CD | Chimere Dike |
| BCPA-CG | Chase Garbers |
| BCPA-CO | Chris Olave |
| BCPA-COT | Cade Otton |
| BCPA-CR | Chris Rodriguez |
| BCPA-CS | CJ Stroud |
| BCPA-CT | Casey Thompson |
| BCPA-CW | Colby Wooden |
| BCPA-DG | Dillon Gabriel |
| BCPA-DK | D'Eriq King |
| BCPA-DKI | Dalton Kincaid |
| BCPA-DL | Devin Lloyd |
| BCPA-DR | Desmond Ridder |
| BCPA-DS | Derek Stingley Jr |
| BCPA-DU | D.J. Uiagalelei |
| BCPA-DV | Deuce Vaughn |
| BCPA-DlE | DeMarvin Leal |
| BCPA-EJ | Emory Jones |
| BCPA-GM | Graham Mertz |
| BCPA-GMC | Grayson McCall |
| BCPA-HB | Harrison Bailey |
| BCPA-HBA | Hank Bachmeier |
| BCPA-HC | Hudson Card |
| BCPA-JBA | Jordan Battle |
| BCPA-JC | James Cook |
| BCPA-JDO | Josh Downs |
| BCPA-JF | Jerome Ford |
| BCPA-JH | Jadon Haselwood |
| BCPA-JHA | Jake Haener |
| BCPA-JM | JJ McCarthy |
| BCPA-JME | John Metchie III |
| BCPA-JR | Justyn Ross |
| BCPA-JRE | Jayden Reed |
| BCPA-JS | Jeff Sims |
| BCPA-JT | Jalen Tolbert |
| BCPA-JW | Jalen Wydermyer |
| BCPA-JWA | Jaylen Watson |
| BCPA-KB | Kennedy Brooks |
| BCPA-KBO | Kayshon Boutte |
| BCPA-KH | Kyle Hamilton |
| BCPA-KJ | Kearis Jackson |
| BCPA-KP | Kenny Pickett |
| BCPA-KS | Khalil Shakir |
| BCPA-KW | Kenneth Walker III |
| BCPA-MC | Matt Corral |
| BCPA-MCU | Malik Cunningham |
| BCPA-MH | Mike Harley |
| BCPA-MI | Mohamed Ibrahim |
| BCPA-MM | McKenzie Milton |
| BCPA-MMI | Marvin Mims |
| BCPA-MP | Michael Penix Jr. |
| BCPA-MS | Myjai Sanders |
| BCPA-MW | Malik Willis |
| BCPA-NS | Nick Starkel |
| BCPA-PT | Payton Thorne |
| BCPA-RD | Romeo Doubs |
| BCPA-RJ | Rakim Jarrett |
| BCPA-RS | RJ Sneed |
| BCPA-SC | Sean Clifford |
| BCPA-SH | Sam Howell |
| BCPA-SR | Spencer Rattler |
| BCPA-ST | Skylar Thompson |
| BCPA-SW | Sam Williams |
| BCPA-TA | Tyler Allgeier |
| BCPA-TB | Tyler Badie |
| BCPA-TF | Tyler Fryfogle |
| BCPA-TG | Tyler Goodson |
| BCPA-TM | Tanner Mckee |
| BCPA-TS | Tyler Shough |
| BCPA-TT | Taulia Tagovailoa |
| BCPA-TTA | Toa Taua |
| BCPA-TV | Tyler Van Dyke |
| BCPA-WL | Will Levis |
| BCPA-XW | Xavier Worthy |
| BCPA-ZE | Zach Evans |
| BCPA-ZF | Zay Flowers |
Prime Chrome Signatures
| | |
| --- | --- |
| PCS-BN | Bo Nix |
| PCS-BP | Brandon Peters |
| PCS-BY | Bryce Young |
| PCS-CO | Chris Olave |
| PCS-CR | Chris Rodriguez |
| PCS-CS | CJ Stroud |
| PCS-CT | Casey Thompson |
| PCS-DG | Dillon Gabriel |
| PCS-DU | D.J. Uiagalelei |
| PCS-EJ | Emory Jones |
| PCS-GM | Graham Mertz |
| PCS-HB | Harrison Bailey |
| PCS-JC | James Cook |
| PCS-JH | Jadon Haselwood |
| PCS-JM | JJ McCarthy |
| PCS-JR | Justyn Ross |
| PCS-KB | Kennedy Brooks |
| PCS-KBO | Kayshon Boutte |
| PCS-KH | Kyle Hamilton |
| PCS-KJ | Kearis Jackson |
| PCS-KP | Kenny Pickett |
| PCS-KS | Khalil Shakir |
| PCS-MC | Matt Corral |
| PCS-MCU | Malik Cunningham |
| PCS-MM | McKenzie Milton |
| PCS-MMI | Marvin Mims |
| PCS-MS | Myjai Sanders |
| PCS-SC | Sean Clifford |
| PCS-SR | Spencer Rattler |
| PCS-TA | Tyler Allgeier |
| PCS-TF | Tyler Fryfogle |
| PCS-TT | Taulia Tagovailoa |
| PCS-ZF | Zay Flowers |
Bowman Invicta Autographs
| | |
| --- | --- |
| BIA-CO | Chris Olave |
| BIA-DR | Desmond Ridder |
| BIA-DU | D.J. Uiagalelei |
| BIA-GM | Graham Mertz |
| BIA-JM | JJ McCarthy |
| BIA-JR | Justyn Ross |
| BIA-KH | Kyle Hamilton |
| BIA-MM | Marvin Mims |
| BIA-TT | Taulia Tagovailoa |
Golden Boy Autographs
| | |
| --- | --- |
| GBA-BN | Bo Nix |
| GBA-BY | Bryce Young |
| GBA-CS | CJ Stroud |
| GBA-DG | Dillon Gabriel |
| GBA-DU | D.J. Uiagalelei |
| GBA-EJ | Emory Jones |
| GBA-GM | Graham Mertz |
| GBA-KP | Kenny Pickett |
| GBA-MC | Matt Corral |
| GBA-SR | Spencer Rattler |
2003 Bowman Autographs
| | |
| --- | --- |
| 2KBA-BN | Bo Nix |
| 2KBA-BY | Bryce Young |
| 2KBA-CO | Chris Olave |
| 2KBA-CS | CJ Stroud |
| 2KBA-DU | D.J. Uiagalelei |
| 2KBA-EJ | Emory Jones |
| 2KBA-KH | Kyle Hamilton |
| 2KBA-MC | Matt Corral |
| 2KBA-MCU | Malik Cunningham |
| 2KBA-NS | Nick Starkel |
| 2KBA-SC | Sean Clifford |
| 2KBA-SR | Spencer Rattler |
| 2KBA-TS | Tyler Shough |
| 2KBA-ZF | Zay Flowers |