2021 Topps Star Wars Bounty Hunters trading cards are an interesting concept in that it's a bit of a game to "hunt" rare cards. The 100 card checklist comes in three variations with variable scarcity featuring bounty hunters and their targets.
Randomly inserted into packs are buy back cards from the original 1977 Topps Star Wars set. Collectors who find 25 of those cards are eligible to receive an Ultimate Bounty autograph card (1/1).
Every hobby box contains an autographed card and a sketch or relic card as well as 48 inserts and 14 parallels.
This checklist is organized by subset. Scroll through the entire list or jump to a preferred section by selecting it from the key below. Clicking a link within the checklist will direct you to an affiliate retailer or to relevant eBay listings.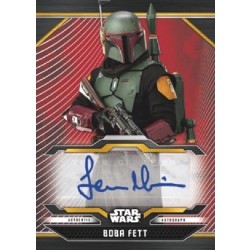 2021 Topps Star Wars Bounty Hunters Checklist
Bounty Level 1
| | | |
| --- | --- | --- |
| B1-1 | Zam Wesell | Star Wars: Attack of the Clones |
| B1-2 | IG-88 | Star Wars: The Empire Strikes Back |
| B1-3 | Jango Fett | Star Wars: Attack of the Clones |
| B1-4 | Bossk | Star Wars: The Empire Strikes Back |
| B1-5 | Bossk | Star Wars: The Clone Wars |
| B1-6 | Aurra Sing | Star Wars: The Phantom Menace |
| B1-7 | Aurra Sing | Star Wars: The Clone Wars |
| B1-8 | Boba Fett | Star Wars: The Clone Wars |
| B1-9 | Boba Fett | Star Wars: The Empire Strikes Back |
| B1-10 | Boba Fett | The Mandalorian Season 2 |
| B1-11 | Boba Fett | The Mandalorian Season 2 |
| B1-12 | Boba Fett | Star Wars: Attack of the Clones |
| B1-13 | Boba Fett | Star Wars: Return of the Jedi |
| B1-14 | Cad Bane | Star Wars: The Clone Wars |
| B1-15 | Han Solo | Solo: A Star Wars Story |
| B1-16 | Han Solo | Star Wars: A New Hope |
| B1-17 | Han Solo | Star Wars: The Empire Strikes Back |
| B1-18 | Han Solo | Star Wars: Return of the Jedi |
| B1-19 | Han Solo | Star Wars: Return of the Jedi |
| B1-20 | Han Solo | Star Wars: The Force Awakens |
| B1-21 | Lando Calrissian | Star Wars: Return of the Jedi |
| B1-22 | Lando Calrissian | Star Wars: The Empire Strikes Back |
| B1-23 | Lando Calrissian | Solo: a Star Wars Story |
| B1-24 | Lando Calrissian | Star Wars: The Rise of Skywalker |
| B1-25 | Jabba The Hutt | Star Wars: The Phantom Menace |
| B1-26 | Jabba The Hutt | Star Wars: A New Hope |
| B1-27 | Jabba The Hutt | Star Wars: Return of the Jedi |
| B1-28 | IG-11 | The Mandalorian Season 1 |
| B1-29 | Greef Karga | The Mandalorian Season 1 |
| B1-30 | Greef Karga | The Mandalorian Season 2 |
| B1-31 | Migs Mayfeld | The Mandalorian Season 1 |
| B1-32 | Migs Mayfeld | The Mandalorian Season 2 |
| B1-33 | Xi'an | The Mandalorian Season 1 |
| B1-34 | Ranzar Malk | The Mandalorian Season 1 |
| B1-35 | Burg | The Mandalorian Season 1 |
| B1-36 | Qin | The Mandalorian Season 1 |
| B1-37 | Fennec Shand | The Mandalorian Season 1 |
| B1-38 | Fennec Shand | The Mandalorian Season 2 |
| B1-39 | Tobias Beckett | Solo: A Star Wars Story |
| B1-40 | Val | Solo: A Star Wars Story |
| B1-41 | L3-37 | Solo: A Star Wars Story |
| B1-42 | Rio Durant | Solo: A Star Wars Story |
| B1-43 | Enfys Nest | Solo: A Star Wars Story |
| B1-44 | Enfys Nest | Solo: A Star Wars Story |
| B1-45 | Greedo | Star Wars: A New Hope |
| B1-46 | Cato Parasitti | Star Wars: The Clone Wars |
| B1-47 | Asajj Ventress | Star Wars: The Clone Wars |
| B1-48 | Darth Vader | Star Wars: The Empire Strikes Back |
| B1-49 | C-3PO | Star Wars: The Empire Strikes Back |
| B1-50 | Bib Fortuna | Star Wars: The Phantom Menace |
| B1-51 | Bib Fortuna | Star Wars: Return of the Jedi |
| B1-52 | Bib Fortuna | The Mandalorian Season 2 |
| B1-53 | Gamorrean | Star Wars: Return of the Jedi |
| B1-54 | Rancor | Star Wars: Return of the Jedi |
| B1-55 | Sarlacc | Star Wars: Return of the Jedi |
| B1-56 | Garindan | Star Wars: A New Hope |
| B1-57 | Boushh | Star Wars: Return of the Jedi |
| B1-58 | Bantha | Star Wars: A New Hope |
| B1-59 | Q9-0 | The Mandalorian Season 1 |
| B1-60 | R2-D2 | Star Wars: The Empire Strikes Back |
| B1-61 | Krayt Dragon | The Mandalorian Season 2 |
| B1-62 | Shahan Alama | Star Wars: The Clone Wars |
| B1-63 | Robonino | Star Wars: The Clone Wars |
| B1-64 | Frog Lady | The Mandalorian Season 2 |
| B1-65 | Mudhorn | The Mandalorian Season 1 |
| B1-66 | Mythrol | The Mandalorian Season 1 |
| B1-67 | Mythrol | The Mandalorian Season 2 |
| B1-68 | Peli Motto | The Mandalorian Season 1 |
| B1-69 | Toro Calican | The Mandalorian Season 1 |
| B1-70 | Qi'Ra | Solo: A Star Wars Story |
| B1-71 | Dryden Vos | Solo: A Star Wars Story |
| B1-72 | C-21 Highsinger | Star Wars: The Clone Wars |
| B1-73 | Pre Vizsla | Star Wars: The Clone Wars |
| B1-74 | Space Slug | Star Wars: The Empire Strikes Back |
| B1-75 | Chewbacca | Solo: a Star Wars Story |
| B1-76 | Chewbacca | Star Wars: The Clone Wars |
| B1-77 | Rako Hardeen | Star Wars: The Clone Wars |
| B1-78 | Bric | Star Wars: The Clone Wars |
| B1-79 | Dengar | Star Wars: The Clone Wars |
| B1-80 | Dengar | Star Wars: The Empire Strikes Back |
| B1-81 | Embo | Star Wars: The Clone Wars |
| B1-82 | Sugi | Star Wars: The Clone Wars |
| B1-83 | Kuiil | The Mandalorian Season 1 |
| B1-84 | Latts Razzi | Star Wars: The Clone Wars |
| B1-85 | Castas | Star Wars: The Clone Wars |
| B1-86 | The Armorer | The Mandalorian Season 1 |
| B1-87 | El-Les | Star Wars: The Clone Wars |
| B1-88 | Zuckuss | Star Wars: The Empire Strikes Back |
| B1-89 | Seripas | Star Wars: The Clone Wars |
| B1-90 | Ketsu Onyo | Star Wars Rebels |
| B1-91 | Bala-Tik | Star Wars: The Force Awakens |
| B1-92 | Tasu Leech | Star Wars: The Force Awakens |
| B1-93 | Unkar Plutt | Star Wars: The Force Awakens |
| B1-94 | 4-Lom | Star Wars: The Empire Strikes Back |
| B1-95 | The Mandalorian | The Mandalorian Season 1 |
| B1-96 | The Mandalorian | The Mandalorian Season 2 |
| B1-97 | Salacious B. Crumb | Star Wars: Return of the Jedi |
| B1-98 | Max Rebo | Star Wars: Return of the Jedi |
| B1-99 | Sy Snootles | Star Wars: Return of the Jedi |
| B1-100 | Droopy McCool | Star Wars: Return of the Jedi |
Bounty Level 2
| | | |
| --- | --- | --- |
| B2-1 | Zam Wesell | Star Wars: Attack of the Clones |
| B2-2 | IG-88 | Star Wars: The Empire Strikes Back |
| B2-3 | Jango Fett | Star Wars: Attack of the Clones |
| B2-4 | Bossk | Star Wars: The Empire Strikes Back |
| B2-5 | Bossk | Star Wars: The Clone Wars |
| B2-6 | Aurra Sing | Star Wars: The Phantom Menace |
| B2-7 | Aurra Sing | Star Wars: The Clone Wars |
| B2-8 | Boba Fett | Star Wars: The Clone Wars |
| B2-9 | Boba Fett | Star Wars: The Empire Strikes Back |
| B2-10 | Boba Fett | The Mandalorian Season 2 |
| B2-11 | Boba Fett | The Mandalorian Season 2 |
| B2-12 | Boba Fett | Star Wars: Attack of the Clones |
| B2-13 | Boba Fett | Star Wars: Return of the Jedi |
| B2-14 | Cad Bane | Star Wars: The Clone Wars |
| B2-15 | Han Solo | Solo: A Star Wars Story |
| B2-16 | Han Solo | Star Wars: A New Hope |
| B2-17 | Han Solo | Star Wars: The Empire Strikes Back |
| B2-18 | Han Solo | Star Wars: Return of the Jedi |
| B2-19 | Han Solo | Star Wars: Return of the Jedi |
| B2-20 | Han Solo | Star Wars: The Force Awakens |
| B2-21 | Lando Calrissian | Star Wars: Return of the Jedi |
| B2-22 | Lando Calrissian | Star Wars: The Empire Strikes Back |
| B2-23 | Lando Calrissian | Solo: a Star Wars Story |
| B2-24 | Lando Calrissian | Star Wars: The Rise of Skywalker |
| B2-25 | Jabba THE Hutt | Star Wars: The Phantom Menace |
| B2-26 | Jabba THE Hutt | Star Wars: A New Hope |
| B2-27 | Jabba THE Hutt | Star Wars: Return of the Jedi |
| B2-28 | IG-11 | The Mandalorian Season 1 |
| B2-29 | Greef Karga | The Mandalorian Season 1 |
| B2-30 | Greef Karga | The Mandalorian Season 2 |
| B2-31 | Migs Mayfeld | The Mandalorian Season 1 |
| B2-32 | Migs Mayfeld | The Mandalorian Season 2 |
| B2-33 | Xi'an | The Mandalorian Season 1 |
| B2-34 | Ranzar Malk | The Mandalorian Season 1 |
| B2-35 | Burg | The Mandalorian Season 1 |
| B2-36 | Qin | The Mandalorian Season 1 |
| B2-37 | Fennec Shand | The Mandalorian Season 1 |
| B2-38 | Fennec Shand | The Mandalorian Season 2 |
| B2-39 | Tobias Beckett | Solo: A Star Wars Story |
| B2-40 | Val | Solo: A Star Wars Story |
| B2-41 | L3-37 | Solo: A Star Wars Story |
| B2-42 | Rio Durant | Solo: A Star Wars Story |
| B2-43 | Enfys Nest | Solo: A Star Wars Story |
| B2-44 | Enfys Nest | Solo: A Star Wars Story |
| B2-45 | Greedo | Star Wars: A New Hope |
| B2-46 | Cato Parasitti | Star Wars: The Clone Wars |
| B2-47 | Asajj Ventress | Star Wars: The Clone Wars |
| B2-48 | Darth Vader | Star Wars: The Empire Strikes Back |
| B2-49 | C-3PO | Star Wars: The Empire Strikes Back |
| B2-50 | Bib Fortuna | Star Wars: The Phantom Menace |
| B2-51 | Bib Fortuna | Star Wars: Return of the Jedi |
| B2-52 | Bib Fortuna | The Mandalorian Season 2 |
| B2-53 | Gamorrean | Star Wars: Return of the Jedi |
| B2-54 | Rancor | Star Wars: Return of the Jedi |
| B2-55 | Sarlacc | Star Wars: Return of the Jedi |
| B2-56 | Garindan | Star Wars: A New Hope |
| B2-57 | Boushh | Star Wars: Return of the Jedi |
| B2-58 | Bantha | Star Wars: A New Hope |
| B2-59 | Q9-0 | The Mandalorian Season 1 |
| B2-60 | R2-D2 | Star Wars: The Empire Strikes Back |
| B2-61 | Krayt Dragon | The Mandalorian Season 2 |
| B2-62 | Shahan Alama | Star Wars: The Clone Wars |
| B2-63 | Robonino | Star Wars: The Clone Wars |
| B2-64 | Frog Lady | The Mandalorian Season 2 |
| B2-65 | Mudhorn | The Mandalorian Season 1 |
| B2-66 | Mythrol | The Mandalorian Season 1 |
| B2-67 | Mythrol | The Mandalorian Season 2 |
| B2-68 | Peli Motto | The Mandalorian Season 1 |
| B2-69 | Toro Calican | The Mandalorian Season 1 |
| B2-70 | Qi'Ra | Solo: A Star Wars Story |
| B2-71 | Dryden Vos | Solo: A Star Wars Story |
| B2-72 | C-21 Highsinger | Star Wars: The Clone Wars |
| B2-73 | Pre Vizsla | Star Wars: The Clone Wars |
| B2-74 | Space Slug | Star Wars: The Empire Strikes Back |
| B2-75 | Chewbacca | Solo: a Star Wars Story |
| B2-76 | Chewbacca | Star Wars: The Clone Wars |
| B2-77 | Rako Hardeen | Star Wars: The Clone Wars |
| B2-78 | Bric | Star Wars: The Clone Wars |
| B2-79 | Dengar | Star Wars: The Clone Wars |
| B2-80 | Dengar | Star Wars: The Empire Strikes Back |
| B2-81 | Embo | Star Wars: The Clone Wars |
| B2-82 | Sugi | Star Wars: The Clone Wars |
| B2-83 | Kuiil | The Mandalorian Season 1 |
| B2-84 | Latts Razzi | Star Wars: The Clone Wars |
| B2-85 | Castas | Star Wars: The Clone Wars |
| B2-86 | The Armorer | The Mandalorian Season 1 |
| B2-87 | El-Les | Star Wars: The Clone Wars |
| B2-88 | Zuckuss | Star Wars: The Empire Strikes Back |
| B2-89 | Seripas | Star Wars: The Clone Wars |
| B2-90 | Ketsu Onyo | Star Wars Rebels |
| B2-91 | Bala-Tik | Star Wars: The Force Awakens |
| B2-92 | Tasu Leech | Star Wars: The Force Awakens |
| B2-93 | Unkar Plutt | Star Wars: The Force Awakens |
| B2-94 | 4-Lom | Star Wars: The Empire Strikes Back |
| B2-95 | The Mandalorian | The Mandalorian Season 1 |
| B2-96 | The Mandalorian | The Mandalorian Season 2 |
| B2-97 | Salacious B. Crumb | Star Wars: Return of the Jedi |
| B2-98 | Max Rebo | Star Wars: Return of the Jedi |
| B2-99 | Sy Snootles | Star Wars: Return of the Jedi |
| B2-100 | Droopy McCool | Star Wars: Return of the Jedi |
Bounty Level 3
| | | |
| --- | --- | --- |
| B3-1 | Zam Wesell | Star Wars: Attack of the Clones |
| B3-2 | IG-88 | Star Wars: The Empire Strikes Back |
| B3-3 | Jango Fett | Star Wars: Attack of the Clones |
| B3-4 | Bossk | Star Wars: The Empire Strikes Back |
| B3-5 | Bossk | Star Wars: The Clone Wars |
| B3-6 | Aurra Sing | Star Wars: The Phantom Menace |
| B3-7 | Aurra Sing | Star Wars: The Clone Wars |
| B3-8 | Boba Fett | Star Wars: The Clone Wars |
| B3-9 | Boba Fett | Star Wars: The Empire Strikes Back |
| B3-10 | Boba Fett | The Mandalorian Season 2 |
| B3-11 | Boba Fett | The Mandalorian Season 2 |
| B3-12 | Boba Fett | Star Wars: Attack of the Clones |
| B3-13 | Boba Fett | Star Wars: Return of the Jedi |
| B3-14 | Cad Bane | Star Wars: The Clone Wars |
| B3-15 | Han Solo | Solo: A Star Wars Story |
| B3-16 | Han Solo | Star Wars: A New Hope |
| B3-17 | Han Solo | Star Wars: The Empire Strikes Back |
| B3-18 | Han Solo | Star Wars: Return of the Jedi |
| B3-19 | Han Solo | Star Wars: Return of the Jedi |
| B3-20 | Han Solo | Star Wars: The Force Awakens |
| B3-21 | Lando Calrissian | Star Wars: Return of the Jedi |
| B3-22 | Lando Calrissian | Star Wars: The Empire Strikes Back |
| B3-23 | Lando Calrissian | Solo: a Star Wars Story |
| B3-24 | Lando Calrissian | Star Wars: The Rise of Skywalker |
| B3-25 | Jabba THE Hutt | Star Wars: The Phantom Menace |
| B3-26 | Jabba THE Hutt | Star Wars: A New Hope |
| B3-27 | Jabba THE Hutt | Star Wars: Return of the Jedi |
| B3-28 | IG-11 | The Mandalorian Season 1 |
| B3-29 | Greef Karga | The Mandalorian Season 1 |
| B3-30 | Greef Karga | The Mandalorian Season 2 |
| B3-31 | Migs Mayfeld | The Mandalorian Season 1 |
| B3-32 | Migs Mayfeld | The Mandalorian Season 2 |
| B3-33 | Xi'an | The Mandalorian Season 1 |
| B3-34 | Ranzar Malk | The Mandalorian Season 1 |
| B3-35 | Burg | The Mandalorian Season 1 |
| B3-36 | Qin | The Mandalorian Season 1 |
| B3-37 | Fennec Shand | The Mandalorian Season 1 |
| B3-38 | Fennec Shand | The Mandalorian Season 2 |
| B3-39 | Tobias Beckett | Solo: A Star Wars Story |
| B3-40 | Val | Solo: A Star Wars Story |
| B3-41 | L3-37 | Solo: A Star Wars Story |
| B3-42 | Rio Durant | Solo: A Star Wars Story |
| B3-43 | Enfys Nest | Solo: A Star Wars Story |
| B3-44 | Enfys Nest | Solo: A Star Wars Story |
| B3-45 | Greedo | Star Wars: A New Hope |
| B3-46 | Cato Parasitti | Star Wars: The Clone Wars |
| B3-47 | Asajj Ventress | Star Wars: The Clone Wars |
| B3-48 | Darth Vader | Star Wars: The Empire Strikes Back |
| B3-49 | C-3PO | Star Wars: The Empire Strikes Back |
| B3-50 | Bib Fortuna | Star Wars: The Phantom Menace |
| B3-51 | Bib Fortuna | Star Wars: Return of the Jedi |
| B3-52 | Bib Fortuna | The Mandalorian Season 2 |
| B3-53 | Gamorrean | Star Wars: Return of the Jedi |
| B3-54 | Rancor | Star Wars: Return of the Jedi |
| B3-55 | Sarlacc | Star Wars: Return of the Jedi |
| B3-56 | Garindan | Star Wars: A New Hope |
| B3-57 | Boushh | Star Wars: Return of the Jedi |
| B3-58 | Bantha | Star Wars: A New Hope |
| B3-59 | Q9-0 | The Mandalorian Season 1 |
| B3-60 | R2-D2 | Star Wars: The Empire Strikes Back |
| B3-61 | Krayt Dragon | The Mandalorian Season 2 |
| B3-62 | Shahan Alama | Star Wars: The Clone Wars |
| B3-63 | Robonino | Star Wars: The Clone Wars |
| B3-64 | Frog Lady | The Mandalorian Season 2 |
| B3-65 | Mudhorn | The Mandalorian Season 1 |
| B3-66 | Mythrol | The Mandalorian Season 1 |
| B3-67 | Mythrol | The Mandalorian Season 2 |
| B3-68 | Peli Motto | The Mandalorian Season 1 |
| B3-69 | Toro Calican | The Mandalorian Season 1 |
| B3-70 | Qi'Ra | Solo: A Star Wars Story |
| B3-71 | Dryden Vos | Solo: A Star Wars Story |
| B3-72 | C-21 Highsinger | Star Wars: The Clone Wars |
| B3-73 | Pre Vizsla | Star Wars: The Clone Wars |
| B3-74 | Space Slug | Star Wars: The Empire Strikes Back |
| B3-75 | Chewbacca | Solo: a Star Wars Story |
| B3-76 | Chewbacca | Star Wars: The Clone Wars |
| B3-77 | Rako Hardeen | Star Wars: The Clone Wars |
| B3-78 | Bric | Star Wars: The Clone Wars |
| B3-79 | Dengar | Star Wars: The Clone Wars |
| B3-80 | Dengar | Star Wars: The Empire Strikes Back |
| B3-81 | Embo | Star Wars: The Clone Wars |
| B3-82 | Sugi | Star Wars: The Clone Wars |
| B3-83 | Kuiil | The Mandalorian Season 1 |
| B3-84 | Latts Razzi | Star Wars: The Clone Wars |
| B3-85 | Castas | Star Wars: The Clone Wars |
| B3-86 | THE Armorer | The Mandalorian Season 1 |
| B3-87 | El-Les | Star Wars: The Clone Wars |
| B3-88 | Zuckuss | Star Wars: The Empire Strikes Back |
| B3-89 | Seripas | Star Wars: The Clone Wars |
| B3-90 | Ketsu Onyo | Star Wars Rebels |
| B3-91 | Bala-Tik | Star Wars: The Force Awakens |
| B3-92 | Tasu Leech | Star Wars: The Force Awakens |
| B3-93 | Unkar Plutt | Star Wars: The Force Awakens |
| B3-94 | 4-Lom | Star Wars: The Empire Strikes Back |
| B3-95 | The Mandalorian | The Mandalorian Season 1 |
| B3-96 | The Mandalorian | The Mandalorian Season 2 |
| B3-97 | Salacious B. Crumb | Star Wars: Return of the Jedi |
| B3-98 | Max Rebo | Star Wars: Return of the Jedi |
| B3-99 | Sy Snootles | Star Wars: Return of the Jedi |
| B3-100 | Droopy McCool | Star Wars: Return of the Jedi |
The Mandalorian
| | | |
| --- | --- | --- |
| I-M1 | Mando accepts a new mission | The Mandalorian Chapter 1: The Mandalorian |
| I-M2 | The Mandalorian hands Grogu over | The Mandalorian Chapter 3: The Sin |
| I-M3 | The Mandalorian rescues Grogu from the Lab | The Mandalorian Chapter 3: The Sin |
| I-M4 | The Mandalorian saves Grogu from Moff Gideon | The Mandalorian Chapter 8: Redemption |
| I-M5 | Mando saves Mos Pelgo from a Krayt Dragon | The Mandalorian Chapter 9: The Marshal |
| I-M6 | Mando meets other Mandalorians | The Mandalorian Chapter 11: The Heiress |
| I-M7 | Mando meets Ahsoka Tano | The Mandalorian Chapter 13: The Jedi |
| I-M8 | Mando, Boba Fett & Fennec Shand Battle Stormtroopers | The Mandalorian Chapter 14: The Tragedy |
| I-M9 | Mando defeats Moff Gideon & wins the Darksaber | The Mandalorian Chapter 16: The Rescue |
| I-M10 | Mando says good-bye to Grogu | The Mandalorian Chapter 16: The Rescue |
Jango Fett
| | | |
| --- | --- | --- |
| I-J1 | JANGO FETT KILLS ZAM WESELL FROM AFAR | Star Wars: Attack of the Clones |
| I-J2 | JANGO FETT CONFRONTS OBI-WAN KENOBI ON KAMINO | Star Wars: Attack of the Clones |
| I-J3 | Jango and Boba Fett leave Kamino | Star Wars: Attack of the Clones |
| I-J4 | Jango and Obi-Wan battle above the waves | Star Wars: Attack of the Clones |
| I-J5 | Obi-Wan tracks down Jango's ship | Star Wars: Attack of the Clones |
| I-J6 | Jango Fett and Count Dooku view the Execution | Star Wars: Attack of the Clones |
| I-J7 | Mace Windu draws his lightsaber on Jango | Star Wars: Attack of the Clones |
| I-J8 | Jango kills a beast in the arena | Star Wars: Attack of the Clones |
| I-J9 | Mace Windu beheads Jango Fett | Star Wars: Attack of the Clones |
| I-J10 | Jango's legacy lives on with his son, Boba | Star Wars: Attack of the Clones |
Boba Fett
| | | |
| --- | --- | --- |
| I-B1 | Boba Fett meets Obi-Wan on Kamino | Star Wars: Attack of the Clones |
| I-B2 | Boba Fett takes his father's helmet | Star Wars: Attack of the Clones |
| I-B3 | Boba Fett tracks down Han Solo in Cloud City | Star Wars: The Empire Strikes Back |
| I-B4 | Boba Fett presents Han Solo to Jabba the Hutt | Star Wars: The Empire Strikes Back |
| I-B5 | Boba Fett battles the Rebels above the Sarlacc | Star Wars: Return of the Jedi |
| I-B6 | Boba Fett meets up with the Mandalorian | The Mandalorian Chapter 14: The Tragedy |
| I-B7 | Boba Fett recovers his armor and defeats the stormtroopers | The Mandalorian Chapter 14: The Tragedy |
| I-B8 | Boba Fett pledges to help Mando rescue Grogu | The Mandalorian Chapter 14: The Tragedy |
| I-B9 | Boba Fett Leads the team to the Imperial Cruiser | The Mandalorian Chapter 16: The Rescue |
| I-B10 | Boba Fett sits on Jabba the Hutt's throne | The Mandalorian Chapter 16: The Rescue |
Aurra Sing
| | | |
| --- | --- | --- |
| I-A1 | Aurra Sing joins up with Boba Fett during the Clone Wars | Star Wars: The Clone Wars |
| I-A2 | Aurra visits Hondo Ohnaka to get advice | Star Wars: The Clone Wars |
| I-A3 | Aurra battles Plo Koon and Ahsoka Tano | Star Wars: The Clone Wars |
| I-A4 | Hondo saves Aurra Sing from the ship wreckage | Star Wars: The Clone Wars |
| I-A5 | Aurra is hired to assassinate Senator Amidala | Star Wars: The Clone Wars |
| I-A6 | Aurra and Cad Bane team up | Star Wars: The Clone Wars |
| I-A7 | Aurra takes down the Senate Commandos | Star Wars: The Clone Wars |
| I-A8 | Aurra Helps Shahan Alama hunt down Anakin Skywalker | Star Wars: The Clone Wars |
| I-A9 | The hunters capture Anakin Skywalker | Star Wars: The Clone Wars |
| I-A10 | Aurra Sing leaves the scene | Star Wars: The Clone Wars |
Cad Bane
| | | |
| --- | --- | --- |
| I-C1 | Count Dooku introduces Cad Bane | Star Wars: The Clone Wars |
| I-C2 | Bane is hired by Darth Sidious to steal a Jedi Holocron | Star Wars: The Clone Wars |
| I-C3 | Bane successfully pulls off the heist | Star Wars: The Clone Wars |
| I-C4 | Bane leads a ground attack on Devaron | Star Wars: The Clone Wars |
| I-C5 | Cad Bane arranges an ambush | Star Wars: The Clone Wars |
| I-C6 | Anakin Skywalker confronts Cad Bane | Star Wars: The Clone Wars |
| I-C7 | Bane's mission is complete | Star Wars: The Clone Wars |
| I-C8 | Denal and Koho battle Bane | Star Wars: The Clone Wars |
| I-C9 | Bane takes Denal's armor | Star Wars: The Clone Wars |
| I-C10 | Bane escapes in a starfighter | Star Wars: The Clone Wars |
Die Cut Empire Strikes Back
| | |
| --- | --- |
| DC-4 | Bossk |
| DC-B | 4-Lom |
| DC-D | Dengar |
| DC-IG | Zuckuss |
| DC-Z | IG-88 |
Bounty Patch
| | |
| --- | --- |
| PB-CW | Han Solo in Carbonite |
| PB-HC | Chewbacca |
| PB-HS | Han Solo |
| PB-JH | Padmé Amidala |
| PB-PA | Padmé Amidala |
| PB-PS | JEDI HOLOCRON |
| PB-SCP | Pluma Sodi |
| PB-SP | Supreme Chancellor Palpatine |
| PB-ZH | ZIRO THE HUTT |
Bounty Hunter Patch
| | |
| --- | --- |
| PBH-4 | Boba Fett |
| PBH-AS | Bossk |
| PBH-AV | 4-Lom |
| PBH-B | Dengar |
| PBH-BF | Zuckuss |
| PBH-CB | Jango Fett |
| PBH-D | Greedo |
| PBH-E | IG-88 |
| PBH-G | Aurra Sing |
| PBH-IG | Zam Wesell |
| PBH-JF | Asajj Ventress |
| PBH-Z | Embo |
| PBH-ZW | Cad Bane |
Autographs
| | | |
| --- | --- | --- |
| A-HF | Harrison Ford | A New Hope |
| A-BW | Billy Dee Williams | Empire Strikes Back |
| A-WH | Werner Herzog | The Mandalorian |
| A-IM | Ian McDiarmid | Attack of the Clones |
| A-HC | Hayden Christensen | Attack of the Clones |
| A-KB | Kenny Baker | Empire Strikes Back |
| A-CW | Carl Weathers | The Mandalorian |
| A-NN | Nick Nolte | The Mandalorian |
| A-TW | Taika Waititi | The Mandalorian |
| A-TM | Temuera Morrison | The Mandalorian |
| A-TE | Temuera Morrison | Attack of the Clones |
| A-PM | Peter Mayhew | Empire Strikes Back |
| A-GE | Giancarlo Esposito | The Mandalorian |
| A-ML | Matt Lanter | The Clone Wars |
| A-JT | James Arnold Taylor | The Clone Wars |
| A-JB | Jeremy Bulloch | |
| A-ES | Emily Swallow | The Mandalorian |
| A-PB | Paul Blake | A New Hope |
| A-CP | Chris Parsons | Empire Strikes Back |
| A-AB | Anna Brewster | The Force Awakens |
| A-NF | Nika Futterman | The Clone Wars |
| A-CM | Cathy Munro | Empire Strikes Back |
| A-LW | Leanna Walsman | Attack of the Clones |
| A-AG | Anna Graves | The Clone Wars |
| A-MB | Michonne Bourriague | The Phantom Menace |
| A-MM | Mary Elizabeth McGlynn | Rebels |
| A-LM | Lars Mikkelsen | Rebels |
| A-OA | Omid Abtahi | The Mandalorian |
| A-JD | Julie Dolan | Rebels |
| A-TG | Taylor Gray | Rebels |
| A-DL | Daniel Logan | Attack of the Clones |
| A-ME | Mike Edmonds | Return of the Jedi |
| A-CT | Catherine Taber | The Clone Wars |
| A-DB | Dee Bradley Baker | The Clone Wars |
| A-DE | Dee Bradley Baker | Rebels |
| A-SK | Simon Kassianides | The Mandalorian |
Dual Autograph
| | | |
| --- | --- | --- |
| DA-FB | Jeremy Bulloch | |
| DA-FB | Harrison Ford | |
| DA-ML | Daniel Logan | Attack of the Clones |
| DA-ML | Temuera Morrison | Attack of the Clones |
| DA-MP | Cathy Munroe | Empire Strikes Back |
| DA-MP | Chris Parsons | Empire Strikes Back |
| DA-TF | Nika Futterman | The Clone Wars |
| DA-TF | Ashley ECKSTEIN | The Clone Wars |
| DA-WE | Corey Dee Williams | Return of the Jedi |
| DA-WE | Mike Quinn | Return of the Jedi |
Triple Autograph
| | | |
| --- | --- | --- |
| TA-FFW | Billy Dee Williams | Empire Strikes Back |
| TA-FFW | Carrie Fisher | Empire Strikes Back |
| TA-FFW | Harrison Ford | A New Hope |
| TA-LBM | Temuera Morrison | The Mandalorian |
| TA-LBM | Jeremy Bulloch | Empire Strikes Back |
| TA-LBM | Daniel Logan | Attack of the Clones |
| TA-MPB | Jeremy Bulloch | Empire Strikes Back |
| TA-MPB | Cathy Munroe | Empire Strikes Back |
| TA-MPB | Chris Parsons | Empire Strikes Back |
Bounty Autographs
| | | |
| --- | --- | --- |
| BA-BW | Billy Dee Williams | Empire Strikes Back |
| BA-CW | Carl Weathers | The Mandalorian |
| BA-HC | Hayden Christensen | Attack of the Clones |
| BA-HF | Harrison Ford | A New Hope |
| BA-JB | Jeremy Bulloch | Empire Strikes Back |
| BA-KB | Kenny Baker | Empire Strikes Back |
| BA-PM | Peter Mayhew | Empire Strikes Back |
| BA-PP | Pedro Pascal | The Mandalorian |
| BA-TM | Temuera Morrison | The Mandalorian |
| BA-WH | Werner Herzog | The Mandalorian |