2021 Topps Project 70 isn't a continuation of the massively popular Project 2020 series but it is in the same ballpark as it brings some of the industry's best print artists and tasks them with recreating iconic baseball cards. Where this series differs is that each artist can choose which cards to produce and, therefore, a wider variety of subjects will be included on the checklist.
Cards are available from the Topps daily and each card is available for purchase for only 70 hours. Each artist was meant to contribute 20 pieces to the set, making this a massive collection with over 1,000 cards, but as the release rolled on, many artists fell short of that number and the final total came in at 936.
Collectors who purchase all 20 of a single artists' cards from the Topps website will receive a gold-stamped art print of that entire collection.
This checklist appears in two configurations. The first is separated by team. Scroll through the entire list or jump to a preferred team by selecting them from the list below. You may also view the checklist separated by artist. Clicking a link within the checklist will direct you to an affiliate retailer or to relevant eBay listings.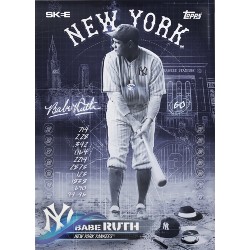 2021 Topps Project 70 Checklist
Base Set – 936 Cards
Rainbow Foil – #/70
Silver Frame Artist Proof – #/51
Gold Frame – 1/1
Angels
| | | | |
| --- | --- | --- | --- |
| 19 | Shohei Ohtani | Tyson Beck | 3215 |
| 27 | Mike Trout | Fucci | 5630 |
| 32 | Jo Adell | Jacob Rochester | 5422 |
| 55 | Albert Pujols | Distortedd | 3386 |
| 64 | Mike Trout | Chuck Styles | 8459 |
| 73 | Jo Adell | King Saladeen | 2927 |
| 79 | Mike Trout | Alex Pardee | 25182 |
| 139 | Shohei Ohtani | Quiccs | 4256 |
| 159 | Mike Trout | Lauren Taylor | 9472 |
| 163 | Rod Carew | Gregory Siff | 1512 |
| 183 | Jim Abbott | Greg 'CRAOLA' Simkins | 1093 |
| 213 | Nolan Ryan | Sean Wotherspoon | 1397 |
| 244 | Shohei Ohtani | Toy Tokyo | 2383 |
| 248 | Nolan Ryan | Bobby Hundreds | 1497 |
| 270 | Mike Trout | Ron English | 2465 |
| 290 | Mike Trout | Quiccs | 4113 |
| 296 | Shohei Ohtani | Sophia Chang | 2303 |
| 302 | Mike Trout | SoleFly | 2293 |
| 324 | Shohei Ohtani | DJ Skee | 7966 |
| 330 | Shohei Ohtani | Matt Taylor | 3013 |
| 344 | Mike Trout | Sophia Chang | 2323 |
| 357 | Mike Trout | Ermsy | 10687 |
| 357 | Mike Trout (Auto Variants) | Ermsy | 86 |
| 362 | Shohei Ohtani | Brittney Palmer | 3568 |
| 362 | Shohei Ohtani (Auto Variants) | Brittney Palmer | 86 |
| 385 | Shohei Ohtani | Naturel | 5755 |
| 404 | Jered Weaver | Greg 'CRAOLA' Simkins | 754 |
| 410 | Mike Trout | DJ Skee | 5925 |
| 420 | Mike Trout | Mister Cartoon | 2151 |
| 437 | Shohei Ohtani | Andrew Thiele | 4335 |
| 450 | Shohei Ohtani | King Saladeen | 3450 |
| 454 | Shohei Ohtani | Ben Baller | 7102 |
| 464 | Mike Trout | UNDEFEATED | 2590 |
| 470 | Shohei Ohtani | CES | 3602 |
| 478 | Shohei Ohtani | Greg 'CRAOLA' Simkins | 3451 |
| 483 | Shohei Ohtani | Ermsy | 8604 |
| 488 | Shohei Ohtani | Matt McCormick | 3949 |
| 489 | Mike Trout | Snoop Dogg | 3451 |
| 491 | Shohei Ohtani | Chuck Styles | 9177 |
| 493 | Shohei Ohtani | Mister Cartoon | 4475 |
| 493 | Shohei Ohtani (Auto Variants) | Mister Cartoon | 86 |
| 502 | Mike Trout | The Shoe Surgeon | 4573 |
| 505 | Mike Trout | CES | 3031 |
| 510 | Shohei Ohtani | Jeff Staple | 8709 |
| 533 | Mike Trout | Matt McCormick | 1837 |
| 536 | Shohei Ohtani | Morning Breath | 2622 |
| 547 | Shohei Ohtani | Keith Shore | 7157 |
| 550 | Shohei Ohtani | The Shoe Surgeon | 5264 |
| 550 | Shohei Ohtani (Auto Variants) | The Shoe Surgeon | 86 |
| 558 | Mike Trout | Jeff Staple | 1976 |
| 560 | Nolan Ryan | Brittney Palmer | 1671 |
| 561 | Shohei Ohtani | Fucci | 2284 |
| 566 | Shohei Ohtani | Alex Pardee | 10398 |
| 576 | Sandy Alomar | FUTURA | 802 |
| 582 | Mike Trout | King Saladeen | 1753 |
| 589 | Mike Trout | Greg 'CRAOLA' Simkins | 1732 |
| 589 | Mike Trout (Auto Variants) | Greg 'CRAOLA' Simkins | 86 |
| 595 | Mike Trout | Infinite Archives | 1549 |
| 600 | Mike Trout | Keith Shore | 2579 |
| 607 | Jim Abbott | Efdot | 766 |
| 621 | Shohei Ohtani | UNDEFEATED | 4601 |
| 625 | Shohei Ohtani | Mikael B | 4274 |
| 634 | Shohei Ohtani | SoleFly | 5848 |
| 642 | Mike Trout | RISK | 1532 |
| 650 | Shohei Ohtani | Bobby Hundreds | 3095 |
| 654 | Mike Trout | JK5 | 1840 |
| 654 | Mike Trout (Auto Variants) | JK5 | 86 |
| 708 | Mike Trout | Morning Breath | 1308 |
| 712 | Mike Trout | Brittney Palmer | 2020 |
| 719 | Shohei Ohtani | Sket One | 3606 |
| 722 | Shohei Ohtani | Efdot | 5570 |
| 724 | Mike Trout | Mikael B | 1452 |
| 724 | Mike Trout (Auto Variants) | Mikael B | 86 |
| 729 | Mike Trout | Distortedd | 1438 |
| 742 | Shohei Ohtani | Infinite Archives | 4545 |
| 747 | Mike Trout | Tyson Beck | 1504 |
| 747 | Mike Trout (Auto Variants) | Tyson Beck | 86 |
| 748 | Shohei Ohtani | Jacob Rochester | 2408 |
| 765 | Shohei Ohtani | Oldmanalan | 1500 |
| 765 | Shohei Ohtani (Auto Variants) | Oldmanalan | 86 |
| 774 | Shohei Ohtani | Blake Jamieson | 2447 |
| 778 | Shohei Ohtani | JK5 | 2563 |
| 788 | Nolan Ryan | Keith Shore | 1695 |
| 791 | Mike Trout | Gregory Siff | 1556 |
| 795 | Mike Trout | Toy Tokyo | 1541 |
| 795 | Mike Trout (Auto Variants) | Toy Tokyo | 86 |
| 820 | Shohei Ohtani | Ron English | 1358 |
| 829 | Mike Trout, Shohei Ohtani | Mimsbandz | 2531 |
| 832 | Shohei Ohtani | Distortedd | 2398 |
| 853 | Mike Trout | Andrew Thiele | 1395 |
| 870 | Shohei Ohtani | Lauren Taylor | 6747 |
| 875 | Mike Trout | Blake Jamieson | 1257 |
| 890 | Shohei Ohtani | Snoop Dogg | 5048 |
| 906 | Shohei Ohtani | SoleFly | 3417 |
| 930 | Mike Trout | Ben Baller | 5441 |
Print Run – 328,831
Astros
| | | | |
| --- | --- | --- | --- |
| 62 | Craig Biggio | Fucci | 2026 |
| 338 | Nolan Ryan | Infinite Archives | 1063 |
| 725 | Jose Altuve | The Shoe Surgeon | 842 |
| 894 | Carlos Correa | King Saladeen | 823 |
Print Run – 4,754
Athletics
| | | | |
| --- | --- | --- | --- |
| 26 | Rickey Henderson | Pose | 3164 |
| 38 | Reggie Jackson | Andrew Thiele | 2513 |
| 47 | Jose Canseco | Matt Taylor | 2343 |
| 53 | Satchel Paige | DJ Skee | 5368 |
| 60 | Rollie Fingers | Ermsy | 3666 |
| 74 | Jose Canseco | Tyson Beck | 1726 |
| 78 | Coco Crisp | Jonas Never | 1877 |
| 98 | Mark McGwire | Chinatown Market | 1535 |
| 165 | Rickey Henderson | Blake Jamieson | 1690 |
| 170 | Vida Blue | Futura | 1306 |
| 179 | Mark McGwire | Matt Taylor | 1044 |
| 257 | Dennis Eckersley | Alex Pardee | 7969 |
| 274 | Rickey Henderson | Matt McCormick | 957 |
| 292 | Jose Canseco | Don C | 1156 |
| 297 | Rollie Fingers | Alex Pardee | 6147 |
| 307 | Rickey Henderson | Morning Breath | 790 |
| 322 | Rollie Fingers | Greg 'CRAOLA' Simkins | 844 |
| 327 | Vida Blue | Mister Cartoon | 958 |
| 348 | Rickey Henderson | Toy Tokyo | 1052 |
| 418 | Rickey Henderson | UNDEFEATED | 1193 |
| 754 | Blue Moon Odom | Chuck Styles | 876 |
| 812 | Rickey Henderson | Alex Pardee | 5867 |
Print Run – 54,041
Blue Jays
| | | | |
| --- | --- | --- | --- |
| 8 | Vladimir Guerrero Jr | JK5 | 3618 |
| 194 | Bo Bichette | Matt McCormick | 1229 |
| 202 | Vladimir Guerrero Jr (Auto Variants) | Jeff Staple | 86 |
| 266 | Vladimir Guerrero Jr | Jeff Staple | 1904 |
| 276 | Bo Bichette | Matt Taylor | 1312 |
| 352 | Vladimir Guerrero Jr | Distortedd | 2327 |
| 365 | Vladimir Guerrero Jr | The Shoe Surgeon | 2313 |
| 380 | Vladimir Guerrero Jr | Lauren Taylor | 4882 |
| 409 | Vladimir Guerrero Jr | Brittney Palmer | 1580 |
| 434 | Vladimir Guerrero Jr | Tyson Beck | 1973 |
| 443 | Vladimir Guerrero Jr | FUTURA | 1142 |
| 457 | Vladimir Guerrero Jr | Mimsbandz | 1267 |
| 466 | Vladimir Guerrero Jr | DJ Skee | 3040 |
| 475 | Vladimir Guerrero Jr | Oldmanalan | 1126 |
| 501 | Vladimir Guerrero Jr | Keith Shore | 1367 |
| 513 | Vladimir Guerrero Jr | Distortedd | 1120 |
| 513 | Vladimir Guerrero Jr (Auto Variants) | Distortedd | 86 |
| 539 | Vladimir Guerrero Jr | Ermsy | 3687 |
| 568 | Vladimir Guerrero Jr | Efdot | 1356 |
| 571 | Vladimir Guerrero Jr | Sophia Chang | 1269 |
| 583 | Vladimir Guerrero Jr (Auto Variants) | SoleFly | 86 |
| 606 | Vladimir Guerrero Jr | Mister Cartoon | 1040 |
| 704 | Vladimir Guerrero Jr | Mikael B | 1008 |
| 758 | Vladimir Guerrero Jr | Fucci | 807 |
| 758 | Vladimir Guerrero Jr (Auto Variants) | Fucci | 86 |
| 817 | Vladimir Guerrero Jr | Naturel | 955 |
| 825 | Vladimir Guerrero Jr | Alex Pardee | 6563 |
| 858 | Vladimir Guerrero Jr | Matt McCormick | 686 |
| 866 | Vladimir Guerrero Jr | Quiccs | 1155 |
| 880 | Vladimir Guerrero Jr | UNDEFEATED | 742 |
| 913 | Joe Carter | Mimsbandz | 693 |
| 927 | Vladimir Guerrero Jr | Snoop Dogg | 1288 |
Print Run – 51,793
Braves
| | | | |
| --- | --- | --- | --- |
| 4 | Ronald Acuna Jr | Snoop Dogg | 6101 |
| 23 | Hank Aaron | Chuck Styles | 4773 |
| 34 | Ronald Acuna Jr | Alex Pardee | 14825 |
| 56 | Ronald Acuna Jr | Blake Jamieson | 6111 |
| 66 | Hank Aaron | FUTURA | 3709 |
| 86 | Chipper Jones | Oldmanalan | 2141 |
| 112 | Hank Aaron | Naturel | 2802 |
| 130 | Ronald Acuna Jr | Efdot | 5099 |
| 137 | Deion Sanders | Oldmanalan | 1448 |
| 147 | Hank Aaron | Matt McCormick | 1623 |
| 169 | Chipper Jones | Sean Wotherspoon | 1451 |
| 178 | Freddie Freeman | Keith Shore | 1490 |
| 193 | Ronald Acuna Jr | Sophia Chang | 3335 |
| 245 | Hank Aaron | Sean Wotherspoon | 1180 |
| 286 | Ronald Acuna Jr | UNDEFEATED | 3172 |
| 335 | Ronald Acuna Jr | Tyson Beck | 3178 |
| 360 | Dale Murphy | Bobby Hundreds | 1294 |
| 366 | Ronald Acuna Jr | DJ Skee | 4885 |
| 366 | Ronald Acuna Jr (Auto Variants) | DJ Skee | 86 |
| 378 | Ronald Acuna Jr | King Saladeen | 1787 |
| 379 | Deion Sanders | UNDEFEATED | 1135 |
| 401 | Hank Aaron | Fucci | 1085 |
| 417 | Ronald Acuna Jr | SoleFly | 1473 |
| 422 | Ronald Acuna Jr | Lauren Taylor | 3975 |
| 459 | Ronald Acuna Jr | Jeff Staple | 3031 |
| 463 | Deion Sanders | Snoop Dogg | 1415 |
| 463 | Deion Sanders (Auto Variants) | Snoop Dogg | 86 |
| 474 | Ronald Acuna Jr | Quiccs | 2199 |
| 480 | Ronald Acuna Jr | Jacob Rochester | 1613 |
| 507 | Ronald Acuna Jr | Naturel | 1981 |
| 515 | Ronald Acuna Jr | Gregory Siff | 1089 |
| 545 | Deion Sanders | Ron English | 930 |
| 553 | Ronald Acuna Jr | Matt Taylor | 1454 |
| 585 | Hank Aaron | RISK | 1128 |
| 587 | Ronald Acuna Jr | Mikael B | 1639 |
| 609 | Hank Aaron | Tyson Beck | 1038 |
| 637 | Hank Aaron | Matt Taylor | 1151 |
| 659 | Freddi Freeman | Sophia Chang | 1011 |
| 661 | Hank Aaron | King Saladeen | 928 |
| 677 | Joc Pederson | Ben Baller | 1213 |
| 679 | Joc Pederson | Naturel | 929 |
| 680 | Hank Aaron | Brittney Palmer | 1154 |
| 681 | Hank Aaron | Mimsbandz | 973 |
| 687 | Hank Aaron | Infinite Archives | 831 |
| 690 | Ozzie Albies | Sophia Chang | 1007 |
| 691 | Atlanta Braves | Keith Shore | 2257 |
| 695 | Ronald Acuna Jr | Fucci | 1034 |
| 698 | Ronald Acuna Jr | The Shoe Surgeon | 1186 |
| 710 | Deion Sanders | Jeff Staple | 604 |
| 715 | Hank Aaron | Andrew Thiele | 1148 |
| 726 | Ronald Acuna Jr | Sket One | 1272 |
| 731 | Deion Sanders | SoleFly | 742 |
| 733 | Ronald Acuna Jr | Ermsy | 2830 |
| 762 | Joc Pederson | Jonas Never | 673 |
| 776 | Tom Glavine | RISK | 639 |
| 790 | Ronald Acuna Jr | Infinite Archives | 1014 |
| 793 | Deion Sanders | King Saladeen | 1418 |
| 806 | Ronald Acuna Jr | Brittney Palmer | 863 |
| 821 | Ronald Acuna Jr | Matt McCormick | 892 |
| 833 | Greg Maddux | Andrew Thiele | 834 |
| 834 | Ronald Acuna Jr | Morning Breath | 757 |
| 835 | Deion Sanders | Infinite Archives | 563 |
| 839 | Hank Aaron | Ron English | 723 |
| 840 | Hank Aaron | Quiccs | 939 |
| 883 | Deion Sanders | Andrew Thiele | 798 |
| 883 | Deion Sanders (Auto Variants) | Andrew Thiele | 86 |
| 902 | Jorge Soler | King Saladeen | 541 |
| 928 | Hank Aaron | The Shoe Surgeon | 1077 |
| 929 | Ronald Acuna Jr | Oldmanalan | 1650 |
| 933 | Deion Sanders | Naturel | 1611 |
Print Run – 131,109
Brewers
| # | Player | Artist | Print Run |
| --- | --- | --- | --- |
| 17 | Christian Yelich | CES | 3180 |
| 136 | Robin Yount | Mikael B | 1225 |
| 626 | Christian Yelich | The Shoe Surgeon | 873 |
Print run – 5,278
Browns
Cardinals
| | | | |
| --- | --- | --- | --- |
| 31 | Albert Pujols | SoleFly | 1831 |
| 50 | Stan Musial | Toy Tokyo | 2600 |
| 82 | Ozzie Smith | Efdot | 3243 |
| 101 | Ozzie Smith | Mimsbandz | 1782 |
| 119 | Ozzie Smith | Greg 'CRAOLA' Simkins | 1653 |
| 196 | Albert Pujols | Andrew Thiele | 1356 |
| 272 | Lou Brock | FUTURA | 1334 |
| 279 | Mark McGwire | RISK | 1017 |
| 317 | Stan Musial | Jeff Staple | 969 |
| 445 | Ozzie Smith | The Shoe Surgeon | 1845 |
| 465 | Ozzie Smith | Don C | 1044 |
| 512 | Rogers Hornsby | Ron English | 1016 |
| 599 | Ozzie Smith | Andrew Thiele | 770 |
| 700 | Mark McGwire | Blake Jamieson | 794 |
| 838 | Stan Musial | Keith Shore | 1396 |
| 848 | Albert Pujols | DJ Skee | 1055 |
Print Run – 23,705
Cubs
| | | | |
| --- | --- | --- | --- |
| 48 | Ernie Banks | Quiccs | 4195 |
| 198 | Javier Baez | SoleFly | 1585 |
| 208 | Ernie Banks | FUTURA | 1605 |
| 278 | Greg Maddux | Blue the Great | 1147 |
| 293 | Ryne Sandberg | Bobby Hundreds | 1406 |
| 391 | Sammy Sosa | Infinite Archives | 613 |
| 392 | Ian Happ, Kris Bryant | Efdot | 915 |
| 439 | Sammy Sosa | Distortedd | 1061 |
| 503 | Ernie Banks | Don C | 1257 |
| 557 | Ryne Sandberg | Don C | 1414 |
| 588 | Ernie Banks | Chuck Styles | 1633 |
| 610 | Yu Darvish | Toy Tokyo | 856 |
| 648 | Dizzy Dean | Ron English | 618 |
| 657 | Sammy Sosa | Oldmanalan | 794 |
| 711 | Ryne Sandberg | Pose | 748 |
| 789 | Greg Maddux | Efdot | 958 |
| 828 | Javier Baez | UNDEFEATED | 779 |
| 854 | Shawon Dunston | Mimsbandz | 627 |
Print Run – 22,211
Diamondbacks
| # | Player | Artist | Print Run |
| --- | --- | --- | --- |
| 214 | Randy Johnson | Alex Pardee | 9292 |
| 224 | Randy Johnson | Jonas Never | 3306 |
| 299 | Randy Johnson | Ermsy | 3238 |
| 318 | Randy Johnson | The Shoe Surgeon | 1515 |
Print Run – 17,351
Dodgers
| | | | |
| --- | --- | --- | --- |
| 1 | Mookie Betts | Ben Baller | 9965 |
| 5 | Tommy Lasorda | Mister Cartoon | 4453 |
| 16 | Jackie Robinson | Infinite Archives | 3171 |
| 21 | Justin Turner | Jonas Never | 3143 |
| 24 | Mike Piazza | RISK | 3157 |
| 25 | Cody Bellinger | Sophia Chang | 3071 |
| 35 | Cody Bellinger | Oldmanalan | 2303 |
| 37 | Clayton Kershaw | Mikael B | 2548 |
| 42 | Jackie Robinson | FUTURA | 4160 |
| 54 | Mookie Betts | Brittney Palmer | 3518 |
| 63 | Clayton Kershaw | Ben Baller | 4259 |
| 67 | Walker Buehler | The Shoe Surgeon | 2576 |
| 83 | Cody Bellinger | Infinite Archives | 1854 |
| 85 | Tommy Lasorda | Greg 'CRAOLA' Simkins | 1934 |
| 89 | Mookie Betts | Snoop Dogg | 6404 |
| 90 | Corey Seager | Sophia Chang | 2515 |
| 104 | Corey Seager, Cody Bellinger | Lauren Taylor | 4780 |
| 113 | Tommy Lasorda | Bobby Hundreds | 1554 |
| 124 | Jackie Robinson | RISK | 3726 |
| 125 | Jackie Robinson | The Shoe Surgeon | 5181 |
| 126 | Jackie Robinson | Jonas Never | 4147 |
| 132 | Mookie Betts | Undefeated | 4133 |
| 142 | Mike Piazza | Toy Tokyo | 1357 |
| 146 | Mookie Betts | CES | 2017 |
| 150 | Clayton Kershaw | Chinatown Market | 1987 |
| 152 | Matt Kemp | Mimsbandz | 1116 |
| 207 | Clayton Kershaw | Mister Cartoon | 1783 |
| 209 | Don Sutton | Fucci | 950 |
| 211 | Cody Bellinger | Ermsy | 2350 |
| 220 | Mookie Betts | The Shoe Surgeon | 3276 |
| 229 | Cody Bellinger | Tyson Beck | 1399 |
| 243 | Cody Bellinger | Matt Taylor | 1163 |
| 249 | Pedro Martinez | Don C | 1490 |
| 252 | Clayton Kershaw | Sophia Chang | 1596 |
| 258 | Mookie Betts | Ermsy | 2392 |
| 265 | Jackie Robinson | Chinatown Market | 1496 |
| 268 | Mookie Betts | Tyson Beck | 1632 |
| 282 | Mookie Betts | King Saladeen | 1361 |
| 305 | Jackie Robinson | Mimsbandz | 1040 |
| 306 | Tommy Lasorda | Claw Money | 863 |
| 311 | Dusty Baker | Fucci | 845 |
| 312 | Jackie Robinson | Brittney Palmer | 1238 |
| 319 | Steve Sax | RISK | 725 |
| 323 | Eric Gange | Don C | 878 |
| 359 | Mookie Betts | Matt Taylor | 999 |
| 361 | Jackie Robinson | New York Nico | 1084 |
| 373 | Darryl Strawberry | Greg 'CRAOLA' Simkins | 825 |
| 375 | Don Drysdale | Mister Cartoon | 806 |
| 393 | Clayton Kershaw | RISK | 1018 |
| 400 | Cody Bellinger | Morning Breath | 671 |
| 403 | Mookie Betts | Mikael B | 1266 |
| 412 | Mookie Betts | Blue the Great | 1700 |
| 419 | Joe Kelly | Jonas Never | 3733 |
| 429 | Mookie Betts | Sophia Chang | 984 |
| 436 | Mike Piazza | Gregory Siff | 1446 |
| 438 | Mookie Betts | Quiccs | 1312 |
| 453 | Mookie Betts | Mister Cartoon | 1085 |
| 455 | Gil Hodges | Ron English | 805 |
| 484 | Darryl Strawberry | Sean Wotherspoon | 633 |
| 494 | Cody Bellinger | UNDEFEATED | 1078 |
| 525 | Jackie Robinson | Claw Money | 973 |
| 564 | Jackie Robinson | Quiccs | 1613 |
| 569 | Cody Bellinger | Gregory Siff | 777 |
| 573 | Jackie Robinson | Snoop Dogg | 1842 |
| 577 | Clayton Kershaw | Ermsy | 2773 |
| 581 | Jackie Robinson | Ron English | 865 |
| 586 | Jackie Robinson | Sean Wotherspoon | 896 |
| 597 | Walker Buehler | Lauren Taylor | 2485 |
| 631 | Trea Turner | Jonas Never | 1085 |
| 639 | Mookie Betts | Blake Jamieson | 1021 |
| 663 | Max Scherzer | CES | 1010 |
| 664 | Mookie Betts | Chuck Styles | 1295 |
| 667 | Mookie Betts | SoleFly | 1045 |
| 671 | Tommy Lasorda | RISK | 644 |
| 672 | Mookie Betts | Ma®ket | 533 |
| 673 | Corey Seager | UNDEFEATED | 845 |
| 675 | Chris Taylor | Jonas Never | 721 |
| 682 | Mookie Betts | Greg 'CRAOLA' Simkins | 898 |
| 686 | Mookie Betts | Jacob Rochester | 698 |
| 746 | Jackie Robinson | Morning Breath | 672 |
| 761 | Cody Bellinger | RISK | 644 |
| 775 | Mookie Betts | Infinite Archives | 703 |
| 798 | Jackie Robinson | Lauren Taylor | 3587 |
| 818 | Mookie Betts | JK5 | 801 |
| 842 | Mookie Betts | Alex Pardee | 4965 |
| 846 | Tony Gonsolin | Jonas Never | 729 |
| 850 | Jackie Robinson | DJ Skee | 1345 |
| 864 | Manny Ramirez | Distortedd | 702 |
| 884 | Jackie Robinson | Chuck Styles | 3243 |
| 893 | Mookie Betts | DJ Skee | 1204 |
| 898 | Mookie Betts | Naturel | 892 |
| 904 | Brusdar Graterol | Jonas Never | 545 |
Print Run – 177,002
Expos
| # | Player | Artist | Print Run |
| --- | --- | --- | --- |
| 102 | Jerry Manuel | Don C | 1404 |
| 315 | Tim Raines | Naturel | 920 |
| 424 | Andre Dawson | Mimsbandz | 745 |
| 498 | Andre Dawson | Pose | 747 |
Print Run – 3,816
Giants
| # | Player | Artist | Print Run |
| --- | --- | --- | --- |
| 30 | Willie Mays | UNDEFEATED | 4197 |
| 93 | Willie Mays | Morning Breath | 2192 |
| 114 | Willie Mays | Futura | 2209 |
| 117 | Buster Posey | Blake Jamieson | 2155 |
| 128 | Willie Mays | Infinite Archives | 1715 |
| 176 | Willie Mays | Alex Pardee | 9137 |
| 182 | Will Clark | Bobby Hundreds | 1103 |
| 191 | Tim Lincecum | Quiccs | 1951 |
| 235 | Willie Mays | Chuck Styles | 2195 |
| 255 | Willie Mays | Snoop Dogg | 2183 |
| 389 | Will Clark | Matt McCormick | 778 |
| 389 | Will Clark (Auto Variants | Matt McCormick | 86 |
| 413 | Willie Mays | Pose | 1708 |
| 447 | Kris Bryant | Blake Jamieson | 1387 |
| 537 | Tim Lincecum | Toy Tokyo | 1057 |
| 619 | Tim Lincecum | Oldmanalan | 926 |
| 620 | Willie Mays | Claw Money | 659 |
| 656 | Brandon Crawford | Morning Breath | 675 |
| 670 | Willie Mays | Matt McCormick | 637 |
| 688 | Willie Mays, Willie McCovey | DJ Skee | 2562 |
| 709 | Willie Mays | New York Nico | 795 |
| 741 | Willie Mays | Lauren Taylor | 2773 |
| 756 | Buster Posey | Sket One | |
| 872 | Brandon Belt | Blake Jamieson | 736 |
| 882 | Willie Mays | Toy Tokyo | 767 |
| 892 | Will Clark | Snoop Dogg | 1306 |
| 910 | Willie Mays | Toy Tokyo | 818 |
| 912 | Dusty Baker | Mimsbandz | 700 |
| 921 | Buster Posey | Sophia Chang | 910 |
| 921 | Buster Posey (Auto Variants) | Sophia Chang | 86 |
| 926 | Buster Posey | Jeff Staple | 919 |
Print Run – 49,322
Grays
| # | Player | Artist | Print Run |
| --- | --- | --- | --- |
| 222 | Josh Gibson | Efdot | 2755 |
| 263 | Josh Gibson | Chuck Styles | 1664 |
| 803 | Josh Gibson | Jacob Rochester | 748 |
| 877 | Josh Gibson | Matt Taylor | 887 |
Print Run – 6,054
Indians
| # | Player | Artist | Print Run |
| --- | --- | --- | --- |
| 156 | Larry Doby | Chuck Styles | 1838 |
| 254 | Satchel Paige | Oldmanalan | 1547 |
| 310 | Satchel Paige | Andrew Thiele | 1319 |
| 567 | Larry Doby | Pose | 652 |
| 601 | Satchel Paige | Don C | 713 |
| 816 | Shane Beiber | Jonas Never | 565 |
Print Run – 6,634
Mariners
| # | Player | Artist | Print Run |
| --- | --- | --- | --- |
| 6 | Ken Griffey Jr | Bobby Hundreds | 4642 |
| 12 | Ken Griffey Jr | The Shoe Surgeon | 5088 |
| 40 | Randy Johnson | Blue the Great | 2596 |
| 49 | Ichiro | Chinatown Market | 2330 |
| 69 | Ken Griffey Jr | UNDEFEATED | 4652 |
| 71 | Ichiro | Quiccs | 5386 |
| 87 | Kyle Lewis | Jacob Rochester | 2130 |
| 91 | Ichiro | Mikael B | 2315 |
| 99 | Ken Griffey Jr | Matt McCormick | 2938 |
| 108 | Ichiro | Sean Wotherspoon | 2867 |
| 129 | Ichiro | Ben Baller | 3238 |
| 166 | Ichiro | Blue the Great | 1541 |
| 186 | Ken Griffey Jr | Jonas Never | 2482 |
| 195 | Alex Rodriguez | Don C | 930 |
| 200 | Ichiro | Snoop Dogg | 2801 |
| 202 | Jarred Kelenic | Blake Jamieson | 5618 |
| 206 | Jarred Kelenic (Auto Variants) | Blake Jamieson | 86 |
| 215 | Ichiro | RISK | 1664 |
| 233 | Ichiro | Morning Breath | 1501 |
| 236 | Ken Griffey Jr | Mikael B | 2557 |
| 294 | Ken Griffey Jr | Infinite Archives | 1713 |
| 303 | Alex Rodriguez | Sean Wotherspoon | 738 |
| 309 | Ken Griffey Jr | Lauren Taylor | 5557 |
| 309 | Ken Griffey Jr (Auto Variants) | Lauren Taylor | 86 |
| 339 | Ken Griffey Jr | Chinatown Market | 1373 |
| 339 | Ken Griffey Jr (Auto Variants) | Chinatown Market | 86 |
| 342 | Kyle Lewis | Ben Baller | 1449 |
| 354 | Ichiro | SoleFly | 1959 |
| 397 | Ken Griffey Jr | Sean Wotherspoon | 1390 |
| 398 | Kyle Lewis | Don C | 661 |
| 421 | Ichiro | Toy Tokyo | 2349 |
| 517 | Ken Griffey Jr | SoleFly | 1352 |
| 521 | Ken Griffey Jr | Tyson Beck | 1944 |
| 534 | Ken Griffey Jr | Alex Pardee | 8371 |
| 584 | Ken Griffey Jr | Morning Breath | 1398 |
| 596 | Ken Griffey Jr | Brittney Palmer | 1573 |
| 630 | Ichiro | Pose | 937 |
| 652 | Ken Griffey Jr | FUTURA | 1416 |
| 693 | Ken Griffey Jr | Jeff Staple | 891 |
| 699 | Ken Griffey Jr | Snoop Dogg | 1290 |
| 702 | Ken Griffey Jr | Ermsy | 6537 |
| 706 | Ken Griffey Jr | Chuck Styles | 2336 |
| 706 | Ken Griffey Jr (Auto Variants) | Chuck Styles | 86 |
| 735 | Ken Griffey Jr | Quiccs | 1430 |
| 753 | Ken Griffey Jr | Sophia Chang | 842 |
| 769 | Ken Griffey Jr | CES | 1262 |
| 779 | Edgar Martinez | Lauren Taylor | 2300 |
| 784 | Ichiro | Brittney Palmer | 1146 |
| 799 | Ken Griffey Jr | Fucci | 1047 |
| 819 | Ichiro | The Shoe Surgeon | 916 |
| 826 | Ken Griffey Jr | RISK | 1511 |
| 868 | Ken Griffey Jr | JK5 | 1463 |
| 869 | Ichiro | Ermsy | 2595 |
| 925 | Ichiro | Distortedd | 1210 |
| 931 | Ken Griffey Jr | DJ Skee | 4473 |
| 936 | Ken Griffey Jr | Keith Shore | 4788 |
Print Run – 127,837
Marlins
| # | Player | Artist | Print Run |
| --- | --- | --- | --- |
| 204 | Gary Sheffield | Mimsbandz | 920 |
| 441 | Cazz Chisholm | Keith Shore | 1124 |
| 605 | Jazz Chisolm | Jacob Rochester | 726 |
| 668 | Ichiro | Matt Taylor | 1289 |
Print Run – 4,059
Mets
| # | Player | Artist | Print Run |
| --- | --- | --- | --- |
| 7 | Francisco Lindor | Keith Shore | 3185 |
| 13 | Darryl Strawberry | Gregory Siff | 3374 |
| 33 | Tom Seaver | Claw Money | 2203 |
| 57 | Darryl Strawberry | Bobby Hundreds | 2725 |
| 80 | Mike Piazza | Jeff Staple | 2273 |
| 95 | Gary Carter | Gregory Siff | 1827 |
| 105 | Pete Alonso | New York Nico | 1903 |
| 120 | Dwight Gooden | Claw Money | 1213 |
| 160 | Francisco Lindor | Jeff Staple | 1531 |
| 185 | Tom Seaver | CES | 1396 |
| 197 | Mike Piazza | Oldmanalan | 1471 |
| 212 | Jerry Manuel | Gregory Siff | 881 |
| 219 | Darryl Strawberry | Ron English | 982 |
| 237 | Tom Seaver | Andrew Thiele | 1605 |
| 239 | Jacob deGrom | Mimsbandz | 1289 |
| 267 | Darryl Strawberry | Claw Money | 1513 |
| 269 | Francisco Lindor | Efdot | 1550 |
| 281 | Pete Alonso | Keith Shore | 1792 |
| 291 | Nolan Ryan | Mikael B | 1505 |
| 316 | Pete Alonso | Jonas Never | 1212 |
| 353 | Darryl Strawberry | Snoop Dogg | 2113 |
| 355 | Pete Alonso | Alex Pardee | 6834 |
| 363 | Pete Alonso | Gregory Siff | 2354 |
| 369 | Jacob deGrom | Keith Shore | 1490 |
| 381 | Darryl Strawberry | Chinatown Market | 842 |
| 387 | Lee Mazzilli | JK5 | 910 |
| 415 | Pete Alonso | CES | 2161 |
| 426 | Jacob deGrom | Ermsy | 2729 |
| 427 | Ron Darling | Claw Money | 742 |
| 469 | Bobby V | Blake Jamieson | 1319 |
| 477 | David Wright | New York Nico | 986 |
| 479 | Mike Piazza | Morning Breath | 721 |
| 485 | Jacob deGrom | Sophia Chang | 1360 |
| 516 | Darryl Strawberry | Oldmanalan | 1475 |
| 527 | Darryl Strawberry | FUTURA | 922 |
| 527 | Darryl Strawberry (Auto Variants) | FUTURA | 86 |
| 528 | Nolan Ryan | New York Nico | 884 |
| 532 | Pete Alonso | King Saladeen | 2088 |
| 535 | Mike Piazza | Andrew Thiele | 1333 |
| 542 | Pete Alonso | Ben Baller | 1661 |
| 562 | Francisco Lindor | Jacob Rochester | 894 |
| 604 | Tom Seaver | Gregory Siff | 923 |
| 638 | Mike Piazza | New York Nico | 648 |
| 638 | Mike Piazza (Auto Variants) | New York Nico | 86 |
| 647 | Darryl Strawberry | Toy Tokyo | 679 |
| 683 | Lee Mazzilli | Gregory Siff | 612 |
| 692 | Jacob deGrom | Claw Money | 632 |
| 738 | Darryl Strawberry | Matt Taylor | 610 |
| 785 | Max Scherzer | New York Nico | 645 |
| 797 | Jacob deGrom | Ron English | 799 |
| 800 | Jacob deGrom | Sket One | 878 |
| 801 | Francisco Lindor | Gregory Siff | 774 |
| 804 | Michael Conforto | Ron English | 592 |
| 805 | Darryl Strawberry | Andrew Thiele | 695 |
| 859 | Jacob deGrom | Matt Taylor | 647 |
| 888 | Jacob deGrom | Morning Breath | 672 |
| 901 | Javier Baez | Oldmanalan | 684 |
Print Run – 79,910
Monarchs
| # | Player | Artist | Print Run |
| --- | --- | --- | --- |
| 522 | Satchel Paige | Efdot | 1175 |
| 770 | Satchel Paige | Chuck Styles | 1229 |
| 781 | Satchel Paige | Jacob Rochester | 803 |
Print run – 3,207
Multiple Teams
| # | Player | Artist | Print Run |
| --- | --- | --- | --- |
| 118 | Tony La Russa | Mister Cartoon | 1263 |
| 583 | Vladimir Guerrero Jr, Vladimir Guerrero Sr | SoleFly | 1071 |
| 662 | Larry Doby, Buck O'Neil, Monte Irvin, roy Campanella | Efdot | 1465 |
| ASG1 | Fernando Tatis Jr, Xander Bogaerts | DJ Skee | 2972 |
| ASG2 | Teoscar Hernandez, Ronald Acuna Jr | Alex Pardee | 6171 |
| ASG3 | Jacob deGrom, Shohei Ohtani | Gregory Siff | 2677 |
| ASG4 | Marcus Semien, Adam Frazier | Brittney Palmer | 1433 |
| ASG5 | Vladimir Guerrero Jr, Freddie Freeman | Ermsy | 3659 |
| ASG6 | Salvador Perez, Buster Posey | Andrew Thiele | 1476 |
| ASG7 | Nick Castellanos, Aaron Judge | Blake Jamieson | 1518 |
| ASG8 | Jesse Winkler, Mike Trout | Chuck Styles | 1970 |
| ASG9 | Rafael Devers, Nolan Arenado | Lauren Taylor | 2106 |
| 300 | Deion Sanders | Jacob Rochester | 1422 |
Print run – 29,203
Nationals
| # | Player | Artist | Print Run |
| --- | --- | --- | --- |
| 22 | Juan Soto | Naturel | 4361 |
| 88 | Juan Soto | Matt Taylor | 3502 |
| 111 | Max Scherzer | Keith Shore | 2190 |
| 161 | Juan Soto | Tyson Beck | 2209 |
| 189 | Juan Soto | Morning Breath | 1393 |
| 226 | Juan Soto | UNDEFEATED | 1932 |
| 301 | Juan Soto | Snoop Dogg | 2136 |
| 308 | Juan Soto | Oldmanalan | 95 |
| 347 | Juan Soto | Jacob Rochester | 996 |
| 364 | Juan Soto | Efdot | 1972 |
| 432 | Juan Soto | Greg 'CRAOLA' Simkins | 966 |
| 487 | Juan Soto | SoleFly | 1370 |
| 520 | Juan Soto | Sophia Chang | 979 |
| 526 | Juan Soto | Quiccs | 1278 |
| 544 | Juan Soto | Mister Cartoon | 957 |
| 612 | Max Scherzer | Sophia Chang | 838 |
| 641 | Juan Soto | Fucci | 960 |
| 643 | Juan Soto | Keith Shore | 1315 |
| 646 | Juan Soto | Distortedd | 1090 |
| 750 | Juan Soto | Ermsy | 2042 |
| 794 | Juan Soto | Mikael B | 1159 |
| 811 | Juan Soto | Ben Baller | 1389 |
| 845 | Max Scherzer | Naturel | 696 |
| 887 | Juan Soto | Matt McCormick | 703 |
Print Run – 36,528
Orioles
| # | Player | Artist | Print Run |
| --- | --- | --- | --- |
| 45 | Cal Ripken Jr | Matt McCormick | 2345 |
| 59 | Cal Ripken Jr | Sean Wotherspoon | 2529 |
| 116 | Cal Ripken Jr | Chuck Styles | 2909 |
| 133 | Eddie Murray | Snoop Dogg | 2771 |
| 154 | Jim Palmer | Brittney Palmer | 2285 |
| 175 | Cal Ripken Jr | RISK | 2125 |
| 333 | Brooks Robinson | Blake Jamieson | 1585 |
| 374 | Cal Ripken Jr | Jeff Staple | 947 |
| 440 | Cal Ripken Jr | Brittney Palmer | 1080 |
| 518 | Cal Ripken Jr | Infinite Archives | 890 |
| 714 | Ryan Mountcastle | Sophia Chang | 1349 |
| 755 | Cal Ripken Jr | Snoop Dogg | 1207 |
| 792 | Cal Ripken Jr | Alex Pardee | 5403 |
| 807 | Eddie Murray | Futura | 725 |
| 836 | Ryan Mountcastle | Jeff Staple | 776 |
| 871 | Cal Ripken Jr | Morning Breath | 838 |
| 871 | Cal Ripken Jr (Auto Variants) | Morning Breath | 86 |
Print Run – 29,850
Padres
| # | Player | Artist | Print Run |
| --- | --- | --- | --- |
| 2 | Fernando Tatis Jr | Ermsy | 12688 |
| 51 | Tony Gwynn | Mimsbandz | 2713 |
| 61 | Fernando Tatis Jr | Keith Shore | 9884 |
| 92 | Tony Gwynn | RISK | 2214 |
| 135 | Fernando Tatis Jr | King Saladeen | 7076 |
| 177 | Fernando Tatis Jr | UNDEFEATED | 4364 |
| 223 | Fernando Tatis Jr | Ben Baller | 12142 |
| 251 | Fernando Tatis Jr | SoleFly | 4658 |
| 253 | Tony Gwynn | Lauren Taylor | 3157 |
| 271 | Fernando Tatis Jr | Morning Breath | 2995 |
| 283 | Fernando Tatis Jr | DJ Skee | 5291 |
| 388 | Fernando Tatis Jr | Sophia Chang | 2825 |
| 399 | San Diego Padres | The Shoe Surgeon | 3033 |
| 402 | Fernando Tatis Jr | Oldmanalan | 1535 |
| 411 | Fernando Tatis Jr | Alex Pardee | 22509 |
| 435 | Fernando Tatis Jr | Jacob Rochester | 2699 |
| 442 | Fernando Tatis Jr | Naturel | 2252 |
| 448 | Fernando Tatis Jr | Fucci | 1723 |
| 452 | Tony Gwynn | Sean Wotherspoon | 1021 |
| 492 | Fernando Tatis Jr | Toy Tokyo | 3063 |
| 504 | Tony Gwynn | Snoop Dogg | 2414 |
| 506 | Fernando Tatis Jr | Mikael B | 2485 |
| 511 | Fernando Tatis Jr | Matt Taylor | 2201 |
| 543 | Fernando Tatis Jr | Snoop Dogg | 2532 |
| 548 | Fernando Tatis Jr | Infinite Archives | 2049 |
| 559 | Fernando Tatis Jr | Lauren Taylor | 4776 |
| 578 | Fernando Tatis Jr | JK5 | 1981 |
| 603 | Fernando Tatis Jr | Jeff Staple | 1499 |
| 614 | Fernando Tatis Jr | CES | 1186 |
| 623 | Fernando Tatis Jr | Greg 'CRAOLA' Simkins | 1619 |
| 632 | Fernando Tatis Jr | Brittney Palmer | 1973 |
| 640 | Fernando Tatis Jr | Mister Cartoon | 1493 |
| 645 | Fernando Tatis Jr | Gregory Siff | 1189 |
| 651 | Fernando Tatis Jr | Matt McCormick | 1185 |
| 678 | Fernando Tatis Jr | Tyson Beck | 1761 |
| 684 | Tony Gwynn | FUTURA | 963 |
| 685 | Fernando Tatis Jr | Quiccs | 1562 |
| 739 | Fernando Tatis Jr | Sket One | 1174 |
| 740 | Benito Santiago | Mimsbandz | 650 |
| 752 | Tony Gwynn | Mikael B | 859 |
| 782 | Fernando Tatis Jr | Distortedd | 1315 |
| 796 | Fernando Tatis Jr | Chuck Styles | 2006 |
| 815 | Manny Machado | CES | 865 |
| 822 | Fernando Tatis Jr | Andrew Thiele | 1102 |
| 837 | Manny Machado | Sket One | 794 |
| 891 | Dave Winfield | DJ Skee | 2231 |
| 920 | Manny Machado | Oldmanalan | 601 |
Print Run – 152,307
Phillies
| # | Player | Artist | Print Run |
| --- | --- | --- | --- |
| 10 | Andrew McCutchen | Blake Jamieson | 3860 |
| 15 | Bryce Harper | King Saladeen | 3248 |
| 28 | Mike Schmidt | Efdot | 2858 |
| 122 | John Kruk | Distortedd | 2004 |
| 167 | Bryce Harper | Distortedd | 2190 |
| 228 | Sparky Anderson | Pose | 918 |
| 304 | Andrew McCutchen | Chuck Styles | 1201 |
| 336 | Mike Schmidt | King Saladeen | 1163 |
| 341 | Bryce Harper | JK5 | 1331 |
| 461 | Bryce Harper | Keith Shore | 1340 |
| 590 | Bryce Harper | The Shoe Surgeon | 2178 |
| 703 | Bryce Harper | SoleFly | 846 |
| 751 | Bryce Harper | Matt Taylor | 828 |
| 757 | Bryce Harper | Alex Pardee | |
| 768 | Bryce Harper | Andrew Thiele | 845 |
| 787 | Bryce Harper | Mister Cartoon | 854 |
| 814 | Bryce Harper | Quiccs | 1093 |
| 830 | Bryce Harper | Oldmanalan | 729 |
| 847 | Bryce Harper | Morning Breath | 696 |
| 857 | Bryce Harper | Infinite Archives | 593 |
| 861 | Bryce Harper | Tyson Beck | 793 |
| 873 | Bryce Harper | Blake Jamieson | 859 |
Print Run – 30,427
Pirates
| | | | |
| --- | --- | --- | --- |
| 18 | Roberto Clemente | Sean Wotherspoon | 3897 |
| 84 | Roberto Clemente | SoleFly | 2885 |
| 109 | Dock Ellis | Ermsy | 5505 |
| 131 | Ke'Bryan Hayes | Alex Pardee | 11237 |
| 168 | Roberto Clemente | infinite Archives | 2101 |
| 172 | Honus Wagner | DJ Skee | 5011 |
| 184 | Dock Ellis | Chinatown Market | 1503 |
| 210 | Dock ellis | Naturel | 1059 |
| 232 | Dock Ellis | CES | 1484 |
| 332 | Roberto Clemente | Quiccs | 2247 |
| 349 | Roberto Clemente | FUTURA | 1445 |
| 405 | Ke'Bryan Hayes | Jacob Rochester | 1594 |
| 405 | Ke'Bryan Hayes (Auto Variants) | Jacob Rochester | 86 |
| 407 | Roberto Clemente | Chuck Styles | 1873 |
| 408 | Dock Ellis | Matt Taylor | 1056 |
| 458 | Dave Parker | Alex Pardee | 5522 |
| 546 | Dock Ellis | Blue the Great | 745 |
| 565 | Honus Wagner | Tyson Beck | 2299 |
| 570 | Roberto Clemente | Toy Tokyo | 1359 |
| 665 | Honus Wagner | Don C | 1943 |
| 744 | Dock Ellis | Brittney Palmer | 879 |
| 827 | Honus Wagner | Ermsy | 2754 |
| 856 | Roberto Clemente | Brittney Palmer | 1288 |
| 863 | Honus Wagner | Oldmanalan | 665 |
| 874 | Dock Ellis | Blake Jamieson | 716 |
| 896 | Roberto Clemente | Lauren Taylor | 4152 |
| 908 | Roberto Clemente | Mimsbandz | 1299 |
| 909 | Josh Harrison | Mimsbandz | 581 |
Print Run – 67,185
Rangers
| # | Player | Artist | Print Run |
| --- | --- | --- | --- |
| 173 | Adrian Beltre | Pose | 1011 |
| 356 | Ivan Rodriguez | Sean Wotherspoon | 1052 |
| 802 | Julio Franco | Distortedd | 653 |
Print run – 2,716
Rays
| # | Player | Artist | Print Run |
| --- | --- | --- | --- |
| 144 | Randy Arozarena | Jacob Rochester | 1397 |
| 264 | Randy Arozarena | Blake Jamieson | 1171 |
| 383 | Brett Phillips | Blake Jamieson | 1264 |
| 903 | Randy Arozarena | Jeff Staple | 539 |
| 923 | Randy Arozarena | Tyson Beck | 930 |
Print Run – 5,301
Red Sox
| # | Player | Artist | Print Run |
| --- | --- | --- | --- |
| 20 | Pedro Martinez | Distortedd | 2720 |
| 148 | Bill Buckner | Ron English | 1185 |
| 162 | Wade Boggs | Efdot | 1393 |
| 188 | Carlton Fisk | JK5 | 1349 |
| 201 | Carl Yastrzemski | Toy Tokyo | 1846 |
| 218 | David Ortiz | Distortedd | 1752 |
| 231 | Ted Williams | Matt McCormick | |
| 247 | David Ortiz | Quiccs | 1846 |
| 295 | Carl Yastrzemski | JK5 | 1242 |
| 298 | Wade Boggs | Greg 'CRAOLA' Simkins | 978 |
| 331 | Ted Williams | Ron English | 1056 |
| 372 | David Ortiz | Don C | 1149 |
| 376 | Casey Stengel | Ron English | 680 |
| 396 | Pedro Martinez | FUTURA | 990 |
| 416 | Carl Yastrzemski | Ron English | 857 |
| 433 | Mookie Betts | Morning Breath | 667 |
| 468 | Wade Boggs | Mikael B | 698 |
| 497 | Manny Ramirez | RISK | 733 |
| 615 | Mookie Betts | Ron English | 586 |
| 616 | David Ortiz | Naturel | 810 |
| 644 | Rafael Devers | Jacob Rochester | 786 |
| 658 | Xander Boegarts | Lauren Taylor | 2425 |
| 701 | Rafael Devers | Mister Cartoon | 636 |
| 720 | Rafael Devers | Matt Taylor | 668 |
| 783 | Jim Rice | Sket One | 616 |
| 865 | Ted Williams | Sket One | 815 |
| 934 | David Ortiz | Andrew Thiele | 1705 |
Print Run – 30,188
Reds
| # | Player | Artist | Print Run |
| --- | --- | --- | --- |
| 72 | Johnny Bench | Naturel | 2990 |
| 94 | Deion Sanders | Blue the Great | 1640 |
| 180 | Johnny Bench | Ron English | 1170 |
| 261 | Sparky Anderson | Fucci | 840 |
| 531 | Eric Davis | Mimsbandz | 1065 |
| 563 | Joey Votto | Blake Jamieson | 1156 |
| 717 | Joe Morgan | FUTURA | 803 |
| 867 | Jonathan India | Naturel | 1205 |
| 922 | Johnathan India | Tyson Beck | 1168 |
Print Run – 12-037
Rockies
| # | Player | Artist | Print Run |
| --- | --- | --- | --- |
| 382 | Charlie Blackmon | Jonas Never | 889 |
| 592 | Nolan Arenado | Mimsbandz | 900 |
| 592 | Nolan Arenado (Auto Variants) | Mimsbandz | 86 |
Print run – 1,875
Royals
| # | Player | Artist | Print Run |
| --- | --- | --- | --- |
| 206 | Bo Jackson | Lauren Taylor | 6717 |
| 234 | Bo Jackson | Keith Shore | 2193 |
| 234 | Bo Jackson (Auto Variants) | Keith Shore | 86 |
| 280 | Bo Jackson | Gregory Siff | 1674 |
| 288 | Bo Jackson | The Shoe Surgeon | 1928 |
| 337 | Bo Jackson | UNDEFEATED | 1670 |
| 337 | Bo Jackson (Auto Variants) | UNDEFEATED | 86 |
| 351 | Bo Jackson | Andrew Thiele | 2047 |
| 449 | Bo Jackson | Chuck Styles | 1736 |
| 490 | Bo Jackson | King Saladeen | 1819 |
| 523 | George Brett | Greg 'CRAOLA' Simkins | 792 |
| 541 | Bo Jackson | Naturel | 2033 |
| 549 | Bo Jackson | SoleFly | 1132 |
| 552 | Bo Jackson | RISK | 1363 |
| 598 | Bo Jackson | Bobby Hundreds | 986 |
| 617 | Bo Jackson | FUTURA | 712 |
| 674 | Bo Jackson | Mikael B | 969 |
| 843 | Salvador Perez | UNDEFEATED | 706 |
Print Run – 28,649
Tigers
| # | Player | Artist | Print Run |
| --- | --- | --- | --- |
| 68 | Al Kaline | Pose | 2395 |
| 275 | Ty Cobb | Pose | 1017 |
| 384 | Akil Baddoo | Tyson Beck | 2332 |
| 508 | Miguel Cabrera | Blake Jamieson | 1673 |
| 509 | Ty Cobb | JK5 | 1322 |
| 628 | Ty Cobb | Lauren Taylor | 3182 |
Print run – 11,921
Twins
| # | Player | Artist | Print Run |
| --- | --- | --- | --- |
| 141 | Byron Buxton | DJ Skee | 2813 |
| 158 | Frank Viola | Fucci | 1271 |
| 314 | Rod Carew | FUTURA | 988 |
| 431 | Rod Carew | JK5 | 933 |
| 594 | Kirby Puckett | DJ Skee | 3910 |
| 629 | Joe Mauer | Blake Jamieson | 1072 |
| 862 | Rod Carew | Andrew Thiele | 760 |
Print Run – 11,747
White Sox
| # | Player | Artist | Print Run |
| --- | --- | --- | --- |
| 103 | Dick Allen | Fucci | 1488 |
| 127 | Luis Robert | Sophia Chang | 3872 |
| 138 | Luis Robert | Solefly | 2260 |
| 155 | Dick Allen | Mister Cartoon | 1408 |
| 190 | Tim Anderson | Jacob Rochester | 1357 |
| 205 | Frank Thomas | Brittney Palmer | 1531 |
| 238 | Frank Thomas | infinite Archives | 1039 |
| 241 | Luis Robert | Jacob Rochester | 1307 |
| 259 | Bo Jackson | Ben Baller | 2186 |
| 273 | Yermin Mercedes | Naturel | 1760 |
| 273 | Yermin Mercedes (Auto Variants) | Naturel | 86 |
| 340 | Frank Thomas | Pose | 996 |
| 472 | Tim Anderson | Jonas Never | 1219 |
| 472 | Tim Anderson (Auto Variants) | Jonas Never | 86 |
| 486 | Luis Robert | Tyson Beck | 1823 |
| 514 | Tim Anderson | Lauren Taylor | 2782 |
| 655 | Luis Robert | Jeff Staple | 915 |
| 766 | Tim Anderson | Efdot | 766 |
| 766 | Tim Anderson (Auto Variants) | Efdot | 86 |
| 777 | Jose Abreu | Sket One | 694 |
| 780 | Frank Thomas | Jeff Staple | 675 |
| 879 | Liam Hendriks | Tyson Beck | 643 |
Print Run – 28,979
Yankees
| # | Player | Artist | Print Run |
| --- | --- | --- | --- |
| 3 | Babe Ruth | DJ Skee | 8555 |
| 9 | Derek Jeter | New York Nico | 3935 |
| 11 | Aaron Judge | Lauren Taylor | 5762 |
| 14 | Alex Rodriguez | Brittney Palmer | 3620 |
| 29 | Derek Jeter | Jeff Staple | 4576 |
| 36 | Roger Clemens | Greg 'CRAOLA' Simkins | 2255 |
| 39 | Mariano Rivera | Morning Breath | 2203 |
| 41 | Thurman Munson | Joshua Vides | 2934 |
| 43 | Yogi Berra | Ron English | 3055 |
| 44 | Deion Sanders | Don C | 3247 |
| 46 | Don Mattingly | Action Bronson | 4394 |
| 52 | CC Sabathia | Mister Cartoon | 2573 |
| 58 | Aaron Judge | Gregory Siff | 3476 |
| 65 | Gleyber Torres | New York Nico | 2606 |
| 70 | Lou Gehrig | Lauren Taylor | 7138 |
| 75 | Don Mattingly | Claw Money | 1952 |
| 76 | Rickey Henderson | Action Bronson | 3310 |
| 77 | Mickey Mantle | Joshua Vides | 9298 |
| 81 | Thurman Munson | CES | 2502 |
| 96 | Reggie Jackson | JK5 | 1926 |
| 97 | Bernie Williams | Toy Tokyo | 1630 |
| 100 | Mickey Mantle | Andrew Thiele | 9067 |
| 106 | Derek Jeter | Pose | 2681 |
| 107 | Babe Ruth | Ron English | 2971 |
| 110 | Aaron Judge | Jeff Staple | 2204 |
| 115 | Babe Ruth | Brittney Palmer | 3432 |
| 121 | Mickey Mantle | Tyson Beck | 6656 |
| 123 | Aaron Judge | Morning Breath | 1824 |
| 134 | Yogi Berra | Action Bronson | 1903 |
| 140 | Babe Ruth | JK5 | 3077 |
| 143 | CC Sabathia | Joshua Vides | 1162 |
| 145 | Hideki Matsui | Don C | 1745 |
| 149 | Aaron Judge | Andrew Thiele | 1635 |
| 151 | Gerrit Cole | New York Nico | 1100 |
| 153 | Babe Ruth | Matt Taylor | 2162 |
| 157 | Mickey Mantle | Ermsy | 5052 |
| 164 | Reggie Jackson | Naturel | 1643 |
| 171 | CC Sabathia | King Saladeen | 1332 |
| 174 | Mickey Mantle | The Shoe Surgeon | 3039 |
| 181 | Hideki Matsui | Ben Baller | 3212 |
| 187 | Thurman Munson | Claw Money | 1156 |
| 192 | Orlando Hernandez | Action Bronson | 1302 |
| 199 | Mariano Rivera | Mikael B | 1415 |
| 203 | Bernie Williams | Joshua Vides | 1057 |
| 216 | Mickey Mantle | DJ Skee | 4697 |
| 221 | Joe Torre | Jeff Staple | 1144 |
| 225 | Aaron Judge | Claw Money | 1403 |
| 227 | Babe Ruth | Chinatown Market | 2270 |
| 230 | Mariano Rivera | New York Nico | 1107 |
| 240 | Goose Gossage | JK5 | 1057 |
| 242 | Paul O'Neill | Action Bronson | 1078 |
| 246 | Reggie Jackson | Greg 'CRAOLA' Simkins | 1055 |
| 250 | Lou Gehrig | Joshua Vides | 2356 |
| 256 | Babe Ruth | Jonas Never | 2333 |
| 260 | Mickey Mantle | CES | 2427 |
| 262 | Mickey Mantle | Brittney Palmer | 2223 |
| 277 | Aaron Judge | Mister Cartoon | 1269 |
| 284 | Mickey Mantle | New York Nico | 1684 |
| 285 | Hideki Matsui | Action Bronson | 1276 |
| 287 | Babe Ruth | Toy Tokyo | 1175 |
| 289 | Andy Pettitte | Joshua Vides | 944 |
| 313 | Mickey Mantle | Efdot | 2376 |
| 320 | Gary Sheffield | Joshua Vides | 748 |
| 321 | Mickey Mantle | Keith Shore | 1964 |
| 325 | Phil Rizzuto | CES | 1197 |
| 326 | Don Mattingly | New York Nico | 1176 |
| 328 | Mickey Mantle | Mikael B | 1794 |
| 329 | Whitey Ford | Gregory Siff | 949 |
| 334 | Derek Jeter | Matt McCormick | 1681 |
| 343 | Mickey Mantle | Mimsbandz | 1315 |
| 345 | Paul O'Neill | Joshua Vides | 744 |
| 346 | CC Sabathia | Action Bronson | 954 |
| 346 | CC Sabathia (Auto Variants) | Action Bronson | 86 |
| 350 | Derek Jeter | Claw Money | 1628 |
| 358 | Mariano Rivera | RISK | 840 |
| 367 | Babe Ruth | Fucci | 1410 |
| 368 | Derek Jeter | Morning Breath | 1109 |
| 370 | CC Sabathia | Chuck Styles | 980 |
| 371 | Mickey Mantle | Quiccs | 2624 |
| 377 | Don Mattingly | CES | 1361 |
| 377 | Don Mattingly (Auto Variants) | CES | 86 |
| 386 | Catfish Hunter | Claw Money | 586 |
| 390 | Roger Maris | Toy Tokyo | 817 |
| 394 | Gerrit Cole | Joshua Vides | 682 |
| 395 | Reggie Jackson | New York Nico | 680 |
| 406 | Babe Ruth | Ermsy | 2600 |
| 414 | Alex Rodriguez | King Saladeen | 767 |
| 423 | Derek Jeter | Infinite Archives | 1209 |
| 425 | Joe Torre | Joshua Vides | 709 |
| 428 | Reggie Jackson | RISK | 750 |
| 430 | Derek Jeter | Mikael B | 1711 |
| 444 | Aaron Judge | New York Nico | 1154 |
| 446 | Aaron Judge, Babe Ruth | Efdot | 1482 |
| 451 | Mickey Mantle | Matt McCormick | 1409 |
| 456 | Hideki Matsui | Toy Tokyo | 993 |
| 460 | Mickey Mantle | Matt Taylor | 1930 |
| 462 | Babe Ruth, Lou Gehrig | Andrew Thiele | 1725 |
| 467 | Thurman Munson | JK5 | 986 |
| 471 | Babe Ruth | Gregory Siff | 1266 |
| 473 | Mickey Mantle | Lauren Taylor | 6302 |
| 476 | Babe Ruth | Claw Money | 1105 |
| 481 | Mariano Rivera | FUTURA | 1114 |
| 482 | Gleyber Torres | Joshua Vides | 697 |
| 495 | Derek Jeter | Brittney Palmer | 1351 |
| 496 | Aaron Judge | Ma®ket | 879 |
| 499 | New York Yankees | Efdot | 1672 |
| 500 | Mickey Mantle | Fucci | 1597 |
| 519 | Aaron Judge | Jacob Rochester | 963 |
| 524 | Derek Jeter | Sean Wotherspoon | 1265 |
| 529 | Roger Clemens | Joshua Vides | 650 |
| 530 | Derek Jeter | DJ Skee | 4747 |
| 538 | Aaron Judge | UNDEFEATED | 1434 |
| 540 | Derek Jeter | Chuck Styles | 2703 |
| 551 | Babe Ruth | Mikael B | 1617 |
| 554 | Hideki Matsui | Oldmanalan | 716 |
| 555 | Aaron Judge | CES | 1453 |
| 556 | Mariano Rivera | Ma®ket | 666 |
| 572 | Yogi Berra | Joshua Vides | 1014 |
| 574 | Mickey Mantle | Naturel | 2135 |
| 575 | Don Mattingly | Bobby Hundreds | 1065 |
| 579 | Reggie Jackson | Claw Money | 692 |
| 580 | Babe Ruth | New York Nico | 927 |
| 591 | Aaron Judge | Matt Taylor | 1017 |
| 593 | Babe Ruth | UNDEFEATED | 1610 |
| 602 | Derek Jeter | Fucci | 906 |
| 608 | Derek Jeter | Joshua Vides | 1007 |
| 611 | Aaron Judge | Snoop Dogg | 1227 |
| 613 | Derek Jeter | Ma®ket | 778 |
| 618 | Derek Jeter | Quiccs | 1266 |
| 622 | Derek Jeter | Ermsy | 3619 |
| 624 | Mickey Mantle | Chuck Styles | 2286 |
| 627 | Babe Ruth | King Saladeen | 956 |
| 633 | Babe Ruth | Infinite Archives | 1277 |
| 635 | Aaron Judge | Alex Pardee | 7287 |
| 636 | Lou Gehrig | Don C | 1496 |
| 649 | Phil Rizzuto | Claw Money | 532 |
| 653 | Babe Ruth | Joshua Vides | 1151 |
| 660 | Derek Jeter | Greg 'CRAOLA' Simkins | 907 |
| 666 | Babe Ruth | Alex Pardee | 10716 |
| 669 | Lou Gehrig | Fucci | 1008 |
| 676 | Hideki Matsui | Joshua Vides | 612 |
| 689 | Derek Jeter | CES | 1317 |
| 694 | Lou Gehrig | New York Nico | 950 |
| 696 | Aaron Judge | Joshua Vides | 721 |
| 697 | Aaron Judge | Greg 'CRAOLA' Simkins | 762 |
| 705 | Mickey Mantle | Oldmanalan | 985 |
| 707 | Reggie Jackson | Snoop Dogg | 1445 |
| 713 | Derek Jeter | Gregory Siff | 1126 |
| 713 | Derek Jeter (Auto Variants) | Gregory Siff | 86 |
| 716 | Yogi Berra | Claw Money | 591 |
| 718 | Mickey Mantle | RISK | 1151 |
| 721 | Reggie Jackson | Joshua Vides | 739 |
| 723 | Babe Ruth | Mister Cartoon | 1435 |
| 727 | Derek Jeter | JK5 | 1116 |
| 728 | Babe Ruth | CES | 1013 |
| 730 | Aaron Judge | Matt McCormick | 781 |
| 732 | Derek Jeter | Snoop Dogg | 1407 |
| 734 | Darryl Strawberry | New York Nico | 619 |
| 736 | Babe Ruth | Greg 'CRAOLA' Simkins | 961 |
| 737 | Derek Jeter | Keith Shore | 2383 |
| 743 | Aaron Judge | Fucci | 742 |
| 745 | Derek Jeter | RISK | 887 |
| 749 | Mickey Mantle | King Saladeen | 1006 |
| 759 | Darryl Strawberry | Joshua Vides | 583 |
| 760 | Mariano Rivera | Ermsy | 1581 |
| 763 | Derek Jeter | The Shoe Surgeon | 1051 |
| 767 | Babe Ruth | Keith Shore | 1826 |
| 771 | Mickey Mantle | Sket One | 1234 |
| 786 | Babe Ruth | Oldmanalan | 784 |
| 808 | Mariano Rivera | Joshua Vides | 769 |
| 808 | Mariano Rivera (Auto Variants) | Joshua Vides | 86 |
| 809 | Anthony Rizzo | Claw Money | 584 |
| 810 | Lou Gehrig | King Saladeen | 781 |
| 813 | Yogi Berra | Efdot | 900 |
| 823 | Ron Guidry | Sket One | 777 |
| 824 | Rickey Henderson | CES | 1084 |
| 844 | Yogi Berra | New York Nico | 505 |
| 851 | Mariano Rivera | DJ Skee | 1404 |
| 860 | Aaron Judge | Mikael B | 860 |
| 876 | Mickey Mantle | Gregory Siff | 1237 |
| 881 | Mickey Mantle | Ron English | 1086 |
| 885 | Mickey Mantle | JK5 | 1187 |
| 889 | Babe Ruth | Quiccs | 989 |
| 895 | Mickey Mantle | Infinite Archives | 1292 |
| 897 | Mickey Mantle | Claw Money | 997 |
| 899 | Babe Ruth | The Shoe Surgeon | 1013 |
| 900 | Aaron Judge | Tyson Beck | 1093 |
| 907 | Aaron Judge | Sket One | 844 |
| 914 | Joe Torre | New York Nico | 518 |
| 919 | Aaron Judge | JK5 | 980 |
| 924 | Hideki Matsui | JK5 | 1120 |
| 935 | Mickey Mantle | Alex Pardee | 12112 |
Print Run – 355,672