2021 Topps Chrome Platinum Anniversary baseball cards celebrate the 70th anniversary of Topps with a series featuring the classic 1952 card design.
The checklist is pretty simple with a 700 card base set and a list of autograph cards. There are, however, a whole lot of parallel cards making a complete rainbow a great challenge. Not including five parallels that are not numbered, there are a total of 1,100,400 numbered parallels in the base set alone!
Each Hobby Box includes an autograph card, six refractor parallels, and an X-Factor parallel. There is also a "Lite" configuration with eight fewer packs per box that includes four black and white mini-diamond parallels, four refractors, and an X-Factor parallel.
This checklist is organized by team. Scroll through the entire list or jump to a preferred team by selecting them from the list below. Clicking a link within the checklist will direct you to an affiliate retailer or to relevant eBay listings.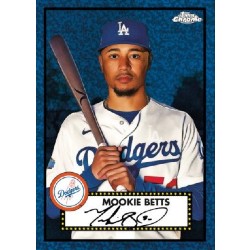 2021 Topps Chrome Platinum Anniversary Checklist
Base Set – 700 Cards
Refractor – 1:4
X-Fractor – 1:24
Purple Refractor
Aqua Wave Refractor
Yellow Mini-Diamond Refractor
Blue Mini-Diamond Refractor – #/199
Speckle Refractor – #/150
Atomic Refractor – #/100
Red Atomic Refractor – #/100
Green Refractor – #/99
Green Wave Refractor – #/99
Green/Yellow 70th Refractor – #/99
Rose Gold Refractor – #/75
Rose Gold Wave Refractor – #/75
Rose Gold Mini-Diamond Refractor – #/75
Platinum 70th X-Fractor – #/70
Platinum 70th Mini-Diamond Refractor – #/70
Platinum 70th Wave Refractor – #/70
Gold Refractor – #/50
Gold Wave Refractor – #/50
Gold/Rose Gold 70th Wave Refractor – #/50
Orange Refractor – #/25
Orange Wave Refractor – #/25
Orange/Yellow 70th Refractor – #/25
Pink Refractor – #/15
Pink Wave Refractor – #/15
Black Refractor – #/10
Black/Gold 70th Refractor – #/10
Red Refractor – #/5
Red Wave Refractor – #/5
Black/Red 70th Mini-Diamond Refractor – #/5
SuperFractor – 1/1
Topps 1952 Recreate (SP) – 1 Card
Autographs (PA) – 164 Cards
Refractor – #/199
Aqua Refractor – #/150
Blue Prism Refractor – #/99
70th Platinum Wave Refractor – #/70
Gold Refractor – #/50
Orange Refractor – #/25
Black Refractor – #/10
Red Refractor – #/5
SuperFractor – 1/1
| | | | |
| --- | --- | --- | --- |
| 19 | Jo Adell | RC | |
| 156 | Mike Trout | | |
| 168 | Anthony Rendon | | |
| 191 | Albert Pujols | | |
| 192 | Shohei Ohtani | | |
| 243 | Dylan Bundy | | |
| 258 | Jared Walsh | | |
| 259 | Justin Upton | | |
| 366 | David Fletcher | | |
| 369 | Ty Buttrey | | |
| 377 | Alex Cobb | | |
| 381 | Raisel Iglesias | | |
| 468 | Griffin Canning | | |
| 485 | Jose Quintana | | |
| 562 | Jered Weaver | | |
| 582 | Tim Salmon | | |
| 599 | Garret Anderson | | |
| PA-JOA | Jo Adell | RC | Auto |
| PA-JWE | Jered Weaver | | Auto |
| PA-MTR | Mike Trout | | Auto |
| PA-NR | Nolan Ryan | | Auto |
| PA-TSA | Tim Salmon | | Auto |
| | | | |
| --- | --- | --- | --- |
| 55 | Luis Garcia | RC | |
| 56 | Taylor Jones | RC | |
| 57 | Enoli Paredes | RC | |
| 58 | Cristian Javier | RC | |
| 124 | Blake Taylor | RC | |
| 134 | Andre Scrubb | RC | |
| 158 | Jose Altuve | | |
| 161 | Yordan Alvarez | | |
| 167 | Alex Bregman | | |
| 171 | Justin Verlander | | |
| 179 | Zack Greinke | | |
| 233 | Kyle Tucker | | |
| 274 | Carlos Correa | | |
| 343 | Roberto Osuna | | |
| 391 | Yuli Gurriel | | |
| 403 | Josh Reddick | | |
| 404 | Lance McCullers Jr. | | |
| 406 | Framber Valdez | | |
| 423 | Michael Brantley | | |
| 439 | Jake Odorizzi | | |
| 517 | Jeff Bagwell | | |
| 583 | Dusty Baker | | |
| 628 | Craig Biggio | | |
| PA-CJ | Cristian Javier | RC | Auto |
| PA-JBG | Jeff Bagwell | | Auto |
| PA-YA | Yordan Alvarez | | Auto |
| | | | |
| --- | --- | --- | --- |
| 72 | Daulton Jefferies | RC | |
| 102 | James Kaprielian | RC | |
| 139 | Jordan Weems | RC | |
| 175 | Matt Chapman | | |
| 218 | Matt Olson | | |
| 276 | Jesus Luzardo | | |
| 303 | Sean Murphy | | |
| 305 | Mark Canha | | |
| 337 | Elvis Andrus | | |
| 346 | Sean Manaea | | |
| 365 | Ramon Laureano | | |
| 370 | Tommy La Stella | | |
| 418 | A.J. Puk | | |
| 438 | Frankie Montas | | |
| 501 | Rickey Henderson | | |
| 531 | Miguel Tejada | | |
| 532 | Dennis Eckersley | | |
| 551 | Rollie Fingers | | |
| 552 | Vida Blue | | |
| 555 | Dave Stewart | | |
| 560 | Mark Mulder | | |
| 563 | Dallas Braden | | |
| 579 | Jose Canseco | | |
| 643 | Catfish Hunter | | |
| 694 | Mark McGwire | | |
| 698 | Barry Zito | | |
| PA-DAS | Dave Stewart | | Auto |
| PA-DE | Dennis Eckersley | | Auto |
| PA-JC | Jose Canseco | | Auto |
| PA-MC | Mark Canha | | Auto |
| PA-MMU | Mark Mulder | | Auto |
| PA-MO | Matt Olson | | Auto |
| PA-MT | Miguel Tejada | | Auto |
| PA-RF | Rollie Fingers | | Auto |
| PA-RH | Rickey Henderson | | Auto |
| PA-RL | Ramon Laureano | | Auto |
| PA-SM | Sean Murphy | | Auto |
| PA-VB | Vida Blue | | Auto |
| | | | |
| --- | --- | --- | --- |
| 12 | Nate Pearson | RC | |
| 47 | Alejandro Kirk | RC | |
| 96 | Santiago Espinal | RC | |
| 97 | Tom Hatch | RC | |
| 98 | Julian Merryweather | RC | |
| 174 | George Springer | | |
| 199 | Bo Bichette | | |
| 200 | Vladimir Guerrero Jr. | | |
| 214 | Marcus Semien | | |
| 265 | Steven Matz | | |
| 273 | Cavan Biggio | | |
| 332 | Hyun-Jin Ryu | | |
| 400 | Lourdes Gurriel Jr. | | |
| 427 | Kirby Yates | | |
| 435 | Robbie Ray | | |
| 484 | Joe Carter | | |
| 575 | Shannon Stewart | | |
| 624 | Roberto Alomar | | |
| PA-VGJ | Vladimir Guerrero Jr. | | Auto |
| | | | |
| --- | --- | --- | --- |
| 4 | Cristian Pache | RC | |
| 11 | Ian Anderson | RC | |
| 24 | William Contreras | RC | |
| 25 | Tucker Davidson | RC | |
| 105 | Patrick Weigel | RC | |
| 145 | Ronald Acuña Jr. | | |
| 173 | Freddie Freeman | | |
| 234 | Ozzie Albies | | |
| 235 | Mike Soroka | | |
| 236 | Marcell Ozuna | | |
| 237 | Max Fried | | |
| 238 | Kyle Wright | | |
| 241 | Dansby Swanson | | |
| 320 | Deion Sanders | | |
| 324 | Charlie Morton | | |
| 373 | Austin Riley | | |
| 374 | Mark Melancon | | |
| 414 | Ender Inciarte | | |
| 474 | Cole Hamels | | |
| 488 | Shane Greene | | |
| 496 | Greg Maddux | | |
| 510 | Tom Glavine | | |
| 535 | Dale Murphy | | |
| 539 | Phil Niekro | | |
| 559 | Tim Hudson | | |
| 566 | Andruw Jones | | |
| 568 | Rafael Furcal | | |
| 586 | David Justice | | |
| 595 | Lonnie Smith | | |
| 600 | John Smoltz | | |
| 654 | Eddie Mathews | | |
| 671 | Warren Spahn | | |
| 678 | Hank Aaron | | |
| 680 | Chipper Jones | | |
| 684 | Fred McGriff | | |
| PA-AJ | Andruw Jones | | Auto |
| PA-CP | Cristian Pache | RC | Auto |
| PA-DM | Dale Murphy | | Auto |
| PA-FF | Freddie Freeman | | Auto |
| PA-GM | Greg Maddux | | Auto |
| PA-RA | Ronald Acuña Jr. | | Auto |
| PA-RFU | Rafael Furcal | | Auto |
| PA-TGL | Tom Glavine | | Auto |
| PA-THU | Tim Hudson | | Auto |
| | | | |
| --- | --- | --- | --- |
| 62 | Drew Rasmussen | RC | |
| 137 | Mark Mathias | RC | |
| 147 | Jackie Bradley Jr. | | |
| 150 | Keston Hiura | | |
| 164 | Christian Yelich | | |
| 281 | Corbin Burnes | | |
| 283 | Orlando Arcia | | |
| 284 | Josh Hader | | |
| 287 | Devin Williams | | |
| 288 | Ryan Braun | | |
| 422 | Brandon Woodruff | | |
| 455 | Avisail Garcia | | |
| 471 | Luis Urias | | |
| 507 | Robin Yount | | |
| 520 | Paul Molitor | | |
| PA-CYL | Christian Yelich | | Auto |
| PA-JH | Josh Hader | | Auto |
| PA-KHR | Keston Hiura | | Auto |
| PA-PM | Paul Molitor | | Auto |
| PA-RY | Robin Yount | | Auto |
| | | | |
| --- | --- | --- | --- |
| 15 | Dylan Carlson | RC | |
| 89 | Johan Oviedo | RC | |
| 91 | Jake Woodford | RC | |
| 92 | Kodi Whitley | RC | |
| 122 | Seth Elledge | RC | |
| 129 | Roel Ramirez | RC | |
| 157 | Nolan Arenado | | |
| 208 | Yadier Molina | | |
| 209 | Paul Goldschmidt | | |
| 215 | Jack Flaherty | | |
| 230 | Matt Carpenter | | |
| 278 | Harrison Bader | | |
| 279 | Kwang-Hyun Kim | | |
| 356 | Kolten Wong | | |
| 395 | Dexter Fowler | | |
| 396 | Tommy Edman | | |
| 397 | Adam Wainwright | | |
| 424 | Paul DeJong | | |
| 459 | Carlos Martinez | | |
| 545 | Scott Rolen | | |
| 589 | Tyler O'Neill | | |
| 601 | Stan Musial | | |
| 630 | Lou Brock | | |
| 639 | Bob Gibson | | |
| 641 | Whitey Herzog | | |
| 649 | Tony La Russa | | |
| 669 | Red Schoendienst | | |
| 670 | Enos Slaughter | | |
| 673 | Bruce Sutter | | |
| PA-DLC | Dylan Carlson | RC | Auto |
| PA-KW | Kolten Wong | | Auto |
| PA-SR | Scott Rolen | | Auto |
| | | | |
| --- | --- | --- | --- |
| 30 | Brailyn Marquez | RC | |
| 114 | Tyson Miller | RC | |
| 152 | Nico Hoerner | | |
| 178 | Javier Baez | | |
| 186 | Kris Bryant | | |
| 219 | Anthony Rizzo | | |
| 221 | Willson Contreras | | |
| 246 | David Bote | | |
| 297 | Jake Arrieta | | |
| 341 | Ian Happ | | |
| 364 | Kyle Hendricks | | |
| 379 | Alec Mills | | |
| 449 | Brandon Workman | | |
| 457 | Joc Pederson | | |
| 482 | Kerry Wood | | |
| 500 | Derrek Lee | | |
| 525 | Andre Dawson | | |
| 540 | Fergie Jenkins | | |
| 547 | Mark Grace | | |
| 576 | Gary Matthews | | |
| 584 | Aramis Ramirez | | |
| 617 | Ernie Banks | | |
| 619 | Ron Santo | | |
| 622 | Billy Williams | | |
| 668 | Ryne Sandberg | | |
| 686 | Sammy Sosa | | |
| PA-AD | Andre Dawson | | Auto |
| PA-AR | Aramis Ramirez | | Auto |
| PA-FJ | Fergie Jenkins | | Auto |
| PA-GMA | Gary Matthews | | Auto |
| | | | |
| --- | --- | --- | --- |
| 21 | Daulton Varsho | RC | |
| 22 | Andy Young | RC | |
| 23 | Pavin Smith | RC | |
| 133 | Taylor Widener | RC | |
| 136 | Humberto Mejia | RC | |
| 180 | Ketel Marte | | |
| 229 | Eduardo Escobar | | |
| 353 | Christian Walker | | |
| 371 | Nick Ahmed | | |
| 372 | Merrill Kelly | | |
| 398 | Asdrubal Cabrera | | |
| 442 | Zac Gallen | | |
| 448 | Luke Weaver | | |
| 465 | David Peralta | | |
| 494 | Randy Johnson | | |
| PA-DV | Daulton Varsho | RC | Auto |
| | | | |
| --- | --- | --- | --- |
| 3 | Keibert Ruiz | RC | |
| 46 | Mitch White | RC | |
| 59 | Zach McKinstry | RC | |
| 111 | Victor Gonzalez | RC | |
| 121 | Alex Vesia | RC | |
| 165 | Cody Bellinger | | |
| 166 | Mookie Betts | | |
| 183 | Walker Buehler | | |
| 205 | Clayton Kershaw | | |
| 224 | Corey Seager | | |
| 226 | Justin Turner | | |
| 228 | Max Muncy | | |
| 252 | Trevor Bauer | | |
| 302 | Dustin May | | |
| 304 | Eric Gagne | | |
| 339 | Don Drysdale | | |
| 344 | Kenley Jansen | | |
| 368 | Will Smith | | |
| 392 | Chris Taylor | | |
| 399 | Julio Urias | | |
| 420 | Joe Kelly | | |
| 444 | David Price | | |
| 472 | A.J. Pollock | | |
| 483 | Tommy John | | |
| 554 | Shawn Green | | |
| 556 | Steve Garvey | | |
| 602 | Duke Snider | | |
| 610 | Jackie Robinson | | |
| 651 | Tommy Lasorda | | |
| 674 | Don Sutton | | |
| 690 | Steve Sax | | |
| 693 | Maury Wills | | |
| PA-MM | Max Muncy | | Auto |
| PA-SGR | Steve Garvey | | Auto |
| PA-SHG | Shawn Green | | Auto |
| PA-WS | Will Smith | | Auto |
| | | | |
| --- | --- | --- | --- |
| 521 | Vladimir Guerrero | | |
| 543 | Moises Alou | | |
| 577 | Steve Rogers | | |
| 663 | Tim Raines | | |
| PA-SRO | Steve Rogers | | Auto |
| PA-VG | Vladimir Guerrero | | Auto |
| | | | |
| --- | --- | --- | --- |
| 2 | Joey Bart | RC | |
| 86 | Luis Alexander Basabe | RC | |
| 94 | Chadwick Tromp | RC | |
| 132 | Johnny Cueto | | |
| 153 | Shun Yamaguchi | | |
| 210 | Buster Posey | | |
| 272 | Mauricio Dubon | | |
| 329 | Mike Yastrzemski | | |
| 330 | Evan Longoria | | |
| 331 | Brandon Crawford | | |
| 405 | Jeff Samardzija | | |
| 417 | Brandon Belt | | |
| 490 | Kevin Gausman | | |
| 523 | Will Clark | | |
| 526 | Juan Marichal | | |
| 536 | Tim Lincecum | | |
| 557 | Gaylord Perry | | |
| 618 | Willie Mays | | |
| 633 | Orlando Cepeda | | |
| 644 | Monte Irvin | | |
| 656 | Willie McCovey | | |
| PA-JBT | Joey Bart | RC | Auto |
| PA-JMR | Juan Marichal | | Auto |
| PA-MD | Mauricio Dubon | | Auto |
| PA-MY | Mike Yastrzemski | | Auto |
| PA-OC | Orlando Cepeda | | Auto |
| PA-WC | Will Clark | | Auto |
| | | | |
| --- | --- | --- | --- |
| 8 | Triston McKenzie | RC | |
| 37 | Daniel Johnson | RC | |
| 66 | Andres Gimenez | RC | |
| 190 | Shane Bieber | | |
| 256 | Zach Plesac | | |
| 292 | Eddie Rosario | | |
| 294 | Amed Rosario | | |
| 327 | James Karinchak | | |
| 342 | Jose Ramirez | | |
| 384 | Cesar Hernandez | | |
| 411 | Aaron Civale | | |
| 412 | Oscar Mercado | | |
| 413 | Franmil Reyes | | |
| 508 | Jim Thome | | |
| 590 | Domingo Santana | | |
| 594 | Julio Franco | | |
| 634 | Larry Doby | | |
| 636 | Bob Feller | | |
| 652 | Bob Lemon | | |
| 659 | Hal Newhouser | | |
| 675 | Lou Boudreau | | |
| PA-FR | Franmil Reyes | | Auto |
| PA-JF | Julio Franco | | Auto |
| PA-JT | Jim Thome | | Auto |
| PA-SB | Shane Bieber | | Auto |
| PA-TM | Triston McKenzie | RC | Auto |
| | | | |
| --- | --- | --- | --- |
| 87 | Evan White | RC | |
| 88 | Joey Gerber | RC | |
| 112 | Aaron Fletcher | RC | |
| 189 | Kyle Lewis | | |
| 309 | Justin Dunn | | |
| 310 | Marco Gonzales | | |
| 311 | Yusei Kikuchi | | |
| 312 | Kyle Seager | | |
| 437 | Ken Giles | | |
| 446 | James Paxton | | |
| 475 | Justus Sheffield | | |
| 492 | Ichiro | | |
| 493 | Ken Griffey Jr. | | |
| 530 | Edgar Martinez | | |
| 561 | Jay Buhner | | |
| 587 | Mike Cameron | | |
| 689 | Alex Rodriguez | | |
| PA-EMR | Edgar Martinez | | Auto |
| PA-I | Ichiro | | Auto |
| PA-JB | Jay Buhner | | Auto |
| PA-JKL | Jarred Kelenic | RC | Auto |
| PA-KL | Kyle Lewis | | Auto |
| | | | |
| --- | --- | --- | --- |
| 7 | Jazz Chisholm | RC | |
| 17 | Sixto Sanchez | RC | |
| 48 | Jesus Sanchez | RC | |
| 49 | Braxton Garrett | RC | |
| 50 | Lewin Diaz | RC | |
| 52 | Monte Harrison | RC | |
| 53 | Nick Neidert | RC | |
| 54 | Jorge Guzman | RC | |
| 110 | Jordan Holloway | RC | |
| 135 | Eddy Alvarez | RC | |
| 242 | Jesus Aguilar | | |
| 277 | Sandy Alcantara | | |
| 280 | Starling Marte | | |
| 298 | Brian Anderson | | |
| 352 | Pablo Lopez | | |
| 419 | Jorge Alfaro | | |
| 541 | Gary Sheffield | | |
| 629 | Dontrelle Willis | | |
| PA-GS | Gary Sheffield | | Auto |
| PA-JZC | Jazz Chisholm | RC | Auto |
| PA-LD | Lewin Diaz | RC | Auto |
| | | | |
| --- | --- | --- | --- |
| 67 | David Peterson | RC | |
| 68 | Franklyn Kilome | RC | |
| 69 | Ali Sanchez | RC | |
| 126 | Brandon Nimmo | | |
| 143 | Pete Alonso | | |
| 155 | Michael Conforto | | |
| 160 | Marcus Stroman | | |
| 163 | Francisco Lindor | | |
| 170 | Jacob deGrom | | |
| 255 | Carlos Carrasco | | |
| 264 | Edwin Diaz | | |
| 266 | Rick Porcello | | |
| 289 | Jeff McNeil | | |
| 293 | Robinson Cano | | |
| 359 | J.D. Davis | | |
| 394 | Dominic Smith | | |
| 428 | Noah Syndergaard | | |
| 450 | Mallex Smith | | |
| 454 | Joey lucchesi | | |
| 458 | James McCann | | |
| 478 | Jordan Yamamoto | | |
| 489 | Taijuan Walker | | |
| 518 | David Wright | | |
| 538 | Darryl Strawberry | | |
| 592 | Dwight Gooden | | |
| 596 | Lee Mazzilli | | |
| 607 | Tom Seaver | | |
| 632 | Gary Carter | | |
| 662 | Mike Piazza | | |
| 682 | Carlos Delgado | | |
| PA-DG | Dwight Gooden | | Auto |
| PA-DS | Darryl Strawberry | | Auto |
| PA-DW | David Wright | | Auto |
| PA-FK | Franklyn Kilome | RC | Auto |
| PA-MS | Marcus Stroman | | Auto |
| PA-PA | Pete Alonso | | Auto |
| | | | |
| --- | --- | --- | --- |
| 9 | Luis Garcia | RC | |
| 100 | Seth Romero | RC | |
| 125 | Sterling Sharp | RC | |
| 144 | Juan Soto | | |
| 172 | Max Scherzer | | |
| 176 | Stephen Strasburg | | |
| 207 | Josh Bell | | |
| 231 | Jon Lester | | |
| 245 | Kyle Schwarber | | |
| 285 | Patrick Corbin | | |
| 333 | Victor Robles | | |
| 338 | Trea Turner | | |
| 348 | Brad Hand | | |
| 351 | Howie Kendrick | | |
| 466 | Carter Kieboom | | |
| PA-JSO | Juan Soto | | Auto |
| PA-LG | Luis Garcia | RC | Auto |
| | | | |
| --- | --- | --- | --- |
| 16 | Ryan Mountcastle | RC | |
| 26 | Dean Kremer | RC | |
| 27 | Keegan Akin | RC | |
| 99 | Melvin Mora | | |
| 118 | Ashton Goudeau | RC | |
| 131 | Trey Mancini | | |
| 239 | Austin Hays | | |
| 358 | John Means | | |
| 367 | Hanser Alberto | | |
| 375 | Anthony Santander | | |
| 376 | Chance Sisco | | |
| 498 | Cal Ripken Jr. | | |
| 503 | Eddie Murray | | |
| 522 | Brooks Robinson | | |
| 533 | Jim Palmer | | |
| 667 | Earl Weaver | | |
| PA-BR | Brooks Robinson | | Auto |
| PA-DK | Dean Kremer | RC | Auto |
| PA-EM | Eddie Murray | | Auto |
| PA-JP | Jim Palmer | | Auto |
| PA-MMO | Melvin Mora | | Auto |
| PA-RMT | Ryan Mountcastle | RC | Auto |
| | | | |
| --- | --- | --- | --- |
| 13 | Jake Cronenworth | RC | |
| 81 | Ryan Weathers | RC | |
| 83 | Luis Campusano | RC | |
| 84 | Jorge Mateo | RC | |
| 113 | Jorge Ona | RC | |
| 141 | Fernando Tatis Jr. | | |
| 197 | Blake Snell | | |
| 203 | Manny Machado | | |
| 204 | Yu Darvish | | |
| 253 | Mike Clevinger | | |
| 282 | Tommy Pham | | |
| 313 | Chris Paddack | | |
| 314 | Mitch Moreland | | |
| 315 | Wil Myers | | |
| 316 | Trent Grisham | | |
| 317 | Jurickson Profar | | |
| 334 | Eric Hosmer | | |
| 436 | Dinelson Lamet | | |
| 515 | Ozzie Smith | | |
| 573 | Gene Tenace | | |
| 605 | Tony Gwynn | | |
| 621 | Dave Winfield | | |
| 642 | Trevor Hoffman | | |
| 685 | Sandy Alomar Jr. | | |
| PA-GTE | Gene Tenace | | Auto |
| PA-OS | Ozzie Smith | | Auto |
| | | | |
| --- | --- | --- | --- |
| 1 | Alec Bohm | RC | |
| 74 | Spencer Howard | RC | |
| 75 | Adonis Medina | RC | |
| 76 | Rafael Marchan | RC | |
| 77 | Mickey Moniak | RC | |
| 78 | JoJo Romero | RC | |
| 109 | Mauricio Llovera | RC | |
| 149 | J.T. Realmuto | | |
| 185 | Bryce Harper | | |
| 206 | Aaron Nola | | |
| 271 | Andrew McCutchen | | |
| 275 | Jean Segura | | |
| 299 | Zack Wheeler | | |
| 300 | Rhys Hoskins | | |
| 347 | Scott Kingery | | |
| 360 | Didi Gregorius | | |
| 434 | Archie Bradley | | |
| 469 | Bobby Abreu | | |
| 504 | Mike Schmidt | | |
| 537 | Ryan Howard | | |
| 565 | John Kruk | | |
| 574 | Greg Luzinski | | |
| 578 | Roy Oswalt | | |
| 627 | Richie Ashburn | | |
| 631 | Jim Bunning | | |
| 665 | Robin Roberts | | |
| 677 | Steve Carlton | | |
| PA-ABM | Alec Bohm | RC | Auto |
| PA-FM | Rhys Hoskins | | Auto |
| PA-GL | Greg Luzinski | | Auto |
| PA-JJR | Jojo Romero | RC | Auto |
| PA-MSM | Mike Schmidt | | Auto |
| PA-RHO | Ryan Howard | | Auto |
| PA-RO | Roy Oswalt | | Auto |
| PA-SH | Spencer Howard | RC | Auto |
| | | | |
| --- | --- | --- | --- |
| 14 | Ke'Bryan Hayes | RC | |
| 61 | Miguel Yajure | RC | |
| 79 | Jared Oliva | RC | |
| 80 | Will Craig | RC | |
| 140 | JT Brubaker | RC | |
| 301 | Roberto Clemente | | |
| 307 | Kevin Newman | | |
| 308 | Bryan Reynolds | | |
| 349 | Gregory Polanco | | |
| 591 | Dave Parker | | |
| 616 | Honus Wagner | | |
| 648 | Ralph Kiner | | |
| 655 | Bill Mazeroski | | |
| 672 | Willie Stargell | | |
| PA-DP | Dave Parker | | Auto |
| PA-KBH | Ke'Bryan Hayes | RC | Auto |
| | | | |
| --- | --- | --- | --- |
| 5 | Sam Huff | RC | |
| 32 | Dane Dunning | RC | |
| 73 | Jonah Heim | RC | |
| 93 | Leody Taveras | RC | |
| 95 | Sherten Apostel | RC | |
| 101 | Anderson Tejeda | RC | |
| 117 | Kyle Cody | RC | |
| 202 | Joey Gallo | | |
| 295 | Nick Solak | | |
| 306 | Khris Davis | | |
| 336 | Rougned Odor | | |
| 441 | Willie Calhoun | | |
| 451 | David Dahl | | |
| 453 | Ian Kennedy | | |
| 505 | Adrian Beltre | | |
| 512 | Ivan Rodriguez | | |
| 546 | Juan Gonzalez | | |
| 567 | Ruben Sierra | | |
| 606 | Nolan Ryan | | |
| PA-ABL | Adrian Beltre | | Auto |
| PA-AT | Anderson Tejeda | RC | Auto |
| PA-IR | Ivan Rodriguez | | Auto |
| PA-JG | Juan Gonzalez | | Auto |
| PA-LOT | Leody Taveras | RC | Auto |
| PA-RSI | Ruben Sierra | | Auto |
| | | | |
| --- | --- | --- | --- |
| 82 | Luis Patiño | RC | |
| 90 | Shane McClanahan | RC | |
| 196 | Austin Meadows | | |
| 319 | Yoshi Tsutsugo | | |
| 321 | Willy Adames | | |
| 322 | Tyler Glasnow | | |
| 323 | Randy Arozarena | | |
| 325 | Ji-man Choi | | |
| 326 | Brandon Lowe | | |
| 408 | Yandy Diaz | | |
| 409 | Pete Fairbanks | | |
| 410 | Ryan Yarbrough | | |
| 415 | Joey Wendle | | |
| 416 | Mike Brosseau | | |
| 440 | Nick Anderson | | |
| 464 | Brendan McKay | | |
| 470 | Francisco Mejia | | |
| 476 | Kevin Kiermaier | | |
| 571 | Rocco Baldelli | | |
| PA-BL | Brandon Lowe | | Auto |
| PA-RB | Rocco Baldelli | | Auto |
| PA-TYG | Tyler Glasnow | | Auto |
| | | | |
| --- | --- | --- | --- |
| 28 | Tanner Houck | RC | |
| 29 | Bobby Dalbec | RC | |
| 130 | Jonathan Araúz | RC | |
| 146 | Xander Bogaerts | | |
| 154 | Michael Chavis | | |
| 182 | J.D. Martinez | | |
| 211 | Chris Sale | | |
| 213 | Rafael Devers | | |
| 240 | Alex Verdugo | | |
| 244 | Nathan Eovaldi | | |
| 378 | Martin Perez | | |
| 431 | Eduardo Rodriguez | | |
| 433 | Danny Santana | | |
| 460 | Hunter Renfroe | | |
| 463 | Christian Vazquez | | |
| 486 | Enrique Hernandez | | |
| 487 | Marwin Gonzalez | | |
| 495 | Pedro Martinez | | |
| 497 | Carl Yastrzemski | | |
| 509 | Wade Boggs | | |
| 511 | Nomar Garciaparra | | |
| 529 | Mo Vaughn | | |
| 534 | Johnny Damon | | |
| 548 | Fred Lynn | | |
| 550 | Jim Rice | | |
| 558 | Luis Tiant | | |
| 570 | Mark Loretta | | |
| 572 | Shea Hillenbrand | | |
| 598 | Kevin Millar | | |
| 603 | Roger Clemens | | |
| 614 | Ted Williams | | |
| 635 | Bobby Doerr | | |
| 660 | Dave Roberts | | |
| 679 | Carlton Fisk | | |
| 681 | Jason Varitek | | |
| 687 | David Ortiz | | |
| 697 | Tim Wakefield | | |
| PA-BD | Bobby Dalbec | RC | Auto |
| PA-CY | Carl Yastrzemski | | Auto |
| PA-FL | Fred Lynn | | Auto |
| PA-JDA | Johnny Damon | | Auto |
| PA-JRC | Jim Rice | | Auto |
| PA-LT | Luis Tiant | | Auto |
| PA-ML | Mark Loretta | | Auto |
| PA-MV | Mo Vaughn | | Auto |
| PA-NG | Nomar Garciaparra | | Auto |
| PA-SHI | Shea Hillenbrand | | Auto |
| PA-THK | Tanner Houck | RC | Auto |
| PA-WB | Wade Boggs | | Auto |
| PA-XB | Xander Bogaerts | | Auto |
| | | | |
| --- | --- | --- | --- |
| 34 | Tyler Stephenson | RC | |
| 35 | Jose Garcia | RC | |
| 36 | Tejay Antone | RC | |
| 162 | Aristides Aquino | | |
| 187 | Joey Votto | | |
| 216 | Eugenio Suarez | | |
| 249 | Nick Castellanos | | |
| 250 | Luis Castillo | | |
| 251 | Mike Moustakas | | |
| 257 | Sonny Gray | | |
| 318 | Shogo Akiyama | | |
| 354 | Jesse Winker | | |
| 382 | Lucas Sims | | |
| 383 | Tyler Mahle | | |
| 401 | Dee Strange-Gordon | | |
| 452 | Sean Doolittle | | |
| 456 | Nick Senzel | | |
| 480 | Ken Griffey | | |
| 502 | Johnny Bench | | |
| 544 | Dave Concepcion | | |
| 581 | Reggie Sanders | | |
| 650 | Barry Larkin | | |
| 657 | Joe Morgan | | |
| 661 | Tony Pérez | | |
| PA-JBN | Johnny Bench | | Auto |
| PA-JGC | Jose Garcia | RC | Auto |
| PA-KGS | Ken Griffey | | Auto |
| PA-LC | Luis Castillo | | Auto |
| PA-RS | Reggie Sanders | | Auto |
| PA-SG | Sonny Gray | | Auto |
| PA-TYS | Tyler Stephenson | RC | Auto |
| | | | |
| --- | --- | --- | --- |
| 38 | Ryan Castellani | RC | |
| 177 | Trevor Story | | |
| 195 | Charlie Blackmon | | |
| 232 | Daniel Bard | | |
| 286 | Raimel Tapia | | |
| 363 | Jon Gray | | |
| 385 | Ryan McMahon | | |
| 386 | Antonio Senzatela | | |
| 387 | German Marquez | | |
| 461 | Daniel Murphy | | |
| 524 | Todd Helton | | |
| 527 | Larry Walker | | |
| 597 | Dante Bichette | | |
| 692 | Andres Galarraga | | |
| PA-LW | Larry Walker | | Auto |
| | | | |
| --- | --- | --- | --- |
| 6 | Brady Singer | RC | |
| 43 | Kris Bubic | RC | |
| 44 | Carlos Hernandez | RC | |
| 45 | Nick Heath | RC | |
| 85 | Edward Olivares | RC | |
| 127 | Tyler Zuber | RC | |
| 151 | Jorge Soler | | |
| 188 | Mike Minor | | |
| 198 | Whit Merrifield | | |
| 254 | Carlos Santana | | |
| 267 | Adalberto Mondesi | | |
| 268 | Brad Keller | | |
| 269 | Salvador Perez | | |
| 432 | Andrew Benintendi | | |
| 462 | Hunter Dozier | | |
| 608 | George Brett | | |
| PA-BK | Brad Keller | | Auto |
| PA-BS | Brady Singer | RC | Auto |
| PA-JS | Jorge Soler | | Auto |
| PA-KB | Kris Bubic | RC | Auto |
| PA-WM | Whit Merrifield | | Auto |
| | | | |
| --- | --- | --- | --- |
| 18 | Casey Mize | RC | |
| 39 | Tarik Skubal | RC | |
| 40 | Isaac Paredes | RC | |
| 41 | Daz Cameron | RC | |
| 42 | Beau Burrows | RC | |
| 104 | Bryan Garcia | RC | |
| 119 | Kyle Funkhouser | RC | |
| 194 | Miguel Cabrera | | |
| 261 | Willi Castro | | |
| 270 | Wilson Ramos | | |
| 355 | Jeimer Candelario | | |
| 388 | Jonathan Schoop | | |
| 389 | Spencer Turnbull | | |
| 390 | Gregory Soto | | |
| 443 | Matthew Boyd | | |
| 477 | Nomar Mazara | | |
| 611 | Ty Cobb | | |
| 625 | Sparky Anderson | | |
| 645 | Al Kaline | | |
| 646 | George Kell | | |
| 658 | Jack Morris | | |
| 666 | Alan Trammell | | |
| 676 | Jose Valverde | | |
| PA-CMZ | Casey Mize | RC | Auto |
| | | | |
| --- | --- | --- | --- |
| 63 | Alex Kirilloff | RC | |
| 64 | Ryan Jeffers | RC | |
| 65 | Brent Rooker | RC | |
| 138 | Travis Blankenhorn | RC | |
| 181 | Josh Donaldson | | |
| 201 | Max Kepler | | |
| 222 | Miguel Sano | | |
| 227 | Nelson Cruz | | |
| 260 | Jose Berrios | | |
| 262 | Kenta Maeda | | |
| 263 | Luis Arraez | | |
| 291 | Byron Buxton | | |
| 345 | Jake Cave | | |
| 362 | Jorge Polanco | | |
| 393 | Randy Dobnak | | |
| 421 | Andrelton Simmons | | |
| 425 | Mitch Garver | | |
| 430 | Taylor Rogers | | |
| 445 | Alex Colome | | |
| 479 | Justin Morneau | | |
| 516 | Rod Carew | | |
| 528 | Joe Mauer | | |
| 564 | Frank Viola | | |
| 569 | Bert Blyleven | | |
| 580 | Kent Hrbek | | |
| 593 | Tony Oliva | | |
| 626 | Jim Kaat | | |
| 647 | Harmon Killebrew | | |
| PA-BB | Bert Blyleven | | Auto |
| PA-ER | Eddie Rosario | | Auto |
| PA-FV | Frank Viola | | Auto |
| PA-JKA | Jim Kaat | | Auto |
| PA-JM | Joe Mauer | | Auto |
| PA-JMO | Justin Morneau | | Auto |
| PA-KHK | Kent Hrbek | | Auto |
| PA-LA | Luis Arraez | | Auto |
| PA-MK | Max Kepler | | Auto |
| PA-RC | Rod Carew | | Auto |
| PA-TO | Tony Oliva | | Auto |
| | | | |
| --- | --- | --- | --- |
| 20 | Nick Madrigal | RC | |
| 31 | Garrett Crochet | RC | |
| 33 | Jonathan Stiever | RC | |
| 103 | Luis Gonzalez | RC | |
| 106 | Jimmy Lambert | RC | |
| 108 | Zack Burdi | RC | |
| 115 | Yermin Mercedes | RC | |
| 116 | Michael Kopech | | |
| 120 | Codi Heuer | RC | |
| 123 | Matt Foster | RC | |
| 148 | Luis Robert | | |
| 159 | Eloy Jimenez | | |
| 212 | Yoan Moncada | | |
| 220 | Yasmani Grandal | | |
| 247 | Lucas Giolito | | |
| 248 | Dallas Keuchel | | |
| 328 | Tim Anderson | | |
| 335 | Lance Lynn | | |
| 340 | Danny Mendick | | |
| 357 | Liam Hendriks | | |
| 380 | Jose Abreu | | |
| 407 | Adam Eaton | | |
| 429 | Dick Allen | | |
| 447 | Edwin Encarnacion | | |
| 481 | Luis Aparicio | | |
| 506 | Frank Thomas | | |
| 542 | Mark Buehrle | | |
| 585 | Scott Podsednik | | |
| 620 | Early Wynn | | |
| 623 | Hoyt Wilhelm | | |
| 653 | Al Lopez | | |
| PA-AVA | Andrew Vaughn | RC | Auto |
| PA-EJ | Eloy Jimenez | | Auto |
| PA-FT | Frank Thomas | | Auto |
| PA-MB | Mark Buehrle | | Auto |
| PA-NM | Nick Madrigal | RC | Auto |
| PA-YG | Yasmani Grandal | | Auto |
| | | | |
| --- | --- | --- | --- |
| 10 | Clarke Schmidt | RC | |
| 51 | Paul O'Neill | | |
| 60 | Albert Abreu | RC | |
| 70 | Deivi Garcia | RC | |
| 71 | Estevan Florial | RC | |
| 107 | Nick Nelson | RC | |
| 128 | Chien-Ming Wang | | |
| 142 | Aaron Judge | | |
| 169 | Gerrit Cole | | |
| 184 | Gleyber Torres | | |
| 193 | Giancarlo Stanton | | |
| 217 | DJ LeMahieu | | |
| 223 | Gary Sanchez | | |
| 225 | Aroldis Chapman | | |
| 290 | Luke Voit | | |
| 296 | Clint Frazier | | |
| 350 | Luis Severino | | |
| 361 | Aaron Hicks | | |
| 402 | Gio Urshela | | |
| 426 | Corey Kluber | | |
| 467 | Brett Gardner | | |
| 473 | Yogi Berra | | |
| 491 | Derek Jeter | | |
| 499 | Reggie Jackson | | |
| 513 | Bernie Williams | | |
| 514 | CC Sabathia | | |
| 519 | Andy Pettitte | | |
| 549 | Alfonso Soriano | | |
| 553 | Ron Guidry | | |
| 588 | Bucky Dent | | |
| 604 | Thurman Munson | | |
| 609 | Mariano Rivera | | |
| 612 | Roger Maris | | |
| 613 | Lou Gehrig | | |
| 615 | Babe Ruth | | |
| 638 | Whitey Ford | | |
| 640 | Goose Gossage | | |
| 664 | Phil Rizzuto | | |
| 683 | Jorge Posada | | |
| 688 | Hideki Matsui | | |
| 691 | Tino Martinez | | |
| 695 | Mark Teixeira | | |
| 696 | Don Mattingly | | |
| 699 | Jim Abbott | | |
| 700 | Joe Torre | | |
| SP-1 | Mickey Mantle | | |
| PA-AJG | Aaron Judge | | Auto |
| PA-AP | Andy Pettitte | | Auto |
| PA-BDE | Bucky Dent | | Auto |
| PA-BW | Bernie Williams | | Auto |
| PA-CCS | CC Sabathia | | Auto |
| PA-CLS | Clarke Schmidt | RC | Auto |
| PA-CMW | Chien-Ming Wang | | Auto |
| PA-DGR | Deivi Garcia | RC | Auto |
| PA-DJ | Derek Jeter | | Auto |
| PA-DL | DJ LeMahieu | | Auto |
| PA-GG | Goose Gossage | | Auto |
| PA-GT | Gleyber Torres | | Auto |
| PA-GU | Gio Urshela | | Auto |
| PA-LV | Luke Voit | | Auto |
| PA-PO | Paul O'Neill | | Auto |
| PA-RG | Ron Guidry | | Auto |
| PA-RJK | Reggie Jackson | | Auto |