2021 Panini Clearly Donruss football cards are loaded with autographs all on transparent acetate trading cards.
The base set is 50 cards plus another 50 cards devoted to Rated Rookies.
Each hobby box includes one autograph, one insert card, two parallels, eight rated rookies, and eight base cards for a total of 20 cards. The wildly popular insert set "Downtown" makes its Clearly Donruss debut in this collection.
This checklist is organized by team. Scroll through the entire list or jump to a preferred team by selecting them from the list below. Clicking a link within the checklist will direct you to an affiliate retailer or to relevant eBay listings.
Release date – 4/1/2022
Cards per pack – 5
Packs per hobby box – 4
Hobby boxes per case – 16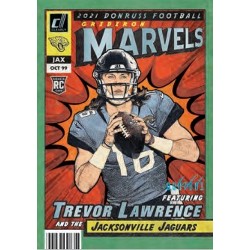 2021 Panini Clearly Donruss Football Checklist
Base Set – 100 Cards
Gold
Holo Mosaic
Holo RR Logo (#51-100)
Purple
Blue – #/99
Red – #/49
Green – #/25
Silver – #/10
Holo Gold – #/5
Holo Platinum – 1/1
Clearly Dominant (CD) – 15 Cards
Autograph – 13 Cards, #/20 or fewer
Holo Mosaic
Red – #/49
Green – #/25
Holo Silver – #/10
Holo Gold – #/5
Holo Platinum – 1/1
Clearly My House (CMH) – 14 Cards
Autograph – 11 Cards, #/15 or fewer
Holo Mosaic
Red – #/49
Green – #/25
Holo Silver – #/10
Holo Gold – #/5
Holo Platinum – 1/1
Clearly Out of this World (OW) – 15 Cards
Autograph – 12 Cards, #/20 or fewer
Holo Mosaic
Red – #/49
Green – #/25
Holo Silver – #/10
Holo Gold – #/5
Holo Platinum – 1/1
Clearly Rated Rookie Auto – 50 Cards
Holo Mosaic
Holo RR Logo
Blue – #/99 or fewer
Red – #/49
Green – #/25
Holo Silver – #/10
Holo Gold – #/5
Holo Platinum – 1/1
Clearly Retro 1991 (91) – 20 Cards
Autographs – 16 Cards, #/20 or fewer
Holo Mosaic
Red – #/49
Green – #/25
Holo Silver – #/10
Holo Gold – #/5
Holo Platinum – 1/1
Clearly Retro 2001 (01) – 20 Cards
Autographs – 19 Cards, #/10 or fewer
Holo Mosaic
Red – #/49
Green – #/25
Holo Silver – #/10
Holo Gold – #/5
Holo Platinum – 1/1

Clearly the Rookies (CTR) – 15 Cards
Autographs – 15 Cards, #/25 or fewer
Holo Mosaic
Red – #/49
Green – #/25
Holo Silver – #/10
Holo Gold – #/5
Holo Platinum – 1/1
Downtown (D) – 35 Cards
Holo Platinum – 1/1
Game Breakers (GBR) – 1 Card
Base – #/50
Gridiron Marvels (GM) – 20 Cards
Holo Platinum – 1/1
Night Moves (NM) – 25 Cards
Holo Platinum – 1/1
Super Bowl MVP Signatures (SBIII) – 1 Card
Base – #/25
Vaunted Greats (GRG) – 1 Card
Base – #/50
49ers
| | | | |
| --- | --- | --- | --- |
| 49 | George Kittle | | |
| 54 | Trey Lance | RC | |
| 54 | Trey Lance | RC | Auto |
| 79 | Trey Sermon | RC | |
| 79 | Trey Sermon | RC | Auto |
| 97 | Eli Mitchell | RC | |
| 97 | Eli Mitchell | RC | Auto |
| CMH-TRL | Trey Lance | | |
| CMH-TRL | Trey Lance | | Auto |
| OW-TRL | Trey Lance | | |
| OW-TRL | Trey Lance | | Auto |
| 91-18 | Trey Lance | | |
| 91-18 | Trey Lance | | Auto |
| 01-08 | Steve Young | | |
| 01-18 | Trey Lance | | |
| 01-08 | Steve Young | | Auto |
| 01-18 | Trey Lance | | Auto |
| 05-FG | Frank Gore | | Auto |
| CTR-TRL | Trey Lance | | |
| D-25 | Jerry Rice | | |
| D-30 | Trey Lance | | |
| GM-13 | Trey Lance | | |
| NM-8 | Joe Montana | | |
| NM-15 | Jerry Rice | | |
| NM-18 | Trey Lance | | |
Bears
| | | | |
| --- | --- | --- | --- |
| 9 | Khalil Mack | | |
| 53 | Justin Fields | RC | |
| 53 | Justin Fields | RC | Auto |
| CMH-JF | Justin Fields | | |
| CMH-JF | Justin Fields | | Auto |
| OW-JR | Justin Fields | | |
| OW-JR | Justin Fields | | Auto |
| 91-19 | Justin Fields | | |
| 91-19 | Justin Fields | | Auto |
| 01-02 | Brian Urlacher | | |
| 01-19 | Justin Fields | | |
| 01-02 | Brian Urlacher | | Auto |
| 01-19 | Justin Fields | | Auto |
| CTR-JF | Justin Fields | | |
| D-10 | Walter Payton | | |
| D-34 | Justin Fields | | |
| GM-12 | Justin Fields | | |
| NM-23 | Justin Fields | | |
Bengals
| | | | |
| --- | --- | --- | --- |
| 10 | Joe Burrow | | |
| 63 | Ja'Marr Chase | RC | |
| 63 | Ja'Marr Chase | RC | Auto |
| OW-JB | Joe Burrow | | |
| OW-JB | Joe Burrow | | Auto |
| OW-JC | Ja'Marr Chase | | |
| OW-JC | Ja'Marr Chase | | Auto |
| CTR-JC | Ja'Marr Chase | | |
| D-7 | Joe Burrow | | |
| D-31 | Ja'Marr Chase | | |
| GM-19 | Ja'Marr Chase | | |
| NM-20 | Ja'Marr Chase | | |
Bills
| | | | |
| --- | --- | --- | --- |
| 5 | Josh Allen | | |
| 6 | Stefon Diggs | | |
| CD-JA | Josh Allen | | |
| CD-JA | Josh Allen | | Auto |
| CD-SD | Stefon Diggs | | |
| CMH-JA | Josh Allen | | |
| CMH-JA | Josh Allen | | Auto |
| OW-JA | Josh Allen | | |
| OW-JA | Josh Allen | | Auto |
| 91-14 | Josh Allen | | |
| 91-14 | Josh Allen | | Auto |
| 18-JA | Josh Allen | | Auto |
| D-1 | Josh Allen | | |
| GM-3 | Josh Allen | | |
| NM-2 | Josh Allen | | |
Broncos
| | | | |
| --- | --- | --- | --- |
| 15 | Jerry Jeudy | | |
| 75 | Javonte Williams | RC | |
| 75 | Javonte Williams | RC | Auto |
| 94 | Patrick Surtain II | RC | |
| 94 | Patrick Surtain II | RC | Auto |
| 01-10 | John Elway | | |
| 01-10 | John Elway | | Auto |
| 10-TT | Tim Tebow | | Auto |
| CTR-JWI | Javonte Williams | | |
| D-20 | John Elway | | |
Browns
| | | | |
| --- | --- | --- | --- |
| 11 | Baker Mayfield | | |
| 12 | Nick Chubb | | |
| 82 | Anthony Schwartz | RC | |
| 82 | Anthony Schwartz | RC | Auto |
| CMH-BM | Baker Mayfield | | |
| 91-15 | Baker Mayfield | | |
| D-8 | Baker Mayfield | | |
| NM-4 | Baker Mayfield | | |
Buccaneers
| | | | |
| --- | --- | --- | --- |
| 44 | Tom Brady | | |
| 45 | Rob Gronkowski | | |
| 56 | Kyle Trask | RC | |
| 56 | Kyle Trask | RC | Auto |
| 88 | Jaelon Darden | RC | |
| 88 | Jaelon Darden | RC | Auto |
| CD-TB | Tom Brady | | |
| CMH-TB | Tom Brady | | |
| OW-TB | Tom Brady | | |
| 91-9 | Tom Brady | | |
| 91-9 | Tom Brady | | Auto |
| CTR-KT | Kyle Trask | | |
| D-19 | Tom Brady | | |
| GM-1 | Tom Brady | | |
| NM-3 | Tom Brady | | |
Cardinals
| | | | |
| --- | --- | --- | --- |
| 1 | Kyler Murray | | |
| 2 | DeAndre Hopkins | | |
| 71 | Rondale Moore | RC | |
| 71 | Rondale Moore | RC | Auto |
| CD-KM | Kyler Murray | | |
| CD-KM | Kyler Murray | | Auto |
| CMH-KM | Kyler Murray | | |
| CMH-KM | Kyler Murray | | Auto |
| 91-1 | Kyler Murray | | |
| 91-1 | Kyler Murray | | Auto |
| 01-01 | Larry Fitzgerald | | |
| 19-KM | Kyler Murray | | Auto |
| CTR-RM | Rondale Moore | | |
| D-23 | Kyler Murray | | |
| GM-8 | Kyler Murray | | |
Chargers
| | | | |
| --- | --- | --- | --- |
| 24 | Justin Herbert | | |
| 25 | Austin Ekeler | | |
| 77 | Josh Palmer | RC | |
| 77 | Josh Palmer | RC | Auto |
| CD-JH | Justin Herbert | | |
| CD-JH | Justin Herbert | | Auto |
| CMH-JH | Justin Herbert | | |
| CMH-JH | Justin Herbert | | Auto |
| OW-JH | Justin Herbert | | |
| OW-JH | Justin Herbert | | Auto |
| 91-11 | Justin Herbert | | |
| 91-11 | Justin Herbert | | Auto |
| D-22 | Justin Herbert | | |
| GBR-JHE | Justin Herbert 0 | | Auto |
| GM-9 | Justin Herbert | | |
| NM-7 | Justin Herbert | | |
Chiefs
| | | | |
| --- | --- | --- | --- |
| 21 | Patrick Mahomes II | | |
| 22 | Tyreek Hill | | |
| 23 | Travis Kelce | | |
| 89 | Cornell Powell | RC | |
| 89 | Cornell Powell | RC | Auto |
| CD-TK | Travis Kelce | | |
| CD-TK | Travis Kelce | | Auto |
| CMH-PM | Patrick Mahomes II | | |
| OW-PM | Patrick Mahomes II | | |
| 91-12 | Patrick Mahomes II | | |
| 91-13 | Travis Kelce | | |
| 91-13 | Travis Kelce | | Auto |
| 01-12 | Joe Montana | | |
| 01-12 | Joe Montana | | Auto |
| D-21 | Patrick Mahomes II | | |
| GM-2 | Patrick Mahomes II | | |
| NM-1 | Patrick Mahomes II | | |
Colts
| | | | |
| --- | --- | --- | --- |
| 19 | Carson Wentz | | |
| 35 | Jonathan Taylor | | |
| 96 | Kwity Paye | RC | |
| 96 | Kwity Paye | RC | Auto |
| 100 | Sam Ehlinger | RC | |
| CD-JT | Jonathan Taylor | | |
| CD-JT | Jonathan Taylor | | Auto |
| 01-11 | Peyton Manning | | |
| 01-11 | Peyton Manning | | Auto |
| D-15 | Peyton Manning | | |
| NM-14 | Peyton Manning | | |
Cowboys
| | | | |
| --- | --- | --- | --- |
| 13 | Dak Prescott | | |
| 14 | Ezekiel Elliott | | |
| 92 | Simi Fehoko | RC | |
| 92 | Simi Fehoko | RC | Auto |
| 95 | Micah Parsons | RC | |
| 95 | Micah Parsons | RC | Auto |
| CD-DP | Dak Prescott | | |
| CD-DP | Dak Prescott | | Auto |
| 91-3 | Ezekiel Elliott | | |
| 91-3 | Ezekiel Elliott | | Auto |
| 01-03 | Troy Aikman | | |
| 01-03 | Troy Aikman | | Auto |
| 16-DP | Dak Prescott | | Auto |
| 16-EE | Ezekiel Elliott | | Auto |
| D-4 | Dak Prescott | | |
| NM-10 | Emmitt Smith | | |
| NM-25 | Micah Parsons | | |
Dolphins
| | | | |
| --- | --- | --- | --- |
| 30 | Tua Tagovailoa | | |
| 64 | Jaylen Waddle | RC | |
| 64 | Jaylen Waddle | RC | Auto |
| OW-JW | Jaylen Waddle | | |
| OW-JW | Jaylen Waddle | | Auto |
| 01-13 | Dan Marino | | |
| 01-13 | Dan Marino | | Auto |
| CTR-JW | Jaylen Waddle | | |
| D-2 | Dan Marino | | |
| D-32 | Jaylen Waddle | | |
| GM-20 | Jaylen Waddle | | |
| NM-9 | Dan Marino | | |
| NM-21 | Jaylen Waddle | | |
Eagles
| | | | |
| --- | --- | --- | --- |
| 39 | Jalen Hurts | | |
| 62 | DeVonta Smith | RC | |
| 62 | DeVonta Smith | RC | Auto |
| 68 | Kenneth Gainwell | RC | |
| 68 | Kenneth Gainwell | RC | Auto |
| OW-DS | DeVonta Smith | | |
| OW-DS | DeVonta Smith | | Auto |
| CTR-DS | DeVonta Smith | | |
| D-33 | DeVonta Smith | | |
| GM-18 | DeVonta Smith | | |
| NM-22 | DeVonta Smith | | |
Falcons
| | | | |
| --- | --- | --- | --- |
| 3 | Cordarrelle Patterson | | |
| 61 | Kyle Pitts | RC | |
| 61 | Kyle Pitts | RC | Auto |
| OW-KP | Kyle Pitts | | |
| OW-KP | Kyle Pitts | | Auto |
| CTR-KP | Kyle Pitts | | |
| GM-17 | Kyle Pitts | | |
| NM-19 | Kyle Pitts | | |
Giants
| | | | |
| --- | --- | --- | --- |
| 36 | Daniel Jones | | |
| 37 | Saquon Barkley | | |
| 65 | Kadarius Toney | RC | |
| 65 | Kadarius Toney | RC | Auto |
| D-5 | Saquon Barkley | | |
Jaguars
| | | | |
| --- | --- | --- | --- |
| 20 | James Robinson | | |
| 51 | Trevor Lawrence | RC | |
| 51 | Trevor Lawrence | RC | Auto |
| 59 | Travis Etienne Jr. | RC | |
| 59 | Travis Etienne Jr. | RC | Auto |
| CMH-TL | Trevor Lawrence | | |
| CMH-TL | Trevor Lawrence | | Auto |
| OW-TL | Trevor Lawrence | | |
| OW-TL | Trevor Lawrence | | Auto |
| 91-16 | Trevor Lawrence | | |
| 91-16 | Trevor Lawrence | | Auto |
| 01-16 | Trevor Lawrence | | |
| 01-16 | Trevor Lawrence | | Auto |
| CTR-TL | Trevor Lawrence | | |
| D-28 | Trevor Lawrence | | |
| GM-10 | Trevor Lawrence | | |
| GM-15 | Travis Etienne Jr. | | |
| NM-16 | Trevor Lawrence | | |
Jets
| | | | |
| --- | --- | --- | --- |
| 38 | Corey Davis | | |
| 52 | Zach Wilson | RC | |
| 52 | Zach Wilson | RC | Auto |
| 69 | Michael Carter | RC | |
| 69 | Michael Carter | RC | Auto |
| 72 | Elijah Moore | RC | |
| 72 | Elijah Moore | RC | Auto |
| CMH-ZW | Zach Wilson | | |
| CMH-ZW | Zach Wilson | | Auto |
| OW-ZW | Zach Wilson | | |
| OW-ZW | Zach Wilson | | Auto |
| 91-17 | Zach Wilson | | |
| 91-17 | Zach Wilson | | Auto |
| 01-14 | Joe Namath | | |
| 01-17 | Zach Wilson | | |
| 01-14 | Joe Namath | | Auto |
| 01-17 | Zach Wilson | | Auto |
| CTR-EM | Elijah Moore | | |
| CTR-ZW | Zach Wilson | | |
| D-29 | Zach Wilson | | |
| GM-11 | Zach Wilson | | |
| NM-17 | Zach Wilson | | |
Lions
| | | | |
| --- | --- | --- | --- |
| 16 | Jared Goff | | |
| 84 | Amon-Ra St. Brown | RC | |
| 84 | Amon-Ra St. Brown | RC | Auto |
| 01-04 | Barry Sanders | | |
| 01-04 | Barry Sanders | | Auto |
| D-11 | Barry Sanders | | |
Packers
| | | | |
| --- | --- | --- | --- |
| 17 | Aaron Rodgers | | |
| 18 | Davante Adams | | |
| 98 | Kylin Hill | RC | |
| 98 | Kylin Hill | RC | Auto |
| CMH-AR | Aaron Rodgers | | |
| CMH-AR | Aaron Rodgers | | Auto |
| 91-4 | Aaron Rodgers | | |
| 91-4 | Aaron Rodgers | | Auto |
| 01-05 | Brett Favre | | |
| 01-05 | Brett Favre | | Auto |
| 05-AR | Aaron Rodgers | | Auto |
| D-12 | Aaron Rodgers | | |
| GM-4 | Aaron Rodgers | | |
| NM-12 | Aaron Rodgers | | |
Panthers
| | | | |
| --- | --- | --- | --- |
| 7 | Christian McCaffrey | | |
| 67 | Terrace Marshall Jr. | RC | |
| 67 | Terrace Marshall Jr. | RC | Auto |
| 87 | Chuba Hubbard | RC | |
| 87 | Chuba Hubbard | RC | Auto |
| 93 | Jaycee Horn | RC | |
| 91-2 | Christian McCaffrey | | |
| 91-2 | Christian McCaffrey | | Auto |
| 17-CM | Christian McCaffrey | | Auto |
Patriots
| | | | |
| --- | --- | --- | --- |
| 33 | Damien Harris | | |
| 55 | Mac Jones | RC | |
| 55 | Mac Jones | RC | Auto |
| 86 | Rhamondre Stevenson | RC | |
| 86 | Rhamondre Stevenson | RC | Auto |
| CMH-MJ | Mac Jones | | |
| CMH-MJ | Mac Jones | | Auto |
| OW-MC | Mac Jones | | |
| OW-MC | Mac Jones | | Auto |
| 91-20 | Mac Jones | | |
| 91-20 | Mac Jones | | Auto |
| 01-20 | Mac Jones | | |
| 01-20 | Mac Jones | | Auto |
| 10-RG | Rob Gronkowski | | Auto |
| CTR-MC | Mac Jones | | |
| CTR-RS | Rhamondre Stevenson | | |
| D-35 | Mac Jones | | |
| GM-14 | Mac Jones | | |
| NM-24 | Mac Jones | | |
Raiders
| | | | |
| --- | --- | --- | --- |
| 28 | Derek Carr | | |
| 29 | Darren Waller | | |
| CD-DW | Darren Waller | | |
| CD-DW | Darren Waller | | Auto |
Rams
| | | | |
| --- | --- | --- | --- |
| 8 | Cooper Kupp | | |
| 26 | Matthew Stafford | | |
| 27 | Aaron Donald | | |
| 73 | Tutu Atwell | RC | |
| 73 | Tutu Atwell | RC | Auto |
| 90 | Jacob Harris | RC | |
| 90 | Jacob Harris | RC | Auto |
| CD-MS | Matthew Stafford | | |
| CD-MS | Matthew Stafford | | Auto |
| 91-5 | Matthew Stafford | | |
| 91-5 | Matthew Stafford | | Auto |
| D-24 | Matthew Stafford | | |
Ravens
| | | | |
| --- | --- | --- | --- |
| 4 | Lamar Jackson | | |
| 66 | Rashod Bateman | RC | |
| 66 | Rashod Bateman | RC | Auto |
| 74 | Tylan Wallace | RC | |
| 74 | Tylan Wallace | RC | Auto |
| 99 | Ty'Son Williams | RC | |
| 99 | Ty'Son Williams | RC | Auto |
| OW-LJ | Lamar Jackson | | |
| 01-09 | Ray Lewis | | |
| 01-09 | Ray Lewis | | Auto |
| 02-ER | Ed Reed | | Auto |
| D-6 | Lamar Jackson | | |
| GM-7 | Lamar Jackson | | |
| NM-5 | Lamar Jackson | | |
Saints
| | | | |
| --- | --- | --- | --- |
| 34 | Alvin Kamara | | |
| 70 | Ian Book | RC | |
| 70 | Ian Book | RC | Auto |
| 91-6 | Alvin Kamara | | |
| 01-07 | Drew Brees | | |
| 01-07 | Drew Brees | | Auto |
| D-17 | Drew Brees | | |
| D-18 | Alvin Kamara | | |
Seahawks
| | | | |
| --- | --- | --- | --- |
| 42 | Russell Wilson | | |
| 43 | DK Metcalf | | |
| 76 | D'Wayne Eskridge | RC | |
| 76 | D'Wayne Eskridge | RC | Auto |
| CD-DK | DK Metcalf | | |
| CD-DK | DK Metcalf | | Auto |
| CMH-DK | DK Metcalf | | |
| CMH-DK | DK Metcalf | | Auto |
| 91-7 | Russell Wilson | | |
| 91-8 | DK Metcalf | | |
| 91-7 | Russell Wilson | | Auto |
| 19-DK | DK Metcalf | | Auto |
| D-26 | Russell Wilson | | |
| D-27 | DK Metcalf | | |
| GM-5 | Russell Wilson | | |
| NM-13 | Russell Wilson | | |
Steelers
| | | | |
| --- | --- | --- | --- |
| 40 | Ben Roethlisberger | | |
| 41 | T.J. Watt | | |
| 60 | Najee Harris | RC | |
| 60 | Najee Harris | RC | Auto |
| 81 | Pat Freiermuth | RC | |
| 81 | Pat Freiermuth | RC | Auto |
| CD-TW | T.J. Watt | | |
| CD-TW | T.J. Watt | | Auto |
| 01-15 | Terry Bradshaw | | |
| 01-15 | Terry Bradshaw | | Auto |
| CTR-NH | Najee Harris | | |
| D-9 | Troy Polamalu | | |
| D-14 | T.J. Watt | | |
| GM-16 | Najee Harris | | |
Texans
| | | | |
| --- | --- | --- | --- |
| 50 | Brandin Cooks | | |
| 58 | Davis Mills | RC | |
| 58 | Davis Mills | RC | Auto |
| 80 | Nico Collins | RC | |
| 80 | Nico Collins | RC | Auto |
Titans
| | | | |
| --- | --- | --- | --- |
| 46 | Ryan Tannehill | | |
| 47 | Derrick Henry | | |
| 83 | Dez Fitzpatrick | RC | |
| 83 | Dez Fitzpatrick | RC | Auto |
| CD-DH | Derrick Henry | | |
| CD-DH | Derrick Henry | | Auto |
| CD-JJ | Julio Jones | | |
| CD-JJ | Julio Jones | | Auto |
| CMH-BM | Derrick Henry | | Auto |
| CMH-DH | Derrick Henry | | |
| 91-10 | Derrick Henry | | |
| 91-10 | Derrick Henry | | Auto |
| 16-DH | Derrick Henry | | Auto |
| D-16 | Derrick Henry | | |
| GM-6 | Derrick Henry | | |
| NM-6 | Derrick Henry | | |
Vikings
| | | | |
| --- | --- | --- | --- |
| 31 | Justin Jefferson | | |
| 32 | Dalvin Cook | | |
| 57 | Kellen Mond | RC | |
| 57 | Kellen Mond | RC | Auto |
| 85 | Kene Nwangwu | RC | |
| 85 | Kene Nwangwu | RC | Auto |
| 91 | Ihmir Smith-Marsette | RC | |
| 91 | Ihmir Smith-Marsette | RC | Auto |
| CD-JUJ | Justin Jefferson | | |
| CD-JUJ | Justin Jefferson | | Auto |
| 01-06 | Randy Moss | | |
| 01-06 | Randy Moss | | Auto |
| 07-AP | Adrian Peterson | | Auto |
| D-3 | Randy Moss | | |
| D-13 | Justin Jefferson | | |
| NM-11 | Randy Moss | | |
Washington
| | | | |
| --- | --- | --- | --- |
| 99-CB | Champ Bailey | | Auto |
| 48 | Antonio Gibson | | |
| 78 | Dyami Brown | RC | |
| 78 | Dyami Brown | RC | Auto |