2020 Upper Deck Marvel The Punisher details moments from the first season of the Netflix original series.
Marvel's The Punisher includes short prints and super short prints for the 100-card base set Agent Orange parallel, and for the Gun Metal Grey. Autographs include Dual Autographs, manufactured Patch-Work Autographed relics, and For the Corps Plexiglass autos.
Additionally, Castle Crash Course indulges fans with memorable moments from The Punisher comic books. Lastly, the Episodic Art subset offers a #/99 parallel that is signed by Tim Bradstreet, who has illustrated several book covers, as well as, movie posters.
This checklist is organized by subset. Scroll through the entire list or jump directly to a preferred set by selecting it from the key below. Clicking a link within the checklist will direct you to an affiliate retailer or to relevant eBay listings for that card.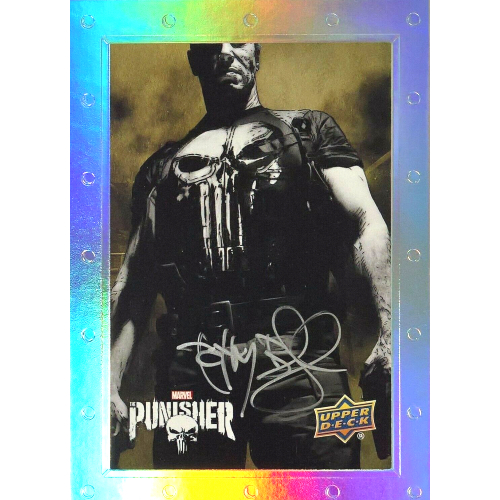 2020 Upper Deck The Punisher Checklist
| | |
| --- | --- |
| 1 | Unfinished Business |
| 2 | Hey Sleepyhead |
| 3 | Pete Castigilione |
| 4 | Ahmed Zubair |
| 5 | Mind your own Business |
| 6 | The Perfect Crime |
| 7 | Hell Broke Luce |
| 8 | Do what you have to |
| 9 | Its nonsense |
| 10 | Hipster |
| 11 | A Wolf in Sheeps clothing |
| 12 | Two Dead Men |
| 13 | Hammer and Anvil |
| 14 | David Lieberman |
| 15 | The Promotion |
| 16 | Frank |
| 17 | This is a Mistake! |
| 18 | Personal Delivery |
| 19 | Dogs of War |
| 20 | Betrayed |
| 21 | Unmarked Grave |
| 22 | Im sorry Frank |
| 23 | Ambushed |
| 24 | One Condition |
| 25 | Procurement |
| 26 | An Old Friend |
| 27 | A Good Nights Sleep |
| 28 | Insurance Paperwork |
| 29 | Toe the Line |
| 30 | Application Denied |
| 31 | Game of Chicken |
| 32 | Another Work Day |
| 33 | A Home Cooked Meal |
| 34 | Old Cases and a Dead Man |
| 35 | Not Gonna Lie |
| 36 | Where does it end? |
| 37 | Skeletons in the Closet |
| 38 | I Just Want to Talk |
| 39 | Tough Day |
| 40 | Thanksgiving Dinner |
| 41 | A Losing Battle |
| 42 | Memory of a Dead Man |
| 43 | Thank You For Your Service |
| 44 | Chu Lai Airbase |
| 45 | Blackbird Calling Raven |
| 46 | Misery Loves Company |
| 47 | More than Something |
| 48 | The Third Wheel |
| 49 | A Matter of Duty |
| 50 | IED |
| 51 | Early Retirement |
| 52 | Bug Hunt |
| 53 | Safe House |
| 54 | Cross Hairs |
| 55 | Bill Rawlins |
| 56 | No Signal |
| 57 | Coal Iron and Steel |
| 58 | Guitars and Love Stories |
| 59 | A Lesson in Discipline |
| 60 | A Sprung Trap |
| 61 | Go Long |
| 62 | Chasing Ghosts |
| 63 | The Ricky Langtry Show |
| 64 | Sic Semper Tyrannis |
| 65 | Doing the Right Thing |
| 66 | A Target On Your Back |
| 67 | 17 Funerals |
| 68 | Front Towards Enemy |
| 69 | The Punisher Lives |
| 70 | Reflections and Recollections |
| 71 | Shows Over |
| 72 | Home Soil |
| 73 | Stand off |
| 74 | Dead Mans Switch |
| 75 | Virtue of the Victorious |
| 76 | A Day to Remember |
| 77 | Heads Down, Mouths Shut |
| 78 | Lawyers are for the Guilty |
| 79 | Castle Tip Line |
| 80 | It Ends Tonight |
| 81 | A Matter Integrity |
| 82 | Family Reunion |
| 83 | Infiltration |
| 84 | Countdown |
| 85 | Confession |
| 86 | Prisoner Exchange |
| 87 | Crossfire |
| 88 | New Gloves |
| 89 | Honor and Loyalty |
| 90 | Its Done |
| 91 | Come Home Frank |
| 92 | Betrayal |
| 93 | Penthouse Pauper |
| 94 | A New Start |
| 95 | Morning Coffee |
| 96 | Painted Ponies |
| 97 | Billy the Kid |
| 98 | Merry-Go-Round |
| 99 | A Broken Man |
| 100 | Home Sweet Home |
| | |
| --- | --- |
| C-1 | Frank Castle, Billy Russo, William Rawlins |
| C-2 | Dinah Madani, Sam Stein, Rafael Hernandez |
| C-3 | Curtis Hoyle, Lewis Wilson, Frank Castle |
| C-4 | Frank Castle, David Lieberman, Sarah Lieberman |
| C-5 | Sarah Lieberman, Zach Lieberman, Leo Lieberman |
| C-6 | Maria Castle, Billy Russo, Frank Castle |
| C-7 | Maria Castle, Frank Castle Jr., Lisa Castle |
| C-8 | Ray Schoonover, Frank Castle, Karen Page |
| C-9 | Puniser, Billy Russo, William Rawlins |
| C-10 | Micro, Carson Wolf, Punisher |
| | |
| --- | --- |
| CC-1 | Punisher War Journal #1 |
| CC-2 | The Punisher #1 |
| CC-3 | The Punisher #2 |
| CC-4 | The Punisher #3 |
| CC-5 | The Punisher #4 |
| CC-6 | The Punisher #5 |
| CC-7 | Punisher #4 (1987) |
| CC-8 | The Punisher: Year One #4 |
| CC-9 | The Amazing Spider-Man #129 |
| CC-10 | The Punisher #1 (2000) |
| CC-11 | The Punisher: Year One #1 |
| CC-12 | Civil War: Punisher War Journal #1 |
| CC-13 | The Punisher: Year One #3 |
| CC-14 | The Amazing Spider-Man Annual #15 |
| CC-15 | The Punisher #10 |
| CC-16 | Marvel Preview #2 |
| CC-17 | The Punisher #1 |
| | |
| --- | --- |
| EA-1 | 3:00 AM |
| EA-2 | Two Dead Men |
| EA-3 | Kandahar |
| EA-4 | Resupply |
| EA-5 | Gunner |
| EA-6 | The Judas Goat |
| EA-7 | Crosshairs |
| EA-8 | Cold Steel |
| EA-9 | Fron Toward Enemy |
| EA-10 | Virtue of the Vicious |
| EA-11 | Danger Close |
| EA-12 | Home |
| EA-13 | Memento Mori |
| EA-14 | Season 1 Recap |
For the Corps Variant Auto
| | |
| --- | --- |
| FCV-EM | Ebon Moss-Bachrach |
| FCV-JB | Jon Bernthal |
| FCV-JM | Jordan Mahome |
| FCV-JR | Jaime Ray Newman |
| FCV-KF | Kobi Frumer |
| FCV-MN | Michael Nathanson |
| FCV-PS | Paul Schulze |
| FCV-RH | Rick Holmes |
| | | |
| --- | --- | --- |
| FTC-EM | Ebon Moss-Bachrach | |
| FTC-FW | Paul Schulze & Jon Bernthal | Dual Auto |
| FTC-JB | Jon Bernthal | |
| FTC-JE | Jon Bernthal & Ebon Moss-Bachrach | Dual Auto |
| FTC-JM | Jordan Mahome | |
| FTC-JN | Jaime Ray Newman | |
| FTC-KE | Ebon Moss-Bachrach & Kobi Frumer | Dual Auto |
| FTC-KF | Kobi Frumer | |
| FTC-ME | Ebon Moss-Bachrach | |
| FTC-MN | Michael Nathanson | |
| FTC-PR | Jon Bernthal | |
| FTC-PS | Paul Schulze | |
| FTC-RH | Rick Holmes | |
For the COrps Plexiglass Auto
| | |
| --- | --- |
| FTP-EM | Ebon Moss-Bachrach |
| FTP-JB | Jon Bernthal |
| FTP-JM | Jordan Mahome |
| FTP-KF | Kobi Frumer |
| FTP-ME | Ebon Moss-Bachrach |
| FTP-MN | Michael Nathanson |
| FTP-PS | Paul Schulze |
| FTP-RH | Rick Holmes |
| FTP-SS | Michael Nathanson |
| | |
| --- | --- |
| GG-1 | Punisher |
| GG-2 | Support Group |
| GG-3 | Truth |
| GG-4 | Torture |
| GG-5 | Beats |
| GG-6 | Better off |
| GG-7 | Care |
| GG-8 | Kill |
| GG-9 | Sold Your Soul |
| GG-10 | Ruined It |
| GG-11 | Same |
| GG-12 | Latin |
| GG-13 | Hope |
| GG-14 | Remember |
| GG-15 | Admit it |
| | |
| --- | --- |
| MM-1 | Frank Castle |
| MM-2 | Dinah Madani |
| MM-3 | David Lieberman |
| MM-4 | Billy Russo |
| MM-5 | Sarah Lieberman |
| MM-6 | Lewis Wilson |
| MM-7 | Sam Stein |
| MM-8 | William Rawlins |
| MM-9 | Curtis Hoyle |
| MM-10 | Karen Page |
| | |
| --- | --- |
| MT-1 | CCTV |
| MT-2 | Diner Phone |
| MT-3 | DVD |
| MT-4 | Computer |
| MT-5 | Cellphone |
| MT-6 | Micros Base |
| MT-7 | Retina Scan |
| MT-8 | Password |
| MT-9 | Hacking |
| MT-10 | Radio Jammer |
| MT-11 | Drone |
| MT-12 | Radio Scanner |
| | |
| --- | --- |
| PW1 | Frank Castle |
| PW2 | Punisher |
| PW3 | Billy Russo |
| PW4 | David Lieberman |
| PW5 | Lewis Wilson |
| PW6 | Curtis Hoyle |
| PW7 | Sam Stein |
| PW8 | Karen Page |
| PW9 | Dinah Madani |
| PW10 | Ray Schoonover |
| PW11 | Brett Mahoney |
| PW12 | Carson Wolf |
| | |
| --- | --- |
| PW-EM | Ebon Moss-Bachrach |
| PW-JB | Jon Bernthal |
| PW-PS | Paul Schulze |
| PW-RH | Rick Holmes |
| | |
| --- | --- |
| PWP1 | Frank Castle |
| PWP2 | Gunner Henderson |
| PWP3 | Billy Russo |
| PWP4 | William Rawlins |
| PWP5 | Ray Schoonover |
| PWP6 | Morty Bennett |
| PWP7 | Micro |
| PWP8 | Dinah Madani |
| PWP9 | Sam Stein |
| PWP10 | Curtis Hoyle |
| PWP11 | Lewis Wilson |
| PWP12 | Sarah Lieberman |
| PWP13 | Karen Page |
| PWP14 | Turk Barrett |
| PWP15 | Rafael Hernandez |
| | |
| --- | --- |
| SO-1 | Kandahar |
| SO-2 | Resupply |
| SO-3 | Crosshairs |
| SO-4 | Fron Toward Enemy |
| SO-5 | Danger Close |