2020 Topps Women of Star Wars highlights powerful women from the entire Star Wars franchise.
A first for Topps, the all-female set includes iconic heroes including Jyn Erso from Rogue One: A Star Wars Story, Ahsoka Tano (The Clone Wars), and of course, Princess Leia Organa. Additionally, trained assassin Asajj Ventress is among the villainous roster.
Along with the 100 base cards, collectors can find Autographs, Dual Autographs, and Triple Autographs. Each autograph subset includes parallels to chase including the rare one-of-one Red Triple Autograph.
Lastly, the hobby exclusive offers four inserts which include Behind the Scenes, Powerful Pairs, and Weapon of Choice. Parallels for all inserts are Green #/99, Purple #/25, Black #/5, Red 1/1, and Printing Plates. However, printing plates are the only parallel offered for the Journey of Leia Organa set.
Each hobby box promises one autograph while two sketch cards are guaranteed per case.
Release Date: March 25, 2020
Clicking a link within the checklist will direct you to an affiliate retailer or to relevant eBay listings for that card.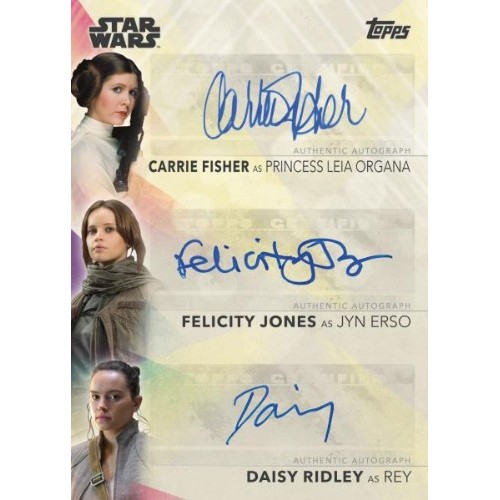 2020 Topps Women of Star Wars Checklist
Base – 100 Cards
Orange – 1 per pack
Blue – 1:4 packs
Green – #/99
Purple – #/25
Black – #/5
Red – 1/1
Printing Plates – 1/1
Autographs – 46 Cards
Orange – #/99
Blue – #/50
Purple – #/25
Black – #/5
Red – 1/1
Printing Plates – 1/1
Dual Autographs – 13 Cards
Purple – #/10
Black – #/5
Red – 1/1
Triple Autographs – 6 Cards
Red – 1/1
Journey of Leia Organa (JL) – 8 Cards
Printing Plates – 1/1
Base Set
| | |
| --- | --- |
| 1 | Aayla Secura |
| 2 | Adi Gallia |
| 3 | Agent Tierny |
| 4 | Ahsoka Tano |
| 5 | Asajj Ventress |
| 6 | Aunt Z |
| 7 | Aurra Sing |
| 8 | Barriss Offee |
| 9 | Bazine Netal |
| 10 | Beru Lars |
| 11 | Bo-Katan Kryze |
| 12 | Breha Organa |
| 13 | Bultar Swan |
| 14 | Captain Phasma |
| 15 | Cara Dune |
| 16 | Chi Eekway Papanoida |
| 17 | Chief Petty Officer Unamo |
| 18 | Commander D'Acy |
| 19 | Depa Billaba |
| 20 | Doctor Kalonia |
| 21 | Dormé |
| 22 | Eila |
| 23 | Enfys Nest |
| 24 | Freya Fenris |
| 25 | Gardulla the Hutt |
| 26 | Garma |
| 27 | Gooti Terez |
| 28 | Governor Pryce |
| 29 | Greeata |
| 30 | Hera Syndulla |
| 31 | Iden Versio |
| 32 | Jannah |
| 33 | Jess "Testor" Pava |
| 34 | Jocasta Nu |
| 35 | Jyn Erso |
| 36 | Katooni |
| 37 | Kaydel Ko Connix |
| 38 | Korr Sella |
| 39 | L3-37 |
| 40 | Lady Proxima |
| 41 | Lagos |
| 42 | Latts Razzi |
| 43 | Lovey |
| 44 | Luminara Unduli |
| 45 | Lyra Erso |
| 46 | Maketh Tua |
| 47 | Maz Kanata |
| 48 | Mina Bonteri |
| 49 | Miraj Scintel |
| 50 | Mon Mothma |
| 51 | Mortis Daughter |
| 52 | Mother Talzin |
| 53 | Numa |
| 54 | Officer Sharest |
| 55 | Old Daka |
| 56 | Oola |
| 57 | Padmé Amidala |
| 58 | Paige Tico |
| 59 | Pamich Nerro Goode |
| 60 | Princess Leia Organa |
| 61 | Qi'Ra |
| 62 | Queen Apailana |
| 63 | Queen Jamillia |
| 64 | Queen Julia |
| 65 | Queen Neeyutnee |
| 66 | Rey |
| 67 | Rig Nema |
| 68 | Riyo Chuchi |
| 69 | Rumi Paramita |
| 70 | Rystáll Sant |
| 71 | Sabé |
| 72 | Sabine Wren |
| 73 | Satine Kryze |
| 74 | Second Sister Inquisitor |
| 75 | Senator Tynnra Pamlo |
| 76 | Seventh Sister Inquisitor |
| 77 | Shaak Ti |
| 78 | Shmi Skywalker |
| 79 | Shu Mai |
| 80 | Sly Moore |
| 81 | Stass Allie |
| 82 | Steela Gerrera |
| 83 | Sugi |
| 84 | Sy Snootles |
| 85 | Synara San |
| 86 | Tallie Lintra |
| 87 | Tam Ryvora |
| 88 | Taun We |
| 89 | Teckla Minnau |
| 90 | Tiplar |
| 91 | Tiplee |
| 92 | Torra Doza |
| 93 | Toryn Farr |
| 94 | Ursa Wren |
| 95 | Val |
| 96 | Valik |
| 97 | Vice Admiral Holdo |
| 98 | Yarna D'Al' Gargan |
| 99 | Zam Wesell |
| 100 | Zorii Bliss |
Autograph
| | |
| --- | --- |
| Auto | Carrie Fisher as Princess Leia Organa |
| Auto | Daisy Ridley as Rey |
| Auto | Felicity Jones as Jyn Erso |
| Auto | Kelly Marie Tran as Rose Tico |
| Auto | Billie Lourd as Kaydel Ko Connix |
| Auto | Gina Carano as Cara Dune |
| Auto | Laura Dern as Vice Admiral Holdo |
| Auto | Gwendoline Christie as Captain Phasma |
| Auto | Caroline Blakiston as Mon Mothma |
| Auto | Naomi Ackie as Jannah |
| Auto | Erin Kellyman as Enfys Nest |
| Auto | Sarah Michelle Gellar as Seventh Sister |
| Auto | Vanessa Marshall as Hera Syndulla |
| Auto | Tiya Sircar as Sabine Wren |
| Auto | Suzie McGrath as Tam Ryvora |
| Auto | Ashley Eckstein as Ahsoka Tano |
| Auto | Nika Futterman as Asajj Ventress |
| Auto | Orli Shoshan as Shaak Ti |
| Auto | Amy Allen as Aayla Secura |
| Auto | Myrna Velasco as Torra Doza |
| Auto | Jessica Henwick as Jess "Testor" Pava |
| Auto | Sema-Tawi Smart as Aurodia Ventafoli |
| Auto | Mary Elizabeth McGlynn as Freya Fenris |
| Auto | Femi Taylor as Oola |
| Auto | Keisha Castle-Hughes as Queen Apailana |
| Auto | Catherine Taber as Numa |
| Auto | Anna Brewster as Bazine Netal |
| Auto | Lily Cole as Lovey |
| Auto | Janina Gavankar as Iden Versio |
| Auto | Vinette Robinson as Tyce |
| Auto | Amanda Hale as Officer Kandia |
| Auto | Angelique Perrin as Adi Gallia |
| Auto | Crystal Clarke as Ensign Pamich Nerro Goode |
| Auto | Anna Graves as Duchess Satine Kryze |
| Auto | Charlotte Louise as Margo |
| Auto | Nazneen Contractor as Synara San |
| Auto | Kathleen Gati as Old Daka |
| Auto | Hermione Corfield as Tallie Lintra |
| Auto | Anna Francolini as Imperial Border Guard |
| Auto | Debra Wilson as Cere Junda |
| Auto | Leeanna Walsman as Zam Wesell |
| Auto | Michonne Bourriague as Aurra Sing |
| Auto | Jaime King as Aurra Sing |
| Auto | Shelby Young as Princess Leia Organa |
| Auto | Misty Lee as Princess Leia Organa |
| Auto | Julie Dolan as voice of Princess Leia Organa |
Dual Autograph
| | |
| --- | --- |
| Dual Auto | Daisy Ridley as Rey & Kelly Marie Tran as Rose Tico |
| Dual Auto | Kelly Marie Tran as Rose Tico & Veronica Ngo as Paige Tico |
| Dual Auto | Felicity Jones as Jyn Erso & Valene Kane as Lyra Erso |
| Dual Auto | Billie Lourd as Kaydel Ko Connix & Naomi Ackie as Jannah |
| Dual Auto | Laura Dern as Vice Admiral Holdo & Amanda Lawrence as Commander D'acy |
| Dual Auto | Jessica Henwick as Jess "Testor" Pava & Hermione Corfield as Tallie Lintra |
| Dual Auto | Ashley Eckstein as Ahsoka Tano & Nika Futterman as Asajj Ventress |
| Dual Auto | Sema-Tawi Smart as Aurodia Ventafoli & Charlotte Louise as Margo |
| Dual Auto | Amy Allen as Aayla Secura & Orli Shoshan as Shaak Ti |
| Dual Auto | Olivia d'Abo as Luminara Unduli & Meredith Salenger as Barriss Offee |
| Dual Auto | Myrna Velasco as Torra Doza & Suzie McGrath as Tam Ryvora |
| Dual Auto | Vanessa Marshall as Hera Syndulla & Tiya Sircar as Sabine Wren |
Triple Autograph
| | |
| --- | --- |
| Triple Auto | Carrie Fisher, Felicity Jones & Daisy Ridley |
| Triple Auto | Laura Dern, Amanda Lawrence & Billie Lourd |
| Triple Auto | Daisy Ridley, Kelly Marie Tran & Billie Lourd |
| Triple Auto | Amy Allen, Olivia d'Abo & Nika Futterman |
| Triple Auto | Myrna Velasco, Suzie McGrath & Mary Elizabeth McGlynn |
| Triple Auto | Sarah Michelle Gellar, Ashley Eckstein & Tiya Sircar |
Journey of Leia Organa
| | |
| --- | --- |
| JL-1 | Transferring the Plans |
| JL-2 | Defying Darth Vader |
| JL-3 | Following the Battle |
| JL-4 | Laying out the Attack Plan |
| JL-5 | Rushing to the Rescue |
| JL-6 | The Ewok called Wicket |
| JL-7 | Arrival on Takodana |
| JL-8 | Setting Poe Straight |
Behind the Scenes
| | |
| --- | --- |
| IM-1 | Out on the Battlefield |
| IM-2 | Barriss Offee's Dark Turn |
| IM-3 | Queen Amidala outsmarts and traps Viceroy Nute Gunray |
| IM-4 | Zam Wesell's Failed Attempt |
| IM-5 | Padmé's incredible escape |
| IM-6 | Aayla Secura Betrayed on Felucia |
| IM-7 | Ahsoka Walks Away |
| IM-8 | Asajj Ventress' Shocking Arrival |
| IM-9 | Aurra Sing's New Crew |
| IM-10 | Ahsoka Tano Vs. Darth Vader |
| IM-11 | Qi'Ra Takes Control |
| IM-12 | Jyn Erso Rallies the Rebellion |
| IM-13 | Final Transmission |
| IM-14 | Guardian of the Resistance |
| IM-15 | Mon Mothma's Briefing |
| IM-16 | Holdo Vs. The Supremacy |
| IM-17 | Rey escapes from Interrogation |
| IM-18 | Inside Maz's Castle |
| IM-19 | Ahch-To training |
| IM-20 | Rey's Arrival |
| IM-21 | Val Takes out the Transport train |
| IM-22 | Enfys Nest Corners Han and Beckett on Savareen |
Powerful Pairs
| | |
| --- | --- |
| PP-1 | Luminara Unduli & Barriss Offee |
| PP-2 | Hera Syndulla & Sabine Wren |
| PP-3 | General Leia Organa & Vice Admiral Holdo |
| PP-4 | General Leia Organa & Rey |
| PP-5 | Ahsoka Tano & Barriss Offee |
| PP-6 | Princess Leia Organa & Mon Mothma |
| PP-7 | Queen Amidala & Sabé |
| PP-8 | Padmé Amidala & Dormé |
| PP-9 | Jess "Testor" Pava & Tallie Lintra |
| PP-10 | Mother Talzin & Old Daka |
| PP-11 | Rose Tico & Paige Tico |
| PP-12 | Satine Kryze & Bo-Katan Kryze |
| PP-13 | Stass Allie & Adi Gallia |
| PP-14 | Tiplee & Tiplar |
| PP-15 | Aurra Sing & Latts Razzi |
| PP-16 | Depa Billaba & Yaddle |
| PP-17 | Korr Sella & Kaydel Ko Connix |
| PP-18 | Greeata & Rystáll Sant |
| PP-19 | Mon Mothma & Padmé Amidala |
| PP-20 | Oola & Yarna D'Al'Gargan |
| PP-21 | Aayla Secura & Shaak Ti |
| PP-22 | Asajj Ventress & Ahsoka Tano |
| PP-23 | Torra Doza & Tam Ryvora |
| PP-24 | Ursa Wren & Sabine Wren |
| PP-25 | Enfys Nest & Qi'Ra |
| PP-26 | Laren Joma & Jaldine Gerams |
| PP-27 | Corporal Timker & Corporal Maddel |
| PP-28 | Jyn Erso & Lyra Erso |
Weapon of Choice
| | |
| --- | --- |
| WC-1 | Rey |
| WC-2 | Ahsoka Tano |
| WC-3 | Asajj Ventress |
| WC-4 | Jyn Erso |
| WC-5 | Aurra Sing |
| WC-6 | Enfys Nest |
| WC-7 | Padmé Amidala |
| WC-8 | Boushh |
| WC-9 | Zam Wesell |
| WC-10 | Shaak Ti |
| WC-11 | Princess Leia Organa |
| WC-12 | Bo-Katan Kryze |
| WC-13 | Val |
| WC-14 | Sabine Wren |
| WC-15 | Qi'Ra |
| WC-16 | Rey |
| WC-17 | Rose Tico |
| WC-18 | Aayla Secura |
| WC-19 | Hera Syndulla |
| WC-20 | Latts Razzi |
| WC-21 | Seventh Sister Inquisitor |
| WC-22 | Maz Kanata |
| WC-23 | Kaydel Ko Connix |
| WC-24 | Barriss Offee |