2020 Topps UFC trading cards celebrates the biggest names, past and present, to step foot inside the Octagon.
The design of the base set and inserts are the same as the 2020 Topps Baseball flagship series.
This checklist is organized by subset. Jump to a preferred subset by selecting it from the key below. Clicking a link within the checklist will direct you to an affiliate retailer or to relevant eBay listings for that card.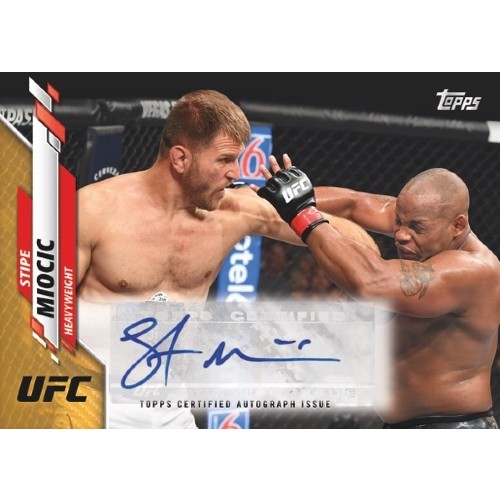 | | | | |
| --- | --- | --- | --- |
| 1 | Amanda Nunes | Bantamweight | |
| 2 | Jessica Andrade | Strawweight | |
| 3 | Megan Anderson | Featherweight | |
| 4 | Jennifer Maia | Flyweight | |
| 5 | Cláudia Gadelha | Strawweight | |
| 6 | Jessica Eye | Flyweight | |
| 7 | Rose Namajunas | Strawweight | |
| 8 | Henry Cejudo | Bantamweight | |
| 9 | Paulo Costa | Middleweight | |
| 10 | Jack Hermansson | Middleweight | |
| 11 | Thiago Santos | Light Heavyweight | |
| 12 | Zabit Magomedsharipov | Featherweight | |
| 13 | Arnold Allen | Featherweight | |
| 14 | Valentina Shevchenko | Flyweight | |
| 15 | Ilir Latifi | Heavyweight | |
| 16 | Kelvin Gastelum | Middleweight | |
| 17 | Ketlen Vieira | Bantamweight | |
| 18 | Germaine De Randamie | Bantamweight | |
| 19 | Volkan Oezdemir | Light Heavyweight | |
| 20 | Kevin Lee | Lightweight | |
| 21 | Dustin Poirier | Lightweight | |
| 22 | Calvin Kattar | Featherweight | |
| 23 | Vicente Luque | Welterweight | |
| 24 | Uriah Hall | Middleweight | |
| 25 | Darren Till | Middleweight | |
| 26 | Islam Makhachev | Lightweight | |
| 27 | Jared Cannonier | Middleweight | |
| 28 | Colby Covington | Welterweight | |
| 29 | Leon Edwards | Welterweight | |
| 30 | Khalil Rountree Jr. | Light Heavyweight | |
| 31 | Gregor Gillespie | Lightweight | |
| 32 | Yair Rodríguez | Featherweight | |
| 33 | Stephen Thompson | Welterweight | |
| 34 | Conor McGregor | Lightweight | |
| 35 | Justin Gaethje | Lightweight | |
| 36 | Viviane Araújo | Flyweight | |
| 37 | Alexis Davis | Flyweight | |
| 38 | José Aldo | Bantamweight | |
| 39 | Anthony Smith | Light Heavyweight | |
| 40 | Robert Whittaker | Middleweight | |
| 41 | Tyron Woodley | Welterweight | |
| 42 | Robbie Lawler | Welterweight | |
| 43 | Alistair Overeem | Heavyweight | |
| 44 | Marion Reneau | Bantamweight | |
| 45 | Kai Kara-France | Flyweight | |
| 46 | Jeremy Stephens | Featherweight | |
| 47 | Max Holloway | Featherweight | |
| 48 | Alexander Volkanovski | Featherweight | |
| 49 | Jorge Masvidal | Welterweight | |
| 50 | Kamaru Usman | Welterweight | |
| 51 | Francis Ngannou | Heavyweight | |
| 52 | Julianna Peña | Bantamweight | |
| 53 | Curtis Blaydes | Heavyweight | |
| 54 | Donald Cerrone | Lightweight | |
| 55 | Tatiana Suarez | Strawweight | |
| 56 | Brian Ortega | Featherweight | |
| 57 | Tony Ferguson | Lightweight | |
| 58 | Corey Anderson | Light Heavyweight | |
| 59 | Dominick Reyes | Light Heavyweight | |
| 60 | Holly Holm | Bantamweight | |
| 61 | Lauren Murphy | Flyweight | |
| 62 | Daniel Cormier | Heavyweight | |
| 63 | Walt Harris | Heavyweight | |
| 64 | Jon Jones | Light Heavyweight | |
| 65 | Irene Aldana | Bantamweight | |
| 66 | Roxanne Modafferi | Flyweight | |
| 67 | Joseph Benavidez | Flyweight | |
| 68 | Joanna Jędrzejczyk | Strawweight | |
| 69 | Khabib Nurmagomedov | Lightweight | |
| 70 | Demian Maia | Welterweight | |
| 71 | Stipe Miocic | Heavyweight | |
| 72 | Katlyn Chookagian | Flyweight | |
| 73 | Joanne Calderwood | Flyweight | |
| 74 | Santiago Ponzinibbio | Welterweight | |
| 75 | Israel Adesanya | Middleweight | |
| 76 | Johnny Walker | Light Heavyweight | |
| 77 | Rachael Ostovich | Flyweight | |
| 78 | Aleksandar Rakic | Light Heavyweight | |
| 79 | Petr Yan | Bantamweight | |
| 80 | Aspen Ladd | Bantamweight | |
| 81 | Maycee Barber | Flyweight | |
| 82 | Hakeem Dawodu | Featherweight | |
| 83 | Gökhan Saki | Light Heavyweight | |
| 84 | Gillian Robertson | Flyweight | |
| 85 | Antonina Shevchenko | Flyweight | |
| 86 | Dan Hooker | Lightweight | RC |
| 87 | Zhang Weili | Strawweight | RC |
| 88 | Edmen Shahbazyan | Middleweight | RC |
| 89 | Yadong Song | Bantamweight | RC |
| 90 | Geoff Neal | Welterweight | RC |
| 91 | Mara Romero Borella | Flyweight | RC |
| 92 | Ian Heinisch | Middleweight | RC |
| 93 | Alexandre Pantoja | Flyweight | RC |
| 94 | Kron Gracie | Featherweight | RC |
| 95 | Augusto Sakai | Heavyweight | RC |
| 96 | Stipe Miocic | Heavyweight | |
| 97 | Kamaru Usman | Welterweight | |
| 98 | Zhang Weili | Strawweight | |
| 99 | Henry Cejudo | Bantamweight | |
| 100 | Israel Adesanya | Middleweight | |
| | | | |
| --- | --- | --- | --- |
| 85T-1 | Conor McGregor | Lightweight | |
| 85T-2 | Dustin Poirier | Lightweight | |
| 85T-3 | Jessica Andrade | Strawweight | |
| 85T-3 | Jessica Andrade | Strawweight | Auto |
| 85T-4 | Anthony Pettis | Lightweight | |
| 85T-4 | Anthony Pettis | Welterweight | Auto |
| 85T-5 | Raphael Assunção | Bantamweight | |
| 85T-5 | Raphael Assunção | Bantamweight | Auto |
| 85T-6 | Jimmie Rivera | Bantamweight | |
| 85T-6 | Jimmie Rivera | Bantamweight | Auto |
| 85T-7 | Chan Sung Jung | Featherweight | |
| 85T-7 | Chan Sung Jung | Featherweight | Auto |
| 85T-8 | Jon Jones | Light Heavyweight | |
| 85T-9 | Chuck Liddell | Light Heavyweight | |
| 85T-9 | Chuck Liddell | Light Heavyweight | Auto |
| 85T-10 | Kamaru Usman | Welterweight | |
| 85T-11 | Sean O'Malley | Bantamweight | |
| 85T-11 | Sean O'Malley | Bantamweight | Auto |
| 85T-12 | Tony Ferguson | Lightweight | |
| 85T-12 | Tony Ferguson | Lightweight | Auto |
| 85T-13 | Daniel Cormier | Heavyweight | |
| 85T-14 | Santiago Ponzinibbio | Welterweight | |
| 85T-14 | Santiago Ponzinibbio | Welterweight | Auto |
| 85T-15 | Stipe Miocic | Heavyweight | |
| 85T-16 | Henry Cejudo | Bantamweight | |
| 85T-16 | Henry Cejudo | Flyweight | Auto |
| 85T-17 | Maryna Moroz | Flyweight | |
| 85T-17 | Maryna Moroz | Strawweight | Auto |
| 85T-18 | Valentina Shevchenko | Flyweight | |
| 85T-19 | Israel Adesanya | Middleweight | |
| 85T-19 | Israel Adesanya | Middleweight | Auto |
| 85T-20 | Max Holloway | Featherweight | |
| 85T-21 | Khabib Nurmagomedov | Lightweight | |
| 85T-22 | Germaine De Randamie | Bantamweight | |
| 85T-23 | Cory Sandhagen | Featherweight | |
| 85T-23 | Cory Sandhagen | Featherweight | Auto |
| 85T-24 | Alexander Volkanovski | Featherweight | |
| 85T-25 | Amanda Nunes | Bantamweight | |
| | | | |
| --- | --- | --- | --- |
| DN-1 | Maycee Barber | Flyweight | |
| DN-1 | Maycee Barber | Flyweight | Auto |
| DN-2 | Petr Yan | Bantamweight | |
| DN-3 | Johnny Walker | Light Heavyweight | |
| DN-3 | Johnny Walker | Light Heavyweight | Auto |
| DN-4 | Antonina Shevchenko | Flyweight | |
| DN-5 | Gökhan Saki | Light Heavyweight | |
| DN-6 | Gillian Robertson | Flyweight | |
| DN-7 | Rachael Ostovich | Flyweight | |
| DN-8 | Kron Gracie | Featherweight | |
| DN-9 | Hakeem Dawodu | Featherweight | |
| DN-10 | Aspen Ladd | Bantamweight | |
| | | |
| --- | --- | --- |
| UFCA-AG | Alexa Grasso | Strawweight |
| UFCA-AN | Amanda Nunes | Bantamweight |
| UFCA-AP | Anthony Pettis | Welterweight |
| UFCA-AR | Aleksandar Rakic | Light Heavyweight |
| UFCA-BC | Bethe Correia | Bantamweight |
| UFCA-CB | Curtis Blaydes | Heavyweight |
| UFCA-CG | Christos Giagos | Lightweight |
| UFCA-CGA | Cláudia Gadelha | Strawweight |
| UFCA-CL | Chuck Liddell | Light Heavyweight |
| UFCA-CS | Cory Sandhagen | Featherweight |
| UFCA-CSJ | Chan Sung Jung | Featherweight |
| UFCA-CSW | Cub Swanson | Featherweight |
| UFCA-CV | Cain Velasquez | Heavyweight |
| UFCA-DC | Daniel Cormier | Heavyweight |
| UFCA-DL | Derrick Lewis | Heavyweight |
| UFCA-GN | Geoff Neal | Welterweight |
| UFCA-GNE | Gunnar Nelson | Welterweight |
| UFCA-HC | Henry Cejudo | Flyweight |
| UFCA-HH | Holly Holm | Bantamweight |
| UFCA-IA | Israel Adesanya | Middleweight |
| UFCA-IH | Ian Heinisch | Middleweight |
| UFCA-JA | Jessica Aguilar | Strawweight |
| UFCA-JAN | Jessica Andrade | Strawweight |
| UFCA-JD | Joe Duffy | Lightweight |
| UFCA-JH | Jack Hermansson | Middleweight |
| UFCA-JM | Jim Miller | Lightweight |
| UFCA-JR | Jimmie Rivera | Bantamweight |
| UFCA-JW | Johnny Walker | Light Heavyweight |
| UFCA-KC | Katlyn Chookagian | Flyweight |
| UFCA-KR | Khalil Rountree Jr. | Light Heavyweight |
| UFCA-LL | Lina Länsberg | Bantamweight |
| UFCA-LM | Lauren Murphy | Flyweight |
| UFCA-MA | Megan Anderson | Featherweight |
| UFCA-MB | Maycee Barber | Flyweight |
| UFCA-MC | Misha Cirkunov | Light Heavyweight |
| UFCA-MM | Maryna Moroz | Strawweight |
| UFCA-MR | Marion Reneau | Bantamweight |
| UFCA-MRB | Mara Romero Borella | Flyweight |
| UFCA-MRO | Mike Rodriguez | Light Heavyweight |
| UFCA-RA | Raphael Assunção | Bantamweight |
| UFCA-RDA | Rafael dos Anjos | Welterweight |
| UFCA-RF | Rob Font | Bantamweight |
| UFCA-RH | Ryan Hall | Featherweight |
| UFCA-SA | Sam Alvey | Light Heavyweight |
| UFCA-SM | Stipe Miocic | Heavyweight |
| UFCA-SOM | Sean O'Malley | Bantamweight |
| UFCA-SP | Santiago Ponzinibbio | Welterweight |
| UFCA-TA | Thomas Almeida | Bantamweight |
| UFCA-TG | Trevin Giles | Middleweight |
| UFCA-TT | Tai Tuivasa | Heavyweight |
| | | | |
| --- | --- | --- | --- |
| UFCB-1 | Amanda Nunes | Bantamweight | |
| UFCB-2 | Jon Jones | Light Heavyweight | |
| UFCB-3 | Chan Sung Jung | Featherweight | |
| UFCB-3 | Chan Sung Jung | Featherweight | Auto |
| UFCB-4 | Valentina Shevchenko | Flyweight | |
| UFCB-5 | Jair Rozenstruik | Heavyweight | |
| UFCB-6 | Daniel Cormier | Heavyweight | |
| UFCB-7 | Alistair Overeem | Heavyweight | |
| UFCB-8 | Alexander Volkanovski | Featherweight | |
| UFCB-9 | Petr Yan | Bantamweight | |
| UFCB-10 | Jennifer Maia | Flyweight | |
| UFCB-10 | Jennifer Maia | Flyweight | Auto |
| UFCB-11 | Germaine De Randamie | Bantamweight | |
| UFCB-12 | Khabib Nurmagomedov | Lightweight | |
| UFCB-13 | Santiago Ponzinibbio | Welterweight | |
| UFCB-13 | Santiago Ponzinibbio | Welterweight | Auto |
| UFCB-14 | Kron Gracie | Featherweight | |
| UFCB-15 | Conor McGregor | Lightweight | |
| | | |
| --- | --- | --- |
| UFCDA-AH | Israel Adesanya | Middleweight |
| UFCDA-AH | Jack Hermansson | Middleweight |
| UFCDA-AR | Jimmie Rivera | Bantamweight |
| UFCDA-AR | Raphael Assunção | Bantamweight |
| UFCDA-CM | Lauren Murphy | Flyweight |
| UFCDA-CM | Katlyn Chookagian | Flyweight |
| UFCDA-CR | Misha Cirkunov | Light Heavyweight |
| UFCDA-CR | Khalil Rountree Jr. | Light Heavyweight |
| UFCDA-HJ | Ryan Hall | Featherweight |
| UFCDA-HJ | Chan Sung Jung | Featherweight |
| UFCDA-MA | Jessica Andrade | Strawweight |
| UFCDA-MA | Maryna Moroz | Strawweight |
| UFCDA-MC | Stipe Miocic | Heavyweight |
| UFCDA-MC | Daniel Cormier | Heavyweight |
| UFCDA-NL | Lina Länsberg | Bantamweight |
| UFCDA-NL | Amanda Nunes | Bantamweight |
| UFCDA-PN | Geoff Neal | Welterweight |
| UFCDA-PN | Anthony Pettis | Welterweight |
| UFCDA-TL | Derrick Lewis | Heavyweight |
| UFCDA-TL | Tai Tuivasa | Heavyweight |