2020 Topps Tribute Baseball is the first premium baseball card set of the 2020 MLB season and, like the 2020 season, the release date was pushed back from February 2020 to April, 2020.
Every box of Topps Tribute baseball cards includes three autographed cards as well as low-numbered Stamp of Approval, Dual Relic, and Triple Relic cards.
There are several new insert sets in this product including an autograph set dedicated to Mike Trout's milestones.
The base set for Tribute is a manageable 90 cards with 10 rookie cards (not numbered sequentially with the base set) coming two per case.
Most of the cards in this set also include color parallels, each numbered to 99 or less.
This checklist is organized by team. Scroll through the entire list or jump directly to a preferred team by selecting them from the list below the key. Clicking a link within the checklist will direct you to an affiliate retailer or to relevant eBay listing for that card.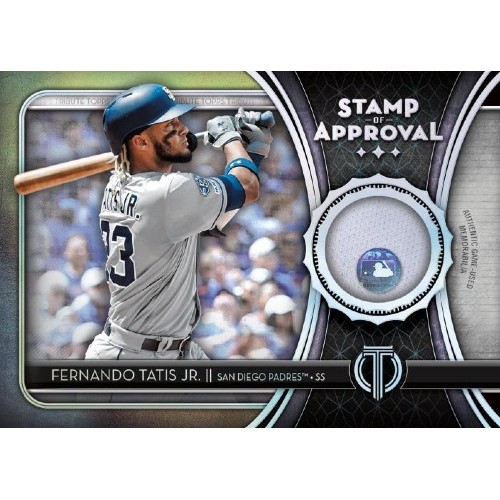 2020 Topps Tribute Baseball Checklist
Base – 90 Cards
Green – #/99
Purple – #/50
Red – #/10
Black – 1/1
2020 Rookies (20R) – 10 Cards
Base – 2 per case
Green – #/99
Purple – #/50
Red – #/10
Black – 1/1
Autograph Patch Relics (TAP) – 18 Cards
Base – #/50
Red – #/10
Black – 1/1
Autograph Prime Patch Relics (PPA) – 39 Cards
Single Player Dual Relics (SDR) – 17 Cards
Base – #/150
Green – #/99
Purple – #50
Orange – #/25
Red – #/10
Black – 1/1
Two Player Dual Relics (DR) – 27 Cards
Base – #/150
Green – #/99
Purple – #50
Orange – #/25
Red – #/10
Black – 1/1
Franchise Best Autographs (FBA) – 34 Cards
Base – #/99 or less
Orange – #/25
Red – #/10
Black – 1/1
Iconic Perspectives Autographs (IP) – 48 Cards
Base – #/99 or less
Orange – #/25
Red – #/10
Black – 1/1
League Inauguration Autographs (LA) – 12 Cards
Base – #/99
Orange – #/25
Red – #/10
Black – 1/1
Milestone Relics (MR) – 4 Cards
Base – #/10
Black Jumbo Autograph – 1/1
Stamp of Approval Relics (SOA) – 41 Cards
Base – #/150
Green – #/99
Purple – #50
Orange – #/25
Red – #/10
Black – 1/1
Tribute Autographs (TA) – 90 Cards
Base – #'d
Blue – #/150
Green – #/99
Purple – #/50
Orange – #/25
Red – #/10
Black – 1/1
Printing Plates – 1/1
Tribute Career Achievement Award Autograph Continuity Mike Trout (TCA) – 15 Cards
Base – 1/1
Tribute Tandems Autographed Book Relics (TT) – 8 Cards
Base – #/25
Red – #/10
Black – 1/1
Tribute to Great Hitters Autographs (TGH) – 24 Cards
Base – #/99 or less
Purple – #/50
Orange – #/25
Red – #/10
Black – 1/1
Tribute Triple Relics (TTR) – 50 Cards
Base – #/150
Green – #/99
Purple – #50
Orange – #/25
Red – #/10
Black – 1/1
| | | | |
| --- | --- | --- | --- |
| 1 | Mike Trout | | |
| 9 | Shohei Ohtani | | |
| DR-OT | Mike Trout | | Auto Relic |
| DR-OT | Shohei Ohtani | | Auto Relic |
| FBA-MT | Mike Trout | | Auto |
| FBA-RC | Rod Carew | | Auto |
| IP-MT | Mike Trout | | Auto |
| IP-RC | Rod Carew | | Auto |
| IP-SO | Shohei Ohtani | | Auto |
| MR-MT | Mike Trout | | Relic |
| MR-MT | Mike Trout | | Relic |
| PPA-MT | Mike Trout | | Auto Relic |
| PPA-MTR | Mike Trout | | Auto Relic |
| SDR-RC | Rod Carew | | Dual Relic |
| SOA-MT | Mike Trout | | Relic |
| TA-MT | Mike Trout | | Auto |
| TA-RCA | Rod Carew | | Auto |
| TA-SO | Shohei Ohtani | | Auto |
| TAP-MT | Mike Trout | | Auto Relic |
| TCA-MT1 | Mike Trout | | Auto |
| TCA-MT2 | Mike Trout | | Auto |
| TCA-MT3 | Mike Trout | | Auto |
| TCA-MT4 | Mike Trout | | Auto |
| TCA-MT5 | Mike Trout | | Auto |
| TCA-MT6 | Mike Trout | | Auto |
| TCA-MT7 | Mike Trout | | Auto |
| TCA-MT8 | Mike Trout | | Auto |
| TCA-MT9 | Mike Trout | | Auto |
| TCA-MT10 | Mike Trout | | Auto |
| TCA-MT11 | Mike Trout | | Auto |
| TCA-MT12 | Mike Trout | | Auto |
| TCA-MT13 | Mike Trout | | Auto |
| TCA-MT14 | Mike Trout | | Auto |
| TCA-MT15 | Mike Trout | | Auto |
| TGH-SO | Shohei Ohtani | | Auto |
| TT-OC | Rod Carew | | Auto Relic |
| TT-OC | Shohei Ohtani | | Auto Relic |
| TTR-MT | Mike Trout | | Triple Relic |
| TTR-SO | Shohei Ohtani | | Triple Relic |
| | | | |
| --- | --- | --- | --- |
| 12 | Justin Verlander | | |
| 14 | Alex Bregman | | |
| 20R-YA | Yordan Alvarez | RC | |
| 41 | Jose Altuve | | |
| 62 | Gerrit Cole | | |
| DR-AC | Jose Altuve | | Auto Relic |
| DR-AC | Carlos Correa | | Auto Relic |
| DR-RC | Nolan Ryan | | Auto Relic |
| DR-RC | Gerrit Cole | | Auto Relic |
| IP-JA | Jose Altuve | | Auto |
| IP-LMJ | Lance McCullers Jr. | | Auto |
| LA-YA | Yordan Alvarez | RC | Auto |
| PPA-GC | Gerrit Cole | | Auto Relic |
| PPA-GCO | Gerrit Cole | | Auto Relic |
| PPA-GS | George Springer | | Auto Relic |
| PPA-GSP | George Springer | | Auto Relic |
| PPA-JA | Jose Altuve | | Auto Relic |
| PPA-JAL | Jose Altuve | | Auto Relic |
| SDR-ABR | Alex Bregman | | Dual Relic |
| SDR-MB | Michael Brantley | | Dual Relic |
| SDR-NR | Nolan Ryan | | Dual Relic |
| SOA-GC | Gerrit Cole | | Relic |
| SOA-GS | George Springer | | Relic |
| SOA-JA | Jose Altuve | | Relic |
| SOA-LMJ | Lance McCullers Jr. | | Relic |
| SOA-MB | Michael Brantley | | Relic |
| TA-GS | George Springer | | Auto |
| TA-JA | Jose Altuve | | Auto |
| TA-LMJ | Lance McCullers Jr. | | Auto |
| TA-NR | Nolan Ryan | | Auto |
| TA-YA | Yordan Alvarez | RC | Auto |
| TAP-GC | Gerrit Cole | | Auto Relic |
| TAP-GS | George Springer | | Auto Relic |
| TAP-JA | Jose Altuve | | Auto Relic |
| TTR-GC | Gerrit Cole | | Triple Relic |
| TTR-GS | George Springer | | Triple Relic |
| TTR-LMJ | Lance McCullers Jr. | | Triple Relic |
| TTR-YA | Yordan Alvarez | RC | Triple Relic |
| | | | |
| --- | --- | --- | --- |
| 8 | Khris Davis | | |
| 20R-AP | A.J. Puk | RC | |
| 20R-JL | Jesus Luzardo | RC | |
| 36 | Ramon Laureano | | |
| 58 | Rickey Henderson | | |
| DR-JH | Rickey Henderson | | Auto Relic |
| DR-JH | Reggie Jackson | | Auto Relic |
| IP-JC | Jose Canseco | | Auto |
| IP-RF | Rollie Fingers | | Auto |
| IP-RHE | Rickey Henderson | | Auto |
| LA-AP | A.J. Puk | RC | Auto |
| LA-JL | Jesus Luzardo | RC | Auto |
| LA-SM | Sean Murphy | RC | Auto |
| SDR-RJA | Reggie Jackson | | Dual Relic |
| TA-APU | A.J. Puk | RC | Auto |
| TA-DE | Dennis Eckersley | | Auto |
| TA-JC | Jose Canseco | | Auto |
| TA-JL | Jesus Luzardo | RC | Auto |
| TA-RF | Rollie Fingers | | Auto |
| TA-RH | Rickey Henderson | | Auto |
| TA-SB | Seth Brown | RC | Auto |
| TA-SM | Sean Murphy | RC | Auto |
| TA-SN | Sheldon Neuse | RC | Auto |
| TGH-RH | Rickey Henderson | | Auto |
| TTR-MC | Matt Chapman | | Triple Relic |
| TTR-RH | Rickey Henderson | | Triple Relic |
| | | | |
| --- | --- | --- | --- |
| 20R-BB | Bo Bichette | RC | |
| 85 | Vladimir Guerrero Jr. | | |
| DR-GA | Vladimir Guerrero Jr. | | Auto Relic |
| DR-GA | Roberto Alomar | | Auto Relic |
| FBA-VGJ | Vladimir Guerrero Jr. | | Auto |
| IP-VGJ | Vladimir Guerrero Jr. | | Auto |
| LA-BB | Bo Bichette | RC | Auto |
| PPA-RT | Rowdy Tellez | | Auto Relic |
| PPA-RTE | Rowdy Tellez | | Auto Relic |
| SDR-VGJ | Vladimir Guerrero Jr. | | Dual Relic |
| SOA-LGJ | Lourdes Gurriel Jr. | | Relic |
| SOA-RT | Rowdy Tellez | | Relic |
| TA-BBI | Bo Bichette | RC | Auto |
| TA-CB | Cavan Biggio | | Auto |
| TA-VGJ | Vladimir Guerrero Jr. | | Auto |
| TAP-LGJ | Lourdes Gurriel Jr. | | Auto Relic |
| TAP-RT | Rowdy Tellez | | Auto Relic |
| TGH-VGJ | Vladimir Guerrero Jr. | | Auto |
| TT-GA | Vladimir Guerrero Jr. | | Auto Relic |
| TT-GA | Roberto Alomar | | Auto Relic |
| TT-GG | Vladimir Guerrero Jr. | | Auto Relic |
| TTR-RAL | Roberto Alomar | | Triple Relic |
| | | | |
| --- | --- | --- | --- |
| 13 | Chipper Jones | | |
| 17 | Hank Aaron | | |
| 33 | Austin Riley | | |
| 34 | Deion Sanders | | |
| 43 | Ozzie Albies | | |
| 46 | Ronald Acuña Jr. | | |
| 78 | Freddie Freeman | | |
| DR-AA | Ozzie Albies | | Auto Relic |
| DR-AA | Ronald Acuña Jr. | | Auto Relic |
| FBA-HA | Hank Aaron | | Auto |
| FBA-JSM | John Smoltz | | Auto |
| FBA-RAJ | Ronald Acuña Jr. | | Auto |
| IP-HA | Hank Aaron | | Auto |
| IP-JSM | John Smoltz | | Auto |
| IP-OA | Ozzie Albies | | Auto |
| PPA-OA | Ozzie Albies | | Auto Relic |
| PPA-OAL | Ozzie Albies | | Auto Relic |
| SDR-FF | Freddie Freeman | | Dual Relic |
| SOA-FF | Freddie Freeman | | Relic |
| SOA-OA | Ozzie Albies | | Relic |
| TA-CJ | Chipper Jones | | Auto |
| TA-HA | Hank Aaron | | Auto |
| TA-JSM | John Smoltz | | Auto |
| TA-RAJ | Ronald Acuña Jr. | | Auto |
| TAP-OA | Ozzie Albies | | Auto Relic |
| TGH-CJ | Chipper Jones | | Auto |
| TGH-HA | Hank Aaron | | Auto |
| TTR-DS | Dansby Swanson | | Triple Relic |
| TTR-MS | Mike Soroka | | Triple Relic |
| TTR-OA | Ozzie Albies | | Triple Relic |
| TTR-RAJ | Ronald Acuña Jr. | | Triple Relic |
| | | | |
| --- | --- | --- | --- |
| 25 | Christian Yelich | | |
| DR-AY | Christian Yelich | | Auto Relic |
| DR-AY | Hank Aaron | | Auto Relic |
| FBA-CY | Christian Yelich | | Auto |
| IP-CY | Christian Yelich | | Auto |
| IP-KH | Keston Hiura | | Auto |
| PPA-JH | Josh Hader | | Auto Relic |
| PPA-JHA | Josh Hader | | Auto Relic |
| SDR-HA | Hank Aaron | | Dual Relic |
| SOA-JH | Josh Hader | | Relic |
| SOA-KH | Keston Hiura | | Relic |
| TA-CY | Christian Yelich | | Auto |
| TA-KH | Keston Hiura | | Auto |
| TA-KHI | Keston Hiura | | Auto |
| TGH-CYE | Christian Yelich | | Auto |
| TTR-CY | Christian Yelich | | Triple Relic |
| | | | |
| --- | --- | --- | --- |
| 76 | Paul DeJong | | |
| 80 | Paul Goldschmidt | | |
| FBA-OS | Ozzie Smith | | Auto |
| IP-OS | Ozzie Smith | | Auto |
| IP-PD | Paul DeJong | | Auto |
| TA-OS | Ozzie Smith | | Auto |
| TA-PD | Paul DeJong | | Auto |
| TTR-PG | Paul Goldschmidt | | Triple Relic |
| | | | |
| --- | --- | --- | --- |
| 20R-NH | Nico Hoerner | RC | |
| 47 | Anthony Rizzo | | |
| 54 | Kris Bryant | | |
| 56 | Sammy Sosa | | |
| 75 | Javier Baez | | |
| 83 | Ernie Banks | | |
| DR-BR | Anthony Rizzo | | Auto Relic |
| DR-BR | Javier Baez | | Auto Relic |
| DR-SBR | Kris Bryant | | Auto Relic |
| DR-SBR | Sammy Sosa | | Auto Relic |
| FBA-KB | Kris Bryant | | Auto |
| IP-WC | Willson Contreras | | Auto |
| LA-RG | Robel Garcia | RC | Auto |
| MR-KB | Kris Bryant | | Relic |
| MR-KB | Kris Bryant | | Relic |
| PPA-AR | Anthony Rizzo | | Auto Relic |
| PPA-ARI | Anthony Rizzo | | Auto Relic |
| SDR-KS | Kyle Schwarber | | Dual Relic |
| SOA-AR | Anthony Rizzo | | Relic |
| TA-AR | Anthony Rizzo | | Auto |
| TA-KB | Kris Bryant | | Auto |
| TA-RG | Robel Garcia | RC | Auto |
| TA-WC | Willson Contreras | | Auto |
| TAP-AR | Anthony Rizzo | | Auto Relic |
| TGH-KB | Kris Bryant | | Auto |
| TTR-AR | Anthony Rizzo | | Triple Relic |
| TTR-JBA | Javier Baez | | Triple Relic |
| TTR-SS | Sammy Sosa | | Triple Relic |
| | | | |
| --- | --- | --- | --- |
| SDR-RJ | Randy Johnson | | Dual Relic |
| | | | |
| --- | --- | --- | --- |
| 6 | Clayton Kershaw | | |
| 20R-GL | Gavin Lux | RC | |
| 29 | Hyun-Jin Ryu | | |
| 45 | Walker Buehler | | |
| 48 | Jackie Robinson | | |
| 50 | Cody Bellinger | | |
| 89 | Sandy Koufax | | |
| DR-RK | Clayton Kershaw | | Auto Relic |
| DR-RK | Hyun-Jin Ryu | | Auto Relic |
| DR-SB | Corey Seager | | Auto Relic |
| DR-SB | Cody Bellinger | | Auto Relic |
| FBA-SK | Sandy Koufax | | Auto |
| FBA-WB | Walker Buehler | | Auto |
| IP-MUN | Max Muncy | | Auto |
| IP-WB | Walker Buehler | | Auto |
| MR-CB | Cody Bellinger | | Relic |
| SDR-CSE | Corey Seager | | Dual Relic |
| SOA-CB | Cody Bellinger | | Relic |
| SOA-CSE | Corey Seager | | Relic |
| SOA-WB | Walker Buehler | | Relic |
| TA-DMA | Dustin May | RC | Auto |
| TA-GL | Gavin Lux | RC | Auto |
| TA-MUN | Max Muncy | | Auto |
| TA-SK | Sandy Koufax | | Auto |
| TTR-CB | Cody Bellinger | | Triple Relic |
| TTR-HJR | Hyun-Jin Ryu | | Triple Relic |
| | | | |
| --- | --- | --- | --- |
| 31 | Vladimir Guerrero | | |
| FBA-VG | Vladimir Guerrero | | Auto |
| TA-VG | Vladimir Guerrero | | Auto |
| TGH-VG | Vladimir Guerrero | | Auto |
| TT-GG | Vladimir Guerrero | | Auto Relic |
| | | | |
| --- | --- | --- | --- |
| 19 | Willie Mays | | |
| PPA-BP | Buster Posey | | Auto Relic |
| PPA-BPO | Buster Posey | | Auto Relic |
| SOA-BP | Buster Posey | | Relic |
| TAP-BP | Buster Posey | | Auto Relic |
| | | | |
| --- | --- | --- | --- |
| 39 | Yasiel Puig | | |
| 72 | Francisco Lindor | | |
| 84 | Jim Thome | | |
| DR-SR | Carlos Santana | | Auto Relic |
| DR-SR | Jose Ramirez | | Auto Relic |
| FBA-FL | Francisco Lindor | | Auto |
| IP-FL | Francisco Lindor | | Auto |
| LA-BBR | Bobby Bradley | RC | Auto |
| LA-LA | Logan Allen | RC | Auto |
| SDR-CS | Carlos Santana | | Dual Relic |
| TA-BBR | Bobby Bradley | RC | Auto |
| TA-FL | Francisco Lindor | | Auto |
| TA-LA | Logan Allen | RC | Auto |
| TGH-FL | Francisco Lindor | | Auto |
| TTR-JR | Jose Ramirez | | Triple Relic |
| | | | |
| --- | --- | --- | --- |
| 3 | Alex Rodriguez | | |
| 20R-KL | Kyle Lewis | RC | |
| 26 | Edgar Martinez | | |
| 81 | Ichiro | | |
| 82 | Ken Griffey Jr. | | |
| DR-GM | Ken Griffey Jr. | | Auto Relic |
| DR-GM | Edgar Martinez | | Auto Relic |
| DR-IK | Ichiro | | Auto Relic |
| DR-IK | Yusei Kikuchi | | Auto Relic |
| FBA-I | Ichiro | | Auto |
| FBA-KGJ | Ken Griffey Jr. | | Auto |
| MR-YK | Yusei Kikuchi | | Relic |
| SOA-YK | Yusei Kikuchi | | Relic |
| TA-EM | Edgar Martinez | | Auto |
| TGH-EM | Edgar Martinez | | Auto |
| TTR-EM | Edgar Martinez | | Triple Relic |
| TTR-KGJ | Ken Griffey Jr. | | Triple Relic |
| | | | |
| --- | --- | --- | --- |
| LA-JY | Jordan Yamamoto | RC | Auto |
| TA-JY | Jordan Yamamoto | RC | Auto |
| | | | |
| --- | --- | --- | --- |
| 5 | Tom Seaver | | |
| 7 | David Cone | | |
| 16 | Pete Alonso | | |
| 42 | Jacob deGrom | | |
| 57 | Jeff McNeil | | |
| DR-CM | Jeff McNeil | | Auto Relic |
| DR-CM | Michael Conforto | | Auto Relic |
| IP-PA | Pete Alonso | | Auto |
| SDR-MC | Michael Conforto | | Dual Relic |
| SOA-NS | Noah Syndergaard | | Relic |
| TA-PA | Pete Alonso | | Auto |
| TA-PAL | Pete Alonso | | Auto |
| TTR-PM | Pedro Martinez | | Triple Relic |
| | | | |
| --- | --- | --- | --- |
| 60 | Juan Soto | | |
| 63 | Trea Turner | | |
| 66 | Max Scherzer | | |
| DR-RS | Victor Robles | | Auto Relic |
| DR-RS | Juan Soto | | Auto Relic |
| FBA-MS | Max Scherzer | | Auto |
| PPA-VR | Victor Robles | | Auto Relic |
| PPA-VRO | Victor Robles | | Auto Relic |
| SOA-VR | Victor Robles | | Relic |
| TA-MS | Max Scherzer | | Auto |
| TAP-VR | Victor Robles | | Auto Relic |
| TTR-JS | Juan Soto | | Triple Relic |
| TTR-VR | Victor Robles | | Triple Relic |
| | | | |
| --- | --- | --- | --- |
| 2 | Mike Mussina | | |
| 18 | Cal Ripken Jr. | | |
| DR-MR | Cal Ripken Jr. | | Auto Relic |
| DR-MR | Eddie Murray | | Auto Relic |
| FBA-CRJ | Cal Ripken Jr. | | Auto |
| FBA-MM | Mike Mussina | | Auto |
| IP-CRJ | Cal Ripken Jr. | | Auto |
| SDR-EM | Eddie Murray | | Dual Relic |
| SOA-TM | Trey Mancini | | Relic |
| TA-CRJ | Cal Ripken Jr. | | Auto |
| TGH-CRJ | Cal Ripken Jr. | | Auto |
| TTR-CRJ | Cal Ripken Jr. | | Triple Relic |
| | | | |
| --- | --- | --- | --- |
| 59 | Tony Gwynn | | |
| 70 | Manny Machado | | |
| 79 | Fernando Tatis Jr. | | |
| 86 | Chris Paddack | | |
| DR-TR | Fernando Tatis Jr. | | Auto Relic |
| DR-TR | Franmil Reyes | | Auto Relic |
| IP-FTJ | Fernando Tatis Jr. | | Auto |
| PPA-FET | Fernando Tatis Jr. | | Auto Relic |
| PPA-FTJ | Fernando Tatis Jr. | | Auto Relic |
| SDR-FTJ | Fernando Tatis Jr. | | Dual Relic |
| SOA-FTJ | Fernando Tatis Jr. | | Relic |
| TA-FET | Fernando Tatis Jr. | | Auto |
| TA-FTJ | Fernando Tatis Jr. | | Auto |
| TAP-FTJ | Fernando Tatis Jr. | | Auto Relic |
| TT-TS | Ozzie Smith | | Auto Relic |
| TT-TS | Fernando Tatis Jr. | | Auto Relic |
| TTR-EH | Eric Hosmer | | Triple Relic |
| TTR-FR | Franmil Reyes | | Triple Relic |
| | | | |
| --- | --- | --- | --- |
| 27 | Bryce Harper | | |
| 40 | Rhys Hoskins | | |
| DR-HH | Bryce Harper | | Auto Relic |
| DR-HH | Rhys Hoskins | | Auto Relic |
| FBA-RH | Rhys Hoskins | | Auto |
| IP-RH | Rhys Hoskins | | Auto |
| IP-SC | Steve Carlton | | Auto |
| PPA-AN | Aaron Nola | | Auto Relic |
| PPA-ANO | Aaron Nola | | Auto Relic |
| PPA-RH | Rhys Hoskins | | Auto Relic |
| PPA-RHO | Rhys Hoskins | | Auto Relic |
| SOA-AN | Aaron Nola | | Relic |
| SOA-RH | Rhys Hoskins | | Relic |
| TA-BH | Bryce Harper | | Auto |
| TA-RHO | Rhys Hoskins | | Auto |
| TA-SC | Steve Carlton | | Auto |
| TAP-AN | Aaron Nola | | Auto Relic |
| TAP-RH | Rhys Hoskins | | Auto Relic |
| TGH-BH | Bryce Harper | | Auto |
| TGH-RHS | Rhys Hoskins | | Auto |
| TT-NC | Steve Carlton | | Auto Relic |
| TT-NC | Aaron Nola | | Auto Relic |
| TTR-RHO | Rhys Hoskins | | Triple Relic |
| TTR-SC | Steve Carlton | | Triple Relic |
| | | | |
| --- | --- | --- | --- |
| 51 | Josh Bell | | |
| 55 | Roberto Clemente | | |
| 87 | Honus Wagner | | |
| DR-BP | Josh Bell | | Auto Relic |
| DR-BP | Gregory Polanco | | Auto Relic |
| TTR-JB | Josh Bell | | Triple Relic |
| | | | |
| --- | --- | --- | --- |
| 11 | Joey Gallo | | |
| DR-GMA | Joey Gallo | | Auto Relic |
| DR-GMA | Nomar Mazara | | Auto Relic |
| FBA-IR | Ivan Rodriguez | | Auto |
| FBA-NR | Nolan Ryan | | Auto |
| TTR-VG | Vladimir Guerrero | | Triple Relic |
| | | | |
| --- | --- | --- | --- |
| 20R-BM | Brendan McKay | RC | |
| 77 | Brandon Lowe | | |
| DR-LA | Willy Adames | | Auto Relic |
| DR-LA | Brandon Lowe | | Auto Relic |
| FBA-BS | Blake Snell | | Auto |
| IP-AM | Austin Meadows | | Auto |
| IP-BS | Blake Snell | | Auto |
| LA-BM | Brendan McKay | RC | Auto |
| PPA-BL | Brandon Lowe | | Auto Relic |
| PPA-BLO | Brandon Lowe | | Auto Relic |
| PPA-BS | Blake Snell | | Auto Relic |
| PPA-BSN | Blake Snell | | Auto Relic |
| SOA-AM | Austin Meadows | | Relic |
| SOA-BL | Brandon Lowe | | Relic |
| SOA-BS | Blake Snell | | Relic |
| SOA-CM | Charlie Morton | | Relic |
| SOA-TP | Tommy Pham | | Relic |
| TA-AM | Austin Meadows | | Auto |
| TA-BM | Brendan McKay | RC | Auto |
| TA-BS | Blake Snell | | Auto |
| TAP-BL | Brandon Lowe | | Auto Relic |
| TAP-BS | Blake Snell | | Auto Relic |
| TTR-BL | Brandon Lowe | | Triple Relic |
| TTR-CM | Charlie Morton | | Triple Relic |
| TTR-WB | Wade Boggs | | Triple Relic |
| | | | |
| --- | --- | --- | --- |
| 20 | Roger Clemens | | |
| 30 | Mookie Betts | | |
| 49 | J.D. Martinez | | |
| 52 | Chris Sale | | |
| 53 | Ted Williams | | |
| 61 | Carl Yastrzemski | | |
| 74 | Wade Boggs | | |
| 88 | Xander Bogaerts | | |
| DR-BB | Xander Bogaerts | | Auto Relic |
| DR-BB | Mookie Betts | | Auto Relic |
| DR-MO | J.D. Martinez | | Auto Relic |
| DR-MO | David Ortiz | | Auto Relic |
| FBA-CF | Carlton Fisk | | Auto |
| FBA-DO | David Ortiz | | Auto |
| FBA-JDM | J.D. Martinez | | Auto |
| FBA-RCL | Roger Clemens | | Auto |
| IP-CF | Carlton Fisk | | Auto |
| IP-DO | David Ortiz | | Auto |
| IP-JDM | J.D. Martinez | | Auto |
| IP-MC | Michael Chavis | | Auto |
| IP-WBO | Wade Boggs | | Auto |
| IP-XB | Xander Bogaerts | | Auto |
| SDR-AB | Andrew Benintendi | | Dual Relic |
| SDR-XB | Xander Bogaerts | | Dual Relic |
| SOA-CS | Chris Sale | | Relic |
| SOA-JDM | J.D. Martinez | | Relic |
| TA-CF | Carlton Fisk | | Auto |
| TA-JDM | J.D. Martinez | | Auto |
| TA-JR | Jim Rice | | Auto |
| TA-MCH | Michael Chavis | | Auto |
| TA-RC | Roger Clemens | | Auto |
| TA-XB | Xander Bogaerts | | Auto |
| TGH-CY | Carl Yastrzemski | | Auto |
| TGH-DO | David Ortiz | | Auto |
| TGH-XB | Xander Bogaerts | | Auto |
| TTR-CS | Chris Sale | | Triple Relic |
| TTR-JDM | J.D. Martinez | | Triple Relic |
| TTR-MB | Mookie Betts | | Triple Relic |
| | | | |
| --- | --- | --- | --- |
| 15 | Eugenio Suarez | | |
| 20R-AA | Aristides Aquino | RC | |
| 64 | Nick Senzel | | |
| FBA-JB | Johnny Bench | | Auto |
| FBA-NS | Nick Senzel | | Auto |
| IP-NS | Nick Senzel | | Auto |
| IP-TB | Trevor Bauer | | Auto |
| MR-NS | Nick Senzel | | Relic |
| MR-NS | Nick Senzel | | Relic |
| PPA-JV | Joey Votto | | Auto Relic |
| PPA-JVO | Joey Votto | | Auto Relic |
| SOA-JV | Joey Votto | | Relic |
| SOA-NSE | Nick Senzel | | Relic |
| TA-AA | Aristides Aquino | RC | Auto |
| TA-JB | Johnny Bench | | Auto |
| TA-NSZ | Nick Senzel | | Auto |
| TA-TB | Trevor Bauer | | Auto |
| TGH-JB | Johnny Bench | | Auto |
| TTR-YP | Yasiel Puig | | Triple Relic |
| | | | |
| --- | --- | --- | --- |
| 35 | Charlie Blackmon | | |
| 71 | Nolan Arenado | | |
| DR-AS | Nolan Arenado | | Auto Relic |
| DR-AS | Trevor Story | | Auto Relic |
| IP-AG | Andres Galarraga | | Auto |
| IP-NA | Nolan Arenado | | Auto |
| SOA-TS | Trevor Story | | Relic |
| TA-AG | Andres Galarraga | | Auto |
| TA-BR | Brendan Rodgers | | Auto |
| TA-NA | Nolan Arenado | | Auto |
| TT-AG | Andres Galarraga | | Auto Relic |
| TT-AG | Nolan Arenado | | Auto Relic |
| TTR-NA | Nolan Arenado | | Triple Relic |
| TTR-TS | Trevor Story | | Triple Relic |
| | | | |
| --- | --- | --- | --- |
| 69 | George Brett | | |
| 73 | Whit Merrifield | | |
| IP-WM | Whit Merrifield | | Auto |
| PPA-WME | Whit Merrifield | | Auto Relic |
| SOA-WM | Whit Merrifield | | Relic |
| TA-WM | Whit Merrifield | | Auto |
| TA-WME | Whit Merrifield | | Auto |
| TAP-WM | Whit Merrifield | | Auto Relic |
| | | | |
| --- | --- | --- | --- |
| 22 | Ty Cobb | | |
| FBA-MC | Miguel Cabrera | | Auto |
| IP-AK | Al Kaline | | Auto |
| PPA-MC | Miguel Cabrera | | Auto Relic |
| PPA-MCA | Miguel Cabrera | | Auto Relic |
| SOA-MC | Miguel Cabrera | | Relic |
| TA-AK | Al Kaline | | Auto |
| TA-MC | Miguel Cabrera | | Auto |
| TAP-MC | Miguel Cabrera | | Auto Relic |
| TGH-AK | Al Kaline | | Auto |
| TGH-MC | Miguel Cabrera | | Auto |
| TT-CK | Miguel Cabrera | | Auto Relic |
| TT-CK | Al Kaline | | Auto Relic |
| | | | |
| --- | --- | --- | --- |
| TA-BB | Bert Blyleven | | Auto |
| TGH-RC | Rod Carew | | Auto |
| TTR-ER | Eddie Rosario | | Triple Relic |
| | | | |
| --- | --- | --- | --- |
| 20R-DC | Dylan Cease | RC | |
| 23 | Harold Baines | | |
| 28 | Eloy Jimenez | | |
| 65 | Yoan Moncada | | |
| 68 | Jose Abreu | | |
| IP-EJ | Eloy Jimenez | | Auto |
| LA-DC | Dylan Cease | RC | Auto |
| LA-LR | Luis Robert | RC | Auto |
| MR-ZC | Zack Collins | RC | Relic |
| MR-ZC | Zack Collins | RC | Relic |
| TA-DCE | Dylan Cease | RC | Auto |
| TA-EJ | Eloy Jimenez | | Auto |
| TA-FT | Frank Thomas | | Auto |
| TA-LR | Luis Robert | RC | Auto |
| TGH-FT | Frank Thomas | | Auto |
| | | | |
| --- | --- | --- | --- |
| 4 | DJ LeMahieu | | |
| 10 | Gleyber Torres | | |
| 21 | Lou Gehrig | | |
| 24 | Aaron Judge | | |
| 32 | Don Mattingly | | |
| 37 | Mariano Rivera | | |
| 38 | Reggie Jackson | | |
| 44 | Gary Sanchez | | |
| 62 | Gerrit Cole | | |
| 67 | Roger Maris | | |
| 90 | Babe Ruth | | |
| DR-JS | Aaron Judge | | Auto Relic |
| DR-JS | Giancarlo Stanton | | Auto Relic |
| DR-PS | Andy Pettitte | | Auto Relic |
| DR-PS | CC Sabathia | | Auto Relic |
| FBA-AJ | Aaron Judge | | Auto |
| FBA-AP | Andy Pettitte | | Auto |
| FBA-CCS | CC Sabathia | | Auto |
| FBA-MR | Mariano Rivera | | Auto |
| FBA-RJ | Reggie Jackson | | Auto |
| IP-AJ | Aaron Judge | | Auto |
| IP-BW | Bernie Williams | | Auto |
| IP-CCS | CC Sabathia | | Auto |
| IP-DC | David Cone | | Auto |
| IP-DM | Don Mattingly | | Auto |
| IP-JP | Jorge Posada | | Auto |
| IP-MMU | Mike Mussina | | Auto |
| IP-TM | Tino Martinez | | Auto |
| PPA-AJ | Aaron Judge | | Auto Relic |
| PPA-AJU | Aaron Judge | | Auto Relic |
| PPA-CCS | CC Sabathia | | Auto Relic |
| PPA-CS | CC Sabathia | | Auto Relic |
| SOA-AH | Aaron Hicks | | Relic |
| SOA-AJ | Aaron Judge | | Relic |
| SOA-CCS | CC Sabathia | | Relic |
| SOA-MA | Miguel Andujar | | Relic |
| SOA-MAT | Masahiro Tanaka | | Relic |
| TA-AJ | Aaron Judge | | Auto |
| TA-AP | Andy Pettitte | | Auto |
| TA-BW | Bernie Williams | | Auto |
| TA-CCS | CC Sabathia | | Auto |
| TA-DC | David Cone | | Auto |
| TA-DM | Don Mattingly | | Auto |
| TA-HM | Hideki Matsui | | Auto |
| TA-JP | Jorge Posada | | Auto |
| TA-LV | Luke Voit | | Auto |
| TA-MMU | Mike Mussina | | Auto |
| TA-MR | Mariano Rivera | | Auto |
| TA-RJ | Reggie Jackson | | Auto |
| TA-TM | Tino Martinez | | Auto |
| TAP-AJ | Aaron Judge | | Auto Relic |
| TGH-AJ | Aaron Judge | | Auto |
| TGH-DM | Don Mattingly | | Auto |
| TGH-HM | Hideki Matsui | | Auto |
| TT-SP | Andy Pettitte | | Auto Relic |
| TT-SP | CC Sabathia | | Auto Relic |
| TTR-AC | Aroldis Chapman | | Triple Relic |
| TTR-AJ | Aaron Judge | | Triple Relic |
| TTR-AP | Andy Pettitte | | Triple Relic |
| TTR-CCS | CC Sabathia | | Triple Relic |
| TTR-DC | David Cone | | Triple Relic |
| TTR-GST | Giancarlo Stanton | | Triple Relic |
| TTR-TM | Thurman Munson | | Triple Relic |