2020 Topps Transcendent Baseball Collection Hall of Fame Edition is the first in the brand's history to celebrate the everlasting legends from Cooperstown. The entire release is limited to only 50 cases and is one of the hobby's most premium sets. Each case includes the following cards:
– 1 Hall of Fame Icons 50-card set (#/50)
– 1 Hall of Famers Sketch Reproductions 50-card set (#/50)
– 1 Sandy Koufax Through the Years Autograph (1/1)
– 1 1954 Tops Baseball SuperFractor Autograph (1/1)
– 1 Original Sketch card (1/1)
– 1 Transcendent Collection Cut Signature (1/1)
– 1 PSA Graded Historic Topps Hall of Fame Buyback
– 40 Transcendent Collection Autographs
– #/25 or less
– At least 2 parallels will be 1/1
Along with those previously mentioned, collectors will find a VIP Event Invitation (#/50) to "one of the most exclusive trading card events of the year. Details TBA". Each case includes 146 cards and retail for over $20,000.
Our checklist includes all of the cards in the series and can be sorted or searched by many different parameters. Clicking a link within the checklist will direct you to an affiliate retailer or to relevant eBay listings for that card.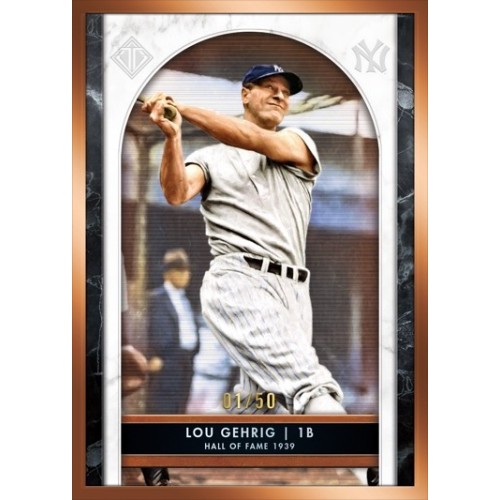 2020 Topps Transcendent Baseball Checklist
Hall of Fame Icons – 50 Cards
Base – #/50
Hall of Famers Sketch Cards (HOFS) – 50 Cards
Base – 1/1
Hall of Famers Sketch Reproduction (HOFR) – 50 Cards
Base – #/50
Oversized Hall of Fame Cut Signature (HOFCS) – 40 Cards
Base – 1/1
Hall of Fame Induction Class Cut Signatures (HOF) – 10 Cards
Base – 1/1
Transcendent Collection Autographs (THOF) – 32 Cards
Base – #/25
Emerald – #/5
Red – 1/1
Platinum – 1/1
Transcendent Collection Image Variation Autos (THOFV) – 32 Cards
Base – #/25
Emerald – #/5
Red – 1/1
Platinum – 1/1
Sandy Koufax Through the Years Autographs (SK) – 50 Cards
Base – 1/1
1954 Topps SuperFractor Autographs (54HOF) – 50 Cards
Base – 1/1
PSA Graded Hall of Famer Buybacks
| - | # | Player | Team |
| --- | --- | --- | --- |
| | 1 | Babe Ruth | Yankees |
| | 2 | Mike Mussina | Orioles |
| | 3 | Frank Thomas | White Sox |
| | 4 | Roberto Alomar | Blue Jays |
| | 5 | Johnny Bench | Reds |
| | 6 | Jeff Bagwell | Astros |
| | 7 | Harold Baines | White Sox |
| | 8 | George Brett | Royals |
| | 9 | Edgar Martinez | Mariners |
| | 10 | Carl Yastrzemski | Red Sox |
| | 11 | Cal Ripken Jr. | Orioles |
| | 12 | Tom Glavine | Braves |
| | 13 | Al Kaline | Tigers |
| | 14 | Wade Boggs | Red Sox |
| | 15 | Bert Blyleven | Twins |
| | 16 | Ken Griffey Jr. | Mariners |
| | 17 | Jim Thome | Indians |
| | 18 | Vladimir Guerrero | Angels |
| | 19 | Juan Marichal | Giants |
| | 20 | Nolan Ryan | Rangers |
| | 21 | Ivan Rodriguez | Rangers |
| | 22 | Rickey Henderson | Athletics |
| | 23 | Andre Dawson | Montréal Expos |
| | 24 | Ryne Sandberg | Cubs |
| | 25 | Sandy Koufax | Dodgers |
| | 26 | Ted Williams | Red Sox |
| | 27 | Honus Wagner | Pirates |
| | 28 | Chipper Jones | Braves |
| | 29 | Jackie Robinson | Brooklyn Dodgers |
| | 30 | Craig Biggio | Astros |
| | 31 | Steve Carlton | Phillies |
| | 32 | John Smoltz | Braves |
| | 33 | Lou Gehrig | Yankees |
| | 34 | Ozzie Smith | Cardinals |
| | 35 | Robin Yount | Brewers |
| | 36 | Tony Gwynn | Padres |
| | 37 | Reggie Jackson | Yankees |
| | 38 | Bob Gibson | Cardinals |
| | 39 | Barry Larkin | Reds |
| | 40 | Randy Johnson | Mariners |
| | 41 | Rod Carew | Twins |
| | 42 | Tony Pérez | Reds |
| | 43 | Stan Musial | Cardinals |
| | 44 | Tim Raines | Montréal Expos |
| | 45 | Carlton Fisk | Red Sox |
| | 46 | Alan Trammell | Tigers |
| | 47 | Lou Brock | Cardinals |
| | 48 | Dennis Eckersley | Athletics |
| | 49 | Mariano Rivera | Yankees |
| | 50 | Hank Aaron | Braves |
| | HOFS-AD | Andre Dawson | Montréal Expos |
| | HOFS-BF | Bob Feller | Indians |
| | HOFS-BG | Bob Gibson | Cardinals |
| | HOFS-BL | Barry Larkin | Reds |
| | HOFS-BR | Babe Ruth | Yankees |
| | HOFS-CJ | Chipper Jones | Braves |
| | HOFS-CM | Christy Mathewson | Giants |
| | HOFS-CRJ | Cal Ripken Jr. | Orioles |
| | HOFS-CY | Carl Yastrzemski | Red Sox |
| | HOFS-EB | Ernie Banks | Cubs |
| | HOFS-EM | Edgar Martinez | Mariners |
| | HOFS-FT | Frank Thomas | White Sox |
| | HOFS-GB | George Brett | Royals |
| | HOFS-GC | Gary Carter | Montréal Expos |
| | HOFS-HA | Hank Aaron | Braves |
| | HOFS-HK | Harmon Killebrew | Twins |
| | HOFS-HW | Honus Wagner | Pirates |
| | HOFS-IR | Ivan Rodriguez | Rangers |
| | HOFS-JB | Jeff Bagwell | Astros |
| | HOFS-JBE | Johnny Bench | Reds |
| | HOFS-JM | Joe Morgan | Reds |
| | HOFS-JR | Jackie Robinson | Brooklyn Dodgers |
| | HOFS-JT | Jim Thome | Indians |
| | HOFS-KGJ | Ken Griffey Jr. | Mariners |
| | HOFS-LG | Lou Gehrig | Yankees |
| | HOFS-MI | Monte Irvin | Giants |
| | HOFS-MP | Mike Piazza | Mets |
| | HOFS-MR | Mariano Rivera | Yankees |
| | HOFS-NR | Nolan Ryan | Rangers |
| | HOFS-OS | Ozzie Smith | Cardinals |
| | HOFS-PM | Pedro Martinez | Red Sox |
| | HOFS-RA | Roberto Alomar | Indians |
| | HOFS-RC | Rod Carew | Twins |
| | HOFS-RCL | Roberto Clemente | Pirates |
| | HOFS-RH | Rickey Henderson | Athletics |
| | HOFS-RHO | Rogers Hornsby | Cardinals |
| | HOFS-RJ | Randy Johnson | Diamondbacks |
| | HOFS-RJA | Reggie Jackson | Yankees |
| | HOFS-SC | Steve Carlton | Phillies |
| | HOFS-SK | Sandy Koufax | Dodgers |
| | HOFS-SM | Stan Musial | Cardinals |
| | HOFS-TC | Ty Cobb | Tigers |
| | HOFS-TG | Tom Glavine | Braves |
| | HOFS-TGW | Tony Gwynn | Padres |
| | HOFS-TS | Tris Speaker | Indians |
| | HOFS-TW | Ted Williams | Red Sox |
| | HOFS-VG | Vladimir Guerrero | Montréal Expos |
| | HOFS-WB | Wade Boggs | Red Sox |
| | HOFS-WM | Willie Mays | Giants |
| | HOFS-WMC | Willie McCovey | Giants |
| | HOFR-AD | Andre Dawson | Montréal Expos |
| | HOFR-BF | Bob Feller | Indians |
| | HOFR-BG | Bob Gibson | Cardinals |
| | HOFR-BL | Barry Larkin | Reds |
| | HOFR-BR | Babe Ruth | Yankees |
| | HOFR-CJ | Chipper Jones | Braves |
| | HOFR-CM | Christy Mathewson | Giants |
| | HOFR-CRJ | Cal Ripken Jr. | Orioles |
| | HOFR-CY | Carl Yastrzemski | Red Sox |
| | HOFR-EB | Ernie Banks | Cubs |
| | HOFR-EM | Edgar Martinez | Mariners |
| | HOFR-FT | Frank Thomas | White Sox |
| | HOFR-GB | George Brett | Royals |
| | HOFR-GC | Gary Carter | Montréal Expos |
| | HOFR-HA | Hank Aaron | Braves |
| | HOFR-HK | Harmon Killebrew | Twins |
| | HOFR-HW | Honus Wagner | Pirates |
| | HOFR-IR | Ivan Rodriguez | Rangers |
| | HOFR-JB | Jeff Bagwell | Astros |
| | HOFR-JBE | Johnny Bench | Reds |
| | HOFR-JM | Joe Morgan | Reds |
| | HOFR-JR | Jackie Robinson | Brooklyn Dodgers |
| | HOFR-JT | Jim Thome | Indians |
| | HOFR-KGJ | Ken Griffey Jr. | Mariners |
| | HOFR-LG | Lou Gehrig | Yankees |
| | HOFR-MI | Monte Irvin | Giants |
| | HOFR-MP | Mike Piazza | Mets |
| | HOFR-MR | Mariano Rivera | Yankees |
| | HOFR-NR | Nolan Ryan | Rangers |
| | HOFR-OS | Ozzie Smith | Cardinals |
| | HOFR-PM | Pedro Martinez | Red Sox |
| | HOFR-RA | Roberto Alomar | Indians |
| | HOFR-RC | Rod Carew | Twins |
| | HOFR-RCL | Roberto Clemente | Pirates |
| | HOFR-RH | Rickey Henderson | Athletics |
| | HOFR-RHO | Rogers Hornsby | Cardinals |
| | HOFR-RJ | Randy Johnson | Diamondbacks |
| | HOFR-RJA | Reggie Jackson | Yankees |
| | HOFR-SC | Steve Carlton | Phillies |
| | HOFR-SK | Sandy Koufax | Dodgers |
| | HOFR-SM | Stan Musial | Cardinals |
| | HOFR-TC | Ty Cobb | Tigers |
| | HOFR-TG | Tom Glavine | Braves |
| | HOFR-TGW | Tony Gwynn | Padres |
| | HOFR-TS | Tris Speaker | Indians |
| | HOFR-TW | Ted Williams | Red Sox |
| | HOFR-VG | Vladimir Guerrero | Montréal Expos |
| | HOFR-WB | Wade Boggs | Red Sox |
| | HOFR-WM | Willie Mays | Giants |
| | HOFR-WMC | Willie McCovey | Giants |
| | HOFCS-BD | Bill Dickey | Yankees |
| | HOFCS-BG | Burleigh Grimes | Brooklyn Dodgers |
| | HOFCS-BH | Bucky Harris | Senators |
| | HOFCS-BR | Babe Ruth | Yankees |
| | HOFCS-CA | Cap Anson | White Sox |
| | HOFCS-CG | Charlie Gehringer | Tigers |
| | HOFCS-CH | Carl Hubbell | Giants |
| | HOFCS-CM | Connie Mack | Philadelphia Athletics |
| | HOFCS-CS | Casey Stengel | Yankees |
| | HOFCS-CY | Cy Young | Red Sox |
| | HOFCS-DD | Dizzy Dean | Cardinals |
| | HOFCS-EA | Earl Averill | Indians |
| | HOFCS-EC | Earle Combs | Yankees |
| | HOFCS-ECO | Eddie Collins | White Sox |
| | HOFCS-ER | Edd Roush | Reds |
| | HOFCS-EW | Early Wynn | Indians |
| | HOFCS-GH | Gabby Hartnett | Cubs |
| | HOFCS-GS | George Sisler | Browns |
| | HOFCS-HW | Honus Wagner | Pirates |
| | HOFCS-JD | Joe DiMaggio | Yankees |
| | HOFCS-JF | Jimmie Foxx | Red Sox |
| | HOFCS-JM | Johnny Mize | Cardinals |
| | HOFCS-JR | Jackie Robinson | Brooklyn Dodgers |
| | HOFCS-LB | Lou Boudreau | Indians |
| | HOFCS-LG | Lefty Grove | Red Sox |
| | HOFCS-LGE | Lou Gehrig | Yankees |
| | HOFCS-MC | Mickey Cochrane | Philadelphia Athletics |
| | HOFCS-RC | Roberto Clemente | Pirates |
| | HOFCS-RCA | Roy Campanella | Brooklyn Dodgers |
| | HOFCS-RK | Ralph Kiner | Pirates |
| | HOFCS-RS | Red Schoendienst | Cardinals |
| | HOFCS-SC | Sam Crawford | Tigers |
| | HOFCS-SP | Satchel Paige | Indians |
| | HOFCS-TC | Ty Cobb | Tigers |
| | HOFCS-TG | Tony Gwynn | Padres |
| | HOFCS-TS | Tris Speaker | Indians |
| | HOFCS-TW | Ted Williams | Red Sox |
| | HOFCS-WH | Waite Hoyt | Yankees |
| | HOFCS-WJ | Walter Johnson | Senators |
| | HOFCS-ZW | Zack Wheat | Brooklyn Dodgers |
| | HOF-CJRW | Ty Cobb | Tigers |
| | HOF-CJRW | Walter Johnson | Senators |
| | HOF-CJRW | Babe Ruth | Yankees |
| | HOF-CJRW | Honus Wagner | Pirates |
| | HOF-YSMM | Connie Mack | Philadelphia Athletics |
| | HOF-YSMM | John McGraw | Giants |
| | HOF-YSMM | Tris Speaker | Indians |
| | HOF-YSMM | Cy Young | Red Sox |
| | HOF-DFKR | Don Drysdale | Dodgers |
| | HOF-DFKR | Rick Ferrell | Red Sox |
| | HOF-DFKR | Harmon Killebrew | Twins |
| | HOF-DFKR | Pee Wee Reese | Brooklyn Dodgers |
| | HOF-AHHK | Earl Averill | Indians |
| | HOF-AHHK | Bucky Harris | Senators |
| | HOF-AHHK | Billy Herman | Cubs |
| | HOF-AHHK | Ralph Kiner | Pirates |
| | HOF-BCFH | Lou Boudreau | Indians |
| | HOF-BCFH | Earle Combs | Yankees |
| | HOF-BCFH | Ford Frick | MLB |
| | HOF-BCFH | Jesse Haines | Cardinals |
| | HOF-CCHM | Roy Campanella | Brooklyn Dodgers |
| | HOF-CCHM | Stan Coveleski | Indians |
| | HOF-CCHM | Waite Hoyt | Yankees |
| | HOF-CCHM | Stan Musial | Cardinals |
| | HOF-FMRR | Bob Feller | Indians |
| | HOF-FMRR | Bill McKechnie | Reds |
| | HOF-FMRR | Jackie Robinson | Brooklyn Dodgers |
| | HOF-FMRR | Edd Roush | Reds |
| | HOF-DHLV | Joe DiMaggio | Yankees |
| | HOF-DHLV | Gabby Hartnett | Cubs |
| | HOF-DHLV | Ted Lyons | White Sox |
| | HOF-DHLV | Dazzy Vance | Brooklyn Dodgers |
| | HOF-CKIS | Roberto Clemente | Pirates |
| | HOF-CKIS | Monte Irvin | Giants |
| | HOF-CKIS | George Kelly | Giants |
| | HOF-CKIS | Warren Spahn | Braves |
| | HOF-CCGS | Eddie Collins | White Sox |
| | HOF-CCGS | Charles Comiskey | White Sox |
| | HOF-CCGS | Lou Gehrig | Yankees |
| | HOF-CCGS | George Sisler | Browns |
| | THOF-AD | Andre Dawson | Montréal Expos |
| | THOF-AK | Al Kaline | Tigers |
| | THOF-BG | Bob Gibson | Cardinals |
| | THOF-BL | Barry Larkin | Reds |
| | THOF-CF | Carlton Fisk | Red Sox |
| | THOF-CJ | Chipper Jones | Braves |
| | THOF-CRJ | Cal Ripken Jr. | Orioles |
| | THOF-CY | Carl Yastrzemski | Red Sox |
| | THOF-FT | Frank Thomas | White Sox |
| | THOF-HA | Hank Aaron | Braves |
| | THOF-JB | Johnny Bench | Reds |
| | THOF-JBA | Jeff Bagwell | Astros |
| | THOF-JM | Juan Marichal | Giants |
| | THOF-JS | John Smoltz | Braves |
| | THOF-JT | Jim Thome | Indians |
| | THOF-KGJ | Ken Griffey Jr. | Mariners |
| | THOF-MM | Mike Mussina | Orioles |
| | THOF-MR | Mariano Rivera | Yankees |
| | THOF-NR | Nolan Ryan | Rangers |
| | THOF-OS | Ozzie Smith | Cardinals |
| | THOF-PM | Paul Molitor | Brewers |
| | THOF-RA | Roberto Alomar | Blue Jays |
| | THOF-RC | Rod Carew | Twins |
| | THOF-RH | Rickey Henderson | Athletics |
| | THOF-RJ | Randy Johnson | Mariners |
| | THOF-RJA | Reggie Jackson | Yankees |
| | THOF-RS | Ryne Sandberg | Cubs |
| | THOF-RY | Robin Yount | Brewers |
| | THOF-SK | Sandy Koufax | Dodgers |
| | THOF-TG | Tom Glavine | Braves |
| | THOF-VG | Vladimir Guerrero | Angels |
| | THOF-WB | Wade Boggs | Red Sox |
| | THOFV-AD | Andre Dawson | Montréal Expos |
| | THOFV-AK | Al Kaline | Tigers |
| | THOFV-BG | Bob Gibson | Cardinals |
| | THOFV-BL | Barry Larkin | Reds |
| | THOFV-CF | Carlton Fisk | Red Sox |
| | THOFV-CJ | Chipper Jones | Braves |
| | THOFV-CRJ | Cal Ripken Jr. | Orioles |
| | THOFV-CY | Carl Yastrzemski | Red Sox |
| | THOFV-FT | Frank Thomas | White Sox |
| | THOFV-HA | Hank Aaron | Braves |
| | THOFV-JB | Johnny Bench | Reds |
| | THOFV-JBA | Jeff Bagwell | Astros |
| | THOFV-JM | Juan Marichal | Giants |
| | THOFV-JS | John Smoltz | Braves |
| | THOFV-JT | Jim Thome | Indians |
| | THOFV-KGJ | Ken Griffey Jr. | Mariners |
| | THOFV-MM | Mike Mussina | Orioles |
| | THOFV-MR | Mariano Rivera | Yankees |
| | THOFV-NR | Nolan Ryan | Rangers |
| | THOFV-OS | Ozzie Smith | Cardinals |
| | THOFV-PM | Paul Molitor | Brewers |
| | THOFV-RA | Roberto Alomar | Blue Jays |
| | THOFV-RC | Rod Carew | Twins |
| | THOFV-RH | Rickey Henderson | Athletics |
| | THOFV-RJ | Randy Johnson | Mariners |
| | THOFV-RJA | Reggie Jackson | Yankees |
| | THOFV-RS | Ryne Sandberg | Cubs |
| | THOFV-RY | Robin Yount | Brewers |
| | THOFV-SK | Sandy Koufax | Dodgers |
| | THOFV-TG | Tom Glavine | Braves |
| | THOFV-VG | Vladimir Guerrero | Angels |
| | THOFV-WB | Wade Boggs | Red Sox |
| | SK-1952 | Sandy Koufax | Dodgers |
| | SK-1953 | Sandy Koufax | Dodgers |
| | SK-1957 | Sandy Koufax | Dodgers |
| | SK-1958 | Sandy Koufax | Dodgers |
| | SK-1959 | Sandy Koufax | Dodgers |
| | SK-1961 | Sandy Koufax | Dodgers |
| | SK-1962 | Sandy Koufax | Brooklyn Dodgers |
| | SK-1964 | Sandy Koufax | Dodgers |
| | SK-1965 | Sandy Koufax | Dodgers |
| | SK-1966 | Sandy Koufax | Dodgers |
| | SK-1967 | Sandy Koufax | Dodgers |
| | SK-1970 | Sandy Koufax | Brooklyn Dodgers |
| | SK-1972 | Sandy Koufax | Dodgers |
| | SK-1973 | Sandy Koufax | Dodgers |
| | SK-1975 | Sandy Koufax | Dodgers |
| | SK-1976 | Sandy Koufax | Dodgers |
| | SK-1977 | Sandy Koufax | Dodgers |
| | SK-1979 | Sandy Koufax | Brooklyn Dodgers |
| | SK-1981 | Sandy Koufax | Dodgers |
| | SK-1982 | Sandy Koufax | Dodgers |
| | SK-1985 | Sandy Koufax | Dodgers |
| | SK-1986 | Sandy Koufax | Dodgers |
| | SK-1987 | Sandy Koufax | Brooklyn Dodgers |
| | SK-1988 | Sandy Koufax | Dodgers |
| | SK-1989 | Sandy Koufax | Dodgers |
| | SK-1990 | Sandy Koufax | Dodgers |
| | SK-1991 | Sandy Koufax | Brooklyn Dodgers |
| | SK-2007 | Sandy Koufax | Dodgers |
| | SK-2008 | Sandy Koufax | Dodgers |
| | SK-2010 | Sandy Koufax | Dodgers |
| | SK-2014 | Sandy Koufax | Dodgers |
| | SK-2017 | Sandy Koufax | Dodgers |
| | SK-2018 | Sandy Koufax | Brooklyn Dodgers |
| | SK-2019 | Sandy Koufax | Dodgers |
| | SK-2020 | Sandy Koufax | Dodgers |
| | SK-1971 | Sandy Koufax | Brooklyn Dodgers |
| | SK-1992 | Sandy Koufax | Dodgers |
| | SK-1999 | Sandy Koufax | Dodgers |
| | SK-2002 | Sandy Koufax | Dodgers |
| | SK-2005 | Sandy Koufax | Brooklyn Dodgers |
| | SK-1995 | Sandy Koufax | Dodgers |
| | SK-2001 | Sandy Koufax | Brooklyn Dodgers |
| | SK-1954 | Sandy Koufax | Dodgers |
| | SK-1955 | Sandy Koufax | Dodgers |
| | SK-1956 | Sandy Koufax | Brooklyn Dodgers |
| | SK-1960 | Sandy Koufax | Dodgers |
| | SK-1963 | Sandy Koufax | Dodgers |
| | SK-1983 | Sandy Koufax | Dodgers |
| | SK-1984 | Sandy Koufax | Dodgers |
| | SK-2003 | Sandy Koufax | Dodgers |
| | 54HOF-AD | Andre Dawson | Montréal Expos |
| | 54HOF-AK | Al Kaline | Tigers |
| | 54HOF-BB | Bert Blyleven | Twins |
| | 54HOF-BG | Bob Gibson | Cardinals |
| | 54HOF-BL | Barry Larkin | Reds |
| | 54HOF-CF | Carlton Fisk | Red Sox |
| | 54HOF-CJ | Chipper Jones | Braves |
| | 54HOF-CRJ | Cal Ripken Jr. | Orioles |
| | 54HOF-CY | Carl Yastrzemski | Red Sox |
| | 54HOF-DE | Dennis Eckersley | Athletics |
| | 54HOF-EM | Edgar Martinez | Mariners |
| | 54HOF-FT | Frank Thomas | White Sox |
| | 54HOF-HA | Hank Aaron | Braves |
| | 54HOF-HAA | Hank Aaron | Braves |
| | 54HOF-IR | Ivan Rodriguez | Rangers |
| | 54HOF-IRO | Ivan Rodriguez | Marlins |
| | 54HOF-JB | Johnny Bench | Reds |
| | 54HOF-JBA | Jeff Bagwell | Astros |
| | 54HOF-JM | Juan Marichal | Giants |
| | 54HOF-JR | Jim Rice | Red Sox |
| | 54HOF-JS | John Smoltz | Braves |
| | 54HOF-JT | Jim Thome | Indians |
| | 54HOF-JTH | Jim Thome | White Sox |
| | 54HOF-KEJ | Ken Griffey Jr. | Reds |
| | 54HOF-KGJ | Ken Griffey Jr. | Mariners |
| | 54HOF-MM | Mike Mussina | Orioles |
| | 54HOF-MR | Mariano Rivera | Yankees |
| | 54HOF-NR | Nolan Ryan | Rangers |
| | 54HOF-NRY | Nolan Ryan | Astros |
| | 54HOF-OS | Ozzie Smith | Cardinals |
| | 54HOF-PM | Paul Molitor | Brewers |
| | 54HOF-RA | Roberto Alomar | Blue Jays |
| | 54HOF-RC | Rod Carew | Twins |
| | 54HOF-REJ | Reggie Jackson | Athletics |
| | 54HOF-RH | Rickey Henderson | Athletics |
| | 54HOF-RJ | Randy Johnson | Mariners |
| | 54HOF-RJA | Reggie Jackson | Yankees |
| | 54HOF-RJO | Randy Johnson | Diamondbacks |
| | 54HOF-RS | Ryne Sandberg | Cubs |
| | 54HOF-RY | Robin Yount | Brewers |
| | 54HOF-SC | Steve Carlton | Phillies |
| | 54HOF-SK | Sandy Koufax | Dodgers |
| | 54HOF-SKO | Sandy Koufax | Brooklyn Dodgers |
| | 54HOF-TG | Tom Glavine | Braves |
| | 54HOF-TP | Tony Pérez | Reds |
| | 54HOF-TR | Tim Raines | Montréal Expos |
| | 54HOF-VG | Vladimir Guerrero | Angels |
| | 54HOF-VGS | Vladimir Guerrero | Montréal Expos |
| | 54HOF-WB | Wade Boggs | Red Sox |
| | 54HOF-WBO | Wade Boggs | Yankees |