2020 Topps The Mandalorian: Journey of the Child highlights moments from the first season of the Disney Plus television series.
Clearly the cutest character from The Mandalorian is The Child, also referred to as "Baby Yoda" by fans of the show. Therefore, it is only fitting that he receives a dedicated trading card set, that is not stickers.
Exclusive to retail stores, Journey of the Child features 25 base cards, and five Illustrated insert cards.
Every 32-card value box includes the complete base set, five illustrated cards, and two guaranteed parallels.
Clicking a link within this checklist will direct you to an affiliate retailer or to relevant eBay listings.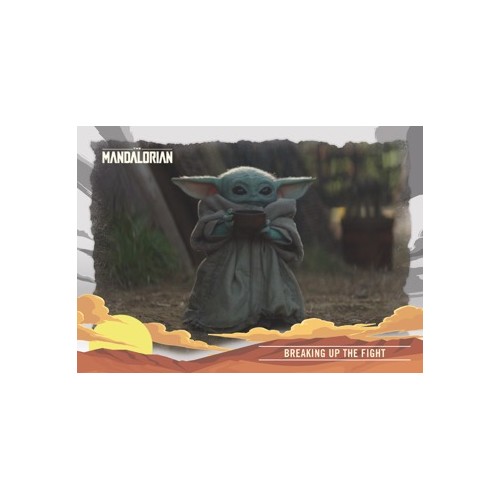 2020 Topps The Mandalorian: Journey of the Child Checklist
Base – 25 Cards
Green – 1 per pack unless replaced
Red – #/99
Blue – #/50
Orange – #/10
Steel – 1/1
Illustrated Cards (I) – 5 Cards
Green – 1 per pack unless replaced
Red – #/99
Blue – #/50
Orange – #/10
Steel – 1/1
| | |
| --- | --- |
| 1 | Enter the Child |
| 2 | An Unexpected Bounty |
| 3 | Along for the Ride |
| 4 | Taking Aim with the Mandalorian |
| 5 | Witness to the Mud Horn Fight |
| 6 | It's Not a Toy |
| 7 | Imperial Drop-Off |
| 8 | Giving in to the Child |
| 9 | "Don't Touch That." |
| 10 | Not Staying Put |
| 11 | Breaking up the Fight |
| 12 | Into the Village |
| 13 | Saying Good-Bye |
| 14 | An Unexpected Passenger |
| 15 | A New Friendly Face |
| 16 | A Temporary Caretaker |
| 17 | The Child Revelaed |
| 18 | Unwise Taunts |
| 19 | "I Told You That Was a Bad Idea" |
| 20 | Into the care of Kuiil |
| 21 | Meeting the Child |
| 22 | Running Towards the Razor Crest |
| 23 | Speeder Bike Delight |
| 24 | Looking Up |
| 25 | Blasting off with the Phoenix |
| | |
| --- | --- |
| I-1 | Collar Up! |
| I-2 | The Child |
| I-3 | Star Wars and The Child |
| I-4 | The Force is Strong with this Little One |
| I-5 | The Illustrated Child |