2020 Topps Star Wars Authentics Blind Pack Autographs offers two hits per hobby box.
Covering the Star Wars universe, signers include familiar names from the classic and prequel films such as Harrison Ford and Ray Park. While the 'New Trilogy' offers single and dual autographs from Daisy Ridley and John Boyega. Among the individual movies is Felicity Jones from Rogue One, and Alden Ehrenreich from Solo: A Star Wars Story.
Beyond the big screen, 2020 Topps Star Wars Authentics Autographs includes signatures from The Mandalorian, as well as, animation and video games.
In addition to the 11×14 Autographed photograph, every blind pack includes an exclusive Topps Star Wars trading card.
Moreover, each base card is sequentially numbered with several parallels to chase including Blue (#/25), Purple (#/10), Orange (#/5), and Red (1/1).
This checklist is organized by subset. Jump to a preferred subset by selecting it from the checklist key below. Clicking a link within the checklist will direct you to an affiliate retailer or to relevant eBay listings.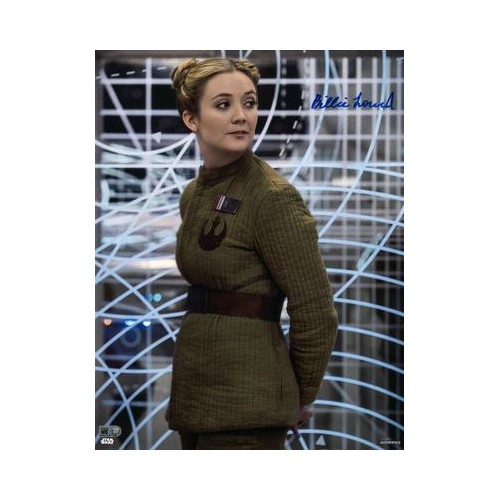 2020 Topps Star Wars Authentics Blind Pack Autographs Checklist
Base – 19 Cards
Base – #'d
Blue – #/25
Purple – #/10
Orange – #/5
Red – 1/1
Autographs – 38 Cards
Dual Autographs – 6 Cards
| | |
| --- | --- |
| A-AMNH | Jon 'Dutch' Vander |
| A-BBRJ | Colonel Dyer |
| A-BLLJ | Kaydel Ko Connix |
| A-BWRS | Lando Calrissian |
| A-CMJF | Cal Kestis |
| A-DMRS | Beaumont Kin |
| A-DRRS | Rey |
| A-GC | Cara Dune |
| A-GCLJ | Captain Phasma |
| A-GE | Moff Gideon |
| A-GGRS | Snap Wexley |
| A-GHEB | Biggs Darklighter |
| A-HCRS | Darth Vader |
| A-HFFA | Han Solo |
| A-HSEB | Bossk |
| A-IMDS | Darth Sidious |
| A-NARS | Jannah |
| A-PR | RX-24 |
| A-WH | The Client |
| | |
| --- | --- |
| Animated Auto | Sarah Michelle Gellar as Seventh Sister |
| Animated Auto | James Arnold Taylor as Obi-Wan Kenobi |
| Animated Auto | Stephen Stanton as Grand Moff Tarkin |
| Animated Auto | Sam Witwer as Maul |
| Animated Auto | Paul Reubens as RX-24 |
| Classic Auto | Harrison Ford as Han Solo |
| Classic Auto | Ben Burtt as Colonel Dyer |
| Classic Auto | Alan Harris as Bossk |
| Classic Auto | Angus MacInnes as Jon 'Dutch' Vander |
| Classic Auto | Garrick Hagon as Biggs Darklighter |
| Mandalorian Auto | Gina Carano as Cara Dune |
| Mandalorian Auto | Nick Nolte as voice of Kuiil |
| Mandalorian Auto | Giancarlo Esposito as Moff Gideon |
| Mandalorian Auto | Werner Herzog as The Client |
| Mandalorian Auto | Omid Abtahi as Dr. Pershing |
| New Trilogy Auto | Daisy Ridley as Rey |
| New Trilogy Auto | Adam Driver as Kylo Ren |
| New Trilogy Auto | John Boyega as Finn |
| New Trilogy Auto | Domnhall Gleeson as General Hux |
| New Trilogy Auto | Gwendoline Christie as Captain Phasma |
| New Trilogy Auto | Billy Dee Williams as Lando Calrissian |
| New Trilogy Auto | Naomi Ackie as Jannah |
| New Trilogy Auto | Kelly Marie Tran as Rose Tico |
| New Trilogy Auto | Dominic Monaghan as Beaumont Kin |
| New Trilogy Auto | Billie Lourd as Kaydel Ko Connix |
| New Trilogy Auto | Laura Dern as Vice Admiral Holdo |
| New Trilogy Auto | Greg Grunberg as Snap Wexley |
| New Trilogy Auto | Brian Herring as BB-8 |
| New Trilogy Auto | Dave Chapman as BB-8 |
| Prequel Auto | Hayden Christensen as Anakin Skywalker |
| Prequel Auto | Ian McDiarmid as Emperor Palpatine |
| Prequel Auto | Ray Park as Darth Maul |
| Prequel Auto | Ahmed Best as Jar Jar Binks |
| Rogue One Auto | Felicity Jones as Jyn Erso |
| Solo Auto | Alden Ehrenreich as Han Solo |
| Solo Auto | Paul Bettany as Dryden Vos |
| Solo Auto | Sam Witwer as Voice of Maul |
| Video Game Auto | Cameron Monaghan as Cal Kestis |
Daisy Ridley and John Boyega
Felicity Jones and Alan Tudyk
Hayden Christensen and Ian McDiarmid
John Boyega and Gwendoline Christie
John Boyega and Dave Chapman
Brian Herring and Dave Chapman