2020 Topps Pro Debut Baseball trading cards showcase top players from Minor League Baseball.
The 200-card base set offers numbered parallels as well as image variations with a one-of-one black parallel.
The subset Copa de La Diversion, which means Fun Cup, features teams in their culturally alternate personas that "celebrates the U.S. Hispanic/Latino communities" throughout the season. Additional inserts include Ready for Flight, Tape-Measure Power, and the fan-favorite Make YOUR Pro Debut winner card.
Lastly, both Autograph and Relic cards include numbered parallels.
Each Hobby box promises two Autographs and two Relics.
Our checklist includes all of the cards in the series and can be sorted or searched by many different parameters. Clicking a link within the checklist will direct you to an affiliate retailer or to relevant eBay listings for that card.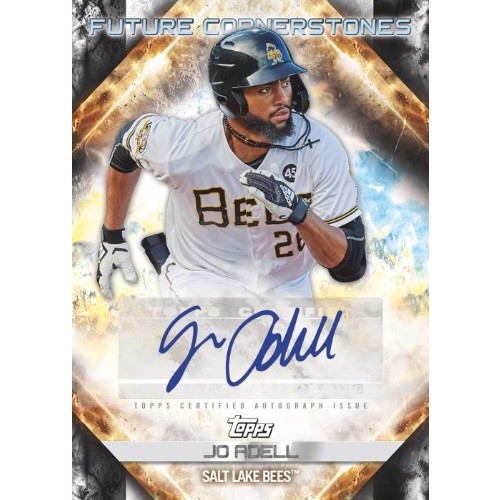 2020 Topps Pro Debut Checklist
Base (PD) – 200 Cards
Blue – #/150
Green – #/99
Gold – #/50
Orange – #/25
Red – #/10
Black – 1/1
Base Chrome (PDC) – 200 Cards
Base Image Variations (PD) – 15 Cards
Black – 1/1
Base Autographs (PD) – 93 Cards
Blue – #/150
Green – #/99
Gold – #/50
Orange – #/25
Red – #/10
Black – 1/1
Copa de La Diversion (CO) – 7 Cards
Base – 1:6 packs
Black – 1/1
Copa de La Diversion Relics (COR) – 8 Cards
Gold – #/50
Red – #/10
Black – 1/1
Distinguished Debut Medallions (DD) – 30 Cards
Gold – #/50
Red – #/10
Black – 1/1
Distinguished Debut Autograph Medallions (DD) – 14 Cards
Base – #/10
Fragments of the Farm Relics (FF) – 16 Cards
Green – #/99
Gold – #/50
Red – #/10
Black – 1/1
Future Cornerstones Autographs(FCA) – 23 Cards
Orange – #/25
Black – 1/1
Jumbo Patch Relics (JPR) – 10 Cards
Base – #/15
Black – 1/1
Jumbo Patch Relic Autos – 5 Cards
Base – #/5
Ready for Flight (RFF) – 25 Cards
Base – 1:6 packs
Green – #/99
Orange – #/25
Black – 1/1
Ready for Flight Autographs (RFF) – 12 Cards
Base – #'d
Black – 1/1
Tape-Measure Power (TMP) – 10 Cards
Base – 1:12 packs
Black – 1/1
Tape-Measure Power Autographs (TMP) – 7 Cards
Base – #'d
Black – 1/1
Make Your Pro Debut Winner (PD-CN) – 1 Card
| - | # | Player | Team | Variant |
| --- | --- | --- | --- | --- |
| | PD-1 | Wander Franco | Charlotte Stone Crabs | |
| | PD-2 | Deivi Garcia | Scranton/Wilkes-Barre RailRiders | |
| | PD-3 | Grae Kessinger | Tri-City ValleyCats | |
| | PD-4 | Julio Pablo Martinez | Down East Wood Ducks | |
| | PD-5 | Kyle Stowers | Aberdeen IronBirds | |
| | PD-6 | Elehuris Montero | Springfield Cardinals | |
| | PD-7 | Blaze Alexander | Kane County Cougars | |
| | PD-8 | Bobby Dalbec | Pawtucket Red Sox | |
| | PD-9 | Andy Pages | Ogden Raptors | |
| | PD-10 | Josh Jung | AZL Rangers | |
| | PD-11 | Grayson Rodriguez | Delmarva Shorebirds | |
| | PD-12 | Jacob Amaya | Rancho Cucamonga Quakes | |
| | PD-13 | Niko Hulsizer | Charlotte Stone Crabs | |
| | PD-14 | Keoni Cavaco | GCL Twins | |
| | PD-15 | Brock Deatherage | Lakeland Flying Tigers | |
| | PD-16 | Ian Anderson | Gwinnett Stripers | |
| | PD-17 | Isaac Paredes | Erie SeaWolves | |
| | PD-18 | Logan Gilbert | West Virginia Power | |
| | PD-19 | Jordan Groshans | Lansing Lugnuts | |
| | PD-20 | Ulrich Bojarski | Lakeland Flying Tigers | |
| | PD-21 | Daulton Varsho | Jackson Generals | |
| | PD-22 | Ronaldo Hernandez | Charlotte Stone Crabs | |
| | PD-23 | Ryan Garcia | AZL Rangers | |
| | PD-24 | Brailyn Marquez | Myrtle Beach Pelicans | |
| | PD-25 | Adley Rutschman | GCL Orioles | |
| | PD-26 | Alek Thomas | Visalia Rawhide | |
| | PD-27 | Diego Cartaya | AZL Dodgers | |
| | PD-28 | Jasseel De La Cruz | Mississippi Braves | |
| | PD-29 | Chase Strumpf | AZL Cubs | |
| | PD-30 | Tyler Freeman | Lynchburg Hillcats | |
| | PD-31 | Nasim Nunez | GCL Marlins | |
| | PD-32 | Jarren Duran | Portland Sea Dogs | |
| | PD-33 | Zack Thompson | GCL Cardinals | |
| | PD-34 | Matt Manning | Erie SeaWolves | |
| | PD-35 | Shane McClanahan | Montgomery Biscuits | |
| | PD-36 | Logan Wyatt | AZL Giants | |
| | PD-37 | Bryson Stott | GCL Phillies | |
| | PD-38 | Michael Busch | AZL Dodgers | |
| | PD-39 | Alec Marsh | Idaho Falls Chukars | |
| | PD-40 | Ethan Small | AZL Brewers | |
| | PD-41 | Aaron Shortridge | Bradenton Marauders | |
| | PD-42 | Noah Song | Lowell Spinners | |
| | PD-43 | Alex Speas | AZL Rangers | |
| | PD-44 | Shane Baz | Bowling Green Hot Rods | |
| | PD-45 | Gus Varland | Stockton Ports | |
| | PD-46 | Alex Faedo | Erie SeaWolves | |
| | PD-47 | Tim Tebow | Syracuse Mets | |
| | PD-48 | Aaron Ashby | Carolina Mudcats | |
| | PD-49 | Ryan Mountcastle | Norfolk Tides | |
| | PD-50 | Bobby Witt Jr. | AZL Royals | |
| | PD-51 | Rece Hinds | Greeneville Reds | |
| | PD-52 | Spencer Howard | Reading Fightin Phils | |
| | PD-53 | Grant Little | Fort Wayne TinCaps | |
| | PD-54 | Drew Waters | Gwinnett Stripers | |
| | PD-55 | Heliot Ramos | Richmond Flying Squirrels | |
| | PD-56 | Lewin Diaz | Jacksonville Jumbo Shrimp | |
| | PD-57 | Luis Patino | Amarillo Sod Poodles | |
| | PD-58 | Nate Pearson | Buffalo Bisons | |
| | PD-59 | Davis Wendzel | AZL Rangers | |
| | PD-60 | Cristian Pache | Gwinnett Stripers | |
| | PD-61 | Sherten Apostel | Down East Wood Ducks | |
| | PD-62 | Brennen Davis | South Bend Cubs | |
| | PD-63 | Glenallen Hill Jr. | AZL Diamondbacks | |
| | PD-64 | Francisco Alvarez | GCL Mets | |
| | PD-65 | Ke'Bryan Hayes | Indianapolis Indians | |
| | PD-66 | Josh Wolf | GCL Mets | |
| | PD-67 | Xavier Edwards | Lake Elsinore Storm | |
| | PD-68 | Daniel Espino | AZL Indians | |
| | PD-69 | Will Wilson | Orem Owlz | |
| | PD-70 | Victor Mesa Jr. | GCL Marlins | |
| | PD-71 | Taylor Trammell | Amarillo Sod Poodles | |
| | PD-72 | Nick Lodolo | Billings Mustangs | |
| | PD-73 | Seth Johnson | GCL Rays | |
| | PD-74 | Nick Quintana | West Michigan Whitecaps | |
| | PD-75 | Tommy Henry | Hillsboro Hops | |
| | PD-76 | Grant Gambrell | Idaho Falls Chukars | |
| | PD-77 | Josh Smith | Staten Island Yankees | |
| | PD-78 | Ethan Lindow | Clearwater Threshers | |
| | PD-79 | Ryne Nelson | Hillsboro Hops | |
| | PD-80 | Ronny Mauricio | Columbia Fireflies | |
| | PD-81 | Kendall Williams | GCL Blue Jays | |
| | PD-82 | Chris Vallimont | Fort Myers Miracle | |
| | PD-83 | Greg Jones | Hudson Valley Renegades | |
| | PD-84 | Forrest Whitley | Round Rock Express | |
| | PD-85 | Logan Driscoll | Tri-City Dust Devils | |
| | PD-86 | Michael Toglia | Boise Hawks | |
| | PD-87 | Wilfred Astudillo | Kingsport Mets | |
| | PD-88 | Andres Gimenez | Binghamton Rumble Ponies | |
| | PD-89 | Brennan Malone | AZL Diamondbacks | |
| | PD-90 | Kyren Paris | AZL Angels | |
| | PD-91 | Victor Victor Mesa | Jacksonville Jumbo Shrimp | |
| | PD-92 | Matthew Thompson | AZL White Sox | |
| | PD-93 | Jonathan India | Chattanooga Lookouts | |
| | PD-94 | Canaan Smith | Charleston RiverDogs | |
| | PD-95 | Jackson Rutledge | GCL Nationals | |
| | PD-96 | Hunter Bishop | AZL Giants | |
| | PD-97 | Josiah Gray | Tulsa Drillers | |
| | PD-98 | Miguel Vargas | Rancho Cucamonga Quakes | |
| | PD-99 | Triston McKenzie | Akron RubberDucks | |
| | PD-100 | Jo Adell | Salt Lake Bees | |
| | PD-101 | Aaron Schunk | Boise Hawks | |
| | PD-102 | Anthony Volpe | Pulaski Yankees | |
| | PD-103 | Blake Walston | AZL Diamondbacks | |
| | PD-104 | Matthew Lugo | GCL Red Sox | |
| | PD-105 | John Doxakis | Hudson Valley Renegades | |
| | PD-106 | Damon Jones | Lehigh Valley IronPigs | |
| | PD-107 | Hunter Greene | Dayton Dragons | |
| | PD-108 | Riley Greene | GCL Tigers | |
| | PD-109 | Dominic Fletcher | Kane County Cougars | |
| | PD-110 | Logan Davidson | Vermont Lake Monsters | |
| | PD-111 | Julio Rodriguez | West Virginia Power | |
| | PD-112 | Alvaro Seijas | Palm Beach Cardinals | |
| | PD-113 | Luis Garcia | Lakewood BlueClaws | |
| | PD-114 | Matt Wallner | Elizabethton Twins | |
| | PD-115 | Dylan File | Biloxi Shuckers | |
| | PD-116 | Everson Pereira | Staten Island Yankees | |
| | PD-117 | Kody Hoese | AZL Dodgers | |
| | PD-118 | Joe Ryan | Montgomery Biscuits | |
| | PD-119 | MacKenzie Gore | Amarillo Sod Poodles | |
| | PD-120 | Yusniel Diaz | Bowie Baysox | |
| | PD-121 | Kyle Muller | Mississippi Braves | |
| | PD-122 | Gabriel Cancel | Northwest Arkansas Naturals | |
| | PD-123 | Brandon Williamson | Everett AquaSox | |
| | PD-124 | Andrew Vaughn | AZL White Sox | |
| | PD-125 | Alec Bohm | Reading Fightin Phils | |
| | PD-126 | JJ Goss | GCL Rays | |
| | PD-127 | Gabriel Moreno | Lansing Lugnuts | |
| | PD-128 | Max Lazar | Wisconsin Timber Rattlers | |
| | PD-129 | Jesus Sanchez | New Orleans Baby Cakes | |
| | PD-130 | Jake Sanford | Staten Island Yankees | |
| | PD-131 | Brady McConnell | AZL Royals | |
| | PD-132 | Briam Campusano | St. Lucie Mets | |
| | PD-133 | Luis Matos | AZL Giants | |
| | PD-134 | Matt Canterino | GCL Twins | |
| | PD-135 | Shea Langeliers | Rome Braves | |
| | PD-136 | Triston Casas | Salem Red Sox | |
| | PD-137 | Hector Figueroa | Bowling Green Hot Rods | |
| | PD-138 | Jordan Balazovic | Fort Myers Miracle | |
| | PD-139 | Joshua Mears | AZL Padres | |
| | PD-140 | Freudis Nova | Quad Cities River Bandits | |
| | PD-141 | Corbin Carroll | AZL Diamondbacks | |
| | PD-142 | Dylan Carlson | Memphis Redbirds | |
| | PD-143 | Joey Cantillo | Lake Elsinore Storm | |
| | PD-144 | Jerar Encarnacion | Jupiter Hammerheads | |
| | PD-145 | T.J. Sikkema | Staten Island Yankees | |
| | PD-146 | Jeremy Pena | Fayetteville Woodpeckers | |
| | PD-147 | Brady Singer | Wilmington Blue Rocks | |
| | PD-148 | Daniel Lynch | Wilmington Blue Rocks | |
| | PD-149 | Matt Gorski | West Virginia Black Bears | |
| | PD-150 | Casey Mize | Erie SeaWolves | |
| | PD-151 | Quinn Priester | GCL Pirates | |
| | PD-152 | Ryan Jensen | Eugene Emeralds | |
| | PD-153 | Hans Crouse | Hickory Crawdads | |
| | PD-154 | Oneil Cruz | Altoona Curve | |
| | PD-155 | DL Hall | Frederick Keys | |
| | PD-156 | Nick Madrigal | Charlotte Knights | |
| | PD-157 | Jared Triolo | West Virginia Black Bears | |
| | PD-158 | George Kirby | Everett AquaSox | |
| | PD-159 | Edward Cabrera | Jacksonville Jumbo Shrimp | |
| | PD-160 | Sam Huff | Down East Wood Ducks | |
| | PD-161 | Joey Bart | Richmond Flying Squirrels | |
| | PD-162 | Tyler Baum | Vermont Lake Monsters | |
| | PD-163 | Alex Kirilloff | Pensacola Blue Wahoos | |
| | PD-164 | Nolan Gorman | Palm Beach Cardinals | |
| | PD-165 | Sammy Siani | GCL Pirates | |
| | PD-166 | Austin Hansen | Fayetteville Woodpeckers | |
| | PD-167 | Jeter Downs | Tulsa Drillers | |
| | PD-168 | Sixto Sanchez | Jacksonville Jumbo Shrimp | |
| | PD-169 | George Valera | Lake County Captains | |
| | PD-170 | Kameron Misner | GCL Marlins | |
| | PD-171 | Gunnar Henderson | GCL Orioles | |
| | PD-172 | Nolan Jones | Akron RubberDucks | |
| | PD-173 | Drey Jameson | Hillsboro Hops | |
| | PD-174 | Braden Shewmake | Rome Braves | |
| | PD-175 | Antonio Cabello | Pulaski Yankees | |
| | PD-176 | Antoine Kelly | AZL Brewers | |
| | PD-177 | Brett Baty | GCL Mets | |
| | PD-178 | Cameron Cannon | GCL Red Sox | |
| | PD-179 | Marco Luciano | AZL Giants | |
| | PD-180 | Evan White | Arkansas Travelers | |
| | PD-181 | Alek Manoah | Vancouver Canadians | |
| | PD-182 | Kevin Smith | Binghamton Rumble Ponies | |
| | PD-183 | Bryan Mata | Portland Sea Dogs | |
| | PD-184 | Orelvis Martinez | GCL Blue Jays | |
| | PD-185 | JJ Bleday | Jupiter Hammerheads | |
| | PD-186 | Adam Hall | Delmarva Shorebirds | |
| | PD-187 | Luis Campusano | Lake Elsinore Storm | |
| | PD-188 | Oscar Gonzalez | Akron RubberDucks | |
| | PD-189 | Keibert Ruiz | Oklahoma City Dodgers | |
| | PD-190 | Trevor Larnach | Pensacola Blue Wahoos | |
| | PD-191 | Jarred Kelenic | Arkansas Travelers | |
| | PD-192 | CJ Abrams | AZL Padres | |
| | PD-193 | Tarik Skubal | Erie SeaWolves | |
| | PD-194 | Jackson Kowar | Northwest Arkansas Naturals | |
| | PD-195 | Royce Lewis | Pensacola Blue Wahoos | |
| | PD-196 | Kristian Robinson | Kane County Cougars | |
| | PD-197 | Beau Philip | Danville Braves | |
| | PD-198 | Ruben Cardenas | Bowling Green Hot Rods | |
| | PD-199 | Vidal Brujan | Montgomery Biscuits | |
| | PD-200 | Brayan Rocchio | Mahoning Valley Scrappers | |
| | PDC-1 | Wander Franco | Charlotte Stone Crabs | |
| | PDC-2 | Deivi Garcia | Scranton/Wilkes-Barre RailRiders | |
| | PDC-3 | Grae Kessinger | Tri-City ValleyCats | |
| | PDC-4 | Julio Pablo Martinez | Down East Wood Ducks | |
| | PDC-5 | Kyle Stowers | Aberdeen IronBirds | |
| | PDC-6 | Elehuris Montero | Springfield Cardinals | |
| | PDC-7 | Blaze Alexander | Kane County Cougars | |
| | PDC-8 | Bobby Dalbec | Pawtucket Red Sox | |
| | PDC-9 | Andy Pages | Ogden Raptors | |
| | PDC-10 | Josh Jung | AZL Rangers | |
| | PDC-11 | Grayson Rodriguez | Delmarva Shorebirds | |
| | PDC-12 | Jacob Amaya | Rancho Cucamonga Quakes | |
| | PDC-13 | Niko Hulsizer | Charlotte Stone Crabs | |
| | PDC-14 | Keoni Cavaco | GCL Twins | |
| | PDC-15 | Brock Deatherage | Lakeland Flying Tigers | |
| | PDC-16 | Ian Anderson | Gwinnett Stripers | |
| | PDC-17 | Isaac Paredes | Erie SeaWolves | |
| | PDC-18 | Logan Gilbert | West Virginia Power | |
| | PDC-19 | Jordan Groshans | Lansing Lugnuts | |
| | PDC-20 | Ulrich Bojarski | Lakeland Flying Tigers | |
| | PDC-21 | Daulton Varsho | Jackson Generals | |
| | PDC-22 | Ronaldo Hernandez | Charlotte Stone Crabs | |
| | PDC-23 | Ryan Garcia | AZL Rangers | |
| | PDC-24 | Brailyn Marquez | Myrtle Beach Pelicans | |
| | PDC-25 | Adley Rutschman | GCL Orioles | |
| | PDC-26 | Alek Thomas | Visalia Rawhide | |
| | PDC-27 | Diego Cartaya | AZL Dodgers | |
| | PDC-28 | Jasseel De La Cruz | Mississippi Braves | |
| | PDC-29 | Chase Strumpf | AZL Cubs | |
| | PDC-30 | Tyler Freeman | Lynchburg Hillcats | |
| | PDC-31 | Nasim Nunez | GCL Marlins | |
| | PDC-32 | Jarren Duran | Portland Sea Dogs | |
| | PDC-33 | Zack Thompson | GCL Cardinals | |
| | PDC-34 | Matt Manning | Erie SeaWolves | |
| | PDC-35 | Shane McClanahan | Montgomery Biscuits | |
| | PDC-36 | Logan Wyatt | AZL Giants | |
| | PDC-37 | Bryson Stott | GCL Phillies | |
| | PDC-38 | Michael Busch | AZL Dodgers | |
| | PDC-39 | Alec Marsh | Idaho Falls Chukars | |
| | PDC-40 | Ethan Small | AZL Brewers | |
| | PDC-41 | Aaron Shortridge | Bradenton Marauders | |
| | PDC-42 | Noah Song | Lowell Spinners | |
| | PDC-43 | Alex Speas | AZL Rangers | |
| | PDC-44 | Shane Baz | Bowling Green Hot Rods | |
| | PDC-45 | Gus Varland | Stockton Ports | |
| | PDC-46 | Alex Faedo | Erie SeaWolves | |
| | PDC-47 | Tim Tebow | Syracuse Mets | |
| | PDC-48 | Aaron Ashby | Carolina Mudcats | |
| | PDC-49 | Ryan Mountcastle | Norfolk Tides | |
| | PDC-50 | Bobby Witt Jr. | AZL Royals | |
| | PDC-51 | Rece Hinds | Greeneville Reds | |
| | PDC-52 | Spencer Howard | Reading Fightin Phils | |
| | PDC-53 | Grant Little | Fort Wayne TinCaps | |
| | PDC-54 | Drew Waters | Gwinnett Stripers | |
| | PDC-55 | Heliot Ramos | Richmond Flying Squirrels | |
| | PDC-56 | Lewin Diaz | Jacksonville Jumbo Shrimp | |
| | PDC-57 | Luis Patino | Amarillo Sod Poodles | |
| | PDC-58 | Nate Pearson | Buffalo Bisons | |
| | PDC-59 | Davis Wendzel | AZL Rangers | |
| | PDC-60 | Cristian Pache | Gwinnett Stripers | |
| | PDC-61 | Sherten Apostel | Down East Wood Ducks | |
| | PDC-62 | Brennen Davis | South Bend Cubs | |
| | PDC-63 | Glenallen Hill Jr. | AZL Diamondbacks | |
| | PDC-64 | Francisco Alvarez | GCL Mets | |
| | PDC-65 | Ke'Bryan Hayes | Indianapolis Indians | |
| | PDC-66 | Josh Wolf | GCL Mets | |
| | PDC-67 | Xavier Edwards | Lake Elsinore Storm | |
| | PDC-68 | Daniel Espino | AZL Indians | |
| | PDC-69 | Will Wilson | Orem Owlz | |
| | PDC-70 | Victor Mesa Jr. | GCL Marlins | |
| | PDC-71 | Taylor Trammell | Amarillo Sod Poodles | |
| | PDC-72 | Nick Lodolo | Billings Mustangs | |
| | PDC-73 | Seth Johnson | GCL Rays | |
| | PDC-74 | Nick Quintana | West Michigan Whitecaps | |
| | PDC-75 | Tommy Henry | Hillsboro Hops | |
| | PDC-76 | Grant Gambrell | Idaho Falls Chukars | |
| | PDC-77 | Josh Smith | Staten Island Yankees | |
| | PDC-78 | Ethan Lindow | Clearwater Threshers | |
| | PDC-79 | Ryne Nelson | Hillsboro Hops | |
| | PDC-80 | Ronny Mauricio | Columbia Fireflies | |
| | PDC-81 | Kendall Williams | GCL Blue Jays | |
| | PDC-82 | Chris Vallimont | Fort Myers Miracle | |
| | PDC-83 | Greg Jones | Hudson Valley Renegades | |
| | PDC-84 | Forrest Whitley | Round Rock Express | |
| | PDC-85 | Logan Driscoll | Tri-City Dust Devils | |
| | PDC-86 | Michael Toglia | Boise Hawks | |
| | PDC-87 | Wilfred Astudillo | Kingsport Mets | |
| | PDC-88 | Andres Gimenez | Binghamton Rumble Ponies | |
| | PDC-89 | Brennan Malone | AZL Diamondbacks | |
| | PDC-90 | Kyren Paris | AZL Angels | |
| | PDC-91 | Victor Victor Mesa | Jacksonville Jumbo Shrimp | |
| | PDC-92 | Matthew Thompson | AZL White Sox | |
| | PDC-93 | Jonathan India | Chattanooga Lookouts | |
| | PDC-94 | Canaan Smith | Charleston RiverDogs | |
| | PDC-95 | Jackson Rutledge | GCL Nationals | |
| | PDC-96 | Hunter Bishop | AZL Giants | |
| | PDC-97 | Josiah Gray | Tulsa Drillers | |
| | PDC-98 | Miguel Vargas | Rancho Cucamonga Quakes | |
| | PDC-99 | Triston McKenzie | Akron RubberDucks | |
| | PDC-100 | Jo Adell | Salt Lake Bees | |
| | PDC-101 | Aaron Schunk | Boise Hawks | |
| | PDC-102 | Anthony Volpe | Pulaski Yankees | |
| | PDC-103 | Blake Walston | AZL Diamondbacks | |
| | PDC-104 | Matthew Lugo | GCL Red Sox | |
| | PDC-105 | John Doxakis | Hudson Valley Renegades | |
| | PDC-106 | Damon Jones | Lehigh Valley IronPigs | |
| | PDC-107 | Hunter Greene | Dayton Dragons | |
| | PDC-108 | Riley Greene | GCL Tigers | |
| | PDC-109 | Dominic Fletcher | Kane County Cougars | |
| | PDC-110 | Logan Davidson | Vermont Lake Monsters | |
| | PDC-111 | Julio Rodriguez | West Virginia Power | |
| | PDC-112 | Alvaro Seijas | Palm Beach Cardinals | |
| | PDC-113 | Luis Garcia | Lakewood BlueClaws | |
| | PDC-114 | Matt Wallner | Elizabethton Twins | |
| | PDC-115 | Dylan File | Biloxi Shuckers | |
| | PDC-116 | Everson Pereira | Staten Island Yankees | |
| | PDC-117 | Kody Hoese | AZL Dodgers | |
| | PDC-118 | Joe Ryan | Montgomery Biscuits | |
| | PDC-119 | MacKenzie Gore | Amarillo Sod Poodles | |
| | PDC-120 | Yusniel Diaz | Bowie Baysox | |
| | PDC-121 | Kyle Muller | Mississippi Braves | |
| | PDC-122 | Gabriel Cancel | Northwest Arkansas Naturals | |
| | PDC-123 | Brandon Williamson | Everett AquaSox | |
| | PDC-124 | Andrew Vaughn | AZL White Sox | |
| | PDC-125 | Alec Bohm | Reading Fightin Phils | |
| | PDC-126 | JJ Goss | GCL Rays | |
| | PDC-127 | Gabriel Moreno | Lansing Lugnuts | |
| | PDC-128 | Max Lazar | Wisconsin Timber Rattlers | |
| | PDC-129 | Jesus Sanchez | New Orleans Baby Cakes | |
| | PDC-130 | Jake Sanford | Staten Island Yankees | |
| | PDC-131 | Brady McConnell | AZL Royals | |
| | PDC-132 | Briam Campusano | St. Lucie Mets | |
| | PDC-133 | Luis Matos | AZL Giants | |
| | PDC-134 | Matt Canterino | GCL Twins | |
| | PDC-135 | Shea Langeliers | Rome Braves | |
| | PDC-136 | Triston Casas | Salem Red Sox | |
| | PDC-137 | Hector Figueroa | Bowling Green Hot Rods | |
| | PDC-138 | Jordan Balazovic | Fort Myers Miracle | |
| | PDC-139 | Joshua Mears | AZL Padres | |
| | PDC-140 | Freudis Nova | Quad Cities River Bandits | |
| | PDC-141 | Corbin Carroll | AZL Diamondbacks | |
| | PDC-142 | Dylan Carlson | Memphis Redbirds | |
| | PDC-143 | Joey Cantillo | Lake Elsinore Storm | |
| | PDC-144 | Jerar Encarnacion | Jupiter Hammerheads | |
| | PDC-145 | T.J. Sikkema | Staten Island Yankees | |
| | PDC-146 | Jeremy Pena | Fayetteville Woodpeckers | |
| | PDC-147 | Brady Singer | Wilmington Blue Rocks | |
| | PDC-148 | Daniel Lynch | Wilmington Blue Rocks | |
| | PDC-149 | Matt Gorski | West Virginia Black Bears | |
| | PDC-150 | Casey Mize | Erie SeaWolves | |
| | PDC-151 | Quinn Priester | GCL Pirates | |
| | PDC-152 | Ryan Jensen | Eugene Emeralds | |
| | PDC-153 | Hans Crouse | Hickory Crawdads | |
| | PDC-154 | Oneil Cruz | Altoona Curve | |
| | PDC-155 | DL Hall | Frederick Keys | |
| | PDC-156 | Nick Madrigal | Charlotte Knights | |
| | PDC-157 | Jared Triolo | West Virginia Black Bears | |
| | PDC-158 | George Kirby | Everett AquaSox | |
| | PDC-159 | Edward Cabrera | Jacksonville Jumbo Shrimp | |
| | PDC-160 | Sam Huff | Down East Wood Ducks | |
| | PDC-161 | Joey Bart | Richmond Flying Squirrels | |
| | PDC-162 | Tyler Baum | Vermont Lake Monsters | |
| | PDC-163 | Alex Kirilloff | Pensacola Blue Wahoos | |
| | PDC-164 | Nolan Gorman | Palm Beach Cardinals | |
| | PDC-165 | Sammy Siani | GCL Pirates | |
| | PDC-166 | Austin Hansen | Fayetteville Woodpeckers | |
| | PDC-167 | Jeter Downs | Tulsa Drillers | |
| | PDC-168 | Sixto Sanchez | Jacksonville Jumbo Shrimp | |
| | PDC-169 | George Valera | Lake County Captains | |
| | PDC-170 | Kameron Misner | GCL Marlins | |
| | PDC-171 | Gunnar Henderson | GCL Orioles | |
| | PDC-172 | Nolan Jones | Akron RubberDucks | |
| | PDC-173 | Drey Jameson | Hillsboro Hops | |
| | PDC-174 | Braden Shewmake | Rome Braves | |
| | PDC-175 | Antonio Cabello | Pulaski Yankees | |
| | PDC-176 | Antoine Kelly | AZL Brewers | |
| | PDC-177 | Brett Baty | GCL Mets | |
| | PDC-178 | Cameron Cannon | GCL Red Sox | |
| | PDC-179 | Marco Luciano | AZL Giants | |
| | PDC-180 | Evan White | Arkansas Travelers | |
| | PDC-181 | Alek Manoah | Vancouver Canadians | |
| | PDC-182 | Kevin Smith | Binghamton Rumble Ponies | |
| | PDC-183 | Bryan Mata | Portland Sea Dogs | |
| | PDC-184 | Orelvis Martinez | GCL Blue Jays | |
| | PDC-185 | JJ Bleday | Jupiter Hammerheads | |
| | PDC-186 | Adam Hall | Delmarva Shorebirds | |
| | PDC-187 | Luis Campusano | Lake Elsinore Storm | |
| | PDC-188 | Oscar Gonzalez | Akron RubberDucks | |
| | PDC-189 | Keibert Ruiz | Oklahoma City Dodgers | |
| | PDC-190 | Trevor Larnach | Pensacola Blue Wahoos | |
| | PDC-191 | Jarred Kelenic | Arkansas Travelers | |
| | PDC-192 | CJ Abrams | AZL Padres | |
| | PDC-193 | Tarik Skubal | Erie SeaWolves | |
| | PDC-194 | Jackson Kowar | Northwest Arkansas Naturals | |
| | PDC-195 | Royce Lewis | Pensacola Blue Wahoos | |
| | PDC-196 | Kristian Robinson | Kane County Cougars | |
| | PDC-197 | Beau Philip | Danville Braves | |
| | PDC-198 | Ruben Cardenas | Bowling Green Hot Rods | |
| | PDC-199 | Vidal Brujan | Montgomery Biscuits | |
| | PDC-200 | Brayan Rocchio | Mahoning Valley Scrappers | |
| | PD-1 | Wander Franco | Charlotte Stone Crabs | Image |
| | PD-25 | Adley Rutschman | GCL Orioles | Image |
| | PD-50 | Bobby Witt Jr. | AZL Royals | Image |
| | PD-58 | Nate Pearson | Buffalo Bisons | Image |
| | PD-91 | Victor Victor Mesa | Jacksonville Jumbo Shrimp | Image |
| | PD-100 | Jo Adell | Salt Lake Bees | Image |
| | PD-108 | Riley Greene | GCL Tigers | Image |
| | PD-124 | Andrew Vaughn | AZL White Sox | Image |
| | PD-150 | Casey Mize | Erie SeaWolves | Image |
| | PD-161 | Joey Bart | Richmond Flying Squirrels | Image |
| | PD-185 | JJ Bleday | Jupiter Hammerheads | Image |
| | PD-191 | Jarred Kelenic | Arkansas Travelers | Image |
| | PD-192 | CJ Abrams | AZL Padres | Image |
| | PD-193 | Tarik Skubal | Erie SeaWolves | Image |
| | PD-195 | Royce Lewis | Pensacola Blue Wahoos | Image |
| | RFF-AB | Alec Bohm | Reading Fightin Phils | |
| | RFF-AK | Alex Kirilloff | Pensacola Blue Wahoos | |
| | RFF-BD | Bobby Dalbec | Pawtucket Red Sox | |
| | RFF-CM | Casey Mize | Erie SeaWolves | |
| | RFF-CP | Cristian Pache | Gwinnett Stripers | |
| | RFF-DC | Dylan Carlson | Memphis Redbirds | |
| | RFF-EW | Evan White | Arkansas Travelers | |
| | RFF-FW | Forrest Whitley | Round Rock Express | |
| | RFF-IA | Ian Anderson | Gwinnett Stripers | |
| | RFF-JA | Jo Adell | Salt Lake Bees | |
| | RFF-JI | Jonathan India | Chattanooga Lookouts | |
| | RFF-JS | Jesus Sanchez | New Orleans Baby Cakes | |
| | RFF-KH | Ke'Bryan Hayes | Indianapolis Indians | |
| | RFF-LG | Logan Gilbert | West Virginia Power | |
| | RFF-MG | MacKenzie Gore | Amarillo Sod Poodles | |
| | RFF-MM | Matt Manning | Erie SeaWolves | |
| | RFF-NJ | Nolan Jones | Akron RubberDucks | |
| | RFF-NM | Nick Madrigal | Charlotte Knights | |
| | RFF-NP | Nate Pearson | Buffalo Bisons | |
| | RFF-RH | Ronaldo Hernandez | Charlotte Stone Crabs | |
| | RFF-RL | Royce Lewis | Pensacola Blue Wahoos | |
| | RFF-RM | Ryan Mountcastle | Norfolk Tides | |
| | RFF-SS | Sixto Sanchez | Jacksonville Jumbo Shrimp | |
| | RFF-TF | Tyler Freeman | Lynchburg Hillcats | |
| | RFF-YD | Yusniel Diaz | Bowie Baysox | |
| | CO-DJ | Daniel Johnson | Veleros de Columbus | |
| | CO-FG | Foster Griffin | Cazadores de Tormentas | |
| | CO-JG | Jose Gomez | Peleadores de Reading | |
| | CO-LR | Luis Robert | Caballeros de Charlotte | |
| | CO-LV | Luis Vazquez | Los Demonios de Des Moines | |
| | CO-SM | Seth Martinez | Matamoscas de Midessa | |
| | CO-ZR | Zach Reks | Cielo Azul de Oklahoma City | |
| | TMP-AK | Alex Kirilloff | Pensacola Blue Wahoos | |
| | TMP-AR | Adley Rutschman | GCL Orioles | |
| | TMP-AV | Andrew Vaughn | AZL White Sox | |
| | TMP-DC | Dylan Carlson | Memphis Redbirds | |
| | TMP-EW | Evan White | Arkansas Travelers | |
| | TMP-JB | Joey Bart | Richmond Flying Squirrels | |
| | TMP-JK | Jarred Kelenic | Arkansas Travelers | |
| | TMP-JR | Julio Rodriguez | West Virginia Power | |
| | TMP-NG | Nolan Gorman | Palm Beach Cardinals | |
| | TMP-SH | Sam Huff | Down East Wood Ducks | |
| | PD-CN | Caleb Neilson | Rocket City Trash Pandas | |
| | RFF-AB | Alec Bohm | Reading Fightin Phils | Auto |
| | RFF-BD | Bobby Dalbec | Pawtucket Red Sox | Auto |
| | RFF-CM | Casey Mize | Erie SeaWolves | Auto |
| | RFF-EW | Evan White | Arkansas Travelers | Auto |
| | RFF-JA | Jo Adell | Salt Lake Bees | Auto |
| | RFF-MG | MacKenzie Gore | Amarillo Sod Poodles | Auto |
| | RFF-MM | Matt Manning | Erie SeaWolves | Auto |
| | RFF-NM | Nick Madrigal | Charlotte Knights | Auto |
| | RFF-RH | Ronaldo Hernandez | Charlotte Stone Crabs | Auto |
| | RFF-RL | Royce Lewis | Pensacola Blue Wahoos | Auto |
| | RFF-RM | Ryan Mountcastle | Norfolk Tides | Auto |
| | RFF-TF | Tyler Freeman | Lynchburg Hillcats | Auto |
| | TMP-AR | Adley Rutschman | GCL Orioles | Auto |
| | TMP-AV | Andrew Vaughn | AZL White Sox | Auto |
| | TMP-EW | Evan White | Arkansas Travelers | Auto |
| | TMP-JB | Joey Bart | Richmond Flying Squirrels | Auto |
| | TMP-JK | Jarred Kelenic | Arkansas Travelers | Auto |
| | TMP-JR | Julio Rodriguez | West Virginia Power | Auto |
| | TMP-SH | Sam Huff | Down East Wood Ducks | Auto |
| | PD-1 | Wander Franco | Charlotte Stone Crabs | Auto |
| | PD-2 | Deivi Garcia | Scranton/Wilkes-Barre RailRiders | Auto |
| | PD-4 | Julio Pablo Martinez | Down East Wood Ducks | Auto |
| | PD-6 | Elehuris Montero | Springfield Cardinals | Auto |
| | PD-7 | Blaze Alexander | Kane County Cougars | Auto |
| | PD-12 | Jacob Amaya | Rancho Cucamonga Quakes | Auto |
| | PD-13 | Niko Hulsizer | Charlotte Stone Crabs | Auto |
| | PD-14 | Keoni Cavaco | GCL Twins | Auto |
| | PD-15 | Brock Deatherage | Lakeland Flying Tigers | Auto |
| | PD-20 | Ulrich Bojarski | Lakeland Flying Tigers | Auto |
| | PD-24 | Brailyn Marquez | Myrtle Beach Pelicans | Auto |
| | PD-25 | Adley Rutschman | GCL Orioles | Auto |
| | PD-27 | Diego Cartaya | AZL Dodgers | Auto |
| | PD-31 | Nasim Nunez | GCL Marlins | Auto |
| | PD-32 | Jarren Duran | Portland Sea Dogs | Auto |
| | PD-36 | Logan Wyatt | AZL Giants | Auto |
| | PD-39 | Alec Marsh | Idaho Falls Chukars | Auto |
| | PD-41 | Aaron Shortridge | Bradenton Marauders | Auto |
| | PD-45 | Gus Varland | Stockton Ports | Auto |
| | PD-46 | Alex Faedo | Erie SeaWolves | Auto |
| | PD-49 | Ryan Mountcastle | Norfolk Tides | Auto |
| | PD-50 | Bobby Witt Jr. | AZL Royals | Auto |
| | PD-51 | Rece Hinds | Greeneville Reds | Auto |
| | PD-57 | Luis Patino | Amarillo Sod Poodles | Auto |
| | PD-61 | Sherten Apostel | Down East Wood Ducks | Auto |
| | PD-63 | Glenallen Hill Jr. | AZL Diamondbacks | Auto |
| | PD-66 | Josh Wolf | GCL Mets | Auto |
| | PD-68 | Daniel Espino | AZL Indians | Auto |
| | PD-70 | Victor Mesa Jr. | GCL Marlins | Auto |
| | PD-72 | Nick Lodolo | Billings Mustangs | Auto |
| | PD-73 | Seth Johnson | GCL Rays | Auto |
| | PD-74 | Nick Quintana | West Michigan Whitecaps | Auto |
| | PD-75 | Tommy Henry | Hillsboro Hops | Auto |
| | PD-76 | Grant Gambrell | Idaho Falls Chukars | Auto |
| | PD-77 | Josh Smith | Staten Island Yankees | Auto |
| | PD-79 | Ryne Nelson | Hillsboro Hops | Auto |
| | PD-80 | Ronny Mauricio | Columbia Fireflies | Auto |
| | PD-81 | Kendall Williams | GCL Blue Jays | Auto |
| | PD-83 | Greg Jones | Hudson Valley Renegades | Auto |
| | PD-85 | Logan Driscoll | Tri-City Dust Devils | Auto |
| | PD-89 | Brennan Malone | AZL Diamondbacks | Auto |
| | PD-90 | Kyren Paris | AZL Angels | Auto |
| | PD-91 | Victor Victor Mesa | Jacksonville Jumbo Shrimp | Auto |
| | PD-92 | Matthew Thompson | AZL White Sox | Auto |
| | PD-94 | Canaan Smith | Charleston RiverDogs | Auto |
| | PD-95 | Jackson Rutledge | GCL Nationals | Auto |
| | PD-97 | Josiah Gray | Tulsa Drillers | Auto |
| | PD-100 | Jo Adell | Salt Lake Bees | Auto |
| | PD-101 | Aaron Schunk | Boise Hawks | Auto |
| | PD-102 | Anthony Volpe | Pulaski Yankees | Auto |
| | PD-104 | Matthew Lugo | GCL Red Sox | Auto |
| | PD-108 | Riley Greene | GCL Tigers | Auto |
| | PD-109 | Dominic Fletcher | Kane County Cougars | Auto |
| | PD-114 | Matt Wallner | Elizabethton Twins | Auto |
| | PD-116 | Everson Pereira | Staten Island Yankees | Auto |
| | PD-117 | Kody Hoese | AZL Dodgers | Auto |
| | PD-118 | Joe Ryan | Montgomery Biscuits | Auto |
| | PD-122 | Gabriel Cancel | Northwest Arkansas Naturals | Auto |
| | PD-123 | Brandon Williamson | Everett AquaSox | Auto |
| | PD-124 | Andrew Vaughn | AZL White Sox | Auto |
| | PD-125 | Alec Bohm | Reading Fightin Phils | Auto |
| | PD-126 | JJ Goss | GCL Rays | Auto |
| | PD-130 | Jake Sanford | Staten Island Yankees | Auto |
| | PD-132 | Briam Campusano | St. Lucie Mets | Auto |
| | PD-134 | Matt Canterino | GCL Twins | Auto |
| | PD-138 | Jordan Balazovic | Fort Myers Miracle | Auto |
| | PD-139 | Joshua Mears | AZL Padres | Auto |
| | PD-140 | Freudis Nova | Quad Cities River Bandits | Auto |
| | PD-143 | Joey Cantillo | Lake Elsinore Storm | Auto |
| | PD-145 | T.J. Sikkema | Staten Island Yankees | Auto |
| | PD-149 | Matt Gorski | West Virginia Black Bears | Auto |
| | PD-150 | Casey Mize | Erie SeaWolves | Auto |
| | PD-157 | Jared Triolo | West Virginia Black Bears | Auto |
| | PD-158 | George Kirby | Everett AquaSox | Auto |
| | PD-160 | Sam Huff | Down East Wood Ducks | Auto |
| | PD-161 | Joey Bart | Richmond Flying Squirrels | Auto |
| | PD-170 | Kameron Misner | GCL Marlins | Auto |
| | PD-171 | Gunnar Henderson | GCL Orioles | Auto |
| | PD-173 | Drey Jameson | Hillsboro Hops | Auto |
| | PD-177 | Brett Baty | GCL Mets | Auto |
| | PD-178 | Cameron Cannon | GCL Red Sox | Auto |
| | PD-179 | Marco Luciano | AZL Giants | Auto |
| | PD-184 | Orelivs Martinez | GCL Blue Jays | Auto |
| | PD-185 | JJ Bleday | Jupiter Hammerheads | Auto |
| | PD-186 | Adam Hall | Delmarva Shorebirds | Auto |
| | PD-189 | Keibert Ruiz | Oklahoma City Dodgers | Auto |
| | PD-190 | Trevor Larnach | Pensacola Blue Wahoos | Auto |
| | PD-191 | Jarred Kelenic | Arkansas Travelers | Auto |
| | PD-192 | CJ Abrams | AZL Padres | Auto |
| | PD-193 | Tarik Skubal | Erie SeaWolves | Auto |
| | PD-196 | Kristian Robinson | Kane County Cougars | Auto |
| | PD-197 | Beau Philip | Danville Braves | Auto |
| | PD-200 | Bryayan Rocchio | Mahoning Valley Scrappers | Auto |
| | FCA-AR | Adley Rutschman | GCL Orioles | |
| | FCA-AV | Andrew Vaughn | AZL White Sox | |
| | FCA-BD | Bobby Dalbec | Pawtucket Red Sox | |
| | FCA-BWJ | Bobby Witt Jr. | AZL Royals | |
| | FCA-CJA | CJ Abrams | AZL Padres | |
| | FCA-CM | Casey Mize | Erie SeaWolves | |
| | FCA-GR | Grayson Rodriguez | Delmarva Shorebirds | |
| | FCA-HG | Hunter Greene | Dayton Dragons | |
| | FCA-JA | Jo Adell | Salt Lake Bees | |
| | FCA-JB | Joey Bart | Richmond Flying Squirrels | |
| | FCA-JG | Jordan Groshans | Lansing Lugnuts | |
| | FCA-JK | Jarred Kelenic | Arkansas Travelers | |
| | FCA-JR | Julio Rodriguez | West Virginia Power | |
| | FCA-LG | Logan Gilbert | West Virginia Power | |
| | FCA-MG | MacKenzie Gore | Amarillo Sod Poodles | |
| | FCA-ML | Matthew Liberatore | Bowling Green Hot Rods | |
| | FCA-MM | Matt Manning | Erie SeaWolves | |
| | FCA-RG | Riley Greene | GCL Tigers | |
| | FCA-RL | Royce Lewis | Pensacola Blue Wahoos | |
| | FCA-SH | Spencer Howard | Reading Fightin Phils | |
| | FCA-SS | Sixto Sanchez | Jacksonville Jumbo Shrimp | |
| | FCA-TS | Tarik Skubal | Erie SeaWolves | |
| | FCA-WF | Wander Franco | Charlotte Stone Crabs | |
| | FF-BW | Nate Pearson | Buffalo Bisons | |
| | FF-FDF | Briam Campusano | St. Lucie Mets | |
| | FF-FF | Max Lazar | Wisconsin Timber Rattlers | |
| | FF-FL | Brice Turang | Wisconsin Timber Rattlers | |
| | FF-JB | Joey Bart | Richmond Flying Squirrels | |
| | FF-LJ | Kyle Stowers | Aberdeen IronBirds | |
| | FF-MFN | Carlos Cortes | St. Lucie Mets | |
| | FF-MNJ | Luis Garcia | Lakewood BlueClaws | |
| | FF-MS | Bryson Stott | Williamsport Crosscutters | |
| | FF-OD | Bobby Dalbec | Pawtucket Red Sox | |
| | FF-ODC | Luis Garcia | Harrisburg Senators | |
| | FF-ON | CJ Abrams | Fort Wayne TinCaps | |
| | FF-PT | Gray Fenter | Delmarva Shorebirds | |
| | FF-RM | Ronny Mauricio | Columbia Fireflies | |
| | FF-SWN | Nick Gordon | Rochester Red Wings | |
| | FF-TS | Adam Hall | Delmarva Shorebirds | |
| | DD-AM | Alek Manoah | Vancouver Canadians | |
| | DD-AR | Adley Rutschman | GCL Orioles | |
| | DD-AV | Anthony Volpe | Pulaski Yankees | |
| | DD-AVA | Andrew Vaughn | AZL White Sox | |
| | DD-BB | Brett Baty | GCL Mets | |
| | DD-BS | Bryson Stott | GCL Phillies | |
| | DD-BSH | Braden Shewmake | Rome Braves | |
| | DD-BW | Blake Walston | AZL Diamondbacks | |
| | DD-BWJ | Bobby Witt Jr. | AZL Royals | |
| | DD-CC | Corbin Carroll | AZL Diamondbacks | |
| | DD-CJA | CJ Abrams | AZL Padres | |
| | DD-DE | Daniel Espino | AZL Indians | |
| | DD-ES | Ethan Small | AZL Brewers | |
| | DD-GJ | Greg Jones | Hudson Valley Renegades | |
| | DD-GK | George Kirby | Everett AquaSox | |
| | DD-HB | Hunter Bishop | AZL Giants | |
| | DD-JJ | Josh Jung | AZL Rangers | |
| | DD-JJB | JJ Bleday | Jupiter Hammerheads | |
| | DD-JR | Jackson Rutledge | GCL Nationals | |
| | DD-KC | Keoni Cavaco | GCL Twins | |
| | DD-KH | Kody Hoese | AZL Dodgers | |
| | DD-LD | Logan Davidson | Vermont Lake Monsters | |
| | DD-MT | Michael Toglia | Boise Hawks | |
| | DD-NL | Nick Lodolo | Billings Mustangs | |
| | DD-QP | Quinn Priester | GCL Pirates | |
| | DD-RG | Riley Greene | GCL Tigers | |
| | DD-RJ | Ryan Jensen | Eugene Emeralds | |
| | DD-SL | Shea Langeliers | Rome Braves | |
| | DD-WW | Will Wilson | Orem Owlz | |
| | DD-ZT | Zack Thompson | GCL Cardinals | |
| | COR-AT | Forrest Whitley | Corpus Christi Raspas | |
| | COR-DJ | Daniel Johnson | Veleros de Columbus | |
| | COR-FG | Foster Griffin | Cazadores de Tormentas | |
| | COR-JG | Jose Gomez | Peleadores de Reading | |
| | COR-LR | Luis Robert | Caballeros de Charlotte | |
| | COR-LV | Luis Vazquez | Los Demonios de Des Moines | |
| | COR-SM | Seth Martinez | Matamoscas de Midessa | |
| | COR-ZR | Zach Reks | Cielo Azul de Oklahoma City | |
| | JPR-AK | Alex Kirilloff | Pensacola Blue Wahoos | |
| | JPR-CM | Casey Mize | Erie SeaWolves | |
| | JPR-CP | Cristian Pache | Gwinnett Stripers | |
| | JPR-JB | Joey Bart | Richmond Flying Squirrels | |
| | JPR-KR | Keibert Ruiz | Oklahoma City Dodgers | |
| | JPR-LR | Luis Robert | Charlotte Knights | |
| | JPR-MG | MacKenzie Gore | Amarillo Sod Poodles | |
| | JPR-NG | Nolan Gorman | Palm Beach Cardinals | |
| | JPR-RL | Royce Lewis | Pensacola Blue Wahoos | |
| | JPR-WF | Wander Franco | Charlotte Stone Crabs | |
| | DD-AM | Alek Manoah | Vancouver Canadians | Auto |
| | DD-AR | Adley Rutschman | GCL Orioles | Auto |
| | DD-AV | Anthony Volpe | Pulaski Yankees | Auto |
| | DD-AVA | Andrew Vaughn | AZL White Sox | Auto |
| | DD-BB | Brett Baty | GCL Mets | Auto |
| | DD-BWJ | Bobby Witt Jr. | AZL Royals | Auto |
| | DD-CJA | CJ Abrams | AZL Padres | Auto |
| | DD-JJ | Josh Jung | AZL Rangers | Auto |
| | DD-JJB | JJ Bleday | Jupiter Hammerheads | Auto |
| | DD-JR | Jackson Rutledge | GCL Nationals | Auto |
| | DD-KC | Keoni Cavaco | GCL Twins | Auto |
| | DD-KH | Kody Hoese | AZL Dodgers | Auto |
| | DD-NL | Nick Lodolo | Billings Mustangs | Auto |
| | DD-RG | Riley Greene | GCL Tigers | Auto |
| | DD-SL | Shea Langeliers | Rome Braves | Auto |
| | JPR-CM | Casey Mize | Erie SeaWolves | Auto |
| | JPR-JB | Joey Bart | Richmond Flying Squirrels | Auto |
| | JPR-MG | MacKenzie Gore | Amarillo Sod Poodles | Auto |
| | JPR-RL | Royce Lewis | Pensacola Blue Wahoos | Auto |
| | JPR-WF | Wander Franco | Charlotte Stone Crabs | Auto |