2020 Topps Definitive Collection Baseball features new hard-signed cards and numerous memorabilia options.
Each of the hobby exclusive boxes offers six autographs or autographed relics, and two relic cards. And, every card is #/50 or less.
Additionally, there are several case hits including Framed Autograph Collection, Autograph Patch Book Collection, and the rare one-of-one Definitive Cut Signatures.
Our checklist includes all of the cards in the series and can be sorted or searched by many different parameters. Clicking a link within the checklist will direct you to an affiliate retailer or to relevant eBay listings for that card.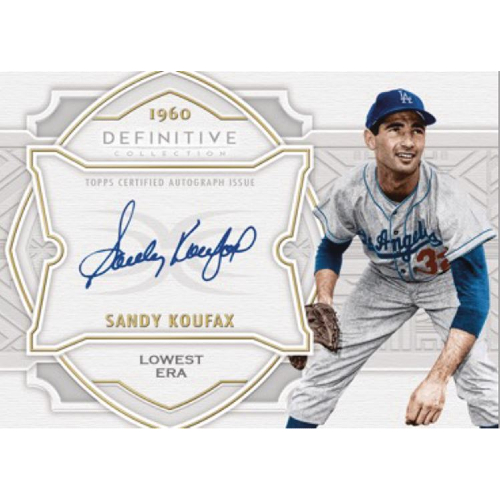 2020 Topps Definitive Collection Baseball Checklist
Base Autograph Relic Collection (ARC) – 48 Cards
Base – #/50 or less
Green – #/25
Purple – #/10
Team Logo Red – 1/1
MLB Logo Red – 1/1
Brand Logo Red – 1/1
Jersey Button Red – 1/1
Laundry Tag Red – 1/1
Autograph Patch Book Collection (DAPB) – 28 Cards
Base – #/5 or less
Red – 1/1
Defining Accolades Autograph Collection (DAAC) – 25 Cards
Base – #/10 or less
Purple – #/5
Red – 1/1
Defining the Decade Autograph Collection (DDAC) – 38 Cards
Base – #/10 or less
Purple – #/5
Red – 1/1
Definitive Autograph Collection (DCA) – 47 Cards
Base – #'d
Red – 1/1
Definitive Autographed Ultra Patch Collection (DAUP) – 10 Cards
Base – #'d
Definitive Autograph Relics (DARC) – 51 Cards
Base – #/40 or less
Green – #/10
Purple – #/5
Red – 1/1
Definitive Cut Signatures (DCS) – 43 Cards
Base – 1/1
Definitive Helmet Collection (DHC) – 10 Cards
Base – #/50 or less
Purple – #/5
MLB Logo Red – 1/1
Rawlings Authentic Tag Red – 1/1
Rawlings Logo Red – 1/1
MPH Red – 1/1
Definitive Nameplate Collection (NC) – 69 Subjects
Base – 1/1
Definitive Patch Collection (DPC) – 100 Cards
Base – 1/1
Definitive Rookie Autographs (DRA) – 37 Cards
Base – #/50
Green – #/25
Purple – #/10
Red – 1/1
Dual Autograph Collection (DAC) – 38 Cards
Base – #/35 or less
Green – #/10
Purple – #/5
Red – 1/1
Dual Autographed Relic Collection (DAR) – 25 Cards
Base – #/35 or less
Purple – #/10 or less
Red – 1/1
Framed Autograph Collection (DCFA) – 40 Cards
Base – #/30 or less
Purple – #/10
Red – 1/1
Framed Autograph Patch Collection (FAC) – 29 Cards
Base – #/30 or less
Purple – #/10
Red – 1/1
Jumbo Relic Collection (DJRC) – 53 Cards
Base – #/50
Blue – #/30
Green – #/15
Purple – #/5
Red – 1/1
Legendary Autograph Collection (LAC) – 41 Cards
Base – #/25 or less
Purple – #/5 or less
Red – 1/1
| | | | |
| --- | --- | --- | --- |
| ARC-MT | Mike Trout | | Auto |
| ARC-SO | Shohei Ohtani | | Auto |
| DAAC-MT | Mike Trout | | Auto |
| DAAC-SO | Shohei Ohtani | | Auto |
| DAC-AA | Mike Trout | | Auto |
| DAC-AA | Shohei Ohtani | | Auto |
| DAC-AT | Mike Trout | | Auto |
| DAC-GT | Mike Trout | | Auto |
| DAC-IO | Shohei Ohtani | | Auto |
| DAC-NR | Nolan Ryan | | Auto |
| DAC-NR | Rod Carew | | Auto |
| DAPB-MT | Mike Trout | | Auto Relic |
| DAR-GT | Mike Trout | | Auto Relic |
| DAR-TY | Mike Trout | | Auto Relic |
| DARC-RCA | Rod Carew | | Auto Relic |
| DAUPC-MT | Mike Trout | | Auto Relic |
| DCA-MT | Mike Trout | | Auto |
| DCA-SO | Shohei Ohtani | | Auto |
| DCFA-MT | Mike Trout | | Auto |
| DCFA-SO | Shohei Ohtani | | Auto |
| DDAC-MT | Mike Trout | | Auto |
| DDAC-MTR | Mike Trout | | Auto |
| DDAC-MTRO | Mike Trout | | Auto |
| DDAC-NRY | Nolan Ryan | | Auto |
| DJRC-MT | Mike Trout | | Relic |
| DPC-MT | Mike Trout | | Relic |
| DPC-SO | Shohei Ohtani | | Relic |
| FAC-MT | Mike Trout | | Auto Relic |
| FAC-SO | Shohei Ohtani | | Auto Relic |
| NC-MT | Mike Trout | | Relic |
| | | | |
| --- | --- | --- | --- |
| ARC-GC | Gerrit Cole | | Auto |
| ARC-GS | George Springer | | Auto |
| ARC-JA | Jose Altuve | | Auto |
| ARC-YA | Yordan Alvarez | RC | Auto |
| DAAC-JBA | Jeff Bagwell | | Auto |
| DAAC-YA | Yordan Alvarez | RC | Auto |
| DAC-BA | Jeff Bagwell | | Auto |
| DAC-BA | Jose Altuve | | Auto |
| DAC-JY | Jose Altuve | | Auto |
| DAC-JY | Yordan Alvarez | RC | Auto |
| DAC-RC | Gerrit Cole | | Auto |
| DAC-RC | Nolan Ryan | | Auto |
| DAPB-GSP | George Springer | | Auto Relic |
| DAPB-JA | Jose Altuve | | Auto Relic |
| DAR-AC | Gerrit Cole | | Auto Relic |
| DAR-AC | Jose Altuve | | Auto Relic |
| DAR-AS | George Springer | | Auto Relic |
| DAR-AS | Jose Altuve | | Auto Relic |
| DAR-JY | Yordan Alvarez | RC | Auto Relic |
| DAR-JY | Jose Altuve | | Auto Relic |
| DAR-SA | George Springer | | Auto Relic |
| DAR-SA | Yordan Alvarez | RC | Auto Relic |
| DARC-AN | Andy Pettitte | | Auto Relic |
| DARC-JBA | Jeff Bagwell | | Auto Relic |
| DARC-NR | Nolan Ryan | | Auto Relic |
| DCA-ABR | Yordan Alvarez | RC | Auto |
| DCA-JA | Jose Altuve | | Auto |
| DCA-NR | Nolan Ryan | | Auto |
| DCFA-JA | Jose Altuve | | Auto |
| DCFA-JB | Jeff Bagwell | | Auto |
| DCFA-NR | Nolan Ryan | | Auto |
| DCFA-YA | Yordan Alvarez | RC | Auto |
| DDAC-NR | Nolan Ryan | | Auto |
| DHC-GS | George Springer | | Relic |
| DJRC-AB | Alex Bregman | | Relic |
| DJRC-JA | Jose Altuve | | Relic |
| DJRC-YG | Yuli Gurriel | | Relic |
| DPC-AB | Alex Bregman | | Relic |
| DPC-CC | Carlos Correa | | Relic |
| DPC-GC | Gerrit Cole | | Relic |
| DPC-JA | Jose Altuve | | Relic |
| DPC-JVE | Justin Verlander | | Relic |
| DPC-YA | Yordan Alvarez | RC | Relic |
| DPC-YG | Yuli Gurriel | | Relic |
| DRA-YA | Yordan Alvarez | RC | Auto |
| DRA-YAL | Yordan Alvarez | RC | Auto |
| DRA-YOA | Yordan Alvarez | RC | Auto |
| FAC-GC | Gerrit Cole | | Auto Relic |
| FAC-GS | George Springer | | Auto Relic |
| FAC-JA | Jose Altuve | | Auto Relic |
| FAC-YA | Yordan Alvarez | RC | Auto Relic |
| LAC-JBA | Jeff Bagwell | | Auto |
| LAC-NR | Nolan Ryan | | Auto |
| NC-AB | Alex Bregman | | Relic |
| NC-JA | Jose Altuve | | Relic |
| NC-JV | Justin Verlander | | Relic |
| NC-YG | Yuli Gurriel | | Relic |
| | | | |
| --- | --- | --- | --- |
| DAAC-MM | Mark McGwire | | Auto |
| DAC-CE | Dennis Eckersley | | Auto |
| DAC-CE | Jose Canseco | | Auto |
| DAC-HM | Rickey Henderson | | Auto |
| DAC-HM | Mark McGwire | | Auto |
| DAC-MC | Mark McGwire | | Auto |
| DARC-JC | Jose Canseco | | Auto Relic |
| DARC-MM | Mark McGwire | | Auto Relic |
| DARC-RH | Rickey Henderson | | Auto Relic |
| DARC-RJAC | Reggie Jackson | | Auto Relic |
| DCA-DE | Dennis Eckersley | | Auto |
| DCA-MMC | Mark McGwire | | Auto |
| DCFA-MM | Mark McGwire | | Auto |
| DCFA-RH | Rickey Henderson | | Auto |
| DCS-EC | Eddie Collins | | Relic |
| DCS-JF | Jimmie Foxx | | Relic |
| DCS-JH | Jim "Catfish" Hunter | | Relic |
| DCS-LG | Lefty Grove | | Relic |
| DDAC-MMC | Mark McGwire | | Auto |
| DDAC-RF | Rollie Fingers | | Auto |
| DDAC-RH | Rickey Henderson | | Auto |
| DDAC-RHE | Rickey Henderson | | Auto |
| DJRC-KD | Khris Davis | | Relic |
| DJRC-MS | Marcus Semien | | Relic |
| DJRC-SP | Stephen Piscotty | | Relic |
| DPC-KD | Khris Davis | | Relic |
| DPC-MSE | Marcus Semien | | Relic |
| DPC-SP | Stephen Piscotty | | Relic |
| DRA-AP | A.J. Puk | RC | Auto |
| DRA-APU | A.J. Puk | RC | Auto |
| DRA-JL | Jesus Luzardo | RC | Auto |
| DRA-JLU | Jesus Luzardo | RC | Auto |
| DRA-LUZ | Jesus Luzardo | RC | Auto |
| DRA-SM | Sean Murphy | RC | Auto |
| DRA-SMU | Sean Murphy | RC | Auto |
| LAC-DE | Dennis Eckersley | | Auto |
| LAC-MMC | Mark McGwire | | Auto |
| LAC-RJA | Reggie Jackson | | Auto |
| NC-KD | Khris Davis | | Relic |
| NC-MSE | Marcus Semien | | Relic |
| NC-SP | Stephen Piscotty | | Relic |
| | | | |
| --- | --- | --- | --- |
| ARC-BB | Bo Bichette | RC | Auto |
| ARC-VGJ | Vladimir Guerrero Jr. | | Auto |
| DAC-GB | Vladimir Guerrero Jr. | | Auto |
| DAC-GB | Bo Bichette | RC | Auto |
| DAC-VF | Vladimir Guerrero Jr. | | Auto |
| DAPB-BO | Bo Bichette | RC | Auto Relic |
| DAR-GB | Bo Bichette | RC | Auto Relic |
| DAR-GB | Vladimir Guerrero Jr. | | Auto Relic |
| DARC-RA | Roberto Alomar | | Auto Relic |
| DCA-BB | Bo Bichette | RC | Auto |
| DCA-RA | Roberto Alomar | | Auto |
| DCFA-BB | Bo Bichette | RC | Auto |
| DJRC-LGR | Lourdes Gurriel Jr. | | Relic |
| DPC-JD | Josh Donaldson | | Relic |
| DPC-LGR | Lourdes Gurriel Jr. | | Relic |
| DRA-BB | Bo Bichette | RC | Auto |
| DRA-BBI | Bo Bichette | RC | Auto |
| DRA-BOB | Bo Bichette | RC | Auto |
| FAC-BB | Bo Bichette | RC | Auto Relic |
| LAC-RCL | Roger Clemens | | Auto |
| NC-JD | Josh Donaldson | | Relic |
| NC-LGJ | Lourdes Gurriel Jr. | | Relic |
| | | | |
| --- | --- | --- | --- |
| ARC-DS | Dansby Swanson | | Auto |
| ARC-RA | Ronald Acuña Jr. | | Auto |
| DAAC-DMU | Dale Murphy | | Auto |
| DAAC-HA | Hank Aaron | | Auto |
| DAAC-RA | Ronald Acuña Jr. | | Auto |
| DAC-AG | Hank Aaron | | Auto |
| DAC-AS | Ronald Acuña Jr. | | Auto |
| DAC-AT | Hank Aaron | | Auto |
| DAC-MJ | Chipper Jones | | Auto |
| DAC-MJ | Dale Murphy | | Auto |
| DAPB-RA | Ronald Acuña Jr. | | Auto Relic |
| DAR-DR | Austin Riley | | Auto Relic |
| DAR-DR | Dansby Swanson | | Auto Relic |
| DARC-CJ | Chipper Jones | | Auto Relic |
| DARC-DMU | Dale Murphy | | Auto Relic |
| DARC-FM | Fred McGriff | | Auto Relic |
| DARC-HA | Hank Aaron | | Auto Relic |
| DARC-JS | John Smoltz | | Auto Relic |
| DAUPC-CJ | Chipper Jones | | Auto Relic |
| DAUPC-JS | John Smoltz | | Auto Relic |
| DCA-CJ | Chipper Jones | | Auto |
| DCA-DM | Dale Murphy | | Auto |
| DCA-HA | Hank Aaron | | Auto |
| DCA-JSM | John Smoltz | | Auto |
| DCA-RAJ | Ronald Acuña Jr. | | Auto |
| DCA-TG | Tom Glavine | | Auto |
| DCFA-CJ | Chipper Jones | | Auto |
| DCFA-HA | Hank Aaron | | Auto |
| DCFA-RAJ | Ronald Acuña Jr. | | Auto |
| DCS-EM | Eddie Mathews | | Relic |
| DCS-WS | Warren Spahn | | Relic |
| DDAC-HA | Hank Aaron | | Auto |
| DDAC-HAN | Hank Aaron | | Auto |
| DHC-FF | Freddie Freeman | | Relic |
| DHC-OA | Ozzie Albies | | Relic |
| DJRC-JT | Julio Teheran | | Relic |
| DPC-FF | Freddie Freeman | | Relic |
| DPC-JT | Julio Teheran | | Relic |
| DPC-OA | Ozzie Albies | | Relic |
| DPC-RAJ | Ronald Acuña Jr. | | Relic |
| FAC-RAJ | Ronald Acuña Jr. | | Auto Relic |
| LAC-CJ | Chipper Jones | | Auto |
| LAC-DM | Dale Murphy | | Auto |
| LAC-FM | Fred McGriff | | Auto |
| LAC-HA | Hank Aaron | | Auto |
| LAC-JS | John Smoltz | | Auto |
| LAC-TG | Tom Glavine | | Auto |
| NC-JT | Julio Teheran | | Relic |
| NC-OA | Ozzie Albies | | Relic |
| | | | |
| --- | --- | --- | --- |
| ARC-CY | Christian Yelich | | Auto |
| ARC-KH | Keston Hiura | | Auto |
| DAAC-CY | Christian Yelich | | Auto |
| DAAC-RY | Robin Yount | | Auto |
| DAC-YY | Robin Yount | | Auto |
| DAC-YY | Christian Yelich | | Auto |
| DAPB-CY | Christian Yelich | | Auto Relic |
| DAR-HY | Keston Hiura | | Auto Relic |
| DAR-HY | Christian Yelich | | Auto Relic |
| DAR-TY | Christian Yelich | | Auto Relic |
| DAR-YH | Robin Yount | | Auto Relic |
| DAR-YH | Keston Hiura | | Auto Relic |
| DARC-RY | Robin Yount | | Auto Relic |
| DAUPC-CY | Christian Yelich | | Auto Relic |
| DAUPC-KH | Keston Hiura | | Auto Relic |
| DCA-CKL | Christian Yelich | | Auto |
| DCFA-CY | Christian Yelich | | Auto |
| DDAC-RY | Robin Yount | | Auto |
| DDAC-RYO | Robin Yount | | Auto |
| DHC-KH | Keston Hiura | | Relic |
| DJRC-JH | Josh Hader | | Relic |
| DJRC-LC | Lorenzo Cain | | Relic |
| DJRC-RB | Ryan Braun | | Relic |
| DJRC-YGR | Yasmani Grandal | | Relic |
| DPC-CY | Christian Yelich | | Relic |
| DPC-KH | Keston Hiura | | Relic |
| DPC-RB | Ryan Braun | | Relic |
| DRA-TG | Trent Grisham | RC | Auto |
| DRA-TGR | Trent Grisham | RC | Auto |
| FAC-KH | Keston Hiura | | Auto Relic |
| LAC-RY | Robin Yount | | Auto |
| NC-CY | Christian Yelich | | Relic |
| NC-RB | Ryan Braun | | Relic |
| | | | |
| --- | --- | --- | --- |
| ARC-Pd | Paul deJong | | Auto |
| ARC-PG | Paul Goldschmidt | | Auto |
| DAAC-BG | Bob Gibson | | Auto |
| DAC-SG | Paul Goldschmidt | | Auto |
| DAC-SG | Ozzie Smith | | Auto |
| DAPB-PG | Paul Goldschmidt | | Auto Relic |
| DAR-DF | Jack Flaherty | | Auto Relic |
| DAR-DF | Paul DeJong | | Auto Relic |
| DARC-OS | Ozzie Smith | | Auto Relic |
| DAUP-PG | Paul Goldschmidt | | Auto Relic |
| DCA-OS | Ozzie Smith | | Auto |
| DCFA-OS | Ozzie Smith | | Auto |
| DCFA-PG | Paul Goldschmidt | | Auto |
| DCS-DDE | Dizzy Dean | | Relic |
| DCS-JM | Johnny Mize | | Relic |
| DCS-RH | Rogers Hornsby | | Relic |
| DCS-RS | Red Schoendienst | | Relic |
| DCS-SM | Stan Musial | | Relic |
| DDAC-BG | Bob Gibson | | Auto |
| DDAC-LB | Lou Brock | | Auto |
| DDAC-MM | Mark McGwire | | Auto |
| DJRC-KW | Kolten Wong | | Relic |
| DPC-KW | Kolten Wong | | Relic |
| DPC-PG | Paul Goldschmidt | | Relic |
| LAC-LB | Lou Brock | | Auto |
| LAC-OS | Ozzie Smith | | Auto |
| NC-KW | Kolten Wong | | Relic |
| | | | |
| --- | --- | --- | --- |
| ARC-AR | Anthony Rizzo | | Auto |
| ARC-KB | Kris Bryant | | Auto |
| ARC-WC | Willson Contreras | | Auto |
| DAAC-RS | Ryne Sandberg | | Auto |
| DAC-BR | Anthony Rizzo | | Auto |
| DAC-BR | Kris Bryant | | Auto |
| DAC-SR | Ryne Sandberg | | Auto |
| DAC-SR | Anthony Rizzo | | Auto |
| DAPB-AR | Anthony Rizzo | | Auto Relic |
| DAPB-KB | Kris Bryant | | Auto Relic |
| DAPB-WC | Willson Contreras | | Auto Relic |
| DAR-BR | Kris Bryant | | Auto Relic |
| DAR-BR | Anthony Rizzo | | Auto Relic |
| DARC-RS | Ryne Sandberg | | Auto Relic |
| DCA-AR | Anthony Rizzo | | Auto |
| DCA-RS | Ryne Sandberg | | Auto |
| DCFA-RS | Ryne Sandberg | | Auto |
| DCS-EB | Ernie Banks | | Relic |
| DCS-RSA | Ron Santo | | Relic |
| DDAC-MG | Mark Grace | | Auto |
| DHC-AR | Anthony Rizzo | | Relic |
| DPC-ARI | Anthony Rizzo | | Relic |
| DPC-JBA | Javier Baez | | Relic |
| DPC-JH | Jason Heyward | | Relic |
| DPC-KB | Kris Bryant | | Relic |
| DPC-WC | Willson Contreras | | Relic |
| DRA-NH | Nico Hoerner | RC | Auto |
| DRA-NHO | Nico Hoerner | RC | Auto |
| DRA-NHR | Nico Hoerner | RC | Auto |
| FAC-KB | Kris Bryant | | Auto Relic |
| FAC-WC | Willson Contreras | | Auto Relic |
| LAC-AD | Andre Dawson | | Auto |
| LAC-RS | Ryne Sandberg | | Auto |
| NC-JH | Jason Heyward | | Relic |
| NC-WC | Willson Contreras | | Relic |
| | | | |
| --- | --- | --- | --- |
| DJRC-EE | Eduardo Escobar | | Relic |
| NC-EE | Eduardo Escobar | | Relic |
| NC-ZG | Zack Greinke | | Relic |
| | | | |
| --- | --- | --- | --- |
| ARC-CK | Clayton Kershaw | | Auto |
| ARC-WB | Walker Buehler | | Auto |
| DAC-ML | Gavin Lux | RC | Auto |
| DAC-ML | Max Muncy | | Auto |
| DAPB-CK | Clayton Kershaw | | Auto Relic |
| DAUPC-WB | Walker Buehler | | Auto Relic |
| DCA-CK | Clayton Kershaw | | Auto |
| DCA-SK | Sandy Koufax | | Auto |
| DCFA-CK | Clayton Kershaw | | Auto |
| DCFA-GL | Gavin Lux | RC | Auto |
| DCFA-SK | Sandy Koufax | | Auto |
| DCS-DD | Don Drysdale | | Relic |
| DCS-DS | Duke Snider | | Relic |
| DCS-GH | Gil Hodges | | Relic |
| DCS-JR | Jackie Robinson | | Relic |
| DCS-PRE | Pee Wee Reese | | Relic |
| DCS-RC | Roy Campanella | | Relic |
| DDAC-CK | Clayton Kershaw | | Auto |
| DDAC-SK | Sandy Koufax | | Auto |
| DJRC-JP | Joc Pederson | | Relic |
| DPC-CBE | Cody Bellinger | | Relic |
| DPC-CK | Clayton Kershaw | | Relic |
| DPC-JP | Joc Pederson | | Relic |
| DPC-WB | Walker Buehler | | Relic |
| DRA-DM | Dustin May | RC | Auto |
| DRA-DMA | Dustin May | RC | Auto |
| DRA-GL | Gavin Lux | RC | Auto |
| DRA-GLU | Gavin Lux | RC | Auto |
| DRA-GLUX | Gavin Lux | RC | Auto |
| FAC-WB | Walker Buehler | | Auto Relic |
| LAC- SK | Sandy Koufax | | Auto |
| NC-JP | Joc Pederson | | Relic |
| | | | |
| --- | --- | --- | --- |
| DARC-TR | Tim Raines | | Auto Relic |
| DARC-VG | Vladimir Guerrero | | Auto Relic |
| DCA-VG | Vladimir Guerrero | | Auto |
| | | | |
| --- | --- | --- | --- |
| ARC-BP | Buster Posey | | Auto |
| DAC-MC | Will Clark | | Auto |
| DAC-PC | Will Clark | | Auto |
| DAC-PC | Buster Posey | | Auto |
| DAPB-BP | Buster Posey | | Auto Relic |
| DARC-WC | Will Clark | | Auto Relic |
| DCA-WC | Will Clark | | Auto |
| DCFA-WC | Will Clark | | Auto |
| DCS-GK | George "High Pockets" Kelly | | Relic |
| DCS-MI | Monte Irvin | | Relic |
| DCS-MO | Mel Ott | | Relic |
| DCS-TJ | Travis Jackson | | Relic |
| DDAC-JM | Juan Marichal | | Auto |
| DJRC-BC | Brandon Crawford | | Relic |
| DJRC-EL | Evan Longoria | | Relic |
| DPC-BC | Brandon Crawford | | Relic |
| DPC-BP | Buster Posey | | Relic |
| DPC-EL | Evan Longoria | | Relic |
| FAC-BP | Buster Posey | | Auto Relic |
| LAC-JM | Juan Marichal | | Auto |
| LAC-WC | Will Clark | | Auto |
| NC-BC | Brandon Crawford | | Relic |
| NC-EL | Evan Longoria | | Relic |
| | | | |
| --- | --- | --- | --- |
| DAAC-CS | CC Sabathia | | Auto |
| DAC-AL | Roberto Alomar | | Auto |
| DAC-AL | Francisco Lindor | | Auto |
| DCA-FL | Francisco Lindor | | Auto |
| DCA-JT | Jim Thome | | Auto |
| DCFA-FL | Francisco Lindor | | Auto |
| DCS-BF | Bob Feller | | Relic |
| DCS-BLE | Bob Lemon | | Relic |
| DCS-LD | Larry Doby | | Relic |
| DCS-TS | Tris Speaker | | Relic |
| DHC-FL | Francisco Lindor | | Relic |
| DJRC-JR | Jose Ramirez | | Relic |
| DPC-JR | Jose Ramirez | | Relic |
| LAC-JT | Jim Thome | | Auto |
| LAC-RA | Roberto Alomar | | Auto |
| NC-JR | Jose Ramirez | | Relic |
| | | | |
| --- | --- | --- | --- |
| ARC-KG | Ken Griffey Jr. | | Auto |
| DAAC-ICH | Ichiro | | Auto |
| DAC-AG | Ken Griffey Jr. | | Auto |
| DAC-GT | Ken Griffey Jr. | | Auto |
| DAC-IM | Ichiro | | Auto |
| DAC-IO | Ichiro | | Auto |
| DAC-KF | Ken Griffey Jr. | | Auto |
| DAPB-KGJ | Ken Griffey Jr. | | Auto Relic |
| DAR-GT | Ken Griffey Jr. | | Auto Relic |
| DARC-ICHI | Ichiro | | Auto Relic |
| DARC-KGJ | Ken Griffey Jr. | | Auto Relic |
| DARC-RJ | Randy Johnson | | Auto Relic |
| DCA-ICH | Ichiro | | Auto |
| DCA-KGJ | Ken Griffey Jr. | | Auto |
| DCFA-ICH | Ichiro | | Auto |
| DCFA-KGJ | Ken Griffey Jr. | | Auto |
| DDAC-ICH | Ichiro | | Auto |
| DDAC-RJO | Randy Johnson | | Auto |
| DJRC-RC | Robinson Cano | | Relic |
| DPC-DV | Dan Vogelbach | | Relic |
| DPC-KGJ | Ken Griffey Jr. | | Relic |
| DPC-KS | Kyle Seager | | Relic |
| DPC-RC | Robinson Cano | | Relic |
| DPC-YK | Yusei Kikuchi | | Relic |
| DRA-KL | Kyle Lewis | RC | Auto |
| DRA-KLE | Kyle Lewis | RC | Auto |
| FAC-KGJ | Ken Griffey Jr. | | Auto Relic |
| LAC-ICH | Ichiro | | Auto |
| LAC-KGJ | Ken Griffey Jr. | | Auto |
| NC-DV | Dan Vogelbach | | Relic |
| NC-KG | Ken Griffey Jr. | | Relic |
| NC-KS | Kyle Seager | | Relic |
| NC-RC | Robinson Cano | | Relic |
| | | | |
| --- | --- | --- | --- |
| DPC-GST | Giancarlo Stanton | | Relic |
| DRA-JOY | Jordan Yamamoto | RC | Auto |
| DRA-JY | Jordan Yamamoto | RC | Auto |
| NC-GS | Giancarlo Stanton | | Relic |
| | | | |
| --- | --- | --- | --- |
| ARC-JD | Jacob deGrom | | Auto |
| ARC-PA | Pete Alonso | | Auto |
| DAAC-DS | Darryl Strawberry | | Auto |
| DAAC-JD | Jacob deGrom | | Auto |
| DAAC-PA | Pete Alonso | | Auto |
| DAC-DA | Jacob deGrom | | Auto |
| DAC-DA | Pete Alonso | | Auto |
| DAC-SA | Pete Alonso | | Auto |
| DAC-SA | Darryl Strawberry | | Auto |
| DAPB-JD | Jacob deGrom | | Auto Relic |
| DAR-DA | Pete Alonso | | Auto Relic |
| DAR-DA | Jacob deGrom | | Auto Relic |
| DAR-MD | Pedro Martinez | | Auto Relic |
| DAR-MD | Jacob deGrom | | Auto Relic |
| DARC-DS | Darryl Strawberry | | Auto Relic |
| DARC-TG | Tom Glavine | | Auto Relic |
| DCA-EJ | Pete Alonso | | Auto |
| DCA-JDE | Jacob deGrom | | Auto |
| DCFA-JD | Jacob deGrom | | Auto |
| DCFA-PA | Pete Alonso | | Auto |
| DJRC-AR | Amed Rosario | | Relic |
| DJRC-JM | Jeff McNeil | | Relic |
| DJRC-MCO | Michael Conforto | | Relic |
| DPC-AR | Amed Rosario | | Relic |
| DPC-BCO | Bartolo Colon | | Relic |
| DPC-JDE | Jacob deGrom | | Relic |
| DPC-MC | Michael Conforto | | Relic |
| DPC-NS | Noah Syndergaard | | Relic |
| DPC-PA | Pete Alonso | | Relic |
| DPC-PM | Pedro Martinez | | Relic |
| DPC-ZW | Zack Wheeler | | Relic |
| FAC-TG | Tom Glavine | | Auto Relic |
| LAC-DST | Darryl Strawberry | | Auto |
| NC-AR | Amed Rosario | | Relic |
| NC-JDE | Jacob deGrom | | Relic |
| NC-MCO | Michael Conforto | | Relic |
| NC-NS | Noah Syndergaard | | Relic |
| NC-PM | Pedro Martinez | | Relic |
| | | | |
| --- | --- | --- | --- |
| ARC-CKI | Carter Kieboom | | Auto |
| ARC-JS | Juan Soto | | Auto |
| ARC-PC | Patrick Corbin | | Auto |
| DAC-AS | Juan Soto | | Auto |
| DAPB-ABE | Juan Soto | | Auto Relic |
| DCA-JS | Juan Soto | | Auto |
| DCFA-JS | Juan Soto | | Auto |
| DHC-JS | Juan Soto | | Relic |
| DJRC-AE | Adam Eaton | | Relic |
| DJRC-RZ | Ryan Zimmerman | | Relic |
| DJRC-SS | Stephen Strasburg | | Relic |
| DJRC-TT | Trea Turner | | Relic |
| DPC-AE | Adam Eaton | | Relic |
| DPC-ARE | Anthony Rendon | | Relic |
| DPC-JS | Juan Soto | | Relic |
| DPC-MSC | Max Scherzer | | Relic |
| DPC-PC | Patrick Corbin | | Relic |
| DPC-RZ | Ryan Zimmerman | | Relic |
| DPC-SS | Stephen Strasburg | | Relic |
| DPC-TT | Trea Turner | | Relic |
| FAC-JS | Juan Soto | | Auto Relic |
| NC-AE | Adam Eaton | | Relic |
| NC-MSC | Max Scherzer | | Relic |
| NC-RZ | Ryan Zimmerman | | Relic |
| NC-SS | Stephen Strasburg | | Relic |
| NC-TT | Trea Turner | | Relic |
| | | | |
| --- | --- | --- | --- |
| DAAC-CR | Cal Ripken Jr. | | Auto |
| DARC-CR | Cal Ripken Jr. | | Auto Relic |
| DCA-CR | Cal Ripken Jr. | | Auto |
| DCFA-CRJ | Cal Ripken Jr. | | Auto |
| LAC-CR | Cal Ripken Jr. | | Auto |
| LAC-MM | Mike Mussina | | Auto |
| | | | |
| --- | --- | --- | --- |
| ARC-FTJ | Fernando Tatis Jr. | | Auto |
| DAC-VF | Fernando Tatis Jr. | | Auto |
| DAPB-FTJ | Fernando Tatis Jr. | | Auto Relic |
| DAR-TP | Fernando Tatis Jr. | | Auto Relic |
| DAR-TP | Chris Paddack | | Auto Relic |
| DCA-GS | Fernando Tatis Jr. | | Auto |
| DCFA-FTJ | Fernando Tatis Jr. | | Auto |
| DJRC-HR | Hunter Renfroe | | Relic |
| DPC-FTJ | Fernando Tatis Jr. | | Relic |
| DPC-HR | Hunter Renfroe | | Relic |
| DPC-TG | Tony Gwynn | | Relic |
| FAC-FTJ | Fernando Tatis Jr. | | Auto Relic |
| NC-HR | Hunter Renfroe | | Relic |
| NC-TG | Tony Gwynn | | Relic |
| | | | |
| --- | --- | --- | --- |
| ARC-AN | Aaron Nola | | Auto |
| ARC-BH | Bryce Harper | | Auto |
| ARC-RH | Rhys Hoskins | | Auto |
| DAAC-SC | Steve Carlton | | Auto |
| DAC-CN | Aaron Nola | | Auto |
| DAC-CN | Steve Carlton | | Auto |
| DAC-HH | Rhys Hoskins | | Auto |
| DAC-HH | Bryce Harper | | Auto |
| DAPB-BH | Bryce Harper | | Auto Relic |
| DAPB-RH | Rhys Hoskins | | Auto Relic |
| DAR-HN | Rhys Hoskins | | Auto Relic |
| DAR-HN | Aaron Nola | | Auto Relic |
| DARC-JTH | Jim Thome | | Auto Relic |
| DARC-SC | Steve Carlton | | Auto Relic |
| DAUPC-RH | Rhys Hoskins | | Auto Relic |
| DCA-BH | Bryce Harper | | Auto |
| DCA-RH | Rhys Hoskins | | Auto |
| DCFA-BH | Bryce Harper | | Auto |
| DCFA-RHO | Rhys Hoskins | | Auto |
| DHC-RH | Rhys Hoskins | | Relic |
| DJRC-AMC | Andrew McCutchen | | Relic |
| DJRC-JTR | J.T. Realmuto | | Relic |
| DPC-AM | Andrew McCutchen | | Relic |
| DPC-BH | Bryce Harper | | Relic |
| DPC-JTR | J.T. Realmuto | | Relic |
| DPC-RH | Rhys Hoskins | | Relic |
| FAC-RH | Rhys Hoskins | | Auto Relic |
| LAC-SC | Steve Carlton | | Auto |
| NC-JTR | J.T. Realmuto | | Relic |
| NC-RH | Rhys Hoskins | | Relic |
| NC-SK | Scott Kingery | | Relic |
| | | | |
| --- | --- | --- | --- |
| DCS-HW | Honus Wagner | | Relic |
| DCS-RK | Ralph Kiner | | Relic |
| DCS-WST | Willie Stargell | | Relic |
| DPC-JBE | Josh Bell | | Relic |
| DPC-SM | Starling Marte | | Relic |
| NC-SM | Starling Marte | | Relic |
| | | | |
| --- | --- | --- | --- |
| DARC-NRY | Nolan Ryan | | Auto Relic |
| DJRC-EA | Elvis Andrus | | Relic |
| DJRC-JG | Joey Gallo | | Relic |
| DPC-EA | Elvis Andrus | | Relic |
| DPC-JG | Joey Gallo | | Relic |
| NC-EA | Elvis Andrus | | Relic |
| NC-JG | Joey Gallo | | Relic |
| | | | |
| --- | --- | --- | --- |
| ARC-BM | Brendan McKay | RC | Auto |
| DAR-SM | Blake Snell | | Auto Relic |
| DAR-SM | Brendan McKay | RC | Auto Relic |
| DARC-WBO | Wade Boggs | | Auto Relic |
| DJRC-KK | Kevin Kiermaier | | Relic |
| DJRC-TP | Tommy Pham | | Relic |
| DPC-KK | Kevin Kiermaier | | Relic |
| DPC-KKI | Kevin Kiermaier | | Relic |
| DPC-TP | Tommy Pham | | Relic |
| DRA-BM | Brendan McKay | RC | Auto |
| DRA-BMC | Brendan McKay | RC | Auto |
| DRA-BRM | Brendan McKay | RC | Auto |
| NC-KK | Kevin Kiermaier | | Relic |
| NC-KKI | Kevin Kiermaier | | Relic |
| | | | |
| --- | --- | --- | --- |
| ARC-AB | Andrew Benintendi | | Auto |
| ARC-CSA | Chris Sale | | Auto |
| ARC-DO | David Ortiz | | Auto |
| ARC-JDM | J.D. Martinez | | Auto |
| ARC-RD | Rafael Devers | | Auto |
| ARC-XB | Xander Bogaerts | | Auto |
| DAC-BD | Rafael Devers | | Auto |
| DAC-BD | Xander Bogaerts | | Auto |
| DAC-FV | Jason Varitek | | Auto |
| DAC-FV | Carlton Fisk | | Auto |
| DAC-MS | Chris Sale | | Auto |
| DAC-MS | J.D. Martinez | | Auto |
| DAC-OM | Pedro Martinez | | Auto |
| DAC-OM | David Ortiz | | Auto |
| DAPB-AB | Andrew Benintendi | | Auto Relic |
| DAPB-CSA | Chris Sale | | Auto Relic |
| DAPB-DO | David Ortiz | | Auto Relic |
| DAPB-DP | J.D. Martinez | | Auto Relic |
| DAPB-RD | Rafael Devers | | Auto Relic |
| DAPB-XB | Xander Bogaerts | | Auto Relic |
| DAR-BB | Xander Bogaerts | | Auto Relic |
| DAR-BB | Andrew Benintendi | | Auto Relic |
| DAR-DB | Rafael Devers | | Auto Relic |
| DAR-DB | Xander Bogaerts | | Auto Relic |
| DAR-OD | Rafael Devers | | Auto Relic |
| DAR-OD | David Ortiz | | Auto Relic |
| DAR-OM | David Ortiz | | Auto Relic |
| DAR-OM | J.D. Martinez | | Auto Relic |
| DARC-CF | Carlton Fisk | | Auto Relic |
| DARC-CY | Carl Yastrzemski | | Auto Relic |
| DARC-NG | Nomar Garciaparra | | Auto Relic |
| DARC-PM | Pedro Martinez | | Auto Relic |
| DARC-RC | Roger Clemens | | Auto Relic |
| DAUPC-DO | David Ortiz | | Auto Relic |
| DAUPC-XB | Xander Bogaerts | | Auto Relic |
| DCA-RD | Rafael Devers | | Auto |
| DCA-XB | Xander Bogaerts | | Auto |
| DCFA-CS | Chris Sale | | Auto |
| DCFA-CYA | Carl Yastrzemski | | Auto |
| DCFA-RD | Rafael Devers | | Auto |
| DCS-TW | Ted Williams | | Relic |
| DDAC-CY | Carl Yastrzemski | | Auto |
| DDAC-PM | Pedro Martinez | | Auto |
| DDAC-WB | Wade Boggs | | Auto |
| DDAC-WBO | Wade Boggs | | Auto |
| DJRC-CS | Chris Sale | | Relic |
| DJRC-DDO | David Ortiz | | Relic |
| DJRC-DP | Dustin Pedroia | | Relic |
| DJRC-MC | Michael Chavis | | Relic |
| DJRC-RD | Rafael Devers | | Relic |
| DJRC-XB | Xander Bogaerts | | Relic |
| DPC-ABE | Andrew Benintendi | | Relic |
| DPC-DO | David Ortiz | | Relic |
| DPC-DP | Dustin Pedroia | | Relic |
| DPC-JDM | J.D. Martinez | | Relic |
| DPC-MB | Mookie Betts | | Relic |
| DPC-RD | Rafael Devers | | Relic |
| DPC-RP | Rick Porcello | | Relic |
| DPC-XB | Xander Bogaerts | | Relic |
| FAC-AB | Andrew Benintendi | | Auto Relic |
| FAC-DO | David Ortiz | | Auto Relic |
| FAC-JM | J.D. Martinez | | Auto Relic |
| FAC-RD | Rafael Devers | | Auto Relic |
| FAC-XB | Xander Bogaerts | | Auto Relic |
| LAC-CF | Carlton Fisk | | Auto |
| LAC-CY | Carl Yastrzemski | | Auto |
| LAC-NG | Nomar Garciaparra | | Auto |
| NC-ABE | Andrew Benintendi | | Relic |
| NC-DO | David Ortiz | | Relic |
| NC-DP | Dustin Pedroia | | Relic |
| NC-MBE | Mookie Betts | | Relic |
| NC-MC | Michael Chavis | | Relic |
| NC-XB | Xander Bogaerts | | Relic |
| | | | |
| --- | --- | --- | --- |
| ARC-JV | Joey Votto | | Auto |
| ARC-NS | Nick Senzel | | Auto |
| DAAC-JB | Johnny Bench | | Auto |
| DAC-VA | Aristides Aquino | | Auto |
| DAC-VA | Joey Votto | | Auto |
| DAPB-JV | Joey Votto | | Auto Relic |
| DAR-NA | Nick Senzel | | Auto Relic |
| DAR-NA | Aristides Aquino | RC | Auto Relic |
| DAR-VS | Joey Votto | | Auto Relic |
| DAR-VS | Nick Senzel | | Auto Relic |
| DARC-BL | Barry Larkin | | Auto Relic |
| DARC-JB | Johnny Bench | | Auto Relic |
| DARC-KGJR | Ken Griffey Jr. | | Auto Relic |
| DCA-BL | Barry Larkin | | Auto |
| DCA-JBE | Johnny Bench | | Auto |
| DCFA-AA | Aristides Aquino | RC | Auto |
| DDAC-JB | Johnny Bench | | Auto |
| DDAC-JV | Joey Votto | | Auto |
| DJRC-AA | Aristides Aquino | RC | Relic |
| DJRC-JV | Joey Votto | | Relic |
| DJRC-NS | Nick Senzel | | Relic |
| DPC-JV | Joey Votto | | Relic |
| DRA-AA | Aristides Aquino | RC | Auto |
| DRA-AAQ | Aristides Aquino | RC | Auto |
| DRA-AAQU | Aristides Aquino | RC | Auto |
| FAC-JV | Joey Votto | | Auto Relic |
| LAC-BL | Barry Larkin | | Auto |
| LAC-JB | Johnny Bench | | Auto |
| NC-JV | Joey Votto | | Relic |
| | | | |
| --- | --- | --- | --- |
| ARC-NA | Nolan Arenado | | Auto |
| DAPB-JB | Nolan Arenado | | Auto Relic |
| DAR-AR | Nolan Arenado | | Auto Relic |
| DAR-AR | Brendan Rodgers | | Auto Relic |
| DHC-TS | Trevor Story | | Relic |
| DJRC-DD | David Dahl | | Relic |
| DJRC-TS | Trevor Story | | Relic |
| DPC-CB | Charlie Blackmon | | Relic |
| DPC-DD | David Dahl | | Relic |
| DPC-NA | Nolan Arenado | | Relic |
| DPC-TS | Trevor Story | | Relic |
| FAC-NA | Nolan Arenado | | Auto Relic |
| NC-DD | David Dahl | | Relic |
| NC-TS | Trevor Story | | Relic |
| | | | |
| --- | --- | --- | --- |
| ARC-WM | Whit Merrifield | | Auto |
| DJRC-AM | Adalberto Mondesi | | Relic |
| DJRC-HD | Hunter Dozier | | Relic |
| DJRC-JS | Jorge Soler | | Relic |
| DPC-AMO | Adalberto Mondesi | | Relic |
| DPC-GB | George Brett | | Relic |
| DPC-HD | Hunter Dozier | | Relic |
| DPC-WM | Whit Merrifield | | Relic |
| NC-AM | Adalberto Mondesi | | Relic |
| NC-GB | George Brett | | Relic |
| NC-HD | Hunter Dozier | | Relic |
| NC-WM | Whit Merrifield | | Relic |
| | | | |
| --- | --- | --- | --- |
| ARC-MCA | Miguel Cabrera | | Auto |
| DAAC-MC | Miguel Cabrera | | Auto |
| DAC-KC | Miguel Cabrera | | Auto |
| DAC-KC | Al Kaline | | Auto |
| DAPB-MCA | Miguel Cabrera | | Auto Relic |
| DCA-MCA | Miguel Cabrera | | Auto |
| DCS-CG | Charlie Gehringer | | Relic |
| DCS-GKE | George Kell | | Relic |
| DCS-HG | Hank Greenberg | | Relic |
| DCS-TC | Ty Cobb | | Relic |
| DDAC-MC | Miguel Cabrera | | Auto |
| FAC-MC | Miguel Cabrera | | Auto Relic |
| LAC-AK | Al Kaline | | Auto |
| NC-MB | Matthew Boyd | | Relic |
| | | | |
| --- | --- | --- | --- |
| ARC-MKE | Max Kepler | | Auto |
| DAAC-RC | Rod Carew | | Auto |
| DARC-RCAR | Rod Carew | | Auto Relic |
| DCS-HK | Harmon Killebrew | | Relic |
| DDAC-RC | Rod Carew | | Auto |
| DDAC-RCA | Rod Carew | | Auto |
| DJRC-MK | Max Kepler | | Relic |
| DJRC-MSA | Miguel Sano | | Relic |
| DPC-BB | Byron Buxton | | Relic |
| DPC-ER | Eddie Rosario | | Relic |
| DPC-JB | Jose Berrios | | Relic |
| DPC-MK | Max Kepler | | Relic |
| DPC-MS | Miguel Sano | | Relic |
| LAC-RC | Rod Carew | | Auto |
| NC-BB | Byron Buxton | | Relic |
| NC-ER | Eddie Rosario | | Relic |
| NC-JB | Jose Berrios | | Relic |
| NC-MK | Max Kepler | | Relic |
| NC-MS | Miguel Sano | | Relic |
| | | | |
| --- | --- | --- | --- |
| DAAC-FT | Frank Thomas | | Auto |
| DAC-KF | Frank Thomas | | Auto |
| DAC-TJ | Frank Thomas | | Auto |
| DAC-TJ | Eloy Jimenez | | Auto |
| DARC-CFI | Carlton Fisk | | Auto Relic |
| DARC-FT | Frank Thomas | | Auto Relic |
| DARC-JT | Jim Thome | | Auto Relic |
| DCA-FT | Frank Thomas | | Auto |
| DCFA-FT | Frank Thomas | | Auto |
| DDAC-FT | Frank Thomas | | Auto |
| DHC-EJ | Eloy Jimenez | | Relic |
| DJRC-LG | Lucas Giolito | | Relic |
| DPC-LG | Lucas Giolito | | Relic |
| DRA-DC | Dylan Cease | RC | Auto |
| DRA-DCE | Dylan Cease | RC | Auto |
| DRA-LR | Luis Robert | RC | Auto |
| DRA-LRO | Luis Robert | RC | Auto |
| LAC-FT | Frank Thomas | | Auto |
| NC-LG | Lucas Giolito | | Relic |
| | | | |
| --- | --- | --- | --- |
| ARC-AJ | Aaron Judge | | Auto |
| ARC-CS | CC Sabathia | | Auto |
| ARC-GT | Gleyber Torres | | Auto |
| ARC-MTA | Masahiro Tanaka | | Auto |
| ARC-MTE | Mark Teixeira | | Auto |
| DAAC-AJ | Aaron Judge | | Auto |
| DAAC-DM | Don Mattingly | | Auto |
| DAC-IM | Hideki Matsui | | Auto |
| DAC-MT | Don Mattingly | | Auto |
| DAC-MT | Gleyber Torres | | Auto |
| DAC-PM | Mike Mussina | | Auto |
| DAC-PM | Andy Pettitte | | Auto |
| DAPB-MTE | Mark Teixeira | | Auto Relic |
| DAR-TS | Mark Teixeira | | Auto Relic |
| DAR-TS | CC Sabathia | | Auto Relic |
| DARC-AP | Andy Pettitte | | Auto Relic |
| DARC-BW | Bernie Williams | | Auto Relic |
| DARC-DM | Don Mattingly | | Auto Relic |
| DARC-HM | Hideki Matsui | | Auto Relic |
| DARC-ICH | Ichiro | | Auto Relic |
| DARC-JP | Jorge Posada | | Auto Relic |
| DARC-MR | Mariano Rivera | | Auto Relic |
| DARC-RJA | Reggie Jackson | | Auto Relic |
| DARC-WB | Wade Boggs | | Auto Relic |
| DCA-AJ | Aaron Judge | | Auto |
| DCA-AP | Andy Pettitte | | Auto |
| DCA-CC | CC Sabathia | | Auto |
| DCA-DMA | Don Mattingly | | Auto |
| DCA-HM | Hideki Matsui | | Auto |
| DCA-LS | Luis Severino | | Auto |
| DCA-RJ | Reggie Jackson | | Auto |
| DCFA-AJ | Aaron Judge | | Auto |
| DCFA-DM | Don Mattingly | | Auto |
| DCFA-GT | Gleyber Torres | | Auto |
| DCFA-HM | Hideki Matsui | | Auto |
| DCFA-RJA | Reggie Jackson | | Auto |
| DCS-BD | Bill Dickey | | Relic |
| DCS-CS | Casey Stengel | | Relic |
| DCS-JD | Joe DiMaggio | | Relic |
| DCS-PR | Phil Rizzuto | | Relic |
| DCS-RM | Roger Maris | | Relic |
| DCS-WH | Waite Hoyt | | Relic |
| DDAC-AP | Andy Pettitte | | Auto |
| DDAC-AR | Alex Rodriguez | | Auto |
| DDAC-ARO | Alex Rodriguez | | Auto |
| DDAC-AROD | Alex Rodriguez | | Auto |
| DDAC-MR | Mariano Rivera | | Auto |
| DDAC-RHEN | Rickey Henderson | | Auto |
| DJRC-JPA | James Paxton | | Relic |
| DJRC-MTE | Mark Teixeira | | Relic |
| DPC-CF | Clint Frazier | | Relic |
| DPC-GS | Gary Sanchez | | Relic |
| DPC-GT | Gleyber Torres | | Relic |
| DPC-JPA | James Paxton | | Relic |
| DPC-MTE | Mark Teixeira | | Relic |
| FAC-AJ | Aaron Judge | | Auto Relic |
| FAC-GT | Gleyber Torres | | Auto Relic |
| FAC-MTE | Mark Teixeira | | Auto Relic |
| LAC-AP | Andy Pettitte | | Auto |
| LAC-AR | Alex Rodriguez | | Auto |
| LAC-BW | Bernie Williams | | Auto |
| LAC-DMA | Don Mattingly | | Auto |
| LAC-WB | Wade Boggs | | Auto |