2020 Topps Big League Baseball trading cards receives a new design reminiscent of the '80s and '90s.
Featuring a large base set with 300 cards and numerous inserts, Big League offers both hobby and retail exclusives. Blue Border parallels are found in retail value boxes and packs.
However, every hobby Collector's Box includes one Super7 MLB Action Figure with exclusive Topps jersey paint variants with a 1982 Topps inspired card backer. Additionally, variants, such as an action shot, for the card backers fall 1:5 boxes.
This checklist is organized by team. Scroll through the entire list or jump to a preferred team by selecting them from the list below. Clicking a link within the checklist will direct you to an affiliate retailer or to relevant eBay listings.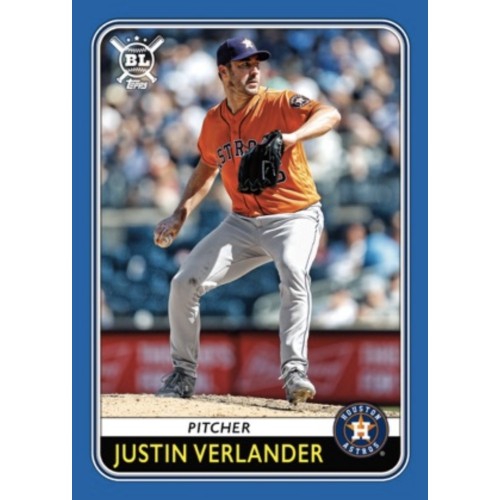 2020 Topps Big League Baseball Checklist
Base – 300 Cards
Orange – 1 per pack
Blue Border – Retail Box
Rainbow Foil – #/100
Black and White – #/50
Red Foil – 1/1
Big League Autographs (BLA) – 35 Cards
Orange – #/99
Red Foil – 1/1
Ballpark Oddities (BPO) – 10 Cards
Defensive Wizards (DW) – 15 Cards
Base – 1:4 packs
Defensive Wizards Autograph (DWA) – 10 Cards
Base – #/25
Flipping Out (FO) – 15 Cards
Base – 1:4 packs
Flipping Out Autographs (FO) – 6 Cards
Base – #/25
Opening Act Autographs (OAA) – 21 Cards
Blue Border – 1:4 Retail Boxes
Orange Border – #/99
Red Foil – 1/1
Roll Call (RC) – 30 Cards
Base – 1:4 packs
Roll Call Autographs (RC) – 16 Cards
Base – #/25
Star Caricature Originals (SCO) – 30 Cards
Base – 1/1
Star Caricature Reproduction (SCO) – 30 Cards
Base – 1:4 packs
Super7 MLB Action Figures
Base – 1 per Collector's Box
Cardback Image Variants – 1:5 Collector's Boxes
| | | | |
| --- | --- | --- | --- |
| 12 | Tommy La Stella | | |
| 12 | Tommy LaStella | | Auto |
| 20 | Griffin Canning | | |
| 20 | Griffin Canning | | Auto |
| 28 | Shohei Ohtani | | |
| 28 | Shohei Ohtani | | Auto |
| 68 | Mike Trout | | |
| 113 | Albert Pujols | | |
| 130 | Andrelton Simmons | | |
| 214 | Anthony Rendon | | |
| 237 | Mike Trout | | |
| 247 | Mike Trout | | |
| 253 | Mike Trout | | |
| 266 | Mike Trout | | |
| 274 | Mike Trout | | |
| 283 | Mike Trout | | |
| 285 | Mike Trout | | |
| 289 | Albert Pujols | | |
| 293 | Mike Trout | | |
| 294 | Shohei Ohtani | | |
| 299 | Angels | | |
| BLA-MT | Mike Trout | | |
| BLA-TL | Tommy La Stella | | |
| DW-14 | Mike Trout | | |
| RC-19 | Mike Trout | | |
| RC-25 | Shohei Ohtani | | |
| SCO-MT | Mike Trout | | |
| SCO-MT | Mike Trout | | Originals |
| | | | |
| --- | --- | --- | --- |
| 5 | George Springer | | |
| 8 | Jose Urquidy | RC | |
| 78 | Alex Bregman | | |
| 123 | Yordan Alvarez | RC | |
| 123 | Yordan Alvarez | | Auto |
| 189 | Carlos Correa | | |
| 217 | Zack Greinke | | |
| 220 | Jose Altuve | | |
| 235 | Justin Verlander | | |
| 237 | Alex Bregman | | |
| 247 | Alex Bregman | | |
| 253 | Alex Bregman | | |
| 255 | Justin Verlander | | |
| 255 | Gerrit Cole | | |
| 257 | Gerrit Cole | | |
| 257 | Justin Verlander | | |
| 259 | Justin Verlander | | |
| 259 | Gerrit Cole | | |
| 261 | Roberto Osuna | | |
| 263 | Gerrit Cole | | |
| 263 | Justin Verlander | | |
| 265 | Justin Verlander | | |
| 265 | Gerrit Cole | | |
| 268 | Justin Verlander | | |
| 270 | Yordan Alvarez | RC | |
| 291 | Justin Verlander | | |
| 296 | Yordan Alvarez | RC | |
| BLA-KT | Kyle Tucker | | |
| DW-13 | Carlos Correa | | |
| DW-7 | George Springer | | |
| DWA-GS | George Springer | | |
| OAA-JU | Jose Urquidy | RC | Auto |
| OAA-YA | Yordan Alvarez | RC | Auto |
| RC-4 | Yordan Alvarez | RC | |
| RC-YA | Yordan Alvarez | RC | Auto |
| SCO-YA | Yordan Alvarez | RC | |
| SCO-YA | Yordan Alvarez | RC | Originals |
| | | | |
| --- | --- | --- | --- |
| 51 | Ramon Laureano | | |
| 51 | Ramon Laureano | | Auto |
| 56 | Sean Murphy | RC | |
| 56 | Sean Murphy | | Auto |
| 58 | A.J. Puk | RC | |
| 58 | A.J. Puk | | Auto |
| 61 | Jesus Luzardo | RC | |
| 61 | Jesus Luzardo | | Auto |
| 109 | Matt Olson | | |
| 145 | Marcus Semien | | |
| 205 | Matt Chapman | | |
| 206 | Khris Davis | | |
| 239 | Marcus Semien | | |
| 243 | Marcus Semien | | |
| 297 | Mike Fiers | | |
| BLA-JC | Jose Canseco | | |
| BLA-MC | Matt Chapman | | |
| BLA-SN | Sheldon Neuse | | |
| DW-3 | Matt Chapman | | |
| DWA-MC | Matt Chapman | | |
| OAA-AP | A.J. Puk | RC | Auto |
| OAA-SB | Seth Brown | RC | Auto |
| OAA-SM | Sean Murphy | RC | Auto |
| RC-13 | Matt Chapman | | |
| RC-MC | Matt Chapman | | Auto |
| SCO-MCH | Matt Chapman | | |
| SCO-MCH | Matt Chapman | | Originals |
| | | | |
| --- | --- | --- | --- |
| 108 | Bo Bichette | RC | |
| 128 | Lourdes Gurriel Jr. | | |
| 141 | Vladimir Guerrero Jr. | | |
| 150 | Hyun-Jin Ryu | | |
| 185 | Randal Grichuk | | |
| 193 | Cavan Biggio | | |
| 193 | Cavan Biggio | | Auto |
| 213 | Rowdy Tellez | | |
| 292 | Bo Bichette | RC | |
| 295 | Vladimir Guerrero Jr. | | |
| BLA-CB | Cavan Biggio | | |
| BLA-LG | Lourdes Gurriel Jr. | | |
| BPO-3 | Edwin Jackson | | |
| FO-14 | Vladimir Guerrero Jr. | | |
| OAA-AK | Anthony Kay | RC | Auto |
| OAA-BB | Bo Bichette | RC | Auto |
| RC-10 | Vladimir Guerrero Jr. | | |
| RC-28 | Bo Bichette | RC | |
| SCO-VG | Vladimir Guerrero Jr. | | |
| SCO-VG | Vladimir Guerrero Jr. | | Originals |
| | | | |
| --- | --- | --- | --- |
| 21 | Cole Hamels | | |
| 50 | Austin Riley | | |
| 54 | Ozzie Albies | | |
| 82 | Ronald Acuña Jr. | | |
| 98 | Max Fried | | |
| 116 | Freddie Freeman | | |
| 129 | Dansby Swanson | | |
| 207 | Mike Soroka | | |
| 238 | Ronald Acuña Jr. | | |
| 240 | Ozzie Albies | | |
| 242 | Ozzie Albies | | |
| 244 | Freddie Freeman | | |
| 248 | Ronald Acuña Jr. | | |
| 254 | Mike Soroka | | |
| 256 | Max Fried | | |
| 277 | Josh Donaldson | | |
| 300 | Ronald Acuña Jr. | | |
| BLA-AJ | Andruw Jones | | |
| BLA-MS | Mike Soroka | | |
| FO-2 | Ronald Acuña Jr. | | |
| FO-RA | Ronald Acuña Jr. | | Auto |
| RC-1 | Ronald Acuña Jr. | | |
| RC-RA | Ronald Acuña Jr. | | Auto |
| SCO-RA | Ronald Acuña Jr. | | |
| SCO-RA | Ronald Acuña Jr. | | Originals |
| | | | |
| --- | --- | --- | --- |
| 19 | Lorenzo Cain | | |
| 48 | Keston Hiura | | |
| 57 | Christian Yelich | | |
| 115 | Ryan Braun | | |
| 164 | Orlando Arcia | | |
| 190 | Brandon Woodruff | | |
| 190 | Brandon Woodruff | | Auto |
| 194 | Josh Hader | | |
| 246 | Yasmani Grandal | | |
| 248 | Christian Yelich | | |
| 250 | Christian Yelich | | |
| 252 | Christian Yelich | | |
| 260 | Josh Hader | | |
| 275 | Christian Yelich | | |
| 279 | Josh Hader | | |
| BLA-BW | Brandon Woodruff | | |
| BLA-KH | Keston Hiura | | |
| RC-8 | Christian Yelich | | |
| RC-9 | Keston Hiura | | |
| RC-KH | Keston Hiura | | Auto |
| SCO-CY | Christian Yelich | | |
| SCO-CY | Christian Yelich | | Originals |
| | | | |
| --- | --- | --- | --- |
| 33 | Tommy Edman | | |
| 33 | Tommy Edman | | Auto |
| 59 | Kolten Wong | | |
| 89 | Paul Goldschmidt | | |
| 126 | Jack Flaherty | | |
| 126 | Jack Flaherty | | Auto |
| 127 | Yadier Molina | | |
| 159 | Paul DeJong | | |
| 227 | Dakota Hudson | | |
| 227 | Dakota Hudson | | Auto |
| 264 | Jack Flaherty | | |
| BLA-JF | Jack Flaherty | | |
| DW-11 | Paul DeJong | | |
| DWA-PD | Paul DeJong | | |
| SCO-PG | Paul Goldschmidt | | |
| SCO-PG | Paul Goldschmidt | | Originals |
| | | | |
| --- | --- | --- | --- |
| 9 | Willson Contreras | | |
| 72 | Anthony Rizzo | | |
| 75 | Jon Lester | | |
| 93 | Javier Baez | | |
| 139 | Nico Hoerner | RC | |
| 139 | Nico Hoerner | | Auto |
| 160 | Kris Bryant | | |
| 212 | Kyle Schwarber | | |
| DW-1 | Javier Baez | | |
| FO-15 | Willson Contreras | | |
| OAA-AA | Adbert Alzolay | RC | Auto |
| OAA-NH | Nico Hoerner | RC | Auto |
| SCO-JB | Javier Baez | | |
| SCO-JB | Javier Baez | | Originals |
| | | | |
| --- | --- | --- | --- |
| 22 | Eduardo Escobar | | |
| 22 | Eduardo Escobar | | Auto |
| 24 | Alex Young | RC | |
| 24 | Alex Young | | Auto |
| 30 | Kole Calhoun | | |
| 106 | Starling Marte | | |
| 136 | David Peralta | | |
| 152 | Christian Walker | | |
| 208 | Robbie Ray | | |
| 210 | Ketel Marte | | |
| 210 | Ketel Marte | | Auto |
| 229 | Zac Gallen | RC | |
| 240 | Ketel Marte | | |
| 250 | Ketel Marte | | |
| BLA-KM | Ketel Marte | | |
| BPO-1 | Jon Duplantier | | |
| DW-8 | David Peralta | | |
| DWA-DP | David Peralta | | |
| SCO-KM | Ketel Marte | | |
| SCO-KM | Ketel Marte | | Originals |
| | | | |
| --- | --- | --- | --- |
| 23 | Walker Buehler | | |
| 43 | Cody Bellinger | | |
| 49 | David Price | | |
| 60 | Dustin May | RC | |
| 144 | Will Smith | | |
| 158 | Gavin Lux | RC | |
| 158 | Gavin Lux | | Auto |
| 198 | Corey Seager | | |
| 218 | Max Muncy | | |
| 218 | Max Muncy | | Auto |
| 222 | Joc Pederson | | |
| 230 | Clayton Kershaw | | |
| 233 | Mookie Betts | | |
| 236 | Cody Bellinger | | |
| 238 | Cody Bellinger | | |
| 242 | Corey Seager | | |
| 252 | Cody Bellinger | | |
| 254 | Hyun-Jin Ryu | | |
| 256 | Clayton Kershaw | | |
| 264 | Hyun-Jin Ryu | | |
| 267 | Cody Bellinger | | |
| BLA-MB | Matt Beaty | | |
| BLA-WS | Will Smith | | |
| FO-10 | Max Muncy | | |
| FO-MM | Max Muncy | | Auto |
| OAA-DM | Dustin May | RC | Auto |
| RC-14 | Max Muncy | | |
| RC-20 | Mookie Betts | | |
| RC-26 | Cody Bellinger | | |
| RC-3 | Gavin Lux | RC | |
| RC-GL | Gavin Lux | RC | Auto |
| RC-MMU | Max Muncy | | Auto |
| SCO-CB | Cody Bellinger | | |
| SCO-CB | Cody Bellinger | | Originals |
| | | | |
| --- | --- | --- | --- |
| 64 | Evan Longoria | | |
| 112 | Buster Posey | | |
| 132 | Jeff Samardzija | | |
| 138 | Brandon Crawford | | |
| 186 | Mike Yastrzemski | | |
| 186 | Mike Yastrzemski | | Auto |
| 226 | Brandon Belt | | |
| 260 | Will Smith | | |
| BLA-MY | Mike Yastrzemski | | |
| OAA-MD | Mauricio Dubon | RC | Auto |
| SCO-EL | Evan Longoria | | |
| SCO-EL | Evan Longoria | | Originals |
| | | | |
| --- | --- | --- | --- |
| 17 | Roberto Perez | | |
| 67 | Aaron Civale | RC | |
| 154 | Shane Bieber | | |
| 177 | Mike Clevinger | | |
| 177 | Mike Clevinger | | Auto |
| 182 | Jose Ramirez | | |
| 202 | Carlos Santana | | |
| 215 | Francisco Lindor | | |
| 219 | Oscar Mercado | | |
| 219 | Oscar Mercado | | Auto |
| 247 | Carlos Santana | | |
| 259 | Shane Bieber | | |
| 261 | Brad Hand | | |
| 263 | Shane Bieber | | |
| 265 | Shane Bieber | | |
| 273 | Shane Bieber | | |
| 276 | Carlos Carrasco | | |
| 281 | Carlos Carrasco | | |
| BLA-OM | Oscar Mercado | | |
| BLA-SA | Sandy Alomar Jr. | | |
| OAA-BBR | Bobby Bradley | RC | Auto |
| OAA-JK | James Karinchak | RC | Auto |
| SCO-FL | Francisco Lindor | | |
| SCO-FL | Francisco Lindor | | Originals |
| | | | |
| --- | --- | --- | --- |
| 13 | Dee Gordon | | |
| 16 | Yusei Kikuchi | | |
| 163 | Mitch Haniger | | |
| 176 | Mallex Smith | | |
| 180 | Kyle Lewis | RC | |
| 180 | Kyle Lewis | | Auto |
| 197 | Kyle Seager | | |
| 209 | Daniel Vogelbach | | |
| 249 | Mallex Smith | | |
| 286 | Ichiro | | |
| BLA-DV | Daniel Vogelbach | | |
| OAA-JD | Justin Dunn | RC | Auto |
| OAA-KL | Kyle Lewis | RC | Auto |
| SCO-DV | Daniel Vogelbach | | |
| SCO-DV | Daniel Vogelbach | | Originals |
| | | | |
| --- | --- | --- | --- |
| 25 | Brian Anderson | | |
| 37 | Jesus Aguilar | | |
| 79 | Jordan Yamamoto | RC | |
| 79 | Jordan Yamamoto | | Auto |
| 118 | Jorge Alfaro | | |
| 118 | Jorge Alfaro | | Auto |
| 143 | Harold Ramirez | | |
| 169 | Isan Diaz | RC | |
| 169 | Isan Diaz | | Auto |
| 192 | Jonathan Villar | | |
| 282 | Curtis Granderson | | |
| OAA-ID | Isan Diaz | RC | Auto |
| SCO-BA | Brian Anderson | | |
| SCO-BA | Brian Anderson | | Originals |
| | | | |
| --- | --- | --- | --- |
| 29 | Pete Alonso | | |
| 36 | Noah Syndergaard | | |
| 42 | Jeff McNeil | | |
| 42 | Jeff McNeil | | Auto |
| 53 | Marcus Stroman | | |
| 74 | Amed Rosario | | |
| 95 | Robinson Cano | | |
| 100 | Michael Conforto | | |
| 121 | Jacob deGrom | | |
| 121 | Jacob deGrom | | Auto |
| 236 | Pete Alonso | | |
| 244 | Pete Alonso | | |
| 254 | Jacob deGrom | | |
| 258 | Jacob deGrom | | |
| 262 | Jacob deGrom | | |
| 264 | Jacob deGrom | | |
| 269 | Jacob deGrom | | |
| 271 | Pete Alonso | | |
| 287 | Pete Alonso | RC | |
| FO-6 | Pete Alonso | | |
| RC-16 | Jacob deGrom | | |
| RC-5 | Pete Alonso | | |
| SCO-PA | Pete Alonso | | |
| SCO-PA | Pete Alonso | | Originals |
| | | | |
| --- | --- | --- | --- |
| 3 | Patrick Corbin | | |
| 86 | Trea Turner | | |
| 94 | Stephen Strasburg | | |
| 111 | Juan Soto | | |
| 134 | Max Scherzer | | |
| 134 | Scherzer | | Auto |
| 162 | Carter Kieboom | | |
| 174 | Victor Robles | | |
| 187 | Howie Kendrick | | |
| 238 | Anthony Rendon | | |
| 242 | Anthony Rendon | | |
| 244 | Anthony Rendon | | |
| 246 | Juan Soto | | |
| 248 | Trea Turner | | |
| 250 | Anthony Rendon | | |
| 252 | Anthony Rendon | | |
| 256 | Stephen Strasburg | | |
| 258 | Max Scherzer | | |
| 258 | Stephen Strasburg | | |
| 262 | Stephen Strasburg | | |
| 272 | Stephen Strasburg | | |
| 284 | Anthony Rendon | | |
| BLA-CK | Carter Kieboom | | |
| RC-22 | Juan Soto | | |
| RC-24 | Max Scherzer | | |
| RC-6 | Victor Robles | | |
| RC-MS | Scherzer | | Auto |
| RC-VR | Victor Robles | | Auto |
| SCO-JS | Juan Soto | | |
| SCO-JS | Juan Soto | | Originals |
| | | | |
| --- | --- | --- | --- |
| 62 | Hunter Harvey | RC | |
| 62 | Hunter Harvey | | Auto |
| 133 | Trey Mancini | | |
| 147 | John Means | | |
| 147 | John Means | | Auto |
| 173 | Hanser Alberto | | |
| 181 | Chance Sisco | | |
| 200 | Renato Nunez | | |
| 200 | Renato Nunez | | Auto |
| 249 | Jonathan Villar | | |
| BLA-JM | John Means | | |
| BLA-RN | Renato Nuñez | | |
| BPO-4 | Stevie Wilkerson | | |
| OAA-HH | Hunter Harvey | RC | Auto |
| SCO-TM | Trey Mancini | | |
| SCO-TM | Trey Mancini | | Originals |
| | | | |
| --- | --- | --- | --- |
| 6 | Eric Hosmer | | |
| 35 | Joey Lucchesi | | |
| 83 | Trent Grisham | RC | |
| 102 | Fernando Tatis Jr. | | |
| 110 | Andres Muñoz | RC | |
| 110 | Andres Muñoz | | Auto |
| 124 | Wil Myers | | |
| 151 | Michel Baez | RC | |
| 151 | Michel Baez | | Auto |
| 172 | Chris Paddack | | |
| 172 | Chris Paddack | | Auto |
| 184 | Manny Machado | | |
| 260 | Kirby Yates | | |
| BLA-CP | Chris Paddack | | |
| BLA-KY | Kirby Yates | | |
| DW-6 | Fernando Tatis Jr. | | |
| DWA-FT | Fernando Tatis Jr. | | |
| FO-9 | Fernando Tatis Jr. | | |
| FO-FT | Fernando Tatis Jr. | | Auto |
| OAA-TG | Trent Grisham | RC | Auto |
| RC-18 | Manny Machado | | |
| SCO-FT | Fernando Tatis Jr. | | |
| SCO-FT | Fernando Tatis Jr. | | Originals |
| | | | |
| --- | --- | --- | --- |
| 31 | Bryce Harper | | |
| 31 | Bryce Harper | | Auto |
| 47 | Aaron Nola | | |
| 52 | J.T. Realmuto | | |
| 120 | Jean Segura | | |
| 183 | Zack Wheeler | | |
| 188 | Rhys Hoskins | | |
| 195 | Andrew McCutchen | | |
| 221 | Didi Gregorius | | |
| 234 | Scott Kingery | | |
| 246 | Rhys Hoskins | | |
| 262 | Aaron Nola | | |
| 290 | Bryce Harper | | |
| BPO-5 | Vince Velasquez | | |
| DW-12 | Bryce Harper | | |
| DW-2 | Didi Gregorius | | |
| DW-4 | Scott Kingery | | |
| DWA-DG | Didi Gregorius | | |
| DWA-SK | Scott Kingery | | |
| FO-13 | Bryce Harper | | |
| RC-17 | Bryce Harper | | |
| SCO-BH | Bryce Harper | | |
| SCO-BH | Bryce Harper | | Originals |
| | | | |
| --- | --- | --- | --- |
| 27 | Bryan Reynolds | | |
| 101 | Joe Musgrove | | |
| 104 | Mitch Keller | | |
| 137 | Chris Archer | | |
| 140 | Kevin Newman | | |
| 140 | Kevin Newman | | Auto |
| 204 | Josh Bell | | |
| 224 | Gregory Polanco | | |
| BLA-BR | Bryan Reynolds | | |
| BPO-9 | Colin Moran | | |
| SCO-JBE | Josh Bell | | |
| SCO-JBE | Josh Bell | | Originals |
| | | | |
| --- | --- | --- | --- |
| 2 | Elvis Andrus | | |
| 76 | Mike Minor | | |
| 91 | Shin-Soo Choo | | |
| 146 | Danny Santana | | |
| 156 | Nick Solak | RC | |
| 171 | Corey Kluber | | |
| 216 | Joey Gallo | | |
| BPO-2 | Joey Gallo | | |
| OAA-NS | Nick Solak | RC | Auto |
| SCO-JG | Joey Gallo | | |
| SCO-JG | Joey Gallo | | Originals |
| | | | |
| --- | --- | --- | --- |
| 65 | Blake Snell | | |
| 73 | Charlie Morton | | |
| 73 | Charlie Morton | | Auto |
| 87 | Willy Adames | | |
| 117 | Austin Meadows | | |
| 122 | Brendan McKay | RC | |
| 157 | Brandon Lowe | | |
| 223 | Hunter Renfroe | | |
| 228 | Kevin Kiermaier | | |
| 255 | Charlie Morton | | |
| BLA-BL | Brandon Lowe | | |
| SCO-AM | Austin Meadows | | |
| SCO-AM | Austin Meadows | | Originals |
| | | | |
| --- | --- | --- | --- |
| 41 | Michael Chavis | | |
| 41 | Michael Chavis | | Auto |
| 85 | Rafael Devers | | |
| 90 | Xander Bogaerts | | |
| 119 | Andrew Benintendi | | |
| 149 | Chris Sale | | |
| 170 | Eduardo Rodriguez | | |
| 170 | Eduardo Rodriguez | | Auto |
| 196 | J.D. Martinez | | |
| 239 | Rafael Devers | | |
| 239 | Mookie Betts | | |
| 241 | Rafael Devers | | |
| 243 | Rafael Devers | | |
| 243 | Xander Bogaerts | | |
| 245 | Xander Bogaerts | | |
| 257 | Eduardo Rodriguez | | |
| BLA-MCH | Michael Chavis | | |
| BPO-7 | Mookie Betts | | |
| FO-12 | Rafael Devers | | |
| RC-7 | Andrew Benintendi | | |
| RC-AB | Andrew Benintendi | | Auto |
| SCO-RD | Rafael Devers | | |
| SCO-RD | Rafael Devers | | Originals |
| | | | |
| --- | --- | --- | --- |
| 11 | Mike Moustakas | | |
| 14 | Joey Votto | | |
| 46 | Nick Senzel | | |
| 46 | Nick Senzel | | Auto |
| 55 | Sonny Gray | | |
| 66 | Luis Castillo | | |
| 103 | Eugenio Suarez | | |
| 107 | Aristides Aquino | RC | |
| 107 | Aristides Aquino | | Auto |
| 201 | Trevor Bauer | | |
| 231 | Freddy Galvis | | |
| 236 | Eugenio Suarez | | |
| 298 | Aristides Aquino | RC | |
| BPO-8 | Michael Lorenzen | | |
| FO-3 | Eugenio Suarez | | |
| FO-5 | Aristides Aquino | RC | |
| FO-AA | Aristides Aquino | RC | Auto |
| OAA-AAQ | Aristides Aquino | RC | Auto |
| RC-12 | Nick Senzel | | |
| RC-2 | Aristides Aquino | RC | |
| RC-AA | Aristides Aquino | RC | Auto |
| RC-NS | Nick Senzel | | Auto |
| SCO-AA | Aristides Aquino | RC | |
| SCO-AA | Aristides Aquino | | Originals |
| | | | |
| --- | --- | --- | --- |
| 38 | Ryan McMahon | | |
| 38 | Ryan McMahon | | Auto |
| 39 | Nolan Arenado | | |
| 77 | Charlie Blackmon | | |
| 80 | ian Desmond | | |
| 97 | Trevor Story | | |
| 131 | German Marquez | | |
| 165 | Daniel Murphy | | |
| 168 | Brendan Rodgers | | |
| 240 | Nolan Arenado | | |
| DW-10 | Charlie Blackmon | | |
| DW-15 | Nolan Arenado | | |
| DWA-CB | Charlie Blackmon | | |
| OAA-SH | Sam Hilliard | RC | Auto |
| RC-30 | Nolan Arenado | | |
| SCO-TS | Trevor Story | | |
| SCO-TS | Trevor Story | | Originals |
| | | | |
| --- | --- | --- | --- |
| 1 | Salvador Perez | | |
| 32 | Jorge Soler | | |
| 45 | Whit Merrifield | | |
| 45 | Whit Merrifield | | Auto |
| 70 | Adalberto Mondesi | | |
| 96 | Hunter Dozier | | |
| 99 | Nicky Lopez | | |
| 148 | Maikel Franco | | |
| 237 | Jorge Soler | | |
| 241 | Whit Merrifield | | |
| 245 | Jorge Soler | | |
| 249 | Adalberto Mondesi | | |
| FO-7 | Jorge Soler | | |
| FO-JS | Jorge Soler | | Auto |
| SCO-WM | Whit Merrifield | | |
| SCO-WM | Whit Merrifield | | Originals |
| | | | |
| --- | --- | --- | --- |
| 7 | Jonathan Schoop | | |
| 18 | Niko Goodrum | | |
| 26 | Matthew Boyd | | |
| 44 | C.J. Cron | | |
| 105 | Miguel Cabrera | | |
| 175 | Dawel Lugo | | |
| 199 | Jake Rogers | RC | |
| SCO-MC | Miguel Cabrera | | |
| SCO-MC | Miguel Cabrera | | Originals |
| | | | |
| --- | --- | --- | --- |
| 4 | Nelson Cruz | | |
| 15 | Miguel Sano | | |
| 63 | Max Kepler | | |
| 114 | Jorge Polanco | | |
| 125 | Luis Arraez | | |
| 142 | Eddie Rosario | | |
| 155 | Mitch Garver | | |
| 161 | Jose Berrios | | |
| 167 | Josh Donaldson | | |
| 253 | Nelson Cruz | | |
| 280 | Nelson Cruz | | |
| BLA-JP | Jorge Polanco | | |
| BLA-MG | Mitch Garver | | |
| BLA-MK | Max Kepler | | |
| BLA-WA | Willians Astudillo | | |
| BPO-10 | Jonathan Schoop | | |
| BPO-6 | Twins | | |
| FO-8 | Max Kepler | | |
| FO-MK | Max Kepler | | Auto |
| RC-11 | Max Kepler | | |
| RC-MK | Max Kepler | | Auto |
| SCO-MK | Max Kepler | | |
| SCO-MK | Max Kepler | | Originals |
| | | | |
| --- | --- | --- | --- |
| 34 | Zack Collins | RC | |
| 40 | Nomar Mazara | | |
| 69 | Eloy Jimenez | | |
| 81 | Yasmani Grandal | | |
| 88 | Dallas Keuchel | | |
| 178 | Lucas Giolito | | |
| 179 | Jose Abreu | | |
| 211 | Tim Anderson | | |
| 225 | Yoan Moncada | | |
| 232 | Luis Robert | RC | |
| 245 | Jose Abreu | | |
| 251 | Yoan Moncada | | |
| 251 | Tim Anderson | | |
| FO-1 | Tim Anderson | | |
| RC-15 | Tim Anderson | | |
| RC-21 | Eloy Jimenez | | |
| RC-TA | Tim Anderson | | Auto |
| SCO-EJ | Eloy Jimenez | | |
| SCO-EJ | Eloy Jimenez | | Originals |
| | | | |
| --- | --- | --- | --- |
| 10 | DJ LeMahieu | | |
| 71 | Aroldis Chapman | | |
| 84 | Gerrit Cole | | |
| 92 | Gleyber Torres | | |
| 135 | Jordan Montgomery | | |
| 153 | Gary Sanchez | | |
| 166 | Giancarlo Stanton | | |
| 191 | Gio Urshela | | |
| 203 | Aaron Judge | | |
| 203 | Aaron Judge | | Auto |
| 241 | DJ LeMahieu | | |
| 251 | DJ LeMahieu | | |
| 261 | Aroldis Chapman | | |
| 278 | Aroldis Chapman | | |
| 288 | CC Sabathia | | |
| BLA-AO | Adam Ottavino | | |
| BLA-DL | DJ LeMahieu | | |
| DW-5 | DJ LeMahieu | | |
| DW-9 | Gio Urshela | | |
| DWA-DL | DJ LeMahieu | | |
| DWA-GU | Gio Urshela | | |
| FO-11 | Aaron Judge | | |
| FO-4 | Aaron Hicks | | |
| RC-23 | Gerrit Cole | | |
| RC-27 | Gleyber Torres | | |
| RC-29 | Aaron Judge | | |
| RC-AJ | Aaron Judge | | Auto |
| RC-GC | Gerrit Cole | | Auto |
| SCO-DL | DJ LeMahieu | | |
| SCO-DL | DJ LeMahieu | | Originals |