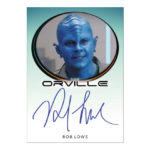 2019 Rittenhouse Orville trading cards detail every episode of the first season of Seth MacFarlane's sci-fi comedy.
With several insert sets, many distributed one per box, rare relic cards, and an autograph checklist with some pretty heavy names on it, this set is going to be a fun and rewarding collectible for set-collectors and autograph seekers.
Autographs, which come two to a box, are a mix of full bleed and bordered and vary in scarcity. The most rare — Seth MacFarlane and Rob Lowe — are full bleed autographs and a bordered Lowe autograph is included as an Archive Box exclusive.
Our checklist includes all of the cards in this set and can be searched or sorted as needed.
2019 Rittenhouse Orville Season One Checklist
Click on a link on this checklist to purchase that card on eBay.
Base Set – 72 cards
Bridge Crew (CC) – 8 cards (1:24)
Mirror – 1:144
Quotable Cards (Q) – 14 cards (1:24)
Orville Ship (O) – 9 cards (1:24)
Tour the Orville (T) – 9 cards (1:24)
Off Duty (D) – 7 cards (1:24)
Autographs – 40 cards (1:12)

Relic Cards (RC) – 10 cards (1:96)
Case Topper (CT) – 1 card
6-Case Incentive (Auto) – Dual Auto
9-Case Incentive (Auto) – Dual Auto
Rittenhouse Rewards (T10) – 1 card
Archive Box Exclusive (Auto) – Rob Lowe Bordered Auto
Promo Cards (P) – 4 cards

---