2019 Rittenhouse Lost in Space Season One trading cards are limited to only 250 cases and chronicle the first season of the latest reboot of the classic television series.
Each box promises two "big hits" and, as with all Rittenhouse products, there are case incentive exclusive cards available for big spenders.
This checklist is organized by subset. You can jump to a preferred subset by selecting it from the key below. Clicking a link within the checklist will direct you to an affiliate retailer or to relevant eBay listings.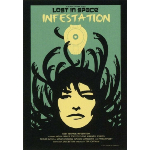 2019 Rittenhouse Lost in Space Checklist
Base Set – 72 Cards
Printing Plates – Archive Box
Chariot (C) – 6 Cards, 1:48 packs
Characters (CC) – 8 Cards, 1:48 packs
Metal – 1:96 packs
Jupiter 2 (J) – 6 Cards, 1:48 packs
Mirror Puzzle (MP) – 2 Cards, 1:144 packs
Juan Ortiz Character (OC) – 8 Cards, 1:48 packs
Juan Ortiz Episode Title (OE) – 10 Cards, 1:24
Autographs – 30 Cards, 1:12 packs
Quotable Cards (Q) – 10 Cards, 1:24 packs
Relic Cards (RC) – 8 Cards
Case Topper (CT) – 1 Card
9-Case Incentive (Dual) – Dual Auto
Rittenhouse Rewards (Q11) – 1 Card
Promo Cards (P) – 3 Cards
Archive Box Exclusive – 3 Cards
Sketch Cards – 7 Artists
| | |
| --- | --- |
| 1 | Impact |
| 2 | Impact |
| 3 | Impact |
| 4 | Impact |
| 5 | Impact |
| 6 | Impact |
| 7 | Diamonds in the Sky |
| 8 | Diamonds in the Sky |
| 9 | Diamonds in the Sky |
| 10 | Diamonds in the Sky |
| 11 | Diamonds in the Sky |
| 12 | Diamonds in the Sky |
| 13 | Infestation |
| 14 | Infestation |
| 15 | Infestation |
| 16 | Infestation |
| 17 | Infestation |
| 18 | Infestation |
| 19 | The Robinsons Were Here |
| 20 | The Robinsons Were Here |
| 21 | The Robinsons Were Here |
| 22 | The Robinsons Were Here |
| 23 | The Robinsons Were Here |
| 24 | The Robinsons Were Here |
| 25 | Transmission |
| 26 | Transmission |
| 27 | Transmission |
| 28 | Transmission |
| 29 | Transmission |
| 30 | Transmission |
| 31 | Eulogy |
| 32 | Eulogy |
| 33 | Eulogy |
| 34 | Eulogy |
| 35 | Eulogy |
| 36 | Eulogy |
| 37 | Pressurized |
| 38 | Pressurized |
| 39 | Pressurized |
| 40 | Pressurized |
| 41 | Pressurized |
| 42 | Pressurized |
| 43 | Trajectory |
| 44 | Trajectory |
| 45 | Trajectory |
| 46 | Trajectory |
| 47 | Trajectory |
| 48 | Trajectory |
| 49 | Resurrection |
| 50 | Resurrection |
| 51 | Resurrection |
| 52 | Resurrection |
| 53 | Resurrection |
| 54 | Resurrection |
| 55 | Danger, Will Robinson |
| 56 | Danger, Will Robinson |
| 57 | Danger, Will Robinson |
| 58 | Danger, Will Robinson |
| 59 | Danger, Will Robinson |
| 60 | Danger, Will Robinson |
| 61 | Behind-The-Scenes |
| 62 | Behind-The-Scenes |
| 63 | Behind-The-Scenes |
| 64 | Behind-The-Scenes |
| 65 | Behind-The-Scenes |
| 66 | Behind-The-Scenes |
| 67 | Behind-The-Scenes |
| 68 | Behind-The-Scenes |
| 69 | Behind-The-Scenes |
| 70 | Special Effects |
| 71 | Special Effects |
| 72 | Special Effects |
Toby Stephens as John Robinson
Molly Parker as Maureen Robinson
Maxwell Jenkins as Will Robinson
Taylor Russell as Judy Robinson
Mina Sundwall as Penny Robinson
Ignacio Serricchio as Don West
Parker Posey as Dr. Smith/June Harris
Billy Mumy as Dr. Zachary Smith
Billy Mumy as Dr. Zachary Smith (Bordered, Archive Box)
Cary-Hiroyuki Tagawa as Hiroki Watanabe
Cary-Hiroyuki Tagawa as Hiroki Watanabe (Bordered, Archive Box)
Raza Jaffrey as Victor Dhar
Ajay Friese as Vijay Dhar
Yukari Komatsu as Naoko Watanabe
Sibongile Mlambo as Angela
Kiki Sukezane as Aiko Watanabe
Amelia Burstyn as Diane
Adam Greydon Reid as Peter Beckert
Rowan Schlosberg as Connor
Yukari Komatsu as Naoko Watanabe
Kiki Sukezane as Aiko Watanabe
Amelia Burstyn as Diane
Adam Greydon Reid as Peter Beckert
Rowan Schlosberg as Connor
Sibongile Mlambo as Angela
Toby Stephens and Maxwell Jenkins
Parker Posey and Billy Mumy
Parker Posey and Maxwell Jenkins
Ajay Friese and Mina Sundwall
Ignacio Serricchio and Taylor Russell
Cary-Hiroyuki Tagawa and Kiki Sukezane
Cary-Hiroyuki Tagawa and Yukari Komatsu
| | |
| --- | --- |
| C1 | Chariot |
| C2 | Chariot |
| C3 | Chariot |
| C4 | Chariot |
| C5 | Chariot |
| C6 | Chariot |
| | |
| --- | --- |
| CC1 | John Robinson |
| CC2 | Maureen Robinson |
| CC3 | Judy Robinson |
| CC4 | Penny Robinson |
| CC5 | Will Robinson |
| CC6 | Dr. Smith |
| CC7 | Don West |
| CC8 | Robot |
| | |
| --- | --- |
| CT | For A Brighter Future Poster |
| | |
| --- | --- |
| J1 | Jupiter in Space |
| J2 | Jupiter Landing |
| J3 | Cargo Bay / Garage |
| J4 | Hub Level |
| J5 | Control station and interface |
| J6 | Connected to Resolute |
| | |
| --- | --- |
| OC1 | Will Robinson |
| OC2 | Judy Robinson |
| OC3 | Penny Robinson |
| OC4 | Dr. Smith |
| OC5 | Don West |
| OC6 | John Robinson |
| OC7 | Maureen Robinson |
| OC8 | The Robot |
| | |
| --- | --- |
| OE01 | Impact |
| OE02 | Diamonds in the Sky |
| OE03 | Infestation |
| OE04 | The Robinsons Were Here |
| OE05 | Transmission |
| OE06 | Eulogy |
| OE07 | Pressurized |
| OE08 | Trajectory |
| OE09 | Ressurection |
| OE10 | Danger, Will Robinson |
| | |
| --- | --- |
| P1 | General Distribution |
| P2 | Album Exclusive |
| | |
| --- | --- |
| Q01 | Impact |
| Q02 | Diamonds in the Sky |
| Q03 | Infestation |
| Q04 | The Robinsons Were Here |
| Q05 | Transmission |
| Q06 | Eulogy |
| Q07 | Pressurized |
| Q08 | Trajectory |
| Q09 | Resurrection |
| Q10 | Danger, Will Robinson |
| Q11 | Lost In Space Quotable |
| | |
| --- | --- |
| RC1 | Will Robinson |
| RC2 | Will Robinson |
| RC3 | Will Robinson |
| RC4 | Dr. Smith |
| RC5 | Judy Robinson |
| RC6 | Will Robinson |
| RC7 | Penny Robinson |
| RC8 | John Robinson |
| RC9 | Don West Relic Card (Archive Box) |