2019 Cryptozoic Rick and Morty season 2 trading cards highlight all the moments that made the show's second season so hilarious.
The 45 card base set — which features scenes from every episode of the season — has two parallel sets in silver foil (1:3) and deco foil (1:8).
There are several insert sets with random allocations including Characters (1:3), Interdimensional Cable (1:3), Face the Music (1:3), Crimes of Rick Sanchez (1:6), Beth Knows Best (1:6), and STR PWR (1:144, 1:288, #/25, 1/1). A sticker set (1:3) includes several characters with two characters per sticker.
As with many Cryptozoic products, a collection of "Totally Fabricated" relic cards are included in this set (1:60) as well as series inspired sketch cards but the real draw is an autograph list that includes most of the most popular voice actors from the series.
Most of the autograph cards are numbered with some actors signing different character cards with extremely limited print runs.
This checklist is organized by subset. Jump to a preferred subset by selecting it from the key below. Clicking a link within the checklist will direct you to an affiliate retailer or to relevant eBay listings.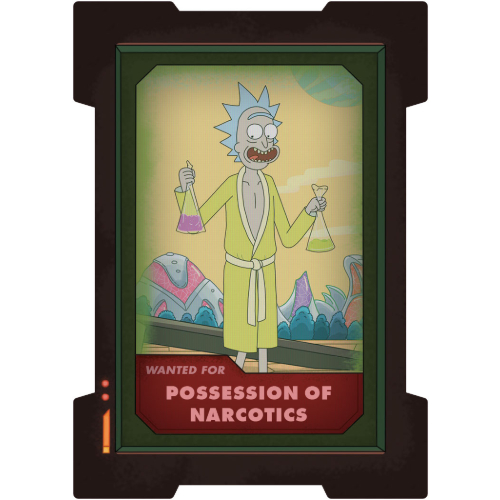 2019 Cryptozoic Rick and Morty Season 2 Checklist
| | |
| --- | --- |
| 1 | Teaching Grandkids a Lesson |
| 2 | Behind Bars |
| 3 | Locked and Loaded |
| 4 | Rick to the Rescue |
| 5 | Safe and Sound |
| 6 | No Code of Ethics |
| 7 | Roy A Life Well Lived |
| 8 | Silent but Deadly |
| 9 | Jerryboree |
| 10 | Racial Insensitivity |
| 11 | Beta-Seven Arrives |
| 12 | Race War |
| 13 | Flying Under the Influence |
| 14 | Unity TV |
| 15 | Blim Blam |
| 16 | Romantic Excursion |
| 17 | Parasite Extermination |
| 18 | Bad Memories |
| 19 | Cromulon Invasion |
| 20 | A Man of Many Talents |
| 21 | The Ascension |
| 22 | Bird Culture Ethics |
| 23 | Planet Music |
| 24 | Peace Among Worlds |
| 25 | Keep Summer Safe |
| 26 | Miniverse |
| 27 | Science vs Science |
| 28 | Escape from the Teenyverse |
| 29 | Jerry's Mytholog |
| 30 | Tiny Rick |
| 31 | Emo Streak |
| 32 | Get It Together |
| 33 | Teen Angst |
| 34 | Important Member |
| 35 | Human Wisdom |
| 36 | Purge Planet |
| 37 | Aspiring Screenwriter |
| 38 | Going Overboard |
| 39 | Dinner for the Elite |
| 40 | Feels Good |
| 41 | Exchanging Vows |
| 42 | The Real Tammy |
| 43 | Small World |
| 44 | Rick Locked Up |
| 45 | Cliffhanger |
| | |
| --- | --- |
| B1 | Toy Antennae Totally Fabricated |
| | |
| --- | --- |
| BKB01 | Squanchy Mom |
| BKB02 | Battle-Ready Beth |
| BKB03 | Dicks Out |
| BKB04 | It's Not God |
| BKB05 | Commitment |
| BKB06 | Mother of the Year |
| BKB07 | Xenobeth |
| BKB08 | Stress Drinking |
| BKB09 | Goddess Beth |
| | |
| --- | --- |
| C1 | Unity |
| C2 | Birdperson |
| C3 | Krombopulos Michael |
| C4 | Fart |
| C5 | Ice-T |
| C6 | Tammy Gueterman |
| C7 | Mr. Poopybutthole |
| C8 | Fourth-Dimensional Being |
| C9 | Zeep Xanflorp |
| C10 | Arthricia |
| C11 | Glaxo Slimslom |
| C12 | Revolio Clockberg Jr |
| | |
| --- | --- |
| CRS01 | Guilty on All Charges |
| CRS02 | Assault and Battery |
| CRS03 | Enslavement |
| CRS04 | Resisting Arrest |
| CRS05 | Vandalism |
| CRS06 | Trafficking Weapons |
| CRS07 | Inciting a Riot |
| CRS08 | Possession of Narcotics |
| CRS09 | Drunk Driving |
| CRS10 | Child Endangerment |
| CRS11 | Indecent Exposure |
| CRS12 | Assault with a Deadly Weapon |
Interdimensional Cable II
| | |
| --- | --- |
| IDC1 | Man vs Car |
| IDC2 | Eyeholes |
| IDC3 | Jan Quadrant Vincent 16 |
| IDC4 | The Adventures of Stealy |
| IDC5 | Lil' Bits |
| IDC6 | Opposite News with Michael Thompson |
| IDC7 | Cooking Things with Pichael Thompson |
| IDC8 | How They Do It |
| IDC9 | Butthole Ice Cream Parlor |
| IDC10 | Personal Space |
| IDC11 | How Did I Get Here? |
| IDC12 | Octopus Man |
| | |
| --- | --- |
| M01 | Get Schwifty |
| M02 | Get Schwifty |
| M03 | Goodbye Moonmen |
| M04 | Goodbye Moonmen |
| M05 | Goodbye Moonmen |
| M06 | Summer and Tinkles |
| M07 | Summer and Tinkles Rap |
| M08 | Let Me Out |
| M09 | Head Bent Over |
| | |
| --- | --- |
| S1 | Amish Cyborg/Mr. Poopybutthole |
| S2 | Baby Wizard/Scarface Bear |
| S3 | Tinkles/Big Robot |
| S4 | Pencilvester/Photography Raptor |
| S5 | Mrs. Refrigerator/Ghost in a Jar |
| S6 | Sleep Gary/Hamurai |
| S7 | Uncle Steve/Reverse Giraffe |
| S8 | Cousin Nicky/Big Duck |
| S9 | Sun with Sunglasses/Mr. Beauregard |
| S10 | Rick and Morty Monster |
| S11 | Webba Lubba Dub-Dub |
| S12 | Rick and Morty Alien |
| S13 | Schrodinger's Cat/Plumbus |
| S14 | Jerryboree Flyer/Blips and Chitz Sign |
| S15 | Screaming Sun/Cromulon |
| | |
| --- | --- |
| SP1 | Rick Sanchez |
| SP2 | Morty Smith |
| SP3 | Jerry Smith |
| SP4 | Beth Smith |
| SP5 | Summer Smith |
| SP6 | Birdperson |
| SP7 | Mr. Poopybutthole |
| SP8 | Krombopulos Michael |
| SP9 | Zeep Xanflorp |
| | |
| --- | --- |
| TF01 | Squanchy's Fur |
| TF02 | Dinglebop |
| TF03 | Confetti |
| TF04 | Stealy's Chloroform Rag |
| TF05 | Beth's Surgical Gloves |
| TF06 | Plushy Beth |
| TF07 | Yummy' Yums Wrapper |
| TF08 | Morty's Tribal Mask |
| TF09 | Rick's Sombrero |
| TF10 | Ricksgiving Float |
| TF11 | Headism Hat |
| TF12 | Fart's Golden Poop |
| TF13 | Gear Vomit |
| TF14 | Roy's Carpet |
| TF15 | Tammy's Wedding Ring |
| TF16 | Zeep's Alien Costume |
| TF17 | Eyeholes |
| TF18 | Never Past Bedtime Land |
| | | |
| --- | --- | --- |
| CE1 | Rick's Bloody Lab Coat Totally Fabricated | #/100 |
| M1 | Krombopulos Michael Metallic Card | |
| M2 | Zeep Xanflorp Metallic Card | |
| M3 | Tammy Gueterman Metallic Card | |
| M4 | Rick Sanchez Metallic Card | |
| M5 | Cromulon Metallic Card | |
| M6 | Birdperson Metallic Card | |
| M7 | Morty Smith Metallic Card | |
| M8 | The President of the United States Metallic Card | |
| M9 | Unity Metallic Card | |
| # | Actor | LE |
| --- | --- | --- |
| AT-C | Alan Tudyk as Chris | 300 |
| BJ-MG | Brandon Johnson as Mr Goldenfold | 300 |
| CK-A | Chelsea Kane as Arthricia | |
| CP-AJ | Chris Parnell as Another Jerry | 25 |
| CP-GJ | Chris Parnell as Goatee Jerry | 25 |
| CP-HJ | Chris Parnell as Heroic Jerry | 25 |
| CP-JS2 | Chris Parnell as Jerry Smith | 25 |
| CP-OJ | Chris Parnell as Other Jerry | 25 |
| CP-SH | Chris Parnell as Shaved Head Jerry | 25 |
| CP-TT | Chris Parnell as Tank Top Wearing Jerry | 25 |
| CP-WJ | Chris Parnell as Worm Jerry | 25 |
| CS-TG | Cassie Steele as Tammy Gueterman | |
| GAW-AA | Gary Anthony Williams as Assimilated Alien 4 | 250 |
| GAW-BA | Gary Anthony Williams as Business Alien | 250 |
| GC-AD | Gary Cole as Alien Doctor | |
| JH-S | Jess Harnell as Simon | 50 |
| JK-BB | John Kassir as Blim Blam | |
| JR-C | Justin Roiland as Cromulon | 25 |
| JR-EM | Justin Roiland as Eyeholes Man | 25 |
| JR-MR | Justin Roiland as Mr Poopybutthole | 25 |
| KD-RG | Keith David as Reverse Giraffe | |
| KD-TP | Keith David as The President | |
| KMR-F | Kevin Michael Richardson as Frankenstein | 200 |
| KMR-H | Kevin Michael Richardson as Hamurai | 100 |
| KMR-MR | Kevin Michael Richardson as Mrs Refrigerator | 200 |
| KS-GN | Kurtwood Smith as General Nathan | |
| KW-J2 | Kari Wahlgren as Jessica | 50 |
| KW-RW | Kari Wahlgren as Roy's Wife | 50 |
| ML-A | Maurice LaMarche as Military Adviser | 25 |
| ML-MG | Maurice LaMarche as Military General | 25 |
| ML-MP | Maurice LaMarche as Miniverse President | 50 |
| ML-ND | Maurice LaMarche as NASA Director | 25 |
| ML-R | Maurice LaMarche as Rabbi | 25 |
| RR-CN | Ryan Ridley as Cousin Nicky | 50 |
| RR-HV | Ryan Ridley as Head Vampire | 25 |
| RR-LK | Ryan Ridley as Lighthouse Keeper | 50 |
| RR-RD | Ryan Ridley as Roy's Doctor | 25 |
| RR-TA | Ryan Ridley as Tax Attorney | 50 |
| SC-BS | Sarah Chalke as Beth Smith | 100 |
| SC-G | Scott Chernoff as Gear Head | |
| SC-GB | Sarah Chalke as Goddess Beth | 50 |
| SC-PB | Sarah Chalke as Plushy Beth | 100 |
| SC-X | Sarah Chalke as Xenobeth | 100 |
| SG-SS | Spencer Grammer as Summer Smith | 300 |
| TH-DG | Tricia Helfer as Donna Gusterman | 250 |
| TH-FR | Tricia Helfer as Federation Robot | 250 |
| TK-AI | Tom Kenny as Alien Inmate | 50 |
| TK-GN | Tom Kenny as Gear Newscaster | 50 |
| TK-H | Tom Kenny as Hunter | 50 |
| TK-NL | Tom Kenny as Nazi Leader | 50 |
| TK-P | Tom Kenny as Pencilvester | 50 |
| TK-PO | Tom Kenny as Gear Police Officer | 50 |
| TK-T | Tom Kenny as TSA Gromflamite | 50 |
| TK-WB | Tom Kenny as Wedding Bartender | 50 |
| TM-C | Tress MacNeille as Caretaker | |
| TM-RM | Tress MacNeille as Roy's Mother | |
| TS-D | Tara Strong as Doctor | 150 |
| TS-T | Tara Strong as Tinkles | 200 |