2019 Cryptozoic DC Bombshells III, trading cards utilize artwork submitted for sketch cards in the previous two sets (2017 Bombshells and 2018 Bombshells) for a 64 card base set and several insert sets.
The set features retro styled interpretations of DC's most iconic women (and a few men, too) and each hobby box contains one of six mini vinyl figures. Most insert sets fall 1:3 packs except for Vintage Photographs which are distributed 1:12 packs and CZ STR PWR cards which are distributed at varying collations.
Alongside the cards inspired by previous sketch cards are actual sketch cards which are included one per box. With each box including a sketch and a vinyl figurine, there are plenty of cool things for collectors to track down.
Our checklist includes all of the cards released in this set. Not included in the checklist are the six vinyl figures which are Harley Quinn, Batwoman, Catwoman, Poison Ivy, and Hawkgirl. Clicking a link within the checklist will direct you to an affiliate retailer or to relevant eBay listings for that card.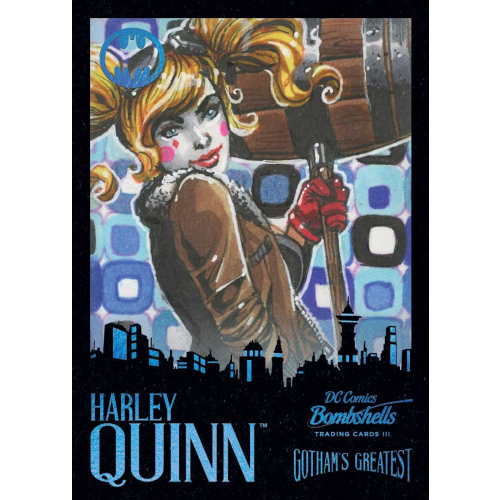 2019 Cryptozoic DC Bombshells III Checklist
CZ STR PWR (S) – 10 Cards
Red: 1:144
Silver: 1:288
Gold: #/25
Black: 1/1
Lil Bombshells Vinyl Figures – 5 Figures
Gold: 1 per box
Bronze: 1:12 boxes
Hand Painted: 1/1, 1:24 Boxes
Sketch Cards – 1:24
Printing Plates – 1:230
| | |
| --- | --- |
| 1 | Supergirl |
| 2 | Wonder Woman |
| 3 | Catwoman |
| 4 | Power Girl |
| 5 | Flash |
| 6 | Harley Quinn |
| 7 | Big Barda |
| 8 | Harper Row |
| 9 | Batgirl |
| 10 | Poison Ivy |
| 11 | Zatanna |
| 12 | Black Canary |
| 13 | Raven |
| 14 | Eloisa Lane |
| 15 | Starfire |
| 16 | Siren |
| 17 | Platinum |
| 18 | Joker's Daughter |
| 19 | Stargirl |
| 20 | Arisia Rrab |
| 21 | Bumblebee |
| 22 | Talia Al Ghul |
| 23 | Enchantress |
| 24 | Mera |
| 25 | Dawnstar |
| 26 | Cheetah |
| 27 | Vixen |
| 28 | Katana |
| 29 | Batman |
| 30 | Green Lantern |
| 31 | Supergirl |
| 32 | Miri Marvel |
| 33 | Viktoria October |
| 34 | Amanda Waller |
| 35 | Faora Hu-Ul |
| 36 | Batgirl |
| 37 | Catwoman |
| 38 | Poison Ivy |
| 39 | Eloisa Lane |
| 40 | Katana |
| 41 | Zatanna |
| 42 | Superman |
| 43 | Stargirl |
| 44 | Batwoman |
| 45 | Ravager |
| 46 | Harley Quinn |
| 47 | Mera |
| 48 | Aquaman |
| 49 | Cheetah |
| 50 | Batwoman |
| 51 | Wonder Woman |
| 52 | Sinestro |
| 53 | Joker |
| 54 | Hawkgirl |
| 55 | Star Sapphire |
| 56 | Killer Frost |
| 57 | Raven |
| 58 | Talia Al Ghul |
| 59 | Harley Quinn |
| 60 | Katana |
| 61 | Eloisa Lane |
| 62 | Zatanna |
| 63 | Poison Ivy |
| 64 | Checklist |
| | |
| --- | --- |
| FL1 | Wonder Woman |
| FL2 | Power Girl |
| FL3 | Supergirl |
| FL4 | Katana |
| FL5 | Hawkgirl |
| FL6 | Batgirl |
| FL7 | Green Lantern |
| FL8 | Big Barda |
| FL9 | Arisia Rrab |
| | |
| --- | --- |
| GG1 | Batman |
| GG2 | Joker |
| GG3 | Harley Quinn |
| GG4 | Poison Ivy |
| GG5 | Catwoman |
| GG6 | Batwoman |
| GG7 | Batgirl |
| GG8 | Robin |
| GG9 | Penguin |
| | |
| --- | --- |
| S1 | Wonder Woman |
| S2 | Hawkgirl |
| S3 | Harley Quinn |
| S4 | Batgirl |
| S5 | Eloisa Lane |
| S6 | Poison Ivy |
| S7 | Supergirl |
| S8 | Black Canary |
| S9 | Mera |
| S10 | Batwoman |
| | |
| --- | --- |
| SH1 | Black Canary |
| SH2 | Zatanna |
| SH3 | Huntress |
| SH4 | Superman |
| SH5 | Starfire |
| SH6 | Nightwing |
| SH7 | Harley Quinn & Joker |
| SH8 | Superman & Power Girl |
| SH9 | Sinestro |
| | |
| --- | --- |
| V1 | Black Canary |
| V2 | Mera |
| V3 | Catwoman |
| V4 | Huntress |
| V5 | Supergirl |
| V6 | Cheetah |
| V7 | Vixen |
| V8 | Raven |
| V9 | Talia al Ghul |
| V10 | Wonder Woman |
| | |
| --- | --- |
| WG1 | Donna Troy |
| WG2 | Cassandra Sandsmark |
| WG3 | Emily Sung |
| WG4 | Yuki Katsura |
| WG5 | Yuri Katsura |
| WG6 | Wonder Woman |
| WG7 | Wonder Girls |
| WG8 | Wonder Girls |
| WG9 | Wonder Girls |