2019-20 Upper Deck Credentials Hockey trading cards have a 50 card base set with four unique, numbered, parallels. There are also several insert sets and numerous autographs for collectors to find.
Every hobby box contains at least one autograph card and one acetate or metal card. There are also 13 inserts/parallels and 32 base cards in each box.
Our checklist includes all of the cards in the series and can be sorted or searched by many different parameters. Clicking a link within the checklist will direct you to an affiliate retailer or to relevant eBay listings for that card.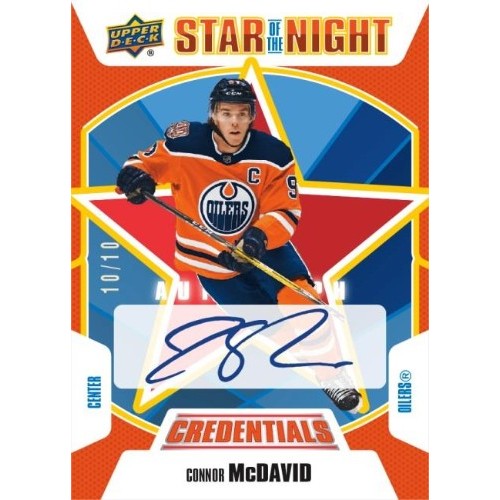 2019-20 Upper Deck Credentials Checklist
Base – 150 Cards
Base – Cards #1-#50
Red – #/199
Green – #/99
Purple – #/25
Black – #/5
Debut Ticket Access – Cards #51-#150
Base – #/999 or less
Red – #/99
Green – #/25
Purple – #/10
Black – 1/1
1st Star of the Night (1S) – 12 Cards
Base – 1:14 packs
Rookies – Cards #08-#12, 1:20 packs
Autographs – #/15 or less
2nd Star of the Night (2S) – 12 Cards
Base – 1:14 packs
Rookies – Cards #08-#12, 1:20 packs
Autographs – #/75 or less
3rd Star of the Night (3S) – 12 Cards
Base – 1:14 packs
Rookies – Cards #08-#12, 1:20 packs
Autographs – #/99 or less
Debut Ticket Access Autographs (RTAA) – 36 Cards
Base – #/299 or #/199
Red – #/65
Green – #/25
Gold – 1/1
Debut Ticket Access Photo Variant Autos (RTAAV) – 18 Cards
Base – #/49
Red – #/25
Green – #/10
Gold – 1/1
Debut Ticket Access Acetate (RTA) – 25 Cards
Base – #/299 or #/99
Debut Ticket Access Acetate Autos (RTAA) – 19 Cards
Base – #/99 or #/25
Dual Ticket Access Autographs (RTAAD) – 4 Cards
Base – #/25 or less
Red – #/5
Green – #/3
Gold – 1/1
Rookie Science (RS) – 36 Cards
Base – 1:1.5 packs
Autographs – Overall 1:48 packs
Steel Wheels (SW) – 25 Cards
Base – 1:20 packs
Gold – #/99
Through the Boards (TTB) – 10 Cards
Base – 1:53 packs
Through the Boards Young Bloods (TTBYB) – 10 Cards
Base – 1:53 packs
Ticket Access Autographs (TAA) – 7 Cards
Base – #/99 or less
Red – #/10
Green – #/5
Gold – 1/1
Ticket Access Photo Variant Autos (TAAV) – 2 Cards
Base – #/10
Red – #/5
Green – #/3
Gold – 1/1
Ticket Access Acetate (TA) – 15 Cards
Base – #/199
Ticket Access Acetate Autos (TAA) – 7 Cards
Base – #/99 or less
| - | # | Player | Team | RC | Variant |
| --- | --- | --- | --- | --- | --- |
| | 1 | Connor McDavid | Oilers | | |
| | 2 | Brad Marchand | Bruins | | |
| | 3 | Ryan Getzlaf | Ducks | | |
| | 4 | Jack Eichel | Sabres | | |
| | 5 | Steven Stamkos | Lightning | | |
| | 6 | Phil Kessel | Coyotes | | |
| | 7 | Johnny Gaudreau | Flames | | |
| | 8 | Seth Jones | Blue Jackets | | |
| | 9 | Tyler Seguin | Stars | | |
| | 10 | Alexander Ovechkin | Capitals | | |
| | 11 | Dylan Larkin | Red Wings | | |
| | 12 | Sean Monahan | Flames | | |
| | 13 | Drew Doughty | Kings | | |
| | 14 | Eric Staal | Wild | | |
| | 15 | Leon Draisaitl | Oilers | | |
| | 16 | Sebastian Aho | Hurricanes | | |
| | 17 | Artemi Panarin | Rangers | | |
| | 18 | Aleksander Barkov | Panthers | | |
| | 19 | Carey Price | Canadiens | | |
| | 20 | Erik Karlsson | Sharks | | |
| | 21 | Mathew Barzal | Islanders | | |
| | 22 | Carter Hart | Flyers | | |
| | 23 | Evgeni Malkin | Penguins | | |
| | 24 | Matt Duchene | Predators | | |
| | 25 | Auston Matthews | Maple Leafs | | |
| | 26 | Jordan Binnington | Blues | | |
| | 27 | Elias Pettersson | Canucks | | |
| | 28 | Nathan MacKinnon | Avalanche | | |
| | 29 | Jonathan Toews | Blackhawks | | |
| | 30 | John Tavares | Maple Leafs | | |
| | 31 | Henrik Lundqvist | Rangers | | |
| | 32 | Ryan O'Reilly | Blues | | |
| | 33 | Marc-Andre Fleury | Golden Knights | | |
| | 34 | Brent Burns | Sharks | | |
| | 35 | Taylor Hall | Devils | | |
| | 36 | Mark Scheifele | Jets | | |
| | 37 | Claude Giroux | Flyers | | |
| | 38 | Mark Stone | Golden Knights | | |
| | 39 | Jamie Benn | Stars | | |
| | 40 | Nikita Kucherov | Lightning | | |
| | 41 | Blake Wheeler | Jets | | |
| | 42 | Patrice Bergeron | Bruins | | |
| | 43 | Max Domi | Canadiens | | |
| | 44 | Brady Tkachuk | Senators | | |
| | 45 | P.K. Subban | Devils | | |
| | 46 | Brock Boeser | Canucks | | |
| | 47 | Nicklas Backstrom | Capitals | | |
| | 48 | Mikko Rantanen | Avalanche | | |
| | 49 | Patrick Kane | Blackhawks | | |
| | 50 | Sidney Crosby | Penguins | | |
| | 51 | Kaden Fulcher | Red Wings | RC | |
| | 52 | Klim Kostin | Blues | RC | |
| | 53 | Nick Caamano | Stars | RC | |
| | 54 | Matt Roy | Kings | RC | |
| | 55 | Brandon Gignac | Devils | RC | |
| | 56 | Josh Currie | Oilers | RC | |
| | 57 | Jack Studnicka | Bruins | RC | |
| | 58 | Dennis Gilbert | Blackhawks | RC | |
| | 59 | Mackenzie MacEachern | Blues | RC | |
| | 60 | Cayden Primeau | Canadiens | RC | |
| | 61 | Carsen Twarynski | Flyers | RC | |
| | 62 | Ryan Lindgren | Rangers | RC | |
| | 63 | Kole Sherwood | Blue Jackets | RC | |
| | 64 | Nico Sturm | Wild | RC | |
| | 65 | Guillaume Brisebois | Canucks | RC | |
| | 66 | Colton White | Devils | RC | |
| | 67 | Gaetan Haas | Oilers | RC | |
| | 68 | John Marino | Penguins | RC | |
| | 69 | Joel L'Esperance | Stars | RC | |
| | 70 | Jakob Lilja | Blue Jackets | RC | |
| | 71 | Scott Sabourin | Senators | RC | |
| | 72 | Vladislav Gavrikov | Blue Jackets | RC | |
| | 73 | Josh Teves | Canucks | RC | |
| | 74 | David Gustafsson | Jets | RC | |
| | 75 | Josh Jacobs | Devils | RC | |
| | 76 | Riley Stillman | Panthers | RC | |
| | 77 | Adam Boqvist | Blackhawks | RC | |
| | 78 | Josh Brown | Panthers | RC | |
| | 79 | Kevin Stenlund | Blue Jackets | RC | |
| | 80 | Mark Friedman | Flyers | RC | |
| | 81 | Kevin Boyle | Ducks | RC | |
| | 82 | Brogan Rafferty | Canucks | RC | |
| | 83 | Otto Koivula | Islanders | RC | |
| | 84 | Jacob Middleton | Sharks | RC | |
| | 85 | Rudolfs Balcers | Senators | RC | |
| | 86 | Danil Yurtaykin | Sharks | RC | |
| | 87 | Colin Blackwell | Predators | RC | |
| | 88 | Adam Johnson | Penguins | RC | |
| | 89 | Brady Keeper | Panthers | RC | |
| | 90 | Max Veronneau | Senators | RC | |
| | 91 | Cale Fleury | Canadiens | RC | |
| | 92 | Libor Hajek | Rangers | RC | |
| | 93 | Joey Daccord | Senators | RC | |
| | 94 | Julien Gauthier | Hurricanes | RC | |
| | 95 | Nikolai Prokhorkin | Kings | RC | |
| | 96 | Mario Ferraro | Sharks | RC | |
| | 97 | Carter Verhaeghe | Lightning | RC | |
| | 98 | Conor Timmins | Avalanche | RC | |
| | 99 | Ryan Kuffner | Red Wings | RC | |
| | 100 | Trevor Moore | Maple Leafs | RC | |
| | 101 | Sam Lafferty | Penguins | RC | |
| | 102 | Zack MacEwen | Canucks | RC | |
| | 103 | Martin Fehervary | Capitals | RC | |
| | 104 | Jimmy Schuldt | Golden Knights | RC | |
| | 105 | Carl Grundstrom | Kings | RC | |
| | 106 | Joakim Nygard | Oilers | RC | |
| | 107 | Rem Pitlick | Predators | RC | |
| | 108 | Rhett Gardner | Stars | RC | |
| | 109 | Elvis Merzlikins | Blue Jackets | RC | |
| | 110 | Joel Persson | Oilers | RC | |
| | 111 | Zach Senyshyn | Bruins | RC | |
| | 112 | Vitaly Abramov | Senators | RC | |
| | 113 | Nathan Bastian | Devils | RC | |
| | 114 | Joel Farabee | Flyers | RC | |
| | 115 | Gerald Mayhew | Wild | RC | |
| | 116 | Connor Bunnaman | Flyers | RC | |
| | 117 | Lean Bergmann | Sharks | RC | |
| | 118 | Dmytro Timashov | Maple Leafs | RC | |
| | 119 | Ville Heinola | Jets | RC | |
| | 120 | Trent Frederic | Bruins | RC | |
| | 121 | Blake Lizotte | Kings | RC | |
| | 122 | William Borgen | Sabres | RC | |
| | 123 | Connor Clifton | Bruins | RC | |
| | 124 | Max Jones | Ducks | RC | |
| | 125 | Taro Hirose | Red Wings | RC | |
| | 126 | Oliver Wahlstrom | Islanders | RC | |
| | 127 | Rasmus Sandin | Maple Leafs | RC | |
| | 128 | Erik Brannstrom | Senators | RC | |
| | 129 | Emil Bemstrom | Blue Jackets | RC | |
| | 130 | Jesper Boqvist | Devils | RC | |
| | 131 | Filip Zadina | Red Wings | RC | |
| | 132 | Nicolas Hague | Golden Knights | RC | |
| | 133 | Dante Fabbro | Predators | RC | |
| | 134 | Morgan Frost | Flyers | RC | |
| | 135 | Ryan Poehling | Canadiens | RC | |
| | 136 | Tobias Bjornfot | Kings | RC | |
| | 137 | Ilya Mikheyev | Maple Leafs | RC | |
| | 138 | Alexandre Texier | Blue Jackets | RC | |
| | 139 | Adam Fox | Rangers | RC | |
| | 140 | Victor Olofsson | Sabres | RC | |
| | 141 | Noah Dobson | Islanders | RC | |
| | 142 | Barrett Hayton | Coyotes | RC | |
| | 143 | Cody Glass | Golden Knights | RC | |
| | 144 | Cale Makar | Avalanche | RC | |
| | 145 | Kaapo Kakko | Rangers | RC | |
| | 146 | Kirby Dach | Blackhawks | RC | |
| | 147 | Nikita Gusev | Devils | RC | |
| | 148 | Nick Suzuki | Canadiens | RC | |
| | 149 | Quinn Hughes | Canucks | RC | |
| | 150 | Jack Hughes | Devils | RC | |
| | 1S-01 | Connor McDavid | Oilers | | |
| | 1S-02 | Auston Matthews | Maple Leafs | | |
| | 1S-03 | Sidney Crosby | Penguins | | |
| | 1S-04 | John Tavares | Maple Leafs | | |
| | 1S-05 | Carey Price | Canadiens | | |
| | 1S-06 | Marc-Andre Fleury | Golden Knights | | |
| | 1S-07 | Patrick Kane | Blackhawks | | |
| | 1S-08 | Jack Hughes | Devils | RC | |
| | 1S-09 | Kaapo Kakko | Rangers | RC | |
| | 1S-10 | Quinn Hughes | Canucks | RC | |
| | 1S-11 | Cale Makar | Avalanche | RC | |
| | 1S-12 | Nick Suzuki | Canadiens | RC | |
| | 2S-01 | Mark Stone | Golden Knights | | |
| | 2S-02 | Dylan Larkin | Red Wings | | |
| | 2S-03 | Ryan O'Reilly | Blues | | |
| | 2S-04 | Alex DeBrincat | Blackhawks | | |
| | 2S-05 | John Gibson | Ducks | | |
| | 2S-06 | Aleksander Barkov | Panthers | | |
| | 2S-07 | Artemi Panarin | Rangers | | |
| | 2S-08 | Filip Zadina | Red Wings | RC | |
| | 2S-09 | Ryan Poehling | Canadiens | RC | |
| | 2S-10 | Cody Glass | Golden Knights | RC | |
| | 2S-11 | Nikita Gusev | Devils | RC | |
| | 2S-12 | Kirby Dach | Blackhawks | RC | |
| | 3S-01 | Zach Werenski | Blue Jackets | | |
| | 3S-02 | Jake Guentzel | Penguins | | |
| | 3S-03 | Brayden Point | Lightning | | |
| | 3S-04 | Matthew Tkachuk | Flames | | |
| | 3S-05 | Pierre-Luc Dubois | Blue Jackets | | |
| | 3S-06 | Thomas Chabot | Senators | | |
| | 3S-07 | Jonathan Drouin | Canadiens | | |
| | 3S-08 | Rasmus Sandin | Maple Leafs | RC | |
| | 3S-09 | Noah Dobson | Islanders | RC | |
| | 3S-10 | Victor Olofsson | Sabres | RC | |
| | 3S-11 | Erik Brannstrom | Senators | RC | |
| | 3S-12 | Barrett Hayton | Coyotes | RC | |
| | RTAA-AT | Alexandre Texier | Blue Jackets | RC | |
| | RTAA-BE | Emil Bemstrom | Blue Jackets | RC | |
| | RTAA-BJ | Tobias Bjornfot | Kings | RC | |
| | RTAA-BK | Brady Keeper | Panthers | RC | |
| | RTAA-BL | Blake Lizotte | Kings | RC | |
| | RTAA-CM | Cale Makar | Avalanche | RC | |
| | RTAA-DK | Dominik Kubalik | Blackhawks | RC | |
| | RTAA-EB | Erik Brannstrom | Senators | RC | |
| | RTAA-EM | Elvis Merzlikins | Blue Jackets | RC | |
| | RTAA-FZ | Filip Zadina | Red Wings | RC | |
| | RTAA-GR | Carl Grundstrom | Kings | RC | |
| | RTAA-IM | Ilya Mikheyev | Maple Leafs | RC | |
| | RTAA-JD | Joey Daccord | Senators | RC | |
| | RTAA-JH | Jack Hughes | Devils | RC | |
| | RTAA-JL | Joel L'Esperance | Stars | RC | |
| | RTAA-JS | Jimmy Schuldt | Golden Knights | RC | |
| | RTAA-KA | Karson Kuhlman | Bruins | RC | |
| | RTAA-KD | Kirby Dach | Blackhawks | RC | |
| | RTAA-KU | Ryan Kuffner | Red Wings | RC | |
| | RTAA-LH | Libor Hajek | Rangers | RC | |
| | RTAA-MJ | Max Jones | Ducks | RC | |
| | RTAA-MV | Max Veronneau | Senators | RC | |
| | RTAA-NB | Nathan Bastian | Devils | RC | |
| | RTAA-NS | Nick Suzuki | Canadiens | RC | |
| | RTAA-OW | Oliver Wahlstrom | Islanders | RC | |
| | RTAA-PI | Rem Pitlick | Predators | RC | |
| | RTAA-PM | Philippe Myers | Flyers | RC | |
| | RTAA-QH | Quinn Hughes | Canucks | RC | |
| | RTAA-RP | Ryan Poehling | Canadiens | RC | |
| | RTAA-RS | Rasmus Sandin | Maple Leafs | RC | |
| | RTAA-ST | Nico Sturm | Wild | RC | |
| | RTAA-TB | Teddy Blueger | Penguins | RC | |
| | RTAA-TF | Trent Frederic | Bruins | RC | |
| | RTAA-TH | Taro Hirose | Red Wings | RC | |
| | RTAA-VA | Vitaly Abramov | Senators | RC | |
| | RTAA-VO | Victor Olofsson | Sabres | RC | |
| | RTAAV-AF | Adam Fox | Rangers | RC | |
| | RTAAV-AT | Alexandre Texier | Blue Jackets | RC | |
| | RTAAV-CM | Cale Makar | Avalanche | RC | |
| | RTAAV-CR | Carl Grundstrom | Kings | RC | |
| | RTAAV-EB | Erik Brannstrom | Senators | RC | |
| | RTAAV-FZ | Filip Zadina | Red Wings | RC | |
| | RTAAV-JH | Jack Hughes | Devils | RC | |
| | RTAAV-JL | Joel L'Esperance | Stars | RC | |
| | RTAAV-JS | Jimmy Schuldt | Golden Knights | RC | |
| | RTAAV-KD | Kirby Dach | Blackhawks | RC | |
| | RTAAV-KK | Karson Kuhlman | Bruins | RC | |
| | RTAAV-MJ | Max Jones | Ducks | RC | |
| | RTAAV-PM | Philippe Myers | Flyers | RC | |
| | RTAAV-QH | Quinn Hughes | Canucks | RC | |
| | RTAAV-RP | Ryan Poehling | Canadiens | RC | |
| | RTAAV-RS | Rasmus Sandin | Maple Leafs | RC | |
| | RTAAV-TH | Taro Hirose | Red Wings | RC | |
| | RTAAV-VO | Victor Olofsson | Sabres | RC | |
| | RTA-1 | Ryan Poehling | Canadiens | RC | |
| | RTA-2 | Erik Brannstrom | Senators | RC | |
| | RTA-3 | Alexandre Texier | Blue Jackets | RC | |
| | RTA-4 | Dante Fabbro | Predators | RC | |
| | RTA-5 | Taro Hirose | Red Wings | RC | |
| | RTA-6 | Philippe Myers | Flyers | RC | |
| | RTA-7 | Max Jones | Ducks | RC | |
| | RTA-8 | Victor Olofsson | Sabres | RC | |
| | RTA-9 | Vitaly Abramov | Senators | RC | |
| | RTA-10 | Noah Dobson | Islanders | RC | |
| | RTA-11 | Carl Grundstrom | Kings | RC | |
| | RTA-12 | Jimmy Schuldt | Golden Knights | RC | |
| | RTA-13 | Karson Kuhlman | Bruins | RC | |
| | RTA-14 | Tobias Bjornfot | Kings | RC | |
| | RTA-15 | Filip Zadina | Red Wings | RC | |
| | RTA-16 | Rasmus Sandin | Maple Leafs | RC | |
| | RTA-17 | Barrett Hayton | Coyotes | RC | |
| | RTA-18 | Cody Glass | Golden Knights | RC | |
| | RTA-19 | Cale Makar | Avalanche | RC | |
| | RTA-20 | Kaapo Kakko | Rangers | RC | |
| | RTA-21 | Kirby Dach | Blackhawks | RC | |
| | RTA-22 | Nick Suzuki | Canadiens | RC | |
| | RTA-23 | Nikita Gusev | Devils | RC | |
| | RTA-24 | Quinn Hughes | Canucks | RC | |
| | RTA-25 | Jack Hughes | Devils | RC | |
| | RTAA-AF | Adam Fox | Rangers | RC | Acetate Auto |
| | RTAA-AT | Alexandre Texier | Blue Jackets | RC | Acetate Auto |
| | RTAA-CM | Cale Makar | Avalanche | RC | Acetate Auto |
| | RTAA-CR | Carl Grundstrom | Kings | RC | Acetate Auto |
| | RTAA-EB | Erik Brannstrom | Senators | RC | Acetate Auto |
| | RTAA-FZ | Filip Zadina | Red Wings | RC | Acetate Auto |
| | RTAA-IM | Ilya Mikheyev | Maple Leafs | RC | Acetate Auto |
| | RTAA-JH | Jack Hughes | Devils | RC | Acetate Auto |
| | RTAA-KD | Kirby Dach | Blackhawks | RC | Acetate Auto |
| | RTAA-KU | Karson Kuhlman | Bruins | RC | Acetate Auto |
| | RTAA-MJ | Max Jones | Ducks | RC | Acetate Auto |
| | RTAA-NS | Nick Suzuki | Canadiens | RC | Acetate Auto |
| | RTAA-PM | Philippe Myers | Flyers | RC | Acetate Auto |
| | RTAA-QH | Quinn Hughes | Canucks | RC | Acetate Auto |
| | RTAA-RP | Ryan Poehling | Canadiens | RC | Acetate Auto |
| | RTAA-RS | Rasmus Sandin | Maple Leafs | RC | Acetate Auto |
| | RTAA-TH | Taro Hirose | Red Wings | RC | Acetate Auto |
| | RTAA-VA | Vitaly Abramov | Senators | RC | Acetate Auto |
| | RTAA-VO | Victor Olofsson | Sabres | RC | Acetate Auto |
| | RTAAD-AJ | Auston Matthews | Maple Leafs | | |
| | RTAAD-AJ | John Tavares | Maple Leafs | | |
| | RTAAD-JQ | Jack Hughes | Devils | RC | |
| | RTAAD-JQ | Quinn Hughes | Canucks | RC | |
| | RTAAD-MM | Marc-Andre Fleury | Golden Knights | | |
| | RTAAD-MM | Mark Stone | Golden Knights | | |
| | RTAAD- CL | Connor McDavid | Oilers | | |
| | RTAAD- CL | Leon Draisaitl | Oilers | | |
| | RS-01 | Jack Hughes | Devils | RC | |
| | RS-02 | Ryan Poehling | Canadiens | RC | |
| | RS-03 | Adam Fox | Rangers | RC | |
| | RS-04 | Erik Brannstrom | Senators | RC | |
| | RS-05 | Filip Zadina | Red Wings | RC | |
| | RS-06 | Noah Dobson | Islanders | RC | |
| | RS-07 | Rasmus Sandin | Maple Leafs | RC | |
| | RS-08 | Taro Hirose | Red Wings | RC | |
| | RS-09 | Victor Olofsson | Sabres | RC | |
| | RS-10 | Cody Glass | Golden Knights | RC | |
| | RS-11 | Alexandre Texier | Blue Jackets | RC | |
| | RS-12 | Nikita Gusev | Devils | RC | |
| | RS-13 | Emil Bemstrom | Blue Jackets | RC | |
| | RS-14 | Ilya Mikheyev | Maple Leafs | RC | |
| | RS-15 | Quinn Hughes | Canucks | RC | |
| | RS-16 | Carl Grundstrom | Kings | RC | |
| | RS-17 | Dante Fabbro | Predators | RC | |
| | RS-18 | Elvis Merzlikins | Blue Jackets | RC | |
| | RS-19 | Jesper Boqvist | Devils | RC | |
| | RS-20 | Nick Suzuki | Canadiens | RC | |
| | RS-21 | Karson Kuhlman | Bruins | RC | |
| | RS-22 | Max Jones | Ducks | RC | |
| | RS-23 | Philippe Myers | Flyers | RC | |
| | RS-24 | Blake Lizotte | Kings | RC | |
| | RS-25 | Cale Makar | Avalanche | RC | |
| | RS-26 | Kirby Dach | Blackhawks | RC | |
| | RS-27 | Barrett Hayton | Coyotes | RC | |
| | RS-28 | Mario Ferraro | Sharks | RC | |
| | RS-29 | Brady Keeper | Panthers | RC | |
| | RS-30 | Nico Sturm | Wild | RC | |
| | RS-31 | Ryan Kuffner | Red Wings | RC | |
| | RS-32 | Kaapo Kakko | Rangers | RC | |
| | SW-1 | Jack Hughes | Devils | RC | |
| | SW-2 | Erik Brannstrom | Senators | RC | |
| | SW-3 | Carl Grundstrom | Kings | RC | |
| | SW-4 | Vitaly Abramov | Senators | RC | |
| | SW-5 | Filip Zadina | Red Wings | RC | |
| | SW-6 | Philippe Myers | Flyers | RC | |
| | SW-7 | Noah Dobson | Islanders | RC | |
| | SW-8 | Cody Glass | Golden Knights | RC | |
| | SW-9 | Alexandre Texier | Blue Jackets | RC | |
| | SW-10 | Cale Makar | Avalanche | RC | |
| | SW-11 | Kirby Dach | Blackhawks | RC | |
| | SW-12 | Rasmus Sandin | Maple Leafs | RC | |
| | SW-13 | Brady Keeper | Panthers | RC | |
| | SW-14 | Barrett Hayton | Coyotes | RC | |
| | SW-15 | Ryan Poehling | Canadiens | RC | |
| | SW-16 | Taro Hirose | Red Wings | RC | |
| | SW-17 | Nick Suzuki | Canadiens | RC | |
| | SW-18 | Dominik Kubalik | Blackhawks | RC | |
| | SW-19 | Dante Fabbro | Predators | RC | |
| | SW-20 | Quinn Hughes | Canucks | RC | |
| | SW-21 | Karson Kuhlman | Bruins | RC | |
| | SW-22 | Nikita Gusev | Devils | RC | |
| | SW-23 | Victor Olofsson | Sabres | RC | |
| | SW-24 | Max Jones | Ducks | RC | |
| | SW-25 | Kaapo Kakko | Rangers | RC | |
| | TTB-1 | Connor McDavid | Oilers | | |
| | TTB-2 | Sidney Crosby | Penguins | | |
| | TTB-3 | Auston Matthews | Maple Leafs | | |
| | TTB-4 | Patrick Kane | Blackhawks | | |
| | TTB-5 | Carey Price | Canadiens | | |
| | TTB-6 | Nathan MacKinnon | Avalanche | | |
| | TTB-7 | Marc-Andre Fleury | Golden Knights | | |
| | TTB-8 | Artemi Panarin | Rangers | | |
| | TTB-9 | Dylan Larkin | Red Wings | | |
| | TTB-10 | David Pastrnak | Bruins | | |
| | TTBYB-1 | Jack Hughes | Devils | RC | |
| | TTBYB-2 | Cale Makar | Avalanche | RC | |
| | TTBYB-3 | Filip Zadina | Red Wings | RC | |
| | TTBYB-4 | Kirby Dach | Blackhawks | RC | |
| | TTBYB-5 | Nikita Gusev | Devils | RC | |
| | TTBYB-6 | Ryan Poehling | Canadiens | RC | |
| | TTBYB-7 | Rasmus Sandin | Maple Leafs | RC | |
| | TTBYB-8 | Nick Suzuki | Canadiens | RC | |
| | TTBYB-9 | Quinn Hughes | Canucks | RC | |
| | TTBYB-10 | Kaapo Kakko | Rangers | RC | |
| | TAA-AD | Alex DeBrincat | Blackhawks | | |
| | TAA-AM | Auston Matthews | Maple Leafs | | |
| | TAA-CM | Connor McDavid | Oilers | | |
| | TAA-JG | Jake Guentzel | Penguins | | |
| | TAA-JT | John Tavares | Maple Leafs | | |
| | TAA-LD | Leon Draisaitl | Oilers | | |
| | TAA-MS | Mark Stone | Golden Knights | | |
| | TAAV-AM | Auston Matthews | Maple Leafs | | |
| | TAAV-CM | Connor McDavid | Oilers | | |
| | TA-AD | Alex DeBrincat | Blackhawks | | |
| | TA-AM | Auston Matthews | Maple Leafs | | |
| | TA-BB | Brock Boeser | Canucks | | |
| | TA-BM | Brad Marchand | Bruins | | |
| | TA-CM | Connor McDavid | Oilers | | |
| | TA-JD | Jonathan Drouin | Canadiens | | |
| | TA-JE | Jack Eichel | Sabres | | |
| | TA-JG | Jake Guentzel | Penguins | | |
| | TA-JT | John Tavares | Maple Leafs | | |
| | TA-LD | Leon Draisaitl | Oilers | | |
| | TA-MS | Mark Stone | Golden Knights | | |
| | TA-PK | Patrick Kane | Blackhawks | | |
| | TA-RO | Ryan O'Reilly | Blues | | |
| | TA-SC | Sidney Crosby | Penguins | | |
| | TA-SS | Steven Stamkos | Lightning | | Acetate Auto |
| | TAA-AD | Alex DeBrincat | Blackhawks | | Acetate Auto |
| | TAA-AM | Auston Matthews | Maple Leafs | | Acetate Auto |
| | TAA-CM | Connor McDavid | Oilers | | Acetate Auto |
| | TAA-JG | Jake Guentzel | Penguins | | Acetate Auto |
| | TAA-JT | John Tavares | Maple Leafs | | Acetate Auto |
| | TAA-LD | Leon Draisaitl | Oilers | | Acetate Auto |
| | TAA-MS | Mark Stone | Golden Knights | | Acetate Auto |