2016 Topps Now Premier League trading cards highlight all of the biggest moments from the 2016/2017 season as they happen. Just like other Topps Now products, Now Premier League cards are available for only 24 hours and final print runs are solely based on the purchases made in that time frame.
Due to the Premier League's international interest, cards are available for purchase via both the US and UK versions of the Topps website.
The Premier League is England's top tier football (soccer) league and this set features some of the world's greatest active players.
Clicking a link within this checklist will direct you to an affiliate retailer or relevant eBay listings.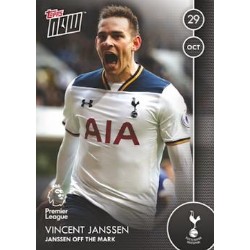 2016 Topps Now Premier League Checklist
| # | Player | Team | Print Run |
| --- | --- | --- | --- |
| 1 | Vincent Janssen | Tottenham Hotspur | 209 |
| 2 | Romelu Lukaku | Everton | 176 |
| 3 | Ashley Barnes | Burnley | 129 |
| 4 | Zlatan Ibrahimovic | Manchester United | 225 |
| 5 | Jermain Defoe | Sunderland | 76 |
| 6 | Harry Kane | Tottenham Hotspur | 126 |
| 7 | Etienne Capoue | Watford | 75 |
| 8 | Divock Origi | Liverpool | 125 |
| 9 | Swansea City | Swansea City | 106 |
| 10 | Victor Moses | Chelsea FC | 112 |
| 11 | Nathan Ake | AFC Bournemouth | 117 |
| 12 | Tottenham Hotspur | Tottenham Hotspur | 129 |
| 13 | Jamie Vardy | Leicester City | 144 |
| 14 | Jeff Hendrick | Burnley | 131 |
| 15 | Henrikh Mkhitaryan | Manchester United | 142 |
| 16 | Ashley Williams | Everton | 118 |
| 17 | Thibaut Courtois | Chelsea FC | 114 |
| 18 | Salomon Rondon | West Bromwich Albion | 117 |
| 19 | Alvaro Negredo | Manchester City | 63 |
| 20 | Jay Rodriguez | Southampton | 58 |
| 21 | Manchester City | Manchester City | 64 |
| 22 | Chelsea | Chelsea FC | 114 |
| 23 | Troy Deeney | Watford | 82 |
| 24 | West Ham United | West Ham United | 94 |
| 25 | Georginio Wijnaldum | Liverpool | 117 |
| 26 | Paul Pogba | Manchester United | 133 |
| 27 | Hal Robson-Kanu | West Bromwich Albion | 109 |
| 28 | Olivier Giroud | Arsenal FC | 123 |
| 29 | Enner Valencia | Everton | 101 |
| 30 | Sergio Aguero | Manchester City | 112 |
| 31 | Stoke City | Stoke City | 94 |
| 32 | Angel Rangel | Swansea City | 94 |
| 33 | Dele Alli | Tottenham Hotspur | 128 |
| 34 | Joey Barton | Burnley | 77 |
| 35 | Abel Hernandez | Hull City | 70 |
| 36 | Harry Kane | Liverpool | 98 |
| 37 | Andy Carroll | West Ham United | 89 |
| 38 | Tom Davies | Everton | 87 |
| 39 | Benik Afobe | AFC Bournemouth | 77 |
| 40 | Wayne Rooney | Manchester United | 332 |
| 41 | Swansea City | Swansea City | 70 |
| 42 | Chris Brunt | West Bromwich Albion | 76 |
| 43 | Alexis Sanchez | Arsenal FC | 99 |
| 44 | Crystal Palace | Crystal Palace | 88 |
| 45 | Gylfi Sigurdsson | Swansea City | 78 |
| 46 | Watford | Watford | 79 |
| 47 | Peter Crouch | Stoke City | 80 |
| 48 | Gabriel Jesus | Manchester City | 118 |
| 49 | Eden Hazard | Chelsea FC | 98 |
| 50 | Romelu Lukaku | Everton | 118 |
| 51 | Sunderland | Sunderland | 70 |
| 52 | Alfred N'Diaye | Hull City | 69 |
| 53 | West Ham United | West Ham United | 84 |
| 54 | Sadio Mane | Liverpool | 63 |
| 55 | Manolo Gabbiadini | Southampton | 71 |
| 56 | West Bromwich | West Bromwich Albion | 64 |
| 57 | Robbie Brady | Burnley | 67 |
| 58 | Alfie Mawson | Swansea City | 60 |
| 59 | Cesc Fabregas | Chelsea FC | 58 |
| 60 | Patrick Van Aanholt | Crystal Palace | 60 |
| 61 | Romelu Lukaku | Everton | 80 |
| 62 | Harry Kane | Tottenham Hotspur | 106 |
| 63 | Artur Boruc | AFC Bournemouth | 50 |
| 64 | Andros Townsend | Crystal Palace | 50 |
| 65 | Leicester City | Leicester City | 44 |
| 66 | Liverpool | Liverpool | 45 |
| 67 | Nathan Redmond | Southampton | 50 |
| 68 | Joshua King | AFC Bournemouth | 67 |
| 69 | Oumar Niasse | Hull City | 43 |
| 70 | Craig Dawson | West Bromwich Albion | 48 |
| 71 | Benik Afobe | AFC Bournemouth | 45 |
| 72 | Gary Cahill | Chelsea FC | 53 |
| 73 | Leicester City | Leicester City | 39 |
| 74 | Manchester United | Manchester United | 73 |
| 75 | Philippe Coutinho | Liverpool | 38 |
| 76 | Tottenham Hotspur | Tottenham Hotspur | 56 |
| 77 | Crystal Palace | Crystal Palace | 41 |
| 78 | Andrea Ranocchia | Hull City | 35 |
| 79 | Wilfred Ndidi | Leicester City | 40 |
| 80 | Eden Hazard | Chelsea FC | 46 |
| 81 | Hull City | Hull City | 36 |
| 82 | Tottenham Hotspur | Tottenham Hotspur | 57 |
| 83 | Philippe Coutinho | Liverpool | 48 |
| 84 | Jordy Clasie | Southampton | 39 |
| 85 | West Ham United | West Ham United | 52 |
| 86 | Marcos Alonso | Chelsea FC | 40 |
| 87 | Tom Davies | Everton | 36 |
| 88 | Everton | Everton | 48 |
| 89 | Xherdan Shaqiri | Stoke City | 41 |
| 90 | Wahbi Khazri | Sunderland | 38 |
| 91 | Vincent Kompany | Manchester City | 44 |
| 92 | Manchester United | Manchester United | 71 |
| 93 | AFC Bournemouth | AFC Bournemouth | 42 |
| 94 | Sam Clucas | Hull City | 35 |
| 95 | Tom Carroll | Swansea City | 34 |
| 96 | Christian Benteke | Crystal Palace | 41 |
| 97 | Eldin Jakupovic | Hull City | 37 |
| 98 | Gylfi Sigurdsson | Swansea City | 37 |
| 99 | Pedro | Chelsea FC | 49 |
| 100 | Harry Kane / Dele Alli | Tottenham Hotspur | 79 |
| 101 | Emre Can | Liverpool | 65 |
| 102 | Manuel Lanzini | West Ham United | 52 |
| 103 | David Silva | Manchester City | 46 |
| 104 | Sunderland | Sunderland | 33 |
| 105 | Fernando Llorente | Swansea City | 34 |
| 106 | Arsenal | Arsenal FC | 52 |
| 107 | Chelsea | Chelsea FC | 83 |
| 108 | Swansea City | Swansea City | 54 |
| 109 | Wilfried Zaha | Crystal Palace | 46 |
| 110 | Daniel Sturridge | Liverpool | 54 |
| 111 | Tottenham Hotspur | Tottenham Hotspur | 183 |
| 112 | Chelsea | Chelsea FC | 59 |
| 113 | John Terry | Chelsea FC | 49 |
| 114 | Liverpool | Liverpool | 61 |
| 115 | Josh Harrop | Manchester United | 51 |
| 116 | Harry Kane | Tottenham Hotspur | 81 |