2016 Topps Gold Label baseball cards are a return to the brand after an absence from the Topps catalog. Gold Label was a short lived series that began in 1998 before eventually becoming an insert set and then disappearing altogether.
Gold Label is branded as a premium product but as far as premium products are concerned, this release is much more accessible for the casual collector than most.
The checklist is a modest 100 cards but each card has three "classes" or variants with their own set of parallels and odds. Each box contains one framed autograph.
This checklist is organized by teams. You can jump to a preferred team by selecting them from the key below or simply scroll through the entire list. Clicking a link within the checklist will direct you to an affiliate retailer or to relevant eBay listings.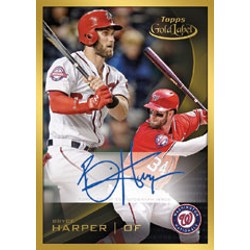 2016 Topps Gold Label Checklist
Base Set – 100 Cards
Class 1 – 100 Cards
Blue – 1:2
Red – #/100
Gold – 1/1
Class 2 – 100 Cards
Blue – 1:6
Red – #/50
Gold – 1/1
Class 3 – 100 Cards
Blue – 1:20
Red – #/25
Gold – 1/1
Framed Autographs (GLFA) – 1:Box
Gold Frame
Black Frame – #/50 (or less)
Platinum Frame – 1/1
| | | | |
| --- | --- | --- | --- |
| 1 | Mike Trout | | |
| 13 | Albert Pujols | | |
| GLFA-JAB | Jim Abbott | | Auto |
| GLFA-KC | Kole Calhoun | | Auto |
| GLFA-MT | Mike Trout | | Auto |
| | | | |
| --- | --- | --- | --- |
| 3 | George Springer | | |
| 7 | Jose Altuve | | |
| 85 | Carlos Correa | | |
| GLFA-GS | George Springer | | Auto |
| GLFA-JA | Jose Altuve | | Auto |
| | | | |
| --- | --- | --- | --- |
| 54 | Sonny Gray | | |
| 65 | Mark McGwire | | |
| GLFA-JC | Jose Canseco | | Auto |
| GLFA-SD | Sean Doolittle | | Auto |
| GLFA-SG | Sonny Gray | | Auto |
| | | | |
| --- | --- | --- | --- |
| 12 | Troy Tulowitzki | | |
| 26 | Jose Bautista | | |
| 48 | Josh Donaldson | | |
| 56 | Edwin Encarnacion | | |
| GLFA-JO | John Olerud | | Auto |
| | | | |
| --- | --- | --- | --- |
| 30 | 3Chipper Jones | | |
| 64 | Freddie Freeman | | |
| 84 | Hank Aaron | | |
| 88 | Greg Maddux | | |
| GLFA-AJ | Andruw Jones | | Auto |
| GLFA-CJ | Chipper Jones | | Auto |
| GLFA-HA | Hank Aaron | | Auto |
| GLFA-HOL | Hector Olivera | RC | Auto |
| | | | |
| --- | --- | --- | --- |
| 47 | Stan Musial | | |
| 70 | Stephen Piscotty | | |
| 87 | Ozzie Smith | | |
| GLFA-CM | Carlos Martinez | | Auto |
| GLFA-MM | Mark McGwire | | Auto |
| GLFA-SP | Stephen Piscotty | RC | Auto |
| | | | |
| --- | --- | --- | --- |
| 17 | Kris Bryant | | |
| 44 | Anthony Rizzo | | |
| 60 | Kyle Schwarber | RC | |
| 67 | Jason Heyward | | |
| 71 | Andre Dawson | | |
| 72 | Jake Arrieta | | |
| GLFA-AR | Anthony Rizzo | | Auto |
| GLFA-CE | Carl Edwards Jr. | RC | Auto |
| GLFA-JH | Jason Heyward | | Auto |
| GLFA-JSO | Jorge Soler | | Auto |
| GLFA-KB | Kris Bryant | | Auto |
| GLFA-KS | Kyle Schwarber | | Auto |
| | | | |
| --- | --- | --- | --- |
| 45 | Zack Greinke | | |
| 86 | Paul Goldschmidt | | |
| GLFA-AP | A.J. Pollock | | Auto |
| GLFA-POB | Peter O\'Brien | RC | Auto |
| | | | |
| --- | --- | --- | --- |
| 18 | Kenta Maeda | RC | |
| 22 | Clayton Kershaw | | |
| 31 | 3Sandy Koufax | | |
| 62 | Julio Urias | RC | |
| 75 | Corey Seager | | |
| 90 | Yasiel Puig | | |
| 93 | Adrian Gonzalez | | |
| GLFA-CK | Clayton Kershaw | | Auto |
| GLFA-CS | Corey Seager | RC | Auto |
| GLFA-FM | Frankie Montas | RC | Auto |
| GLFA-JUR | Julio Urias | RC | Auto |
| GLFA-KM | Kenta Maeda | RC | Auto |
| GLFA-SGR | Shawn Green | | Auto |
| GLFA-SK | Sandy Koufax | | Auto |
| GLFA-TTO | Trayce Thompson | RC | Auto |
| | | | |
| --- | --- | --- | --- |
| 28 | Buster Posey | | |
| 50 | Hunter Pence | | |
| 53 | Johnny Cueto | | |
| 94 | Madison Bumgarner | | |
| 100 | Willie Mays | | |
| | | | |
| --- | --- | --- | --- |
| GLFA-CKL | Corey Kluber | | Auto |
| GLFA-FL | Francisco Lindor | | Auto |
| GLFA-OV | Omar Vizquel | | Auto |
| | | | |
| --- | --- | --- | --- |
| 24 | Ken Griffey Jr. | | |
| 40 | Felix Hernandez | | |
| 59 | Robinson Cano | | |
| 89 | Randy Johnson | | |
| GLFA-KG | Ken Griffey Jr. | | Auto |
| GLFA-KMA | Ketel Marte | RC | Auto |
| | | | |
| --- | --- | --- | --- |
| 20 | Giancarlo Stanton | | |
| 25 | Jose Fernandez | | |
| 51 | Ichiro | | |
| GLFA-I | Ichiro | | Auto |
| | | | |
| --- | --- | --- | --- |
| 19 | Darryl Strawberry | | |
| 27 | David Wright | | |
| 29 | Yoenis Cespedes | | |
| 49 | Jacob deGrom | | |
| 68 | Michael Conforto | | |
| 78 | Mike Piazza | | |
| 82 | Matt Harvey | | |
| 98 | Noah Syndergaard | | |
| GLFA-Jd | Jacob deGrom | | Auto |
| GLFA-MP | Mike Piazza | | Auto |
| GLFA-NS | Noah Syndergaard | | Auto |
| GLFA-SMA | Steven Matz | | Auto |
| | | | |
| --- | --- | --- | --- |
| 34 | 3Bryce Harper | | |
| 37 | 3Stephen Strasburg | | |
| 46 | Lucas Giolito | RC | |
| 74 | Trea Turner | | |
| 99 | Max Scherzer | | |
| GLFA-BH | Bryce Harper | | Auto |
| GLFA-LG | Lucas Giolito | RC | Auto |
| GLFA-TT | Trea Turner | RC | Auto |
| | | | |
| --- | --- | --- | --- |
| 8 | Cal Ripken Jr. | | |
| 39 | 3Hyun-Soo Kim | RC | |
| 73 | Manny Machado | | |
| 95 | Adam Jones | | |
| GLFA-CR | Cal Ripken Jr. | | Auto |
| | | | |
| --- | --- | --- | --- |
| 77 | Aaron Nola | | |
| GLFA-AN | Aaron Nola | RC | Auto |
| GLFA-JE | Jerad Eickhoff | RC | Auto |
| GLFA-MF | Maikel Franco | | Auto |
| | | | |
| --- | --- | --- | --- |
| 21 | Roberto Clemente | | |
| 66 | Gerrit Cole | | |
| 83 | Andrew McCutchen | | |
| GLFA-SM | Starling Marte | | Auto |
| | | | |
| --- | --- | --- | --- |
| 11 | Yu Darvish | | |
| 42 | Nolan Ryan | | |
| 58 | Prince Fielder | | |
| GLFA-JG | Juan Gonzalez | | Auto |
| | | | |
| --- | --- | --- | --- |
| 6 | Chris Archer | | |
| 80 | Blake Snell | | |
| GLFA-AC | Alex Cobb | | Auto |
| GLFA-BS | Blake Snell | RC | Auto |
| GLFA-CD | Corey Dickerson | | Auto |
| | | | |
| --- | --- | --- | --- |
| 15 | Craig Kimbrel | | |
| 32 | 3David Ortiz | | |
| 38 | 3Mookie Betts | | |
| 52 | Wade Boggs | | |
| 57 | Roger Clemens | | |
| 61 | David Price | | |
| 76 | Carl Yastrzemski | | |
| GLFA-HO | Henry Owens | RC | Auto |
| GLFA-JR | Jim Rice | | Auto |
| | | | |
| --- | --- | --- | --- |
| 5 | Johnny Bench | | |
| 91 | Joey Votto | | |
| GLFA-JPE | Jose Peraza | RC | Auto |
| | | | |
| --- | --- | --- | --- |
| 2 | Carlos Gonzalez | | |
| 14 | Nolan Arenado | | |
| GLFA-AGA | Andres Galarraga | | Auto |
| GLFA-NA | Nolan Arenado | | Auto |
| | | | |
| --- | --- | --- | --- |
| 4 | Eric Hosmer | | |
| 16 | Bo Jackson | | |
| GLFA-AG | Alex Gordon | | Auto |
| GLFA-BJ | Bo Jackson | | Auto |
| GLFA-RM | Raul Mondesi | RC | Auto |
| | | | |
| --- | --- | --- | --- |
| 10 | Justin Upton | | |
| 81 | Miguel Cabrera | | |
| 92 | Justin Verlander | | |
| | | | |
| --- | --- | --- | --- |
| 43 | Byung-Ho Park | RC | |
| 55 | Jose Berrios | RC | |
| 63 | Miguel Sano | RC | |
| GLFA-BP | Byung-Ho Park | RC | Auto |
| GLFA-MS | Miguel Sano | RC | Auto |
| | | | |
| --- | --- | --- | --- |
| 35 | 3Frank Thomas | | |
| 36 | 3Jose Abreu | | |
| 79 | Chris Sale | | |
| 96 | Todd Frazier | | |
| GLFA-FT | Frank Thomas | | Auto |
| | | | |
| --- | --- | --- | --- |
| 9 | Reggie Jackson | | |
| 23 | Don Mattingly | | |
| 41 | Aroldis Chapman | | |
| 69 | Luis Severino | | |
| GLFA-DG | Didi Gregorius | | Auto |
| GLFA-DM | Don Mattingly | | Auto |
| GLFA-GB | Greg Bird | RC | Auto |
| GLFA-LS | Luis Severino | RC | Auto |
| GLFA-RR | Rob Refsnyder | RC | Auto |