2016 Leaf Live is a "Print on Demand" offering that highlights the biggest moments in sports and entertainment as they happen. Cards are available for a limited time exclusively online and print runs are capped at the total number ordered.
The series began in 2016 with the release of a Gene Wilder tribute card following his passing. Sporadic updates to the checklist continued into 2019 without a new numbering sequence having been established. Leaf appears to have abandoned the project in February 2019 with the Kyler Murray card and, over the course of three years, released only 16 cards in the set.
Our checklist includes all of the cards in this series including final print runs. Clicking a link will direct you to an affiliate retailer or to relevant eBay listings.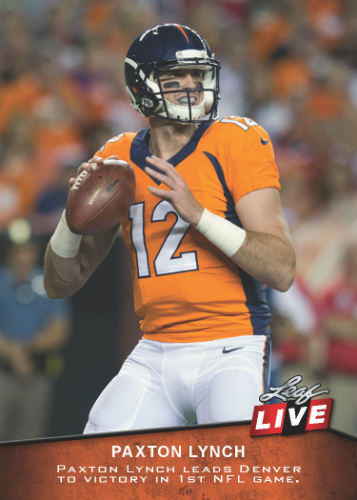 | # | Celebrity | Field | Event | Print Run |
| --- | --- | --- | --- | --- |
| 1 | Gene Wilder | Actor | Death | 233 |
| 2 | Yoan Moncada | Baseball Player | MLB Debut | 209 |
| 3 | Dak Prescott | Football Player | NFL Start | 158 |
| 4 | Carson Wentz | Football Player | NFL Start | 250 |
| 5 | Ezekiel Elliott | Football Player | First TD | 151 |
| 6 | Donald Trump | Politician | First Debate | 181 |
| 6 | Hillary Clinton | Politician | First Debate | 181 |
| 7 | Paxton Lynch | Football Player | First NFL Game | 84 |
| 8 | Harambe | Gorilla Martyr | Death | 243 |
| 9 | John Cusack | Actor | Baseball Spectator | 71 |
| 10 | Tim Tebow | Baseball Player | Two-Sport "Superstar" | 182 |
| 11 | Shohei Ohtani | Baseball Player | Power at plate and on mound | 1090 |
| 12 | Ronald Acuna | Baseball Player | First MLB Hit | 195 |
| 13 | Baker Mayfield | Football Player | First overall draft pick | 247 |
| 14 | Sam Darnold | Football Player | Third overall draft pick | 210 |
| 15 | Sony Michel | Football Player | 31st overall draft pick | 98 |
| 16 | Kyler Murray | Football Player | Chooses football over baseball | 2015 |