The 2016 Rittenhouse Game of Thrones trading card set collects all of your favorite moments from season five of the HBO megahit. With a 100 card base set, 55 insert cards, six relics and an impressive list of autographs, there is a ton to look forward to with this set. The base set, comprised of episode synopsises and character bios from the fifth season, has two complete parallel sets.
As is the norm with Rittenhouse releases, the 2016 Rittenhouse Game of Thrones collection includes several incentives for purchasing multiple cases including a dual autograph card (for 6 cases), Peter Dinklage autographed relic card (for 9 cases), and an Archive Box (for 16 cases).
The Archive Box is packed with a complete set of parallel cards, 25 random gold base parallels, 10 random insert parallels, a full set of each chase set and relic cards, 46 autograph cards, promo cards, case toppers, the 9 case Dinklage incentive, an exclusive Dinklage autograph card, and four exclusive printing plates. This box is going to be hard to find and cost a pretty penny for anyone who isn't purchasing 16 cases but it is a very cool collector's item to track down.
This checklist is organized by subset. Scroll through the entire list or jump to a preferred subset by selecting it from the key below. Clicking a link within the checklist will direct you to an affiliate retailer or to relevant eBay listings.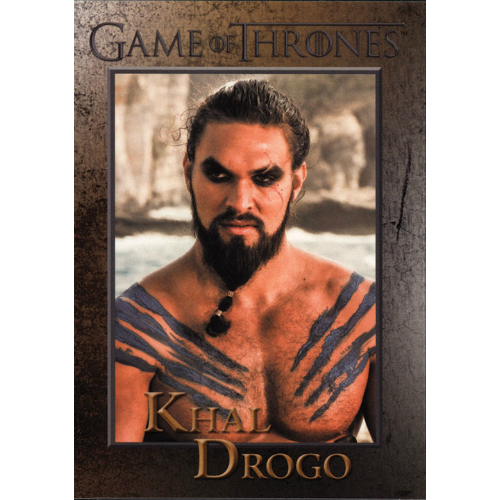 2016 Rittenhouse Game of Thrones Checklist
| | |
| --- | --- |
| 1 | The Wars to Come |
| 2 | The Wars to Come |
| 3 | The Wars to Come |
| 4 | The House of Black and White |
| 5 | The House of Black and White |
| 6 | The House of Black and White |
| 7 | High Sparrow |
| 8 | High Sparrow |
| 9 | High Sparrow |
| 10 | Sons of the Harpy |
| 11 | Sons of the Harpy |
| 12 | Sons of the Harpy |
| 13 | Kill The Boy |
| 14 | Kill The Boy |
| 15 | Kill The Boy |
| 16 | Unbowed, Unbent, Unbroken |
| 17 | Unbowed, Unbent, Unbroken |
| 18 | Unbowed, Unbent, Unbroken |
| 19 | The Gift |
| 20 | The Gift |
| 21 | The Gift |
| 22 | Hardhome |
| 23 | Hardhome |
| 24 | Hardhome |
| 25 | The Dance of Dragons |
| 26 | The Dance of Dragons |
| 27 | The Dance of Dragons |
| 28 | Mother's Mercy |
| 29 | Mother's Mercy |
| 30 | Mother's Mercy |
| 31 | Sansa Stark |
| 32 | Theon Greyjoy |
| 33 | Petyr "Littlefinger" Baelish |
| 34 | Tyrion Lannister |
| 35 | Samwell Tarly |
| 36 | Arya Stark |
| 37 | Bronn |
| 38 | Jon Snow |
| 39 | Brienne of Tarth |
| 40 | Ser Davos Seaworth |
| 41 | Daenerys Targaryen |
| 42 | Lord Varys |
| 43 | Ser Jaime Lannister |
| 44 | Grand Maester Pycelle |
| 45 | Stannis Baratheon |
| 46 | Queen Cersei Lannister |
| 47 | Margaery Tyrell |
| 48 | Ser Jorah Mormont |
| 49 | Dragons |
| 50 | Melisandre |
| 51 | Podrick Payne |
| 52 | Barriston Selmy |
| 53 | Roose Bolton |
| 54 | Tormund Giantsbane |
| 55 | Gilly |
| 56 | Mance Rayder |
| 57 | Ramsay Snow |
| 58 | Grey Worm |
| 59 | Lady Olenna Tyrell |
| 60 | Missandei |
| 61 | Ser Loras Tyrell |
| 62 | Meryn Trant |
| 63 | Ellaria Sand |
| 64 | Daario Naharis |
| 65 | Maester Aemon |
| 66 | Alliser Thorne |
| 67 | Qyburn |
| 68 | Janos Slynt |
| 69 | Olyver |
| 70 | Selyse Baratheon |
| 71 | Mace Tyrell |
| 72 | King Tommen Baratheon |
| 73 | Eddison Tollett |
| 74 | Olly |
| 75 | Shireen Baratheon |
| 76 | Hizdahr zo Loraq |
| 77 | High Septon |
| 78 | High Sparrow |
| 79 | Maggy |
| 80 | Faceless Man |
| 81 | Yohn Royce |
| 82 | Jaqen H'ghar |
| 83 | Areo Hotah |
| 84 | Doran Martell |
| 85 | Lollys Stokeworth |
| 86 | Mossador |
| 87 | Waif |
| 88 | Obara Sand |
| 89 | Tyene Sand |
| 90 | Nymeria Sand |
| 91 | Walda Bolton |
| 92 | Myrcella Baratheon |
| 93 | Trystane Martell |
| 94 | Malko |
| 95 | Yezzan zo Qaggaz |
| 96 | Septa Unella |
| 97 | Karsi |
| 98 | Night's King |
| 99 | Wun Wun |
| 100 | Checklist |
Sophit Turner
Alexander Siddig
Aidan Gillen
Peter Dinklage
Jonathan Pryce
Lena Headey
Kit Harington
Maisie Williams
Ben Crompton
Hafpor Julius Bjornsson
Jacob Anderson
Brenock O'Connor
DeObia Oparei
Birgitte Hjort Sorensen
Rosabell Laurenti Sellers
Keisha Castle-Hughes
Tom Wlaschiha
Ian Beattie
Rupert Vansittart
Toby Sebastian
Will Tudor
Kerry Ingram
Elizabeth Cadwallader
Joel Fry
Jessica Henwick
Eugene Simon
Reece Noi
Charlotte Hope
Roger Ashton
Daniel Portman
Dean-Charles Chapman
Hannah Murray
Lino Facioli
Lucian Msamati
Enzo Cilenti
Indira Varma
Michael McElhatton
Iwan Rheon
Nathalie Emmanuel
Natalie Dormer
Paul Bentley
Ian Whyte
Carice van Houten
Hannah Waddingham
Ross O'Hennessy
Elizabeth Webster
Beautiful Death Poster Art
| | |
| --- | --- |
| BD21 | Beautiful Death Poster Art |
| BD22 | Beautiful Death Poster Art |
| BD23 | Beautiful Death Poster Art |
| BD24 | Beautiful Death Poster Art |
| BD25 | Beautiful Death Poster Art |
| BD26 | Beautiful Death Poster Art |
| BD27 | Beautiful Death Poster Art |
| BD28 | Beautiful Death Poster Art |
| BD29 | Beautiful Death Poster Art |
| BD30 | Beautiful Death Poster Art |
| BD31 | Beautiful Death Poster Art |
| BD32 | Beautiful Death Poster Art |
| BD33 | Beautiful Death Poster Art |
| BD34 | Beautiful Death Poster Art |
| BD35 | Beautiful Death Poster Art |
| BD36 | Beautiful Death Poster Art |
| BD37 | Beautiful Death Poster Art |
| BD38 | Beautiful Death Poster Art |
| BD39 | Beautiful Death Poster Art |
| BD40 | Beautiful Death Poster Art |
| | |
| --- | --- |
| CC1 | Jon Snow |
| CC2 | Samwell Tarly |
| CC3 | Grenn |
| CC4 | Eddison Tollett |
| CC5 | Pypar |
| | |
| --- | --- |
| DL21 | Tyrion Lannister and Varys |
| DL22 | Arya and Jaqen H'ghar |
| DL23 | Sansa Stark and Littlefinger |
| DL24 | Daenerys Targaryan and Ser Barristan Selmy |
| DL25 | King Tommen and Queen Margaery |
| DL26 | Missandei and Grey Worm |
| DL27 | Tyrion Lannister and Ser Jorah Mormont |
| DL28 | Jon Snow and Alliser Thorne |
| DL29 | Ser Davos Seaworth and Shireen Baratheon |
| DL30 | Ser Jaime Lannister and Bronn |
| | |
| --- | --- |
| H11 | House Baratheon Die-Cut Shield Card |
| H12 | House Bolton Die-Cut Shield Card |
| | |
| --- | --- |
| Q41 | Quotable Game of Thrones |
| Q42 | Quotable Game of Thrones |
| Q43 | Quotable Game of Thrones |
| Q44 | Quotable Game of Thrones |
| Q45 | Quotable Game of Thrones |
| Q46 | Quotable Game of Thrones |
| Q47 | Quotable Game of Thrones |
| Q48 | Quotable Game of Thrones |
| Q49 | Quotable Game of Thrones |
| | |
| --- | --- |
| RM01 | Eddard Stark and Robert Baratheon |
| RM02 | Tyrion Lannister and Varys |
| RM03 | Arya Stark and Jaqen H'ghar |
| RM04 | Daenerys Targaryen and Khal Drago |
| RM05 | Stannis Baratheon and Melisandre |
| RM06 | Jon Snow and Ygritte |
| RM07 | Robb Stark and Catelyn Stark |
| RM08 | Sansa Stark and Petyr Baelish |
| RM09 | Tywin Lannister and Roose Bolton |
| RM10 | Cersei Lannister and Jaime Lannister |
| RM11 | Jorah Mormont and Daario Naharis |
| RM12 | Samwell Tarly and Gilly |
| RM13 | Jofferey Baratheon and Tommen Baratheon |
| RM14 | Margaery Tyrell and Lady Olenna |
| RM15 | Brienne of Tarth and Podrick Payne |
| RM16 | Ramsay Snow and Theon Greyjoy |