2016 Cryptozoic Walking Dead, part 1, is the first of two card sets to retell the events of the popular show's fourth season. The base set contains 72 images from the series and a number of insert sets put the focus on the characters from the series.
Many of the biggest stars from The Walking Dead are featured on the autograph checklist with one auto being distributed in each hobby box. A wardrobe or prop card is also included in every box.
This checklist is organized by subset and you can jump to a specific subset by selecting it from the key below. Clicking a link within the checklist will direct you to an affiliate retailer or to relevant eBay listings.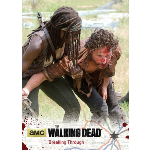 2016 Cryptozoic Walking Dead Season 4, pt 1 Checklist
Base Set – 72 Cards
Black Foil Stamp – 1:5
Silver Foil Stamp – 1:52
Gold Foil Stamp – 1:204
Character Bios (C) – 9 Cards
Silver Foil Board – 1:169
Gold Foil Board – 1:668
Posters (D) – 4 Cards
Silver Foil Board – 1:169
Gold Foil Board – 1:668
Terminus (Z) – 9 Cards
Silver Foil Board – 1:169
Gold Foil Board – 1:668
Cryptomium – 1:108
| | |
| --- | --- |
| 1 | Card Title |
| 2 | Father, Son, and Pigs |
| 3 | Rushing to Help |
| 4 | Burnt Up |
| 5 | Flaring Tempers |
| 6 | Standing Guard |
| 7 | Quarantine |
| 8 | Hammer Time |
| 9 | Pills and Thrills |
| 10 | Banished |
| 11 | Caretaker |
| 12 | Mowing Them Down |
| 13 | Adrift |
| 14 | Burning the Past |
| 15 | I Don't Want It! |
| 16 | New Man in Charge |
| 17 | Taking the Shot |
| 18 | Ambush |
| 19 | Quick Draw |
| 20 | Last Looks |
| 21 | Too Far Gone |
| 22 | Mourning Daughters |
| 23 | Sad Arrival |
| 24 | Loss |
| 25 | Kill Them All |
| 26 | Breaking Through |
| 27 | Fists and Guns |
| 28 | Defending the Prison |
| 29 | Cut Down |
| 30 | Vengeance |
| 31 | Don't Look Back |
| 32 | Walker Prison |
| 33 | End of His Term |
| 34 | On the Road |
| 35 | Let's Take a Walk |
| 36 | Sneak Attack |
| 37 | Saving Himself |
| 38 | I Saved You |
| 39 | Placing Blame |
| 40 | Searching the Neighborhood |
| 41 | Not Strong Enough |
| 42 | Independence |
| 43 | Reconciliation |
| 44 | On Their Own |
| 45 | Campfire Talk |
| 46 | Searching for Friends |
| 47 | Breakfast Conversations |
| 48 | Stocking Mission |
| 49 | Crazy Cheese |
| 50 | Questioning Her Past |
| 51 | Rummaging |
| 52 | Respecting the Dead |
| 53 | Moonshine Shack |
| 54 | The Good Stuff |
| 55 | First Drink |
| 56 | I Never |
| 57 | Preparing a Fire |
| 58 | Light It Up |
| 59 | Defiance |
| 60 | Funeral Home |
| 61 | Coffin Nap |
| 62 | Gone! |
| 63 | Mercy for a Walker |
| 64 | Everything They Need |
| 65 | Protecting the Girls |
| 66 | Difficult Decision |
| 67 | Final Moments |
| 68 | Wildflower Graves |
| 69 | Fun and Candy |
| 70 | Sanctuary? |
| 71 | Running For It |
| 72 | Checklist |
| | |
| --- | --- |
| C01 | Rick Grimes |
| C02 | Daryl Dixon |
| C03 | Carl Grimes |
| C04 | Michonne |
| C05 | Carol Peletier |
| C06 | Hershel Greene |
| C07 | Beth Greene |
| C08 | Tyreese Williams |
| C09 | The Governor |
| | |
| --- | --- |
| D1 | Tyreese and Carol |
| D2 | Carol Peletier |
| D3 | Daryl Dixon |
| D4 | Beth Greene |
| | |
| --- | --- |
| M01 | Chandler Riggs as Carl Grimes |
| M02 | Walker Wardrobe |
| M03 | Authentic Wine Bottle Prop |
| M04 | David Morrissey as The Governor |
| M05 | Walker Wardrobe |
| M06 | Woodbury Resident Wardrobe |
| M07 | Chad L Coleman as Tyreese |
| M08 | Walker Wardrobe |
| M09 | Danai Gurira as Michonne |
| M10.1 | Terminus Resident Wardrobe |
| M10.2 | Terminus Resident Wardrobe |
| M10.3 | Terminus Resident Wardrobe |
| M10.4 | Terminus Resident Wardrobe |
| M10.5 | Terminus Resident Wardrobe |
| M10.6 | Terminus Resident Wardrobe |
| M10.7 | Terminus Resident Wardrobe |
| M10.8 | Terminus Resident Wardrobe |
| M11 | Authentic Barbed Wire Prop |
| M12 | Terminus Resident Wardrobe |
| M13 | Norman Reedus as Daryl Dixon |
| M14 | Walker Wardrobe |
| M15 | Melissa McBride as Carol Peletier |
| M16 | Authentic Ammo Box Prop |
| M17 | Chandler Riggs as Carl Grimes |
| M18 | Terminus Resident Wardrobe |
| M19 | Chad L Coleman as Tyreese |
| M20 | Walker Wardrobe |
| M21 | Authentic Wine Bottle Prop |
| M22 | Emily Kinney as Beth Greene |
| M23 | Walker Wardrobe |
| M24 | Authentic Ammo Box Prop |
| M25 | Andrew Lincoln as Rick Grimes |
| M26 | Chandler Riggs as Carl Grimes |
| M27 | Authentic Ammo Box Prop |
| M28 | Authentic Ammo Box Prop |
| | |
| --- | --- |
| DM1 | David Marrisey |
| DM1 | Norman Reedus/Emily Kinney |
| DM2 | David Marrisey |
| DM2 | Andrew Lincoln/David Morrissey |
| DM3 | Danai Gurira/David Morrissey |
| DM4 | Andrew Lincoln/Chandler Riggs |
| DM5 | Chad L. Coleman/Melissa McBride |
| | |
| --- | --- |
| P1 | "Survive" Rick, metal |
| P1 | "Survive" Rick, standard |
| P2 | Rick, metal |
| P2 | Rick , standard |
| P3 | Terminus Map, metal |
| P3 | Terminus Map, standard |
| | |
| --- | --- |
| Z1 | Terminus Puzzle |
| Z2 | Terminus Puzzle |
| Z3 | Terminus Puzzle |
| Z4 | Terminus Puzzle |
| Z5 | Terminus Puzzle |
| Z6 | Terminus Puzzle |
| Z7 | Terminus Puzzle |
| Z8 | Terminus Puzzle |
| Z9 | Terminus Puzzle |
| | |
| --- | --- |
| AL1 | Andrew Lincoln |
| AL2 | Andrew Lincoln |
| BS1 | Brighton Sharbino |
| BS2 | Brighton Sharbino |
| CLC1 | Chad L. Coleman |
| CLC2 | Chad L. Coleman |
| EK1 | Emily Kinney |
| EK2 | Emily Kinney |
| GN1 | Greg Nicotero |
| GN2 | Greg Nicotero |
| GN3 | Greg Nicotero |
| GN4 | Greg Nicotero |
| JPC1 | Jose Pablo Cantillo |
| JPC2 | Jose Pablo Cantillo |
| KK1 | Kyla Kenedy |
| KK2 | Kyla Kenedy |
| MMB1 | Melissa McBride |
| MMB2 | Melissa McBride |
| NR1 | Norman Reedus |
| NR2 | Norman Reedus |
| SB1 | Sunkrish Bala |
| SB2 | Sunkrish Bala |
| SW1 | Scott Wilson |
| SW2 | Scott Wilson |