2016 Cryptozoic Gotham trading cards highlight the most memorable moments from the first season of the hit Fox television show.
The 72 card checklist is supplemented with several insert sets and a complete foil board parallel set. Autograph and Wardrobe cards are distributed one for every 24 packs so every hobby box should contain one of each.
Oversized Arkham Asylum patch redemption cards are distributed one for every 48,096 packs and printing plates are 1:174.
Gotham's first season premiered on Fox September 2014. The show released 100 episodes over a five season run, ending in 2019.
This checklist is organized by subset. Jump to a preferred subset by selecting it from the checklist key below. Clicking a link within this checklist will direct you to an affiliate retailer or to relevant eBay listings.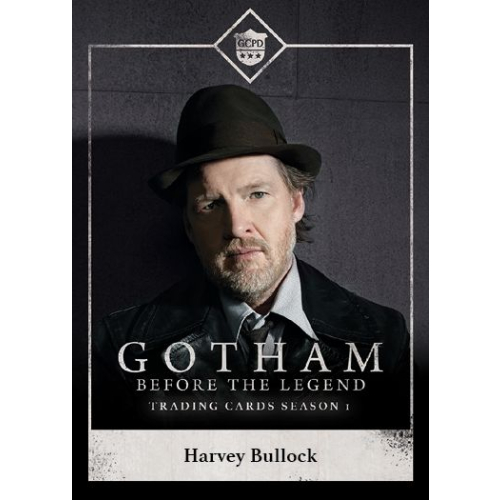 2016 Cryptozoic Gotham Checklist
| | |
| --- | --- |
| 1 | Title Card |
| 2 | Double Homicide. Theater District |
| 3 | A Childhood Lost |
| 4 | Who's Your Friend? |
| 5 | There's a War Coming |
| 6 | That Snake Was Lying |
| 7 | Quarantine |
| 8 | He's a Wayne |
| 9 | Home |
| 10 | I Saw Who Killed the Wayes |
| 11 | I Hear Jim Gordon Pulled the Trigger |
| 12 | A Great Opportunity, Indeed |
| 13 | Honey? Where's Your Manners? |
| 14 | This War is About Arkham |
| 15 | You Want Us to Fight for It? |
| 16 | Breathe Me |
| 17 | Even A Fool May Bite the King |
| 18 | Wayne… Bruce Wayne |
| 19 | A Wolf, a Cabbage, and a Goat |
| 20 | Half of What You Carry |
| 21 | You Suppressed Evidence? |
| 22 | Gordon Has to Die |
| 23 | Alive is a Very Broad Category |
| 24 | Only My Friends Can Call Me Fish |
| 25 | I Do Admire a Brave Woman |
| 26 | That is a Good Secret |
| 27 | Hell of a Start to the Day |
| 28 | Bloody Hell, What Happened to You? |
| 29 | A Mask Frees the Soul |
| 30 | She's A Witness to a Murder |
| 31 | You Call… Heads or Tails |
| 32 | Run! |
| 33 | Back Up, Slim |
| 34 | Cool Down, Cat |
| 35 | Under Your Watch Again, Gordon |
| 36 | Limping Little Chickenbutt Second Banana |
| 37 | Saviano's the Problem |
| 38 | Commissioner Loeb Visits the Rank and File |
| 39 | Don't Forget Your Rubbers |
| 40 | A Little Bird's Been Making Mischief |
| 41 | A Muder in Our Own House |
| 42 | The Brass Demands a Culprit |
| 43 | I Made a Mistake Not Killing You |
| 44 | I Grow Bigger the More You Cut |
| 45 | Sucks About Your Girlfirend |
| 46 | Fresh Air, Oatmeal, Good Friends |
| 47 | He's Preying on Fear |
| 48 | Fear is an Evolutionary Flaw |
| 49 | I've Done This Hike Before |
| 50 | I'm No Wild-Edyed Radical |
| 51 | You Let the Snake Loose? |
| 52 | Bribery, Corruption, Racketeering, and Unethical Research |
| 53 | My God, How Long Has It Been? |
| 54 | You're the One Causing All the Fuss |
| 55 | A Good Old-Fashioned Lineup |
| 56 | Nothing for the Invalid? |
| 57 | Ol' Blue Eyes |
| 58 | I Love Birds |
| 59 | Escape the Island or Die Trying |
| 60 | This Woman Deserves Justice |
| 61 | We Could Have Had Something Special |
| 62 | Anyone Know Ho to Fly a Helicopter? |
| 63 | Hello, Bruce. I'm Barbara Kean |
| 64 | Meet Constance van Groot |
| 65 | Riddle Man? The Hell You Doing Here? |
| 66 | Fun. That's One Word for What Happened. |
| 67 | I'm About to Violate Department Policy |
| 68 | Don't Forget Your Cookie |
| 69 | Kinda Jammed Up |
| 70 | Fish! Where are you? |
| 71 | My Father Was a Stoic |
| 72 | Checklist |
| | |
| --- | --- |
| C01 | James Gordon |
| C02 | Harvey Bullock |
| C03 | Bruce Wayne |
| C04 | Sarah Essen |
| C05 | Alfred Pennyworth |
| C06 | Oswald Cobblespot |
| C07 | Barbara Kean |
| C08 | Selina Kyle |
| C09 | Edward Nygma |
| C10 | Renee Montoya |
| C11 | Crispus Allen |
| C12 | Carmine Falcone |
| C13 | Fish Mooney |
| C14 | Ivy Pepper |
| C15 | Sal Maroni |
| | |
| --- | --- |
| M01 | Ben McKenzie |
| M02 | David Mazouz |
| M03 | Robin Lord Taylor |
| M04 | Erin Richards |
| M05 | David Zayas |
| M06 | Ben McKenzie |
| M07 | Zabryna Guevara |
| M08 | Jada Pinkett Smith |
| M09 | Camren Bicondova |
| M10 | David Mazouz |
| M11 | Robin Lord Taylor |
| M12 | Ben McKenzie |
| M13 | Cory Michael Smith |
| M14 | Jada Pinkett Smith |
| M15 | Cameron Monaghan |
| M16 | David Mazouz |
| M17 | Robin Lord Taylor |
| M18 | Sean Pertwee |
| M19 | Ben McKenzie |
| M20 | Morena Baccarin |
| M21 | Robin Lord Taylor |
| M22 | David Mazouz |
| M23 | Jada Pinkett Smith |
| M24 | Camren Bicondova |
| M25 | Ben McKenzie |
| M26 | Robin Lord Taylor |
| M27 | Erin Richards |
| M28 | Robin Lord Taylor |
| M29 | David Mazouz |
| M30 | Jada Pinkett Smith |
| | |
| --- | --- |
| DM1 | Jada Pinkett Smith |
| DM2 | David Zayas |
| DM3 | Zabryna Guevara |
| DM4 | John Doman |
| DM5 | Sean Pertwee and David Mazouz |
| DM6 | Andrew Stewart-Jones and Victoria Cartagena |
| DM7 | Daid Mazouz and Camren Bicondova |
| DM8 | Ben McKenzie and Morena Baccarin |
| DM9 | Robin Lord Taylor |
| | |
| --- | --- |
| TM1 | Camren Bicondova, John Doman, Ben McKenzie |
| TM2 | Camren Bicondova |
| TM3 | Robin Lord Taylor |
| | |
| --- | --- |
| Q1 | James Gordon |
| Q2 | Harvey Bullock |
| Q3 | Bruce Wayne |
| Q4 | Alfred Pennyworth |
| Q5 | Oswald Cobblepot |
| Q6 | Selina Kyle |
| Q7 | Edward Nygma |
| Q8 | Fish Mooney |
| Q9 | Carmine Falcone |
| | |
| --- | --- |
| R1 | Arkham Asylum Security |
| R2 | Security Rank Stripes |
| | |
| --- | --- |
| V1 | Villains Puzzle |
| V2 | Villains Puzzle |
| V3 | Villains Puzzle |
| V4 | Villains Puzzle |
| | |
| --- | --- |
| AC | Anthony Carrigan |
| CC | Chris Chalk |
| CF | Clare Foley |
| CH | Christopher Heyerdahl |
| CK | Carol Kane |
| CMO | Cameron Monaghan |
| CMS | Cory Michael Smith |
| CT | Charlie Tahan |
| DM | David Mazouz |
| DMI | Dash Mihok |
| DP | Drew Powell |
| ER | Erin Richards |
| JS | Julian Sands |
| LAB | Lesley-Ann Brandt |
| MV | Milo Ventimiglia |
| ND | Nicholas D'Agosto |
| NT | Nicholle Tom |
| PS | Peter Scolari |
| RG | Robert Gorrie |
| RLT | Robin Lord Taylor |
| SP | Sean Pertwee |
| TS1 | Todd Stashwick |
| TS2 | Todd Stashwick |
| | |
| --- | --- |
| P1 | Philly Non-Sports Show |
| P2 | NSU Magazine, Aug/Sep 2016 |
| P3 | San Diego Comic Con, 2016 |
| P4 | Batman Day Dealers, Sep 2016 |
| P5 | National Sports Collectors Convetion |
| P6 | National Sports Collectors Convetion GTS Exclusive |