2016 Cryptozoic Ghostbusters trading cards pay homage to the classic 1980s franchise with a base set devoted to the original film and an autograph list that combines the stars of the movie and the television cartoon.
Probably most notable for the inclusion of a Dan Aykroyd autograph card, this set is a fun bit of nostalgia which includes inventive insert sets and animation cels.
This checklist is organized by subset. Scroll through the entire list or jump to a preferred subset by selecting it from the key below. Clicking a link within the checklist will direct you to an affiliate retailer or to relevant eBay listings for that card.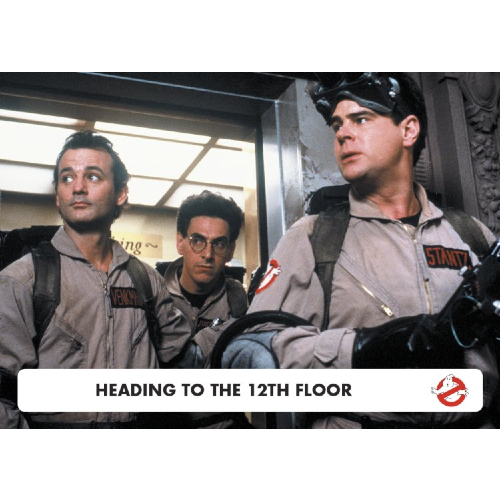 2016 Cryptozoic Ghostbusters Checklist
| | |
| --- | --- |
| 1 | Title Card |
| 2 | 2 The Grey Lady |
| 3 | Run! |
| 4 | Back to the Lab! |
| 5 | Fired! |
| 6 | Goint Into Business For Ourselves |
| 7 | Who Does Your Taxes? |
| 8 | Ready to Believe You |
| 9 | Listen! Do You Smell Something? |
| 10 | The Name is Zuul |
| 11 | Meet the Support Staff |
| 12 | We Got One! |
| 13 | To the Sedgewick! |
| 14 | Heading to the 12th Floor |
| 15 | Unlicensed Nuclear Accelerators |
| 16 | There It Is! |
| 17 | Disgusting Blob |
| 18 | Nice Shootin', Tex! |
| 19 | Business is Booming |
| 20 | I've Quit Better Jobs Than This |
| 21 | Party at Tully's |
| 22 | Taken by Zuul |
| 23 | Terror Dog at the Party |
| 24 | I am the Gatekeeper |
| 25 | I am the Keymaster |
| 26 | Shut It Down! |
| 27 | The Sign! |
| 28 | The Time Approaches |
| 29 | Keymaster Meets Gatekeeper |
| 30 | Summoned to City Hall |
| 31 | Spook Central |
| 32 | Time to Save the Day |
| 33 | The Way is Prepared |
| 34 | The Traveler Approaches |
| 35 | The Traveler Has Come |
| 36 | Gozer the Gozerian |
| 37 | Ray Addresses a God |
| 38 | The Question |
| 39 | The Answer |
| 40 | Then Die! |
| 41 | Piece of Advice |
| 42 | Heat 'em Up |
| 43 | Aim For the Flat Top |
| 44 | Getting It Done |
| 45 | Gozer Transcends |
| 46 | Choose and Perish |
| 47 | What Did You Do, Ray? |
| 48 | Mr. Stay Puft |
| 49 | He's Too Big! |
| 50 | An Angry Marshmallow Man |
| 51 | Crossing the Streams |
| 52 | I Love This Town |
| 53 | The Day is Saved |
| 54 | 54 Checklist |
| | |
| --- | --- |
| AH | Arsenio Hall as Winston Zeddemore |
| AP | Annie Potts as Janine Meinitz |
| BB | Bobby Brown as Mayor's Doorman |
| BS | Ben Stein as Public Works Official |
| DA | Dan Aykroyd as Dr. Raymond Stantz |
| DC | Dave Coulier as Dr. Peter Venkman |
| DF | Dave Florek as Cop |
| EH | Ernie Hudson as Winston Zeddemore |
| HY | Harris Yulin as Judge Stephen Wexler |
| IR | Ivan Reitman |
| JR | Jason Reitman as Brownstone Boy |
| JRO | John Rothman as Library Administrator |
| JRU | Jennifer Runyon as College Student |
| KF | Kurt Fuller as Jack Hardemeyer |
| LK | Larry King |
| LS | Laura Summer as Janine Melnitz |
| ME | Michael Ensign as Hotel Manager |
| ML | Maurice LaMarche as Dr. Egon Spengler |
| WA | William Atherton as Walter Peck |
| | |
| --- | --- |
| B1 | Behind the Scenes 1 |
| B2 | Behind the Scenes 2 |
| B3 | Behind the Scenes 3 |
| B4 | Behind the Scenes 4 |
| B5 | Behind the Scenes 5 |
| B6 | Behind the Scenes 6 |
| B7 | Behind the Scenes 7 |
| B8 | Behind the Scenes 8 |
| B9 | Behind the Scenes 9 |
| | |
| --- | --- |
| C1 | Dr. Peter Venkman |
| C2 | Dr. Raymond Stantz |
| C3 | Dana Barrett |
| C4 | Dr. Egon Spengler |
| C5 | Louis Tully |
| C6 | Winston Zeddemore |
| C7 | Janine Melnitz |
| | |
| --- | --- |
| D1 | Tricks and Traps 1 |
| D2 | Tricks and Traps 2 |
| D3 | Tricks and Traps 3 |
| D4 | Tricks and Traps 4 |
| D5 | Tricks and Traps 5 |
| D6 | Tricks and Traps 6 |
| D7 | Tricks and Traps 7 |
| D8 | Tricks and Traps 8 |
| D9 | Tricks and Traps 9 |
| | |
| --- | --- |
| E1 | Sing For Your Spector 1 |
| E2 | Sing For Your Spector 2 |
| E3 | Sing For Your Spector 3 |
| E4 | Sing For Your Spector 4 |
| E5 | Sing For Your Spector 5 |
| E6 | Sing For Your Spector 6 |
| E7 | Sing For Your Spector 7 |
| E8 | Sing For Your Spector 8 |
| E9 | Sing For Your Spector 9 |
| | |
| --- | --- |
| H1 | Venkman |
| H2 | Stantz |
| H3 | Spengler |
| H4 | Zeddemore |
| H5 | Melnitz |
| H6 | Ortiz |
| H7 | Griffin |
| H8 | Alexander |
| H9 | Rookie |
| | |
| --- | --- |
| Q1 | Don't Cross the Streams |
| Q2 | Human Sacrifice… |
| Q3 | Ray, When Someone Asks… |
| Q4 | He's an Ugly Little Spud… |
| Q5 | Ok…So…She's a Dog |
| Q6 | Choose the form of the Destructor |
| Q7 | We Came. We Saw. We Kicked Ass |
| Q8 | Are You The Gatekeeper? |
| Q9 | He Slimed Me |
| | |
| --- | --- |
| S1 | Standard Ectoplasmic Discharge |
| S2 | Standard Ectoplasmic Residue, Weakened |
| S3 | Psychomagnotheric Ectoplasm |
| S4 | Necrotic Ectoplasm |
| S5 | Abnormal Ectoplasm |
| S6 | Class 7 Ectoplasmic Discharge |