2016 Cryptozoic Flash trading cards collect the most pivotal moments from the first season of The Flash.
Several of the actors from the series signed autograph cards for this set including Tim Cavanagh, Jesse L. Martin, and Victor Garber, all of whom are well known for their extensive acting work beyond The Flash.
Like other Cryptozoic card products, this set also has a matching three-ring binder for collectors to store their cards. An exclusive prop card is included with the purchase of the binder.
This checklist is organized by subsets. Skip straight to a preferred subset by selecting it from the checklist key below. Clicking a link within the checklist will direct you to an affiliate retailer or to relevant eBay listings.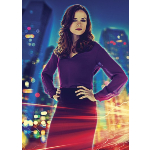 2016 Cryptozoic Flash Checklist
Base Set – 72 Cards
Rainbow Raider Foil, 1:3
Golden Glider Foil, 1:12
Character Bios (CB) – 7 Cards, 1:4
Rainbow Raider Foil, 1:3
Golden Glider Foil, 1:12
Rogues (G) – 9 Cards, 1:3
Rainbow Raider Foil, 1:3
Golden Glider Foil, 1:12
Locations (L) – 9 Cards, 1:3
Rainbow Raider Foil, 1:3
Golden Glider Foil, 1:12
Autographs – 36 Cards, 1:24
Wardrobe/Prop (M) – 30 Cards, 1:24
Dual Wardrobe (DM) – 7 Cards, 1:96
Printing Plates – 1:199
| | |
| --- | --- |
| 1 | Title Card |
| 2 | Tonight, The Future Begins |
| 3 | An Innocent Man |
| 4 | A Trial Run |
| 5 | Eat, Barry, Eat |
| 6 | Setback |
| 7 | Doubt is the Enemy |
| 8 | An Unexpected Visitor |
| 9 | I'm A Detective, Remember? |
| 10 | Always Better Together |
| 11 | Call Me Cold |
| 12 | See You Around, Kid |
| 13 | Old and New Friends |
| 14 | Face-To-Face |
| 15 | Plastique |
| 16 | You Were Born to Take a Beating |
| 17 | Too Slow |
| 18 | I Like You, Iris |
| 19 | Who Could Have Done This? |
| 20 | Time Is Of The Essence |
| 21 | Blackout |
| 22 | Nice Mask |
| 23 | Partners? |
| 24 | We Need the Arrow |
| 25 | We Can Help You Remember |
| 26 | Firestorm |
| 27 | Don't Lose That Light |
| 28 | Guess Who's Back? |
| 29 | Bring The Heat |
| 30 | Crossing Fire and Ice |
| 31 | Pied Piper |
| 32 | I Have Failed This CIty |
| 33 | A Dead End…For Now |
| 34 | A Friendly Coffee Break |
| 35 | Lights Out |
| 36 | Front Page Story |
| 37 | Impressive, Mr. Allen |
| 38 | Back At the Allen Home |
| 39 | The Firestorm Matrix |
| 40 | I Love You, Ronnie |
| 41 | We're All Okay |
| 42 | A Short-Lived Return |
| 43 | Run, Barry, Run |
| 44 | Some Friendly Competition |
| 45 | Weather Wizard |
| 46 | Hello, Joe |
| 47 | Friendly Conversation |
| 48 | Return of the Rogues |
| 49 | Master of Manipulation |
| 50 | A New Trickster |
| 51 | Tricked You |
| 52 | Your Real Super Power |
| 53 | Bee Careful |
| 54 | The Fifth Wheel |
| 55 | THe Sting of Betrayal |
| 56 | Fanboy |
| 57 | The Evidence Speaks For Itself |
| 58 | The Real Harrison Wells |
| 59 | What The Frack? |
| 60 | The Trap |
| 61 | You Really Are Clever, Cisco |
| 62 | Eiling Bad |
| 63 | I Am Grodd |
| 64 | Two Thawnes |
| 65 | Asking A Villain For Help |
| 66 | Cold Goes Rogue |
| 67 | Help From His Super Friends |
| 68 | You Won't Ever Lose Me |
| 69 | Playing With Time |
| 70 | May The Speed Force Be With You |
| 71 | Goodbye, Eobard Thawne |
| 72 | Checklist |
| | |
| --- | --- |
| CB1 | Barry Allen |
| CB2 | Iris West |
| CB3 | Joe West |
| CB4 | Eddie Thawne |
| CB5 | Cisco Ramon |
| CB6 | Caitlin Snow |
| CB7 | Harrison Wells |
| | |
| --- | --- |
| M01 | Grant Gustin as Barry Allen |
| M02 | Candice Patton as Iris West |
| M03 | Danielle Panabaker as Caitln Snow |
| M04 | Carlos Valdes as Cisco Ramon |
| M05 | Jesse L. Martin as Joe West |
| M06 | Rick Cosnett as Eddie Thawne |
| M07 | Tom Cavanagh as Dr. Harrison Wells |
| M08 | Victor Garber as Martin Stein |
| M09 | Patrick Sabongui as Captain David Singh |
| M10 | Iron Heights Prison |
| M11 | Grant Gustin as Barry Allen |
| M12 | Danielle Panabaker as Caitln Snow |
| M13 | Jesse L. Martin as Joe West |
| M14 | Patrick Sabongui as Captain David Singh |
| M15 | Carlos Valdes as Cisco Ramon |
| M16 | Rick Cosnett as Eddie Thawne |
| M17 | Tom Cavanagh as Dr. Harrison Wells |
| M18 | Grant Gustin as Barry Allen |
| M19 | Rick Cosnett as Eddie Thawne |
| M20 | Candice Patton as Iris West |
| M21 | Jesse L. Martin as Joe West |
| M22 | Patrick Sabongui as Captain David Singh |
| M23 | Grant Gustin as Barry Allen |
| M24 | Rick Cosnett as Eddie Thawne |
| M25 | CC Jitters Coffee Cup |
| M26 | Fire and Ice Painting |
| M27 | Missing Dr. Martin Stein Flyer |
| M28 | Picture News |
| M29 | The Trickster's Parachute |
| M30 | Address Label (Binder Exclusive) |
| | |
| --- | --- |
| DM1 | Grant Gustin/Candice Patton |
| DM2 | Grant Gustin/John Wesley |
| DM3 | Danielle Panabaker/Carlos Valdes |
| DM4 | Rick Cosnett/Jesse L. Martin |
| DM5 | Tom Cavanagh |
| DM6 | Grant Gustin/Tom Cavanagh |
| DM7 | Victor Garber |
| | |
| --- | --- |
| G1 | Captain Cold |
| G2 | The Mist |
| G3 | Pied Piper |
| G4 | Reverse Flash |
| G5 | Girder |
| G6 | Deathbolt |
| G7 | Bug-Eyed Bandit |
| G8 | Gorilla Grodd |
| G9 | Blackout |
| | |
| --- | --- |
| L1 | Ferris Air Testing Facility |
| L2 | S.T.A.R. Labs |
| L3 | Central City Police Department |
| L4 | Jitters |
| L5 | Particle Accelerator |
| L6 | Barry's Lab |
| L7 | Time Vault |
| L8 | Iron Heights Prison |
| L9 | The West Home |
| | |
| --- | --- |
| AC1 | Anthony Carrigan |
| AC2 | Anthony Carrigan |
| AM1 | Andy Mientus |
| AM2 | Andy Mientus |
| AP | Amanda Pays |
| CR1 | Chad Rook |
| CR2 | Chad Rook |
| DG1 | Devon Graye |
| DG2 | Devon Graye |
| DJ1 | Doug Jones |
| DJ2 | Doug Jones |
| DP | Danielle Panabaker |
| DS | David Sobolov |
| EK | Emily Kinney |
| GF1 | Greg Finley |
| GF2 | Greg Finley |
| JLM | Jesse L. Martin |
| KF1 | Kelly Frye |
| KF2 | Kelly Frye |
| LM | Liam McIntyre |
| LW | Logan Williams |
| MHR | Michelle Harrison |
| MJ | Malese Jow |
| MR1 | Michael Reventar |
| MR2 | Michael Reventar |
| PA | Paul Anthony |
| PL1 | Peyton List |
| PL2 | Peyton List |
| PS | Patrick Sabongui |
| RK | Robert Knepper |
| TC1 | Tom Cavanagh |
| TC2 | Tom Cavanagh |
| VG | Victor Garber |
| WM1 | Wentworth Miller |
| WM2 | Wentworth Miller |
| WS | William Sadler |