2016 Cryptozoic Big Bang Theory trading cards cover the stories from season six and seven of the mega hit series. The set include autographs from mostly ancillary characters including comedy legend Bob Newhart.
With a base set coming in at 72 cards and several insert set with varying collation ratios, there is plenty to keep collectors busy while still being manageable for casual collectors or fans of the show.
This checklist is organized by subset. You can jump to a preferred subset by selecting it from the checklist key below. Clicking a link within the checklist will direct you to an affiliate retailer or to relevant eBay listings.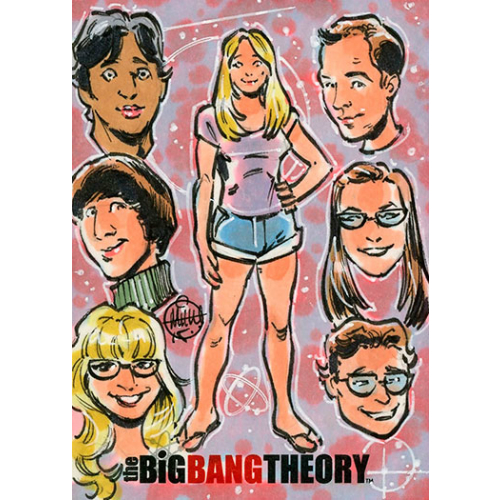 2016 Cryptozoic Big Bang Theory Checklist
| | |
| --- | --- |
| 1 | Title Card |
| 2 | Bleached and Ready |
| 3 | In Rhythm |
| 4 | Relationship Uncertainty |
| 5 | Uneasy Status Quo |
| 6 | Space Talk |
| 7 | Screaming Back to Earth |
| 8 | Post-Space Reunion |
| 9 | Ladies\' Advice |
| 10 | Making the Grade |
| 11 | Tea Party |
| 12 | Not Reassuring |
| 13 | Stealthy Spies |
| 14 | Reclaiming His Spot |
| 15 | Fishing Lessons |
| 16 | Sick Games |
| 17 | Girls\' Night with Raj |
| 18 | Holiday Games |
| 19 | Dangerous Fun |
| 20 | Cello Apology |
| 21 | Girls and Comics |
| 22 | Men of Action |
| 23 | Dark Mood |
| 24 | Lament of Inferiority |
| 25 | A Roommate Surprise |
| 26 | Comic Conversations |
| 27 | Love\'s Not in the Air |
| 28 | Wallowing in Isolation |
| 29 | Surf and Turf |
| 30 | Antimotivational Speakers |
| 31 | Raj and the Girls |
| 32 | Letter from the Past |
| 33 | Tenure Date |
| 34 | Pulling Out All the Stops |
| 35 | Dogs, Not Blogs |
| 36 | Amy\'s Cure |
| 37 | Howard the Dog Sitter |
| 38 | Irresponsible Parents |
| 39 | Big Conversations |
| 40 | Anxious Dinner |
| 41 | Bon Voyage! |
| 42 | Science Girls at the Bar |
| 43 | Hotel Bonding |
| 44 | Scavenger Hunt Fun! |
| 45 | The Riddle |
| 46 | Future Coworkers? |
| 47 | Romantic Gestures |
| 48 | Ukulele Solo |
| 49 | Opening Up |
| 50 | The Agony of the Itchy Sweater |
| 51 | Hunger and Heartache |
| 52 | Penny\'s Married! |
| 53 | Thanksgiving Bonding and Annulling |
| 54 | Annoyingly Perfect Houseguest |
| 55 | The Wonder Blunder |
| 56 | Comedy Studies |
| 57 | No More Free Cheesecake |
| 58 | Casualty of Love |
| 59 | In Need of a Wingman |
| 60 | Becoming Better Friends |
| 61 | Couch Time Machine |
| 62 | How to Talk to Mom About Sex |
| 63 | A Bananas Script |
| 64 | Drunk Dialer |
| 65 | Searching for a New Focus |
| 66 | Enough Complaining |
| 67 | Goodbye to Professor Proton |
| 68 | Awkward Encounter |
| 69 | Hairy Performance |
| 70 | Wine and Whining |
| 71 | Hitting the Rails |
| 72 | Checklist |
| | |
| --- | --- |
| CP1 | Leonard Hofstadter |
| CP2 | Sheldon Cooper |
| CP3 | Penny |
| CP4 | Howard Wolowitz |
| CP5 | Rajesh Koothrappali |
| CP6 | Amy Farrah Fowler |
| CP7 | Bernadette Maryann Rostenkowski-Wolowitz |
| | |
| --- | --- |
| M01 | Kaley Cuoco as Penny |
| M02 | Mayim Bialik as Amy |
| M03 | Kunal Nayyar as Raj |
| M04 | Melissa Rauch as Bernadette |
| M05 | Simon Helberg as Howard |
| M06 | Rubber gloves |
| M07 | Johnny Galecki as Leonard |
| M08 | Kunal Nayyar as Raj |
| M09 | Johnny Galecki as Leonard |
| M10 | Jim Parsons as Sheldon |
| M11 | Kaley Cuoco as Penny |
| M12 | Jigsaw Puzzle |
| M13 | Mayim Bialik as Amy |
| M14 | Kaley Cuoco as Penny |
| M15 | Melissa Rauch as Bernadette |
| M16 | Kunal Nayyar as Raj |
| M17 | Jim Parsons as Sheldon |
| M18 | Simon Helberg as Howard |
| M19 | Kaley Cuoco as Penny |
| M20 | Johnny Galecki as Leonard |
| M21 | Mayim Bialik as Amy |
| M22 | Model Train Set Felt |
| M23 | Jim Parsons as Sheldon |
| M24 | Johnny Galecki as Leonard |
| M25 | Simon Helberg as Howard |
| M26 | Kaley Cuoco as Penny |
| M27 | Kunal Nayyar as Raj |
| M28 | Simon Helberg as Howard |
| M29 | Mayim Bialik as Amy |
| M30 | Kaley Cuoco as Penny |
| M31 | Jim Parsons as Sheldon |
| M32 | Kunal Nayyar as Raj |
| M33 | Simon Helberg as Howard |
| M34 | Johnny Galecki as Leonard |
| M35 | Kaley Cuoco as Penny |
| M36 | Mayim Bialik as Amy |
| M37 | Jim Parsons as Sheldon (Binder Exclusive) |
| | |
| --- | --- |
| DM1 | Simon Helberg as Howard |
| DM1 | Melissa Rauch as Bernadette |
| DM2 | Kaley Cuoco as Penny |
| DM2 | Johnny Galecki as Leonard |
| DM3 | Mayim Bialik as Amy |
| DM3 | Jim Parsons as Sheldon |
| DM4 | Kaley Cuoco as Penny |
| DM4 | Kunal Nayyar as Raj |
| DM5 | Mayim Bialik as Amy |
| DM5 | Melissa Rauch as Bernadette |
| DM6 | Jim Parsons as Sheldon |
| DM6 | Johnny Galecki as Leonard |
| DM7 | Mayim Bialik as Amy |
| DM7 | Kaley Cuoco as Penny |
| DM8 | Melissa Rauch as Bernadette |
| DM8 | Jim Parsons as Sheldon |
| DM8 | Kunal Nayyar as Raj |
| DM9 | Simon Helberg as Howard |
| | |
| --- | --- |
| 3W | Mayim Bialik as Amy, Kaley Cuoco as Penny, Melissa Rauch as Bernadette |
| | |
| --- | --- |
| 4W | Jim Parsons as Sheldon, Johnny Galecki as Leonard Kunal Nayyar as Raj, Simon Helberg as Howard |
| | |
| --- | --- |
| O1 | Artist Series |
| O2 | Artist Series |
| O3 | Artist Series |
| O4 | Artist Series |
| O5 | Artist Series |
| O6 | Artist Series |
| O7 | Artist Series |
| | |
| --- | --- |
| Z1 | Algorithm Puzzle |
| Z2 | Algorithm Puzzle |
| Z3 | Algorithm Puzzle |
| Z4 | Algorithm Puzzle |
| Z5 | Algorithm Puzzle |
| Z6 | Algorithm Puzzle |
| Z7 | Algorithm Puzzle |
| Z8 | Algorithm Puzzle |
| Z9 | Algorithm Puzzle |
| | |
| --- | --- |
| BN1 | Bob Newhart as Arthur Jeffries |
| BN2 | Bob Newhart as Arthur Jeffries |
| BP1 | Brian Posehn as Bert |
| BP2 | Brian Posehn as Bert |
| BS1 | Brian Thomas Smith as Zack Johnson |
| BS2 | Brian Thomas Smith as Zack Johnson |
| CB1 | Christine Baranski as Dr. Beverly Hofstadter |
| CB2 | Christine Baranski as Dr. Beverly Hofstadter |
| ISR1 | Ian Scott Rudolph as Captain Sweatpants |
| ISR2 | Ian Scott Rudolph as Captain Sweatpants |
| JP1 | Josh Peck as Jesse |
| JP2 | Josh Peck as Jesse |
| KM1 | Kate Miccuci as Lucy |
| KM2 | Kate Miccuci as Lucy |
| LM1 | Laurie Metcalf as Mary Cooper |
| LM2 | Laurie Metcalf as Mary Cooper |
| LS1 | Laura Spencer as Emily Sweeney |
| LS2 | Laura Spencer as Emily Sweeney |
| MB1 | Mayim Bialik as Amy Farrah Fowler |
| MB2 | Mayim Bialik as Amy Farrah Fowler |
| MB-M | Mayim Bialik as Amy Farrah Fowler |
| MBA1 | Matt Battaglia as Officer Reynolds |
| MBA2 | Matt Battaglia as Officer Reynolds |
| MH1 | Margo Harshman as Alex Jensen |
| MH2 | Margo Harshman as Alex Jensen |
| MR1 | Melissa Rauch as Bernadette Rostenkowski |
| MR2 | Melissa Rauch as Bernadette Rostenkowski |
| MR-M | Melissa Rauch as Bernadette Rostenkowski |
| PDL1 | Pasha D. Lychnikoff as Dimitri Rezinov |
| PDL2 | Pasha D. Lychnikoff as Dimitri Rezinov |
| RC1 | Ryan Cartwright as Cole |
| RC2 | Ryan Cartwright as Cole |
| SH1 | Simon Helberg as Howard Wolowitz |
| SH2 | Simon Helberg as Howard Wolowitz |
| SH-M | Simon Helberg as Howard Wolowitz |