2015 Topps Gypsy Queen baseball cards mix contemporary players and baseball legends on a design that harkens back to the early days of tobacco cards.
There are 350 cards on the checklist and #301-350 are short prints. Each hobby box also includes a special box of 10 mini variations. Hobby boxes should also contain two autograph and two relic cards.
This checklist is organized by teams. Scroll through the entire list or jump to a preferred team by selecting them from the list below. Clicking a link within the checklist will direct you to an affiliate retailer or to relevant eBay listings.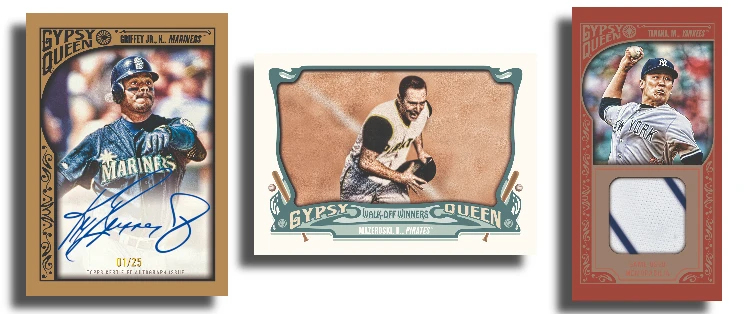 2015 Topps Gypsy Queen Checklist
Base Set – 350 Cards
Short Prints – 301-350
Variations (*)
Mini Variation (#)
Base Mini – 1:1
Silver Mini – 1:12, #/199
Gold Mini – #/99
Red Mini – 1:48, #/50
Black Mini – 1:466, #/5
Leather Mini – 1:2,340, 1/1
Autographed Relics (AR) – 20 Cards, #/50
Gold – #25
Red Patch – #/5
Black Button – 1/1
Basics of Baseball Mini (BBMR) – 15 Cards, 1:24
Originals – 1/1
Glove Stories (GS) – 15 Cards, 1:6
Autographs (GQA) – 56 Cards
Silver – #/50
Gold – #25
Red – #/5
Black – 1/1
Bat Barrels (GQBB) – 20 Cards – 1/1
Relics (GQR) – 52 Cards, 1:28
Gold – #/25
Red Patch – #/5
Black Button – 1/1
Jumbo Relics (GJR) – 25 Cards, #/50
Gold – #/25
Red Patch – #/5
Black Patch – 1/1
Mini Relics (GMR) – 54 Cards, 1:26
Gold – #/25
Red Patch – #/5
Patch – 1/1
Walk-Off Winners (GWO) – 25 Cards, 1:4
Laces Around the League (LAL) – 14 Cards, #/5
Mini Autograph (MA) – 27 Cards, #10
Mini Auto Patch Books (MAR) – 25 Cards, #/25
Original Art Patches (OAP) – 40 Cards, 1/1
Pillars of the Community (PC) – 10 Cards, 1:24
Queen's Throwbacks (QT) – 25 Cards, 1:6
Retail Framed Mini Auto (RMA) – 20 Cards
| | | | |
| --- | --- | --- | --- |
| 1 | Mike Trout | | |
| 1 | Mike Trout | | Image Variant |
| 1 | Mike Trout | | Mini Variant |
| 43 | Josh Hamilton | | |
| 49 | Albert Pujols | | |
| 63 | Huston Street | | |
| 192 | Garrett Richards | | |
| 192 | Garrett Richards | | Mini Variant |
| 279 | Jered Weaver | | |
| 280 | C.J. Wilson | | |
| 339 | David Eckstein | | |
| GJR-MT | Mike Trout | | Relic |
| GMR-MTR | Mike Trout | | Relic |
| GQA-MSH | Matt Shoemaker | | Auto |
| GQA-MTR | Mike Trout | | Auto |
| GWO-10 | Mike Trout | | |
| MA-MT | Mike Trout | | Auto |
| MAR-MT | Mike Trout | | Auto Relic |
| OAP-MT | Mike Trout | | Relic |
| QT-22 | Mike Trout | | |
| QT-23 | Jered Weaver | | |
| | | | |
| --- | --- | --- | --- |
| 14 | Jose Altuve | | |
| 14 | Jose Altuve | | Image Variant |
| 85 | Jon Singleton | | |
| 113 | Craig Biggio | | |
| 113 | Craig Biggio | | Mini Variant |
| 183 | George Springer | | |
| 183 | George Springer | | Mini Variant |
| 247 | Chris Carter | | |
| GMR-JS | Jon Singleton | | Relic |
| GQA-GS | George Springer | | Auto |
| GQR-JS | Jon Singleton | | Relic |
| MAR-CB | Craig Biggio | | Auto Relic |
| NSCC-2 | Carlos Correa RC SP | RC | |
| QT-11 | Jose Altuve | | |
| QT-13 | George Springer | | |
| | | | |
| --- | --- | --- | --- |
| 8 | Jose Canseco | | |
| 17 | Ty Cobb | | |
| 17 | Ty Cobb | | Mini Variant |
| 147 | Jarrod Parker | | |
| 182 | Sonny Gray | | |
| 182 | Sonny Gray | | Mini Variant |
| 190 | Rickey Henderson | | |
| 190 | Rickey Henderson | | Mini Variant |
| 209 | Sean Doolittle | | |
| 209 | Sean Doolittle | | Image Variant |
| 216 | Scott Kazmir | | |
| 229 | Coco Crisp | | |
| 237 | Billy Butler | | |
| 300 | Jesse Hahn | | |
| 314 | Catfish Hunter | | |
| 328 | Dennis Eckersley | | |
| AR-RH | Rickey Henderson | | Auto Relic |
| GQA-JC | Jose Canseco | | Auto |
| GQA-RH | Rickey Henderson | | Auto |
| GWO-12 | Scott Hatteberg | | |
| MA-JC | Jose Canseco | | Auto |
| MA-JD | Josh Donaldson | | Auto |
| MAR-JD | Josh Donaldson | | Auto Relic |
| MAR-SG | Sonny Gray | | Auto Relic |
| OAP-DE | Dennis Eckersley | | Relic |
| OAP-MM | Mark McGwire | | Relic |
| OAP-SG | Sonny Gray | | Relic |
| QT-21 | Sonny Gray | | |
| | | | |
| --- | --- | --- | --- |
| 30 | Jose Bautista | | |
| 30 | Jose Bautista | | Mini Variant |
| 30 | Jose Bautista | | Image Variant |
| 81 | Josh Donaldson | | |
| 96 | Edwin Encarnacion | | |
| 96 | Edwin Encarnacion | | Mini Variant |
| 98 | Jose Reyes | | |
| 98 | Jose Reyes | | Image Variant |
| 98 | Jose Reyes | | Mini Variant |
| 107 | Dalton Pompey | RC | |
| 189 | Daniel Norris | RC | |
| 189 | Daniel Norris | RC | Mini Variant |
| 222 | Russell Martin | | |
| 263 | Mark Buehrle | | |
| 276 | R.A. Dickey | | |
| 292 | Aaron Sanchez | | |
| 330 | David Cone | | |
| 331 | John Olerud | | |
| GJR-JB | Jose Bautista | | Relic |
| GQA-DN | Daniel Norris | | Auto |
| GQA-DPO | Dalton Pompey | | Auto |
| GQR-JB | Jose Bautista | | Relic |
| LAL-DN | Daniel Norris | | |
| PC-JB | Jose Bautista | | |
| | | | |
| --- | --- | --- | --- |
| 2 | Hank Aaron | | |
| 2 | Hank Aaron | | Mini Variant |
| 18 | Tom Glavine | | |
| 18 | Tom Glavine | | Mini Variant |
| 26 | Freddie Freeman | | |
| 26 | Freddie Freeman | | Image Variant |
| 48 | Shelby Miller | | |
| 68 | Alex Wood | | |
| 69 | Nick Markakis | | |
| 74 | Julio Teheran | | |
| 84 | John Smoltz | | |
| 84 | John Smoltz | | Mini Variant |
| 112 | Evan Gattis | | |
| 115 | Chipper Jones | | |
| 115 | Chipper Jones | | Mini Variant |
| 135 | Craig Kimbrel | | |
| 138 | Greg Maddux | | |
| 138 | Greg Maddux | | Mini Variant |
| 245 | Andrelton Simmons | | |
| 259 | Mike Foltynewicz | RC | |
| 270 | Mike Minor | | |
| 302 | Eddie Mathews | | |
| 332 | Fred McGriff | | |
| AR-FF | Freddie Freeman | | Auto Relic |
| AR-JT | Julio Teheran | | Auto Relic |
| GJR-AS | Andrelton Simmons | | Relic |
| GMR-EG | Evan Gattis | | Relic |
| GMR-FF | Freddie Freeman | | Relic |
| GMR-JH | Jason Heyward | | Relic |
| GMR-JU | Justin Upton | | Relic |
| GMR-MMI | Mike Minor | | Relic |
| GQA-CJ | Chris Johnson | | Auto |
| GQA-EG | Evan Gattis | | Auto |
| GQA-FF | Freddie Freeman | | Auto |
| GQA-HA | Hank Aaron | | Auto |
| GQA-JSM | John Smoltz | | Auto |
| GQA-PN | Phil Niekro | | Auto |
| GQA-TG | Tom Glavine | | Auto |
| GQR-AS | Andrelton Simmons | | Relic |
| GQR-CKI | Craig Kimbrel | | Relic |
| GQR-FF | Freddie Freeman | | Relic |
| GQR-JH | Jason Heyward | | Relic |
| LAL-FF | Freddie Freeman | | |
| MA-GM | Greg Maddux | | Auto |
| MA-JT | Julio Teheran | | Auto |
| MA-TG | Tom Glavine | | Auto |
| MAR-FF | Freddie Freeman | | Auto Relic |
| OAP-CJ | Chipper Jones | | Relic |
| OAP-CKI | Craig Kimbrel | | Relic |
| OAP-FF | Freddie Freeman | | Relic |
| OAP-GM | Greg Maddux | | Relic |
| QT-2 | Andrelton Simmons | | |
| QT-24 | Julio Teheran | | |
| | | | |
| --- | --- | --- | --- |
| 21 | Robin Yount | | |
| 21 | Robin Yount | | Mini Variant |
| 58 | Yovani Gallardo | | |
| 162 | Jonathan Lucroy | | Mini Variant |
| 162 | Jonathan Lucroy | | |
| 169 | Ryan Braun | | |
| 188 | Carlos Gomez | | |
| 188 | Carlos Gomez | | Image Variant |
| 188 | Carlos Gomez | | Mini Variant |
| 221 | Jean Segura | | |
| 232 | Matt Garza | | |
| 250 | Aramis Ramirez | | |
| 252 | Wily Peralta | | |
| 256 | Francisco Rodriguez | | |
| 275 | Khris Davis | | |
| GJR-RB | Ryan Braun | | Relic |
| GMR-RB | Ryan Braun | | Relic |
| GS-13 | Carlos Gomez | | |
| MAR-RB | Ryan Braun | | Auto Relic |
| OAP-RB | Ryan Braun | | Relic |
| QT-15 | Ryan Braun | | |
| | | | |
| --- | --- | --- | --- |
| 25 | Matt Carpenter | | |
| 25 | Matt Carpenter | | Image Variant |
| 25 | Matt Carpenter | | Mini Variant |
| 27 | John Lackey | | |
| 37 | Mark McGwire | | |
| 37 | Mark McGwire | | Mini Variant |
| 47 | Ozzie Smith | | |
| 47 | Ozzie Smith | | Mini Variant |
| 59 | Adam Wainwright | | |
| 59 | Adam Wainwright | | Mini Variant |
| 72 | Carlos Martinez | | |
| 184 | Michael Wacha | | |
| 197 | Matt Adams | | |
| 228 | Jhonny Peralta | | |
| 265 | Jason Heyward | | |
| 271 | Lance Lynn | | |
| 284 | Trevor Rosenthal | | |
| 299 | Kolten Wong | | |
| 299 | Kolten Wong | | Image Variant |
| 307 | Lou Brock | | |
| 309 | Orlando Cepeda | | |
| 324 | Bruce Sutter | | |
| 342 | Matt Holliday | | |
| 347 | Yadier Molina | | |
| AR-MA | Matt Adams | | Auto Relic |
| GJR-AW | Adam Wainwright | | Relic |
| GMR-AW | Adam Wainwright | | Relic |
| GMR-KW | Kolten Wong | | Relic |
| GMR-MA | Matt Adams | | Relic |
| GMR-MH | Matt Holliday | | Relic |
| GMR-MW | Michael Wacha | | Relic |
| GMR-SM | Shelby Miller | | Relic |
| GMR-YM | Yadier Molina | | Relic |
| GQA-KW | Kolten Wong | | Auto |
| GQA-MA | Matt Adams | | Auto |
| GQA-OS | Ozzie Smith | | Auto |
| GQBB-JH | Jason Heyward | | Relic |
| GQBB-MA | Matt Adams | | Relic |
| GQR-AW | Adam Wainwright | | Relic |
| GQR-KW | Kolten Wong | | Relic |
| GQR-MA | Matt Adams | | Relic |
| GQR-MH | Matt Holliday | | Relic |
| GQR-SMI | Shelby Miller | | Relic |
| GQR-YM | Yadier Molina | | Relic |
| GS-4 | Peter Bourjos | | |
| GWO-7 | David Freese | | |
| GWO-9 | Ozzie Smith | | |
| GWO-21 | Kolten Wong | | |
| LAL-JH | Jason Heyward | | |
| MA-OS | Ozzie Smith | | Auto |
| OAP-AW | Adam Wainwright | | Relic |
| PC-YM | Yadier Molina | | |
| | | | |
| --- | --- | --- | --- |
| 33 | Starlin Castro | | |
| 40 | Jorge Soler | RC | |
| 40 | Jorge Soler | RC | Mini Variant |
| 79 | Andre Dawson | | |
| 89 | Jon Lester | | |
| 91 | Javier Baez | RC | |
| 91 | Javier Baez | RC | Image Variant |
| 91 | Javier Baez | RC | Mini Variant |
| 97 | Anthony Rizzo | | |
| 97 | Anthony Rizzo | | Mini Variant |
| 133 | Ernie Banks | | |
| 133 | Ernie Banks | | Mini Variant |
| 151 | Ryne Sandberg | | |
| 151 | Ryne Sandberg | | Mini Variant |
| GMR-SC | Starlin Castro | | Relic |
| GQA-AD | Andre Dawson | | Auto |
| GQA-JB | Javier Baez | | Auto |
| GQA-JS | Jorge Soler | | Auto |
| GQBB-SC | Starlin Castro | | Relic |
| GQR-AD | Andre Dawson | | Relic |
| GQR-SC | Starlin Castro | | Relic |
| MA-JB | Javier Baez | | Auto |
| MA-JS | Jorge Soler | | Auto |
| MAR-AD | Andre Dawson | | Auto Relic |
| MAR-JB | Javier Baez | | Auto Relic |
| NSCC-1 | Kris Bryant RC SP | RC | |
| OAP-AR | Anthony Rizzo | | Relic |
| QT-3 | Anthony Rizzo | | |
| QT-17 | Starlin Castro | | |
| | | | |
| --- | --- | --- | --- |
| 16 | Paul Goldschmidt | | |
| 16 | Paul Goldschmidt | | Mini Variant |
| 224 | Patrick Corbin | | |
| 289 | Mark Trumbo | | |
| 338 | Luis Gonzalez | | |
| AR-PG | Paul Goldschmidt | | Auto Relic |
| GQA-PG | Paul Goldschmidt | | Auto |
| GWO-13 | Luis Gonzalez | | |
| MA-PG | Paul Goldschmidt | | Auto |
| | | | |
| --- | --- | --- | --- |
| 3 | Joc Pederson | RC | |
| 3 | Joc Pederson | RC | Mini Variant |
| 13 | Zack Greinke | | |
| 36 | Don Sutton | | |
| 62 | Kenley Jansen | | |
| 62 | Kenley Jansen | | Image Variant |
| 111 | Adrian Gonzalez | | |
| 111 | Adrian Gonzalez | | Image Variant |
| 119 | Clayton Kershaw | | |
| 119 | Clayton Kershaw | | Image Variant |
| 119 | Clayton Kershaw | | Mini Variant |
| 160 | Hyun-Jin Ryu | | Mini Variant |
| 160 | Hyun-Jin Ryu | | |
| 176 | Yasiel Puig | | |
| 176 | Yasiel Puig | | Image Variant |
| 176 | Yasiel Puig | | Mini Variant |
| 230 | Howie Kendrick | | |
| 301 | Jackie Robinson | | |
| 303 | Duke Snider | | |
| 306 | Sandy Koufax | | |
| 323 | Fernando Valenzuela | | |
| AR-CK | Clayton Kershaw | | Auto Relic |
| AR-JP | Joc Pederson | | Auto Relic |
| AR-YP | Yasiel Puig | | Auto Relic |
| GJR-CK | Clayton Kershaw | | Relic |
| GJR-HR | Hyun-Jin Ryu | | Relic |
| GJR-YP | Yasiel Puig | | Relic |
| GMR-AG | Adrian Gonzalez | | Relic |
| GMR-CC | Carl Crawford | | Relic |
| GMR-CK | Clayton Kershaw | | Relic |
| GMR-HR | Hyun-Jin Ryu | | Relic |
| GMR-ZG | Zack Greinke | | Relic |
| GQA-CK | Clayton Kershaw | | Auto |
| GQA-JP | Joc Pederson | | Auto |
| GQA-YP | Yasiel Puig | | Auto |
| GQBB-AG | Adrian Gonzalez | | Relic |
| GQR-AG | Adrian Gonzalez | | Relic |
| GQR-CC | Carl Crawford | | Relic |
| GQR-CK | Clayton Kershaw | | Relic |
| GQR-HR | Hyun-Jin Ryu | | Relic |
| GQR-YP | Yasiel Puig | | Relic |
| GQR-ZG | Zack Greinke | | Relic |
| LAL-ZG | Zack Greinke | | |
| MA-CK | Clayton Kershaw | | Auto |
| MA-JP | Joc Pederson | | Auto |
| MA-SK | Sandy Koufax | | Auto |
| MA-YP | Yasiel Puig | | Auto |
| MAR-CK | Clayton Kershaw | | Auto Relic |
| MAR-JP | Joc Pederson | | Auto Relic |
| OAP-CK | Clayton Kershaw | | Relic |
| OAP-YP | Yasiel Puig | | Relic |
| PC-YP | Yasiel Puig | | |
| | | | |
| --- | --- | --- | --- |
| 56 | Vladimir Guerrero | | |
| 56 | Vladimir Guerrero | | Mini Variant |
| GQR-VG | Vladimir Guerrero | | Relic |
| | | | |
| --- | --- | --- | --- |
| 86 | Juan Marichal | | |
| 86 | Juan Marichal | | Mini Variant |
| 100 | Willie Mays | | |
| 100 | Willie Mays | | Mini Variant |
| 123 | Yusmeiro Petit | | |
| 130 | Tim Hudson | | |
| 146 | Matt Cain | | |
| 163 | Willie McCovey | | Mini Variant |
| 163 | Willie McCovey | | |
| 218 | Jake Peavy | | |
| 261 | Hunter Pence | | |
| 261 | Hunter Pence | | Image Variant |
| 296 | Brandon Belt | | |
| 315 | Hoyt Wilhelm | | |
| 346 | Tim Lincecum | | |
| 348 | Buster Posey | | |
| 350 | Madison Bumgarner | | |
| GJR-BP | Buster Posey | | Relic |
| GMR-GB | Gary Brown | | Relic |
| GMR-MB | Madison Bumgarner | | Relic |
| GMR-PS | Pablo Sandoval | | Relic |
| GQA-BC | Brandon Crawford | | Auto |
| GQR-BP | Buster Posey | | Relic |
| GQR-PS | Pablo Sandoval | | Relic |
| GS-10 | Pablo Sandoval | | |
| GS-12 | Hunter Pence | | |
| GWO-19 | Travis Ishikawa | | |
| LAL-MB | Madison Bumgarner | | |
| OAP-BP | Buster Posey | | Relic |
| OAP-JM | Juan Marichal | | Relic |
| PC-BP | Buster Posey | | |
| QT-4 | Michael Morse | | |
| | | | |
| --- | --- | --- | --- |
| 90 | Carlos Santana | | |
| 90 | Carlos Santana | | Mini Variant |
| 95 | Corey Kluber | | |
| 95 | Corey Kluber | | Mini Variant |
| 139 | Jason Kipnis | | |
| 139 | Jason Kipnis | | Mini Variant |
| 142 | Larry Doby | | |
| 159 | Roberto Alomar | | Mini Variant |
| 159 | Roberto Alomar | | |
| 165 | Michael Brantley | | Mini Variant |
| 165 | Michael Brantley | | |
| 219 | Carlos Carrasco | | |
| 240 | Cody Allen | | |
| 249 | Brandon Moss | | |
| 257 | Yan Gomes | | |
| 262 | Lonnie Chisenhall | | |
| 267 | Trevor Bauer | | |
| 293 | Danny Salazar | | |
| GQBB-AB | Albert Belle | | Relic |
| GS-5 | Mike Aviles | | |
| QT-25 | Jason Kipnis | | |
| | | | |
| --- | --- | --- | --- |
| 32 | Hisashi Iwakuma | | |
| 52 | Nelson Cruz | | |
| 55 | Robinson Cano | | |
| 55 | Robinson Cano | | Image Variant |
| 55 | Robinson Cano | | Mini Variant |
| 103 | Taijuan Walker | | |
| 103 | Taijuan Walker | | Mini Variant |
| 122 | Ken Griffey Jr. | | |
| 122 | Ken Griffey Jr. | | Mini Variant |
| 150 | Felix Hernandez | | |
| 150 | Felix Hernandez | | Image Variant |
| 199 | Mike Zunino | | |
| 206 | Roenis Elias | | |
| 211 | Fernando Rodney | | |
| 215 | Kyle Seager | | |
| 266 | Austin Jackson | | |
| GJR-FH | Felix Hernandez | | Relic |
| GMR-HI | Hisashi Iwakuma | | Relic |
| GMR-TW | Taijuan Walker | | Relic |
| GQA-KGR | Ken Griffey Jr | | Auto |
| GQBB-RC | Robinson Cano | | Relic |
| GQR-FH | Felix Hernandez | | Relic |
| GQR-HI | Hisashi Iwakuma | | Relic |
| GQR-RC | Robinson Cano | | Relic |
| GQR-TW | Taijuan Walker | | Relic |
| GS-6 | Dustin Ackley | | |
| GWO-2 | Ken Griffey Jr | | |
| LAL-NC | Nelson Cruz | | |
| LAL-RC | Robinson Cano | | |
| MA-KG | Ken Griffey Jr | | Auto |
| MAR-KG | Ken Griffey Jr | | Auto Relic |
| MAR-RC | Robinson Cano | | Auto Relic |
| OAP-FH | Felix Hernandez | | Relic |
| PC-RC | Robinson Cano | | |
| QT-14 | Robinson Cano | | |
| | | | |
| --- | --- | --- | --- |
| 75 | Mat Latos | | |
| 127 | Dee Gordon | | |
| 132 | Jose Fernandez | | |
| 170 | Christian Yelich | | |
| 170 | Christian Yelich | | Mini Variant |
| 177 | Martin Prado | | |
| 180 | Giancarlo Stanton | | |
| 180 | Giancarlo Stanton | | Mini Variant |
| 201 | Marcell Ozuna | | |
| 234 | Jarred Cosart | | |
| 274 | Dan Haren | | |
| 277 | Henderson Alvarez | | |
| 283 | Steve Cishek | | |
| 334 | Livan Hernandez | | |
| 340 | Josh Beckett | | |
| AR-GSN | Giancarlo Stanton | | Auto Relic |
| AR-JF | Jose Fernandez | | Auto Relic |
| GJR-GS | Giancarlo Stanton | | Relic |
| GMR-CY | Christian Yelich | | Relic |
| GMR-SCI | Steve Cishek | | Relic |
| GQA-CY | Christian Yelich | | Auto |
| GQA-JF | Jose Fernandez | | Auto |
| GQBB-GS | Giancarlo Stanton | | Relic |
| GQR-AH | Adeiny Hechavarria | | Relic |
| GWO-3 | Giancarlo Stanton | | |
| MA-GS | Giancarlo Stanton | | Auto |
| MA-JF | Jose Fernandez | | Auto |
| MAR-GSN | Giancarlo Stanton | | Auto Relic |
| OAP-GS | Giancarlo Stanton | | Relic |
| | | | |
| --- | --- | --- | --- |
| 6 | David Wright | | |
| 6 | David Wright | | Mini Variant |
| 82 | Mookie Wilson | | |
| 92 | Matt Harvey | | |
| 92 | Matt Harvey | | Mini Variant |
| 101 | Lucas Duda | | |
| 124 | Mike Piazza | | |
| 124 | Mike Piazza | | Mini Variant |
| 131 | Zack Wheeler | | |
| 131 | Zack Wheeler | | Mini Variant |
| 171 | Dilson Herrera | RC | |
| 171 | Dilson Herrera | RC | Image Variant |
| 171 | Dilson Herrera | RC | Mini Variant |
| 195 | Jacob deGrom | | |
| 195 | Jacob deGrom | | Mini Variant |
| 196 | Travis d'Arnaud | | |
| 202 | Juan Lagares | | |
| 207 | Jonathon Niese | | |
| 214 | Daniel Murphy | | |
| 214 | Daniel Murphy | | Image Variant |
| 233 | Bartolo Colon | | |
| 233 | Bartolo Colon | | Image Variant |
| 241 | Curtis Granderson | | |
| 285 | Jenrry Mejia | | |
| 285 | Jenrry Mejia | | Image Variant |
| 311 | Tom Seaver | | |
| 320 | Gary Carter | | |
| 327 | Dwight Gooden | | |
| GJR-MP | Mike Piazza | | Relic |
| GMR-DW | David Wright | | Relic |
| GMR-TD | Travis d'Arnaud | | Relic |
| GQA-JD | Jacob deGrom | | Auto |
| GQA-JL | Juan Lagares | | Auto |
| GQBB-DW | David Wright | | Relic |
| GQR-DW | David Wright | | Relic |
| GQR-TD | Travis d'Arnaud | | Relic |
| GWO-17 | Lenny Dykstra | | |
| GWO-25 | Mookie Wilson | | |
| LAL-TD | Travis d'Arnaud | | |
| MA-DW | David Wright | | Auto |
| OAP-MP | Mike Piazza | | Relic |
| PC-DW | David Wright | | |
| QT-19 | Curtis Granderson | | |
| | | | |
| --- | --- | --- | --- |
| 12 | Jordan Zimmermann | | |
| 12 | Jordan Zimmermann | | Image Variant |
| 12 | Jordan Zimmermann | | Mini Variant |
| 45 | Bryce Harper | | |
| 45 | Bryce Harper | | Image Variant |
| 45 | Bryce Harper | | Mini Variant |
| 51 | Anthony Rendon | | |
| 51 | Anthony Rendon | | Image Variant |
| 76 | Gio Gonzalez | | |
| 76 | Gio Gonzalez | | Mini Variant |
| 93 | Max Scherzer | | |
| 173 | Jayson Werth | | |
| 173 | Jayson Werth | | Image Variant |
| 178 | Ryan Zimmerman | | |
| 178 | Ryan Zimmerman | | Mini Variant |
| 186 | Stephen Strasburg | | |
| 223 | Ian Desmond | | |
| 227 | Tanner Roark | | |
| GJR-AR | Anthony Rendon | | Relic |
| GJR-SS | Stephen Strasburg | | Relic |
| GMR-GG | Gio Gonzalez | | Relic |
| GMR-SS | Stephen Strasburg | | Relic |
| GQA-MT | Michael Taylor | | Auto |
| GQR-GG | Gio Gonzalez | | Relic |
| GS-1 | Steven Souza Jr | | |
| GWO-15 | Bryce Harper | | |
| GWO-22 | Jayson Werth | | |
| MA-BH | Bryce Harper | | Auto |
| OAP-BHA | Bryce Harper | | Relic |
| OAP-SS | Stephen Strasburg | | Relic |
| PC-BH | Bryce Harper | | |
| | | | |
| --- | --- | --- | --- |
| 22 | Kevin Gausman | | |
| 22 | Kevin Gausman | | Mini Variant |
| 23 | Adam Jones | | |
| 23 | Adam Jones | | Image Variant |
| 31 | Mike Mussina | | |
| 31 | Mike Mussina | | Mini Variant |
| 87 | Cal Ripken Jr. | | |
| 87 | Cal Ripken Jr. | | Mini Variant |
| 117 | Manny Machado | | |
| 117 | Manny Machado | | Image Variant |
| 137 | Chris Davis | | |
| 137 | Chris Davis | | Mini Variant |
| 198 | J.J. Hardy | | |
| 205 | Dylan Bundy | | |
| 255 | Zach Britton | | |
| 298 | Ubaldo Jimenez | | |
| 308 | Brooks Robinson | | |
| 312 | Jim Palmer | | |
| 333 | Luis Aparicio | | |
| GJR-RP | Rafael Palmeiro | | Relic |
| GMR-CD | Chris Davis | | Relic |
| GQA-AJ | Adam Jones | | Auto |
| GQA-CR | Cal Ripken Jr | | Auto |
| GQA-KG | Kevin Gausman | | Auto |
| GQR-AJ | Adam Jones | | Relic |
| MAR-AJ | Adam Jones | | Auto Relic |
| MAR-CR | Cal Ripken Jr | | Auto Relic |
| OAP-AJ | Adam Jones | | Relic |
| QT-7 | Nelson Cruz | | |
| QT-12 | Miguel Gonzalez | | |
| QT-20 | Manny Machado | | |
| | | | |
| --- | --- | --- | --- |
| 28 | Wil Myers | | |
| 38 | Matt Kemp | | |
| 77 | Andrew Cashner | | |
| 88 | Justin Upton | | |
| 158 | Rymer Liriano | RC | |
| 164 | Tony Gwynn | | Mini Variant |
| 164 | Tony Gwynn | | |
| 231 | Ian Kennedy | | |
| 235 | Tyson Ross | | |
| GQA-AA | Abraham Almonte | | Auto |
| GQA-CS | Cory Spangenberg | | Auto |
| | | | |
| --- | --- | --- | --- |
| 4 | Maikel Franco | RC | |
| 44 | Steve Carlton | | |
| 44 | Steve Carlton | | Mini Variant |
| 136 | Jonathan Papelbon | | |
| 136 | Jonathan Papelbon | | Image Variant |
| 154 | Ryan Howard | | |
| 174 | Chase Utley | | |
| 175 | Cole Hamels | | |
| 181 | Cliff Lee | | |
| 286 | Ken Giles | | |
| 322 | Mike Schmidt | | |
| 344 | Jimmy Rollins | | |
| AR-MF | Maikel Franco | | Auto Relic |
| GMR-CH | Cole Hamels | | Relic |
| GQA-MF | Maikel Franco | | Auto |
| GQBB-CU | Chase Utley | | Relic |
| GQBB-RH | Ryan Howard | | Relic |
| GQR-CH | Cole Hamels | | Relic |
| GS-7 | Ben Revere | | |
| | | | |
| --- | --- | --- | --- |
| 34 | Andrew McCutchen | | |
| 34 | Andrew McCutchen | | Image Variant |
| 34 | Andrew McCutchen | | Mini Variant |
| 80 | Gerrit Cole | | |
| 121 | Gregory Polanco | | |
| 121 | Gregory Polanco | | Image Variant |
| 134 | Ralph Kiner | | |
| 212 | Mark Melancon | | |
| 220 | Francisco Liriano | | |
| 243 | Pedro Alvarez | | |
| 253 | A.J. Burnett | | |
| 258 | Starling Marte | | |
| 258 | Starling Marte | | Image Variant |
| 272 | Josh Harrison | | |
| 304 | Bill Mazeroski | | |
| 313 | Willie Stargell | | |
| 321 | Dave Parker | | |
| AR-GP | Gregory Polanco | | Auto Relic |
| GJR-AM | Andrew McCutchen | | Relic |
| GMR-GC | Gerrit Cole | | Relic |
| GMR-GP | Gregory Polanco | | Relic |
| GQA-GP | Gregory Polanco | | Auto |
| GQR-GC | Gerrit Cole | | Relic |
| GQR-SM | Starling Marte | | Relic |
| GWO-1 | Bill Mazeroski | | |
| GWO-24 | Neil Walker | | |
| MA-GP | Gregory Polanco | | Auto |
| MAR-GP | Gregory Polanco | | Auto Relic |
| OAP-AM | Andrew McCutchen | | Relic |
| OAP-GP | Gregory Polanco | | Relic |
| QT-18 | Gerrit Cole | | |
| | | | |
| --- | --- | --- | --- |
| 19 | Yu Darvish | | |
| 19 | Yu Darvish | | Image Variant |
| 35 | Nolan Ryan | | |
| 35 | Nolan Ryan | | Mini Variant |
| 41 | Ivan Rodriguez | | |
| 41 | Ivan Rodriguez | | Image Variant |
| 41 | Ivan Rodriguez | | Mini Variant |
| 46 | Adrian Beltre | | |
| 46 | Adrian Beltre | | Image Variant |
| 53 | Prince Fielder | | |
| 61 | Derek Holland | | |
| 268 | Elvis Andrus | | |
| 295 | Shin-Soo Choo | | |
| AR-YD | Yu Darvish | | Auto Relic |
| GMR-AB | Adrian Beltre | | Relic |
| GMR-EA | Elvis Andrus | | Relic |
| GQA-JG | Juan Gonzalez | | Auto |
| GQBB-PF | Prince Fielder | | Relic |
| GQR-EA | Elvis Andrus | | Relic |
| MA-NR | Nolan Ryan | | Auto |
| MA-YD | Yu Darvish | | Auto |
| MAR-JG | Juan Gonzalez | | Auto Relic |
| OAP-JG | Juan Gonzalez | | Relic |
| OAP-NR | Nolan Ryan | | Relic |
| OAP-YD | Yu Darvish | | Relic |
| QT-9 | Adrian Beltre | | |
| QT-10 | Rougned Odor | | |
| | | | |
| --- | --- | --- | --- |
| 73 | Ben Zobrist | | |
| 94 | Evan Longoria | | |
| 104 | Matt Moore | | |
| 106 | Alex Cobb | | |
| 129 | Drew Smyly | | |
| 185 | Chris Archer | | |
| 185 | Chris Archer | | Mini Variant |
| 204 | Jake Odorizzi | | |
| 217 | Desmond Jennings | | |
| 236 | Jake McGee | | |
| GMR-CA | Chris Archer | | Relic |
| GMR-WM | Wil Myers | | Relic |
| GQA-CA | Chris Archer | | Auto |
| GQA-MJ | Matt Joyce | | Auto |
| GQBB-EL | Evan Longoria | | Relic |
| GQR-CA | Chris Archer | | Relic |
| GWO-16 | Evan Longoria | | |
| | | | |
| --- | --- | --- | --- |
| 11 | Hanley Ramirez | | |
| 60 | Mookie Betts | | |
| 60 | Mookie Betts | | Image Variant |
| 60 | Mookie Betts | | Mini Variant |
| 125 | Roger Clemens | | |
| 125 | Roger Clemens | | Mini Variant |
| 128 | Anthony Ranaudo | RC | |
| 141 | Nomar Garciaparra | | |
| 153 | Wade Boggs | | |
| 156 | Ted Williams | | Mini Variant |
| 156 | Ted Williams | | |
| 157 | Rusney Castillo | RC | Mini Variant |
| 157 | Rusney Castillo | RC | |
| 168 | David Ortiz | | |
| 168 | David Ortiz | | Image Variant |
| 168 | David Ortiz | | Mini Variant |
| 187 | Xander Bogaerts | | |
| 187 | Xander Bogaerts | | Image Variant |
| 187 | Xander Bogaerts | | Mini Variant |
| 191 | Pablo Sandoval | | |
| 200 | Mike Napoli | | |
| 273 | Allen Craig | | |
| 343 | Dustin Pedroia | | |
| 349 | Koji Uehara | | |
| AR-DP | Dustin Pedroia | | Auto Relic |
| GJR-RC | Roger Clemens | | Relic |
| GJR-YC | Yoenis Cespedes | | Relic |
| GMR-DO | David Ortiz | | Relic |
| GMR-XB | Xander Bogaerts | | Relic |
| GQA-AR | Anthony Ranaudo | | Auto |
| GQA-BHO | Brock Holt | | Auto |
| GQA-DP | Dustin Pedroia | | Auto |
| GQA-NG | Nomar Garciaparra | | Auto |
| GQA-RC | Rusney Castillo | | Auto |
| GQBB-CF | Carlton Fisk | | Relic |
| GQBB-HR | Hanley Ramirez | | Relic |
| GQR-XB | Xander Bogaerts | | Relic |
| GQR-YC | Yoenis Cespedes | | Relic |
| GS-8 | Mookie Betts | | |
| GWO-4 | David Ortiz | | |
| GWO-8 | Carlton Fisk | | |
| MAR-DP | Dustin Pedroia | | Auto Relic |
| MAR-RCA | Rusney Castillo | | Auto Relic |
| OAP-DP | Dustin Pedroia | | Relic |
| OAP-TW | Ted Williams | | Relic |
| OAP-YC | Yoenis Cespedes | | Relic |
| PC-DO | David Ortiz | | |
| | | | |
| --- | --- | --- | --- |
| 15 | Todd Frazier | | |
| 24 | Joey Votto | | |
| 64 | Tony Perez | | |
| 65 | Devin Mesoraco | | |
| 65 | Devin Mesoraco | | Mini Variant |
| 71 | Aroldis Chapman | | |
| 71 | Aroldis Chapman | | Image Variant |
| 102 | Johnny Cueto | | |
| 102 | Johnny Cueto | | Mini Variant |
| 105 | Billy Hamilton | | |
| 105 | Billy Hamilton | | Image Variant |
| 105 | Billy Hamilton | | Mini Variant |
| 145 | Deion Sanders | | |
| 269 | Mike Leake | | |
| 290 | Jay Bruce | | |
| 294 | Brandon Phillips | | |
| 297 | Homer Bailey | | |
| 317 | Johnny Bench | | |
| 318 | Joe Morgan | | |
| 329 | Eric Davis | | |
| GJR-BH | Billy Hamilton | | Relic |
| GMR-AC | Aroldis Chapman | | Relic |
| GQBB-JB | Jay Bruce | | Relic |
| GQBB-JV | Joey Votto | | Relic |
| GQR-BH | Billy Hamilton | | Relic |
| GQR-JVO | Joey Votto | | Relic |
| GS-2 | Billy Hamilton | | |
| LAL-JC | Johnny Cueto | | |
| LAL-JV | Joey Votto | | |
| LAL-TF | Todd Frazier | | |
| MAR-JC | Johnny Cueto | | Auto Relic |
| OAP-BH | Billy Hamilton | | Relic |
| OAP-JC | Johnny Cueto | | Relic |
| | | | |
| --- | --- | --- | --- |
| 78 | Charlie Blackmon | | |
| 116 | Nolan Arenado | | |
| 126 | Carlos Gonzalez | | |
| 144 | Justin Morneau | | |
| 155 | Troy Tulowitzki | | Mini Variant |
| 155 | Troy Tulowitzki | | |
| 213 | LaTroy Hawkins | | |
| 288 | Wilin Rosario | | |
| AR-CG | Carlos Gonzalez | | Auto Relic |
| GQA-TT | Troy Tulowitzki | | Auto |
| GQBB-TT | Troy Tulowitzki | | Relic |
| GQR-NA | Nolan Arenado | | Relic |
| GWO-18 | Carlos Gonzalez | | |
| | | | |
| --- | --- | --- | --- |
| 7 | Yordano Ventura | | |
| 7 | Yordano Ventura | | Mini Variant |
| 9 | Bo Jackson | | |
| 9 | Bo Jackson | | Mini Variant |
| 50 | Salvador Perez | | |
| 50 | Salvador Perez | | Image Variant |
| 50 | Salvador Perez | | Mini Variant |
| 54 | Brandon Finnegan | RC | |
| 57 | Jason Vargas | | |
| 67 | Eric Hosmer | | |
| 67 | Eric Hosmer | | Image Variant |
| 67 | Eric Hosmer | | Mini Variant |
| 161 | Lorenzo Cain | | Mini Variant |
| 161 | Lorenzo Cain | | |
| 179 | James Shields | | |
| 179 | James Shields | | Image Variant |
| 179 | James Shields | | Mini Variant |
| 194 | Alex Gordon | | |
| 194 | Alex Gordon | | Image Variant |
| 194 | Alex Gordon | | Mini Variant |
| 244 | Nori Aoki | | |
| 264 | Alex Rios | | |
| 281 | Wade Davis | | |
| 282 | Greg Holland | | |
| 326 | George Brett | | |
| AR-YV | Yordano Ventura | | Auto Relic |
| GMR-EH | Eric Hosmer | | Relic |
| GMR-SP | Salvador Perez | | Relic |
| GMR-YV | Yordano Ventura | | Relic |
| GQA-BF | Brandon Finnegan | | Auto |
| GQA-BJ | Bo Jackson | | Auto |
| GQA-JW | Josh Willingham | | Auto |
| GQA-YV | Yordano Ventura | | Auto |
| GQR-YV | Yordano Ventura | | Relic |
| GS-9 | Alex Gordon | | |
| GS-11 | Norichika Aoki | | |
| GS-15 | Mike Moustakas | | |
| GWO-14 | Salvador Perez | | |
| GWO-23 | Alex Gordon | | |
| LAL-EH | Eric Hosmer | | |
| MA-BJ | Bo Jackson | | Auto |
| QT-5 | Alex Gordon | | |
| QT-6 | James Shields | | |
| | | | |
| --- | --- | --- | --- |
| 10 | David Price | | |
| 10 | David Price | | Mini Variant |
| 108 | Yoenis Cespedes | | |
| 110 | Justin Verlander | | |
| 110 | Justin Verlander | | Mini Variant |
| 148 | Anibal Sanchez | | |
| 149 | Miguel Cabrera | | |
| 149 | Miguel Cabrera | | Image Variant |
| 167 | Ian Kinsler | | |
| 167 | Ian Kinsler | | Mini Variant |
| 203 | Nick Castellanos | | |
| 239 | Victor Martinez | | |
| 310 | Al Kaline | | |
| 325 | Sparky Anderson | | |
| AR-MS | Max Scherzer | | Auto Relic |
| GJR-MC | Miguel Cabrera | | Relic |
| GJR-MS | Max Scherzer | | Relic |
| GJR-VM | Victor Martinez | | Relic |
| GMR-DP | David Price | | Relic |
| GMR-IK | Ian Kinsler | | Relic |
| GMR-JV | Justin Verlander | | Relic |
| GMR-MC | Miguel Cabrera | | Relic |
| GMR-NC | Nick Castellanos | | Relic |
| GMR-VM | Victor Martinez | | Relic |
| GQBB-IK | Ian Kinsler | | Relic |
| GQBB-YC | Yoenis Cespedes | | Relic |
| GQR-DP | David Price | | Relic |
| GQR-IK | Ian Kinsler | | Relic |
| GQR-JV | Justin Verlander | | Relic |
| GQR-NC | Nick Castellanos | | Relic |
| GQR-VM | Victor Martinez | | Relic |
| LAL-IK | Ian Kinsler | | |
| LAL-JVE | Justin Verlander | | |
| MA-MC | Miguel Cabrera | | Auto |
| MAR-MS | Max Scherzer | | Auto Relic |
| OAP-MC | Miguel Cabrera | | Relic |
| OAP-MS | Max Scherzer | | Relic |
| QT-1 | Miguel Cabrera | | |
| QT-8 | Ian Kinsler | | |
| | | | |
| --- | --- | --- | --- |
| 42 | Kennys Vargas | | |
| 42 | Kennys Vargas | | Mini Variant |
| 66 | Joe Mauer | | |
| 152 | Rod Carew | | |
| 152 | Rod Carew | | Mini Variant |
| 172 | Phil Hughes | | |
| 251 | Ervin Santana | | |
| 287 | Brian Dozier | | |
| GQA-KV | Kennys Vargas | | Auto |
| GQR-JM | Joe Mauer | | Relic |
| GS-14 | Aaron Hicks | | |
| MAR-JM | Joe Mauer | | Auto Relic |
| NSCC-3 | Byron Buxton RC SP | RC | |
| OAP-RC | Rod Carew | | Relic |
| QT-16 | Joe Mauer | | |
| | | | |
| --- | --- | --- | --- |
| 20 | Frank Thomas | | |
| 20 | Frank Thomas | | Mini Variant |
| 29 | Chris Sale | | |
| 29 | Chris Sale | | Mini Variant |
| 70 | Adam LaRoche | | |
| 114 | Jose Abreu | | |
| 114 | Jose Abreu | | Image Variant |
| 114 | Jose Abreu | | Mini Variant |
| 166 | Jeff Samardzija | | |
| 210 | David Robertson | | |
| 225 | Alexei Ramirez | | |
| 226 | Melky Cabrera | | |
| 248 | Jose Quintana | | |
| 341 | Paul Konerko | | |
| AR-CS | Chris Sale | | Auto Relic |
| AR-FT | Frank Thomas | | Auto Relic |
| AR-JA | Jose Abreu | | Auto Relic |
| GJR-CS | Chris Sale | | Relic |
| GMR-CS | Chris Sale | | Relic |
| GQA-FT | Frank Thomas | | Auto |
| GQA-JA | Jose Abreu | | Auto |
| GQR-FT | Frank Thomas | | Relic |
| GS-3 | Adam Eaton | | |
| MA-CS | Chris Sale | | Auto |
| MA-JA | Jose Abreu | | Auto |
| MAR-CS | Chris Sale | | Auto Relic |
| MAR-JA | Jose Abreu | | Auto Relic |
| OAP-CS | Chris Sale | | Relic |
| OAP-FT | Frank Thomas | | Relic |
| OAP-JA | Jose Abreu | | Relic |
| PC-JA | Jose Abreu | | |
| | | | |
| --- | --- | --- | --- |
| 5 | Derek Jeter | | |
| 5 | Derek Jeter | | Image Variant |
| 5 | Derek Jeter | | Mini Variant |
| 39 | Lou Gehrig | | |
| 39 | Lou Gehrig | | Mini Variant |
| 83 | Jacoby Ellsbury | | |
| 83 | Jacoby Ellsbury | | Image Variant |
| 83 | Jacoby Ellsbury | | Mini Variant |
| 99 | Roger Maris | | |
| 109 | David Cone | | |
| 118 | Goose Gossage | | |
| 118 | Goose Gossage | | Mini Variant |
| 120 | Joe DiMaggio | | |
| 120 | Joe DiMaggio | | Mini Variant |
| 140 | Mark Teixeira | | |
| 140 | Mark Teixeira | | Mini Variant |
| 143 | Masahiro Tanaka | | |
| 143 | Masahiro Tanaka | | Image Variant |
| 193 | CC Sabathia | | |
| 208 | Dellin Betances | | |
| 208 | Dellin Betances | | Image Variant |
| 238 | Carlos Beltran | | |
| 246 | Brian McCann | | |
| 254 | Andrew Miller | | |
| 260 | Babe Ruth | | |
| 278 | Nathan Eovaldi | | |
| 291 | Brett Gardner | | |
| 291 | Brett Gardner | | Image Variant |
| 305 | Whitey Ford | | |
| 316 | Phil Rizzuto | | |
| 319 | Reggie Jackson | | |
| 335 | Orlando Hernandez | | |
| 336 | Mariano Rivera | | |
| 337 | Jorge Posada | | |
| 345 | Alex Rodriguez | | |
| GJR-DJ | Derek Jeter | | Relic |
| GJR-MTA | Masahiro Tanaka | | Relic |
| GMR-MT | Masahiro Tanaka | | Relic |
| GQA-DC | David Cone | | Auto |
| GQA-SS | Scott Sizemore | | Auto |
| GQBB-DM | Don Mattingly | | Relic |
| GQR-DJ | Derek Jeter | | Relic |
| GQR-DM | Don Mattingly | | Relic |
| GWO-5 | Derek Jeter | | |
| GWO-6 | Derek Jeter | | |
| GWO-11 | Raul Ibanez | | |
| GWO-20 | Jason Giambi | | |
| MA-MR | Mariano Rivera | | Auto |
| MAR-BM | Brian McCann | | Auto Relic |
| OAP-DJ | Derek Jeter | | Relic |
| OAP-MTA | Masahiro Tanaka | | Relic |
| OAP-RCL | Roger Clemens | | Relic |
| PC-MT | Masahiro Tanaka | | |
| | |
| --- | --- |
| BBMR-1 | Windup |
| BBMR-2 | Grip the Bat |
| BBMR-3 | Sacrifice Fly |
| BBMR-4 | Head-First Slide |
| BBMR-5 | Cut-Off |
| BBMR-6 | Take a Lead |
| BBMR-7 | Tag Up |
| BBMR-8 | Infield Shift |
| BBMR-9 | Pitchout |
| BBMR-10 | Steal |
| BBMR-11 | Intentional Walk |
| BBMR-12 | Squeeze Bunt |
| BBMR-13 | Rundown |
| BBMR-14 | Crowd the Plate |
| BBMR-15 | Knuckleball |