2015 Bowman Football cards are, essentially, two sets in one with a 110 card checklist devoted to football's biggest veterans and a 110 card checklist devoted to the most anticipated rookies.
The base set is loaded with color and refractor parallels, most of which are numbered. There are also several insert sets, relics, die-cuts, and relics for collectors to track down and each hobby box promises four autograph cards. There is a set of mini cards that pay tribute to the 1948 Bowman Football design.
This checklist is organized by teams. Scroll through the entire list or jump to a preferred team by selecting it from the list below. Clicking a link within the checklist will direct you to an affiliate retailer or to relevant eBay listings.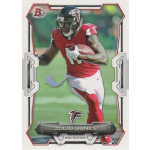 2015 Bowman Football Checklist
Base Set – 110 Cards
Black
Rainbow Black
Purple
Rainbow Purple
Rainbow Silver Ice
Blue – #/99
Rainbow Blue – #/99
Gold – #/75
Rainbow Gold – #/75
Orange – #/50
Rainbow Orange – #/50
Rainbow Orange Ice – #/50
Red – #/25
Rainbow Red – #/25
Green – 1/1
Rainbow Gridiron Ice – 1/1
Rookies – 110 Cards
Black
Rainbow Black
Purple
Rainbow Purple
Rainbow Silver Ice
Blue – #/499
Rainbow Blue – #/499
Gold – #/399
Rainbow Gold – #/399
Orange – #/299
Rainbow Orange – #/299
Red – #/199
Rainbow Red – #/199
Green – #/99
Rainbow Electric Yellow – #/99
Rainbow Orange Ice – #/50
Rainbow Green – 1/1
Rainbow Gridiron Ice – 1/1
Silver – 1/1
'48 Bowman Mini (BM) – 110 Cards
'48 Bowman Mini Auto (BMA) – 78 Cards
Red – #/5
Die Cuts (BCDC) – 50 Cards
Autograph – 15 Cards
Blue – #/99
Red – 1/1
Relics (BR) – 45 Cards
Blue – #/99
Gold – #/50
Orange – #/25
Red – 1/1
Rookie Chrome Refractor Auto (RCRA) – 86 Cards
Blue – #/99
Gold – #/75
Orange – #/50
Red Wave – #/25
XFractor – #/10
Prism – #/5
Superfractor – 1/1
| | | | |
| --- | --- | --- | --- |
| 8 | Arik Armstead | RC | |
| 11 | Torrey Smith | | |
| 31 | Mike Davis | RC | |
| 43 | Reggie Bush | | |
| 69 | Eli Harold | RC | |
| 83 | Dres Anderson | RC | |
| 93 | Vernon Davis | | |
| 94 | Colin Kaepernick | | |
| 96 | Carlos Hyde | | |
| 98 | Anquan Boldin | | |
| BCDC-CH | Carlos Hyde | | |
| BCDC-CK | Colin Kaepernick | | |
| BM-AAR | Arik Armstead | | |
| BM-DA | Dres Anderson | | |
| BM-EH | Eli Harold | | |
| BM-MDA | Mike Davis | | |
| BMA-AAR | Arik Armstead | | Auto |
| BMA-DA | Dres Anderson | | Auto |
| BMA-EH | Eli Harold | | Auto |
| BMA-MDA | Mike Davis | | Auto |
| BR-CH | Carlos Hyde | | Relic |
| RCRA-AA | Arik Armstead | | Auto |
| RCRA-DA | Dres Anderson | | Auto |
| RCRA-MDA | Mike Davis | | Auto |
| | | | |
| --- | --- | --- | --- |
| 10 | Matt Forté | | |
| 20 | Jay Cutler | | |
| 21 | Martellus Bennett | | |
| 23 | Alshon Jeffery | | |
| 35 | Jeremy Langford | RC | |
| 65 | Levi Norwood | RC | |
| 72 | Eddie Goldman | RC | |
| 75 | Kevin White | RC | |
| 85 | Shane Carden | RC | |
| BCDC-BM | Brandon Marshall | | |
| BCDC-MF | Matt Forte | | Auto |
| BCDC-MFO | Matt Forte | | |
| BM-EG | Eddie Goldman | | |
| BM-JL | Jeremy Langford | | |
| BM-KWH | Kevin White | | |
| BM-LN | Levi Norwood | | |
| BM-SCA | Shane Carden | | |
| BMA-EG | Eddie Goldman | | Auto |
| BMA-JL | Jeremy Langford | | Auto |
| BMA-KWH | Kevin White | | Auto |
| RCRA-EGO | Eddie Goldman | | Auto |
| RCRA-JL | Jeremy Langford | | Auto |
| RCRA-KWH | Kevin White | | Auto |
| RCRA-LN | Levi Norwood | | Auto |
| RCRA-SC | Shane Carden | | Auto |
| | | | |
| --- | --- | --- | --- |
| 19 | Cedric Ogbuehi | RC | |
| 24 | A.J. Green | | |
| 26 | Giovani Bernard | | |
| 27 | Andy Dalton | | |
| 67 | Tyler Kroft | RC | |
| 78 | Jeremy Hill | | |
| 89 | Paul Dawson | RC | |
| BCDC-AJG | A.J. Green | | |
| BCDC-AJG | A.J. Green | | Auto |
| BCDC-GB | Giovani Bernard | | |
| BCDC-GB | Giovani Bernard | | Auto |
| BCDC-JH | Jeremy Hill | | |
| BCDC-JH | Jeremy Hill | | Auto |
| BM-CO | Cedric Ogbuehi | | |
| BM-PD | Paul Dawson | | |
| BM-TKR | Tyler Kroft | | |
| BMA-CO | Cedric Ogbuehi | | Auto |
| BMA-PDA | Paul Dawson | | Auto |
| BMA-TKR | Tyler Kroft | | Auto |
| BR-AJG | A.J. Green | | Relic |
| BR-GB | Giovani Bernard | | Relic |
| BR-JH | Jeremy Hill | | Relic |
| RCRA-PDA | Paul Dawson | | Auto |
| RCRA-TKR | Tyler Kroft | | Auto |
| | | | |
| --- | --- | --- | --- |
| 5 | Sammy Watkins | | |
| 12 | EJ Manuel | | |
| 13 | C.J. Spiller | | |
| 18 | Robert Woods | | |
| 20 | Dezmin Lewis | RC | |
| 34 | Karlos Williams | RC | |
| 41 | Nick O'Leary | RC | |
| 80 | LeSean McCoy | | |
| 99 | Percy Harvin | | |
| BCDC-SW | Sammy Watkins | | |
| BCDC-SW | Sammy Watkins | | Auto |
| BM-DL | Dezmin Lewis | | |
| BM-KW | Karlos Williams | | |
| BM-NO | Nick O'Leary | | |
| BMA-KW | Karlos Williams | | Auto |
| BR-SW | Sammy Watkins | | Relic |
| | | | |
| --- | --- | --- | --- |
| 35 | Peyton Manning | | |
| 36 | Montee Ball | | |
| 37 | Emmanuel Sanders | | |
| 38 | Demaryius Thomas | | |
| 42 | Jeff Heuerman | RC | |
| 70 | Shane Ray | RC | |
| BCDC-DT | Demaryius Thomas | | |
| BCDC-PM | Peyton Manning | | |
| BM-JH | Jeff Heuerman | | |
| BM-SR | Shane Ray | | |
| BMA-SR | Shane Ray | | Auto |
| BR-CL | Cody Latimer | | Relic |
| BR-DT | Demaryius Thomas | | Relic |
| BR-MB | Montee Ball | | Relic |
| BR-VM | Von Miller | | Relic |
| RCRA-JHE | Jeff Heuerman | | Auto |
| RCRA-SRA | Shane Ray | | Auto |
| | | | |
| --- | --- | --- | --- |
| 3 | Ifo Ekpre-Olomu | RC | |
| 12 | Danny Shelton | RC | |
| 25 | Johnny Manziel | | |
| 28 | Isaiah Crowell | | |
| 29 | Terrance West | | |
| 32 | Duke Johnson | RC | |
| 78 | Nate Orchard | RC | |
| 82 | Vince Mayle | RC | |
| BCDC-JM | Johnny Manziel | | |
| BM-DJ | Duke Johnson | | |
| BM-DSH | Danny Shelton | | |
| BM-IE | Ifo Ekpre-Olomu | | |
| BM-NOR | Nate Orchard | | |
| BM-VM | Vince Mayle | | |
| BMA-DJ | Duke Johnson | | Auto |
| BMA-DSH | Danny Shelton | | Auto |
| BMA-IE | Ifo Ekpre-Olomu | | Auto |
| BMA-NOR | Nate Orchard | | Auto |
| BR-JM | Johnny Manziel | | Relic |
| BR-TW | Terrance West | | Relic |
| RCRA-DJ | Duke Johnson | | Auto |
| RCRA-DS | Danny Shelton | | Auto |
| RCRA-IE | Ifo Ekpre-Olomu | | Auto |
| | | | |
| --- | --- | --- | --- |
| 23 | Jameis Winston | RC | |
| 101 | Dominique Brown | RC | |
| 102 | Doug Martin | | |
| 103 | Mike Evans | | |
| 104 | Kenny Bell | RC | |
| BCDC-ME | Mike Evans | | |
| BCDC-ME | Mike Evans | | Auto |
| BM-DB | Dominique Brown | | |
| BM-JW | Jameis Winston | | |
| BM-KB | Kenny Bell | | |
| BMA-DB | Dominique Brown | | Auto |
| BMA-JW | Jameis Winston | | Auto |
| BR-DM | Doug Martin | | Relic |
| BR-ME | Mike Evans | | Relic |
| RCRA-DB | Dominique Brown | | Auto |
| RCRA-JW | Jameis Winston | | Auto |
| | | | |
| --- | --- | --- | --- |
| 2 | Larry Fitzgerald | | |
| 3 | Michael Floyd | | |
| 4 | John Brown | | |
| 7 | Carson Palmer | | |
| 91 | David Johnson | RC | |
| BCDC-MF | Michael Floyd | | |
| BM-DJO | David Johnson | | |
| BMA-DJO | David Johnson | | Auto |
| BR-AE | Andre Ellington | | Relic |
| BR-MF | Michael Floyd | | Relic |
| RCRA-DJO | David Johnson | | Auto |
| | | | |
| --- | --- | --- | --- |
| 29 | Melvin Gordon | RC | |
| 92 | Philip Rivers | | |
| 98 | Titus Davis | RC | |
| 103 | Denzel Perryman | RC | |
| BCDC-PR | Philip Rivers | | |
| BM-DPE | Denzel Perryman | | |
| BM-MG | Melvin Gordon | | |
| BM-TD | Titus Davis | | |
| BR-KA | Keenan Allen | | Relic |
| | | | |
| --- | --- | --- | --- |
| 1 | Marcus Peters | RC | |
| 58 | Bo Wallace | RC | |
| 59 | Alex Smith | | |
| 60 | Jamaal Charles | | |
| 84 | Jeremy Maclin | | |
| BCDC-JC | Jamaal Charles | | Auto |
| BCDC-JCH | Jamaal Charles | | |
| BM-BW | Bo Wallace | | |
| BM-MPE | Marcus Peters | | |
| BMA-MPE | Marcus Peters | | Auto |
| RCRA-BW | Bo Wallace | | Auto |
| | | | |
| --- | --- | --- | --- |
| 51 | Andre Johnson | | |
| 53 | T.Y. Hilton | | |
| 54 | Reggie Wayne | | |
| 55 | Andrew Luck | | |
| 84 | Phillip Dorsett | RC | |
| 93 | D'Joun Smith | RC | |
| 97 | Frank Gore | | |
| 99 | Josh Robinson | RC | |
| BCDC-AL | Andrew Luck | | |
| BCDC-RW | Reggie Wayne | | |
| BM-DS | D'Joun Smith | | |
| BM-JR | Josh Robinson | | |
| BM-PDO | Phillip Dorsett | | |
| BMA-JR | Josh Robinson | | Auto |
| BMA-PD | Phillip Dorsett | | Auto |
| BR-AL | Andrew Luck | | Relic |
| RCRA-DJS | D'Joun Smith | | Auto |
| RCRA-JR | Josh Robinson | | Auto |
| RCRA-PD | Phillip Dorsett | | Auto |
| | | | |
| --- | --- | --- | --- |
| 6 | Randy Gregory | RC | |
| 31 | Terrance Williams | | |
| 32 | Tony Romo | | |
| 33 | Dez Bryant | | |
| 53 | Antwan Goodley | RC | |
| 56 | Deontay Greenberry | RC | |
| 96 | Brandon Bridge | RC | |
| BCDC-DB | Dez Bryant | | |
| BCDC-DM | DeMarco Murray | | |
| BM-AG | Antwan Goodley | | |
| BM-BB | Brandon Bridge | | |
| BM-DGR | Deontay Greenberry | | |
| BM-RGR | Randy Gregory | | |
| BMA-DGR | Deontay Greenberry | | Auto |
| BMA-RGR | Randy Gregory | | Auto |
| RCRA-BB | Brandon Bridge | | Auto |
| RCRA-DGR | Deontay Greenberry | | Auto |
| RCRA-LC | La'el Collins | | Auto |
| RCRA-RG | Randy Gregory | | Auto |
| | | | |
| --- | --- | --- | --- |
| 47 | DeVante Parker | RC | |
| 59 | Jay Ajayi | RC | |
| 61 | Knowshon Moreno | | |
| 63 | Ryan Tannehill | | |
| 80 | Tony Lippett | RC | |
| 88 | Jarvis Landry | | |
| BCDC-JL | Jarvis Landry | | |
| BCDC-MW | Mike Wallace | | |
| BM-DP | DeVante Parker | | |
| BM-JA | Jay Ajayi | | |
| BM-TLI | Tony Lippett | | |
| BMA-DP | DeVante Parker | | Auto |
| BMA-JA | Jay Ajayi | | Auto |
| BMA-TLI | Tony Lippett | | Auto |
| BR-RT | Ryan Tannehill | | Relic |
| RCRA-DPA | DeVante Parker | | Auto |
| RCRA-JA | Jay Ajayi | | Auto |
| RCRA-TLI | Tony Lippett | | Auto |
| | | | |
| --- | --- | --- | --- |
| 30 | DeMarco Murray | | |
| 48 | Nelson Agholor | RC | |
| 85 | Darren Sproles | | |
| 86 | Zach Ertz | | |
| 102 | Devante Davis | RC | |
| BCDC-LM | LeSean McCoy | | |
| BM-DD | Devante Davis | | |
| BM-NA | Nelson Agholor | | |
| BMA-NA | Nelson Agholor | | Auto |
| BR-NF | Nick Foles | | Relic |
| RCRA-DD | Devante Davis | | Auto |
| RCRA-NA | Nelson Agholor | | Auto |
| | | | |
| --- | --- | --- | --- |
| 1 | Julio Jones | | |
| 6 | Roddy White | | |
| 13 | Vic Beasley | RC | |
| 14 | Matt Ryan | | |
| 54 | Justin Hardy | RC | |
| 61 | Tevin Coleman | RC | |
| 74 | Jalen Collins | RC | |
| BCDC-JJ | Julio Jones | | |
| BM-JC | Jalen Collins | | |
| BM-JHA | Justin Hardy | | |
| BM-TC | Tevin Coleman | | |
| BM-VB | Vic Beasley | | |
| BMA-JHA | Justin Hardy | | Auto |
| BMA-TC | Tevin Coleman | | Auto |
| BMA-VB | Vic Beasley | | Auto |
| BR-DF | Devonta Freeman | | Relic |
| BR-JJ | Julio Jones | | Relic |
| RCRA-JHA | Justin Hardy | | Auto |
| RCRA-TC | Tevin Coleman | | Auto |
| RCRA-VB | Vic Beasley | | Auto |
| | | | |
| --- | --- | --- | --- |
| 21 | Ereck Flowers | RC | |
| 38 | Landon Collins | RC | |
| 64 | Odell Beckham Jr. | | |
| 67 | Shane Vereen | | |
| 76 | Victor Cruz | | |
| 77 | Eli Manning | | |
| 90 | Owamagbe Odighizuwa | RC | |
| BCDC-OB | Odell Beckham Jr. | | |
| BCDC-OB | Odell Beckham Jr. | | Auto |
| BCDC-VC | Victor Cruz | | |
| BM-EF | Ereck Flowers | | |
| BM-LC | Landon Collins | | |
| BM-OO | Owamagbe Odighizuwa | | |
| BMA-EF | Ereck Flowers | | Auto |
| BMA-LC | Landon Collins | | Auto |
| BMA-OO | Owamagbe Odighizuwa | | Auto |
| BR-AW | Andre Williams | | Relic |
| BR-OB | Odell Beckham Jr. | | Relic |
| RCRA-EF | Ereck Flowers | | Auto |
| RCRA-LCO | Landon Collins | | Auto |
| RCRA-OO | Owamagbe Odighizuwa | | Auto |
| | | | |
| --- | --- | --- | --- |
| 7 | Dante Fowler Jr. | RC | |
| 11 | Michael Bennett | RC | |
| 27 | T.J. Yeldon | RC | |
| 34 | Julius Thomas | | |
| 43 | Ben Koyack | RC | |
| 49 | Rashad Greene | RC | |
| 56 | Allen Hurns | | |
| 57 | Blake Bortles | | |
| 58 | Marqise Lee | | |
| 109 | Nick Marshall | RC | |
| BM-BK | Ben Koyack | | |
| BM-DFO | Dante Fowler Jr. | | |
| BM-MBE | Michael Bennett | | |
| BM-NM | Nick Marshall | | |
| BM-RG | Rashad Greene | | |
| BM-TY | T.J. Yeldon | | |
| BMA-BK | Ben Koyack | | Auto |
| BMA-DFO | Dante Fowler Jr. | | Auto |
| BMA-MBE | Michael Bennett | | Auto |
| BMA-RG | Rashad Greene | | Auto |
| BMA-TY | T.J. Yeldon | | Auto |
| BR-BB | Blake Bortles | | Relic |
| RCRA-BK | Ben Koyack | | Auto |
| RCRA-DF | Dante Fowler Jr. | | Auto |
| RCRA-NM | Nick Marshall | | Auto |
| RCRA-RGR | Rashad Greene | | Auto |
| RCRA-TY | T.J. Yeldon | | Auto |
| | | | |
| --- | --- | --- | --- |
| 10 | Leonard Williams | RC | |
| 22 | Brandon Marshall | | |
| 25 | Bryce Petty | RC | |
| 79 | Chris Ivory | | |
| 81 | Eric Decker | | |
| 88 | Lorenzo Mauldin | RC | |
| 95 | Devin Smith | RC | |
| BM-BP | Bryce Petty | | |
| BM-DSM | Devin Smith | | |
| BM-LM | Lorenzo Mauldin | | |
| BM-LW | Leonard Williams | | |
| BMA-BP | Bryce Petty | | Auto |
| BMA-DS | Devin Smith | | Auto |
| BMA-LM | Lorenzo Mauldin | | Auto |
| BMA-LW | Leonard Williams | | Auto |
| RCRA-BP | Bryce Petty | | Auto |
| RCRA-DSM | Devin Smith | | Auto |
| RCRA-LW | Leonard Williams | | Auto |
| | | | |
| --- | --- | --- | --- |
| 33 | Ameer Abdullah | RC | |
| 39 | Calvin Johnson | | |
| 40 | Matthew Stafford | | |
| 41 | Golden Tate | | |
| 42 | Joique Bell | | |
| 73 | Alex Carter | RC | |
| BCDC-CJ | Calvin Johnson | | |
| BCDC-MS | Matthew Stafford | | |
| BM-AA | Ameer Abdullah | | |
| BM-ACA | Alex Carter | | |
| BMA-AA | Ameer Abdullah | | Auto |
| BMA-ACA | Alex Carter | | Auto |
| BR-EE | Eric Ebron | | Relic |
| RCRA-AAB | Ameer Abdullah | | Auto |
| | | | |
| --- | --- | --- | --- |
| 24 | Brett Hundley | RC | |
| 44 | Randall Cobb | | |
| 45 | Jordy Nelson | | |
| 46 | Aaron Rodgers | | |
| 47 | Eddie Lacy | | |
| 51 | Ty Montgomery | RC | |
| BCDC-AR | Aaron Rodgers | | |
| BCDC-EL | Eddie Lacy | | |
| BCDC-EL | Eddie Lacy | | Auto |
| BCDC-RC | Randall Cobb | | |
| BM-BH | Brett Hundley | | |
| BM-TM | Ty Montgomery | | |
| BMA-BH | Brett Hundley | | Auto |
| BR-DA | Davante Adams | | Relic |
| RCRA-BH | Brett Hundley | | Auto |
| | | | |
| --- | --- | --- | --- |
| 14 | Shaq Thompson | RC | |
| 15 | Kelvin Benjamin | | |
| 16 | Greg Olsen | | |
| 17 | Cam Newton | | |
| 40 | Devin Funchess | RC | |
| 81 | Cameron Artis-Payne | RC | |
| BCDC-KB | Kelvin Benjamin | | |
| BCDC-KB | Kelvin Benjamin | | Auto |
| BM-CA | Cameron Artis-Payne | | |
| BM-DF | Devin Funchess | | |
| BM-ST | Shaq Thompson | | |
| BMA-CA | Cameron Artis-Payne | | Auto |
| BMA-DF | Devin Funchess | | Auto |
| BMA-ST | Shaq Thompson | | Auto |
| BR-CN | Cam Newton | | Relic |
| BR-KB | Kelvin Benjamin | | Relic |
| RCRA-CA | Cameron Artis-Payne | | Auto |
| RCRA-DFU | Devin Funchess | | Auto |
| RCRA-ST | Shaq Thompson | | Auto |
| | | | |
| --- | --- | --- | --- |
| 68 | Julian Edelman | | |
| 69 | Rob Gronkowski | | |
| 70 | Tom Brady | | |
| 71 | Malcom Brown | RC | |
| BCDC-JE | Julian Edelman | | |
| BCDC-TBR | Tom Brady | | |
| BM-MBR | Malcom Brown | | |
| BMA-MBR | Malcom Brown | | Auto |
| BR-JG | Jimmy Garoppolo | | Relic |
| RCRA-MBRO | Malcom Brown | | Auto |
| | | | |
| --- | --- | --- | --- |
| 30 | Michael Dyer | RC | |
| 44 | Amari Cooper | RC | |
| 66 | Clive Walford | RC | |
| 76 | Josh Harper | RC | |
| 82 | Derek Carr | | |
| 83 | Rod Streater | | |
| 100 | Cody Fajardo | RC | |
| BCDC-DC | Derek Carr | | |
| BCDC-DC | Derek Carr | | Auto |
| BM-AC | Amari Cooper | | |
| BM-CF | Cody Fajardo | | |
| BM-CW | Clive Walford | | |
| BM-JHAR | Josh Harper | | |
| BM-MD | Michael Dyer | | |
| BMA-AC | Amari Cooper | | Auto |
| BMA-CW | Clive Walford | | Auto |
| BMA-JHAR | Josh Harper | | Auto |
| BR-DC | Derek Carr | | Relic |
| RCRA-AC | Amari Cooper | | Auto |
| RCRA-CF | Cody Fajardo | | Auto |
| RCRA-CW | Clive Walford | | Auto |
| RCRA-JHAR | Josh Harper | | Auto |
| | | | |
| --- | --- | --- | --- |
| 26 | Sean Mannion | RC | |
| 28 | Todd Gurley | RC | |
| 36 | Malcolm Brown | RC | |
| 87 | Nick Foles | | |
| 101 | Tre Mason | | |
| BCDC-TM | Tre Mason | | |
| BM-MB | Malcolm Brown | | |
| BM-SM | Sean Mannion | | |
| BM-TG | Todd Gurley | | |
| BMA-MB | Malcolm Brown | | Auto |
| BMA-TG | Todd Gurley | | Auto |
| BR-TM | Tre Mason | | Relic |
| RCRA-MBR | Malcolm Brown | | Auto |
| RCRA-SM | Sean Mannion | | Auto |
| RCRA-TG | Todd Gurley | | Auto |
| | | | |
| --- | --- | --- | --- |
| 8 | Steve Smith Sr. | | |
| 9 | Joe Flacco | | |
| 19 | Dennis Pitta | | |
| 37 | Carl Davis | RC | |
| 60 | Javorius Allen | RC | |
| 79 | Maxx Williams | RC | |
| 106 | Breshad Perriman | RC | |
| 108 | Terrence Magee | RC | |
| BCDC-TS | Torrey Smith | | |
| BM-BPE | Breshad Perriman | | |
| BM-CD | Carl Davis | | |
| BM-JAL | Javorius Allen | | |
| BM-MW | Maxx Williams | | |
| BM-TMA | Terrence Magee | | |
| BMA-BPE | Breshad Perriman | | Auto |
| BMA-MW | Maxx Williams | | Auto |
| RCRA-BPR | Breshad Perriman | | Auto |
| RCRA-CD | Carl Davis | | Auto |
| RCRA-JAL | Javorius Allen | | Auto |
| RCRA-MW | Maxx Williams | | Auto |
| RCRA-TMA | Terrence Magee | | Auto |
| | | | |
| --- | --- | --- | --- |
| 4 | P.J. Williams | RC | |
| 9 | Hau'oli Kikaha | RC | |
| 17 | Andrus Peat | RC | |
| 57 | Garrett Grayson | RC | |
| 71 | Brandin Cooks | | |
| 72 | Mark Ingram | | |
| 73 | Drew Brees | | |
| 74 | Pierre Thomas | | |
| 105 | Marcus Murphy | RC | |
| BCDC-BC | Brandin Cooks | | |
| BCDC-BC | Brandin Cooks | | Auto |
| BCDC-DBR | Drew Brees | | |
| BCDC-JG | Jimmy Graham | | |
| BM-AP | Andrus Peat | | |
| BM-GG | Garrett Grayson | | |
| BM-HK | Hau'oli Kikaha | | |
| BM-MM | Marcus Murphy | | |
| BM-PW | P.J. Williams | | |
| BMA-AP | Andrus Peat | | Auto |
| BMA-PW | P.J. Williams | | Auto |
| BR-BC | Brandin Cooks | | Relic |
| RCRA-AP | Andrus Peat | | Auto |
| RCRA-HK | Hau'oli Kikaha | | Auto |
| RCRA-PW | P.J. Williams | | Auto |
| | | | |
| --- | --- | --- | --- |
| 55 | Tyler Lockett | RC | |
| 64 | Austin Hill | RC | |
| 75 | Jimmy Graham | | |
| 95 | Marshawn Lynch | | |
| 100 | Russell Wilson | | |
| BCDC-MLY | Marshawn Lynch | | |
| BCDC-RWI | Russell Wilson | | |
| BM-AHI | Austin Hill | | |
| BM-TL | Tyler Lockett | | |
| BMA-AHI | Austin Hill | | Auto |
| BMA-TL | Tyler Lockett | | Auto |
| BR-ET | Earl Thomas | | Relic |
| BR-RW | Russell Wilson | | Relic |
| RCRA-AHI | Austin Hill | | Auto |
| RCRA-TL | Tyler Lockett | | Auto |
| | | | |
| --- | --- | --- | --- |
| 52 | Sammie Coates | RC | |
| 68 | Alvin Dupree | RC | |
| 89 | Le'Veon Bell | | |
| 90 | Antonio Brown | | |
| 91 | Ben Roethlisberger | | |
| 92 | Senquez Golson | RC | |
| 94 | Jesse James | RC | |
| BCDC-AB | Antonio Brown | | |
| BCDC-AB | Antonio Brown | | Auto |
| BCDC-BR | Ben Roethlisberger | | |
| BCDC-LB | Le'Veon Bell | | |
| BM-AD | Alvin Dupree | | |
| BM-JJ | Jesse James | | |
| BM-SC | Sammie Coates | | |
| BM-SG | Senquez Golson | | |
| BMA-AD | Alvin Dupree | | Auto |
| BMA-JJ | Jesse James | | Auto |
| BMA-SC | Sammie Coates | | Auto |
| BR-LB | Le'Veon Bell | | Relic |
| BR-MW | Markus Wheaton | | Relic |
| RCRA-AD | Alvin Dupree | | Auto |
| RCRA-JJ | Jesse James | | Auto |
| RCRA-SCO | Sammie Coates | | Auto |
| RCRA-SG | Senquez Golson | | Auto |
| | | | |
| --- | --- | --- | --- |
| 5 | Kevin Johnson | RC | |
| 15 | Benardrick McKinney | RC | |
| 46 | Jaelen Strong | RC | |
| 48 | DeAndre Hopkins | | |
| 49 | J.J. Watt | | |
| 50 | Jadeveon Clowney | | |
| 52 | Arian Foster | | |
| BCDC-AF | Arian Foster | | |
| BCDC-JC | Jadeveon Clowney | | |
| BCDC-JCL | Jadeveon Clowney | | Auto |
| BCDC-JJW | J.J. Watt | | |
| BM-BMC | Benardrick McKinney | | |
| BM-JS | Jaelen Strong | | |
| BM-KJ | Kevin Johnson | | |
| BMA-JS | Jaelen Strong | | Auto |
| BR-AJO | Andre Johnson | | Relic |
| BR-DH | DeAndre Hopkins | | Relic |
| BR-JC | Jadeveon Clowney | | Relic |
| RCRA-JST | Jaelen Strong | | Auto |
| RCRA-KJ | Kevin Johnson | | Auto |
| | | | |
| --- | --- | --- | --- |
| 22 | Marcus Mariota | RC | |
| 39 | Cody Prewitt | RC | |
| 45 | Dorial Green-Beckham | RC | |
| 63 | David Cobb | RC | |
| 97 | Tre McBride | RC | |
| 104 | Jake Locker | | |
| 106 | Bishop Sankey | | |
| 109 | Kendall Wright | | |
| BCDC-BS | Bishop Sankey | | |
| BM-CP | Cody Prewitt | | |
| BM-DC | David Cobb | | |
| BM-DGB | Dorial Green-Beckham | | |
| BM-MM | Marcus Mariota | | |
| BM-TMC | Tre McBride | | |
| BMA-DC | David Cobb | | Auto |
| BMA-DGB | Dorial Green-Beckham | | Auto |
| BMA-MM | Marcus Mariota | | Auto |
| BMA-TMC | Tre McBride | | Auto |
| BR-BS | Bishop Sankey | | Relic |
| BR-JHU | Justin Hunter | | Relic |
| BR-KW | Kendall Wright | | Relic |
| RCRA-DC | David Cobb | | Auto |
| RCRA-DGB | Dorial Green-Beckham | | Auto |
| RCRA-MM | Marcus Mariota | | Auto |
| RCRA-TMC | Tre McBride | | Auto |
| | | | |
| --- | --- | --- | --- |
| 2 | Trae Waynes | RC | |
| 16 | Eric Kendricks | RC | |
| 50 | Stefon Diggs | RC | |
| 62 | Mike Wallace | | |
| 65 | Teddy Bridgewater | | |
| 66 | Kyle Rudolph | | |
| 77 | T.J. Clemmings | RC | |
| 87 | Danielle Hunter | RC | |
| BCDC-TB | Teddy Bridgewater | | |
| BM-DH | Danielle Hunter | | |
| BM-EK | Eric Kendricks | | |
| BM-SD | Stefon Diggs | | |
| BM-TCL | T.J. Clemmings | | |
| BM-TW | Trae Waynes | | |
| BMA-EK | Eric Kendricks | | Auto |
| BMA-SD | Stefon Diggs | | Auto |
| BMA-TJC | T.J. Clemmings | | Auto |
| BMA-TW | Trae Waynes | | Auto |
| BR-CP | Cordarrelle Patterson | | Relic |
| BR-TB | Teddy Bridgewater | | Relic |
| RCRA-EK | Eric Kendricks | | Auto |
| RCRA-SD | Stefon Diggs | | Auto |
| RCRA-TJC | T.J. Clemmings | | Auto |
| RCRA-TW | Trae Waynes | | Auto |
| | | | |
| --- | --- | --- | --- |
| 18 | Brandon Scherff | RC | |
| 62 | Matt Jones | RC | |
| 86 | Jamison Crowder | RC | |
| 105 | Robert Griffin III | | |
| 107 | Pierre Garçon | | |
| 108 | Alfred Morris | | |
| 110 | DeSean Jackson | | |
| BCDC-AM | Alfred Morris | | |
| BCDC-AM | Alfred Morris | | Auto |
| BM-BS | Brandon Scherff | | |
| BM-JCR | Jamison Crowder | | |
| BM-MJ | Matt Jones | | |
| BMA-BS | Brandon Scherff | | Auto |
| BMA-JCR | Jamison Crowder | | Auto |
| BMA-MJ | Matt Jones | | Auto |
| BR-RG | Robert Griffin III | | Relic |
| RCRA-BS | Brandon Scherff | | Auto |
| RCRA-JC | Jamison Crowder | | Auto |
| RCRA-MJ | Matt Jones | | Auto |
| | | | | |
| --- | --- | --- | --- | --- |
| 107 | Blake Sims | RC | | Alabama Crimson Tide |
| BMA-BSI | Blake Sims | | Auto | Alabama Crimson Tide |
| RCRA-BSI | Blake Sims | | Auto | Alabama Crimson Tide |
| BMA-LCO | La'el Collins | | Auto | LSU Tigers |
| BM-BSI | Blake Sims | | | Toronto Argonauts |
| 110 | Nick Montana | RC | | Tulane Green Wave |
| BM-NMO | Nick Montana | | | Tulane Green Wave |