2014 Cryptozoic Sons of Anarchy Seasons 1-3 trading cards include fake tattoos and biker vest patch cards. The set covers story arcs from the first three seasons of the popular television drama with a 100 card base set utilizing production stills. There are a number of insert cards as well as manufactured relic, wardrobe, and autograph cards.
The autograph signers in this set includes the most popular actors from the show. There is an oversized triple-relic redemption card featuring wardrobe pieces from Tara, Jax, and Gemma and an exclusive wardrobe card distributed with the binder produced for this collection. There are no parallel cards in this series.
This checklist is organized by subset. You can jump to a preferred subset by clicking the name in the key below. Clicking a link within the checklist will direct you to an affiliate retailer or to relevant eBay listings.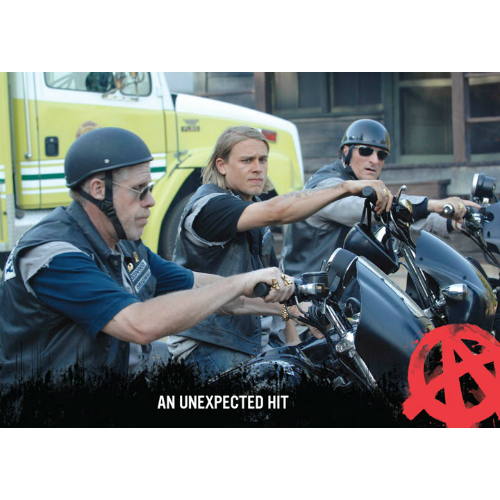 2014 Cryptozoic Sons of Anarchy Checklist
| | |
| --- | --- |
| 1 | Sons of Anarchy |
| 2 | An Unexpected Hit |
| 3 | Family is Everything |
| 4 | Another Son Is Born |
| 5 | Saving Abel |
| 6 | Back at the Clubhouse |
| 7 | Tig\'s Confession |
| 8 | Community Spirit |
| 9 | Gemma Spots Trouble |
| 10 | Concern for a Brother |
| 11 | A Bitter Pill |
| 12 | A Club Insult |
| 13 | A Favor for Old Friends |
| 14 | It Blows Back on the Club |
| 15 | Buttoned Down Tight |
| 16 | Dirty Job |
| 17 | Gemma Meet Cherry |
| 18 | Finally Free |
| 19 | Old Ghosts |
| 20 | Tough Decisions |
| 21 | Betting on Half-Sack |
| 22 | Always the Mother Bear |
| 23 | A Secret Meeting |
| 24 | Stepping Up |
| 25 | Opie\'s Not the Rat! |
| 26 | Sweeping for Bugs |
| 27 | Two Sides of the Same Coin |
| 28 | No More Secrets |
| 29 | A United Front |
| 30 | Jax Sends a Message |
| 31 | Talking to Ghosts |
| 32 | Retribution |
| 33 | Gemma Warns Clay |
| 34 | A Warning |
| 35 | The Choosen One |
| 36 | A New Player in Charming |
| 37 | The Mood Quickly Sours |
| 38 | Directions |
| 39 | A Brutal Attack |
| 40 | False Leads |
| 41 | Lights, Cameras, Action! |
| 42 | Medical Emergency |
| 43 | A Rare Moment |
| 44 | Still Struggling |
| 45 | Keeping the Law Informed |
| 46 | No Drugs in Charming |
| 47 | Law SOA Style |
| 48 | They\'re All About Charity |
| 49 | Man Down |
| 50 | A Stern Reminder |
| 51 | That\'s What We Do |
| 52 | Another Brother Down |
| 53 | A Near Disaster |
| 54 | A Setup |
| 55 | New Friends? |
| 56 | Gemma Reaches Out |
| 57 | From Every Angle |
| 58 | Shut Down Caracara |
| 59 | A Message From Hale |
| 60 | Bad-Blood Continues |
| 61 | Two New Ways to Earn |
| 62 | Heart-to-Heart |
| 63 | Nomad? |
| 64 | Back in for Gemma |
| 65 | Called Out |
| 66 | Gemma\'s Revenge |
| 67 | Tig\'s Taste of Victory |
| 68 | No Turning Back |
| 69 | One in Spirit |
| 70 | Zobelle\'s a Rat |
| 71 | An Empty Shell |
| 72 | Torn Asunder |
| 73 | A Lead on Abel |
| 74 | Hap Gives Chase |
| 75 | A Dead End |
| 76 | Another Hit |
| 77 | Meeting with Jimmy O |
| 78 | Meanwhile In Oregon |
| 79 | A Serious Complication |
| 80 | From All Sides |
| 81 | Club Needs Travel Funds |
| 82 | On the Run Again |
| 83 | Too Many Secrets |
| 84 | Medieval Methods |
| 85 | Feeling the Scene |
| 86 | The Right Thing to Do |
| 87 | He\'s Your Son |
| 88 | Jimmy O Strikes Again |
| 89 | Together At Last |
| 90 | The Hits Keep Coming |
| 91 | Still Mama Bear |
| 92 | In Bed with Stahl |
| 93 | Plans Set In Motion |
| 94 | An Unlikely Suspect |
| 95 | Double Play |
| 96 | The Prince Turns Rat |
| 97 | The Last Bit of the Puzzle |
| 98 | The Prince Bides His Time |
| 99 | Still King |
| 100 | Checklist |
| | |
| --- | --- |
| A01 | Charlie Hunham as Jax Teller |
| A02 | Katey Sagal as Gemma Teller Morrow |
| A03 | Ron Perlman as Clay Morrow |
| A04 | Kim Coates as Alex \"Tig\" Trager |
| A05 | Dayton Callie as Former Police Chief Wayne Unser |
| A06 | Ryan Hurst as Harry \"Opie\" Winston |
| A07 | William Lucking as Piermont \"Piney\" Winston |
| A08 | Theo Rossi as Juan-Carlos \"Juice\" Ortiz |
| A09 | Emilio Rivera as Marcus Alvarez |
| A10 | McNally Sagal as Margaret Murphy |
| A11 | Taylor Sheridan as Deputy Chief David Hale |
| A12 | Jeff Kober as Jacob Hale Jr. |
| A13 | Nicholas Guest as John Teller |
| A14 | Patrick St. Esprit as Elliott Oswald |
| A15 | Kenneth Choi as Henry Lin |
| A16 | Jamie McShane as Cameron Hayes |
| A17 | Mitch Pileggi as Ernest Darby |
| A18 | Julie Ariola as Mary Winston |
| A19 | Dendrie Taylor as Luann Delaney |
| A20 | Sprague Grayden as Donna Winston |
| A21 | Henry Rollins as AJ Weston |
| A22 | Jose Pablo Cantillo as Hector Salazar |
| A23 | Kristen Renton as Ima |
| A24 | Zoe Boyle as Trinity Ashby |
| A25 | Tommy Flanagan as Flip \"Chibs\" Telford |
| | |
| --- | --- |
| C01 | The Prince |
| C02 | Club President |
| C03 | Biker Queen |
| C04 | Opie |
| C05 | Tig |
| C06 | Bobby |
| C07 | Chibs |
| C08 | Juice |
| C09 | Piney |
| C10 | Chief Unser |
| C11 | Tara |
| | |
| --- | --- |
| M01 | Jax |
| M02 | Gemma |
| M03 | Tara |
| M04 | Gemma |
| M05 | Jax |
| M06 | Opie |
| M07 | Bobby |
| M08 | Juice |
| M09 | Gemma Top |
| M10 | Tig |
| M11 | Clay |
| M12 | Opie |
| | |
| --- | --- |
| DM01 | Jax and Opie |
| DM02 | Gemma and Tara |
| DM03 | Jax and Juice |
| DM04 | Gemma and Tig |
| | |
| --- | --- |
| P01 | Movie Money |
| P02 | Shop Rags |
| P03 | Piney\'s Oxygen Tank |
| | |
| --- | --- |
| RP01 | Men of Mayhem |
| RP02 | SAMCRO |
| RP03 | Sons of Anarchy |
| | |
| --- | --- |
| TT01 | Reaper |
| TT02 | SOA Reaper |
| TT03 | SAMCRO |
| TT04 | Reaper Head |
| TT05 | Skull |
| TT06 | Diamond |
| TT07 | Reaper Crew |
| TT08 | Men of Mayhem |
| TT09 | SOA |