2014 Cryptozoic Breaking Bad trading cards cover the entire five season arc of the beloved television series. The base set hits all of the iconic moments from the show but the highlight of the set may be the Fan Art insert set which showcases beautiful artwork inspired by the series.
The autograph checklist is missing some of the main characters fans would hope for (Walter, Jesse, Saul, and Mike for example) but most of the ancillary cast is covered including Walter's entire family. A series of redemption cards, measuring 4″ wide by 6″ tall, feature a piece of Jesse's hoodie alongside a piece of the Valenzia's pizza box used on the series.
As with most Cryptozoic products, a binder was also released for this set. A Walter White wardrobe card (#M22) was issued exclusively to fans who purchased the binder.
Due to the extra large checklist (by non-sports standards) it is impossible to compile an entire base set from one hobby box.
This checklist is organized by subset. You can scroll through the entire list or jump to a preferred subset by selecting it from the key below. Clicking a link within the checklist will direct you to an affiliate retailer or to relevant eBay listings.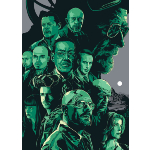 2014 Cryptozoic Breaking Bad Checklist
| | |
| --- | --- |
| 1 | Walter White |
| 2 | Skyler White |
| 3 | Walter White Jr. |
| 4 | Jesse Pinkman |
| 5 | Hank Schrader |
| 6 | Marie Schrader |
| 7 | Saul Goodman |
| 8 | Gustavo "Gus" Fring |
| 9 | Mike Ehrmantraut |
| 10 | Overworked and Underappreciated |
| 11 | Walt's 50th Birthday |
| 12 | The Death Sentence |
| 13 | Time for a Career Change |
| 14 | Maiden Voyage of the Crystal Ship |
| 15 | Phosphine Gas |
| 16 | Walt's Last Stand |
| 17 | A Disturbing Discovery |
| 18 | Chemical Disincorporation |
| 19 | Cleaning Up the Mess |
| 20 | Walt Owns Up |
| 21 | Gray Matter |
| 22 | Chemotherapy |
| 23 | Meeting Tuco |
| 24 | No More Bloodshed |
| 25 | Heisenberg |
| 26 | The Birth of Blue Sky |
| 27 | Tuco's Madness |
| 28 | Where's Walt? |
| 29 | Fugue State |
| 30 | Jesse and Jane |
| 31 | HOLA DEA |
| 32 | Better Call Saul |
| 33 | Big Changes |
| 34 | Los Pollos Hermanos |
| 35 | Delivery in One Hour or Less |
| 36 | Jane's Death |
| 37 | The Cleaner |
| 38 | Separation |
| 39 | The Cousins |
| 40 | Rehabilitated |
| 41 | Skyler's Affair |
| 42 | The Superlab |
| 43 | Hank's Rage |
| 44 | One Minute |
| 45 | Hank's Condition |
| 46 | Shortened Life Expectancy |
| 47 | Walt's Gambling Problem |
| 48 | Jesse's Back |
| 49 | The Fly |
| 50 | Bargaining for Jesse's Life |
| 51 | The Replacement Cook |
| 52 | Leverage |
| 53 | Full Measure |
| 54 | Gale's End |
| 55 | Killing Time |
| 56 | Box Cutter |
| 57 | Self-Defense |
| 58 | The Endless Party |
| 59 | A New Lead |
| 60 | Skyler's Plan |
| 61 | Disappearing Act |
| 62 | Rude Awakening |
| 63 | New Partners |
| 64 | Jesse the Hero |
| 65 | Assistant No Longer |
| 66 | Meth Head Psychology |
| 67 | Buying Junior's Affection |
| 68 | Fingerprinting Gus |
| 69 | Hank's Heisenberg Theory |
| 70 | Divided Loyalties |
| 71 | Hank's New Assistant |
| 72 | Trouble at the Farm |
| 73 | Challenging the Cartel |
| 74 | Dinner with Gus |
| 75 | A Falling Out |
| 76 | Welcome to Mexico |
| 77 | Cooking is Art |
| 78 | Don Eladio's Victory Party |
| 79 | Gus' Revenge |
| 80 | The Long Road Home |
| 81 | A Plea for Help |
| 82 | Gus' Ultimatum |
| 83 | Crawl Space |
| 84 | The Missing Cigarette |
| 85 | Assassination Attempt |
| 86 | Unlikely Allies |
| 87 | Back to Work |
| 88 | Destruction of the Lab |
| 89 | Walt Wins |
| 90 | Remains of the Superlab |
| 91 | Talking Mike Down |
| 92 | What About a Magnet? |
| 93 | Three-Way Split |
| 94 | Hazard Pay |
| 95 | Dealing With Lydia |
| 96 | Vamonos Pest |
| 97 | Legacy Costs |
| 98 | Lydia's Betrayal |
| 99 | A Cry for Help |
| 100 | Listening in on Hank |
| 101 | The Great Train Robbery |
| 102 | Buyout |
| 103 | Family Dinner |
| 104 | Say My Name |
| 105 | Final Confrontation with Mike |
| 106 | Loose Ends |
| 107 | I'm Out |
| 108 | A Shocking Discovery |
| 109 | Jesse's Problem |
| 110 | Blood Money |
| 111 | Cash Drive |
| 112 | Skyler's Resolve |
| 113 | Desert Cache |
| 114 | A Change in Management |
| 115 | The Revelation |
| 116 | The Confession |
| 117 | Hotel Vacation |
| 118 | The Sting |
| 119 | A Better Plan |
| 120 | To'Hajiilee |
| 121 | My Name is ASAC Schrader |
| 122 | We're a Family |
| 123 | Walt Disappears |
| 124 | It's Over |
| 125 | Mr. Lambert |
| 126 | New Hampshire |
| 127 | Irrevocable Trust |
| 128 | Crashing the Meeting |
| 129 | I Did It For Me |
| 130 | Vengeance |
| 131 | Walt and Jesse |
| 132 | Lydia's Fate |
| 133 | The End |
| 134 | Checklist |
| | |
| --- | --- |
| A1 | Dean Norris |
| A2 | Betsy Brandt |
| A3 | R.J. Mitte |
| A4 | Giancarlo Esposito |
| A5 | David Costabile |
| A6 | Matt Jones |
| A7 | Mark Margolis |
| A8 | Michael Shamus Wiles |
| A9 | Daniel Moncada |
| A10 | Luis Moncada |
| A11 | Jere Burns |
| A12 | Nigel Gibbs |
| A13 | Larry Hankin |
| A14 | Michael Bowen |
| A15 | Emily Rios |
| A16 | Tina Parker |
| A17 | Jim Beaver |
| A18 | Tess Harper |
| A19 | Michael Bofshever |
| A20 | Christopher Cousins |
| A21 | Anna Gunn |
| | |
| --- | --- |
| BBFA-01 | Better Call Saul |
| BBFA-02 | Flight 515 |
| BBFA-03 | Los Pollos Hermanos |
| BBFA-04 | The Cousins |
| BBFA-05 | Don Eladio |
| BBFA-06 | Lily of the Valley |
| BBFA-07 | Tio |
| BBFA-08 | Gus |
| BBFA-09 | Breaking Bad |
| | |
| --- | --- |
| HSBG-01 | Walter White |
| HSBG-02 | Saul Goodman |
| HSBG-03 | Lydia Rodarte-Quayle |
| HSBG-04 | Hank Schrader |
| HSBG-05 | Skyler White |
| HSBG-06 | Jesse Pinkman |
| HSBG-07 | Marie Schrader |
| HSBG-08 | Mike Ehrmantraut |
| HSBG-09 | Walter White, Jr. |
| | |
| --- | --- |
| LPH-01 | The Man with No Past |
| LPH-02 | The Chicken Brothers |
| LPH-03 | Not in Chile Any More |
| LPH-04 | A New Locale |
| LPH-05 | Supporting the Sciences |
| LPH-06 | The Catalyst |
| LPH-07 | The Plans Unfolds |
| LPH-08 | The End of Don Eladio |
| LPH-09 | Completing His Revenge |
| | |
| --- | --- |
| M1 | Walter White |
| M2 | Hank Schrader |
| M3 | Jesse Pinkman |
| M4 | Gustavo "Gus" Fring |
| M5 | Skyler White |
| M6 | Walter White |
| M7 | Hank Schrader |
| M8 | Mike Ehrmantraut |
| M9 | Skyler White |
| M10 | Mike Ehrmantraut |
| M11 | Saul Goodman |
| M12 | Walter White |
| M13 | Gustavo "Gus" Fring |
| M14 | Gustavo "Gus" Fring |
| M15 | Mike Ehrmantraut |
| M16 | Hank Schrader |
| M17 | Jesse Pinkman |
| M18 | Gustavo Gus Fring |
| M19 | Saul Goodman |
| M20 | Mike Ehrmantraut |
| M21 | Saul Goodman |
| M22 | Walter White |
| | |
| --- | --- |
| PC-01 | Walter White |
| PC-02 | Gustavo "Gus" Fring |