The 2012 Rittenhouse Game of Thrones Season 1 trading card set highlights favorite characters, moments and quotes from the HBO series. The 72-card base set features the main cast along with other fan favorites including Samwell Tarly.
As is the tradition with Rittenhouse releases, 2012 Game of Thrones Season 1 includes incentives for purchasing multiple cases including autograph cards from Sean Bean (for 3 cases) and Peter Dinklage (for 9 cases).
Chase sets include Quotable Game of Thrones (1:12 packs), The Houses (1:12 packs), You Win or You Die (1:24 packs), and Shadowbox cards (1:48 packs). Additionally, 2012 Rittenhouse Game of Thrones Season 1 released four Promotional cards that are not found in boxes.
This checklist is organized by subset. You can go directly to a preferred subset by selecting it from the checklist key below. Clicking a link within the checklist will direct you to an affiliate retailer or to relevant eBay listings.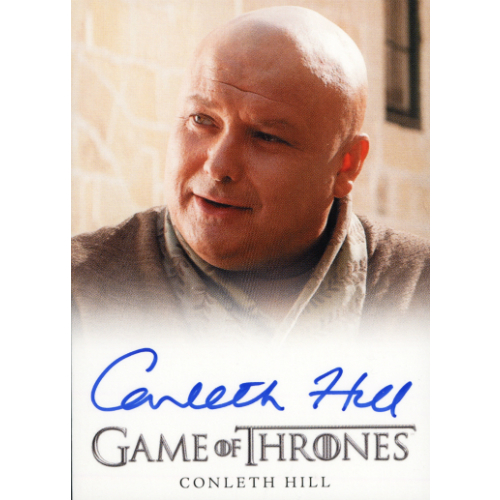 2012 Rittenhouse Game of Thrones Checklist
| | |
| --- | --- |
| 1 | Winter is Coming |
| 2 | Winter is Coming |
| 3 | Winter is Coming |
| 4 | The Kingsroad |
| 5 | The Kingsroad |
| 6 | The Kingsroad |
| 7 | Lord Snow |
| 8 | Lord Snow |
| 9 | Lord Snow |
| 10 | Cripples, Bastards and Broken Things |
| 11 | Cripples, Bastards and Broken Things |
| 12 | Cripples, Bastards and Broken Things |
| 13 | The Wolf and the Lion |
| 14 | The Wolf and the Lion |
| 15 | The Wolf and the Lion |
| 16 | A Golden Crown |
| 17 | A Golden Crown |
| 18 | A Golden Crown |
| 19 | You Win or You Die |
| 20 | You Win or You Die |
| 21 | You Win or You Die |
| 22 | The Pointy End |
| 23 | The Pointy End |
| 24 | The Pointy End |
| 25 | Baelor |
| 26 | Baelor |
| 27 | Baelor |
| 28 | Fire and Blood |
| 29 | Fire and Blood |
| 30 | Fire and Blood |
| 31 | Maester Aemon |
| 32 | Arya Stark |
| 33 | Tyrion Lannister |
| 34 | Petyr "Littlefinger" Baelish |
| 35 | Prince Joffrey Baratheon |
| 36 | Alliser Thorne |
| 37 | Lancel Lannister |
| 38 | Varys |
| 39 | Sansa Stark |
| 40 | Bronn |
| 41 | Hodor |
| 42 | Syrio Forel |
| 43 | Robb Stark |
| 44 | Samwell Tarly |
| 45 | King Robert Baratheon |
| 46 | Viserys Targaryen |
| 47 | Ser Jaime Lannister |
| 48 | Septa Mordane |
| 49 | Ros |
| 50 | Ser Jorah Mormont |
| 51 | Jory Cassel |
| 52 | Queen Cersei Lannister |
| 53 | Rickon Stark |
| 54 | Lord Commander Mormont |
| 55 | Lord Eddard "Ned" Stark |
| 56 | Lysa Arryn |
| 57 | Gendry |
| 58 | Lady Catelyn Stark |
| 59 | Renly Baratheon |
| 60 | Tywin Lannister |
| 61 | Khal Drogo |
| 62 | Grand Maester Pycelle |
| 63 | Maester Luwin |
| 64 | Jon Snow |
| 65 | Rodrik Cassel |
| 66 | Daenerys Targaryen |
| 67 | Barristan Selmy |
| 68 | Bran Stark |
| 69 | Sandor Clegane "The Hound" |
| 70 | Theon Greyjoy |
| 71 | Magister Illyrio |
| 72 | Checklist |
Charles Dance as Tywin Lannister (Bordered)
Nikolaj Coster-Waldau as Jaime Lannister (Bordered)
Richard Madden as Robb Stark (Bordered)
Art Parkinson as Rickon Stark (Bordered)
Art Parkinson as Rickon Stark (Full-Bleed)
Aidan Gillen as Petyr Baelish "Littlefinger" (Bordered)
Aidan Gillen as Petyr Baelish "Littlefinger" (Full-Bleed)
Alfie Allen as Theon Greyjoy (Bordered)
Alfie Allen as Theon Greyjoy (Full-Bleed)
Conleth Hill as Lord Varys (Bordered)
Conleth Hill as Lord Varys (Full-Bleed)
Emilia Clarke as Daenerys Targaryen (Bordered)
Elyes Gabel as Rakharo (Bordered)
Elyes Gabel as Rakharo (Full-Bleed)
Esme Bianco as Ros (Bordered)
Esme Bianco as Ros (Full-Bleed)
Harry Lloyd as Viserys Targaryen (Bordered)
Harry Lloyd as Viserys Targaryen (Full-Bleed)
Ian McElhinney as Barristan Selmy (Bordered)
Ian McElhinney as Barristan Selmy (Full-Bleed)
Isaac Hempstead-Wright as Bran Stark (Bordered)
Isaac Hempstead-Wright as Bran Stark (Full-Bleed)
Jason Momoa as Khal Drogo (Bordered)
Jack Gleeson as Prince Joffrey Baratheon (Bordered)
Jack Gleeson as Prince Joffrey Baratheon (Full-Bleed)
Jamie Sives as Jory Cassel (Bordered)
Jamie Sives as Jory Cassel (Full-Bleed)
Jerome Flynn as Bronn (Bordered)
Jerome Flynn as Bronn (Full-Bleed)
John Bradley as Samwell Tarly (Bordered)
John Bradley as Samwell Tarly (Full-Bleed)
Julian Glover as Grand Maester Pycelle (Bordered)
Julian Glover as Grand Maester Pycelle (Full-Bleed)
Jason Momoa as Khal Drogo (Full-Bleed)
Kristian Nairn as Hodor (Bordered)
Kristian Nairn as Hodor (Full-Bleed)
Maisie Williams as Arya Stark (Bordered)
Maisie Williams as Arya Stark (Full-Bleed)
Miltos Yerolemou as Syrio Forel (Bordered)
Miltos Yerolemou as Syrio Forel (Full-Bleed)
Owen Teale as Alliser Thorne (Bordered)
Owen Teale as Alliser Thorne (Full-Bleed)
Rory McCann as Sandor Clegane "The Hound" (Bordered)
Rory McCann as Sandor Clegane "The Hound" (Full-Bleed)
Kit Harington as Jon Snow (Bordered)
Lena Headey as Queen Cersei Lannister (Bordered)
Mark Addy as King Robert Baratheon (Bordered)
Mark Addy as King Robert Baratheon (Full-Bleed)
Michelle Fairley as Lady Catelyn Stark (Bordered)
Sean Bean (Ned Stark) Autograph Card
Peter Dinklage (Tyrion Lannister) Autograph Card
| | |
| --- | --- |
| H1 | House Baratheon |
| H2 | House Stark |
| H3 | House Lannister |
| H4 | House Tully |
| H5 | House Targaryen |
| H6 | House Arryn |
| H7 | House Frey |
| H8 | House Tyrell |
| H9 | House Greyjoy |
| | |
| --- | --- |
| Q1 | The Quotable Game of Thrones |
| Q2 | The Quotable Game of Thrones |
| Q3 | The Quotable Game of Thrones |
| Q4 | The Quotable Game of Thrones |
| Q5 | The Quotable Game of Thrones |
| Q6 | The Quotable Game of Thrones |
| Q7 | The Quotable Game of Thrones |
| Q8 | The Quotable Game of Thrones |
| Q9 | The Quotable Game of Thrones |
Daenerys Targaryen
Jon Snow
Tyrion Lannister
Cersei Lannister
Eddard Stark
Robb Stark
| | |
| --- | --- |
| SP1 | Eddard Stark "Winter Is Coming" |
| SP2 | Cersei Lannister "Everyone But Us Is The Enemy" |
| SP3 | Robert Baratheon "Killing Things Clears My Head" |
| SP4 | Daenerys Targaryen "I Do Not Have A Gentle Heart" |
| SP5 | Jon Snow "I Am The Watcher On The Wall" |
| | |
| --- | --- |
| P1 | General Distribution |
| P2 | Non-Sport Update Magainze |
| P3 | Album Exclusive |
| P4 | Spring 2012 Philly Non-Sport Show |