2008 Rittenhouse Batman Archives trading cards showcase the rich comic book history of the Batman universe. The 63 card base set highlights some of the most iconic covers from Batman comic books, starting with 1940's Issue 1 and ending with 2007's Issue 670.
This set is free of parallels and low on insert sets. That said, the inserts that are included pay tribute to different eras of trading card history whether it be an homage to 1940 Gum Inc (who never made a Batman set), or the Lenticular gimmicks of the 1990s.
All of the 7,500 boxes produced for this set include an original sketch card. There are case incentives, including a Jerry Robinson — Batman co-creator and creator of Robin and The Joker — autograph card.
Clicking a link within this checklist will direct you to an affiliate retailer or to relevant eBay listings.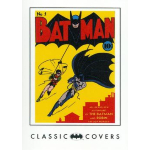 2008 Rittenhouse Batman Archives Checklist
| | |
| --- | --- |
| 1 | Batman #1 |
| 2 | Batman #11 |
| 3 | Batman #13 |
| 4 | Batman #16 |
| 5 | Batman #20 |
| 6 | Batman #27 |
| 7 | Batman #37 |
| 8 | Batman #42 |
| 9 | Batman #48 |
| 10 | Batman #50 |
| 11 | Batman #59 |
| 12 | Batman #68 |
| 13 | Batman #83 |
| 14 | Batman #92 |
| 15 | Batman #100 |
| 16 | Batman #121 |
| 17 | Batman #128 |
| 18 | Batman #156 |
| 19 | Batman #166 |
| 20 | Batman #169 |
| 21 | Batman #181 |
| 22 | Batman #183 |
| 23 | Batman #189 |
| 24 | Batman #197 |
| 25 | Batman #200 |
| 26 | Batman #202 |
| 27 | Batman #207 |
| 28 | Batman #227 |
| 29 | Batman #232 |
| 30 | Batman #241 |
| 31 | Batman #244 |
| 32 | Batman #251 |
| 33 | Batman #269 |
| 34 | Batman #292 |
| 35 | Batman #300 |
| 36 | Batman #308 |
| 37 | Batman #320 |
| 38 | Batman #324 |
| 39 | Batman #343 |
| 40 | Batman #357 |
| 41 | Batman #400 |
| 42 | Batman #404 |
| 43 | Batman #414 |
| 44 | Batman #428 |
| 45 | Batman #442 |
| 46 | Batman #451 |
| 47 | Batman #461 |
| 48 | Batman #465 |
| 49 | Batman #493 |
| 50 | Batman #497 |
| 51 | Batman #500 |
| 52 | Batman #512 |
| 53 | Batman #558 |
| 54 | Batman #567 |
| 55 | Batman #586 |
| 56 | Batman #598 |
| 57 | Batman #600 |
| 58 | Batman #609 |
| 59 | Batman #612 |
| 60 | Batman #629 |
| 61 | Batman 650 |
| 62 | Batman #660 |
| 63 | Batman #670 |
| | |
| --- | --- |
| BG1 | Batman |
| BG2 | Robin |
| BG3 | The Batsignal |
| BG4 | Crime Fighting Costumes |
| BG5 | The Batmobile |
| BG6 | Joker |
| BG7 | Penguin |
| BG8 | Two-Face |
| BG9 | Batman, Robin & Alfred Pennyworth |
| | |
| --- | --- |
| DV1 | Riddler |
| DV2 | Scarecrow |
| DV3 | Catwoman |
| DV4 | Penguin |
| DV5 | Batman |
| DV6 | Joker |
| DV7 | Mr. Freeze |
| DV8 | Poison Ivy |
| DV9 | Two-Face |
| | |
| --- | --- |
| L1 | Batman |
| L2 | Robin |
| L3 | Catwoman |
| L4 | Joker |
| L5 | Riddler |
| L6 | Two-Face |
| L7 | Ra's al Ghul |
| L8 | Scarecrow |
| L9 | Killer Croc |
| | |
| --- | --- |
| Incentive | Jerry Robinson |
| Incentive | Mark McHaley |
| Incentive | Dick Giordano |