1997 Topps Stadium Club baseball cards were the first Stadium Club cards to include on-card autographs on the checklist. The set was released in two series, each containing half of the 390 card base set.
The first 60 cards in each series were given Matrix parallel cards and the last 15 cards in each series were short printed. There are two mis-numbered cards on the checklist — Tom Pagnozzi (#274) should be #374 and Brant Brown (#351) should be #361. These errors were never corrected.
This checklist is organized by teams. You can scroll through the entire list or jump to a preferred team by selecting them from the list below. Clicking a link within the checklist will direct you to an affiliate retailer or to relevant eBay listings.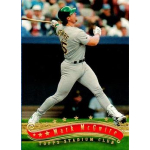 1997 Topps Stadium Club Checklist
Base Set – 390 Cards
Matrix – 120 Cards
Co-Signers (CO) – 10 Cards
Firebrands (F) – 12 Cards
Millennium (M) – 40 Cards
Pure Gold (PG) – 20 Cards
Patent Leather (PL) – 13 Cards
| | | |
| --- | --- | --- |
| 7 | Tim Salmon | |
| 61 | Garret Anderson | |
| 85 | Chili Davis | |
| 93 | Gary DiSarcina | |
| 102 | Chuck Finley | |
| 112 | Todd Greene | |
| 226 | Jim Edmonds | |
| 232 | Troy Percival | |
| 248 | Darin Erstad | |
| 288 | Jim Leyritz | |
| 334 | Mark Langston | |
| 363 | Allen Watson | |
| M19 | Todd Greene | |
| | | |
| --- | --- | --- |
| 13 | Jeff Bagwell | |
| 33 | Billy Wagner | |
| 45 | Shane Reynolds | |
| 73 | Brian L. Hunter | |
| 107 | Doug Drabek | |
| 121 | Donne Wall | |
| 195 | Bobby Abreu | |
| 208 | Derek Bell | |
| 252 | Craig Biggio | |
| 259 | Sean Berry | |
| 295 | Darryl Kile | |
| 300 | Bobby Abreu | |
| 319 | Sid Fernandez | |
| 331 | Luis Gonzalez | |
| 352 | Mike Hampton | |
| 382 | Jeff Bagwell | |
| F1 | Jeff Bagwell | |
| FB1 | Jeff Bagwell | |
| M15 | Brian L. Hunter | |
| M28 | Bobby Abreu | |
| PG14 | Jeff Bagwell | |
| PL6 | Craig Biggio | |
| | | |
| --- | --- | --- |
| 5 | Mark McGwire | |
| 115 | Mike Bordick | |
| 130 | Terry Steinbach | |
| 142 | Scott Brosius | |
| 234 | Jose Canseco | |
| 243 | Geronimo Berroa | |
| 307 | Jose Herrera | |
| 336 | Jason Giambi | |
| 344 | Tony Batista | |
| 375 | Willie Adams | |
| 384 | Mark McGwire | |
| F7 | Mark McGwire | |
| FB7 | Mark McGwire | |
| I6 | Mark McGwire | |
| PG8 | Mark McGwire | |
| | | |
| --- | --- | --- |
| 25 | Ed Sprague | |
| 39 | Pat Hentgen | |
| 122 | Alex Gonzalez | |
| 147 | Shawn Green | |
| 163 | Otis Nixon | |
| 171 | Mike Timlin | |
| 197 | Joe Carter | |
| 204 | Carlos Delgado | |
| 207 | Juan Guzman | |
| 209 | Roger Clemens | |
| 283 | Shannon Stewart | |
| 356 | Marty Janzen | |
| 371 | Sandy Martinez | |
| M8 | Carlos Delgado | |
| | | |
| --- | --- | --- |
| 1 | Chipper Jones | |
| 16 | Ryan Klesko | |
| 29 | John Smoltz | |
| 47 | Fred McGriff | |
| 54 | Tom Glavine | |
| 72 | Steve Avery | |
| 131 | Jeff Blauser | |
| 181 | Andruw Jones | |
| 183 | Wes Helms | |
| 196 | Greg Maddux | |
| 201 | Marquis Grissom | |
| 215 | Javy Lopez | |
| 223 | David Justice | |
| 246 | Denny Neagle | |
| 249 | Mark Wohlers | |
| 255 | Andruw Jones | |
| 322 | Mark Lemke | |
| 351 | Jermaine Dye | |
| 376 | Chipper Jones | |
| CO3 | Jermaine Dye | |
| CO3 | Mark Wohlers | |
| F8 | Chipper Jones | |
| FB8 | Chipper Jones | |
| I15 | John Smoltz | |
| I21 | Andruw Jones | |
| M6 | Chipper Jones | |
| M21 | Andruw Jones | |
| PG7 | Chipper Jones | |
| PL5 | Greg Maddux | |
| | | |
| --- | --- | --- |
| 35 | John Jaha | |
| 81 | Fernando Vina | |
| 113 | Jose Valentin | |
| 132 | Jeff Cirillo | |
| 143 | Mike Fetters | |
| 153 | Dave Nilsson | |
| 166 | Ben McDonald | |
| 284 | Gerald Williams | |
| 286 | Jeff D'Amico | |
| 318 | Cal Eldred | |
| 369 | Mark Loretta | |
| M32 | Jeff D'Amico | |
| | | |
| --- | --- | --- |
| 4 | Brian Jordan | |
| 86 | Alan Benes | |
| 91 | Donovan Osborne | |
| 120 | Andy Benes | |
| 128 | Royce Clayton | |
| 144 | Gary Gaetti | |
| 167 | John Mabry | |
| 236 | Ray Lankford | |
| 239 | Dennis Eckersley | |
| 242 | Ron Gant | |
| 274 | Tom Pagnozzi | |
| 315 | Todd Stottlemyre | |
| 367 | Tony Fossas | |
| CO6 | Alan Benes | |
| I16 | Brian Jordan | |
| M11 | Alan Benes | |
| M39 | Dmitri Young | |
| | | |
| --- | --- | --- |
| 40 | Sammy Sosa | |
| 53 | Mark Grace | |
| 92 | Doug Glanville | |
| 94 | Brooks Kieschnick | |
| 118 | Steve Trachsel | |
| 161 | Terry Adams | |
| 175 | Brian McRae | |
| 229 | Ryne Sandberg | |
| 256 | Turk Wendell | |
| 270 | Kevin Tapani | |
| 279 | Scott Servais | |
| 306 | Shawon Dunston | |
| 349 | Rey Sanchez | |
| 351 | Brant Brown | |
| 359 | Amaury Telemaco | |
| M9 | Brant Brown | |
| M29 | Brooks Kieschnick | |
| PL10 | Mark Grace | |
| | | |
| --- | --- | --- |
| 23 | Eric Karros | |
| 31 | Mike Piazza | |
| 51 | Todd Worrell | |
| 69 | Chan Ho Park | |
| 74 | Pedro Astacio | |
| 87 | Todd Hollandsworth | |
| 114 | Delino DeShields | |
| 141 | Ismael Valdes | |
| 205 | Ramon Martinez | |
| 212 | Hideo Nomo | |
| 216 | Raul Mondesi | |
| 237 | Karim Garcia | |
| 268 | Roger Cedeno | |
| 311 | Greg Gagne | |
| 329 | Antonio Osuna | |
| 341 | Tom Candiotti | |
| 383 | Mike Piazza | |
| CO5 | Todd Hollandsworth | |
| CO7 | Raul Mondesi | |
| CO7 | Eric Karros | |
| CO10 | Karim Garcia | |
| F10 | Mike Piazza | |
| FB10 | Mike Piazza | |
| I10 | Hideo Nomo | |
| M18 | Karim Garcia | |
| PG18 | Mike Piazza | |
| | | |
| --- | --- | --- |
| 12 | Pedro Martinez | |
| 28 | Henry Rodriguez | |
| 44 | Mark Grudzielanek | |
| 64 | David Segui | |
| 80 | Moises Alou | |
| 100 | Jeff Fassero | |
| 145 | Mike Lansing | |
| 148 | Mel Rojas | |
| 185 | Vladimir Guerrero | |
| 210 | Vladimir Guerrero | |
| 224 | Rondell White | |
| 290 | F.P. Santangelo | |
| 296 | Jose Paniagua | |
| 360 | Darrin Fletcher | |
| CO9 | Rondell White | |
| M2 | Mark Grudzielanek | |
| M36 | Vladimir Guerrero | |
| | | |
| --- | --- | --- |
| 15 | Barry Bonds | |
| 129 | William Van Landingham | |
| 140 | Rod Beck | |
| 146 | Glenallen Hill | |
| 151 | Marvin Benard | |
| 238 | J.T. Snow | |
| 280 | Jacob Cruz | |
| 324 | Marcus Jensen | |
| 325 | Rich Aurilia | |
| 370 | Shawn Estes | |
| 386 | Barry Bonds | |
| F3 | Barry Bonds | |
| FB3 | Barry Bonds | |
| I5 | Barry Bonds | |
| M3 | Jacob Cruz | |
| PG4 | Barry Bonds | |
| PL3 | Barry Bonds | |
| | | |
| --- | --- | --- |
| 3 | Kenny Lofton | |
| 6 | Charles Nagy | |
| 18 | Jim Thome | |
| 62 | Dennis Martinez | |
| 65 | Julio Franco | |
| 75 | Jack McDowell | |
| 88 | Jose Vizcaino | |
| 101 | Sandy Alomar Jr. | |
| 124 | Omar Vizquel | |
| 139 | Brian Giles | RC |
| 190 | Russell Branyan | |
| 192 | Bartolo Colon | |
| 203 | Matt Williams | |
| 230 | Jose Mesa | |
| 244 | Manny Ramirez | |
| 260 | Albie Lopez | |
| 275 | Danny Graves | |
| 302 | Paul Shuey | |
| 305 | Kevin Seitzer | |
| 337 | Damian Jackson | |
| 357 | Orel Hershiser | |
| F2 | Albert Belle | |
| FB2 | Albert Belle | |
| I14 | Albert Belle | |
| M24 | Bartolo Colon | |
| PG2 | Albert Belle | |
| PG13 | Kenny Lofton | |
| PL8 | Kenny Lofton | |
| | | |
| --- | --- | --- |
| 19 | Jay Buhner | |
| 50 | Ken Griffey Jr. | |
| 106 | Sterling Hitchcock | |
| 123 | Dan Wilson | |
| 149 | Joey Cora | |
| 233 | Edgar Martinez | |
| 247 | Randy Johnson | |
| 278 | Norm Charlton | |
| 304 | Bob Wells | |
| 345 | Paul Sorrento | |
| 362 | Russ Davis | |
| 368 | Bob Wolcott | |
| 385 | Ken Griffey Jr. | |
| 390 | Jay Buhner | |
| F5 | Ken Griffey Jr. | |
| FB5 | Ken Griffey Jr. | |
| PG5 | Jay Buhner | |
| PG15 | Ken Griffey Jr. | |
| PL4 | Ken Griffey Jr. | |
| | | |
| --- | --- | --- |
| 2 | Gary Sheffield | |
| 9 | Jeff Conine | |
| 104 | Billy McMillon | |
| 110 | Al Leiter | |
| 119 | Luis Castillo | |
| 125 | Devon White | |
| 154 | Edgar Renteria | |
| 186 | Billy McMillon | |
| 228 | Alex Fernandez | |
| 235 | Kevin Brown | |
| 321 | Robb Nen | |
| 366 | Jay Powell | |
| 381 | Gary Sheffield | |
| M7 | Luis Castillo | |
| M17 | Edgar Renteria | |
| PG9 | Gary Sheffield | |
| | | |
| --- | --- | --- |
| 26 | Bernard Gilkey | |
| 41 | Todd Hundley | |
| 48 | Rey Ordonez | |
| 68 | Pete Harnisch | |
| 71 | Mark Clark | |
| 89 | Edgardo Alfonzo | |
| 95 | Bobby Jones | |
| 108 | Paul Wilson | |
| 184 | Nelson Figueroa | RC |
| 198 | Alex Ochoa | |
| 218 | Carlos Baerga | |
| 222 | Lance Johnson | |
| 257 | Jason Isringhausen | |
| 301 | John Olerud | |
| 308 | Butch Huskey | |
| 314 | Alvaro Espinoza | |
| 373 | John Franco | |
| CO2 | Paul Wilson | |
| CO2 | Todd Hundley | |
| CO8 | Rey Ordonez | |
| I3 | Todd Hundley | |
| M12 | Rey Ordonez | |
| M20 | Paul Wilson | |
| M23 | Alex Ochoa | |
| PL11 | Rey Ordonez | |
| | | |
| --- | --- | --- |
| 8 | Cal Ripken Jr. | |
| 14 | Bobby Bonilla | |
| 21 | Mike Mussina | |
| 36 | Eddie Murray | |
| 56 | Rafael Palmeiro | |
| 79 | B.J. Surhoff | |
| 240 | Roberto Alomar | |
| 253 | Brady Anderson | |
| 267 | Nerio Rodriguez | RC |
| 272 | Randy Myers | |
| 291 | Scott Erickson | |
| 299 | Rocky Coppinger | |
| 330 | Chris Hoiles | |
| 343 | Jimmy Key | |
| 388 | Brady Anderson | |
| F6 | Brady Anderson | |
| FB6 | Brady Anderson | |
| I1 | Eddie Murray | |
| I7 | Brady Anderson | |
| I20 | Brady Anderson | |
| PG1 | Brady Anderson | |
| PG16 | Cal Ripken Jr. | |
| PL12 | Roberto Alomar | |
| | | |
| --- | --- | --- |
| 24 | Steve Finley | |
| 60 | Ken Caminiti | |
| 66 | Rickey Henderson | |
| 84 | Chris Gomez | |
| 111 | Bob Tewksbury | |
| 155 | Joey Hamilton | |
| 202 | Trevor Hoffman | |
| 214 | Greg Vaughn | |
| 219 | Tony Gwynn | |
| 285 | Jody Reed | |
| 294 | Andy Ashby | |
| 342 | Wally Joyner | |
| 348 | John Flaherty | |
| 389 | Ken Caminiti | |
| CO10 | Tony Gwynn | |
| I9 | Ken Caminiti | |
| I18 | Ken Caminiti | |
| PG6 | Tony Gwynn | |
| PG12 | Ken Caminiti | |
| PL2 | Ken Caminiti | |
| | | |
| --- | --- | --- |
| 76 | Gregg Jefferies | |
| 137 | Mike Grace | |
| 152 | Curt Schilling | |
| 172 | Scott Rolen | |
| 178 | Benito Santiago | |
| 193 | Scott Rolen | |
| 320 | Mickey Morandini | |
| 328 | Ricky Otero | |
| 355 | Ricky Bottalico | |
| 358 | Rex Hudler | |
| 364 | Mike Lieberthal | |
| 372 | Wendell Magee | |
| CO4 | Scott Rolen | |
| CO4 | Gregg Jefferies | |
| M25 | Wendell Magee | |
| M38 | Scott Rolen | |
| | | |
| --- | --- | --- |
| 77 | Jason Kendall | |
| 97 | Jermaine Allensworth | |
| 127 | Orlando Merced | |
| 156 | Carlos Garcia | |
| 271 | Joe Randa | |
| 289 | Francisco Cordova | |
| 316 | Al Martin | |
| 340 | Matt Ruebel | |
| CO5 | Jason Kendall | |
| M10 | Jason Kendall | |
| M14 | Jermaine Allensworth | |
| | | |
| --- | --- | --- |
| 20 | Juan Gonzalez | |
| 49 | Will Clark | |
| 52 | Rusty Greer | |
| 99 | Mark McLemore | |
| 126 | Darryl Hamilton | |
| 133 | Roger Pavlik | |
| 138 | Kevin Elster | |
| 200 | Ivan Rodriguez | |
| 225 | Dean Palmer | |
| 250 | Ken Hill | |
| 254 | John Wetteland | |
| 262 | Bobby Witt | |
| 297 | Mickey Tettleton | |
| 312 | John Burkett | |
| 387 | Juan Gonzalez | |
| F12 | Juan Gonzalez | |
| FB12 | Juan Gonzalez | |
| I12 | Juan Gonzalez | |
| PG11 | Juan Gonzalez | |
| PL1 | Ivan Rodriguez | |
| | | |
| --- | --- | --- |
| 42 | Mo Vaughn | |
| 63 | Mike Greenwell | |
| 157 | Nomar Garciaparra | |
| 165 | Mike Stanley | |
| 168 | Troy O'Leary | |
| 173 | Reggie Jefferson | |
| 177 | Aaron Sele | |
| 188 | Nomar Garciaparra | |
| 241 | John Valentin | |
| 264 | Tim Wakefield | |
| 269 | Tim Naehring | |
| 332 | Wil Cordero | |
| 354 | Heathcliff Slocumb | |
| 377 | Mo Vaughn | |
| CO8 | Nomar Garciaparra | |
| F11 | Mo Vaughn | |
| FB11 | Mo Vaughn | |
| I4 | Roger Clemens | |
| M37 | Nomar Garciaparra | |
| PG17 | Mo Vaughn | |
| | | |
| --- | --- | --- |
| 17 | Barry Larkin | |
| 34 | Reggie Sanders | |
| 103 | Eric Owens | |
| 150 | John Smiley | |
| 170 | Bret Boone | |
| 180 | Eric Davis | |
| 273 | Dave Burba | |
| 276 | Chad Mottola | |
| 277 | Ruben Sierra | |
| 292 | Hal Morris | |
| 303 | Jeff Brantley | |
| 323 | Pete Schourek | |
| I8 | Barry Larkin | |
| M33 | Chad Mottola | |
| PL9 | Barry Larkin | |
| | | |
| --- | --- | --- |
| 30 | Dante Bichette | |
| 37 | Eric Young | |
| 59 | Andres Galarraga | |
| 158 | Kevin Ritz | |
| 162 | Jamey Wright | |
| 174 | Neifi Perez | |
| 187 | Todd Helton | |
| 194 | Angel Echevarria | |
| 199 | Ellis Burks | |
| 221 | Vinny Castilla | |
| 251 | Larry Walker | |
| 287 | Walt Weiss | |
| 313 | Mark Thompson | |
| 350 | John Vander Wal | |
| 380 | Andres Galarraga | |
| F4 | Andres Galarraga | |
| FB4 | Andres Galarraga | |
| M30 | Derrick Gibson | |
| M40 | Neifi Perez | |
| PG3 | Dante Bichette | |
| PG20 | Andres Galarraga | |
| PL7 | Andres Galarraga | |
| | | |
| --- | --- | --- |
| 22 | Kevin Appier | |
| 83 | Jose Rosado | |
| 135 | Jeff Montgomery | |
| 159 | Keith Lockhart | |
| 164 | Michael Tucker | |
| 176 | Tom Goodwin | |
| 191 | Glendon Rusch | |
| 261 | Jay Bell | |
| 266 | Tim Belcher | |
| 274 | Mike Sweeney | |
| 281 | Mike Macfarlane | |
| 309 | Jose Offerman | |
| 326 | Jeff King | |
| 333 | Johnny Damon | |
| 339 | Bip Roberts | |
| M26 | Jose Rosado | |
| M31 | Mike Sweeney | |
| M35 | Jaime Bluma | |
| | | |
| --- | --- | --- |
| 96 | Raul Casanova | |
| 136 | Bobby Higginson | |
| 160 | Justin Thompson | |
| 169 | Melvin Nieves | |
| 245 | Travis Fryman | |
| 263 | Tony Clark | |
| 335 | Orlando Miller | |
| M5 | Tony Clark | |
| M13 | Justin Thompson | |
| | | |
| --- | --- | --- |
| 10 | Paul Molitor | |
| 58 | Marty Cordova | |
| 78 | Todd Walker | |
| 116 | Pat Meares | |
| 179 | Frank Rodriguez | |
| 182 | Todd Walker | |
| 206 | Chuck Knoblauch | |
| 265 | Brad Radke | |
| 282 | Rich Becker | |
| 310 | Rick Aguilera | |
| 327 | Scott Stahoviak | |
| 353 | Greg Colbrunn | |
| 365 | Dave Stevens | |
| CO9 | Marty Cordova | |
| I2 | Paul Molitor | |
| M16 | Marty Cordova | |
| M22 | Todd Walker | |
| | | |
| --- | --- | --- |
| 27 | Tony Phillips | |
| 38 | Roberto Hernandez | |
| 43 | Robin Ventura | |
| 67 | Ozzie Guillen | |
| 70 | Harold Baines | |
| 109 | Chris Snopek | |
| 134 | Danny Tartabull | |
| 213 | Frank Thomas | |
| 227 | Albert Belle | |
| 258 | Jaime Navarro | |
| 293 | Ray Durham | |
| 317 | James Baldwin | |
| 346 | Ron Karkovice | |
| 347 | Wilson Alvarez | |
| 378 | Frank Thomas | |
| 379 | Albert Belle | |
| CO6 | Robin Ventura | |
| F9 | Frank Thomas | |
| FB9 | Frank Thomas | |
| M4 | Ray Durham | |
| M34 | Chris Snopek | |
| PG10 | Frank Thomas | |
| | | |
| --- | --- | --- |
| 11 | Mariano Rivera | |
| 32 | Paul O'Neill | |
| 46 | Andy Pettitte | |
| 55 | Derek Jeter | |
| 57 | Bernie Williams | |
| 82 | Darryl Strawberry | |
| 90 | Ruben Rivera | |
| 98 | Kenny Rogers | |
| 105 | Dwight Gooden | |
| 117 | Mariano Duncan | |
| 189 | Katsuhiro Maeda | |
| 211 | Cecil Fielder | |
| 217 | Wade Boggs | |
| 220 | Tino Martinez | |
| 231 | David Cone | |
| 298 | Joe Girardi | |
| 338 | David Wells | |
| CO1 | Derek Jeter | |
| CO1 | Andy Pettitte | |
| I11 | Bernie Williams | |
| I13 | Andy Pettitte | |
| I17 | Derek Jeter | |
| I19 | John Wetteland | |
| I22 | Jim Leyritz | |
| M1 | Derek Jeter | |
| M27 | Katsuhiro Maeda | |
| PG19 | Derek Jeter | |
| PL13 | Derek Jeter | |