The 1994 Topps Stadium Club series was a massive collection of baseball cards with a base checklist weighing in at 720 cards. The set was released over three series — series one and two contained 270 cards and series three made up the final 180 — and featured a dramatically reimagined design which is quintessentially 90s.
There were several insert sets distributed throughout the three series' of this edition. Standard packs contained 12 cards while jumbo packs contained 20 cards and improved the collation of inserts and parallels.
As was often the case, a separate "Members Only" factory set was released with a completely parallel set.
This checklist is organized by teams. You may scroll through the entire list or jump to a preferred team by selecting it from the list below. Clicking a link within the checklist will direct you to an affiliate retailer or to relevant eBay listings.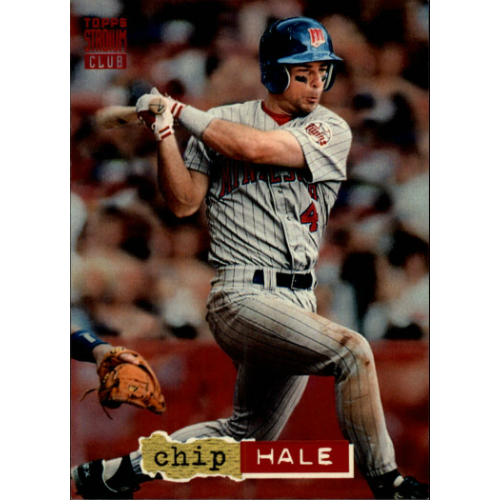 1994 Topps Stadium Club Checklist
Base Set – 720 Cards
First Day – #/2000
Golden Rainbow – 1:1
Members Only
1994 Bowman Previews (BP) – 10 Cards
Dugout Dirt (DD) – 12 Cards, 1:6
Members Only
Finest (F) – 10 Cards, 1:6
Members Only
Info Cards (IC) – 10 Cards
Super Team (ST) – 28 Cards, 1:24
| | | |
| --- | --- | --- |
| 11 | Luis Polonia | |
| 36 | Tim Salmon | |
| 78 | Mike Butcher | |
| 92 | Chris Turner | |
| 124 | Damion Easley | |
| 173 | Chili Davis | |
| 181 | J.T. Snow / Tim Salmon | |
| 189 | Eduardo Perez | |
| 211 | Chuck Finley | |
| 213 | Gary DiSarcina | |
| 295 | Chad Curtis | |
| 352 | Rod Correia | |
| 385 | Hilly Hathaway | |
| 442 | Mark Langston | |
| 447 | J.T. Snow | |
| 468 | Greg Myers | |
| 506 | Torey Lovullo | |
| 509 | Joe Magrane | |
| 547 | Bo Jackson | |
| 571 | Brian Anderson | RC |
| 603 | Jim Edmonds | |
| 625 | Harold Reynolds | |
| 641 | John Dopson | |
| 663 | Mark Leiter | |
| 685 | Rex Hudler | |
| DD8 | Tim Salmon | |
| F9 | Tim Salmon | |
| ST17 | California Angels | |
| | | |
| --- | --- | --- |
| 35 | Luis Gonzalez | |
| 108 | Jeff Bagwell | |
| 113 | Greg Swindell | |
| 138 | Andujar Cedeno | |
| 150 | Scott Servais | |
| 168 | Eddie Taubensee | |
| 190 | Pete Harnisch | |
| 205 | Brian Williams | |
| 226 | Todd Jones | |
| 293 | Al Osuna | |
| 308 | Steve Finley | |
| 322 | Ken Caminiti | |
| 327 | Darryl Kile | |
| 334 | Chris Donnels | |
| 374 | Craig Biggio | |
| 408 | Doug Drabek | |
| 555 | Mike Felder | |
| 558 | Shane Reynolds | |
| 575 | Mitch Williams | |
| 590 | Kevin Bass | |
| 614 | Mike Hampton | |
| 635 | Andy Stankiewicz | |
| 655 | Sid Bream | |
| 668 | James Mouton | |
| 690 | Tony Eusebio | |
| BP10 | James Mouton | |
| F1 | Jeff Bagwell | |
| ST6 | Houston Astros | |
| | | |
| --- | --- | --- |
| 12 | Scott Hemond | |
| 40 | Troy Neel | |
| 65 | Brent Gates | |
| 91 | Bobby Witt | |
| 125 | Dennis Eckersley | |
| 164 | Scott Brosius | |
| 191 | Rich Gossage | |
| 227 | Mike Bordick | |
| 253 | Dave Henderson | |
| 297 | Bob Welch | |
| 307 | Ruben Sierra | |
| 328 | Craig Paquette | |
| 341 | Lance Blankenship | |
| 346 | Terry Steinbach | |
| 356 | Miguel Jimenez | |
| 358 | Mark McGwire | |
| 391 | Scott Lydy | |
| 428 | Ron Darling | |
| 536 | Ruben Sierra | |
| 562 | Todd Van Poppel | |
| 591 | Geronimo Berroa | |
| 613 | Stan Javier | |
| 631 | Steve Karsay | |
| 654 | Rickey Henderson | |
| 708 | Steve Karsay | |
| ST25 | Oakland Athletics | |
| | | |
| --- | --- | --- |
| 10 | Roberto Alomar | |
| 66 | Shawn Green | |
| 107 | Rickey Henderson | |
| 110 | Roberto Alomar | |
| 110 | Paul Molitor | |
| 110 | John Olerud | |
| 149 | Juan Guzman | |
| 174 | Randy Knorr | |
| 214 | Tony Fernandez | |
| 228 | John Olerud | |
| 234 | Dick Schofield | |
| 242 | Pat Hentgen | |
| 300 | Joe Carter | |
| 305 | Pat Borders | |
| 317 | Dave Stewart | |
| 326 | Devon White | |
| 377 | Duane Ward | |
| 418 | Ed Sprague | |
| 441 | Mike Timlin | |
| 470 | Tony Castillo | |
| 513 | Woody Williams | |
| 526 | Paul Molitor | |
| 527 | Joe Carter | |
| 563 | Todd Stottlemyre | |
| 585 | Greg Cadaret | |
| 600 | Carlos Delgado | |
| 629 | Carlos Delgado | |
| 645 | Paul Molitor | |
| 667 | Al Leiter | |
| 695 | Alex Gonzalez | |
| BP6 | Alex Gonzalez | |
| ST28 | Toronto Blue Jays | |
| | | |
| --- | --- | --- |
| 64 | Steve Bedrosian | |
| 79 | Sid Bream | |
| 94 | David Justice | |
| 106 | Otis Nixon | |
| 111 | Ron Gant | |
| 111 | David Justice | |
| 111 | Fred McGriff | |
| 123 | Ron Gant | |
| 148 | Ryan Klesko | |
| 180 | Fred McGriff | |
| 229 | Jeff Blauser | |
| 233 | Pedro Borbon | |
| 241 | Greg McMichael | |
| 254 | Steve Avery | |
| 260 | Ron Gant | |
| 263 | David Justice | |
| 264 | Fred McGriff | |
| 272 | Tony Tarasco | |
| 313 | Terry Pendleton | |
| 360 | Kent Mercker | |
| 402 | Mark Lemke | |
| 405 | John Smoltz | |
| 426 | Rafael Belliard | |
| 471 | Mike Stanton | |
| 472 | Deion Sanders | |
| 486 | Bill Pecota | |
| 522 | Mark Wohlers | |
| 530 | David Justice | |
| 538 | Tom Glavine | |
| 544 | Greg Maddux | |
| 574 | Tom Glavine | |
| 602 | Gregg Olson | |
| 628 | Ryan Klesko | |
| 630 | Javy Lopez | |
| 638 | Chipper Jones | |
| 665 | Fred McGriff | |
| 703 | Javy Lopez | |
| 714 | John Smoltz | |
| 716 | Greg Maddux | |
| BP4 | Javy Lopez | |
| F7 | David Justice | |
| ST1 | Atlanta Braves | |
| | | |
| --- | --- | --- |
| 1 | Robin Yount | |
| 90 | Kevin Seitzer | |
| 105 | John Jaha | |
| 126 | Matt Mieske | |
| 147 | Tom Lampkin | |
| 188 | Darryl Hamilton | |
| 215 | B.J. Surhoff | |
| 236 | Juan Bell | |
| 273 | Teddy Higuera | |
| 329 | Cal Eldred | |
| 347 | Troy O'Leary | |
| 354 | Pat Listach | |
| 376 | Dave Nilsson | |
| 378 | Greg Vaughn | |
| 398 | Ricky Bones | |
| 456 | Jose Valentin | |
| 489 | Mike Ignasiak | |
| 550 | Turner Ward | |
| 564 | Ricky Bones | |
| 592 | Jaime Navarro | |
| 642 | Jody Reed | |
| 661 | Tom Brunansky | |
| 677 | Bill Spiers | |
| 699 | Jeff Cirillo | RC |
| 707 | Brian Harper | |
| ST22 | Milwaukee Brewers | |
| | | |
| --- | --- | --- |
| 37 | Mark Whiten | |
| 63 | Brian Jordan | |
| 109 | Gregg Jefferies | |
| 122 | Tom Pagnozzi | |
| 146 | Luis Alicea | |
| 175 | Mike Perez | |
| 216 | Lee Guetterman | |
| 231 | Bernard Gilkey | |
| 306 | Rene Arocha | |
| 344 | Rich Batchelor | RC |
| 353 | Ray Lankford | |
| 392 | Tom Urbani | |
| 395 | Todd Zeile | |
| 417 | Ozzie Smith | |
| 425 | Omar Olivares | |
| 437 | Rheal Cormier | |
| 448 | Erik Pappas | |
| 523 | Geronimo Pena | |
| 531 | Gregg Jefferies | |
| 541 | Ozzie Smith | |
| 586 | Bob Tewksbury | |
| 618 | John Habyan | |
| 653 | Allen Watson | |
| 691 | Rick Sutcliffe | |
| ST12 | St. Louis Cardinals | |
| | | |
| --- | --- | --- |
| 2 | Rick Wilkins | |
| 41 | Mike Harkey | |
| 62 | Steve Trachsel | |
| 80 | Sammy Sosa | |
| 89 | Jose Vizcaino | |
| 104 | Rey Sanchez | |
| 162 | Randy Myers | |
| 204 | Steve Buechele | |
| 256 | Dan Plesac | |
| 287 | Derrick May | |
| 304 | Mike Morgan | |
| 311 | Willie Wilson | |
| 337 | Frank Castillo | |
| 383 | Kevin Roberson | |
| 397 | Ryne Sandberg | |
| 403 | Mark Grace | |
| 421 | Jose Bautista | |
| 499 | Turk Wendell | |
| 576 | Shawon Dunston | |
| 608 | Karl Rhodes | |
| 615 | Jose Guzman | |
| 633 | Steve Trachsel | |
| 692 | Willie Banks | |
| 719 | Ryne Sandberg | |
| ST2 | Chicago Cubs | |
| | | |
| --- | --- | --- |
| 13 | Jody Reed | |
| 32 | Tom Candiotti | |
| 38 | Roger McDowell | |
| 121 | Brett Butler | |
| 140 | Mike Piazza | |
| 145 | Carlos Hernandez | |
| 176 | Henry Rodriguez | |
| 217 | Tim Wallach | |
| 240 | Eric Karros | |
| 266 | Mike Piazza | |
| 276 | Ramon Martinez | |
| 281 | Kevin Gross | |
| 282 | Jose Offerman | |
| 335 | Darryl Strawberry | |
| 343 | Pedro Astacio | |
| 390 | Raul Mondesi | |
| 400 | Orel Hershiser | |
| 463 | Cory Snyder | |
| 500 | Rafael Bournigal | |
| 521 | Chan Ho Park | RC |
| 549 | Delino DeShields | |
| 587 | Dave Hansen | |
| 612 | Todd Worrell | |
| 648 | Gary Wayne | |
| 694 | Jeff Treadway | |
| BP2 | Mike Piazza | |
| DD1 | Mike Piazza | |
| F8 | Mike Piazza | |
| ST7 | Los Angeles Dodgers | |
| | | |
| --- | --- | --- |
| 14 | Mel Rojas | |
| 31 | Chris Nabholz | |
| 42 | Darrin Fletcher | |
| 67 | Sean Berry | |
| 127 | Cliff Floyd | |
| 141 | Moises Alou | |
| 161 | John Vander Wal | |
| 187 | Dennis Martinez | |
| 280 | Larry Walker | |
| 302 | Kirk Rueter | |
| 379 | Jeff Fassero | |
| 393 | Wil Cordero | |
| 435 | Rondell White | |
| 445 | Ken Hill | |
| 446 | John Wetteland | |
| 515 | Tim Spehr | |
| 517 | Lou Frazier | |
| 545 | Denis Boucher | |
| 577 | Mike Lansing | |
| 611 | Pedro Martinez | |
| 649 | Sean Berry | |
| 664 | Gil Heredia | |
| 706 | Marquis Grissom | |
| BP5 | Cliff Floyd | |
| F6 | Marquis Grissom | |
| ST8 | Montreal Expos | |
| | | |
| --- | --- | --- |
| 3 | Steve Scarsone | |
| 39 | Royce Clayton | |
| 61 | Todd Benzinger | |
| 88 | John Burkett | |
| 158 | J.R. Phillips | |
| 203 | Will Clark | |
| 218 | Kirt Manwaring | |
| 238 | Barry Bonds | |
| 259 | Barry Bonds | |
| 268 | Matt Williams | |
| 314 | Salomon Torres | |
| 318 | Mike Benjamin | |
| 330 | Bill Swift | |
| 381 | John Patterson | |
| 419 | Matt Williams | |
| 436 | Rod Beck | |
| 453 | Darren Lewis | |
| 459 | Kevin Rogers | |
| 504 | Jeff Reed | |
| 532 | Barry Bonds | |
| 565 | Mike Jackson | |
| 598 | Robby Thompson | |
| 644 | Mark Portugal | |
| 686 | Willie McGee | |
| 711 | Bryan Hickerson | |
| 717 | Matt Williams | |
| DD6 | Barry Bonds | |
| F3 | Barry Bonds | |
| ST14 | San Francisco Giants | |
| | | |
| --- | --- | --- |
| 15 | Junior Ortiz | |
| 30 | Jeff Treadway | |
| 43 | Wayne Kirby | |
| 81 | Felix Fermin | |
| 128 | Julian Tavarez | RC |
| 144 | Sandy Alomar Jr. | |
| 169 | Carlos Baerga | |
| 207 | Mark Clark | |
| 219 | Albert Belle | |
| 257 | Jim Thome | |
| 258 | Albert Belle | |
| 301 | Kenny Lofton | |
| 320 | Manny Ramirez | |
| 380 | Jerry DiPoto | |
| 420 | Jeremy Hernandez | |
| 461 | Alvaro Espinoza | |
| 464 | Candy Maldonado | |
| 478 | Charles Nagy | |
| 481 | Bill Wertz | |
| 508 | Derek Lilliquist | |
| 542 | Eddie Murray | |
| 556 | Jack Morris | |
| 572 | Omar Vizquel | |
| 593 | Steve Farr | |
| 619 | Chris Nabholz | |
| 627 | Manny Ramirez | |
| 636 | Paul Sorrento | |
| 674 | Eddie Murray | |
| 682 | Dennis Martinez | |
| BP3 | Albert Belle | |
| F2 | Albert Belle | |
| ST19 | Cleveland Indians | |
| | | |
| --- | --- | --- |
| 44 | Rich Amaral | |
| 60 | Tino Martinez | |
| 76 | Brad Holman | RC |
| 85 | Ken Griffey Jr. | |
| 93 | Omar Vizquel | |
| 103 | Chris Bosio | |
| 114 | Bill Haselman | |
| 163 | Ted Power | |
| 177 | Brian Turang | RC |
| 237 | Mike Hampton | |
| 262 | Ken Griffey Jr. | |
| 299 | Jay Buhner | |
| 357 | Marc Newfield | |
| 364 | Edgar Martinez | |
| 409 | Dave Fleming | |
| 438 | Randy Johnson | |
| 493 | Lee Tinsley | |
| 495 | Roger Salkeld | |
| 510 | Mackey Sasser | |
| 518 | Erik Plantenberg | RC |
| 529 | Ken Griffey Jr. | |
| 548 | Eric Anthony | |
| 578 | Greg Pirkl | |
| 604 | Mike Blowers | |
| 656 | Dan Wilson | |
| 675 | Felix Fermin | |
| 704 | Greg Hibbard | |
| 713 | Bobby Ayala | |
| BP9 | Mac Suzuki | |
| DD7 | Ken Griffey Jr. | |
| DD11 | Randy Johnson | |
| F5 | Ken Griffey Jr. | |
| ST26 | Seattle Mariners | |
| | | |
| --- | --- | --- |
| 4 | Gary Sheffield | |
| 29 | Chuck Carr | |
| 45 | Robb Nen | |
| 68 | Joe Klink | |
| 87 | Rick Renteria | |
| 143 | Benito Santiago | |
| 160 | Luis Aquino | |
| 180 | Gary Sheffield | |
| 230 | Alex Arias | |
| 235 | Matias Carrillo | RC |
| 245 | Charlie Hough | |
| 291 | Bob Natal | |
| 319 | Matt Turner | |
| 345 | Ryan Bowen | |
| 365 | Dave Magadan | |
| 367 | Chris Hammond | |
| 387 | Orestes Destrade | |
| 406 | Jeff Conine | |
| 415 | Bret Barberie | |
| 427 | Richie Lewis | |
| 452 | Bryan Harvey | |
| 546 | Mark Gardner | |
| 588 | Kurt Abbott | RC |
| 606 | Pat Rapp | |
| 673 | Dave Weathers | |
| 683 | Jerry Browne | |
| ST5 | Florida Marlins | |
| | | |
| --- | --- | --- |
| 28 | Anthony Young | |
| 33 | Mike Maddux | |
| 59 | Bobby Bonilla | |
| 82 | Todd Hundley | |
| 157 | Darrin Jackson | |
| 170 | Tim Bogar | |
| 201 | Jeromy Burnitz | |
| 220 | Dwight Gooden | |
| 247 | Kevin Baez | |
| 274 | Ryan Thompson | |
| 324 | Jeff McKnight | |
| 339 | John Franco | |
| 362 | Jeff Kent | |
| 368 | Bret Saberhagen | |
| 384 | Joe Orsulak | |
| 439 | Pete Schourek | |
| 473 | Tito Navarro | |
| 480 | Eric Hillman | |
| 566 | Kevin McReynolds | |
| 599 | Kelly Stinnett | RC |
| 620 | Bobby Jones | |
| 662 | Jose Vizcaino | |
| 696 | David Segui | |
| DD10 | Jeff Kent | |
| ST9 | New York Mets | |
| | | |
| --- | --- | --- |
| 16 | Harold Baines | |
| 17 | Brad Pennington | |
| 53 | Brady Anderson | |
| 69 | Fernando Valenzuela | |
| 86 | John O'Donoghue | |
| 95 | David Segui | |
| 129 | Arthur Rhodes | |
| 196 | Gregg Olson | |
| 248 | Todd Frohwirth | |
| 284 | Jamie Moyer | |
| 342 | Mark McLemore | |
| 373 | Cal Ripken Jr. | |
| 413 | Ben McDonald | |
| 424 | Mike Devereaux | |
| 430 | Tim Hulett | |
| 451 | Chris Hoiles | |
| 488 | Mike Mussina | |
| 491 | Jack Voigt | |
| 543 | Lee Smith | |
| 543 | Lonnie Smith | |
| 557 | Rafael Palmeiro | |
| 579 | Sid Fernandez | |
| 605 | Lee Smith | |
| 676 | Chris Sabo | |
| 693 | Alan Mills | |
| DD4 | Cal Ripken Jr. | |
| ST15 | Baltimore Orioles | |
| | | |
| --- | --- | --- |
| 46 | Tim Teufel | |
| 58 | Jeff Gardner | |
| 75 | Ricky Gutierrez | |
| 83 | Kevin Higgins | |
| 102 | Andy Benes | |
| 115 | Phil Plantier | |
| 151 | Tony Gwynn | |
| 200 | Tim Mauser | |
| 221 | Archi Cianfrocco | |
| 278 | Guillermo Velasquez | |
| 286 | Derek Bell | |
| 312 | Trevor Hoffman | |
| 325 | Gene Harris | |
| 399 | Phil Clark | |
| 412 | Brad Ausmus | |
| 460 | Craig Shipley | |
| 497 | Mark Davis | |
| 519 | Tim Worrell | |
| 524 | Andy Ashby | |
| 537 | Tony Gwynn | |
| 567 | Melvin Nieves | |
| 601 | Brian Johnson | RC |
| 652 | Wally Whitehurst | |
| 669 | Billy Bean | |
| 684 | Pedro A. Martinez | RC |
| 698 | Bip Roberts | |
| ST13 | San Diego Padres | |
| | | |
| --- | --- | --- |
| 27 | Jim Eisenreich | |
| 54 | Mariano Duncan | |
| 84 | Todd Pratt | |
| 96 | Dave Hollins | |
| 120 | Mickey Morandini | |
| 130 | David West | |
| 165 | Lenny Dykstra | |
| 222 | Terry Mulholland | |
| 252 | Ben Rivera | |
| 289 | Curt Schilling | |
| 296 | Danny Jackson | |
| 303 | Kim Batiste | |
| 355 | Milt Thompson | |
| 361 | John Kruk | |
| 394 | Tony Longmire | |
| 432 | Wes Chamberlain | |
| 444 | Kevin Stocker | |
| 450 | Darren Daulton | |
| 533 | John Kruk | |
| 559 | Pete Incaviglia | |
| 580 | Doug Jones | |
| 609 | Jeff Juden | |
| 657 | Ricky Jordan | |
| 681 | Heathcliff Slocumb | |
| 705 | Tommy Greene | |
| BP7 | Ricky Bottalico | |
| DD3 | John Kruk | |
| DD12 | Darren Daulton | |
| ST10 | Philadelphia Phillies | |
| | | |
| --- | --- | --- |
| 6 | Al Martin | |
| 18 | Jay Bell | |
| 47 | Steve Cooke | |
| 70 | Andy Tomberlin | RC |
| 137 | Don Slaught | |
| 142 | Tom Foley | |
| 152 | Tim Wakefield | |
| 206 | Carlos Garcia | |
| 232 | Denny Neagle | |
| 277 | Orlando Merced | |
| 310 | Zane Smith | |
| 316 | Randy Tomlin | |
| 321 | Kevin Young | |
| 338 | Jeff King | |
| 465 | Blas Minor | |
| 498 | Dave Clark | |
| 505 | Paul Wagner | |
| 511 | Lloyd McClendon | |
| 589 | Rick White | RC |
| 651 | Brian R. Hunter | |
| 687 | Andy Van Slyke | |
| ST11 | Pittsburgh Pirates | |
| | | |
| --- | --- | --- |
| 19 | Tom Henke | |
| 34 | Nolan Ryan | |
| 55 | Brian Bohanon | |
| 97 | Doug Strange | |
| 112 | Juan Gonzalez | |
| 112 | Rafael Palmeiro | |
| 112 | Dean Palmer | |
| 116 | Ivan Rodriguez | |
| 171 | Jose Canseco | |
| 178 | Roger Pavlik | |
| 199 | Jon Shave | |
| 208 | Rafael Palmeiro | |
| 239 | Cris Carpenter | |
| 261 | Juan Gonzalez | |
| 265 | Rafael Palmeiro | |
| 336 | Dean Palmer | |
| 369 | Billy Ripken | |
| 382 | Kevin Brown | |
| 423 | Manuel Lee | |
| 449 | David Hulse | |
| 457 | Dan Peltier | |
| 467 | Kenny Rogers | |
| 502 | Matt Whiteside | |
| 514 | Gary Redus | |
| 568 | Juan Gonzalez | |
| 594 | Jack Armstrong | |
| 621 | Chris James | |
| 632 | Rick Helling | |
| 666 | Will Clark | |
| 697 | Rick Helling | |
| F4 | Juan Gonzalez | |
| ST27 | Texas Rangers | |
| | | |
| --- | --- | --- |
| 26 | Tony Fossas | |
| 48 | Jeff McNeely | |
| 71 | Tony Pena | |
| 131 | Tim Naehring | |
| 139 | Rob Deer | |
| 172 | Greg Blosser | |
| 179 | Aaron Sele | |
| 198 | Scott Fletcher | |
| 251 | Danny Darwin | |
| 290 | Carlos Quintana | |
| 371 | Andre Dawson | |
| 386 | Mike Greenwell | |
| 396 | Scott Cooper | |
| 404 | Ken Ryan | |
| 407 | Greg Harris | |
| 440 | Mo Vaughn | |
| 455 | Joe Hesketh | |
| 483 | John Valentin | |
| 525 | Tim Raines | |
| 534 | Roger Clemens | |
| 569 | Frank Viola | |
| 597 | Otis Nixon | |
| 650 | Roger Clemens | |
| 678 | Aaron Sele | |
| 710 | Jeff Russell | |
| ST16 | Boston Red Sox | |
| | | |
| --- | --- | --- |
| 7 | Joe Oliver | |
| 20 | Jeff Branson | |
| 56 | Jerry Spradlin | RC |
| 119 | Tim Costo | |
| 136 | Reggie Sanders | |
| 166 | Jacob Brumfield | |
| 186 | Bip Roberts | |
| 202 | Rob Dibble | |
| 243 | Tim Pugh | |
| 363 | Hal Morris | |
| 372 | Roberto Kelly | |
| 414 | Barry Larkin | |
| 422 | Kevin Mitchell | |
| 433 | Tom Browning | |
| 476 | John Roper | |
| 487 | John Smiley | |
| 496 | Thomas Howard | |
| 503 | Brian Koelling | |
| 552 | Hector Carrasco | |
| 596 | Jose Rijo | |
| 623 | Erik Hanson | |
| 634 | Hector Carrasco | |
| 671 | Bret Boone | |
| 709 | Jeff Brantley | |
| 715 | Jose Rijo | |
| ST3 | Cincinnati Reds | |
| | | |
| --- | --- | --- |
| 21 | Roberto Mejia | |
| 72 | Eric Young | |
| 77 | Lance Painter | |
| 98 | Jerald Clark | |
| 132 | Freddie Benavides | |
| 153 | David Nied | |
| 185 | Danny Sheaffer | |
| 244 | Vinny Castilla | |
| 249 | Charlie Hayes | |
| 323 | Joe Girardi | |
| 332 | Armando Reynoso | |
| 348 | Willie Blair | |
| 366 | Dante Bichette | |
| 454 | Andres Galarraga | |
| 475 | Steve Reed | |
| 492 | Mike Munoz | |
| 507 | Curt Leskanic | |
| 512 | Jayhawk Owens | |
| 560 | Greg Harris | |
| 581 | Walt Weiss | |
| 622 | Ellis Burks | |
| 640 | Howard Johnson | |
| 672 | Darren Holmes | |
| 701 | Marvin Freeman | |
| ST4 | Colorado Rockies | |
| | | |
| --- | --- | --- |
| 5 | George Brett | |
| 8 | Stan Belinda | |
| 49 | Jeff Montgomery | |
| 135 | Jose Lind | |
| 154 | Chris Haney | |
| 159 | Greg Gagne | |
| 197 | Mark Gubicza | |
| 223 | Hipolito Pichardo | |
| 250 | Mike Macfarlane | |
| 292 | David Cone | |
| 294 | Bob Hamelin | |
| 298 | Felix Jose | |
| 333 | Brent Mayne | |
| 340 | Kevin Appier | |
| 431 | Wally Joyner | |
| 485 | Gary Gaetti | |
| 490 | Billy Brewer | |
| 520 | Brian McRae | |
| 570 | Vince Coleman | |
| 607 | Mike Magnante | |
| 610 | Rusty Meacham | |
| 626 | Bob Hamelin | |
| 647 | Hubie Brooks | |
| 689 | Dave Henderson | |
| 712 | Jim Pittsley | RC |
| ST21 | Kansas City Royals | |
| | | |
| --- | --- | --- |
| 25 | Cecil Fielder | |
| 50 | Skeeter Barnes | |
| 73 | Chris Gomez | |
| 99 | Mike Moore | |
| 155 | Danny Bautista | |
| 184 | John Doherty | |
| 192 | Mickey Tettleton | |
| 209 | Eric Davis | |
| 309 | Travis Fryman | |
| 331 | Alan Trammell | |
| 351 | Scott Livingstone | |
| 370 | Bill Gullickson | |
| 401 | Mike Henneman | |
| 411 | Chad Kreuter | |
| 443 | Lou Whitaker | |
| 458 | Joe Boever | |
| 474 | Mike Gardiner | |
| 535 | Cecil Fielder | |
| 553 | Tony Phillips | |
| 582 | Tim Belcher | |
| 617 | David Wells | |
| 660 | Junior Felix | |
| 679 | Juan Samuel | |
| BP8 | Tony Clark | |
| ST20 | Detroit Tigers | |
| | | |
| --- | --- | --- |
| 9 | Denny Hocking | |
| 22 | Pedro Munoz | |
| 51 | Scott Stahoviak | |
| 117 | Kevin Tapani | |
| 134 | David McCarty | |
| 183 | Jeff Reboulet | |
| 193 | Lenny Webster | |
| 210 | Pat Meares | |
| 224 | Kent Hrbek | |
| 275 | Rick Aguilera | |
| 288 | Dave Winfield | |
| 359 | Kirby Puckett | |
| 416 | Chuck Knoblauch | |
| 429 | Shane Mack | |
| 477 | Mike Trombley | |
| 479 | Larry Casian | |
| 484 | Carl Willis | |
| 501 | Chip Hale | |
| 526 | Dave Winfield | |
| 561 | Matt Walbeck | |
| 584 | Alex Cole | |
| 624 | Pat Meares | |
| 637 | Scott Erickson | |
| 670 | Scott Leius | |
| 688 | Pat Mahomes | |
| DD2 | Dave Winfield | |
| ST23 | Minnesota Twins | |
| | | |
| --- | --- | --- |
| 24 | Jack McDowell | |
| 57 | Ron Karkovice | |
| 100 | Joey Cora | |
| 118 | Mike LaValliere | |
| 167 | Bo Jackson | |
| 182 | Roberto Hernandez | |
| 194 | Lance Johnson | |
| 212 | Jason Bere | |
| 225 | Craig Grebeck | |
| 255 | Tim Belcher | |
| 267 | Frank Thomas | |
| 285 | Frank Thomas | |
| 315 | Robin Ventura | |
| 350 | Tim Raines | |
| 375 | Dan Pasqua | |
| 389 | Ozzie Guillen | |
| 434 | Scott Radinsky | |
| 462 | Wilson Alvarez | |
| 466 | Rodney Bolton | |
| 482 | Jeff Schwarz | |
| 525 | Andre Dawson | |
| 528 | Frank Thomas | |
| 551 | Scott Sanderson | |
| 583 | Alex Fernandez | |
| 646 | Paul Assenmacher | |
| 659 | Darrin Jackson | |
| 680 | Julio Franco | |
| 702 | Jason Bere | |
| 718 | Frank Thomas | |
| BP1 | Frank Thomas | |
| DD5 | Jack McDowell | |
| DD9 | Frank Thomas | |
| F10 | Frank Thomas | |
| ST18 | Chicago White Sox | |
| | | |
| --- | --- | --- |
| 23 | Matt Nokes | |
| 52 | Pat Kelly | |
| 74 | Paul O'Neill | |
| 101 | Scott Kamieniecki | |
| 133 | Paul Assenmacher | |
| 156 | Randy Velarde | |
| 195 | Don Mattingly | |
| 246 | Bobby Munoz | |
| 271 | Mike Stanley | |
| 279 | Mark Hutton | |
| 283 | Jim Leyritz | |
| 349 | Wade Boggs | |
| 388 | Mike Gallego | |
| 410 | Danny Tartabull | |
| 469 | Jimmy Key | |
| 494 | Bob Wickman | |
| 516 | Jim Abbott | |
| 554 | Melido Perez | |
| 573 | Bernie Williams | |
| 595 | Steve Howe | |
| 616 | Xavier Hernandez | |
| 639 | Luis Polonia | |
| 658 | Sterling Hitchcock | |
| 700 | Terry Mulholland | |
| ST24 | New York Yankees | |
| | |
| --- | --- |
| 269 | Checklist 1-135 |
| 269 | Checklist 271-408 |
| 270 | Checklist 136-270 |
| 270 | Checklist 409-540 |
| 720 | Checklist 541-720 |
| IC1 | 1st Day Issue |
| IC2 | Infocard Tale of Two Players |
| IC3 | Atlanta Braves Topps 3 Trios |
| IC4 | Superteam Cards |
| IC5 | Mike Piazza Dugout Dirt |
| IC6 | Club |
| IC7 | Award 93 Winners |
| IC8 | 4/10/93 ML Debut |
| IC9 | A Final Tribute Nolan Ryan |
| IC10 | New MLB Division Alignments |