1991 Fleer Baseball is regarded by many as one of the ugliest baseball card designs of all time. The yellow bordered set has become the stuff of legend among collectors. With a checklist of 720 base cards and a handful of small insert sets, the series does feature a fair amount of beloved rookie cards.
This checklist is organized by teams. Scroll through the entire list or jump to a preferred team by selecting them from the list below. Clicking a link within the checklist will direct you to an affiliate retailer or to relevant eBay listings.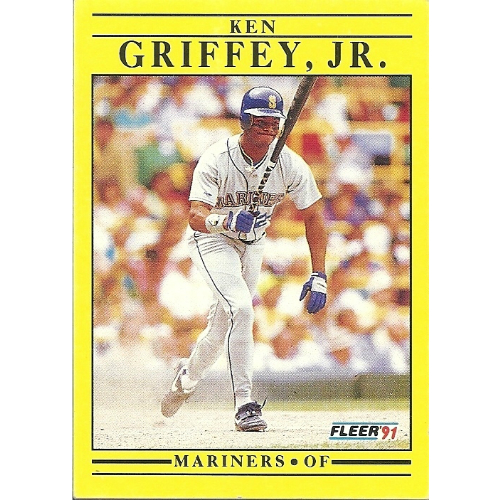 1991 Fleer Baseball Checklist
Base Set – 720 Cards
Super Star Specials – Cards #709-#713
All Stars (AS) – 10 Cards
Pro-Visions (PV) – 16 Cards
Wax Box Cards (WB) – 9 Cards
World Series (WS) – 8 Cards
Parentheticals are added strictly to distinguish insert sets as cards are numbered the same as base cards.
| | | |
| --- | --- | --- |
| 305 | Jim Abbott | |
| 306 | Kent Anderson | |
| 307 | Dante Bichette | |
| 308 | Bert Blyleven | |
| 309 | Chili Davis | |
| 310 | Brian Downing | |
| 311 | Mark Eichhorn | |
| 312 | Mike Fetters | |
| 313 | Chuck Finley | |
| 314 | Willie Fraser | |
| 315 | Bryan Harvey | |
| 316 | Donnie Hill | |
| 317 | Wally Joyner | |
| 318 | Mark Langston | |
| 319 | Kirk McCaskill | |
| 320 | John Orton | |
| 321 | Lance Parrish | |
| 322 | Luis Polonia | |
| 323 | Johnny Ray | |
| 324 | Bobby Rose | |
| 325 | Dick Schofield | |
| 326 | Rick Schu | |
| 327 | Lee Stevens | |
| 328 | Devon White | |
| 329 | Dave Winfield | |
| 330 | Cliff Young | |
| (WB)1 | Mark Langston / Mike Witt | |
| | | |
| --- | --- | --- |
| 497 | Juan Agosto | |
| 498 | Eric Anthony | |
| 499 | Craig Biggio | |
| 500 | Ken Caminiti | |
| 501 | Casey Candaele | |
| 502 | Andujar Cedeno | |
| 503 | Danny Darwin | |
| 504 | Mark Davidson | |
| 505 | Glenn Davis | |
| 506 | Jim Deshaies | |
| 507 | Luis Gonzalez | RC |
| 508 | Bill Gullickson | |
| 509 | Xavier Hernandez | |
| 510 | Brian Meyer | |
| 511 | Ken Oberkfell | |
| 512 | Mark Portugal | |
| 513 | Rafael Ramirez | |
| 514 | Karl Rhodes | |
| 515 | Mike Scott | |
| 516 | Mike Simms | RC |
| 517 | Dave Smith | |
| 518 | Franklin Stubbs | |
| 519 | Glenn Wilson | |
| 520 | Eric Yelding | |
| 521 | Gerald Young | |
| | | |
| --- | --- | --- |
| 1 | Troy Afenir | RC |
| 2 | Harold Baines | |
| 3 | Lance Blankenship | |
| 4 | Todd Burns | |
| 5 | Jose Canseco | |
| 6 | Dennis Eckersley | |
| 7 | Mike Gallego | |
| 8 | Ron Hassey | |
| 9 | Dave Henderson | |
| 10 | Rickey Henderson | |
| 11 | Rick Honeycutt | |
| 12 | Doug Jennings | |
| 13 | Joe Klink | |
| 14 | Carney Lansford | |
| 15 | Darren Lewis | |
| 16 | Willie McGee | |
| 17 | Mark McGwire | |
| 18 | Mike Moore | |
| 19 | Gene Nelson | |
| 20 | Dave Otto | |
| 21 | Jamie Quirk | |
| 22 | Willie Randolph | |
| 23 | Scott Sanderson | |
| 24 | Terry Steinbach | |
| 25 | Dave Stewart | |
| 26 | Walt Weiss | |
| 27 | Bob Welch | |
| 28 | Curt Young | |
| (AS)6 | Rickey Henderson | |
| (AS)8 | Jose Canseco | |
| (PV)4 | Mark McGwire | |
| (PV)6 | Jose Canseco | |
| (PV)F2 | Rickey Henderson | |
| (PV)F4 | Dave Stewart | |
| (WB) | Oakland Athletics | |
| (WB)4 | Dave Stewart | |
| (WS)3 | Jose Canseco | |
| (WS)4 | Rickey Henderson | |
| (WS)6 | Dave Stewart | |
| | | |
| --- | --- | --- |
| 167 | Jim Acker | |
| 168 | Derek Bell | RC |
| 169 | George Bell | |
| 170 | Willie Blair | |
| 171 | Pat Borders | |
| 172 | John Cerutti | |
| 173 | Junior Felix | |
| 174 | Tony Fernandez | |
| 175 | Kelly Gruber | |
| 176 | Tom Henke | |
| 177 | Glenallen Hill | |
| 178 | Jimmy Key | |
| 179 | Manuel Lee | |
| 180 | Fred McGriff | |
| 181 | Rance Mulliniks | |
| 182 | Greg Myers | |
| 183 | John Olerud | |
| 184 | Luis Sojo | |
| 185 | Dave Stieb | |
| 186 | Todd Stottlemyre | |
| 187 | Duane Ward | |
| 188 | David Wells | |
| 189 | Mark Whiten | |
| 190 | Kenny Williams | |
| 191 | Frank Wills | |
| 192 | Mookie Wilson | |
| (WB)9 | Dave Stieb | |
| | | |
| --- | --- | --- |
| 681 | Steve Avery | |
| 682 | Mike Bell | RC |
| 683 | Jeff Blauser | |
| 684 | Francisco Cabrera | |
| 685 | Tony Castillo | |
| 686 | Marty Clary | |
| 687 | Nick Esasky | |
| 688 | Ron Gant | |
| 689 | Tom Glavine | |
| 690 | Mark Grant | |
| 691 | Tommy Gregg | |
| 692 | Dwayne Henry | |
| 693 | David Justice | |
| 694 | Jimmy Kremers | |
| 695 | Charlie Leibrandt | |
| 696 | Mark Lemke | |
| 697 | Oddibe McDowell | |
| 698 | Greg Olson | |
| 699 | Jeff Parrett | |
| 700 | Jim Presley | |
| 701 | Victor Rosario | RC |
| 702 | Lonnie Smith | |
| 703 | Pete Smith | |
| 704 | John Smoltz | |
| 705 | Mike Stanton | |
| 706 | Andres Thomas | |
| 707 | Jeff Treadway | |
| 708 | Jim Vatcher | RC |
| | | |
| --- | --- | --- |
| 576 | Chris Bosio | |
| 577 | Greg Brock | |
| 578 | George Canale | |
| 579 | Chuck Crim | |
| 580 | Rob Deer | |
| 581 | Edgar Diaz | |
| 582 | Tom Edens | RC |
| 583 | Mike Felder | |
| 584 | Jim Gantner | |
| 585 | Darryl Hamilton | |
| 586 | Teddy Higuera | |
| 587 | Mark Knudson | |
| 588 | Bill Krueger | |
| 589 | Tim McIntosh | |
| 590 | Paul Mirabella | |
| 591 | Paul Molitor | |
| 592 | Jaime Navarro | |
| 593 | Dave Parker | |
| 594 | Dan Plesac | |
| 595 | Ron Robinson | |
| 596 | Gary Sheffield | |
| 597 | Bill Spiers | |
| 598 | B.J. Surhoff | |
| 599 | Greg Vaughn | |
| 600 | Randy Veres | |
| 601 | Robin Yount | |
| | | |
| --- | --- | --- |
| 628 | Cris Carpenter | |
| 629 | Vince Coleman | |
| 630 | Ken Dayley | |
| 631 | Jose DeLeon | |
| 632 | Frank DiPino | |
| 633 | Bernard Gilkey | |
| 634 | Pedro Guerrero | |
| 635 | Ken Hill | |
| 636 | Felix Jose | |
| 637 | Ray Lankford | |
| 638 | Joe Magrane | |
| 639 | Tom Niedenfuer | |
| 640 | Jose Oquendo | |
| 641 | Tom Pagnozzi | |
| 642 | Terry Pendleton | |
| 643 | Mike Perez | RC |
| 644 | Bryn Smith | |
| 645 | Lee Smith | |
| 646 | Ozzie Smith | |
| 647 | Scott Terry | |
| 648 | Bob Tewksbury | |
| 649 | Milt Thompson | |
| 650 | John Tudor | |
| 651 | Denny Walling | |
| 652 | Craig Wilson | RC |
| 653 | Todd Worrell | |
| 654 | Todd Zeile | |
| | | |
| --- | --- | --- |
| 413 | Paul Assenmacher | |
| 414 | Damon Berryhill | |
| 415 | Mike Bielecki | |
| 416 | Shawn Boskie | |
| 417 | Dave Clark | |
| 418 | Doug Dascenzo | |
| 419 | Andre Dawson | |
| 420 | Shawon Dunston | |
| 421 | Joe Girardi | |
| 422 | Mark Grace | |
| 423 | Mike Harkey | |
| 424 | Les Lancaster | |
| 425 | Bill Long | |
| 426 | Greg Maddux | |
| 427 | Derrick May | |
| 428 | Jeff Pico | |
| 429 | Domingo Ramos | |
| 430 | Luis Salazar | |
| 431 | Ryne Sandberg | |
| 432 | Dwight Smith | |
| 433 | Greg Smith | |
| 434 | Rick Sutcliffe | |
| 435 | Gary Varsho | |
| 436 | Hector Villanueva | |
| 437 | Jerome Walton | |
| 438 | Curtis Wilkerson | |
| 439 | Mitch Williams | |
| 440 | Steve Wilson | |
| 441 | Marvell Wynne | |
| 709 | Ryne Sandberg | |
| 713 | Ryne Sandberg | |
| 713 | Andre Dawson | |
| (AS)1 | Ryne Sandberg | |
| (PV)F3 | Ryne Sandberg | |
| (WB) | Chicago Cubs Logo | |
| | | |
| --- | --- | --- |
| 193 | Don Aase | |
| 194 | Tim Belcher | |
| 195 | Hubie Brooks | |
| 196 | Dennis Cook | |
| 197 | Tim Crews | |
| 198 | Kal Daniels | |
| 199 | Kirk Gibson | |
| 200 | Jim Gott | |
| 201 | Alfredo Griffin | |
| 202 | Chris Gwynn | |
| 203 | Dave Hansen | |
| 204 | Lenny Harris | |
| 205 | Mike Hartley | |
| 206 | Mickey Hatcher | |
| 207 | Carlos Hernandez | |
| 208 | Orel Hershiser | |
| 209 | Jay Howell | |
| 210 | Mike Huff | |
| 211 | Stan Javier | |
| 212 | Ramon Martinez | |
| 213 | Mike Morgan | |
| 214 | Eddie Murray | |
| 215 | Jim Neidlinger | RC |
| 216 | Jose Offerman | |
| 217 | Jim Poole | RC |
| 218 | Juan Samuel | |
| 219 | Mike Scioscia | |
| 220 | Ray Searage | |
| 221 | Mike Sharperson | |
| 222 | Fernando Valenzuela | |
| 223 | Jose Vizcaino | |
| (WB)5 | Fernando Valenzuela | |
| | | |
| --- | --- | --- |
| 224 | Mike Aldrete | |
| 225 | Scott Anderson , | RC |
| 226 | Dennis Boyd | |
| 227 | Tim Burke | |
| 228 | Delino DeShields | |
| 229 | Mike Fitzgerald | |
| 230 | Tom Foley | |
| 231 | Steve Frey | |
| 232 | Andres Galarraga | |
| 233 | Mark Gardner | |
| 234 | Marquis Grissom | |
| 235 | Kevin Gross | |
| 236 | Drew Hall | |
| 237 | Dave Martinez | |
| 238 | Dennis Martinez | |
| 239 | Dale Mohorcic | |
| 240 | Chris Nabholz | |
| 241 | Otis Nixon | |
| 242 | Junior Noboa | |
| 243 | Spike Owen | |
| 244 | Tim Raines | |
| 245 | Mel Rojas | |
| 246 | Scott Ruskin | |
| 247 | Bill Sampen | |
| 248 | Nelson Santovenia | |
| 249 | Dave Schmidt | |
| 250 | Larry Walker | |
| 251 | Tim Wallach | |
| | | |
| --- | --- | --- |
| 252 | Dave Anderson | |
| 253 | Kevin Bass | |
| 254 | Steve Bedrosian | |
| 255 | Jeff Brantley | |
| 256 | John Burkett | |
| 257 | Brett Butler | |
| 258 | Gary Carter | |
| 259 | Will Clark | |
| 260 | Steve Decker | RC |
| 261 | Kelly Downs | |
| 262 | Scott Garrelts | |
| 263 | Terry Kennedy | |
| 264 | Mike LaCoss | |
| 265 | Mark Leonard | RC |
| 266 | Greg Litton | |
| 267 | Kevin Mitchell | |
| 268 | Randy O\'Neal | |
| 269 | Rick Parker | |
| 270 | Rick Reuschel | |
| 271 | Ernest Riles | |
| 272 | Don Robinson | |
| 273 | Robby Thompson | |
| 274 | Mark Thurmond | |
| 275 | Jose Uribe | |
| 276 | Matt Williams | |
| 277 | Trevor Wilson | |
| (AS)3 | Matt Williams | |
| (PV)2 | Will Clark | |
| | | |
| --- | --- | --- |
| 358 | Beau Allred | |
| 359 | Sandy Alomar, Jr. | |
| 360 | Carlos Baerga | |
| 361 | Kevin Bearse | |
| 362 | Tom Brookens | |
| 363 | Jerry Browne | |
| 364 | Tom Candiotti | |
| 365 | Alex Cole | |
| 366 | John Farrell | |
| 367 | Felix Fermin | |
| 368 | Keith Hernandez | |
| 369 | Brook Jacoby | |
| 370 | Chris James | |
| 371 | Dion James | |
| 372 | Doug Jones | |
| 373 | Candy Maldonado | |
| 374 | Steve Olin | |
| 375 | Jesse Orosco | |
| 376 | Rudy Seanez | |
| 377 | Joel Skinner | |
| 378 | Cory Snyder | |
| 379 | Greg Swindell | |
| 380 | Sergio Valdez | |
| 381 | Mike C. Walker | |
| 382 | Colby Ward | RC |
| 383 | Turner Ward | RC |
| 384 | Mitch Webster | |
| 385 | Kevin Wickander | |
| | | |
| --- | --- | --- |
| 442 | Scott Bankhead | |
| 443 | Scott Bradley | |
| 444 | Greg Briley | |
| 445 | Mike Brumley | |
| 446 | Jay Buhner | |
| 447 | Dave Burba | RC |
| 448 | Henry Cotto | |
| 449 | Alvin Davis | |
| 450 | Ken Griffey, Jr. | |
| 451 | Erik Hanson | |
| 452 | Gene Harris | |
| 453 | Brian Holman | |
| 454 | Mike Jackson | |
| 455 | Randy Johnson | |
| 456 | Jeffrey Leonard | |
| 457 | Edgar Martinez | |
| 458 | Tino Martinez | |
| 459 | Pete O\'Brien | |
| 460 | Harold Reynolds | |
| 461 | Mike Schooler | |
| 462 | Bill Swift | |
| 463 | Dave Valle | |
| 464 | Omar Vizquel | |
| 465 | Matt Young | |
| 710 | Ken Griffey, Jr. | |
| (AS)7 | Ken Griffey Jr. | |
| (WB)2 | Randy Johnson | |
| | | |
| --- | --- | --- |
| 140 | Daryl Boston | |
| 141 | Chuck Carr | |
| 142 | Mark Carreon | |
| 143 | David Cone | |
| 144 | Ron Darling | |
| 145 | Kevin Elster | |
| 146 | Sid Fernandez | |
| 147 | John Franco | |
| 148 | Dwight Gooden | |
| 149 | Tom Herr | |
| 150 | Todd Hundley | |
| 151 | Gregg Jefferies | |
| 152 | Howard Johnson | |
| 153 | Dave Magadan | |
| 154 | Kevin McReynolds | |
| 155 | Keith Miller | |
| 156 | Bob Ojeda | |
| 157 | Tom O\'Malley | |
| 158 | Alejandro Pena | |
| 159 | Darren Reed | RC |
| 160 | Mackey Sasser | |
| 161 | Darryl Strawberry | |
| 162 | Tim Teufel | |
| 163 | Kelvin Torve | |
| 164 | Julio Valera | |
| 165 | Frank Viola | |
| 166 | Wally Whitehurst | |
| 712 | John Franco | |
| (PV)7 | Dwight Gooden | |
| (PV)12 | Darryl Strawberry | |
| (WB) | New York Mets Logo | |
| | | |
| --- | --- | --- |
| 466 | Brady Anderson | |
| 467 | Jeff Ballard | |
| 468 | Juan Bell | |
| 469 | Mike Devereaux | |
| 470 | Steve Finley | |
| 471 | Dave Gallagher | |
| 472 | Leo Gomez | |
| 473 | Rene Gonzales | |
| 474 | Pete Harnisch | |
| 475 | Kevin Hickey | |
| 476 | Chris Hoiles | |
| 477 | Sam Horn | |
| 478 | Tim Hulett | |
| 479 | Dave Johnson | |
| 480 | Ron Kittle | |
| 481 | Ben McDonald | |
| 482 | Bob Melvin | |
| 483 | Bob Milacki | |
| 484 | Randy Milligan | |
| 485 | John Mitchell | |
| 486 | Gregg Olson | |
| 487 | Joe Orsulak | |
| 488 | Joe Price | |
| 489 | Billy Ripken | |
| 490 | Cal Ripken, Jr. | |
| 491 | Curt Schilling | |
| 492 | David Segui | |
| 493 | Anthony Telford | RC |
| 494 | Mickey Tettleton | |
| 495 | Mark Williamson | |
| 496 | Craig Worthington | |
| | | |
| --- | --- | --- |
| 522 | Shawn Abner | |
| 523 | Roberto Alomar | |
| 524 | Andy Benes | |
| 525 | Joe Carter | |
| 526 | Jack Clark | |
| 527 | Joey Cora | |
| 528 | Paul Faries | RC |
| 529 | Tony Gwynn | |
| 530 | Atlee Hammaker | |
| 531 | Greg Harris | |
| 532 | Thomas Howard | |
| 533 | Bruce Hurst | |
| 534 | Craig Lefferts | |
| 535 | Derek Lilliquist | |
| 536 | Fred Lynn | |
| 537 | Mike Pagliarulo | |
| 538 | Mark Parent | |
| 539 | Dennis Rasmussen | |
| 540 | Bip Roberts | |
| 541 | Rich Rodriguez | RC |
| 542 | Benito Santiago | |
| 543 | Calvin Schiraldi | |
| 544 | Eric Show | |
| 545 | Phil Stephenson | |
| 546 | Garry Templeton | |
| 547 | Ed Whitson | |
| 548 | Eddie Williams | |
| (AS)9 | Benito Santiago | |
| | | |
| --- | --- | --- |
| 386 | Darrel Akerfelds | |
| 387 | Joe Boever | |
| 388 | Rod Booker | |
| 389 | Sil Campusano | |
| 390 | Don Carman | |
| 391 | Wes Chamberlain | RC |
| 392 | Pat Combs | |
| 393 | Darren Daulton | |
| 394 | Jose DeJesus | |
| 395 | Lenny Dykstra | |
| 396 | Jason Grimsley | |
| 397 | Charlie Hayes | |
| 398 | Von Hayes | |
| 399 | Dave Hollins | |
| 400 | Ken Howell | |
| 401 | Ricky Jordan | |
| 402 | John Kruk | |
| 403 | Steve Lake | |
| 404 | Chuck Malone | |
| 405 | Roger McDowell | |
| 406 | Chuck McElroy | |
| 407 | Mickey Morandini | |
| 408 | Terry Mulholland | |
| 409 | Dale Murphy | |
| 410 | Randy Ready | |
| 411 | Bruce Ruffin | |
| 412 | Dickie Thon | |
| (WB)8 | Terry Mulholland | |
| | | |
| --- | --- | --- |
| 29 | Wally Backman | |
| 30 | Stan Belinda | |
| 31 | Jay Bell | |
| 32 | Rafael Belliard | |
| 33 | Barry Bonds | |
| 34 | Bobby Bonilla | |
| 35 | Sid Bream | |
| 36 | Doug Drabek | |
| 37 | Carlos Garcia | RC |
| 38 | Neal Heaton | |
| 39 | Jeff King | |
| 40 | Bob Kipper | |
| 41 | Bill Landrum | |
| 42 | Mike LaValliere | |
| 43 | Jose Lind | |
| 44 | Carmelo Martinez | |
| 45 | Bob Patterson | |
| 46 | Ted Power | |
| 47 | Gary Redus | |
| 48 | R.J. Reynolds | |
| 49 | Don Slaught | |
| 50 | John Smiley | |
| 51 | Zane Smith | |
| 52 | Randy Tomlin | RC |
| 53 | Andy Van Slyke | |
| 54 | Bob Walk | |
| 710 | Barry Bonds | |
| 711 | Bobby Bonilla | |
| (AS)5 | Barry Bonds | |
| (PV)F1 | Barry Bonds | |
| (WB) | Pittsburgh Pirates Logo | |
| | | |
| --- | --- | --- |
| 278 | Gerald Alexander | RC |
| 279 | Brad Arnsberg | |
| 280 | Kevin Belcher | RC |
| 281 | Joe Bitker | RC |
| 282 | Kevin Brown | |
| 283 | Steve Buechele | |
| 284 | Jack Daugherty | |
| 285 | Julio Franco | |
| 286 | Juan Gonzalez | |
| 287 | Bill Haselman | RC |
| 288 | Charlie Hough | |
| 289 | Jeff Huson | |
| 290 | Pete Incaviglia | |
| 291 | Mike Jeffcoat | |
| 292 | Jeff Kunkel | |
| 293 | Gary Mielke | |
| 294 | Jamie Moyer | |
| 295 | Rafael Palmeiro | |
| 296 | Geno Petralli | |
| 297 | Gary Pettis | |
| 298 | Kevin Reimer | |
| 299 | Kenny Rogers | |
| 300 | Jeff Russell | |
| 301 | John Russell | |
| 302 | Nolan Ryan | |
| 303 | Ruben Sierra | |
| 304 | Bobby Witt | |
| (PV)3 | Ruben Sierra | |
| (WB)3 | Nolan Ryan | |
| | | |
| --- | --- | --- |
| 83 | Larry Andersen | |
| 84 | Marty Barrett | |
| 85 | Mike Boddicker | |
| 86 | Wade Boggs | |
| 87 | Tom Bolton | |
| 88 | Tom Brunansky | |
| 89 | Ellis Burks | |
| 90 | Roger Clemens | |
| 91 | Scott Cooper | |
| 92 | John Dopson | |
| 93 | Dwight Evans | |
| 94 | Wes Gardner | |
| 95 | Jeff Gray | RC |
| 96 | Mike Greenwell | |
| 97 | Greg A. Harris | |
| 98 | Daryl Irvine | RC |
| 99 | Dana Kiecker | |
| 100 | Randy Kutcher | |
| 101 | Dennis Lamp | |
| 102 | Mike Marshall | |
| 103 | John Marzano | |
| 104 | Rob Murphy | |
| 105 | Tim Naehring | |
| 106 | Tony Pena | |
| 107 | Phil Plantier | RC |
| 108 | Carlos Quintana | |
| 109 | Jeff Reardon | |
| 110 | Jerry Reed | |
| 111 | Jody Reed | |
| 112 | Luis Rivera | |
| 113 | Kevin Romine | |
| (AS)10 | Roger Clemens | |
| (PV)8 | Mike Greenwell | |
| (PV)9 | Roger Clemens | |
| (WB) | Boston Red Sox Logo | |
| | | |
| --- | --- | --- |
| 55 | Jack Armstrong | |
| 56 | Todd Benzinger | |
| 57 | Glenn Braggs | |
| 58 | Keith Brown | |
| 59 | Tom Browning | |
| 60 | Norm Charlton | |
| 61 | Eric Davis | |
| 62 | Rob Dibble | |
| 63 | Bill Doran | |
| 64 | Mariano Duncan | |
| 65 | Chris Hammond | |
| 66 | Billy Hatcher | |
| 67 | Danny Jackson | |
| 68 | Barry Larkin | |
| 69 | Tim Layana | |
| 70 | Terry Lee | RC |
| 71 | Rick Mahler | |
| 72 | Hal Morris | |
| 73 | Randy Myers | |
| 74 | Ron Oester | |
| 75 | Joe Oliver | |
| 76 | Paul O\'Neill | |
| 77 | Luis Quinones | |
| 78 | Jeff Reed | |
| 79 | Jose Rijo | |
| 80 | Chris Sabo | |
| 81 | Scott Scudder | |
| 82 | Herm Winningham | |
| 711 | Barry Larkin | |
| (AS)2 | Barry Larkin | |
| (PV)10 | Eric Davis | |
| (WS)1 | Eric Davis | |
| (WS)2 | Billy Hatcher | |
| (WS)5 | Chris Sabo | |
| (WS)7 | Jose Rijo | |
| (WS)8 | Cincinnati Reds | |
| | | |
| --- | --- | --- |
| 549 | Kevin Appier | |
| 550 | Luis Aquino | |
| 551 | Bob Boone | |
| 552 | George Brett | |
| 553 | Jeff Conine | RC |
| 554 | Steve Crawford | |
| 555 | Mark Davis | |
| 556 | Storm Davis | |
| 557 | Jim Eisenreich | |
| 558 | Steve Farr | |
| 559 | Tom Gordon | |
| 560 | Mark Gubicza | |
| 561 | Bo Jackson | |
| 562 | Mike Macfarlane | |
| 563 | Brian McRae | RC |
| 564 | Jeff Montgomery | |
| 565 | Bill Pecota | |
| 566 | Gerald Perry | |
| 567 | Bret Saberhagen | |
| 568 | Jeff Schulz | RC |
| 569 | Kevin Seitzer | |
| 570 | Terry Shumpert | |
| 571 | Kurt Stillwell | |
| 572 | Danny Tartabull | |
| 573 | Gary Thurman | |
| 574 | Frank White | |
| 575 | Willie Wilson | |
| (PV)5 | Bo Jackson | |
| | | |
| --- | --- | --- |
| 331 | Dave Bergman | |
| 332 | Phil Clark | RC |
| 333 | Darnell Coles | |
| 334 | Milt Cuyler | |
| 335 | Cecil Fielder | |
| 336 | Travis Fryman | |
| 337 | Paul Gibson | |
| 338 | Jerry Don Gleaton | |
| 339 | Mike Heath | |
| 340 | Mike Henneman | |
| 341 | Chet Lemon | |
| 342 | Lance McCullers | |
| 343 | Jack Morris | |
| 344 | Lloyd Moseby | |
| 345 | Edwin Nunez | |
| 346 | Clay Parker | |
| 347 | Dan Petry | |
| 348 | Tony Phillips | |
| 349 | Jeff M. Robinson | |
| 350 | Mark Salas | |
| 351 | Mike Schwabe | |
| 352 | Larry Sheets | |
| 353 | John Shelby | |
| 354 | Frank Tanana | |
| 355 | Alan Trammell | |
| 356 | Gary Ward | |
| 357 | Lou Whitaker | |
| 709 | Cecil Fielder | |
| (AS)4 | Cecil Fielder | |
| | | |
| --- | --- | --- |
| 602 | Rick Aguilera | |
| 603 | Allan Anderson | |
| 604 | Juan Berenguer | |
| 605 | Randy Bush | |
| 606 | Carmen Castillo | |
| 607 | Tim Drummond | |
| 608 | Scott Erickson | |
| 609 | Gary Gaetti | |
| 610 | Greg Gagne | |
| 611 | Dan Gladden | |
| 612 | Mark Guthrie | |
| 613 | Brian Harper | |
| 614 | Kent Hrbek | |
| 615 | Gene Larkin | |
| 616 | Terry Leach | |
| 617 | Nelson Liriano | |
| 618 | Shane Mack | |
| 619 | John Moses | |
| 620 | Pedro Munoz | RC |
| 621 | Al Newman | |
| 622 | Junior Ortiz | |
| 623 | Kirby Puckett | |
| 624 | Roy Smith | |
| 625 | Kevin Tapani | |
| 626 | Gary Wayne | |
| 627 | David West | |
| (PV)1 | Kirby Puckett | |
| | | |
| --- | --- | --- |
| 114 | Phil Bradley | |
| 115 | Ivan Calderon | |
| 116 | Wayne Edwards | |
| 117 | Alex Fernandez | |
| 118 | Carlton Fisk | |
| 119 | Scott Fletcher | |
| 120 | Craig Grebeck | |
| 121 | Ozzie Guillen | |
| 122 | Greg Hibbard | |
| 123 | Lance Johnson | |
| 124 | Barry Jones | |
| 125 | Ron Karkovice | |
| 126 | Eric King | |
| 127 | Steve Lyons | |
| 128 | Carlos Martinez | |
| 129 | Jack McDowell | |
| 130 | Donn Pall | |
| 131 | Dan Pasqua | |
| 132 | Ken Patterson | |
| 133 | Melido Perez | |
| 134 | Adam Peterson | |
| 135 | Scott Radinsky | |
| 136 | Sammy Sosa | |
| 137 | Bobby Thigpen | |
| 138 | Frank Thomas | |
| 139 | Robin Ventura | |
| 712 | Bobby Thigpen | |
| (WB)7 | Melido Perez | |
| | | |
| --- | --- | --- |
| 655 | Oscar Azocar | |
| 656 | Steve Balboni | |
| 657 | Jesse Barfield | |
| 658 | Greg Cadaret | |
| 659 | Chuck Cary | |
| 660 | Rick Cerone | |
| 661 | Dave Eiland | |
| 662 | Alvaro Espinoza | |
| 663 | Bob Geren | |
| 664 | Lee Guetterman | |
| 665 | Mel Hall | |
| 666 | Andy Hawkins | |
| 667 | Jimmy Jones | |
| 668 | Roberto Kelly | |
| 669 | Dave LaPoint | |
| 670 | Tim Leary | |
| 671 | Jim Leyritz | |
| 672 | Kevin Maas | |
| 673 | Don Mattingly | |
| 674 | Matt Nokes | |
| 675 | Pascual Perez | |
| 676 | Eric Plunk | |
| 677 | Dave Righetti | |
| 678 | Jeff D. Robinson | |
| 679 | Steve Sax | |
| 680 | Mike Witt | |
| (PV)11 | Don Mattingly | |
| (WB) | New York Yankees Logo | |
| (WB)6 | Andy Hawkins | |
| | |
| --- | --- |
| 714 | Checklist |
| 715 | Checklist |
| 716 | Checklist |
| 717 | Checklist |
| 718 | Checklist |
| 719 | Checklist |
| 720 | Checklist |
| (WB) | Commemorative Card |