1987 Topps Baseball is one of the most recognizable and reproduced card designs of the junk era with a classic wood border, large images, and team logos adorning the front of each base card.
Wax boxes of this series included a "wax box card" on the side panel of the box lettered from A-H, a first for Topps. Notable rookie cards from this series include Bo Jackson, Barry Bonds, Will Clark, and Rafael Palmeiro and it was also the final set to include Pete Rose and Reggie Jackson as active players.
This checklist is organized by teams. Scroll through the entire list or jump to a preferred team by selecting them from the list below. Clicking a link within the checklist will direct you to an affiliate retailer or to relevant eBay listings.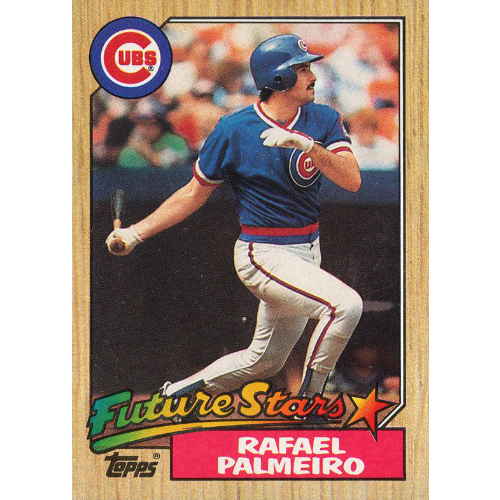 1987 Topps Baseball Card Checklist
Base Set – 792 Cards
Tiffany Parallel – 792 Cards
Record Breaker – #1-7
Turn Back the Clock – #311-315
All Star – #595-616
Glossy All Stars (GS) – 22 Cards
1986 Rookies (R) – 22 Cards
Wax Box Cards – 8 Cards, Lettered A-H
Glossy Send-Ins (GS) – 60 Cards
Parentheticals are used for our checklist. Actual cards appear with standard numbering sequence.
| | | |
| --- | --- | --- |
| 22 | Doug DeCinces | |
| 53 | Ruppert Jones | |
| 80 | Wally Joyner | RC |
| 92 | Urbano Lugo | |
| 115 | Donnie Moore | |
| 136 | Ron Romanick | |
| 139 | Devon White | RC |
| 166 | Bob Boone | |
| 194 | Kirk McCaskill | |
| 221 | Vern Ruhle | |
| 251 | Rob Wilfong | |
| 278 | Gary Pettis | |
| 300 | Reggie Jackson | |
| 337 | Darrell Miller | |
| 359 | Doug Corbett | |
| 387 | T.R. Bryden | RC |
| 422 | Jack Howell | |
| 446 | Chuck Finley | RC |
| 474 | Jerry Narron | |
| 502 | Dick Schofield | |
| 518 | Gene Mauch | |
| 556 | Marcel Lachemann | |
| 556 | Mike Witt | |
| 556 | Bob Boone | |
| 579 | Rick Burleson | |
| 630 | John Candelaria | |
| 652 | Terry Forster | |
| 673 | Don Sutton | |
| 677 | Bobby Grich | |
| 696 | Gary Lucas | |
| 725 | George Hendrick | |
| 760 | Mike Witt | |
| 782 | Brian Downing | |
| (AS)13 | Wally Joyner | |
| (GS)33 | Mike Witt | |
| (GS)39 | Wally Joyner | |
| (GS)52 | Doug DeCinces | |
| (GS)54 | Reggie Jackson | |
| (R)7 | Wally Joyner | RC |
| G | Don Sutton | |
| | | |
| --- | --- | --- |
| 2 | Jim Deshaies | |
| 4 | Davey Lopes | |
| 24 | Tony Walker | RC |
| 50 | Dave Smith | |
| 85 | Kevin Bass | |
| 112 | Alan Ashby | |
| 145 | Charlie Kerfeld | |
| 157 | Danny Darwin | |
| 167 | Jim Deshaies | RC |
| 197 | Mark Bailey | |
| 222 | Denny Walling | |
| 249 | Jim Pankovits | |
| 282 | Jeff Calhoun | |
| 304 | Phil Garner | |
| 330 | Mike Scott | |
| 343 | Hal Lanier | |
| 386 | Dickie Thon | |
| 408 | John Mizerock | |
| 445 | Dave Lopes | |
| 472 | Bill Doran | |
| 503 | Larry Andersen | |
| 531 | Yogi Berra | |
| 560 | Glenn Davis | |
| 578 | Billy Hatcher | |
| 659 | Aurelio Lopez | |
| 670 | Jose Cruz | |
| 693 | Terry Puhl | |
| 722 | Bob Knepper | |
| 757 | Nolan Ryan | |
| 779 | Craig Reynolds | |
| (GS)4 | Glenn Davis | |
| (GS)13 | Bob Knepper | |
| (GS)20 | Jim Deshaies | |
| (GS)34 | Kevin Bass | |
| | | |
| --- | --- | --- |
| 14 | Dave Stewart | |
| 34 | Jose Rijo | |
| 68 | Tony LaRussa | |
| 83 | Mike Davis | |
| 111 | Alfredo Griffin | |
| 137 | Jerry Willard | |
| 161 | Steve Ontiveros | |
| 188 | Tony Phillips | |
| 217 | Chris Codiroli | |
| 238 | Bill Krueger | |
| 263 | Stan Javier | |
| 287 | Dave Von Ohlen | |
| 311 | Rickey Henderson | |
| 339 | Donnie Hill | |
| 366 | Mark McGwire | |
| 391 | Jay Howell | |
| 413 | Moose Haas | |
| 441 | Dave Leiper | RC |
| 456 | Carney Lansford | |
| 456 | Tony LaRussa | |
| 456 | Mickey Tettleton | |
| 496 | Bruce Bochte | |
| 519 | Curt Young | |
| 548 | Bill Mooneyham | RC |
| 565 | Dusty Baker | |
| 587 | Eric Plunk | |
| 620 | Jose Canseco | |
| 649 | Mickey Tettleton | |
| 678 | Carney Lansford | |
| 709 | Dave Kingman | |
| 743 | Dwayne Murphy | |
| 775 | Joaquin Andujar | |
| (GS)59 | Jose Canseco | |
| (R)3 | Jose Canseco | RC |
| | | |
| --- | --- | --- |
| 29 | Jimmy Key | |
| 90 | Dave Stieb | |
| 106 | Jesse Barfield | |
| 106 | George Bell | |
| 122 | Jim Clancy | |
| 153 | Duane Ward | RC |
| 178 | Cecil Fielder | |
| 210 | Lloyd Moseby | |
| 245 | Willie Upshaw | |
| 274 | Jeff Hearron | RC |
| 301 | Luis Aquino | RC |
| 371 | Mark Eichhorn | RC |
| 395 | Damaso Garcia | |
| 458 | Kelly Gruber | |
| 485 | Tony Fernandez | |
| 510 | Tom Henke | |
| 537 | Rance Mulliniks | |
| 557 | John Cerutti | RC |
| 574 | Manuel Lee | |
| 612 | George Bell | |
| 643 | Ron Shepherd | RC |
| 655 | Jesse Barfield | |
| 663 | Cliff Johnson | |
| 681 | George Bell | |
| 698 | Ernie Whitt | |
| 716 | Rick Leach | |
| 733 | Bill Caudill | |
| 751 | Garth Iorg | |
| 768 | Dennis Lamp | |
| 786 | Jimy Williams | |
| (GS)35 | Jesse Barfield | |
| (GS)45 | George Bell | |
| (GS)49 | Mark Eichhorn | |
| (R)5 | Mark Eichhorn | RC |
| | | |
| --- | --- | --- |
| 31 | Rafael Ramirez | |
| 31 | Glenn Hubbard | |
| 49 | Terry Harper | |
| 76 | Rafael Ramirez | |
| 99 | Darryl Motley | |
| 104 | Billy Sample | |
| 132 | Paul Assenmacher | RC |
| 159 | Ed Olwine | RC |
| 186 | Bruce Benedict | |
| 214 | Omar Moreno | |
| 242 | Rick Mahler | |
| 269 | Cliff Speck | RC |
| 296 | Andres Thomas | RC |
| 324 | David Palmer | |
| 351 | Gene Garber | |
| 373 | Jeff Dedmon | |
| 407 | Jim Acker | |
| 435 | Bruce Sutter | |
| 461 | Craig McMurtry | |
| 490 | Dale Murphy | |
| 516 | Ted Simmons | |
| 544 | Zane Smith | |
| 571 | Ozzie Virgil | |
| 593 | Chuck Tanner | |
| 627 | Ken Oberkfell | |
| 639 | Gerald Perry | |
| 660 | Bob Horner | |
| 686 | Doyle Alexander | |
| 711 | Ken Griffey Sr. | |
| 745 | Glenn Hubbard | |
| 777 | Chris Chambliss | |
| (AS)7 | Dale Murphy | |
| (GS)6 | Dale Murphy | |
| (R)20 | Andres Thomas | RC |
| | | |
| --- | --- | --- |
| 10 | Cecil Cooper | |
| 32 | Tim Leary | |
| 56 | Paul Molitor | |
| 56 | Charlie Moore | |
| 56 | Herm Starrette | |
| 56 | Jaime Cocanower | |
| 79 | Juan Nieves | |
| 108 | Jim Gantner | |
| 129 | Rick Cerone | |
| 179 | Bill Wegman | |
| 216 | B.J. Surhoff | RC |
| 229 | Mike Birkbeck | RC |
| 250 | Teddy Higuera | |
| 279 | Dan Plesac | RC |
| 302 | Bill Schroeder | |
| 327 | Dale Sveum | RC |
| 352 | Mike Felder | |
| 377 | John Henry Johnson | |
| 401 | Billy Joe Robidoux | |
| 423 | Jaime Cocanower | |
| 448 | Chris Bosio | RC |
| 468 | George Bamberger | |
| 495 | Gorman Thomas | |
| 523 | Ernest Riles | |
| 547 | Rob Deer | |
| 562 | Bryan Clutterbuck | RC |
| 586 | Ben Oglivie | |
| 615 | Teddy Higuera | |
| 622 | Glenn Braggs | RC |
| 640 | Mark Clear | |
| 676 | Charlie Moore | |
| 706 | Rick Manning | |
| 741 | Paul Molitor | |
| 773 | Robin Yount | |
| (AS)22 | Teddy Higuera | |
| (GS)22 | Rob Deer | |
| (R)11 | Juan Nieves | RC |
| (R)13 | Billy Joe Robidoux | RC |
| (R)18 | Dale Sveum | RC |
| D | Cecil Cooper | |
| | | |
| --- | --- | --- |
| 7 | Todd Worrell | |
| 8 | Terry Pendleton | |
| 33 | Andy Van Slyke | |
| 59 | Ken Dayley | |
| 84 | Steve Lake | |
| 110 | John Tudor | |
| 133 | Jose Oquendo | |
| 162 | Mike LaValliere | RC |
| 181 | St. Louis Cardinals | |
| 211 | John Morris | |
| 243 | Whitey Herzog | |
| 257 | Bob Forsch | |
| 288 | Tito Landrum | |
| 317 | Clint Hurdle | |
| 321 | Mike Laga | |
| 338 | Tim Conroy | |
| 367 | Jeff Lahti | |
| 399 | Curt Ford | |
| 417 | Pat Perry | |
| 440 | Willie McGee | |
| 465 | Todd Worrell | |
| 520 | Jack Clark | |
| 542 | Ricky Horton | |
| 567 | Greg Mathews | RC |
| 590 | Vince Coleman | |
| 598 | Ozzie Smith | |
| 605 | Todd Worrell | |
| 621 | Danny Cox | |
| 647 | Tom Lawless | |
| 671 | Ray Soff | RC |
| 721 | Tom Herr | |
| 749 | Ozzie Smith | |
| (AS)1 | Whitey Herzog | |
| (AS)5 | Ozzie Smith | |
| (GS)10 | Todd Worrell | |
| (GS)23 | Ozzie Smith | |
| (GS)38 | Vince Coleman | |
| (GS)60 | Greg Mathews | |
| (R)10 | John Morris | RC |
| (R)22 | Todd Worrell | RC |
| | | |
| --- | --- | --- |
| 23 | Lee Smith | |
| 43 | Gene Michael | |
| 58 | Thad Bosley | |
| 142 | Rick Sutcliffe | |
| 177 | Keith Moreland | |
| 227 | Jamie Moyer | RC |
| 270 | Jody Davis | |
| 290 | Leon Durham | |
| 346 | Shawon Dunston | |
| 369 | Brian Dayett | |
| 372 | Jerry Mumphrey | |
| 383 | Ron Davis | |
| 390 | Gary Matthews | |
| 424 | Chris Speier | |
| 459 | Dennis Eckersley | |
| 487 | Dave Gumpert | |
| 534 | Scott Sanderson | |
| 581 | Steve Trout | |
| 581 | Ron Cey | |
| 634 | Rafael Palmeiro | RC |
| 662 | Frank DiPino | |
| 680 | Ryne Sandberg | |
| 695 | Chico Walker | RC |
| 697 | Ed Lynch | |
| 715 | Bob Dernier | |
| 732 | Manny Trillo | |
| 750 | Steve Trout | |
| 767 | Ron Cey | |
| 785 | Terry Francona | |
| (AS)3 | Ryne Sandberg | |
| (R)12 | Rafael Palmeiro | RC |
| C | Ron Cey | |
| | | |
| --- | --- | --- |
| 26 | Greg Brock | |
| 47 | Dennis Powell | |
| 73 | Dave Anderson | |
| 116 | Bill Russell | |
| 144 | Mike Scioscia | |
| 173 | Alex Trevino | |
| 199 | Mariano Duncan | |
| 232 | Reggie Williams | RC |
| 266 | Jeff Hamilton | RC |
| 292 | Franklin Stubbs | |
| 315 | Maury Wills | |
| 328 | Bob Welch | |
| 360 | Pedro Guerrero | |
| 385 | Orel Hershiser | |
| 410 | Fernando Valenzuela | |
| 431 | Ron Perranoski | |
| 431 | Tom Niedenfuer | |
| 431 | Alex Trevino | |
| 457 | Len Matuszek | |
| 477 | Ken Howell | |
| 493 | Tommy Lasorda | |
| 509 | Enos Cabell | |
| 538 | Tom Niedenfuer | |
| 596 | Steve Sax | |
| 604 | Fernando Valenzuela | |
| 664 | Mike A. Marshall | |
| 682 | Jerry Reuss | |
| 699 | Ken Landreaux | |
| 717 | Ed Vande Berg | |
| 734 | Bill Madlock | |
| 753 | Rick Honeycutt | |
| 769 | Steve Sax | |
| 787 | Alejandro Pena | |
| (AS)11 | Fernando Valenzuela | |
| (GS)53 | Fernando Valenzuela | |
| | | |
| --- | --- | --- |
| 9 | Jay Tibbs | |
| 30 | Tim Raines | |
| 55 | Tim Wallach | |
| 78 | Tom Foley | |
| 105 | Floyd Youmans | |
| 127 | Vance Law | |
| 141 | Herm Winningham | |
| 165 | Jeff Reardon | |
| 189 | Joe Hesketh | |
| 212 | Mike Fitzgerald | |
| 252 | Dennis Martinez | |
| 272 | Andres Galarraga | |
| 293 | Bob Rodgers | |
| 323 | Al Newman | RC |
| 345 | Andre Dawson | |
| 381 | Mike Fitzgerald | |
| 381 | Bob Rodgers | |
| 416 | Tom Nieto | |
| 442 | Mitch Webster | |
| 467 | Randy St. Claire | |
| 479 | Bob Sebra | RC |
| 505 | Bryn Smith | |
| 527 | Jim Wohlford | |
| 577 | Dann Bilardello | |
| 588 | Wallace Johnson | |
| 624 | Tim Burke | |
| 650 | Hubie Brooks | |
| 707 | Bob McClure | |
| 742 | Andy McGaffigan | |
| 774 | Wayne Krenchicki | |
| (GS)15 | Jeff Reardon | |
| (GS)46 | Hubie Brooks | |
| (GS)48 | Tim Raines | |
| | | |
| --- | --- | --- |
| 21 | Mark Davis | |
| 46 | Dan Gladden | |
| 64 | Harry Spilman | |
| 71 | Mike Aldrete | RC |
| 96 | Frank Williams | |
| 125 | Bob Brenly | |
| 151 | Mike LaCoss | |
| 180 | Chris Brown | |
| 193 | Roger Craig | |
| 231 | Jim Gott | |
| 231 | Bob Brenly | |
| 260 | Vida Blue | |
| 280 | Jeffrey Leonard | |
| 286 | Mike Woodard | |
| 303 | Juan Berenguer | |
| 335 | Candy Maldonado | |
| 362 | Luis Quinones | RC |
| 389 | Jeff D. Robinson | |
| 420 | Will Clark | RC |
| 438 | Kelly Downs | RC |
| 475 | Scott Garrelts | |
| 526 | Roger Mason | |
| 536 | Terry Mulholland | RC |
| 549 | Bob Melvin | |
| 580 | Mike Krukow | |
| 633 | Jose Uribe | |
| 658 | Robby Thompson | RC |
| 672 | Chili Davis | |
| 724 | Greg Minton | |
| 759 | Joel Youngblood | |
| 781 | Atlee Hammaker | |
| (GS)40 | Robby Thompson | |
| (R)4 | Will Clark | RC |
| (R)21 | Robby Thompson | RC |
| B | Steve Carlton | |
| | | |
| --- | --- | --- |
| 11 | Phil Niekro | |
| 11 | Chris Bando | |
| 51 | Mel Hall | |
| 77 | Bryan Oelkers | |
| 107 | John Butcher | |
| 134 | Rich Yett | RC |
| 160 | Julio Franco | |
| 192 | Cory Snyder | |
| 220 | Joe Carter | |
| 244 | Dickie Noles | |
| 268 | Pat Corrales | |
| 297 | Don Schulze | |
| 319 | Greg Swindell | RC |
| 322 | Chris Bando | |
| 353 | Ernie Camacho | |
| 405 | Brook Jacoby | |
| 436 | Andy Allanson | RC |
| 463 | Tom Candiotti | |
| 486 | Otis Nixon | |
| 513 | Carmen Castillo | |
| 551 | Frank Wills | |
| 575 | Pat Tabler | |
| 585 | Scott Bailes | RC |
| 607 | Tony Bernazard | |
| 635 | Ken Schrom | |
| 657 | Tom Waddell | |
| 694 | Phil Niekro | |
| 723 | Brett Butler | |
| 758 | Tony Bernazard | |
| 780 | Andre Thornton | |
| (GS)9 | Cory Snyder | |
| (GS)16 | Joe Carter | |
| (GS)43 | Tony Bernazard | |
| (R)1 | Andy Allanson | RC |
| (R)16 | Cory Snyder | RC |
| | | |
| --- | --- | --- |
| 19 | Matt Young | |
| 45 | Jim Presley | |
| 67 | Bill Swift | |
| 91 | Harold Reynolds | |
| 117 | Jim Beattie | |
| 156 | Bob Kearney | |
| 156 | Matt Young | |
| 187 | Mark Huismann | |
| 215 | Mark Langston | |
| 235 | Alvin Davis | |
| 258 | Steve Yeager | |
| 271 | Mike G. Brown | |
| 284 | John Moses | |
| 307 | Lee Guetterman | RC |
| 333 | Ken Phelps | |
| 347 | Mickey Brantley | |
| 357 | Steve Fireovid | RC |
| 376 | Scott Bradley | |
| 402 | Mike Trujillo | |
| 418 | Dick Williams | |
| 427 | Edwin Nunez | |
| 439 | Karl Best | |
| 476 | Danny Tartabull | |
| 498 | Bob Kearney | |
| 525 | Phil Bradley | |
| 546 | Mike Morgan | |
| 561 | Rey Quinones | RC |
| 572 | Pete Ladd | |
| 619 | Jerry Reed | |
| 641 | Domingo Ramos | |
| 727 | Mike Moore | |
| (GS)19 | Danny Tartabull | |
| (R)19 | Danny Tartabull | RC |
| | | |
| --- | --- | --- |
| 20 | Gary Carter | |
| 48 | Wally Backman | |
| 75 | Ron Darling | |
| 103 | Rick Aguilera | |
| 130 | Dwight Gooden | |
| 147 | Randy Niemann | |
| 158 | Tim Teufel | |
| 185 | Roger McDowell | |
| 198 | Lee Mazzilli | |
| 213 | Randy Myers | RC |
| 241 | Danny Heep | |
| 267 | Howard Johnson | |
| 295 | Lenny Dykstra | |
| 331 | Darryl Strawberry | |
| 331 | Gary Carter | |
| 350 | Keith Hernandez | |
| 378 | Rafael Santana | |
| 404 | Doug Sisk | |
| 433 | Ed Hearn | RC |
| 460 | Darryl Strawberry | |
| 488 | Ray Knight | |
| 512 | Dave Magadan | RC |
| 543 | Davey Johnson | |
| 570 | Sid Fernandez | |
| 582 | Bruce Berenyi | |
| 594 | Rick Anderson | RC |
| 595 | Keith Hernandez | |
| 601 | Darryl Strawberry | |
| 602 | Gary Carter | |
| 603 | Dwight Gooden | |
| 625 | Mookie Wilson | |
| 653 | Kevin Mitchell | RC |
| 704 | Jesse Orosco | |
| 746 | Bob Ojeda | |
| (AS)2 | Keith Hernandez | |
| (AS)8 | Darryl Strawberry | |
| (AS)9 | Gary Carter | |
| (AS)10 | Dwight Gooden | |
| (GS)8 | Roger McDowell | |
| (GS)11 | Gary Carter | |
| (GS)26 | Keith Hernandez | |
| (GS)32 | Darryl Strawberry | |
| (GS)36 | Bob Ojeda | |
| (GS)50 | Kevin Mitchell | |
| (GS)51 | Dwight Gooden | |
| (R)9 | Dave Magadan | RC |
| | | |
| --- | --- | --- |
| 28 | Rick Dempsey | |
| 86 | Nate Snell | |
| 120 | Eddie Murray | |
| 154 | Tom O'Malley | |
| 182 | Lee Lacy | |
| 208 | John Shelby | |
| 246 | Jim Dwyer | |
| 276 | Jackie Gutierrez | |
| 309 | Mike Young | |
| 349 | Storm Davis | |
| 370 | Fred Lynn | |
| 398 | Brad Havens | |
| 426 | Floyd Rayford | |
| 455 | Mike Boddicker | |
| 484 | Jim Traber | |
| 506 | Earl Weaver | |
| 506 | Rich Bordi | |
| 506 | Rick Dempsey | |
| 528 | Ken Dixon | |
| 552 | Larry Sheets | |
| 563 | John Stefero | |
| 568 | Earl Weaver | |
| 609 | Cal Ripken Jr. | |
| 638 | Rich Bordi | |
| 668 | Juan Bonilla | |
| 688 | Juan Beniquez | |
| 708 | Scott McGregor | |
| 728 | Tippy Martinez | |
| 748 | Mike Flanagan | |
| 766 | Don Aase | |
| 784 | Cal Ripken Jr. | |
| (AS)16 | Cal Ripken Jr. | |
| (GS)12 | Eddie Murray | |
| (GS)37 | Cal Ripken Jr. | |
| | | |
| --- | --- | --- |
| 37 | Marvell Wynne | |
| 81 | Andy Hawkins | |
| 81 | Terry Kennedy | |
| 88 | Ed Wojna | |
| 100 | Steve Garvey | |
| 123 | John Kruk | RC |
| 143 | Steve Boros | |
| 155 | Eddie Whitson | |
| 183 | Andy Hawkins | |
| 205 | Graig Nettles | |
| 248 | Gene Walter | |
| 275 | LaMarr Hoyt | |
| 325 | Garry Templeton | |
| 348 | Carmelo Martinez | |
| 380 | Rich Gossage | |
| 403 | Jerry Royster | |
| 428 | Bruce Bochy | |
| 429 | Tim Pyznarski | RC |
| 470 | Dave Dravecky | |
| 501 | Craig Lefferts | |
| 530 | Tony Gwynn | |
| 540 | Terry Kennedy | |
| 559 | Lance McCullers | |
| 599 | Tony Gwynn | |
| 637 | Bip Roberts | RC |
| 690 | Dane Iorg | |
| 730 | Eric Show | |
| 754 | Dave LaPoint | |
| 763 | Tim Flannery | |
| (AS)6 | Tony Gwynn | |
| (GS)2 | Tony Gwynn | |
| | | |
| --- | --- | --- |
| 42 | Gary Redus | |
| 63 | Fred Toliver | |
| 97 | Glenn Wilson | |
| 163 | Kevin Gross | |
| 191 | Charles Hudson | |
| 209 | Rick Schu | |
| 255 | Juan Samuel | |
| 294 | Steve Jeltz | |
| 329 | Ron Roenicke | |
| 355 | Don Carman | |
| 379 | John Russell | |
| 409 | Milt Thompson | |
| 430 | Mike Schmidt | |
| 443 | John Felske | |
| 471 | Ronn Reynolds | |
| 481 | Von Hayes | |
| 481 | Glenn Wilson | |
| 481 | Juan Samuel | |
| 499 | Bruce Ruffin | RC |
| 532 | Jeff Stone | |
| 553 | Mike Maddux | RC |
| 597 | Mike Schmidt | |
| 636 | Darren Daulton | |
| 666 | Von Hayes | |
| 684 | Kent Tekulve | |
| 702 | Greg Gross | |
| 719 | Tom Hume | |
| 736 | Steve Bedrosian | |
| 755 | Luis Aguayo | |
| 771 | Shane Rawley | |
| 789 | Dan Schatzeder | |
| (AS)4 | Mike Schmidt | |
| (GS)28 | Mike Schmidt | |
| (R)14 | Bruce Ruffin | RC |
| | | |
| --- | --- | --- |
| 16 | Pat Clements | |
| 35 | Sid Bream | |
| 60 | Tony Pena | |
| 93 | Jim Leyland | |
| 109 | R.J. Reynolds | |
| 131 | Tony Pena | |
| 131 | Sid Bream | |
| 164 | Sammy Khalifa | |
| 184 | Bobby Bonilla | RC |
| 219 | Cecilio Guante | |
| 237 | Jim Morrison | |
| 262 | Jim Winn | |
| 289 | Bob Kipper | |
| 313 | Roberto Clemente | |
| 320 | Barry Bonds | RC |
| 341 | Mike C. Brown | |
| 365 | Rick Rhoden | |
| 394 | Mike Bielecki | |
| 414 | Joe Orsulak | |
| 447 | Bill Almon | |
| 469 | Mike Diaz | RC |
| 494 | Barry Jones | RC |
| 521 | Rick Reuschel | |
| 541 | Rafael Belliard | RC |
| 564 | Larry McWilliams | |
| 583 | Junior Ortiz | |
| 628 | Bob Walk | |
| 651 | Benny Distefano | |
| 712 | Don Robinson | |
| 747 | Johnny Ray | |
| (GS)30 | Barry Bonds | |
| (GS)55 | Johnny Ray | |
| | | |
| --- | --- | --- |
| 6 | Ruben Sierra | |
| 17 | Pete O'Brien | |
| 44 | Greg Harris | |
| 70 | Charlie Hough | |
| 95 | Oddibe McDowell | |
| 118 | Bobby Valentine | |
| 126 | Mike Loynd | RC |
| 152 | Toby Harrah | |
| 176 | Steve Buechele | |
| 202 | Ricky Wright | |
| 228 | Curtis Wilkerson | |
| 261 | Ruben Sierra | RC |
| 291 | Mitch Williams | RC |
| 308 | Don Slaught | |
| 334 | Ed Correa | RC |
| 363 | Jose Guzman | |
| 388 | Geno Petralli | |
| 415 | Bobby Witt | RC |
| 444 | Jeff Russell | |
| 462 | Scott Fletcher | |
| 497 | Dale Mohorcic | RC |
| 514 | Orlando Mercado | |
| 550 | Pete Incaviglia | RC |
| 629 | Larry Parrish | |
| 646 | Mike Mason | |
| 656 | Bobby Valentine | |
| 656 | Ricky Wright | |
| 689 | Darrell Porter | |
| 729 | Tom Paciorek | |
| 762 | Gary Ward | |
| (GS)29 | Pete Incaviglia | |
| (R)6 | Pete Incaviglia | RC |
| (R)15 | Ruben Sierra | RC |
| | | |
| --- | --- | --- |
| 1 | Roger Clemens | |
| 3 | Dwight Evans | |
| 12 | Jeff Sellers | RC |
| 39 | Marty Barrett | |
| 66 | Marc Sullivan | |
| 94 | Calvin Schiraldi | |
| 121 | Kevin Romine | RC |
| 150 | Wade Boggs | |
| 175 | Bob Stanley | |
| 204 | Sammy Stewart | |
| 230 | Don Baylor | |
| 259 | Mike Greenwell | RC |
| 285 | Oil Can Boyd | |
| 306 | John McNamara | |
| 306 | Tom Seaver | |
| 306 | Rich Gedman | |
| 314 | Carl Yastrzemski | |
| 340 | Roger Clemens | |
| 368 | John McNamara | |
| 374 | Glenn Hoffman | |
| 396 | Tim Lollar | |
| 425 | Tom Seaver | |
| 449 | Pat Dodson | RC |
| 451 | Joe Sambito | |
| 452 | Dave Henderson | |
| 480 | Jim Rice | |
| 507 | Dave Stapleton | |
| 535 | Tony Armas | |
| 589 | Steve Crawford | |
| 591 | Spike Owen | |
| 608 | Wade Boggs | |
| 610 | Jim Rice | |
| 614 | Roger Clemens | |
| 617 | Al Nipper | |
| 632 | Rob Woodward | |
| 645 | Dwight Evans | |
| 675 | Ed Romero | |
| 705 | Bruce Hurst | |
| 740 | Rich Gedman | |
| 764 | Bill Buckner | |
| (AS)15 | Wade Boggs | |
| (AS)21 | Roger Clemens | |
| (GS)5 | Roger Clemens | |
| (GS)18 | Wade Boggs | |
| (GS)27 | Don Baylor | |
| (GS)42 | Jim Rice | |
| A | Don Baylor | |
| F | Jim Rice | |
| | | |
| --- | --- | --- |
| 13 | Nick Esasky | |
| 41 | Bo Diaz | |
| 65 | Tom Browning | |
| 82 | Rob Murphy | RC |
| 101 | Carl Willis | RC |
| 119 | Ron Robinson | |
| 146 | Tracy Jones | RC |
| 172 | Ron Oester | |
| 200 | Pete Rose | |
| 226 | Max Venable | |
| 253 | Eddie Milner | |
| 281 | Pete Rose | |
| 281 | Bill Gullickson | |
| 281 | Bo Diaz | |
| 305 | John Franco | |
| 332 | Joe Price | |
| 358 | Sal Butera | |
| 393 | Pete Rose | |
| 412 | Eric Davis | |
| 437 | Ted Power | |
| 453 | Scott Terry | RC |
| 466 | Kal Daniels | |
| 489 | Bill Gullickson | |
| 517 | Mario Soto | |
| 545 | Buddy Bell | |
| 569 | Wade Rowdon | |
| 592 | Chris Welsh | |
| 600 | Dave Parker | |
| 623 | Kurt Stillwell | RC |
| 644 | John Denny | |
| 648 | Barry Larkin | RC |
| 691 | Dave Parker | |
| 731 | Dave Concepcion | |
| (GS)17 | Dave Parker | |
| (GS)41 | Pete Rose | |
| (GS)44 | Eric Davis | |
| (R)17 | Kurt Stillwell | RC |
| | | |
| --- | --- | --- |
| 18 | Dick Howser | |
| 38 | Dennis Leonard | |
| 69 | Lonnie Smith | |
| 140 | Bret Saberhagen | |
| 170 | Bo Jackson | RC |
| 190 | Jim Sundberg | |
| 203 | Mike Kingery | RC |
| 223 | Charlie Leibrandt | |
| 240 | Steve Balboni | |
| 256 | Frank White | |
| 256 | George Brett | |
| 326 | Mark Gubicza | |
| 354 | Jamie Quirk | |
| 382 | Rudy Law | |
| 400 | George Brett | |
| 473 | Steve Farr | |
| 508 | Scott Bankhead | |
| 533 | Argenis Salazar | |
| 554 | Buddy Biancalana | |
| 573 | Hal McRae | |
| 669 | Bud Black | |
| 692 | Frank White | |
| 714 | Dan Quisenberry | |
| 738 | Jorge Orta | |
| 761 | Greg Pryor | |
| 783 | Willie Wilson | |
| (AS)12 | Dick Howser | |
| (GS)31 | George Brett | |
| | | |
| --- | --- | --- |
| 36 | Eric King | RC |
| 72 | Walt Terrell | |
| 98 | Bill Scherrer | |
| 148 | Dave Collins | |
| 171 | Chuck Cary | RC |
| 196 | Randy O'Neal | |
| 218 | Sparky Anderson | |
| 234 | Pat Sheridan | |
| 265 | Darrell Evans | |
| 298 | Larry Herndon | |
| 361 | Mark Thurmond | |
| 384 | Johnny Grubb | |
| 411 | Darnell Coles | |
| 432 | Jim Slaton | |
| 483 | Dwight Lowry | RC |
| 492 | Mike Heath | |
| 515 | Willie Hernandez | |
| 613 | Lance Parrish | |
| 631 | Mike Heath | |
| 631 | Willie Hernandez | |
| 631 | Sparky Anderson | |
| 661 | Lou Whitaker | |
| 674 | Bill Campbell | |
| 687 | Alan Trammell | |
| 700 | Dave Bergman | |
| 713 | Tom Brookens | |
| 726 | Frank Tanana | |
| 739 | Chet Lemon | |
| 752 | Dan Petry | |
| 765 | Kirk Gibson | |
| 778 | Jack Morris | |
| 791 | Lance Parrish | |
| (AS)14 | Lou Whitaker | |
| (AS)20 | Lance Parrish | |
| (GS)7 | Lou Whitaker | |
| (GS)47 | Jack Morris | |
| (GS)58 | Lance Parrish | |
| (R)8 | Eric King | RC |
| | | |
| --- | --- | --- |
| 25 | Bert Blyleven | |
| 52 | Keith Atherton | |
| 87 | Mark Salas | |
| 114 | Billy Beane | |
| 124 | Ray Fontenot | |
| 138 | Roy Lee Jackson | |
| 169 | Ron Washington | |
| 206 | Tim Laudner | |
| 206 | Frank Viola | |
| 207 | George Frazier | |
| 225 | Mike Smithson | |
| 247 | Jeff Reed | |
| 277 | Juan Agosto | |
| 310 | Frank Viola | |
| 336 | Allan Anderson | RC |
| 364 | Randy Bush | |
| 419 | Mark Portugal | RC |
| 450 | Kirby Puckett | |
| 478 | Tim Laudner | |
| 504 | Mickey Hatcher | |
| 529 | Alvaro Espinoza | RC |
| 558 | Greg Gagne | |
| 576 | Frank Pastore | |
| 611 | Kirby Puckett | |
| 618 | Tom Kelly | RC |
| 679 | Kent Hrbek | |
| 710 | Gary Gaetti | |
| 744 | Roy Smalley | |
| 776 | Tom Brunansky | |
| (AS)19 | Kirby Puckett | |
| (GS)3 | Gary Gaetti | |
| (GS)25 | Kent Hrbek | |
| (GS)57 | Kirby Puckett | |
| | | |
| --- | --- | --- |
| 27 | Joe Cowley | |
| 54 | Bill Dawley | |
| 61 | Bobby Thigpen | RC |
| 89 | Ozzie Guillen | |
| 113 | Neil Allen | |
| 149 | Ray Searage | |
| 201 | John Cangelosi | RC |
| 233 | Russ Morman | RC |
| 273 | Gene Nelson | |
| 299 | Joel Davis | |
| 318 | Jim Fregosi | |
| 342 | Bob James | |
| 356 | Ed Brinkman | |
| 356 | Julio Cruz | |
| 397 | Greg Walker | |
| 421 | Jose DeLeon | |
| 454 | Luis Salazar | |
| 482 | Daryl Boston | |
| 491 | Ron Karkovice | RC |
| 511 | Steve Lyons | |
| 539 | Reid Nichols | |
| 566 | Tim Hulett | |
| 667 | Ron Hassey | |
| 685 | Jerry Hairston | |
| 703 | Dave Schmidt | |
| 718 | Steve Carlton | |
| 720 | Richard Dotson | |
| 737 | Floyd Bannister | |
| 756 | Carlton Fisk | |
| 772 | Harold Baines | |
| 790 | Julio Cruz | |
| (GS)14 | Harold Baines | |
| (R)2 | John Cangelosi | RC |
| | | |
| --- | --- | --- |
| 5 | Dave Righetti | |
| 15 | Claudell Washington | |
| 40 | Dave Righetti | |
| 57 | Scott Nielsen | RC |
| 62 | Bobby Meacham | |
| 74 | Dan Pasqua | |
| 102 | Paul Zuvella | |
| 135 | Mike Easler | |
| 168 | Lou Piniella | |
| 174 | Henry Cotto | |
| 195 | Mike Pagliarulo | |
| 224 | Wayne Tolleson | |
| 236 | Tommy John | |
| 239 | Juan Espino | |
| 254 | Bob Tewksbury | RC |
| 283 | Doug Drabek | RC |
| 312 | Reggie Jackson | |
| 316 | Brian Fisher | |
| 344 | Joe Niekro | |
| 375 | Ron Guidry | |
| 406 | Don Mattingly | |
| 406 | Rickey Henderson | |
| 434 | Mike Fischlin | |
| 464 | Butch Wynegar | |
| 500 | Don Mattingly | |
| 524 | Bob Shirley | |
| 555 | Dennis Rasmussen | |
| 584 | Ron Kittle | |
| 606 | Don Mattingly | |
| 616 | Dave Righetti | |
| 626 | Joel Skinner | |
| 642 | Al Pulido | |
| 665 | Rod Scurry | |
| 683 | Gary Roenicke | |
| 701 | Willie Randolph | |
| 735 | Rickey Henderson | |
| 770 | Dave Winfield | |
| 788 | Tim Stoddard | |
| (AS)17 | Dave Winfield | |
| (AS)18 | Rickey Henderson | |
| (GS)1 | Don Mattingly | |
| (GS)21 | Rickey Henderson | |
| (GS)24 | Dave Righetti | |
| (GS)56 | Mike Pagliarulo | |
| E | Rickey Henderson | |
| H | Dave Winfield | |
| | |
| --- | --- |
| 128 | Checklist 1-132 |
| 264 | Checklist 133-264 |
| 392 | Checklist 265-396 |
| 522 | Checklist 397-528 |
| 654 | Checklist 529-660 |
| 792 | Checklist 661-792 |