Looking for a Larry Bird or Magic Johnson rookie card? Enjoy sets with confusing checklists? 1980 Topps Basketball may be right up your alley.
Each card features three players, each with an individual card number, for a total of 246 players on 88 cards. Beyond the initial 88 cards, another 88 cards with the exact same 246 players fills up the back half of the set (#89-176).
For the purposes of our checklist, the whole card number is listed in one column with each individual player card number listed in another.
Notable in this set is a card that features Larry Bird, Julius Erving, and Magic Johnson because it is a rookie card for both Bird and Johnson. This set covers the 1980/81 season.
This checklist is organized by teams. You can scroll through the entire list or jump to a preferred team by selecting it from the list below. Clicking a link within the checklist will direct you to an affiliate retailer or to relevant eBay listings.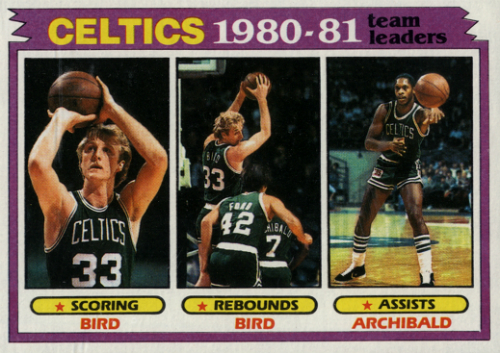 1980 Topps Basketball Checklist
| Whole # | Split # | Player |
| --- | --- | --- |
| 1 | 181 | Julius Erving |
| 2 | 185 | Steve Mix |
| 6 | 174 | Julius Erving |
| 10 | 177 | Henry Bibby |
| 17 | 184 | Caldwell Jones |
| 23 | 1 | Julius Erving |
| 30 | 176 | Maurice Cheeks |
| 32 | 179 | Doug Collins |
| 36 | 182 | Lionel Hollins |
| 51 | 262 | Julius Erving |
| 55 | 180 | Darryl Dawkins |
| 64 | 175 | Caldwell Jones |
| 66 | 178 | Maurice Cheeks |
| 67 | 183 | Bobby Jones |
| 74 | 263 | Bobby Jones |
| 109 | 184 | Caldwell Jones |
| 119 | 182 | Lionel Hollins |
| 137 | 1 | Julius Erving |
| 141 | 175 | Caldwell Jones |
| 142 | 262 | Julius Erving |
| 146 | 174 | Julius Erving |
| 147 | 185 | Steve Mix |
| 148 | 179 | Doug Collins |
| 150 | 177 | Henry Bibby |
| 154 | 178 | Maurice Cheeks |
| 155 | 183 | Bobby Jones |
| 159 | 263 | Bobby Jones |
| 160 | 180 | Darryl Dawkins |
| 171 | 176 | Maurice Cheeks |
| 176 | 181 | Julius Erving |
| Whole # | Split # | Player |
| --- | --- | --- |
| 5 | 152 | Brian Winters |
| 11 | 145 | Quinn Buckner |
| 19 | 2 | Marques Johnson |
| 45 | 148 | George Johnson |
| 46 | 10 | Bob Lanier |
| 48 | 143 | Marques Johnson |
| 49 | 146 | Junior Bridgeman |
| 50 | 147 | Quinn Buckner |
| 51 | 149 | Marques Johnson |
| 52 | 151 | Sidney Moncrief |
| 82 | 150 | Bob Lanier |
| 88 | 144 | Marques Johnson |
| 99 | 144 | Marques Johnson |
| 104 | 150 | Bob Lanier |
| 114 | 148 | George Johnson |
| 120 | 152 | Brian Winters |
| 127 | 10 | Bob Lanier |
| 136 | 143 | Marques Johnson |
| 137 | 146 | Junior Bridgeman |
| 138 | 2 | Marques Johnson |
| 138 | 147 | Quinn Buckner |
| 139 | 149 | Marques Johnson |
| 140 | 151 | Sidney Moncrief |
| 144 | 145 | Quinn Buckner |
| Whole # | Split # | Player |
| --- | --- | --- |
| 129 | 43 | Reggie Theus |
| 4 | 248 | Elvin Hayes |
| 12 | 247 | Kevin Grevey |
| 31 | 243 | Wes Unseld |
| 60 | 244 | Kevin Porter |
| 69 | 242 | Elvin Hayes |
| 73 | 249 | Mitch Kupchak |
| 84 | 245 | Greg Ballard |
| 84 | 252 | John Williamson |
| 85 | 246 | Bob Dandridge |
| 86 | 250 | Kevin Porter |
| 87 | 251 | Wes Unseld |
| 88 | 257 | Elvin Hayes |
| 90 | 247 | Kevin Grevey |
| 124 | 248 | Elvin Hayes |
| 125 | 249 | Mitch Kupchak |
| 129 | 252 | John Williamson |
| 130 | 244 | Kevin Porter |
| 135 | 242 | Elvin Hayes |
| 143 | 243 | Wes Unseld |
| 172 | 245 | Greg Ballard |
| 173 | 246 | Bob Dandridge |
| 174 | 250 | Kevin Porter |
| 175 | 251 | Wes Unseld |
| 176 | 257 | Elvin Hayes |
| Whole # | Split # | Player |
| --- | --- | --- |
| 10 | 47 | Scott May |
| 17 | 259 | Artis Gilmore |
| 23 | 49 | Ricky Sobers |
| 25 | 45 | David Greenwood |
| 26 | 46 | Dwight Jones |
| 28 | 48 | John Mengelt |
| 31 | 50 | Reggie Theus |
| 59 | 44 | Artis Gilmore |
| 62 | | David Greenwood |
| 84 | 43 | Reggie Theus |
| 85 | 41 | Reggie Theus |
| 89 | 42 | David Greenwood |
| 92 | 45 | David Greenwood |
| 96 | 46 | Dwight Jones |
| 98 | 47 | Scott May |
| 101 | 48 | John Mengelt |
| 109 | 259 | Artis Gilmore |
| 134 | 44 | Artis Gilmore |
| 137 | 49 | Ricky Sobers |
| 143 | 50 | Reggie Theus |
| 168 | 41 | Reggie Theus |
| Whole # | Split # | Player |
| --- | --- | --- |
| 11 | 55 | Don Ford |
| 12 | 58 | Campy Russell |
| 12 | 52 | Dave Robsich |
| 13 | 60 | Foots Walker |
| 24 | 57 | Dave Robisch |
| 29 | 53 | Foots Walker |
| 38 | 59 | Randy Smith |
| 43 | 56 | Mike Mitchell |
| 47 | 54 | Kenny Carr |
| 57 | 51 | Mike Mitchell |
| 90 | 52 | Dave Robisch |
| 95 | 59 | Randy Smith |
| 99 | 55 | Don Ford |
| 100 | 58 | Campy Russell |
| 101 | 60 | Foots Walker |
| 102 | 56 | Mike Mitchell |
| 116 | 54 | Kenny Carr |
| 118 | 51 | Mike Mitchell |
| 136 | 57 | Dave Robisch |
| 161 | 53 | Foots Walker |
| Whole # | Split # | Player |
| --- | --- | --- |
| 4 | 32 | Nate Archibald |
| 6 | 34 | Larry Bird |
| 7 | 36 | Dave Cowens |
| 8 | 38 | Pete Maravich |
| 9 | 40 | Rick Robey |
| 24 | 254 | Rick Robey |
| 26 | 97 | Robert Parish |
| 27 | 39 | Cedric Maxwell |
| 48 | 30 | Larry Bird |
| 49 | 31 | Larry Bird |
| 67 | 37 | Chris Ford |
| 69 | 35 | M.L. Carr |
| 78 | 33 | Nate Archibald |
| 94 | 34 | Larry Bird |
| 95 | 36 | Dave Cowens |
| 96 | 38 | Pete Maravich |
| 97 | 37 | Chris Ford |
| 97 | 40 | Rickey Robey |
| 98 | 30 | Larry Bird |
| 114 | 97 | Robert Parish |
| 117 | 39 | Cedric Maxwell |
| 124 | 32 | Nate Archibald |
| 135 | 35 | M.L. Carr |
| 136 | 254 | Rick Robey |
| 165 | 31 | Larry Bird |
| 172 | 33 | Nate Archibald |
| Whole # | Split # | Player |
| --- | --- | --- |
| 8 | 264 | World B. Free |
| 16 | 215 | Swen Nater |
| 29 | 223 | Freeman Williams |
| 44 | 216 | Brian Taylor |
| 46 | 222 | Bill Walton |
| 52 | 220 | Paul Silas |
| 59 | 214 | World B. Free |
| 61 | 14 | World B. Free |
| 62 | | World B. Free |
| 74 | 217 | Joe Bryant |
| 75 | 219 | Swen Nater |
| 76 | 221 | Brian Taylor |
| 89 | 218 | World B. Free |
| 108 | 216 | Brian Taylor |
| 112 | 215 | Swen Nater |
| 121 | 264 | World B. Free |
| 127 | 222 | Bill Walton |
| 134 | 214 | World B. Free |
| 156 | 14 | World B. Free |
| 161 | 223 | Freeman Williams |
| 162 | 217 | Joe Bryant |
| 163 | 219 | Swen Nater |
| 164 | 221 | Brian Taylor |
| 169 | 220 | Paul Silas |
| Whole # | Split # | Player |
| --- | --- | --- |
| 1 | 3 | Dan Roundfield |
| 3 | 5 | John Drew |
| 4 | 24 | Steve Hawes |
| 5 | 29 | Dan Roundfield |
| 9 | 26 | Eddie Johnson |
| 15 | 22 | Charlie Criss |
| 15 | 256 | Robert Reid |
| 20 | 21 | Armond Hill |
| 22 | 126 | Tom Burleson |
| 32 | 13 | Eddie Johnson |
| 33 | 28 | Tree Rollins |
| 41 | 19 | John Drew |
| 42 | 23 | John Drew |
| 60 | 25 | Armond Hill |
| 63 | 27 | James McElroy |
| 80 | 20 | Dan Roundfield |
| 89 | 3 | Dan Roundfield |
| 92 | 24 | Steve Hawes |
| 93 | 29 | Dan Roundfield |
| 94 | 23 | John Drew |
| 100 | 21 | Armond Hill |
| 106 | 28 | Tree Rollins |
| 128 | 26 | Eddie Johnson |
| 130 | 25 | Armond Hill |
| 131 | 126 | Tom Burleson |
| 148 | 13 | Eddie Johnson |
| 164 | 22 | Charlie Criss |
| 170 | 27 | James McElroy |
| 173 | 19 | John Drew |
| 174 | 20 | Dan Roundfield |
| 175 | 5 | John Drew |
| Whole # | Split # | Player |
| --- | --- | --- |
| 9 | 234 | Adrian Dantley |
| 18 | 235 | Ben Poquette |
| 19 | 68 | Jeff Judkins |
| 34 | 6 | Adrian Dantley |
| 35 | 239 | Allan Bristow |
| 61 | 240 | Adrian Dantley |
| 66 | 237 | Ron Boone |
| 81 | 236 | Allan Bristow |
| 82 | 238 | Tom Boswell |
| 83 | 241 | Ben Poquette |
| 111 | 237 | Ron Boone |
| 128 | 234 | Adrian Dantley |
| 138 | 68 | Jeff Judkins |
| 152 | 239 | Allan Bristow |
| 155 | 235 | Ben Poquette |
| 156 | 240 | Adrian Dantley |
| 157 | 6 | Adrian Dantley |
| 169 | 236 | Allan Bristow |
| 170 | 238 | Tom Boswell |
| 171 | 241 | Ben Poquette |
| Whole # | Split # | Player |
| --- | --- | --- |
| 13 | 130 | Bill Robinzine |
| 28 | 122 | Otis Birdsong |
| 40 | 124 | Phil Ford |
| 41 | 127 | Phil Ford |
| 42 | 131 | Scott Wedman |
| 47 | 123 | Sam Lacey |
| 63 | 85 | Leon Douglas |
| 64 | 129 | Sam Lacey |
| 85 | 128 | Reggie King |
| 86 | 125 | Otis Birdsong |
| 93 | 130 | Bill Robinzine |
| 101 | 122 | Otis Birdsong |
| 116 | 123 | Sam Lacey |
| 128 | 124 | Phil Ford |
| 129 | 127 | Phil Ford |
| 130 | 131 | Scott Wedman |
| 141 | 129 | Sam Lacey |
| 145 | 125 | Otis Birdsong |
| 170 | 85 | Leon Douglas |
| Whole # | Split # | Player |
| --- | --- | --- |
| 20 | 171 | Michael Ray |
| 33 | 15 | Michael Ray |
| 42 | 164 | Bill Cartwright |
| 53 | 9 | Bill Cartwright |
| 59 | 165 | Michael Ray Richardson |
| 60 | 166 | Bill Cartwright |
| 61 | 168 | Toby Knight |
| 62 | 169 | Joe Meriweather |
| 63 | 170 | Earl Monroe |
| 64 | 172 | Marvin Webster |
| 65 | 173 | Ray Williams |
| 68 | 163 | Bill Cartwright |
| 76 | 167 | Larry Demic |
| 94 | 164 | Bill Cartwright |
| 100 | 171 | Michael Ray Richardson |
| 106 | 15 | Michael Ray Richardson |
| 132 | 167 | Larry Demic |
| 147 | 165 | Michael Ray Richardson |
| 148 | 166 | Bill Cartwright |
| 149 | 168 | Toby Knight |
| 150 | 169 | Joe Meriweather |
| 151 | 170 | Earl Monroe |
| 152 | 172 | Marvin Webster |
| 153 | 173 | Ray Williams |
| 158 | 9 | Bill Cartwright |
| 166 | 163 | Bill Cartwright |
| 168 | 128 | Reggie King |
| Whole # | Split # | Player |
| --- | --- | --- |
| 6 | 139 | Magic Johnson |
| 7 | 142 | Jamaal Wilkes |
| 11 | 138 | Brad Holland |
| 14 | 8 | Kareem Abdul-Jabbar |
| 43 | 132 | Kareem Abdul-Jabbar |
| 44 | 135 | Kareem Abdul-Jabbar |
| 45 | 137 | Mike Cooper |
| 46 | 140 | Mark Landsberger |
| 47 | 141 | Norm Nixon |
| 50 | 133 | Kareem Abdul-Jabbar |
| 55 | 134 | Norm Nixon |
| 66 | 18 | Magic Johnson |
| 70 | 136 | Jim Chones |
| 111 | 18 | Magic Johnson |
| 123 | 142 | Jamaal Wilkes |
| 131 | 132 | Kareem Abul-Jabbar |
| 132 | 135 | Kareem Abul-Jabbar |
| 133 | 137 | Mike Cooper |
| 134 | 140 | Mark Landsberger |
| 135 | 141 | Norm Nixon |
| 140 | 133 | Kareem Abul-Jabbar |
| 144 | 138 | Brad Holland |
| 146 | 139 | Magic Johnson |
| 154 | 136 | Jim Chones |
| 160 | 134 | Norm Nixon |
| 162 | 8 | Kareem Abul-Jabbar |
| Whole # | Split # | Player |
| --- | --- | --- |
| 3 | 67 | Geoff Huston |
| 14 | 61 | Austin Carr |
| 15 | 63 | Jim Cleamons |
| 16 | 69 | Tom LaGarde |
| 17 | 71 | Jerome Whitehead |
| 39 | 65 | Mike Bratz |
| 51 | 62 | Abdul Jeelani |
| 67 | 66 | Joe Hassett |
| 75 | 70 | Richard Washington |
| 97 | 66 | Joe Hassett |
| 102 | 61 | Austin Carr |
| 103 | 63 | Jim Cleamons |
| 104 | 69 | Tom LaGarde |
| 105 | 71 | Jerome Whitehead |
| 105 | 70 | Richard Washington |
| 107 | 64 | Winford Boynes |
| 139 | 65 | Mike Bratz |
| 175 | 67 | Geoff Huston |
| 71 | 64 | Winford Boynes |
| 142 | 62 | Abdul Jeelani |
| Whole # | Split # | Player |
| --- | --- | --- |
| 35 | 155 | Eddie Jordan |
| 36 | 153 | Mike Newlin |
| 37 | 154 | George Johnson |
| 54 | 157 | Eddie Jordan |
| 54 | 158 | Maurice Lucas |
| 55 | 159 | Mike Newlin |
| 56 | 160 | Roger Phegley |
| 57 | 161 | Cliff Robinson |
| 58 | 162 | Jan Van Breda Kolff |
| 103 | 157 | Eddie Jordan |
| 113 | 154 | George Johnson |
| 119 | 153 | Mike Newlin |
| 142 | 158 | Maurice Lucas |
| 143 | 159 | Mike Newlin |
| 144 | 160 | Roger Phegley |
| 145 | 161 | Cliff Robinson |
| 146 | 162 | Jan Van Breda Kolff |
| 152 | 155 | Eddie Jordan |
| Whole # | Split # | Player |
| --- | --- | --- |
| 5 | 73 | Dan Issel |
| 18 | 74 | John Roche |
| 19 | 75 | Alex English |
| 44 | 79 | David Thompson |
| 57 | 80 | Bobby Wilkerson |
| 68 | 76 | Dan Issel |
| 73 | 72 | Dan Issel |
| 83 | 77 | Charlie Scott |
| 87 | 78 | John Roche |
| 106 | 74 | John Roche |
| 107 | 75 | Alex English |
| 108 | 79 | David Thompson |
| 110 | 78 | John Roche |
| 118 | 80 | Bobby Wilkerson |
| 120 | 73 | Dan Issel |
| 125 | 72 | Dan Issel |
| 149 | 77 | Charlie Scott |
| 166 | 76 | Dan Issel |
| Whole # | Split # | Player |
| --- | --- | --- |
| 13 | 113 | Mickey Johnson |
| 33 | 112 | Mickey Johnson |
| 34 | 115 | Mike Bantom |
| 35 | 116 | Dudley Bradley |
| 36 | 118 | James Edwards |
| 37 | 119 | Mickey Johnson |
| 38 | 120 | Billy Knight |
| 39 | 121 | George McGinnis |
| 58 | 117 | Johnny Davis |
| 86 | 114 | Johnny Davis |
| 93 | 113 | Mickey Johnson |
| 103 | 261 | James Edwards |
| 121 | 112 | Mickey Johnson |
| 122 | 117 | Johnny Davis |
| 122 | 115 | Mike Banton |
| 123 | 116 | Dudley Bradley |
| 124 | 118 | James Edwards |
| 125 | 119 | Mickey Johnson |
| 126 | 120 | Billy Knight |
| 127 | 121 | George McGinnis |
| 145 | 114 | Johnny Davis |
| Whole # | Split # | Player |
| --- | --- | --- |
| 20 | 82 | Terry Tyler |
| 21 | 84 | Kent Benson |
| 22 | 86 | Phil Hubbard |
| 23 | 88 | John Long |
| 24 | 90 | Eric Money |
| 30 | 87 | Greg Kelser |
| 39 | 83 | Eric Money |
| 43 | 81 | Terry Tyler |
| 56 | 91 | Terry Tyler |
| 88 | 89 | Bob McAdoo |
| 99 | 89 | Bob McAdoo |
| 102 | 81 | Terry Tyler |
| 108 | 82 | Terry Tyler |
| 109 | 84 | Kent Benson |
| 110 | 86 | Phil Hubbard |
| 111 | 88 | John Long |
| 112 | 90 | Eric Money |
| 132 | 253 | John Shumate |
| 139 | 83 | Eric Money |
| 151 | 91 | Terry Tyler |
| 171 | 87 | Greg Kelser |
| Whole # | Split # | Player |
| --- | --- | --- |
| 2 | 7 | Moses Malone |
| 28 | 105 | Rick Barry |
| 29 | 106 | Allen Leavell |
| 30 | 108 | Calvin Murphy |
| 31 | 110 | Robert Reid |
| 32 | 111 | Rudy Tomjanovich |
| 45 | 103 | Moses Malone |
| 71 | 102 | Moses Malone |
| 74 | 107 | Moses Malone |
| 75 | 17 | Calvin Murphy |
| 79 | 104 | Allen Leavell |
| 82 | 109 | Billy Paultz |
| 90 | 7 | Moses Malone |
| 104 | 109 | Billy Paultz |
| 105 | 17 | Calvin Murphy |
| 107 | 102 | Moses Malone |
| 114 | 103 | Moses Malone |
| 116 | 105 | Rick Barry |
| 117 | 106 | Allen Leavell |
| 118 | 108 | Calvin Murphy |
| 119 | 110 | Robert Reid |
| 120 | 111 | Rudy Tomjanovich |
| 126 | 104 | Allen Leavell |
| 159 | 107 | Moses Malone |
| 164 | 256 | Robert Reid |
| Whole # | Split # | Player |
| --- | --- | --- |
| 16 | 213 | James Silas |
| 21 | 212 | John Shumate |
| 41 | 209 | Larry Kenon |
| 50 | 207 | Mike Gale |
| 53 | 156 | George Johnson |
| 56 | 206 | James Silas |
| 58 | 204 | George Gervin |
| 70 | 11 | George Gervin |
| 73 | 208 | George Gervin |
| 77 | 205 | Larry Kenon |
| 80 | 211 | Kevin Restani |
| 81 | 210 | Mark Olberding |
| 91 | 210 | Mark Olberding |
| 112 | 213 | James Silas |
| 122 | 204 | George Gervin |
| 133 | 212 | John Shumate |
| 140 | 207 | Mike Gale |
| 141 | 156 | George Johnson |
| 151 | 206 | James Silas |
| 154 | 11 | George Gervin |
| 161 | 208 | George Gervin |
| 167 | 205 | Larry Kenon |
| 173 | 209 | Larry Kenon |
| 174 | 211 | Kevin Restani |
| Whole # | Split # | Player |
| --- | --- | --- |
| 7 | 186 | Paul Westphal |
| 8 | 194 | Dennis Johnson |
| 26 | 187 | Leonard Robinson |
| 37 | 193 | Leonard Robinson |
| 38 | 16 | Paul Westphal |
| 68 | 189 | Alvan Adams |
| 69 | 190 | Don Buse |
| 70 | 191 | Walter Davis |
| 71 | 192 | Rich Kelley |
| 78 | 4 | Walter Davis |
| 83 | 188 | Paul Westphal |
| 95 | 16 | Paul Westphal |
| 96 | 187 | Leonard Robinson |
| 113 | 193 | Leonard Robinson |
| 121 | 194 | Dennis Johnson |
| 123 | 186 | Paul Westphal |
| 149 | 188 | Paul Westphal |
| 156 | 189 | Alvan Adams |
| 157 | 190 | Don Buse |
| 158 | 191 | Walter Davis |
| 159 | 192 | Rich Kelley |
| 172 | 4 | Walter Davis |
| Whole # | Split # | Player |
| --- | --- | --- |
| 3 | 12 | Gus Williams |
| 34 | 227 | James Bailey |
| 40 | 224 | Gus Williams |
| 72 | 225 | Jack Sikma |
| 79 | 231 | Lonnie Shelton |
| 80 | 233 | Gus Williams |
| 91 | 12 | Gus Williams |
| 157 | 227 | James Bailey |
| 163 | 224 | Gus Williams |
| 166 | 230 | John Johnson |
| 21 | 229 | Paul Westphal |
| 25 | 226 | John Johnson |
| 48 | 232 | Jack Sikma |
| 52 | 260 | Lonnie Shelton |
| 77 | 228 | Fred Brown |
| 78 | 230 | John Johnson |
| 81 | 255 | James Bailey |
| 92 | 226 | John Johnson |
| 98 | 232 | Jack Sikma |
| 133 | 229 | Paul Westphal |
| 153 | 225 | Jack Sikma |
| 165 | 228 | Fred Brown |
| 167 | 231 | Lonnie Shelton |
| 168 | 233 | Gus Williams |
| 169 | 260 | Lonnie Shelton |
| Whole # | Split # | Player |
| --- | --- | --- |
| 72 | 201 | Tom Owens |
| 110 | 195 | Tom Owens |
| 115 | 202 | Dave Twardzik |
| 158 | 199 | Bob Gross |
| 160 | 201 | Tom Owens |
| 162 | 200 | Calvin Natt |
| 1 | 258 | Ron Brewer |
| 10 | 196 | Kermit Washington |
| 14 | 200 | Calvin Natt |
| 27 | 197 | Dave Twardzik |
| 49 | 198 | Ron Brewer |
| 53 | 199 | Bob Gross |
| 65 | 202 | Dave Twardzik |
| 77 | 203 | Kermit Washington |
| 87 | 195 | Tom Owens |
| 117 | 197 | Dave Twardzik |
| 150 | 196 | Kermit Washington |
| 165 | 198 | Ron Brewer |
| 167 | 203 | Kermit Washington |
| 176 | 258 | Ron Brewer |
| Whole # | Split # | Player |
| --- | --- | --- |
| 2 | 92 | Robert Parish |
| 18 | 99 | Clifford Ray |
| 22 | 93 | Robert Parish |
| 25 | 95 | Wayne Cooper |
| 27 | 98 | Sonny Parker |
| 40 | 101 | Phil Smith |
| 65 | 94 | John Lucas |
| 72 | 100 | Purvis Short |
| 79 | 96 | John Lucas |
| 113 | 95 | Wayne Cooper |
| 115 | 94 | John Lucas |
| 115 | 98 | Sonny Parker |
| 126 | 96 | John Lucas |
| 131 | 93 | Robert Parish |
| 147 | 92 | Robert Parish |
| 153 | 100 | Purvis Short |
| 155 | 99 | Clifford Ray |
| 163 | 101 | Phil Smith |