1978 Swedish Muppet Show trading cards are among the earliest cards to feature Jim Henson's crazy cast of characters and features some of the most obscure names of the Muppet universe.
Often referred to as Swedish Samlarsaker cards (samlarsaker simply translates to collectible in English), these cards are not standard dimensions and have blank card backs but some of the photography on the front is really quite good.
Despite their enduring popularity, The Muppets have always been a bit of a rarity on the trading card market. Their next set would have to be cut off of the back of a cereal box and none of the original films saw a major card release.
This checklist includes all of the cards in the set — note that card #56 is titled Scooter and Waldorf when it is actually a photo of Scooter and J.P. Grosse. Clicking a link within the checklist will direct you to an affiliate retailer or to relevant eBay listings.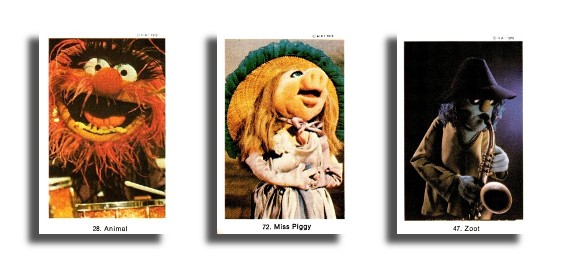 1978 Swedish Muppet Show Checklist
| | |
| --- | --- |
| 1 | Vets Hospital |
| 2 | Fozzie |
| 3 | Manah-Manah |
| 4 | Dr. Bob |
| 5 | The Jug Band |
| 6 | Miss Piggy, Kermit, Fozzie |
| 7 | Thog |
| 8 | Miss Piggy |
| 9 | The Muppet Show |
| 10 | Kermit |
| 11 | Kermit |
| 12 | Gonzo |
| 13 | Miss Piggy and Kermit |
| 14 | Dr. Teeth |
| 15 | Miss Piggy and Kermit |
| 16 | Muppet Show |
| 17 | Kermit and Miss Piggy |
| 18 | Sweetums |
| 19 | Miss Piggy |
| 20 | Pigs |
| 21 | Dr. Teeth and the Electric Mayhem |
| 22 | Animal |
| 23 | Kermit |
| 24 | Miss Piggy |
| 25 | Miss Piggy |
| 26 | Pigs in Space |
| 27 | Floyd, Janice, and Zoot |
| 28 | Animal |
| 29 | Gonzo |
| 30 | Fozzie and Kermit |
| 31 | Waldorf |
| 32 | Floyd and Zoot |
| 33 | Doglion |
| 34 | Scooter and J.P. Grosse |
| 35 | Animal |
| 36 | Kermit |
| 37 | Scooter |
| 38 | Pigs in Space |
| 39 | Fozzie |
| 40 | Animal |
| 41 | Statler and Waldorf |
| 42 | Miss Piggy |
| 43 | Pigs in Space |
| 44 | Sam the Eagle |
| 45 | Fozzie |
| 46 | Fozzie |
| 47 | Zoot |
| 48 | Sam the Eagle |
| 49 | Scooter |
| 50 | Rowlf and Friend |
| 51 | Swedish Chef and Kermit |
| 52 | Wayne and Wanda |
| 53 | Miss Piggy and Kermit |
| 54 | Swedish Chef |
| 55 | Kermit |
| 56 | Scooter and Statler |
| 57 | Kermit |
| 58 | Dr. Bunsen Honeydew |
| 59 | Miss Piggy and Kermit |
| 60 | Fozzie Bear |
| 61 | Dr. Teeth and the Electric Mayhem |
| 62 | Miss Piggy |
| 63 | Kermit |
| 64 | Miss Piggy and Scooter |
| 65 | Rowlf |
| 66 | Fozzie |
| 67 | Miss Piggy and Kermit |
| 68 | Zoot |
| 69 | Captain Link Hogthrob |
| 70 | Statler |
| 71 | Dr. Teeth |
| 72 | Miss Piggy |
| 73 | The Muppet Show |
| 74 | Miss Piggy |
| 75 | The Muppet Show |
| 76 | Sam, Kermit, and Beautiful Day |
| 77 | Dr. Teeth |
| 78 | Manah-Manah and Zoot |