1977 Topps Baseball trading cards highlight several Hall of Fame inductees at the height of their careers including Reggie Jackson, Jim Rice, Johnny Bench and Rod Carew.
The 660 card base set is on traditional card stock but this collection also offers an additional 73 cloth sticker cards.
Hall of Fame inductee Bruce Sutter's rookie card (#144) is a part of this set. It is also the first Topps set to include cards for the Seattle Mariners and Toronto Blue Jays.
This collection has gone on to be one of the most popular card designs of the era if not Topps history. Cards can regularly be found for inexpensive on the secondary market but highly graded cards will sell for a high price. The iconic Reggie Jackson card (#10) is probably the most noteworthy of the set. A graded 10 sold for $2,750 on eBay (December, 2019) and is frequently on the top of the list for most expensive cards from this series.
This checklist is organized by teams. Scroll through the entire list or jump to a preferred team by selecting them from the list below. Clicking a link within the checklist will direct you to an affiliate retailer or relevant eBay listings for the card.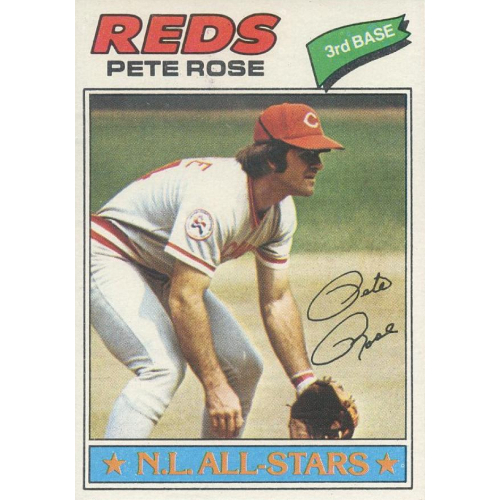 1977 Topps Baseball Checklist
Base Set – 660 Cards
League Leaders – #1-#8
Record Breaker – #231-#234
1976 World Series – #411-#413
Turn Back the Clock – #433-#437
Positional Rookies – #472-#479, #487-#494
Big League Brothers – #631-#634
| | | |
| --- | --- | --- |
| 6 | Nolan Ryan | |
| 16 | Bob Jones | RC |
| 34 | California Angels – Norm Sherry | |
| 68 | Bruce Bochte | |
| 91 | John Verhoeven | RC |
| 107 | Bill Melton | |
| 131 | Orlando Ramirez | RC |
| 153 | Ron Jackson | RC |
| 155 | Joe Rudi | |
| 179 | Paul Hartzell | RC |
| 200 | Frank Tanana | |
| 224 | Rusty Torres | |
| 234 | Nolan Ryan | |
| 257 | Mike Miley | |
| 282 | Sid Monge | |
| 315 | Dave Chalk | |
| 342 | Jerry Remy | |
| 369 | Terry Humphrey | |
| 401 | Mickey Scott | |
| 426 | Dick Drago | |
| 454 | Andy Etchebarren | |
| 462 | Don Baylor | |
| 482 | Tony Solaita | |
| 489 | Mike Overy | RC |
| 519 | Don Kirkwood | |
| 521 | Bobby Grich | |
| 544 | Gary Ross | |
| 570 | Bobby Bonds | |
| 592 | Dan Briggs | RC |
| 628 | Mario Guerrero | |
| 650 | Nolan Ryan | |
| | | |
| --- | --- | --- |
| 21 | Ken Forsch | |
| 42 | Jose Cruz | |
| 67 | Joaquin Andujar | RC |
| 90 | Cesar Cedeno | |
| 116 | Joe Niekro | |
| 143 | Ed Herrmann | |
| 184 | Bo McLaughlin | RC |
| 209 | Rob Andrews | |
| 227 | Joe Sambito | RC |
| 248 | Wilbur Howard | |
| 260 | J.R. Richard | |
| 283 | Jerry DaVanon | |
| 308 | Gene Pentz | RC |
| 327 | Houston Astros – Bill Virdon | |
| 350 | Larry Dierker | |
| 429 | Ken Boswell | |
| 456 | Leon Roberts | |
| 474 | Alex Taveras | RC |
| 478 | Mark Lemongello | RC |
| 481 | Roger Metzger | |
| 514 | Cliff Johnson | |
| 540 | Bob Watson | |
| 567 | Enos Cabell | |
| 589 | Mike Cosgrove | |
| 614 | Greg Gross | |
| 632 | Ken Forsch | |
| 641 | Dan Larson | RC |
| | | |
| --- | --- | --- |
| 4 | Bill North | |
| 12 | Larry Haney | |
| 31 | Jim Todd | |
| 53 | Paul Mitchell | |
| 61 | Manny Sanguillen | |
| 74 | Oakland Athletics – Jack McKeon | |
| 101 | Dick Bosman | |
| 127 | Ron Fairly | |
| 181 | Ken McMullen | |
| 204 | Jeff Newman | RC |
| 230 | Vida Blue | |
| 261 | Phil Garner | |
| 284 | Mike Norris | |
| 323 | Larry Lintz | |
| 349 | Jim Holt | |
| 365 | Mike Torrez | |
| 383 | Stan Bahnsen | |
| 402 | Tommy Helms | |
| 405 | Claudell Washington | |
| 473 | Denny Walling | RC |
| 475 | Chris Batton | RC |
| 479 | Wayne Gross | RC |
| 491 | Craig Mitchell | RC |
| 551 | Bill North | |
| 583 | Paul Lindblad | |
| 616 | Tommy Sandt | RC |
| 644 | Matt Alexander | |
| | | |
| --- | --- | --- |
| 37 | Steve Hargan | |
| 113 | Roy Hartsfield | |
| 163 | Dave Hilton | |
| 212 | Jim Mason | |
| 299 | Otto Velez | |
| 326 | Jesse Jefferson | |
| 346 | Bill Singer | |
| 377 | Dave McKay | |
| 392 | Phil Roof | |
| 416 | Chuck Hartenstein | |
| 465 | Rico Carty | |
| 473 | John Scott | RC |
| 474 | Bob Bailor | RC |
| 477 | Doug Ault | RC |
| 478 | Leon Hooten | RC |
| 479 | Alvis Woods | RC |
| 487 | Larry Anderson | RC |
| 492 | Gary Woods | RC |
| 493 | Mike Willis | RC |
| 517 | Pete Vuckovich | RC |
| 537 | Dave Roberts | |
| 564 | Alan Ashby | |
| 611 | Dave Lemanczyk | |
| | | |
| --- | --- | --- |
| 24 | Carl Morton | |
| 48 | Tom Paciorek | |
| 80 | Andy Messersmith | |
| 114 | Bruce Dal Canton | |
| 126 | Rod Gilbreath | |
| 165 | Jim Wynn | |
| 192 | Clarence Gaston | |
| 194 | Gary Matthews | |
| 213 | Maximino Leon | |
| 242 | Ken Henderson | |
| 263 | Mike G. Marshall | |
| 292 | Rogelio Moret | |
| 312 | Rob Belloir | RC |
| 339 | Adrian Devine | |
| 364 | Vic Correll | |
| 384 | Darrel Chaney | |
| 410 | Willie Montanez | |
| 432 | Buzz Capra | |
| 442 | Atlanta Braves – Dave Bristol | |
| 475 | Rick Camp | RC |
| 476 | Dale Murphy | RC |
| 479 | Brian Asselstine | RC |
| 499 | Pablo Torrealba | |
| 524 | Rowland Office | |
| 549 | Jerry Royster | |
| 575 | Dick Ruthven | |
| 594 | Biff Pocoroba | |
| 615 | Phil Niekro | |
| | | |
| --- | --- | --- |
| 26 | Ray Sadecki | |
| 51 | Milwaukee Brewers – Alex Grammas | |
| 79 | Don Money | |
| 99 | Tom Hausman | |
| 125 | Bill Travers | |
| 159 | Bernie Carbo | |
| 185 | Sixto Lezcano | |
| 214 | Darrell Porter | |
| 255 | George Scott | |
| 278 | Danny Frisella | |
| 307 | Gary Sutherland | |
| 331 | Jim Colborn | |
| 361 | Eduardo Rodriguez | |
| 382 | Charlie Moore | |
| 406 | Tim Johnson | |
| 439 | Gorman Thomas | |
| 488 | Dan Thomas | RC |
| 494 | Jim Gantner | RC |
| 498 | Sal Bando | |
| 507 | Mike Hegan | |
| 528 | Bill Castro | |
| 553 | Jack Heidemann | |
| 577 | Jerry Augustine | RC |
| 604 | Jim Slaton | |
| 635 | Robin Yount | |
| 651 | Von Joshua | |
| | | |
| --- | --- | --- |
| 7 | John Denny | |
| 19 | John D\'Acquisto | |
| 47 | Lynn McGlothen | |
| 72 | Mike Anderson | |
| 95 | Keith Hernandez | |
| 136 | Jerry Mumphrey | RC |
| 161 | Garry Templeton | RC |
| 183 | St. Louis Cardinals – Vern Rapp | |
| 205 | Pete Falcone | |
| 229 | Don Kessinger | |
| 355 | Lou Brock | |
| 381 | Bob Forsch | |
| 404 | Eric Rasmussen | |
| 427 | Dave Rader | |
| 452 | Mike Caldwell | |
| 470 | Ted Simmons | |
| 495 | Al Hrabosky | |
| 516 | Bake McBride | |
| 541 | John Denny | |
| 573 | Joe Ferguson | |
| 599 | Mike Tyson | |
| 624 | Hector Cruz | |
| 632 | Bob Forsch | |
| 652 | Tom Walker | |
| | | |
| --- | --- | --- |
| 1 | Bill Madlock | |
| 64 | Larry Biittner | |
| 92 | Dave Rosello | |
| 124 | George Mitterwald | |
| 144 | Bruce Sutter | RC |
| 169 | Darold Knowles | |
| 190 | Ray Burris | |
| 219 | Joe Coleman | |
| 250 | Bill Madlock | |
| 279 | Joe Wallis | |
| 302 | Mike Garman | |
| 333 | Paul Reuschel | RC |
| 360 | Rick Monday | |
| 395 | Manny Trillo | |
| 419 | Steve Swisher | |
| 446 | Bill Bonham | |
| 468 | Ramon Hernandez | |
| 493 | Mike Krukow | RC |
| 502 | Randy Hundley | |
| 518 | Chicago Cubs – Herman Franks | |
| 530 | Rick Reuschel | |
| 561 | Pete LaCock | |
| 586 | Steve Renko | |
| 610 | Jose Cardenal | |
| 634 | Paul Reuschel | |
| 634 | Rick Reuschel | |
| 639 | Jerry Morales | |
| 657 | Mick Kelleher | RC |
| | | |
| --- | --- | --- |
| 4 | Davey Lopes | |
| 27 | Bill Buckner | |
| 50 | Ron Cey | |
| 88 | Stan Wall | |
| 105 | Steve Yeager | |
| 128 | Tommy John | |
| 146 | Dusty Baker | |
| 180 | Davey Lopes | |
| 245 | Rick Rhoden | |
| 253 | John Hale | |
| 272 | Lee Lacy | |
| 298 | Charlie Hough | |
| 322 | Bill Russell | |
| 345 | Reggie Smith | |
| 366 | Ted Sizemore | |
| 386 | Manny Mota | |
| 400 | Steve Garvey | |
| 421 | Doug Rau | |
| 435 | Maury Wills | |
| 448 | Ellie Rodriguez | |
| 476 | Kevin Pasley | RC |
| 484 | Burt Hooton | |
| 504 | Los Angeles Dodgers – Tommy Lasorda | |
| 558 | Elias Sosa | |
| 584 | Ed Goodson | |
| 620 | Don Sutton | |
| | | |
| --- | --- | --- |
| 28 | Woodie Fryman | |
| 52 | Ellis Valentine | |
| 76 | Tim Foli | |
| 102 | Jose Morales | |
| 112 | Bill Greif | |
| 132 | Chip Lang | RC |
| 156 | Pete Mackanin | |
| 178 | Bombo Rivera | RC |
| 199 | Pepe Frias | |
| 223 | Earl Williams | |
| 233 | Jose Morales | |
| 252 | Dale Murray | |
| 274 | Don Stanhouse | |
| 295 | Gary Carter | |
| 316 | Steve Rogers | |
| 341 | Joe Kerrigan | RC |
| 368 | Mike Jorgensen | |
| 391 | Dan Warthen | |
| 417 | Wayne Garrett | |
| 471 | Del Unser | |
| 473 | Andre Dawson | RC |
| 479 | Sam Mejias | RC |
| 526 | Larry Parrish | |
| 557 | Jerry White | |
| 579 | Don Carrithers | |
| 593 | Dennis Blair | |
| 612 | Barry Foote | |
| 647 | Montreal Expos – Dick Williams | |
| 649 | Dave Cash | |
| | | |
| --- | --- | --- |
| 11 | Rob Dressler | |
| 40 | Bobby Murcer | |
| 57 | Marc Hill | |
| 73 | Charlie Williams | |
| 97 | Dave Heaverlo | |
| 129 | Mike Sadek | |
| 151 | Johnnie LeMaster | |
| 211 | San Francisco Giants – Joe Altobelli | |
| 266 | Derrel Thomas | |
| 297 | Ken Reitz | |
| 324 | John Curtis | |
| 343 | Ed Halicki | |
| 370 | John Montefusco | |
| 397 | Larry Herndon | RC |
| 423 | Gary Lavelle | |
| 438 | Marty Perez | |
| 464 | Randy Moffitt | |
| 476 | Gary Alexander | RC |
| 488 | Jack Clark | RC |
| 489 | Greg Minton | RC |
| 496 | Gary Thomasson | |
| 515 | Chris Speier | |
| 547 | Willie McCovey | |
| 571 | Darrell Evans | |
| 591 | Chris Arnold | |
| 609 | Jim Barr | |
| 642 | Willie Crawford | |
| | | |
| --- | --- | --- |
| 18 | Cleveland Indians – Frank Robinson | |
| 33 | Wayne Garland | |
| 41 | Jim Kern | |
| 62 | Eric Raich | |
| 85 | Duane Kuiper | |
| 115 | Rick Manning | |
| 147 | Jackie Brown | |
| 168 | Charlie Spikes | |
| 206 | Boog Powell | |
| 236 | Tom Buskey | |
| 267 | Ray Fosse | |
| 296 | Don Hood | |
| 306 | Rick Waits | |
| 330 | George Hendrick | |
| 385 | Dave LaRoche | |
| 393 | John Lowenstein | |
| 441 | Larvell Blanks | |
| 449 | Al Fitzmorris | |
| 476 | Rick Cerone | RC |
| 477 | Orlando Gonzalez | RC |
| 501 | Jim Bibby | |
| 525 | Dennis Eckersley | |
| 542 | Frank Duffy | |
| 590 | Buddy Bell | |
| 618 | Pat Dobson | |
| 654 | Ron Pruitt | RC |
| | | |
| --- | --- | --- |
| 14 | Tommy Smith | |
| 49 | Grant Jackson | |
| 118 | Rick Jones | RC |
| 138 | Bob Stinson | |
| 187 | Dick Pole | |
| 207 | Glenn Abbott | |
| 226 | Leroy Stanton | |
| 269 | Joe Lis | |
| 317 | Kurt Bevacqua | |
| 334 | Bill Stein | |
| 353 | Stan Thomas | |
| 379 | Larry Cox | RC |
| 394 | Bill Laxton | RC |
| 409 | Pete Broberg | |
| 431 | Dave Collins | |
| 478 | Dave Johnson | RC |
| 488 | Ruppert Jones | RC |
| 490 | Tom McMillan | RC |
| 492 | Carlos Lopez | RC |
| 493 | Gary Wheelock | RC |
| 494 | Juan Bernhardt | RC |
| 508 | Dave Pagan | |
| 527 | Dan Meyer | |
| 597 | Darrell Johnson | |
| 606 | Steve Braun | |
| 653 | Diego Segui | |
| | | |
| --- | --- | --- |
| 6 | Tom Seaver | |
| 44 | Bud Harrelson | |
| 65 | Skip Lockwood | |
| 94 | Craig Swan | |
| 119 | John Stearns | |
| 150 | Tom Seaver | |
| 172 | John Milner | |
| 201 | Ed Kranepool | |
| 225 | Bob Apodaca | |
| 246 | Mike Vail | |
| 259 | New York Mets – Joe Frazier | |
| 281 | Roy Staiger | |
| 300 | Jerry Koosman | |
| 329 | Ron Hodges | |
| 352 | Mike Phillips | |
| 376 | Nino Espinosa | RC |
| 399 | Bruce Boisclair | RC |
| 425 | Joe Torre | |
| 440 | Jon Matlack | |
| 458 | Leo Foster | |
| 488 | Lee Mazzilli | RC |
| 500 | Dave Kingman | |
| 552 | Pepe Mangual | |
| 565 | Mickey Lolich | |
| 587 | Rick Baldwin | |
| 605 | Felix Millan | |
| 627 | Bob Myrick | RC |
| | | |
| --- | --- | --- |
| 3 | Lee May | |
| 5 | Jim Palmer | |
| 56 | Rudy May | |
| 77 | Dyar Miller | |
| 106 | Mike Flanagan | |
| 135 | Mark Belanger | |
| 162 | Mike Cuellar | |
| 189 | Rick Dempsey | |
| 216 | Doug DeCinces | |
| 238 | Tippy Martinez | |
| 251 | Tony Muser | |
| 285 | Brooks Robinson | |
| 313 | Paul Blair | |
| 380 | Lee May | |
| 414 | Tommy Harper | |
| 445 | Ken Singleton | |
| 466 | Fred Holdsworth | |
| 469 | Pat Kelly | |
| 474 | Kiko Garcia | RC |
| 475 | Scott McGregor | RC |
| 477 | Rich Dauer | RC |
| 491 | Dennis Martinez | RC |
| 546 | Baltimore Orioles – Earl Weaver | |
| 572 | Ross Grimsley | |
| 600 | Jim Palmer | |
| 626 | Al Bumbry | |
| 633 | Lee May | |
| 646 | Andres Mora | RC |
| | | |
| --- | --- | --- |
| 5 | Randy Jones | |
| 9 | Doug Rader | |
| 39 | Tom Griffin | |
| 63 | Tito Fuentes | |
| 78 | Bob Davis | |
| 108 | Alan Foster | |
| 134 | San Diego Padres – John McNamara | |
| 158 | Ted Kubiak | |
| 182 | Dan Spillner | |
| 215 | Butch Metzger | |
| 241 | Dave Tomlin | |
| 268 | Rick Sawyer | RC |
| 286 | Johnny Grubb | |
| 303 | Gene Tenace | |
| 325 | Mike Ivie | |
| 348 | Brent Strom | |
| 372 | Rich Folkers | |
| 390 | Dave Winfield | |
| 407 | Dave Freisleben | |
| 433 | Nate Colbert | |
| 447 | Jerry Turner | |
| 472 | Dave Wehrmeister | RC |
| 473 | Gene Richards | RC |
| 490 | Billy Almon | RC |
| 491 | Mike Dupree | RC |
| 494 | Mike Champion | RC |
| 522 | Enzo Hernandez | |
| 523 | Rollie Fingers | |
| 550 | Randy Jones | |
| 576 | Fred Kendall | |
| 603 | Willie Davis | |
| 629 | Bobby Valentine | |
| 659 | Merv Rettenmund | |
| | | |
| --- | --- | --- |
| 2 | Mike Schmidt | |
| 30 | Greg Luzinski | |
| 59 | Larry Christenson | |
| 84 | Ollie Brown | |
| 110 | Steve Carlton | |
| 140 | Mike Schmidt | |
| 164 | Tug McGraw | |
| 188 | Bob Tolan | |
| 217 | Tom Underwood | |
| 243 | Ron Reed | |
| 264 | Tom Hutton | |
| 289 | Gene Garber | |
| 310 | Larry Bowa | |
| 337 | Ron Schueler | |
| 357 | Tim McCarver | |
| 388 | Terry Harmon | |
| 415 | Jay Johnstone | |
| 444 | Wayne Twitchell | |
| 467 | Philadelphia Phillies – Danny Ozark | |
| 489 | Randy Lerch | RC |
| 520 | Garry Maddox | |
| 545 | Bob Boone | |
| 569 | Jim Lonborg | |
| 596 | Jerry Martin | RC |
| 619 | Johnny Oates | |
| 638 | Jim Kaat | |
| | | |
| --- | --- | --- |
| 35 | Rennie Stennett | |
| 82 | Jim Rooker | |
| 104 | Omar Moreno | RC |
| 130 | Al Oliver | |
| 154 | Dave Giusti | |
| 167 | Richie Hebner | |
| 176 | Bob Robertson | |
| 197 | Ed Ott | |
| 270 | Dave Parker | |
| 294 | Doc Medich | |
| 318 | Duffy Dyer | |
| 335 | Bill Robinson | |
| 354 | Pittsburgh Pirates – Chuck Tanner | |
| 374 | Kent Tekulve | |
| 437 | Ralph Kiner | |
| 460 | Willie Stargell | |
| 474 | Craig Reynolds | RC |
| 483 | Richie Zisk | |
| 492 | Tony Armas | RC |
| 510 | John Candelaria | |
| 538 | Frank Taveras | |
| 563 | Bruce Kison | |
| 582 | Ed Kirkpatrick | |
| 607 | Larry Demery | |
| 645 | Jerry Reuss | |
| | | |
| --- | --- | --- |
| 36 | John Ellis | |
| 55 | Jeff Burroughs | |
| 81 | Juan Beniquez | |
| 103 | Mike Bacsik | RC |
| 137 | Jeff Terpko | RC |
| 152 | Gaylord Perry | |
| 174 | Nelson Briles | |
| 196 | Len Randle | |
| 237 | Gene Clines | |
| 254 | Doyle Alexander | |
| 256 | Joe Hoerner | |
| 275 | Mike Hargrove | |
| 301 | Toby Harrah | |
| 328 | Tommy Boggs | RC |
| 351 | Jim Sundberg | |
| 373 | Bert Campaneris | |
| 378 | Jim Umbarger | |
| 403 | Tom Grieve | |
| 428 | Texas Rangers – Frank Lucchesi | |
| 459 | Steve Foucault | |
| 489 | Len Barker | RC |
| 494 | Bump Wills | RC |
| 511 | Bill Fahey | |
| 539 | Mike Wallace | |
| 588 | Dave Moates | |
| 608 | Roy Howell | |
| 630 | Bert Blyleven | |
| | | |
| --- | --- | --- |
| 25 | Dwight Evans | |
| 60 | Jim Rice | |
| 89 | Butch Hobson | RC |
| 111 | Rico Petrocelli | |
| 142 | Steve Dillard | RC |
| 166 | Bill Campbell | |
| 191 | Doug Griffin | |
| 210 | Fred Lynn | |
| 235 | Cecil Cooper | |
| 258 | Luis Tiant | |
| 288 | Bob Montgomery | |
| 309 | Boston Red Sox – Don Zimmer | |
| 336 | Denny Doyle | |
| 358 | Tom House | |
| 396 | Tom Murphy | |
| 430 | Fergie Jenkins | |
| 434 | Carl Yastrzemski | |
| 455 | Rick Wise | |
| 472 | Don Aase | RC |
| 480 | Carl Yastrzemski | |
| 503 | Bill Lee | |
| 532 | Jim Willoughby | |
| 566 | Rick Miller | |
| 585 | Rick Burleson | |
| 613 | Reggie Cleveland | |
| 617 | Bobby Darwin | |
| 640 | Carlton Fisk | |
| | | |
| --- | --- | --- |
| 3 | George Foster | |
| 8 | Rawly Eastwick | |
| 23 | Dan Driessen | |
| 45 | Rawly Eastwick | |
| 70 | Johnny Bench | |
| 86 | Pat Zachry | |
| 100 | Joe Morgan | |
| 121 | Gary Nolan | |
| 139 | Fred Norman | |
| 160 | Will McEnaney | |
| 186 | Doug Flynn | |
| 203 | Ed Armbrister | |
| 221 | Bob Bailey | |
| 239 | Bill Plummer | |
| 277 | 1976 N.L. Championship | |
| 287 | Cincinnati Reds – Sparky Anderson | |
| 320 | Ken Griffey Sr. | |
| 347 | George Foster | |
| 411 | Joe Morgan | |
| 450 | Pete Rose | |
| 475 | Manny Sarmiento | RC |
| 487 | Joe Henderson | RC |
| 512 | Jack Billingham | |
| 535 | Cesar Geronimo | |
| 548 | Joel Youngblood | RC |
| 560 | Dave Concepcion | |
| 581 | Pedro Borbon | |
| 601 | Mike Lum | |
| 636 | Santo Alcala | |
| 655 | Tony Perez | |
| 412 | Johnny Bench | |
| 413 | 1976 World Series Summary | |
| | | |
| --- | --- | --- |
| 1 | George Brett | |
| 46 | Buck Martinez | |
| 75 | Dennis Leonard | |
| 93 | Tom Poquette | |
| 117 | Frank White | |
| 141 | Mark Littell | |
| 171 | Ken Sanders | |
| 193 | Larry Gura | |
| 218 | John Wathan | RC |
| 231 | George Brett | |
| 244 | John Mayberry | |
| 262 | Al Cowens | |
| 290 | Amos Otis | |
| 314 | Steve Mingori | |
| 340 | Hal McRae | |
| 362 | Tommy Davis | |
| 371 | Kansas City Royals – Whitey Herzog | |
| 422 | Freddie Patek | |
| 463 | Jamie Quirk | |
| 472 | Bob McClure | RC |
| 509 | Cookie Rojas | |
| 534 | Paul Splittorff | |
| 556 | Doug Bird | |
| 580 | George Brett | |
| 602 | Andy Hassler | |
| 622 | Jim Wohlford | |
| 631 | George Brett | |
| 658 | Marty Pattin | |
| | | |
| --- | --- | --- |
| 7 | Mark Fidrych | |
| 22 | Bill Freehan | |
| 43 | Ray Bare | |
| 69 | Jim Crawford | |
| 98 | Milt May | |
| 122 | Ben Oglivie | |
| 145 | Tom Veryzer | |
| 173 | Chuck Scrivener | RC |
| 240 | Ron LeFlore | |
| 265 | Mark Fidrych | RC |
| 291 | Jason Thompson | RC |
| 311 | Vern Ruhle | |
| 363 | Dave Roberts | |
| 420 | Rusty Staub | |
| 453 | Pedro Garcia | |
| 477 | Phil Mankowski | RC |
| 487 | Ed Glynn | RC |
| 490 | Mark Wagner | RC |
| 491 | Bob Sykes | RC |
| 492 | Steve Kemp | RC |
| 506 | Steve Grilli | |
| 533 | Mickey Stanley | |
| 554 | Bruce Kimm | RC |
| 574 | Aurelio Rodriguez | |
| 595 | John Hiller | |
| 621 | Detroit Tigers – Ralph Houk | |
| 637 | Alex Johnson | |
| 660 | Willie Horton | |
| | | |
| --- | --- | --- |
| 8 | Bill Campbell | |
| 13 | Luis Gomez | RC |
| 38 | Craig Kusick | |
| 66 | Roy Smalley | |
| 87 | Glenn Borgmann | |
| 120 | Rod Carew | |
| 149 | Mike Cubbage | |
| 175 | Butch Wynegar | RC |
| 202 | Tom Johnson | |
| 228 | Minnesota Twins – Gene Mauch | |
| 249 | Pete Redfern | RC |
| 304 | Jim Hughes | |
| 321 | Dave Goltz | |
| 375 | Larry Hisle | |
| 398 | Tom Burgmeier | |
| 424 | Steve Brye | |
| 457 | Steve Luebber | |
| 478 | Jim Gideon | RC |
| 486 | Ed Bane | |
| 513 | Jerry Terrell | |
| 531 | Lyman Bostock | |
| 536 | Vic Albury | |
| 555 | Dan Ford | |
| 578 | Bob Randall | RC |
| 643 | Mike Pazik | |
| | | |
| --- | --- | --- |
| 17 | Steve Stone | |
| 29 | Bucky Dent | |
| 58 | Chet Lemon | |
| 83 | Kevin Bell | RC |
| 109 | Jorge Orta | |
| 133 | Ralph Garr | |
| 157 | Ken Brett | |
| 177 | Bart Johnson | |
| 198 | Wilbur Wood | |
| 222 | Francisco Barrios | RC |
| 232 | Minnie Minoso | |
| 247 | Chris Knapp | RC |
| 271 | Terry Forster | |
| 273 | Eric Soderholm | |
| 293 | Jack Brohamer | |
| 319 | Rich Gossage | |
| 338 | Dave Duncan | |
| 344 | Brian Downing | |
| 367 | Dave Hamilton | |
| 389 | Ken Kravec | RC |
| 418 | Chicago White Sox – Bob Lemon | |
| 436 | Bob Keegan | |
| 443 | Lamar Johnson | |
| 487 | Greg Terlecky | RC |
| 493 | Jim Otten | RC |
| 497 | Clay Carroll | |
| 529 | Jim Essian | RC |
| 559 | Alan Bannister | RC |
| 623 | Jack Kucek | |
| 631 | Ken Brett | |
| 648 | Jim Spencer | |
| | | |
| --- | --- | --- |
| 2 | Graig Nettles | |
| 10 | Reggie Jackson | |
| 15 | Don Gullett | |
| 20 | Graig Nettles | |
| 54 | Sandy Alomar Sr. | |
| 71 | Dock Ellis | |
| 96 | Lou Piniella | |
| 123 | Fred Stanley | |
| 148 | Fran Healy | |
| 170 | Thurman Munson | |
| 195 | Ed Figueroa | |
| 220 | Chris Chambliss | |
| 276 | 1976 A.L. Championship – Chris Chambliss | |
| 280 | Jim Hunter | |
| 305 | Mickey Rivers | |
| 332 | Elliott Maddox | |
| 359 | Willie Randolph | |
| 387 | New York Yankees – Billy Martin | |
| 408 | Cesar Tovar | |
| 411 | Johnny Bench | |
| 461 | Dick Tidrow | |
| 472 | Gil Patterson | RC |
| 485 | Roy White | |
| 490 | Mickey Klutts | RC |
| 505 | Oscar Gamble | |
| 543 | Ron Blomberg | |
| 568 | Carlos May | |
| 598 | Sparky Lyle | |
| 625 | Ken Holtzman | |
| 633 | Carlos May | |
| 656 | Ron Guidry | |
| | |
| --- | --- |
| 32 | Checklist 1-132 |
| 208 | Checklist 133-264 |
| 356 | Checklist 265-396 |
| 451 | Checklist 397-528 |
| 562 | Checklist 529-660 |