1976 Topps King Kong trading cards are a mix of production stills and promotional artwork from the 70s imagining of the iconic character.
Each image of this 55 card set is laid on a field of red with a film strip name plate that includes the card number. All but the final 11 cards on the checklist have a puzzle piece on the reverse with the puzzle replaced with movie facts on those remaining cards.
There is also an 11 count sticker set which was distributed as one per pack. The stickers are bordered to appear like film strips (migrating a small design aspect from the base cards) but do not include the red.
The packaging for this set was commemorated in the 2018 80th Anniversary Wrapper on-demand card series.
Clicking a link within the checklist will direct you to an affiliate retailer or to relevant eBay listings for that card.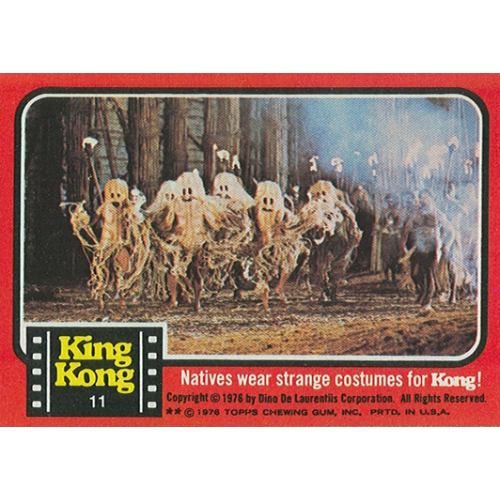 1976 Topps King Kong Checklist
Base Set – 55 Cards
Stickers – 11
| # | Card Title |
| --- | --- |
| 1 | Kong fights a mighty battle to the death! |
| 2 | Kong attacks New York harbor! |
| 3 | Kong battles a gigantic serpent! |
| 4 | The great wall is smashed by Kong! |
| 5 | Kong scales the buildings of New York! |
| 6 | Subway trains are demolished by Kong! |
| 7 | Speeding toward the fog-shrouded island! |
| 8 | The expedition braves dangerous waters! |
| 9 | The natives chant "Kong.. Kong.. Kong!" |
| 10 | Observing the strange native ritual! |
| 11 | Natives wear strange costumes for Kong! |
| 12 | Witch doctor dons a terrifying costume! |
| 13 | Dwan is kidnapped by the natives! |
| 14 | Dwan is dressed in native attire! |
| 15 | Dwan, helpless, cannot escape her fate! |
| 16 | Beyond the great wall lies… what? |
| 17 | Huge doors open and Dwan is carried inside! |
| 18 | The lovely Dwan awaits Kong's arrival! |
| 19 | The jungle trembles when Kong appears! |
| 20 | Dwan watches in horror as Kong approaches! |
| 21 | A huge hairy paw lifts Dwan into the air! |
| 22 | The mud-covered Dwan is washed clean! |
| 23 | Dwan is dazed after being washed by a waterfall! |
| 24 | Dwan faints in the great ape's paw! |
| 25 | Kong treats his new friend Dwan kindly! |
| 26 | Dwan tells Kong she's afraid of heights! |
| 27 | A big hand for the little lady! |
| 28 | Kong puts the terrified Dwan down! |
| 29 | Wilson's men crash to their deaths! |
| 30 | Kong is captured when he falls into a pit! |
| 31 | Dwan is rescued! |
| 32 | Kong is transported to civilization! |
| 33 | Dwan is present for Kong's debut! |
| 34 | King Kong is displayed to the world! |
| 35 | The great ape is angered by man's greed! |
| 36 | Panic strikes the city as Kong breaks loose! |
| 37 | Thousands scream as Kong escapes captivity! |
| 38 | Kong rampages through the city! |
| 39 | Kong falls from the World Trade Center towers! |
| 40 | Actress Jessica Lang |
| 41 | Mightiest Monster That Ever Lived! |
| 42 | Natives tie Dwan to the sacrificial altar! |
| 43 | Dwan helplessly awaits the monster Kong! |
| 44 | Kong, Eighth Wonder of the World! |
| 45 | Kong prowls New York in search of Dwan! |
| 46 | Witch Doctor prepares Dwan for her ordeal! |
| 47 | New York trembles as the great ape attacks! |
| 48 | A heartbroken Dwan stands by Kong's body. |
| 49 | No bars are strong enough to hold Kong! |
| 50 | Beauty and the Beast |
| 51 | Dwan and Kong make the New York scene! |
| 52 | The Lady and the Monster |
| 53 | Kong is held captive in Shea Stadium! |
| 54 | Reporters try to take Kong's picture |
| 55 | Dwan seems unalarmed as Kong breaks free! |
| Sticker 1 | Kong fights a mighty battle to the death! |
| Sticker 2 | Kong attacks New York harbor! |
| Sticker 3 | The great wall is smashed by Kong! |
| Sticker 4 | Kong battles a gigantic serpent! |
| Sticker 5 | Kong scales the buildings of New York! |
| Sticker 6 | Subway trains are demolished by Kong! |
| Sticker 7 | Kong is captured when he falls into a pit! |
| Sticker 8 | Kong is transported to civilization! |
| Sticker 9 | Kong rampages through the city! |
| Sticker 10 | Dwan is dazed after being washed by a waterfall! |
| Sticker 11 | Kong puts the terrified Dwan down! |