1973 Polydor Guitar Album trading cards feature a handful of the 1970s most famous guitarists from the Polydor Records stable of artists. The cards were released alongside a double disc, live compilation album that featured music from each of the artists represented on the cards.
There is some debate regarding the dates of release of these cards. PSA lists the release year as 1975 on their slabs but the album that included these cards was released in 1973. A second compilation, featuring many of the same artists, was released in 1974 but no cards were issued with that album. Because of this dating error, you're more likely to find cards on eBay if you search for Polydor Guitar Album Cards.
The set of 16 cards are sized and designed like old cigarette cards, a practice that was still popular in England at the time. The reverse of each card features a short biography of the guitarist featured on the front.
Of particular note for music collectors, this set is believed to be the first appearance of The Three Kings — B.B., Freddie, and Albert — and several other players.
Clicking a link within this checklist will direct you to an affiliate retailer or to relevant eBay listings for that card.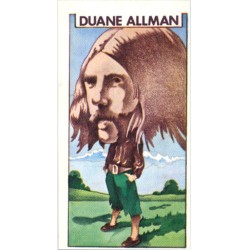 1973 Polydor Guitar Checklist