1961 Fleer Basketball cards were the first major professional basketball release since 1957 Topps and nearly 2/3 of the checklist features Hall of Fame players.
This set is only one of two major sets dedicated to basketball from the 1960s — Topps would release the second set for the 1969-70 season — making these cards a highly sought after product for fans of that era.
This checklist is organized by teams. You can scroll through the entire list or jump to a preferred team by selecting them from the list below. Clicking a link within this checklist will direct you to an affiliate retailer or to relevant eBay listings.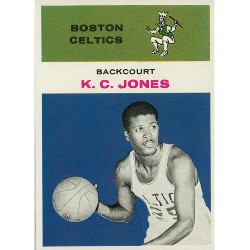 1961 Fleer Basketball Checklist
| | | |
| --- | --- | --- |
| 7 | Carl Braun | |
| 10 | Bob Cousy | |
| 19 | Tom Heinsohn | |
| 22 | K.C. Jones | RC |
| 23 | Sam Jones | RC |
| 35 | Frank Ramsey | |
| 38 | Bill Russell | |
| 49 | Bob Cousy | |
| 54 | Tom Heinsohn | |
| 60 | Frank Ramsey | |
| 62 | Bill Russell | |
| | | |
| --- | --- | --- |
| 15 | Sihugo Green | RC |
| 18 | Cliff Hagan | |
| 29 | Clyde Lovellette | |
| 30 | John McCarthy | |
| 34 | Bob Pettit | |
| 44 | Lenny Wilkens | RC |
| 53 | Cliff Hagan | |
| 58 | Clyde Lovellette | |
| 59 | Bob Pettit | |
| | | |
| --- | --- | --- |
| 17 | Richie Guerin | RC |
| 24 | Phil Jordon | |
| 32 | Willie Naulls | |
| 52 | Richie Guerin | |
| | | |
| --- | --- | --- |
| 3 | Elgin Baylor | RC |
| 21 | Rod Hundley | |
| 26 | Rudy Larusso | RC |
| 40 | Frank Selvy | |
| 43 | Jerry West | RC |
| 46 | Elgin Baylor | |
| 57 | Rudy Larusso | |
| 66 | Jerry West | |
| | | |
| --- | --- | --- |
| 9 | Larry Costello | |
| 13 | Dave Gambee | |
| 16 | Hal Greer | RC |
| 25 | John Kerr | |
| 39 | Dolph Schayes | |
| 48 | Larry Costello | |
| 56 | John Kerr | |
| 63 | Dolph Schayes | |
| | | |
| --- | --- | --- |
| 4 | Walt Bellamy | RC |
| 28 | Bob Leonard | |
| | | |
| --- | --- | --- |
| 11 | Walter Dukes | |
| 20 | Bailey Howell | RC |
| 27 | George Lee | |
| 33 | Don Ohl | RC |
| 41 | Gene Shue | |
| 50 | Walter Dukes | |
| 55 | Bailey Howell | |
| 64 | Gene Shue | |
| | | |
| --- | --- | --- |
| 5 | Arlen Bockhorn | |
| 6 | Bob Boozer | RC |
| 12 | Wayne Embry | RC |
| 36 | Oscar Robertson | RC |
| 42 | Jack Twyman | |
| 61 | Oscar Robertson | |
| 65 | Jack Twyman | |
| | | |
| --- | --- | --- |
| 1 | Al Attles | RC |
| 2 | Paul Arizin | |
| 8 | Wilt Chamberlain | RC |
| 14 | Tom Gola | |
| 31 | Tom Meschery | RC |
| 37 | Guy Rodgers | RC |
| 45 | Paul Arizin | |
| 47 | Wilt Chamberlain | |
| 51 | Tom Gola | |